FEATURES
BAA BULLETIN ARCHIVES INFO
ONE OF DOZENS
BOSQUE THANKSGIVING
POSSE NEWS/TODD GUSTAFSON
POSSE NEWS: PETER KES
SHOPPERS GUIDE
IPT UPDATES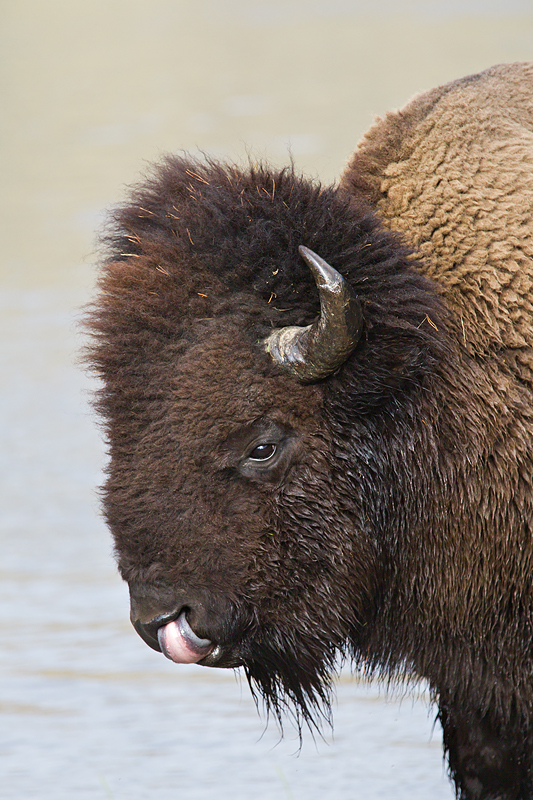 American Bison, Yellowstone National Park, WY
Image copyright 2010: Arthur Morris/BIRDS AS ART

Canon 70-200mm f/2.8L IS lens with the 1.4X II TC (handheld at 280mm) and the EOS-1D Mark IV. ISO 400. Evaluative metering +1/3 stop: 1/1250 sec. at f/4.

Three of these rather large animals crossed the Madison River right in front of us. I sat on a rock never expecting that after the first one crossed it would turn left and walk within a yard of me…. I created this image right after it came out of the river but before it turned left. Yes, I was a bit nervous but did not want to run.
BAA BULLETIN ARCHIVES INFO
When I was working hard to complete The Art of Bird Photography II (916 pages on CD only) a few years back, many folks were getting quite impatient. Understandably so: it took me four years to finish the project. I told lots of folks, Heck, you can have the whole book for free including all the images. Just go to the Bulletin Archives and study the material there. The Bulletin Archives continue to be an amazing and totally free educational resource. With the fabulous re-do of the web site and the BAA Blog by Peter Kes, there are now three ways to view the older Bulletins.
no images were found
Go to the Blog. Click on the drop-down BAA Bulletins menu below the red arrow in the screen capture above. To visit the original and nearly complete (we are missing some very early ones) Bulletin Archives click on Birds As Art Bulletin Archives (next to the red A). The original archives have a superb search feature. You can access them here. You will find the Bulletins presented in the old tan and orange format. Most Bulletins are archived here before they are sent. The most serious students would do well to bookmark the original archives.
To see the most recent BAA Bulletins click on Recent Birds as Art Bulletins (next to the red B). Here you will find the most current Bulletins (the latest first) in the elegant white text on black format. If you scroll down through the most recent Bulletins, you can access older Bulletins by clicking on the Older Entries button at the bottom of the page. The Bulletins are usually archived here within 24 hours of being sent thanks to the kindness and hard work of Peter Kes. Thank you Peter.
If you know the number of the Bulletin that you wish to view, click on the Recent Bulletin List (next to the red C). Then simply click on the Bulletin you are looking for.
Enjoy your studies.
no images were found
American Dipper with fish, Yellowstone National Park, Wyoming
Image copyright 2010: Arthur Morris/BIRDS AS ART

Canon 800mm f/5.6L IS lens with the EOS-1D Mark IV. ISO 800. Evaluative metering +2/3 stop: 1/200 sec. at f/5.6.

More fun at LeHardy Rapids. I do not think that I have ever seen an image of a dipper with a fish…. This bird struggled with the fish for several minutes before being able to swallow it. I created about 25 images and kept only two. The other keeper would have appeared here but for the fact that the birds head was turned ever so slightly away from me. If you would like to learn more about head angle and its importance in bird and wildlife photography, check out the great BPN Quiz Thread, Head Angle Fine Points.
ONE OF DOZENS
For years I have urged folks to take advantage of the great variety of resources available on the web site, on the blog, in the Bulletin Archives, on BPN (especially in the Educational Resources and Tutorials Forum, and in the various books and PDFs that we offer; I would have killed to have had the information available 27 years ago when I was just starting.
Below is an e-mail an all too typical e-mail exchange between an unidentified photographer (UP) and me (AM).
UP: I am an amateur photographer with a passion to capture some pin sharp birds in flight. The equipment I am using today, should (I believe) be capable, but I continue to fail. My lens is not IS and I am hand holding, but with a good shutter speed and relatively high ISO, I would have expected sharper images. I have a Canon 1D mark III and use a Canon 400mm f5.6 L lens (non IS). I also have a 70-200mm f4 IS L lens and a 1.4 II extender.
I have looked at purchasing different lens (with IS) and obviously the Canon EF 500mm f/4.0 L IS USM, stands out, but I cant afford that, even second hand!
AM: Understood.
UP: Also, is the 500mm too big to hand hold for birds in flight?
AM: Some folks do it routinely. I do, but only for a few minutes at a time.
UP: Then I thought about going for the 300mm f2.8 IS L and using an extender (which I have).
AM: If you are talking about the older 300 f/2.8 L IS, do know that it is both heavy and expensive. Despite that, it isright nowthe choice of the world's best hawk in flight photographers who hand hold it all the time. For folks with money to spend Canon is right now releasing a lighter, sharper version.
UP: I would be ever so grateful if you could advise me. My prime aim here is birds in flight. What I dont want to do, is waste many, many more days taking poor shots, if my lens isnt capable of achieving my goal.
AM: Are you aware of the AF problems that some folks reported with the MIII, especially the ones from early in production?
UP: However, if you tell me that I will probably struggle with the 400mm f5.6 L lens (hand held), then I would like to pursue a different lens (that I can hopefully afford).
AM: #1: Have you done the basic sharpness testing on your lens and camera? (If not, do a search in the Bulletin Archives and perform the tests.)
#2: Have you done the micro-adjustment?
#3: Have you made a single razor sharp flight image?
#4: Are you aware that the images that come from digital cameras are inherently unsharp and need to be sharpened?
UP: ps: I am very aware that my ID mark III could be set-up wrong, as I have read lots of blogs and advice on custom settings.
AM: #5: Do you have our Mark III User's Guide?
UP: I have tried several different custom settings (based on blog BIF recommendations), but still the images are not sharp enough.
AM: #6: What is sharp enough?
#7: Have you considered operator error?
UP: pps: My goal would be to have the Canon 500mm f4 L IS on a Wimberley Head, but my budget is someway short of that price tag!
AM: Life can be tough. Best would be for you to purchase a new Mark IV body and the new 300 f/2.8L IS II with a 1.4X Series III TC but that is out of your price range. And then there is still operator error.
The strangest thing is that lately lots of folks have been writing lately telling me that they want the latest, greatest, lightest (the 500mm f/4L IS is too heavy for them) lenses and professional camera bodies but the obvious choices are far beyond their budgets. You gotta love it.
Please know that much of what I wrote above has been dealt with in our free Bulletins, in the Bulletin Archives (that has a great search feature), on the blog, in ABP, in ABP II (916 pages on CD only), in Digital Basics, and in our MIII User's Guide.
later and love, artie
Note: Though I e-mailed UP several days ago I have yet to receive a response….
no images were found
Elk, doe, Yellowstone National Park, Wyoming
Image copyright 2010: Arthur Morris/BIRDS AS ART

Canon 800mm f/5.6L IS lens with the EOS-1D Mark IV. ISO 800. Evaluative metering +2/3 stop: 1/640 sec. at f/5.6.

Here I used my long lens to isolate this animals head and her dandelion lunch from rather cluttered surroundings.
BOSQUE THANKSGIVING
For the past ten years or so, I have hosted a Thanksgiving Day midday meal, in part to honor the memory of my late-wife, Elaine Belsky Morris, and in part because I love meeting others who love Bosque as I do. At first it was held at the wonderful and relatively elegant Val Verde Steak House, now defunct. Then it was at the lovely and historic Luna Mansion. Luna Mansion closed a few years ago and recently re-opened but will not be serving on Thanksgiving this year. Last year we had fun and a fine meal at the Stage Door Grill but that wonderful little joint recently bit the dust also. Socorro is a tough place for businesses to survive.
For 2010 we are going a bit upscale and will be dining in the New Mexico Ballroom at the Hilton Albuquerque hotel: 1901 University Blvd NE, Albuquerque, NM 87102. Telephone: 1- 505-884-2500. The Hilton is just a bit more than an hour from Socorro. I have group reservations for 11:45am on Thanksgiving Day of course.
I will be picking up the tab for the IPT group, but as always, all visiting birders and photographers are invited to join us. If you would like to take part in the fun and camaraderie this year please send a check for $40.00 per person made out to Arthur Morris to cover the cost of the buffet that will include the traditional items as well as tax and tip. Drinks are on you. Please mark Thanksgiving Brunch on your check and mail it to; BIRDS AS ART, PO Box 4041, Indian Lake Estates, FL 33855. Sorry, no PayPals or credit cards. I do hope that you can join us. Right now we have a group of 20.
no images were found
Common Merganser, hen, Yellowstone National Park, Wyoming
Image copyright 2010: Arthur Morris/BIRDS AS ART

Canon 800mm f/5.6L IS lens with the EOS-1D Mark IV. ISO 640. Evaluative metering -2/3 stop: 1/200 sec. at f/10.

We had too, too much fun at LeHardy Rapids. In addition to the mergs there were a few Harlequin Ducks and at least two pairs of dippers. The harlequins breed along this stretch of the river in May.
POSSE NEWS: TODD GUSTAFSON
GUSTAFSON PHOTO SAFARI PRESENTS: SERENGETI MIGRATION SAFARI 2011.
Leaving the US July 29, returning August 13, 2011: $11,999.00 double occupancy.
no images were found
Wildebeest crossing, Kenya
Image copyright 2010/Todd Gustafson/Gustafson Photo Safari
Chapters of the great migration story take place all across the wildlife corridors of Kenya and Tanzania. It begins in Tanzania during February on the short grass plains of Ndutu. The middle chapters take place in Kenyas Masai Mara. This years August safari follows the migration as it unfolds in the extreme Northern Serengeti. We will begin in Tarangire, known for its baobab dotted landscape, huge herds of elephants and diverse birdlife. It is one of the best dry season game parks in Africa. From there we journey to the Seronera Wildlife Lodge in the heart of the Serengeti, famous for its hippo pools and frequent leopard sightings. The next stop is Lobo Wildlife Lodge where we will concentrate on big cat photography. From there we will travel to our Exclusive Mobile Camp that will be located wherever the herds are. River crossings are possible as the herds gather on stretches of the Mara River as it winds through the Northern Serengeti. Our last stop is the Ngorongoro Crater, one of the natural wonders of the world, teaming with big game. You may opt to continue your journey by joining us for the Rwanda Gorilla Adventure; the dates coincide seamlessly.
no images were found
Lioness, Serengeti, Tanzania
Image copyright 2010/Todd Gustafson/Gustafson Photo Safari
Rwanda Gorilla Trek 2011.
Leaving the US August 12, returning August 19, 2011. $8,200.00 double occupancy.
The scenic beauty of Rwandas Volcanoes National Park, our home base, is the backdrop for this gorilla photo adventure. Trekking through the lush, mountainside forests is the only way to see these gentle primates. Last years trekking photography was so spectacular that his year we are doing three gorilla treks! Every day offers a chance to photograph different family groups in different habitats displaying different behaviors.
no images were found
Baby Gorilla, Volcanoes National Park, Rwanda
Image copyright 2010/Todd Gustafson/Gustafson Photo Safari
For more information, or to request the full color PDF for both trip, e-mail Todd here: gustaphoto@aol.com.
To learn more about Todd and his trips, check out the video here. Rwanda.
Get a copy of Todd's great safari photo guide here: The Photographers Guide to the Safari Experience
POSSE NEWS: PETER KES
no images were found
Leopard male, Pilanesberg, South Africa
Image copyright 2010: Peter Kes
Black Rhino Photographic Workshop: 7-14 January, 2011
7 full days, $3990. Limit 7, Openings: 1.
Due to medical complications, one of the participants on our Black Rhino Photographic workshop needed to cancel. Join Peter Kes on a photographic tour of the Black Rhino Game Reserve in the Pilanesberg, 200km north of Johannesburg, South Africa. Black Rhino is a privately owned game reserve that is located in a malaria free area and offers all of Africas big game species as well as a great number of birds.
The objective of this tour is to photograph in the African bush with birds of a feather. Upon arrival in Johannesburg on 7 January you will be transported to Pilanesberg. The lodge is situated on 10,000 square meter property within the boundaries of Pilanesberg and offers all the modern luxuries. On the last day (14 January) we will visit the Cheetah Breeding Farm de Wildts and pay a visit to the Montecasino Bird Gardens. The workshop fee includes all costs in South Africa including food & beverages. Any airline costs will be the responsibility of the participants.
SHOPPERS GUIDE
Here is the gear that I mentioned in this bulletin:
Canon 70-200mm f/2.8L IS II lens
Canon EF Teleconverter 1.4X II
Canon EOS-1D Mark IV professional digital camera body
And from the BAA On-line Store:
If you are considering the purchase of a major piece of photographic gear be it a new camera, a long lens, a tripod or a head, or some accessories be sure to check out our complete Shoppers Guide.
IPT UPDATES
BOSQUE del APACHE 2010 IPT:
The Complete Bosque Experience. NOV 20-26, 2010. Slide program on the evening of Friday, NOV 19. 7-FULL DAYS: $3199. (Non-refundable deposit: $500; see details below.) Limit: 10/Openings: 1. Co-leaders: Robert OToole, Jim Heupel, and Denise Ippolito. Live, eat, and breathe photography with one of (if not the) world's premier photographic educators at one of his very favorite locations on the planet. Plus great co-leaders and top-notch Photoshop instruction. Please see terms and deposit info below.
A BLURRY DAY in BOSQUE del APACHE 2010 IPT:
NOV 27, 2010. Slide program on the evening of Friday, NOV 26. 1-FULL DAY: $399. (Payment in full due upon registration.) Limit: 15/Openings: 10. Leaders: Denise Ippolito and Arthur Morris. Learn to create a variety of pleasingly blurred images of Bosques geese and cranes. Techniques covered will include pan blurs, subject motion blurs, flash blurs, zoom blurs, sunny day blurs, and lots more.
SAN DIEGO IPT: JAN 19-23, 2011.
Slide program on the evening of JAN 18. 5 Full Days: $2399 (Limit 8/Openings 3) Co-leader: Todd Gustafson. Brown Pelicans in spectacular breeding plumage with their bright red bill pouches, Wood and Ring-necked Ducks, Lesser Scaup, Western, California, and Heerman's Gulls, Marbled Godwit, and lots, lots more. Please see terms and deposit info below.
SW FLA IPT: FEB 9-14, 2011.
Slide program on the evening of FEB 8. 6 Full Days: 2899. (Limit 10/Openings 5). Co-leaders Robert OToole, Randy Stout, and Daniel Cadieux. Escape winter's icy grip to enjoy a wide array of Florida's tame birds: herons, egrets, Wood Stork, shorebirds, gulls, terns, skimmers, raptors, and more. Please see terms and deposit info immediately below.
Terms and deposit info:
A non-refundable deposit of $500 is required to hold a spot on the above IPTs. Deposits may be paid by check, PayPal, or credit card. Payment in full (by check or money order only) is due four months before the start of each trip and is non-refundable unless the IPT sells out. You will be required to sign a statement of understanding to this effect. Travel insurance is of course highly recommended. Travel Insurance Services offers a variety of plans and options. Included with the Elite Option or available as an upgrade to the Basic & Plus Options is Cancel for Any Reason Coverage that expands the list of reasons for your canceling to an infinite list from a sudden work or family obligation to a simple change of mind. My family and I use and depend on the great policies offered by TIS whenever we travel. You can learn more here. Do note that many plans require that you purchase your travel insurance within 14 days of our cashing your deposit check or running your credit card. Travel insurance protects you against unexpected developments, injuries, or illnesses. We regret that we must implement this new policy but we have been plagued by last minute cancellations that make it impossible for others to participate and deprive us of essential income.
Important note: please print, fill out, and sign the registration and release forms and include them with your deposit check (made out to "Arthur Morris." ) If you use a credit card to register, please fill out, sign, and mail the forms asap. Your registration will not be complete until we receive your paper work. You can find the forms here.
ROBERT OTOOLE PHOTOGRAPHY HOMER BALD EAGLE INSTRUCTIONAL PHOTO-TOUR WITH ARTHUR MORRIS/BIRDS AS ART.
March 18-22, 2011:
Limit 12 including the leaders/Sold Out. 5-FULL DAYS: $3249
March 24-28, 2011:
Limit 12 including the leaders/Sold Out. 5-FULL DAYS: $3249
March 12-16, 2011
(slide program the evening of March 11) 5-FULL DAYS: $2799. ABSOLUTE LIMIT: 5/Sold Out.
The trip above was added by popular demand; only Robert will be leading it.
GALAPAGOS 2011 PHOTO-CRUISE OF A LIFETIME IPT/The Complete Galapagos Photographic Experience:
July 3-20, 2011 (July 5-19, 2011 on the boat): 13 1/2 days of photography plus a last morning panga ride: $12, 499. (Limit 11/Openings 1)
This two-week trip features an unparalleled photographic itinerary that will visit all the great spots in the islands; we will not miss a thing. The highlights include Tower Islandtons of nesting birds at knee and eye level, Punta Espinoza (Flightless Cormorants), Puerto Ayora (tortoises in their natural habitats), Hood Island (Waved Albatross and lots more nesting birds), South Plaza, and North Seymour. Each of these locations is on a par with Antarctica or East Africa when it comes to spectacular photographic opportunities. If you make only a one week cruise you will miss half of these great locations. With two full weeks we will enjoy a relaxed pace with shorter navigations and lots of time for snorkeling, image sharing, and small group Photoshop instruction. You will have a great photographic leader (that would be me) with 7 years of Galapagos experience teamed with the very best most knowledgeable guide in the entire archipelago. We will be the first boat on each island in the morning and the last boat to leave each island every afternoon. If we are blessed with overcast weather, we often spend as much as six hours on a landing. Jeez, I almost forgot our spectacular and romantic motor sailing ship, the Beagle: www.thebeagle.com.ec
The group will be flying to Quito on their own to arrive on July 3, 2011. We have a travel insurance day on July 4th (with an optional trip for perched hummingbirds at Tandayapa). On the morning of July 5 we fly to the Galapagos and board the boat around midday. We leave the boat two weeks later on morning of July 19 after our last photo session, a short panga ride. We fly back to Quito on that same day, July 19, overnight in Quito, and fly home on the morning of July 20.
Note: some of the walks are strenuous. Though I will be bringing my 800 f/5.6L IS lens along, great images are possible on all landings with a hand held 70-200mm lens.
Please e-mail me at for a complete 2010 itinerary. Happy campers only please.
Included: three nights in the luxury hotelthe Hilton Quito Colon, round trip airfare to and from the Galapagos, all meals on the boat, a killer buffet lunch with the tortoises!, all park fees and related costs, and all transfers. Not included. Your round trip airfare from your home to and from Quito, beverages, phone calls, and the $500/person tip for the guide and the crew. A $5,000 non-refundable deposit per person is due immediately. Please call me at 863-692-0906 or 863-221-2372 before sending your deposit to check availability.
Please print, sign, and return these two forms along with your deposit check.
Two additional non-refundable payments will be due as follows: $4000 on NOV 1, 2010. The final payment of $3,499 will be due on FEB 1, 2011. Travel insurance is of course beyond highly recommended as none of your payments are refundable. You need to protect yourself in case of an unexpected illness or accident or other unforeseen developments.
MIDWAY ATOLL IPT, April 2012, (from Oahu, HI). 7-FULL DAYS OF PHOTOGRAPHY.
(Sold Out.)