FEATURES
ALAN MURPHY'S "Guide to Songbird Set-up Photography"
SOUTH GEORGIA/FALKLANDS EXPEDITION UPDATE
LENS CLENS
IPT UPDATES
POSSE NEWS/ROBERT O'TOOLE
Everglades National Park, Anhinga Trail In-The-Field Workshop
Friday and Saturday January 21-22, 2011. $599. Deposit $299. Limit 6, openings: 5. Includes Morning and afternoon photo sessions and daily classroom session. Join Robert in the Everglades with tons of tame subjects and lots of great in-the-field instruction.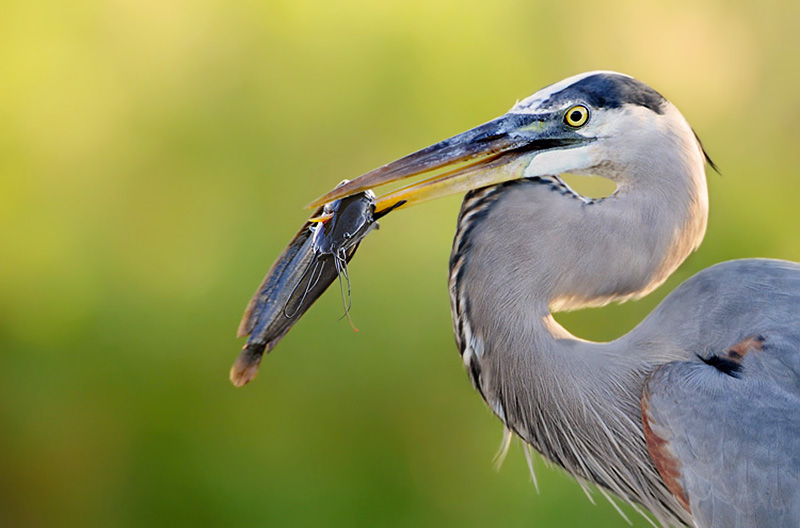 Great Blue Heron with prey, Anhinga Trail, Everglades National Park, FL
Image Copyright 2009: Robert O'Toole Photography

Robert O'Toole Miami Metro Zoo In-The-Field Workshop
Photography Made possible by SIGMA USA: Miami Zoo: Sunday, January 30, 2011. $149. Limit 10, openings: 8. Includes Morning photo session and afternoon classroom session. Join Robert in this special Sigma workshop with tons of tame subjects, Sigma lenses and lots of great in-the-field instruction.
Hungary Bird Photography Workshop #1: May 6-11, 2011
7 Days: $3899. Deposit $1200. Maximum 4 photographers + the leaders, 3 openings available.
Hungary Bird Photography Workshop #2: May 11-17, 2011
7 Days: $3899. Deposit $1200. Maximum 4 photographers + the leaders, 2 openings available.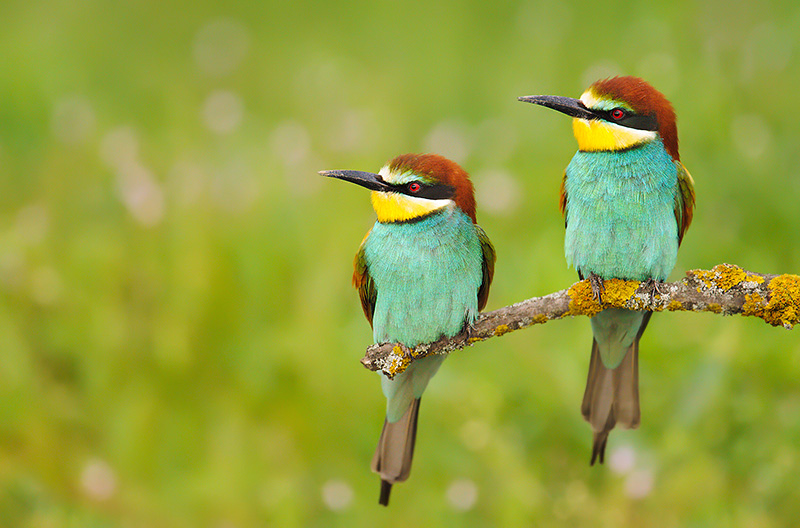 Bee-eaters, Hungary
Image Copyright 2009: Robert O'Toole Photography

Hungary is known as one of the top tourist destinations in the world but it also offers some of the most amazing bird photography opportunities on the planet. Photograph Bee-eaters, Hoopoe, European Rollers, raptors and more great birds in Hungary with Robert O'Toole. This central European country Based 2 hours south of Budapest we will be visiting 14 established hides–10 within a radius of 1.2 miles–during this time for Hoopoe (4 nesting pairs in 2010), bee-eaters, rollers, kestrel–all nesting, displaying, and mating. Bee eaters spend an enormous time in front of the set ups offering food to their mates: bees, wasps, butterflies and dragonflies. Some bee eaters have been known to catch as many as 250 bees per day. Rollers will perch prominently while hunting and the male will feed the female about every 20 minutes with insects, rodents, snakes, lizards and frogs of all kinds. There will also be chances to photograph Goshawk, Sparrowhawk, Hawfinch, spoonbill, herons, egrets, Squacco Heron, White-tailed Eagle, and much more. All of these opportunities are easily within reach of a 300-500mm lens.
Katmai Alaska Brown Bear Workshop July 24-30, 2011
7 Days, 6 nights: $5499. Maximum 6 photographers/openings: 4.
This workshop date has just been added and is just about perfect for awesome action and great weather conditions. Considering the amount of time that the August Bear Boat with Artie and Robert workshop took to sell out, contact Robert right away if you would like to join. 2011 will be Robert's sixth year photographing and leading workshops to photograph Coastal Brown Bears in Katmai.
This trip should offer opportunities for lots and lots of coastal Brown Bears of various ages including spring cubs (nursing and playing), eating luscious green grass, and clamming. Also we should have possible chances to photograph bears fishing for salmon. Bald Eagles with chicks in the nest are probable, both puffin species are possible, and likely chances with hauled out and endangered Steller's Sea Lions. Halibut fishing (license required) is optional. We will have a morning and afternoon photography session weather permitting. In the afternoons we will make time for group image review photography, Photoshop and digital workflow instruction each day.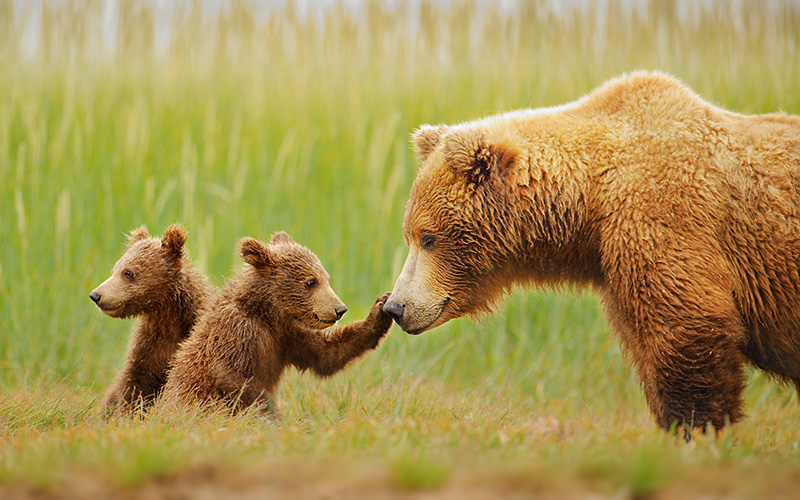 Coastal Brown Bear cubs with sow, Katmai National Park, AK
Image Copyright 2009: Robert O'Toole Photography

Need help with any of the above?: E-mail Robert at mailaddress or call his cell at 310.619.8017. For more information click here.
ALAN MURPHY'S "Guide to Songbird Set-up Photography"
no images were found
Just about 15 months ago I attended a slide program done by Alan Murphy. I was so amazed by the songbird set-up tips that he revealed that I urged him to do a CD guide on the subject. We collaborated on the guide and wound up printing 2,000 copies. Well, that initial printing is almost sold out and the very great likelihood is that there will not be a second printing. We will instead go to a download system. If you would like to have your hands on the actual CD and the beautiful CD cover you need to order now. .
The book is lavishly illustrated not only with Alan's killer images but with dozens and dozens of step-by-step photos that will show you exactly how to create your own successful set-ups. The writing is clear and concise and the directions are easy to follow and inclusive. As Alan shows in the book, even if you have only a small backyard, or even just a patio or a balcony, he can help you to create some stunning avian images on a consistent basis.
The professionally designed, packaged, and burned CD will not be available for long. It sells for $50 plus $3.00 shipping and handling to US addresses. Shipping to Canada is $6.00, $8.00 for all foreign orders. Florida residents will need to add 7% sales tax ($3.50) to the cost of the CD only. You can send us a PayPal, call us at 863-692-0906 with a credit card in hand, or the CD from the BAA On-line Store (with secure credit card data transmission) by clicking here. (Note: Shipping charges with BAA On-line Store orders will likely vary by small amounts from those noted above.)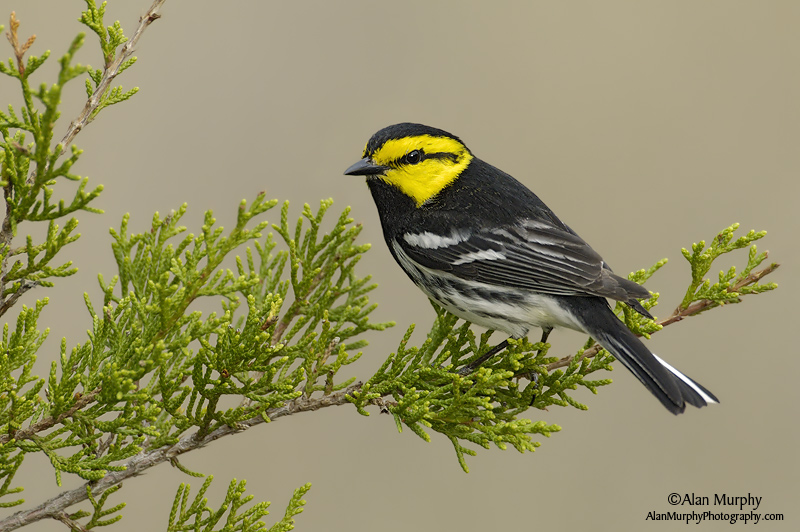 Golden-cheeked Warbler, Travis Co, Texas Hill Country
Image Copyright 2009: Alan Murphy

Nikon 600mm f/4L VR lens and Nikon D2X. ISO 320.
Evaluative Metering -0.3: 1/400 sec. at f/6.3.

This full breeding plumage male was feeding on an Ash Juniper. To get the bird to look back, I gave a high pitch squeak.
In this CD book you will learn the tips and tricks that Alan has been using to create exquisite images of songbirds on beautiful perches for nearly a decade.
These include:
How to attract a variety of songbirds to your set-ups and get them to land exactly where you want them to!
How to photograph hummingbirds in flight without a flash
How to get hummingbirds to land on your perch
How to create great set-ups for woodpeckers
How to keep plants, leaves, and flowers alive and looking fresh
How to get small songbirds to land on delicate perches
How to get birds to land on cactus set-ups
Which type of bird feeder is best by far and how to use them in your set-ups
The secrets of using suet with your set-ups
How to work with fruit and berries
How to build and work with water-drip ponds
How to choose perches including the do-s and don't-s.
How to place, position, and secure perches at your set-up
How to get ground birds like quail, roadrunners and meadowlarks up on your stump set-ups
How to turn nest boxes into natural looking tree cavities
How to create set-ups for birds that frequent open fields and grasslands.
How to attract elusive kingfishers to your set-up
How to get low and in the water to create intimate images of ducks, geese, rails, grebes, and other waterbirds while remaining safe and dry
How to set up for and create images of songbirds in flight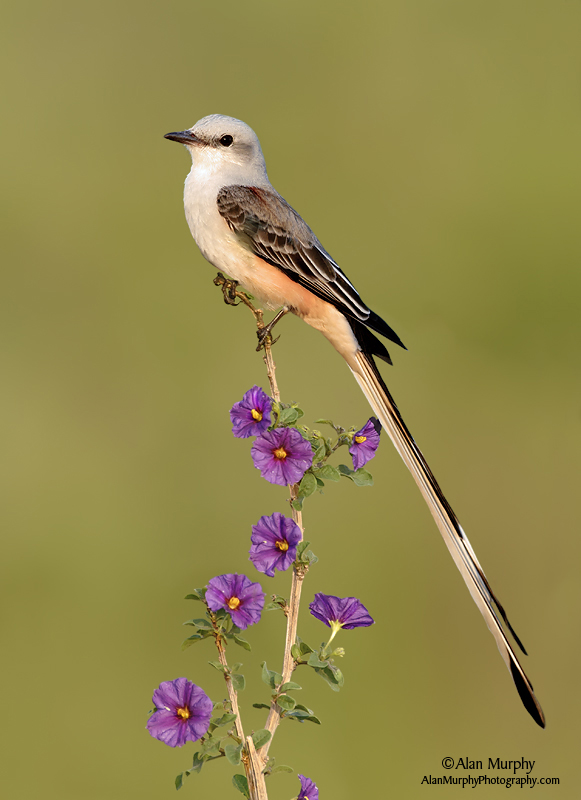 Scissor-tailed Flycatcher, Galveston Co, Texas.
Image Copyright 2009: Alan Murphy

Nikon 600mm f/4L VR lens and Nikon D3. ISO 800. Evaluative Metering -0.3: 1/320 sec. at f/7.

To see how I got this elusive Flycatcher up on my perch, check out this bird photo tip on my blog.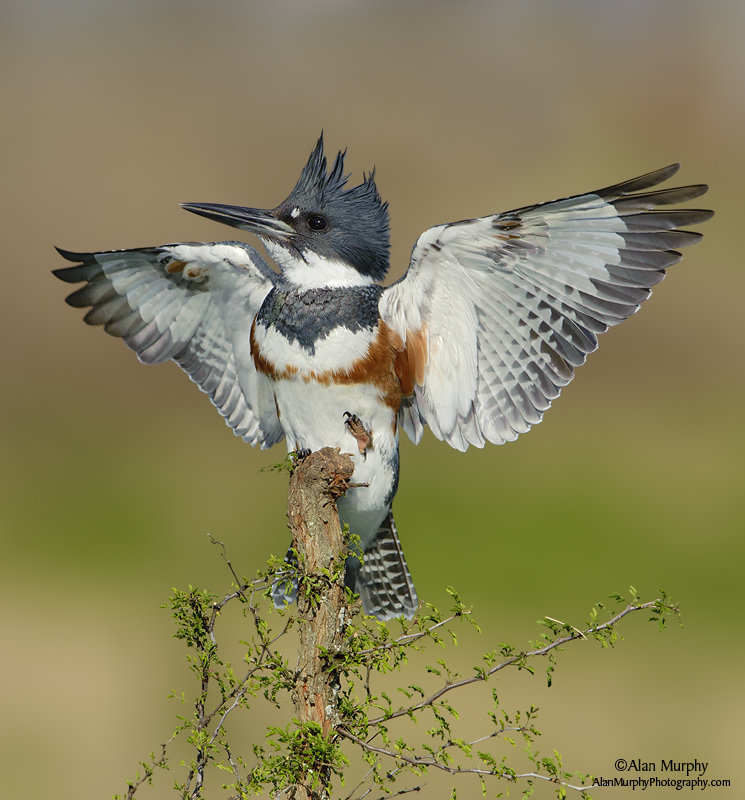 Belted Kingfisher, female. Starr Co, South Texas.
Image Copyright 2009: Alan Murphy

Nikon 600mm f/4L VR lens and Nikon D3. ISO 1600. Evaluative Metering -0.3: 1/5000 sec. at f/7.
During one of my workshops earlier this year, we had fun shooting this bird as it came repeatedly to my set-up perch. Complete details on how I do my Kingfisher set-ups can be found in my songbird set-up eBook.
SOUTH GEORGIA/FALKLANDS EXPEDITION UPDATE
Many dozen folks have contacted me for the info on the killer South Georgia/Falklands Expedition that will run October 18 to November 11, 2012. If you missed that feature, see item one here. If you are seriously interested in this trip it would be best not to tarry AS 22 BAA folks are already on board at present with lots more in the wings; please e-mail me at mailaddress immediately for details and the sign-up info. I am good to go. And I hope that you can join us.
LENS CLENS
I have been using Lens Clens to clean my gear for about 15 years. Their #1 version is designed for coated optics. That is all that I use and will be the only Lens Clens product that we carry. I try to keep a bottle on my desk to clean the laptop screen, a bottle in my X-tra Hand vest for use in the field, a bottle in the Think Tank Rolling Bag that holds an amazing amount of my gear most of the time (including the time that I spend on planes), and a bottle in my laptop bag and my luggage for emergency use, i.e., when I can't find one of the other bottles (which is often).
In the field I put a few drops of Lens Clens on the absorbent cotton that I keep in my vest, clean the front element of the lens that needs cleaning, and then use a second dry piece of cotton to polish the surface. If I am cleaning the lenses inside at home, I use an old cotton undershirt. If I am in a motel I use a dirty cotton undershirt. I moisten one part of the shirt, clean the front element, and then use a dry portion of the shirt to polish it.
On rare occasion, I actually do clean the outer surfaces of camera bodies and my lenses, especially if I have abused them with dirt or mud. Same deal except that I put more of the Lens Clens fluid on the the undershirt than I do when cleaning the front elements of the lenses. I also keep a few Q-tips in my vest. I moisten one end of a Q-tip to clean the viewfinder. Then I polish it with the dry end. Lastly I break the cotton off one end, wrap some cotton or a corner of the undershirt around the shaft, and finish polishing the viewfinder at the same time as I get into the corners. For the laptop screen its moisten the undershirt time again.
Not only is the stuff designed to be 100% safe with all the glass and all the surfaces of your gear, it will get your stuff cleaner than you have ever seen it since it came out of the box. And it dries in seconds. (Do not of course be tempted to use it on the sensor of your camera; that's what Lens Pens and Sensor Scopes are for.)
I began to investigate the possibility of adding Lens Clens to our mail order line-up as it met the two major criteria: I use it all the time and it works. The final straw was a comment by IPT veteran Myer Bornstein at Nickerson Beach after I loaned him a few drops (generous fellow that I am 🙂 actually, a few drops is all it takes). He said something to the effect that the Lens Clens worked about a hundred times better than the stuff he had been using.
no images were found
Lens Clens product shot, Indian Lake Estates, FL
Image Copyright 2010: Arthur Morris/BIRDS AS ART

Canon 24-105mm IS L lens (hand held at 70mm) with the EOS-1D Mark IV. ISO 400. Evaluative metering +1 stop: 1/50 sec. at f/11.

Even with what seems like a nothing image there are lots of lessons to learn: 1: Be creative, all the time. 2: Avoid making images indoors if you can do them outdoors. Why? Natural light is nicer and light levels are higher during the daytime. I took one of the two cases of Lens Clens out to the driveway…. 3: Know your gear. With the lens that I was using I knew that sharp at 1/50 sec. with a bit of extra d-o-f was child's play.
We are pleased to announce that we have two cases of Lens Clens available as follows:
| | | |
| --- | --- | --- |
| One 1 3/4 ounce bottle: | $10.99 plus $7.00 S&H to all US address via Priority Mail | $17.99 |
| Two 1 3/4 ounce bottles: | $9.99 each plus $7.00 S&H to all US address via Priority Mail | $26.98 |
| Three or more 1 3/4 ounce bottles | $8.99 each plus $7.00 S&H to all US address via Priority Mail | you do the math 🙂 |
A bottle or three would be the perfect holiday gift for any photographer. Please note: shipping charges on orders made through the on-line store may vary slightly. If it bugs you, please e-mail Jim at mailaddress and ask politely for a refund :). We will be glad to refund any over-charges.