FEATURES
CANON EVERGLADES WORKSHOP REPORT
CANON EVERGLADES WORKSHOP KUDOS
THE BLOG IS THE BOMB!
JAPAN 2012 DAY BY DAY ITINERARY
A GUIDE TO CREATIVE FILTERS AND EFFECTS (pdf) by DENISE IPPOLITO
IPT UPDATES
no images were found
Anhinga chick, head portrait, Anhinga Trail, Everglades National Park
Image copyright 2011: Arthur Morris/BIRDS AS ART

Canon EF 800mm f/5.6 L IS lens with the 1.4X II TC and EOS-1D MIV. ISO 400. Evaluative metering +1/3 stop: 1/1000 sec. at f/10.
Four stop IS allowed for the creation of a sharp image. Finding the best perspective, heck, finding any clear view of the chick's head was a huge challenge that involved moving the tripod an inch up or down or a half inch to the left or the right. See the next image to best understand the situation.
CANON EVERGLADES WORKSHOP REPORT
On Friday evening, February 4th, I met a wonderful group of eager photographers at the Hampton Inn in Florida City. All had signed up for the 2 1/2-Day Canon EOS Destination: Birds of the Everglades Workshop. After my first program, "Choosing!and!Using!Lenses for Bird & Nature Photography," folks got to borrow tons and tons of Canon gear that was sent down via Fed-Ex by Kristen Cunningham of the Canon Digital Learning Center who organized this whole gig. Tech specialist Drew MacCallum is along to help with the gear and with gear questions.
On our first morning we headed down to Anhinga Trail and were greeted by mixed clouds and sun and the usual assortment of Anhingas, Double-crested Cormorants, Black Vultures, Great Blue Herons and more. Teaching in the field with a large (16) group of photographers with a diverse range of skills is always a challenge. Denise Ippolito was a huge help. We dealt with pretty much every imaginable problem in a span of four hours. As always, the folks that stayed close to Denise and to me and asked lots of questions learned the most. It was Denise who actually led most of the group into the field well before sunrise while I stayed behind dealing with a variety of tripod, tripod head, and plate issues.
In short order most folks were creating nice head portraits on a particularly cooperative Anhinga and several Black Vultures. We went over the basics of exposure and histograms and explained head angle. With the Anhinga preening its uropygial gland one moment and posing for head portraits the next, we reviewed the necessity of working in Manual mode. (We explained that with the bird's head set against its own black back rather than the yellow grasses you will over-expose the highlights if you are working in Av mode.)
We explained the role that the background itself and the distance to the background play in creating successful images. The sun was out about half the time. When it was, we stressed the importance of working down sun angle with your shadow pointed at the subject. Some folks listened…. 🙂 We added a bit of natural history information as well. And most importantly we talked about photographic situations, explaining why we would walk by one cormorant while getting excited by another sitting just a few yards away. I need to get back to the group soon for a short session on histograms and digital exposure so I will say bye for now.
After lunch on Saturday we headed back to the Anhinga Trail for some low light photography on a cloudy afternoon. We went over the basics of creating pleasing zoom blurs and the use of flash both as fill and as main light. That was followed by a pizza party–I only eat the toppings–and a program: "Composition and Image!Design." The pizza was high end wood fired and everybody loved it. I had the ricotta and meatballs and it was delish. Then it was off to bed for another early wake up call and our third and last trip to the zoo that is Anhinga Trail. Did I mention that most of the birds there are insanely tame? We had come good chances with a male Anhinga, some Anhinga chicks, and a few gators. As the morning wore on most of us enjoyed a great session with Black Vultures landing at close range. For the whole story and to see my 5-frame composite pano, click here.
After a great Canon-sponsored deli lunch we spent a few hours on the BIRDS AS ART digital workflow (as detailed in Digital Basics). The grande finale was a printing session where each participant–with Drew's help–got to print one or two of their favorite images. Then I kissed everyone good bye and rooted for the Packers in the Super Bowl.
no images were found
Anhinga chicks in nest, Anhinga Trail, Everglades National Park
Image copyright 2011: Arthur Morris/BIRDS AS ART

Canon EF 70-200mm f/2.8 L IS II zoom lens with the 1.4X III TC and the EOS-1D MIV. ISO 400. Evaluative metering +1/3 stop: 1/640 sec. at f/4.
This obviously horrific image was created to give you an idea of how a long lens and a teleconverter can be used to extract the subject from an extremely cluttered situation. I had only a tiny hole through which to attempt to get the lens on the subject… Note: the chick had turned around in the nest by the time I thought to create this illustrative image.
CANON EVERGLADES WORKSHOP KUDOS
By e-mail from Bernd Meier:
Hi Art, First of all, thanks for a great workshop. While I was limping behind the group due to my non-existing knowledge of bird shooting, I think I learned enough to call myself a beginner. If you did not see too much of me during the outings that's because I was trying to find myself without disturbing the experts. I always liked outdoor shooting but never focused on birds. My favorite past time is still underwater photography.
However, you got me interested and I would like to buy a good versatile zoom lens for my Canon 40D. I can't change my camera because of the expensive underwater housing that goes with it. I like clean sharp pictures. I thought the 70-200mm 2.8 L IS lens would probably be a good compromise for me with the 2X Extender. Do you agree or have other suggestions? I really appreciate your input. I would probably try to buy a good used lens and the new 2X III Extender. Looking forward to your usual candid response. I am off to Micronesia next Wednesday. Hope your time permits you to respond prior to my departure. Thank you. Bernd
I suggested that Bernd purchase the 70-200mm 2.8 L IS version II if at all possible. Bernd shared some of his killer underwater images with the group.
By e-mail from Jim Knoy:
Hi Art, I learned and I re-learned a lot last weekend. Thanks for your patience and your frankness. You convinced me to restart using BreezeBrowser again. Jim
From Bruce Johnson via e-mail:
Artie, Thank you again for your patience and tutelage last weekend. I was also impressed by your obvious passion for your craft. Joel and I talked most of the way back to Tampa about how much we learned but also how much we enjoyed the weekend. We are committed to reading your book and practicing the techniques. I wish that I could join you in Bosque next November, but won't be able to swing that trip this year. Bruce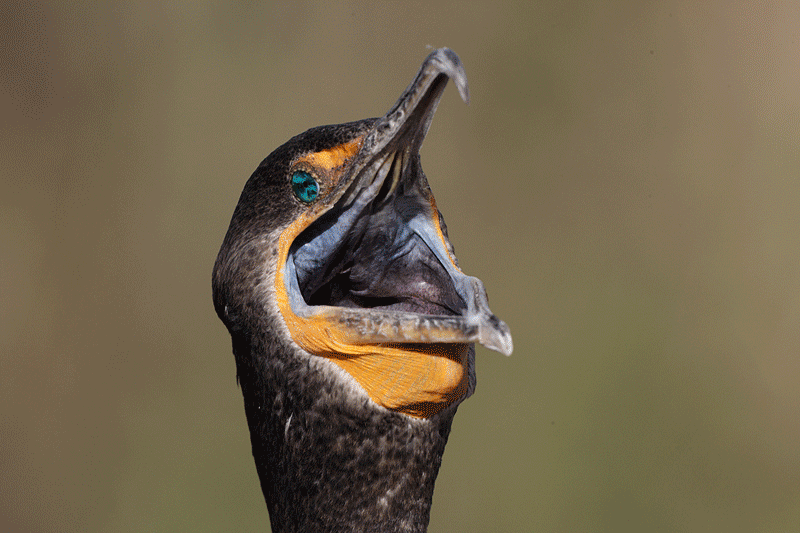 Double-crested Cormorant, gular panting, Anhinga Trail, Everglades National Park
Image copyright 2011: Arthur Morris/BIRDS AS ART

Canon EF 800mm f/5.6 L IS lens with the EOS-1D MIV. ISO 400. Evaluative metering +at zero: 1/500 sec. at f/11.
In February, this species can be photographed regularly sitting atop the foot high fence alongside Taylor Slough. In the animated GIF above, you can see the original and then the optimized image. Note that I have adjusted the color and tonality, cleaned up the image a bit, and created and sharpened the final JPEG (via an action in less than one second). You can learn to optimize your images exactly as I do in our Digital Basics File, an e-mail-able PDF.
THE BLOG IS THE BOMB
I have continued to put a ton of time into making the blog an interesting, educational, informative, and fun place to visit. Here are some recent posts that might float your boat:
If I've Said It Once…. Click on the title link to learn a very important lesson for all nature photographers….
"Impossible?:" The Canon EF 200-400mm f/4L IS USM Extender 1.4x Lens. I recommended that Canon add a 200-400 to their lens line-up about four years ago. I guess that they wanted to get it perfect…. Visit the post to learn my thoughts on the new lens and to read the press release.
Pro Focusing/Compostion Trick & I Heard He's a Real A–hole. I have come up with a new trick for creating off-centered compositions when limited to the central sensor. And for a hearty laugh check out the a–hole story. In addition, you will learn a bit more about who I am.
Canon EF 70-200 f/2.8L IS II/1.4X III Composite Flight Pano. I was very proud of my Robert O'toole inspired efforts here until the group explained to me that I had things backwards. After some thought, I realized that they were right! I will post a corrected version when I have time to come up for air. (I just finished the SW FLA President's Day IPT; it was a huge success but for one unhappy camper.) Report coming soon.
no images were found
Double-crested Cormorant landing, Anhinga Trail, Everglades National Park
Image copyright 2011: Arthur Morris/BIRDS AS ART

Canon EF 70-200mm f/2.8L IS lens with the 1.4X III TC and the EOS-1D MIV. Hand held at 215mm. ISO 400: 1/2500 sec. at f/4. Exposure confirmed via test image creation/histogram check.
This bird landed with the Black Vultures atop the roof of a rain shelter as detailed in several recent blog posts. We spent lots of time both in the classroom and in the field explaining how to evaluative and adjust the histogram in order to come up with a perfect exposure ever time. See Exposure Simplified in ABP II.
JAPAN 2012 DAY BY DAY ITINERARY
THE JAPAN ONE TRIP ONLY NEEDED PER LIFETIME IPT, FEB/MAR, 2012. Exact dates TBA
Limit twelve photographers; openings: 10). Co-leaders: Arthur Morris & Robert O'Toole. This trip will not confirm until we have 8 deposits in hand. Please see pricing and deposit info below.
Final details for this amazing trip will be sent first to those on the Friends List and then to those on the interested list. If you would like your name placed on the already long Interested List, please e-mail me at samandmayasgrandpa@att.net. Those on the Interested List will need to pass the BAA Happy Campers Test before being invited to send their deposit checks 🙂 If you are a happy camper who has been on an IPT before and would like your name placed on the Friends List, please e-mail me at samandmayasgrandpa@att.net
Japan Workshop Location Summary:
3 1/2 days of Snow Monkey photography at Nagano, Honshu (largest island of Japan, the Mainland).
4 1/2 days of Steller's Sea Eagle photography in Rasu, Hokkaido (Japan's northernmost and second largest island).
3 days (2 full and 2 half days) of Whooper Swan photography at Lake Kussharo, Kushiro Region, Hokkaido)
4 1/2 days of Japanese Red-Crowned Crane photography at two different parks in Akan National Park, Hokkaido, Japan.
Day by Day Itinerary
Day 1 – Monday, February XX — Tokyo
Arrive at Narita Airport for transfer to our Tokyo hotel and meet for dinner that evening. We recommend taking a limousine bus to the hotel. Details on this will be provided. Note that since most flights from the USA arrive in the evening in Japan, we strongly recommend arriving a day early the day before the workshop starts to rest and adjust to the time change.
Day 2: Tokyo to Nagano. After an early breakfast we will meet and begin our journey at 5am via chartered bus to Nagano for a 10 am arrival and enjoy and afternoon photo session with the Snow Monkeys. These fascinating primates, also known as Japanese Macaques, range throughout the national park and are especially fond of soaking themselves in the natural hot springs where they are easy to photograph.
Day 3-5: Nagano. Morning and afternoon photo sessions with the Snow Monkeys
Day 6: Nagano, Honshu to Rasu, Hokkaido. After breakfast we will depart at 7 am to travel to Haneda airport for our flight to Kushiro and then travel by bus arriving in in Rasu that evening. Here, with any weather luck at all, we will photograph one of the world's most impressive and rarest eagles, the Steller's Sea eagle. Our boat trips are dependent on the sea ice that is blown south across the Sea of Okhotsk from Russia's east coast. We will have some flexibility with the itinerary in case conditions are less than ideal. We are of course scheduled to be there during average prime time for eagle photography. This will be our only full travel day.
Day 7-10: Rasu. Daily morning photography sessions from a chartered boat with one of the world's largest and most amazing raptors, the Steller's Sea Eagle (Haliaeetus pelagicus). With the planned for conditions in place, the birds will be flying amongst and landing on the shimmering pack ice.
Day 11 – Rasu to Kushiro. We will enjoy one last morning boat trip for the eagles and then depart to Kushiro for an afternoon of Whooper Swan (Cygnus cygnus) photography at Lake Kussharo, Kushiro Region, Hokkaido.
Day 12 – Morning and afternoon photography sessions on Lake Kussharo with Whooper Swans
Day 13 – Morning and afternoon photography sessions on Lake Kussharo with Whooper Swans
Day 14 – Lake Kussharo to Crane Parks. There will be a short morning swan photography session at Lake Kussharo. We will leave at 10am in order to arrive in time for and afternoon crane feeding session.
At Kushiro we will photograph the rare and beautiful Japanese (Crane Grus japonensis, also know as the Red-crowned Crane), White-tailed Eagle (Haliaeetus albicilla), and Black (or Black-eared) Kite (Milvus migrans) at two different crane reserves. The photography sessions at the parks can be amazingly unbelievably good; we will get to photograph the cranes dancing and displaying from morning until dark. The peak of the action will occur during feeding time (2pm daily).
Day 19 – Kushiro Airport, Hokkaido to Haneda Airport Tokyo
After breakfast at the Kushiro hotel the group will be transported to Kushiro Airport to meet their English-speaking guide for the flight to Haneda Airport in Tokyo. (Robert and Artie will be staying in Hokkaido for five additional days at Lake Furen.) Upon arrival in Haneda the group will be met by an English-speaking guide and board a transfer bus to transport to Narita airport for international flights that afternoon.
POSSE NEWS: ROBERT AMORUSO
Merritt Island/Viera Wetlands/National Seashore and more Photographic Instructional Workshop
March 17 through 20, 2011 – Three and one-half days of extensive in-the-field instruction at some of East Central Florida's best avian photography locations with Robert Amoruso. Classroom sessions include proper exposure and compositional techniques, and editing & processing your images. For the first time I will be offering private one-on-one meetings with participants to review the images you created during the workshop – allowing you to use what you learn while on location.
Field instruction includes isolating your subject, understanding light, proper exposure (exposing to the right), using depth of field to your advantage and lots more. We will also be visiting the Avian Reconditioning Center for a private up-close and personal photography of raptors and a Florida Scrub Jay sanctuary. CD with lesson plans included – no note taking required. Find out more at http://www.wildscapeimages.biz/blog/?page_id=143.
no images were found
Roseate Spoonbill, Merritt Island National Wildlife Refuge, Titusville, FL
Image copyright 2011/Robert Amoruso/Wildscape Images

Canon 1D Mark III with Canon 600mm f/4 IS + 1.4x TC II
1/80 sec, f/5.6, Mode: Av, Metering: Evaluative, Esp. comp: +3, ISO: 800
St. Augustine Photographic Instructional Workshops
April 14 through 17, 2011 – Three and one-half days of extensive field and classroom instruction at the famous St. Augustine Alligator Farm with Robert Amoruso and Robert O'Toole. We will be using the Alligator Farm's Educational Center for meetings and equipment storage between morning and afternoon sessions. Amoruso will be presenting his "Successful Strategies for Avian Rookery Photography". Weather is pleasant in mid-April and coincides with a point in time at the rookery when nesting, chicks, mating and nest building are all occurring – one of my favorite times of the year to be there. Find out more http://www.wildscapeimages.biz/blog/?page_id=8.
May 20 through 22, 2011 – Join Robert Amoruso for three full days of intensive field instruction combined with a presentation of his "Successful Strategies for Avian Rookery Photography" and you will be up-to-speed in no time making great images of the exciting opportunities at one of the premiere avian rookeries in Florida. With unlimited, close access to nesting birds, you will make the images you have seen in publication, posted on the web and perhaps even dreamed of. Find out more at http://www.wildscapeimages.biz/blog/?page_id=284.
no images were found
Great Egret Chicks, St. Augustine Alligator Farm, FL.
Image copyright 2009/Robert Amoruso/Wildscape Images

Canon 600mm f/4L IS lens and the 5D Mark II. Evaluative metering set manually at 1/400 sec., f/5.6, ISO 800.
DSLR Photography Basics/Raptor Photography Workshop
March 25, 2011 – This workshop will be held in Apopka, FL and is designed for beginner and intermediate DSLR photographers. We will learn what a histogram is and how to use it. Proper exposure using modern metering systems and the histogram. We also cover dynamic compositions, the importance of background and light angle, critical focus, depth of field, and selectively using your camera's Auto Focusing sensors. All this and much more are covered in a four hour classroom session to help you elevate your photography to the next level. CD with all lessons included.
After lunch we will travel a short distance to a local avian rehabilitation center to photograph their beautiful selection of educational raptors. Not able to be released into the wild, these birds educate in the importance of protecting our avian friends. Here we practice what was learned in the morning with the outcome of excellent imagery for all. Find out more http://www.wildscapeimages.biz/blog/?page_id=15.
Robert J. Amoruso: 407-808-7417 (cell). Email: wildscapeimages@att.net. http://www.wildscapeimages.com (images). http://www.wildscapeimages.biz/blog (workshop info).
no images were found
Red-shouldered Hawk (captive), Avian Reconditioning Center, Apopka, FL
Image copyright 2009/Robert Amoruso/Wildscape Images.

Canon 7D with Canon 100-400mm @ 340mm, 1/1250 sec, f/8, Mode: Manual, Metering: Evaluative, ISO: 400, Flash exp. comp: -1/3 stop. Handheld.
A GUIDE TO CREATIVE FILTERS AND EFFECTS (pdf) by DENISE IPPOLITO
no images were found
Tulip with Pinch Filter
Image Copyright 2011/Denise Ippolito Photography

A Guide to Creative Filter and Effects (pdf) by Denise Ippolito, edited by Arthur Morris was released just two days ago.
On Denise's Facebook page experienced photographer and BPN member Keith Carver wrote: "Superb job, Denise! I've been going through my copy of the Filter Guide. Doing so is bringing to mind all kinds of ideas. Thanks for doing it!" Denise received this e-mail from Gail: Hi, Denise, I just wanted to let you know that I'm really enjoying your Guide to Creative Filters. It will open up whole new worlds for me. I haven't had time to try any of it out yet due to a death in family, but I'm excited to try out these new techniques. Your e-book is beautifully done. Cheers….Gail.
My foreword pretty much says it all:
"Denise Ippolito is about as creative, as hardworking, and as dedicated a photographer as you will ever come to know. And over the past fourteen months I have come to know her quite well. Her creativity is—as you will come to see as you are reading her Filter Guide—totally amazing. She can look at an average image, a simple snapshot, heck, even a bad photograph, and in seconds know exactly how to turn it into a piece of art using this filter or that effect. And then do just that in minutes. And most of the time she is working with the beautiful images of flowers and birds that she is so good at creating.
To quote our mutual friend, Kerry Perkins, one of Denise's co-moderators on the BPN Out of the Box Forum where she has worked tirelessly helping other to improve their photography for more than two years, "First off, I want to say that the Filter Guide is an amazing work. There is so much information here and so many wonderful images that I am just blown away that you managed to get it all together in one document! Wonderful work Lady D!"
Denise has worked incredibly hard on "A Guide to Creative Filters and Effects" and at the same time, worked incredibly hard at improving her writing skills. I congratulate her here on two jobs well done." arthur morris/Indian Lake Estates, Florida. January 30, 2011
Here are some of the filters and effects that are detailed in the Filter Guide:
Topaz Simplify, Clean, & BuzSim Filter
Flaming Pear Filter (including Swerve, Twist & Vein)
Fractalius (including Denise's Soft-Fix preset creation)
Adding Texture
NIK Color Efex Pro including Midnight Filter
Omni Lighting
Pinch Filter
Twirl Filter
Ripple Filter
Radial Blur
Find Edges Filter
Orton Effect
Blank Canvas Creations!
The Mixer Brush
The New Paste Special Option in CS-5
DAP
Polar Coordinates and Mini-Worlds
Holiday Lights Creations
Snap Art 2 Impasto Filter
Creating Composites
Creating Your Own Brush Presets
Using Blend Modes Creatively
Using Layer Masks and Inverse Layer Masks Creatively
Kaleidoscopes
Combinations of all of the above!
Some of the filters above require a separate purchase. (The Filter Guide includes links to all available free trial downloads so that you can try before you buy.) Many of the filters can be found in various versions of Photoshop (though most folks–including me before I edited this guide–have no clue that they exist and no clue as to how to use them). Each detailed tutorial section is written in a clear, concise, simple, easy to follow style that can be followed even by someone opening up Photoshop for the first time.
You can order your copy of "A Guide to Creative Filter and Effects" for $38 right now by calling 863-692-0906, by sending a PayPal to birdsasart@verizon.net or birdsasart@att.net, or from the BAA On-line Store here.
Be sure to visit Denise's blog here.
no images were found
Tree with Multiple Filters & Effects
Image Copyright 2011/Denise Ippolito Photography