FEATURES
THE SOFTER SIDE OF MACRO by Denise Ippolito
THE BLOG IS THE BOMB!
THE OCT/NOV 2011 HOMER-BASED BALD EAGLE IPTs
HOMER IPT KUDOS
POSSE NEWS/JIM NEIGER
IPT UPDATES
THE SOFTER SIDE OF MACRO by Denise Ippolito
BIRDS AS ART is proud to announce the publication of "The Softer Side of Macro," written by Denise Ippolito, edited by Arthur Morris.
Denise has been involved with flowers for much of her life. She is a fifth generation florist who owned a flower shop from 1989 to 1995. She followed that up by running first one and then another garden center for the next thirteen years. What can I say; the girl likes flowers. In recent years she has worked hard at becoming a skilled flower photographer and has succeeded admirably. Her incredibly creative mind led her to experimenting with a variety of filters and Photoshop effects. That led to her becoming the moderator at BPN's Out of the Box Forum. She has written or co-authored several BAA educational publications. The first was A Guide to Pleasing Blurs that I proudly co-authored with her. Next came the Barnegat Site Guide–no flowers there! That was followed by A Guide to Creative Filters and Effects. All have been well received and highly successful. You can check out some of Denise's images on her blog, A Creative Adventure. Be sure to check out the April 6, 2011 pansy post here.
Many folks doing macro/flower work love to create super sharp images often using small apertures and flash. Denise much prefers the opposite approach, the softer side of macro; she loves using soft natural light and wide apertures. In "The Softer Side of Macro" she shares the techniques that she uses to create a wide variety of dreamy, surreal flower images. She includes both in-the-field and post-processing tips.
In her introduction, she writes, "When I photograph flowers my intent is to present a softer look. I like the way the colors of the flowers blend together. The soft romantic feel of the flowers appeals to me. I have always liked impressionistic paintings, paler color tones and delicate things. Lately I have been leaning toward slightly brighter flowers but pink and white remain my favorites." As I said, she is a girl. But lots of guys–me included–love the softer look.
Topics covered include where and how to focus (or not!), choosing the best perspective, designing the image, choosing and using the right shutter speed and aperture, creating soft/sharp merges, choosing and creating your backgrounds, seeing and using the light, using natural light in your home, image processing tips, an Inverse Layer Mask tutorial (I now use an Inverse Layer Mask on about 75% of the images that I process), and the Orton effect that she uses–I just love that one!
You can order your copy of "The Softer Side of Macro" (PDF only via e-mail: 73 pages, 49 images–including a few before and after pairs) for only $16 by calling Jim at 863-692-0906 with credit card in hand, sending a Paypal to us via e-mail, or by mailing a check made out to "Arthur Morris" to us at BIRDS AS ART, PO Box 7245, Indian Lake Estates, FL 33855. Those who prefer the convenience of shopping at the BAA On-line Store can click here to purchase Denise's great new guide.
no images were found
Soft Focus Dahlia. ISO 400. 1/4 sec. at f/4. Image copyright 2010: Denise Ippolito Photography
THE BLOG IS THE BOMB
I continue to put 20+ hours a week towards making the blog informative, timely, and beautiful. Many of the educational features that formerly appeared in BAA Bulletins now grace the BAA Blog. I scratch my head when I consider that nearly 9,000 folks are signed up to receive Bulletins but only 900 to receive blog post notices. If you are not subscribed, you are missing a ton of great stuff almost daily. You can subscribe to the blog posts by clicking here. Here are two recent posts of interest:
Gear Stuff & My Comments on the Squabbling Eagle Images: two e-mail exchanges dealing with intermediate telephoto lenses and camera bodies.
Will the EF 800mm f/5.6L Soon Become Obsolete? Learn lots more about Canon's two new big super-telephoto lenses, the 500mm f/4L IS II and the 600mm f/4L IS II. Lots of folks failed to read between the lines when I posted Worth the Weight? The Skinny on the Two New Canon Super-telephoto Lenses. In the most recent post, I am much more explicit. Learn the predicted future of the 800 f/5.6L….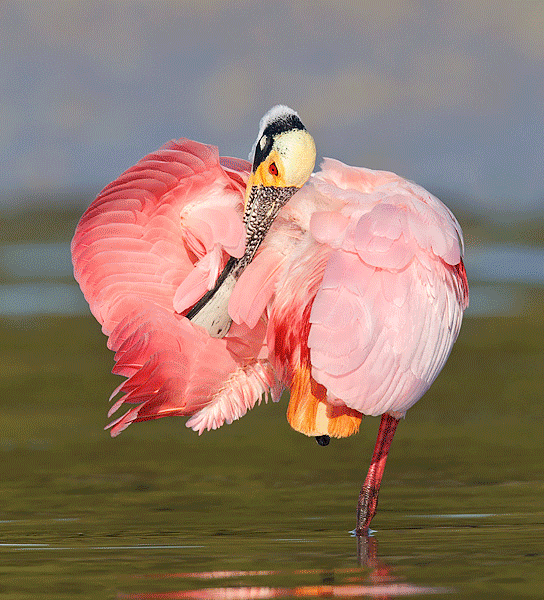 While I was editing "The Softer Side of Macro" I tried the various techniques to make sure that the directions were easy to follow. I ran Denise's Orton Effect on one of my favorite spoonbill images. I was thrilled to learn that at least one of her flower techniques worked equally well with birds! In the animated GIF above the darker, softer, almost glowing image is the "after" image.
THE OCT/NOV 2011 HOMER-BASED BALD EAGLE IPTs with Arthur Morris and Robert O'Toole
OCT 25-29, 2011.
Limit 12 including the leaders/six photographers per boat. 5-FULL DAYS: $3399. (Limit 10:/ openings: 7.)
OCT 30, 2011 Add-on day.
Free if you sign up for both IPTs. Otherwise $550. (Limit 10/openings: 5.)
OCT 31-NOV 4, 2011
Limit 12 including the leaders/six photographers per boat. 5-FULL DAYS: $3399. (Limit 10:/ openings: 7.)
These trips will be based in Homer, AK. We will enjoy virtually unlimited photographic action. This year, most folks opted to miss at least one boat trip due to photographic exhaustion. Two great leaders provide both in-the-field and in-classroom instruction that will include at least two Photoshop sessions. Canon or Nikon we've got you covered. (In-the field instruction only on the Add-on day.) We expect both of these trips (and the Add-on day) to be sold out very soon. A non-refundable deposit of $1,000 is required to hold your spot. Please call (863–692-2806) or e-mail to check on availability. Happy campers only. If we do not know you, you will be required to pass our Happy Camper test. Once you pass the Happy Camper test, please fill out and sign the forms here and send them along with your deposit check. Your registration will not be complete until we have your signed forms in hand.
Things you should know: At the last moment each morning we schedule–depending on tides and weather–either two 2-hour boat trips or one 4 hour boat trip each day of the tour (weather permitting). We do however often exceed those time limits when conditions warrant it. We gladly pick up the additional costs. You will not be charged extra for overtime no matter how extensive. On several days this year our two hour cruises went on for more than four hours; it is hard to sail away from great photography. We work a lot from from the boats and do ,again depending on conditions, spend some time on land to do both perched and flying birds. Even with "only" four hours per day of photography you will head home exhausted with the best Bald Eagle images of your life (unless we encounter unexpectedly bad weather). We have chosen out dates carefully with regards to weather. Temps should be moderate to cold with a mix of sun, clouds, and possibly some drizzle. Snow is not likely on either trip. That said we are going to Alaska and there is always a chance, a very small chance, that it might pour every day that you are there. There will be as many or more eagles on these trips as there were on the March trips. We will be collecting a $20 per day tip for our captain guides at the end of each trip. Most folks opted to kick in additional and we were fine with that.
What's included: lots of eagles and lots of instruction. Ground transportation from the motel to the dock. As above we cover all boat fees and boat-related expenses but for the tips. Breakfast at the motel. We may be able to pick you up at the airport to save you the cost of a cab. Note: some folks may wish to rent a vehicle so that they can photograph on their own during free and nap time.
What's not included: your round trip airfare from home to Homer. (Driving from Anchorage is recommended only for the adventurous….) The cost of your room. Meals other than breakfast.
To learn more about the Homer eagle experience, click on each link below:
Universal Advice for Better Flight Photography with a Zoom Lens
Finally, Finally, and Finally in Homer!
Enhancing Silhouettes
What Makes a Great Bird Portrait?
Insanity, Exhilaration, Exhaustion, and Home
And click here to read the Homer IPT Report.
no images were found
This image was created as a vertical original with the Canon EF 70-200mm f/4L IS II lens with the 1.4X II TC and the EOS-1D Mark IV. ISO 400: 1/1600 at f/4 confirmed via blinkies checking. (I set lighter and lighter exposures until I see the first blinkies and then increase the shutter speed one or two clicks depending on my mood and the light.) By the end of the first week I was so comfortable reading the light that I would set a seat of the pants exposure without metering anything. Most times it would turn out to be the best exposure.
Learning when and how to create vertical originals of birds banking in flight is an advanced skill that is taught by both Robert and me on various IPTs.
HOMER ITP KUDOS
Verbal Comment from Malcolm MacKenzie:
I expected this IPT to be great, but I gotta say that it far exceeded my expectations.
I received each of the following notes via e-mail.
From BPNer Charles Scheffold:
Dear Artie, I just wanted to thank you again for a wonderful time in Alaska. I've got plenty of fond memories (and great images) from the trip. Hopefully you are getting some good weather for your last week! Knowing the technical aspects of the equipment is something I've never had any trouble with, but knowing the components of a great picture takes years of practice and experience – I'm still working on it 🙂 I honestly learned a lot more than I expected to and hope to have the opportunity to work side by side with you again. It was a truly memorable experience that I would have no hesitation recommending to any aspiring photographer.
BTW – Once I'm finished going through the pile of images, if you don't mind I'd like to send you a link to view a few of my favorites. Honest critiques would be appreciated if you have the time. Thanks, Charles
From multiple IPT veteran Carl Zanoni:
Greetings Artie & Robert, The Bald Eagle IPT in Homer was spectacular. I had lots of great opportunities, lots of fun, learned a lot, and created some fine images all with a terrific group of folks. I cannot thank each of you enough for making the IPT such a wonderful experience; it was immensely enjoyable for me & the other participants. As usual, you both did a magnificent job in arranging this IPT. Your efforts are greatly appreciated. An ecstatic camper, Carl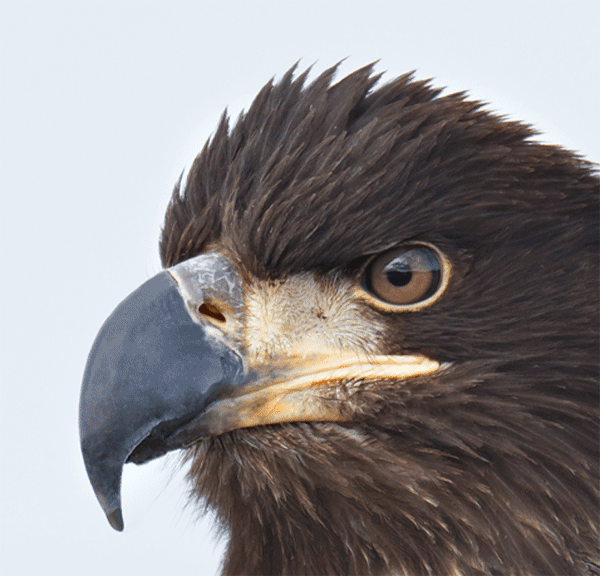 This animated GIF represents a large crop of an image that was featured in the blog recently here. This bird had been chowing down on a codfish in black gravel and as a result, its bill was a mess. As described in detail in the recently updated Digital Basics, I used the Patch Tool, the Spot Healing Brush, the Clone Stamp Tool (sparingly), and a series of small Quick Masks to do the bill clean-up work. In Digital Basics you will not only learn how I do this clean-up work, but how I do it quickly by using my personalized keyboard shortcuts. The details of advanced Quick Masking are covered in Robert O'Toole's APTATS I.
POSSE NEWS/JIM NEIGER
West Coast Flight Photography Workshops – Huntington Beach, CA – July 5-8, 2011
Join 2010 BBC award-winning photographers Jim Neiger and Doug Brown for a workshop focusing on birds in flight. We've selected the area around Huntington Beach, California for its incredible number and variety of birds, not to mention the great weather! In July, Terns will number in the tens of thousands and there should be no fewer than five different species (Elegant, Forster's, Caspian, Royal, and Least). Black Skimmers, pelicans, egrets, herons, and gulls will all be plentiful. There will also be opportunities to photograph more challenging subjects such as raptors, kingfishers, and shorebirds.
no images were found
Forster's Tern in flight. Image copyright © 2009 Doug Brown.
The focus of the workshops will be on mastering the hand held long lens technique favored by both Jim and Doug. Manual exposure for birds in flight will also be emphasized. There will be an instructional lecture on the first day, followed by morning and afternoon sessions in the field for each of the next three days. As an added feature, you will have the opportunity to hone your Lightroom and Photoshop skills with Jim and Doug during the free time in between field sessions. The workshop will be limited to twelve participants; with two expert instructors available, everyone will receive plenty of individualized attention both in the field and the classroom.
no images were found
Elegant Tern head shake. Image copyright © 2009 Jim Neiger/Flight School Photography.
Workshop Dates: July 5-8, 2011.
The cost of each workshop is $1250 per person. Each workshop includes a half day of formal classroom instruction session and a morning and afternoon photography session each day. The photography sessions include personalized instruction. A $625 non-refundable deposit is required. The remaining $625 is due 30 days before the start date of the workshop. If you are unable to attend the workshop after paying the balance, your balance will be refunded only if your spot can be filled on short notice from the waiting list. All workshop payments must be made by check or money order. Credit cards are not accepted. Please make checks payable to Doug Brown and send them to: Doug Brown, 13705 Elena Gallegos Pl. NE, Albuquerque, NM 87111.
Participant Requirements: Participants should have working knowledge of how to create a properly exposed image, a telephoto lens of 400mm or more (300mm with a teleconverter is acceptable), and be physically capable of holding their camera and lens up to their eye in shooting position for at least 20 seconds. Participants must also have a vehicle to travel to and from the photography locations. For additional info, click here: West Coast Flight Workshop.
Contact Information: Jim Neiger, Flight School Photography, Inc. 550 Basin Drive, Kissimmee, FL 34744-4804
Cell phone: (407) 247-5200. e-mail. Visit the Flight School website. Doug Brown: phone: 505-750-7080 or e-mail.
no images were found
Black-necked Stilt. Image copyright © 2009 Doug Brown