FEATURES
GALAPAGOS 2012 PHOTO-CRUISE OF A LIFETIME
SHORT-NOTICE, DIRT CHEAP IN-THE-FIELD LONG ISLAND INSTRUCTION
THE BLOG IS THE BOMB!
GITZO 3530 LS DEMO ON SALE
MAY 15th CONNECTICUT PROGRAM
POSSE NEWS/ROBERT O'TOOLE
POSSE NEWS/DENISE IPPOLITO
IPT UPDATES
no images were found
The birds and wildlife of the Galapagos are very accepting of humans; only two of the nine images above were created with a lens longer than 400mm.
GALAPAGOS 2012 PHOTO-CRUISE OF A LIFETIME
GALAPAGOS 2012 PHOTO-CRUISE OF A LIFETIME IPT: The Complete Galapagos Photographic Experience: July 1-18, 2011 (July 3-17, 2012 on the boat): 13 1/2 days of photography plus a last morning panga ride: $12,749. (Limit 12/Openings: 9.)
Briefly, my two-week trip is without equal. The best guide, the best itinerary, a great boat (the Beagle), and the best leader, one with seven Galapagos trips under his belt, six with Juan Salcedo. If you are good to go, a non-refundable deposit of $5,000 per person is required. The second payment of $4,000 is not due until 11/1/11. The final payment of $3749 per person will be due on 2/1/12. Couples or friends registering together will have a $300 per person discount applied to their final payment.
Important note: if I do not have 8 or 9 deposit checks in hand when I need to commit to leasing the boat (for more than 1/10 of a million dollars) I will seriously need to consider scrapping this amazing trip…
Fly to Quito: July 1, 2012
Travel insurance and rest day: July 2, 2012 (perched hummingbird day-trip optional)
Fly to Galapagos, board boat: July 3, 2012
Fly back to Quito: July 17, 2012
Fly home: July 18.
Cost: $12,749.00 Includes three nights in the luxury hotel–the Hilton Quito Colon, round trip airfare to and from Baltra, all meals on the boat–the food is great, a killer buffet lunch with the tortoises!, all park fees and related costs, all ground transfers, and a five star thank you dinner on the evening of July 17th.
13 full and one half day of photography, plus a 90 minute early am panga ride on the last morning. In-the-field photo instruction and guidance. The greatest-ever itinerary. By far. We visit every great spot on a single trip. The great spots include: Tower Island (including Prince Phillips Steps and Darwin Bay), Hood Island (including Punta Suarez, the world's only nesting site of Waved Albatross, and Gardner Bay)—each of the preceding are world class wildlife photography designations that rank right up there with Antarctica, Africa, and Midway), Fernandina, Peurto Ayora for the tortoises, Puerto Egas—James Bay, North Seymour, South Plaza, Black Turtle Cove, Floreana, Urbina Bay, and China Hat. Plus tons more. And lots of snorkeling for those who wish to partake.
And the world's greatest Galapagos guide. By far. We will be the first boat on each island in the morning and the last boat to leave each island every afternoon. If we are blessed with overcast weather, we often spend 5-6 hours at the best sites. And as noted above, midday snorkeling on most sunny days depending on location. Note: some of the walks are strenuous. Great images are possible on all landings with a hand held 70-200mm lens. I always bring a big lens also as that fits my style.
Not included. Your round trip airfare from your home to and from Quito, beverages, phone calls, and the $500 (US cash) per/person tip for the guide and crew; that breaks down to roughly $35/day shared by the 8 folks who will be waiting on us hand and foot every day for two weeks. The service is so wonderful that many folks choose to tip extra.
Limited to 12 photographers plus the leader.
If you are good to go, please e-mail first and then send your $5,000 non-refundable deposit made out to "Arthur Morris" to the address at the top of this e-mail along with the necessary paperwork here.
Travel insurance is highly recommended. I learned during the past week that three folks who were scheduled for the Midway trip needed to cancel for various reasons…. None of them had travel insurance. My family and I use Travel Insurance Services and I recommend it strongly. Important note: we will notify when the trip is a go and will not cash your deposit check until then. (Most travel insurance policies mandate that you purchase your protection within two weeks of your check being cashed.)
no images were found
This image of a Least Tern on eggs was created at Nickerson Beach on May 31, 2010 with the Canon 800mm f/5.6L IS lens, the 1.4X III TC, and the EOS-1D Mark IV. ISO 400. Evaluative metering at zero: 1/640 sec. at f/13. It is important to be at the beach very early to take advantage of the sweet light.
SHORT-NOTICE, DIRT CHEAP IN-THE-FIELD LONG ISLAND INSTRUCTION
no images were found
This image of an American Oystercatcher with one of its chicks was created at Nickerson Beach on May 29, 2010 with the Canon 800mm f/5.6L IS lens, the 1.4X III TC, and the EOS-1D Mark IV. ISO 800. Evaluative metering +1 stop: 1/60 sec. at f/8. The 800's four-stop IS is truly amazing.
SHORT-NOTICE, DIRT CHEAP IN-THE-FIELD LONG ISLAND INSTRUCTION with Denise Ippolito and Arthur Morris. May 19-20, 2011. 6-9:30 am. Nickerson Beach: $250 per morning, $400.00 for both. Limit 8/Openings: 6.
Payment in full due immediately. If you would like to join us please get in touch via e-mail.
Join Denise Ippolito and me at Nickerson Beach (just west of Point Lookout) for a morning or two of great in-the-field instruction. Two great instructors plus breeding American Oystercatcher (small chicks possible) and breeding Common and Least Terns. Herring and Great Black-backed Gulls, Piping Plover, Sanderling, and other shorebird species. Breeding plumage Lesser Black-backed Gull possible. Courtship and mating behaviors; flight. Learn digital exposure and creative image design.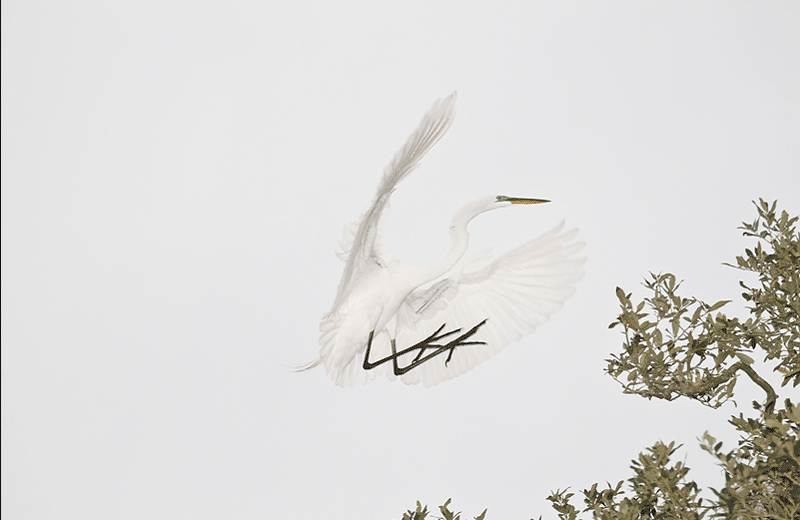 Great Egret landing in nest tree, St. Augustine Alligator Farm, FL

Canon EF 70-200mm f/2.8L IS lens with the 1.4X III TC and the EOS-1D MIV. ISO 1600. Evaluative metering +2 2/3 stops off the white sky: 1/640 sec. at f/4. I just love those bent legs!
Give the animated GIF a few seconds to play and you will see that in the original the bird is much too close to the tree. In the optimized file, I moved the bird well back in the frame using a series of Quick Masks. In addition, I ran a 40 pixel Gaussian Blur on the tree (after putting it on its own Layer via another Quick Mask). The basics of Quick Masking are covered in our Digital Basics File, an e-mail-able PDF. It took me about ten minutes to move the bird back in the frame. Had I taken the time to learn the stuff in Robert O'Toole's APTATS II and set up the actions as he advises, it would have taken me less than one minute…. I gotta get studying.

For more great stuff on the St. Augustine Alligator Farm check out Afternoon Farming Lessons, Afternoon Farming Lessons II, and Photoshop and In-the-Field Tips and Tricks & St. Augustine Alligator Farm Mystery Solved!
THE BLOG IS THE BOMB
I continue to put in 20+ hours a week towards making the blog informative, timely, and beautiful. Many of the educational features that formerly appeared in BAA Bulletins now grace the BAA Blog. It recently came to our attention that folks were having problems subscribing with various web browsers. We believe that those problems have been eliminated. If you do have a problem subscribing, please contact us via e-mail.
If you are not subscribed, you are missing a ton of great stuff almost daily. You can subscribe to the blog posts by clicking here. Below are links to recent posts of interest.
In Sensor Cleaning Update With a Surprise I learned that the Delkin Sensor Scope had been improved. Click on the link to see before and after images of my Mark IV sensor.
In the Minor Surgery post I shared my trigger finger story. Got a call on the subject today from Alejandro Furman of Chile who is suffering the same problem; I love sharing and helping others. See also the killer mega-high key White Tern image there.
Too many folks are confused as to when and how to work in Manual mode. I do not subscribe to the story that real photographers work in Manual mode 100% of the time. Click here to learn my views on the subject and to read the tutorial.
If you often lack the motivation to get down on the ground with your intermediate telephoto lens you will surely want to read "Low and Behold: Best Ever Lesson on Getting Down and Sandy" and get inspired!
If you've ever been, hope to get to, or are curious about the St. Augustine Alligator Farm or if you just want to learn to make better images do carefully consider Afternoon Farming Lessons, Afternoon Farming Lessons II, and Photoshop and In-the-Field Tips and Tricks & St. Augustine Alligator Farm Mystery Solved! You will find a mix of great in-the-field and image optimization tips.
no images were found
This American Alligator image was created at the St. Augustine Alligator Farm with the Canon 800mm f/5.6L IS lens and the EOS-1D Mark IV. ISO 400. Evaluative metering -2/3 stop: 1/200 sec. at f/8 set manually after histogram and blinkies check. Even though the gator was in the shade I knew that with the dark animal and the dark water I would need to underexpose to avoid burning (over-exposing) the white egret feather on its head.
I spend 15 minutes using the Patch Tool and the Spot Healing Brush to clean up crud in the water and the whitewash on the gator and another 30 minutes while on the phone with a friend using the Clone Stamp Tool at 50% Opacity to tone down the specular highlights on the gator. Obviously, I like the feather. Learn how and why to use which of the above tools when in our Digital Basics File, an e-mail-able PDF.
GITZO 3530 LS DEMO ON SALE
We got our hands on two as-new Demo Gitzo 3530LS tripods; they were used by Bogen at a trade show. We sold one and have one left at the amazingly low price of $639.99. Be the first to call and save $140. If no answer, be sure to leave you name and number and a message so that we are sure that the first caller wins the prize. Here is our regular listing.
MAY 15th CONNECTICUT PROGRAM
I am presenting a full day program in Storrs, CT on May 15th. My appearance is being generously sponsored by the Canon USA/Explorers of Light. The full day program is entitled, "A Day of Learning with Arthur Morris/It Ain't Just Birds." It's a steal at only $49 for the whole day, 9am till 5pm, and that includes lunch! To learn more, to see the day's schedule, or to register, click here. Thanks a stack to Mike Wenglowski of Photo Connection of Colchester for putting the whole thing together.
POSSE NEWS/ROBERT O'TOOLE
no images were found
Bee-eater, Hungary. Image Copyright 20011: Robert O'Toole Photography
Hungary Bird Photography Workshop: May 13-20, 2011: 7 DAYS. Save $1,000! Last minute cancellation opening available for the reduced price of $2899.
no images were found
Hoopoe, Hungary. Image Copyright 20011: Robert O'Toole Photography
Hungary is known as one of the top tourist destinations in the world but it also offers some of the most amazing bird photography opportunities on the planet. Photograph Bee-eaters, Hoopoe, European Roller, raptors and lots more great birds in Hungary with Robert O'Toole. We will be based 2 hours south of Budapest and be working at 14 established blinds, 10 within a 1.2 mile radius. Hoopoe (4 nesting pairs in 2010), bee-eaters, rollers, and kestrel will all be nesting, displaying, and mating. Bee eaters spend an enormous time on the set ups offering bees, wasps, butterflies and dragonflies to their mates. Some bee eaters have been known to catch as many as 250 bees per day. Rollers will perch prominently while hunting and the male will feed the female about every 20 minutes with insects, rodents, snakes, lizards and frogs of all kinds. There will also be chances to photograph Goshawk, Sparrowhawk, Hawfinch, spoonbill, herons & egrets (including Squacco Heron), White-tailed Eagle, and much more. All of these subjects are easily within reach of 300-500mm lenses.
POSSE NEWS/DENISE IPPOLITO
no images were found
Daisy with Purple Hydrangea background/Image copyright © 2011: Denise Ippolito
Chanticleer Gardens Creative Photography Workshop, Wayne, PA
Friday, May 20, 4:30pm- 7:30pm (rain date May 27): $195 (admission included).
Join Denise Ippolito and co-leader Arthur Morris (May 20 date only) for a half-day workshop at beautiful Chanticleer Gardens in Wayne, Pennsylvania. The gardens are filled with a vast array of perennials mixed in with natural settings that include a meandering brook, an Asian garden, and even a teacup garden. There will be lots of flowers to see and photograph. We will work on compositions, macro photography with natural lighting, and even creating impressionistic blurs. Plan on spending some time before the workshop begins to relax and enjoy the sights. (Save your admission receipt if you wish to be reimbursed.)
no images were found
Tulip, with Fractalius Soft Fix/Image copyright © 2011: Denise Ippolito
The Softer Side of Macro Creative Photography Workshop, Longwood Gardens, Kennett Square, PA
Sunday May 22nd, 9:00am – 12:00noon (rain or shine): $195 (admission included).
Join Denise Ippolito and co-leader Arthur Morris at beautiful Longwood Gardens in PA for "The Softer Side of Macro" workshop. We will explore creative compositions and use natural lighting. If you like the soft dreamy looks but have had trouble recreating them then this workshop is for you. We may even have the chance to create some impressionistic blurs.
no images were found
Pansy with partial radial zoom blur/Image copyright © 2011: Denise Ippolito
Denise has been involved with flowers for much of her life. She is a fifth generation florist who owned a flower shop from 1989 to 1995. She followed that up by running first one and then another garden center for the next thirteen years. What can I say; the girl likes flowers. In recent years she has worked hard at becoming a skilled flower photographer and has succeeded admirably. Her incredibly creative mind led her to experimenting with a variety of filters and Photoshop effects. That led to her becoming the moderator at BPN's Out of the Box Forum. She has written or co-authored several BAA educational publications. The first was A Guide to Pleasing Blurs that I proudly co-authored. Next came the Barnegat Site Guide–no flowers there! That was followed by A Guide to Creative Filters and Effects. And most recently, The Softer Side of Macro. All have been well received and highly successful.
You can learn more about Denise by visiting her blog, A Creative Adventure or her website.