FEATURES
THE HOMER BALD EAGLE IPT REPORT
HOMER e-MAIL KUDOS
IMAGE OPTIMIZATION MAGIC PART III
BOSQUE THANKSGIVING BUFFET INVITE
THE BLOG IS THE BOMB!
The 2012 Southwest Florida Instructional Photo-Tour (IPT)
IPT UDPATES
no images were found
This image was created on the recently concluded Bald Eagle IPT that I co-led with Robert O'Toole. I used the Canon 70-200mm f/2.8L IS II lens and the 1.4X III TC (hand held at 205mm) with the Canon EOS-1D Mark IV . ISO 400. Evaluative metering -1/3 stop off the brown water: 1/2000 sec. at f/4 in Manual mode. Central Sensor/Rear-focus AI Servo AF active at the moment of exposure. If you missed the Rear Focus Tutorial, you can access it here.
Lens/camera body Micro-adjustment: -8.
For a greater appreciation of the image, click on it and then click on the enlarged version to close it.
no images were found
Compare the flat, boring original here (converted at my ACR defaults) with the optimized image that opens this Bulletin. First I added canvas as detailed in Digital Basics and then I ran Tonal Contrast from NIK's Color Efex 4.1 Pro at 80%. As folks who read the blog regularly already know, Color Efex is changing my digital workflow, making my life easier, and making my images more dramatic. Simply put, Tonal Contrast is smashing! You can save 15% on all NIK products by clicking here and entering BAA in the Promo Code box at check-out. Then hit Apply to see your savings. Best of all, you can download, install, and use a trial copy that will work for 15 days and allow you to create full sized images. Bet you can't eat just one! See more on Color Efex below.
THE HOMER BALD EAGLE IPT REPORT
Robert and I met the first IPT group on the morning of October 25. It was pitch black outside–sunrise was at about 9am–with torrential rain and high winds. We met at 9am for an introductory session that lasted more than three hours. We went to town for lunch and that afternoon made the first of many boat trips to photograph Bald Eagles. With the unseasonably warm weather the birds were slow to respond but we had some good chances and the boys and girls were excited. Over the next four days we had some very good action and a few perched birds. All enjoyed the changeable weather that included some blue skies, some cloudy bright periods, and a loverly snow squall or two. Here was the first crew: newcomer Tommy R. Rodgers signed up for both ends of the Homer Double header; the ever smiling multi-IPT veteran Mark Hardymon; multi-IPT veteran George (eggs-ZACT-lee)Brunt, his girlfriend Carol Quinn, and his good friend Jack Cohen (George and Jack were at Lake Kerkini with us) are all from western Canada.
Mark Farnan of Australia will be moving to Houston, TX for work. Business guru Alex Alexander was a most cheerful, eager to learn BAA newbie on his first IPT. I am betting that it will not be his last; Gary Chappel of Winter Haven, FL was also on his first IPT and was also eager to improve; Galapagos Photo-Cruise and San Diego IPT veteran, birder/bird photographer Kevin Watson was able to join us in Homer at the last moment–he was thrilled with the Yellow-billed Loon that appeared right next to the boat. It is one of the rarest, hardest to find regularly occurring species in North America; and finally my friend Denise Ippolito rounded out the group of ten–she had a great time with the eagles and the otters. All in all everyone on the first trip went home thrilled with lots of great eagle flight images.
OCT 30 was the in-between the IPTs extra day (a freebie for Tommy Rodgers). We filled the boat with ten folks (plus the two leaders) from both IPT groups. The day dawned bright and clear but with the strong northwest winds (can you say wind against sun?) I knew that the morning would be a bust. Though we had eagles, it was, so we quit early and enjoyed a wonderful and productive afternoon with a mix of cloudy bright and sun.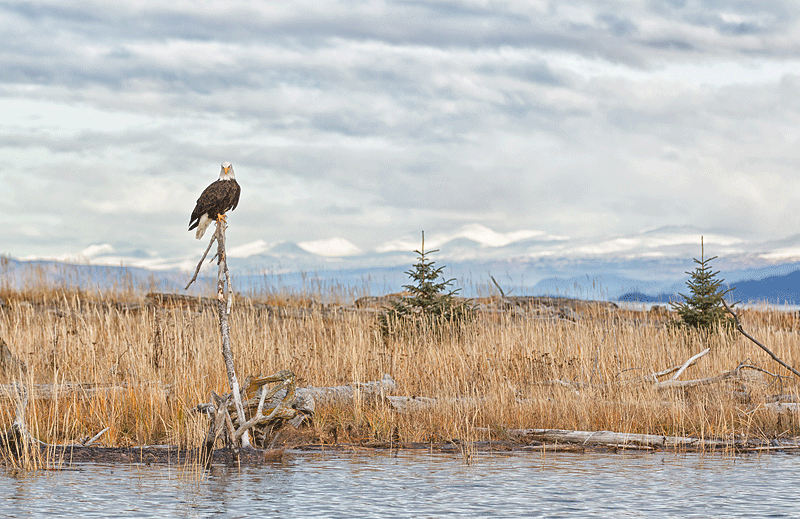 The animated GIF here shows a common image optimization challenge: how to enhance a somewhat boring sky without encountering the big problems that come with having to make an accurate selection…. Details Extractor in NIK's Color Efex plug-in offers an incredible algorithm that will dramatize the sky without messing up the fine details along the edge, in this case, the grasses on the spit. Color Efex, where have you been all my life? (Note that after running a layer of Details Extractor at 80% I created a regular Layer Mask (as detailed in Digital Basics) and painted away (BDX from Layer Masking for Dummies) the effect on the bird.)
This image was also created on the recently concluded Bald Eagle IPT. I used the Canon 70-200mm f/2.8L IS II lens and the 1.4X III TC (hand held at 175mm) with the Canon EOS-1D Mark IV . ISO 400. Evaluative metering +2 1/3 stops off the sky: 1/1600 sec. at f/4.5 in Manual mode. I manually selected the two left-most sensor in the row below the top row//Rear-focus AI Servo AF active at the moment of exposure. If you missed the Rear Focus Tutorial, you can access it here.
The second group (OCT 21-NOV 4) had more birds as a result of the much colder weather. They enjoyed a nice two inch snowfall but suffered through the two drizzly, ISO 1600 days that concluded their trip. But heck, they all learned that in such conditions creating pleasing blurs is most always the best way to go. In spite of the dreary weather at the end everyone on the second trip had a ball. Here was the group two gang: Tommy R. Rodgers was back for lots more boat rides; Steven Berkowitz was another candidate for "nicest guy in the world." He showed up with a frosted home baked Bald Eagle head cookie for everyone in the group. He had been on a flower workshop with Denise Ippolito, was quite skilled when he showed up, and worked very hard to improve. He made some great images in Homer; Easy-going gemologist/ornithologist David Neilson had been with me in San Diego a few years back; it was good to see him again; The easy-going Dick Evans who drove from his home outside of Anchorage was in Midway with me last spring.
Next were "The Engineers," Lee Grymkoski and brothers Tyndall and Van Lewis were photo-friends who had recently been with Todd Gustafson on a killer jaguar trip. Though each was on the quiet side all had lots of good questions and worked hard on learning to get the right exposure and learning to work in Manual mode. Come to think of it that applied to most of the folks in both groups! The very sweet and easy-going Justine Carson fit right in as she was also very eager to learn. The pleasant, soft-spoken, and always smiling Dr. Dick Curtin was along on perhaps his fourth or fifth IPT. Last but not least was BPN Out of the Box Forum Moderator Indranil Sircar who also vied for "nicest guy in the world" honors. Indranil and I made the trip to town for some great Thai food on several evenings. Taking everything into account I would have to give the nod to the second trip as a bit better than the first. That's nature photography….
no images were found
This Bald Eagle silhouette was with the Canon 70-200mm f/2.8L IS II lens and the 1.4X III TC (hand held at 280mm) with the Canon EOS-1D Mark IV . ISO 640. Evaluative metering +1 stop off the brightest section of sky: 1/1250 sec. at f/4 in Manual mode. Central Sensor/Rear-focus AI Servo AF active at the moment of exposure. If you missed the Rear Focus Tutorial, you can access it here.
Lens/camera body Micro-adjustment: -8.
For a greater appreciation of the image, click on it and then click on the enlarged version to close it.
no images were found
Creating the image above this one required a bit of Photoshop high stepping but nothing that I did requires anything more than studying the material in Digital Basics and practicing the techniques that you learn. Here I used the Crop Tool, a series of Quick Masks, and a Levels adjustment to get the look that I wanted. It is important also to learn to recognize the potential of digital images before you go deleting them…. Here the sky was lovely and there was no merge of the subject with the birds on the beach….
HOMER e-MAIL KUDOS
From Steve Berkowtiz, the eagle cookie man:
Artie – I made it home right on time (22 hrs door to door) and my salmon was fully frozen when I put it in the freezer. Sue had a King Salmon fillet last night and loved it. The trip was great – I got a lot of nice shots, learned a lot, and made some new friends. It was a great opportunity to be next to you and Robert on the boats and in the class room for so many hours and to be able to see exactly what and how you guys were doing your thing before, during, and after the images were taken. I'm sure my photography has improved as a result of this. I hope to see you both again on another trip. Steve
(I came up with an idea that allowed Steve to get 48 pounds of frozen salmon home without incurring a single penny of Fed Ex charges; best of all, it worked!)
From Alex Alexander:
Hi Artie & Robert. I was glad to learn the second Homer session is a success! I just wanted to say a big thank you to both of you. I had set some objectives for the IPT (improve BIF, get comfortable with back focus, improve the percentage of sharp images, get comfortable with manual exposure, learn more about effectively handling a big lens, and get some solid images for my portfolio). I'm pleased to say that all my objectives were achieved. You guys were extremely helpful, the group was great, and the setting of course was awesome. I highly recommend this event. I look forward to participating with the both of you in the future.
Cordially, Alex
(Note from artie: you can learn more about Alexander Consulting/Professional Services Strategists by clicking here.
no images were found
This image is a three frame stitched panorama that was assembled in Photoshop CS-5. The individual frames were created with the Canon 70-200mm f/2.8L IS II lens and the Canon EOS-1D Mark IV). ISO 200. Evaluative metering +2 stops: 8 seconds at f/11. "Mirror lock" via Live View with the 2-second self timer.
You gotta click on this image to see the killer larger version. Then click on the enlarged version to close it.
IMAGE OPTIMIZATION MAGIC PART III
I gotta thank Denise Ippolito for helping me get started with Tonal Contrast in NIK's Color Efex; she has been using it for years but as usual, I was simply too stubborn for too long…. Simply put, NIK's Color Efex is changing my Digital Workflow; in one or two simple steps it replaces twice that many in my traditional Photoshop workflow. And best of all, the images look better, and as we saw above, the algorithms can do amazing things that pretty much eliminate the time-consuming chore of making perfect selections.
To create the image above I ran both Tonal Contrast and Details Extractor at reduced opacity. The ability of Details Extractor to juice up cloudy day skies without having to create selections (that always leave a black or white halo between the mountains and the sky) is unparalleled. Do note that Details Extractor can be used to restore density and detail to bright WHITEs that are not technically over-exposed. See Image Optimization Magic Part II for details and an example.)
Here are a few tips on using Color Efex. When I first began and I ran first one filter, say Tonal Efex, and then tried to run another, say Details Extractor, I crashed Photoshop every time. I got Greg Benusa at NIK on the phone. He took over my laptop screen and explored the possible causes. My main problem was that in an effort to get Photoshop to run faster I had allocated 80% of the memory resources to Photoshop. Greg advised me to lower that to 60% and that solved the problem immediately. Need to check on your machine? Click on Edit/Preferences/Performance and then check the box that is titled "Memory Usage." Move the slider until it shows 60% where it says "Let Photoshop Use:"
In the comments on Image Optimization Magic Part I, both Mark Hardymon and PhotoGizzard suggested that I try clicking on the Brush option (rather than OK) when applying the filter. This enables Color Efex to create a Hide-all Mask on the new layer once it opens in Photoshop. I experimented with that option but found it simpler to click OK and to create my own mask as needed. I did not like all the commands in the pop-up box; those included Paint and Apply. At times I need a Hide-all Layer Mask and at times I need a Regular Layer Mask…. Using the brush option creates only the former. Those same folks and Steve Gould suggested that I learn to use NIK's Control Points and I plan on doing just that soon and to sharing what I learn with you here or on the blog.
You can save 15% on all NIK products by clicking here and entering BAA in the Promo Code box at check-out. Then hit Apply to see your savings. Best of all, you can download, install, and use a trial copy that will work for 15 days and allow you to create full sized images. If you are not convinced, check out the animated GIF below.

Before and after Tonal Contast and Details Extractor from NIK's Color Efex Pro 4.1.
BOSQUE THANKSGIVING BUFFET INVITE
For the past ten years or so I have hosted a Thanksgiving Day midday meal, in part to honor the memory of my late-wife, Elaine Belsky Morris, and in part because I love meeting others who love Bosque as I do. At first it was held at the wonderful and relatively elegant Val Verde Steak House in Socorro, now defunct. Then it was held at the lovely and historic Luna Mansion. Luna Mansion closed a few years ago and recently re-opened but will no longer serve on Thanksgiving Day. In 2009 we had fun and a fine meal at the Stage Door Grill but that wonderful little joint recently bit the dust also. Socorro is a tough place for businesses to survive. In 2010 we went a bit upscale and dined in the New Mexico Ballroom at the Hilton Albuquerque hotel. There was tons of food and it was all delicious.
The Hilton is now a Crowne Plaza and the good news is that they are having the buffet again this year. I will be picking up the tab for the IPT group, but as always, all visiting birders and photographers are invited to join us. If you would like to take part in the fun and camaraderie this year please send a check for $40.00 per person made out to ""Arthur Morris"" to cover the cost of the buffet that will include all the traditional items plus lots more as well as tax and tip. Drinks are on you. Please mark ""Thanksgiving Buffet" on your check and mail it to; BIRDS AS ART, PO Box 4041, Indian Lake Estates, FL 33855. Be sure to include your e-mail address on your check and in a short note. Sorry, no PayPals or credit cards. I do hope that you can join us.
I have group reservations for Thanksgiving Day (of course). Those joining us will need to be at the hotel at 11:30 am sharp. It is located at 1901 University Blvd NE, Albuquerque, NM 87102, about an hour up I-25 from the Super 8 Motel in Socorro where I have stayed happily with my groups for well more than a decade. I do hope that you can join us.
no images were found
This lounging Sea Otter was photographed with the Canon 800mm f/5.6L IS lens and the EOS-1D Mark IV. ISO 800. Evaluative metering at zero in Av Mode: 1/400 sec. at f/5.6. Central Sensor/Rear Focus AI Servo tracking AF active at the moment of exposure. The lens was resting on the gunnels of the boat on my old Domke lens bag. I have been trying without success (so far) to get Scott Elowitz of LensCoat to remake that bag with a few improvements. As Justine Carson said on the boat in Homer, "That looks like a handy bag. I'd buy one in a second. Scott, are you there? If you missed the Rear Focus Tutorial, you can access it here. Cropped from above and from our left.
Lens/Camera Body Micro-Adjustment: +2. (Note: after my lens was tuned up by Canon the micro-adjustment for the lens alone changed from -4 to +2. I Lens Align my lenses about once a month or so.)
THE BLOG IS THE BOMB!
I continue to put in 20+ hours a week towards making the blog informative, timely, and beautiful. Most of the educational features that formerly appeared in BAA Bulletins now grace the BAA Blog. If you have a problem subscribing, please contact us via e-mail. If you are not subscribed, you are missing a ton of great stuff almost daily. You can subscribe to the blog posts by clicking here. Below are links to recent posts of interest.
See how Detail Extractor in NIK's Color Efex Pro 4.1 may do a better job of restoring density and detail in bright WHITEs in certain situations than my tried and true Linear Burn techniques by clicking here.
Never been to the the Disneyland of camera and electronics stores? Click here for a free ride.
For Your Critique Image #11, Image #12, and Image #13.
no images were found
Left to right and top to bottom: Brown Pelican at sea level, Little Estero Lagoon. Red Knot flock in flight at sunset: film!, Little Estero Lagoon. American Oystercatcher in condo reflections, Little Estero Lagoon. Brown Pelican silhouette–I was up to my neck in the Gulf!, Little Estero Lagoon. Great Egret with pinfish, Sanibel Causeway. Snowy Egret landing in early morning light, Little Estero Lagoon. Yellow-crowned Night-Heron with fiddler crab, Ding Darling NWR, Sanibel. Snowy Egret swallowing baitfish, Sanibel fishing pier. White morph Reddish Egret in mega breeding plumage, Little Estero Lagoon, Turkey Vulture, flash flight, Sanibel Causeway.
The Southwest Florida Instructional Photo-Tour (IPT)
The SW FLA IPT: FEB 8-13, 2012. Introductory Slide program: 7pm on 2/7/12. Six Full Days: $2899. Limit: 10/Openings:7). Mention the BAA Blog and we will gladly apply a $200 discount to your balance.
Most folks from the north and those visiting from overseas are often stunned by the tameness of the birds that we encounter on the Southwest Florida IPTs. Great Blue Herons land at our feet in search of nesting material. Both Brown and White Pelicans enticed by fish fly to and fro and pose for head portraits even with short telephoto lenses. And the same goes for Great and Snowy Egret and White Ibis among others. Burrowing Owls, tiny and too- cute, stand at their nest entrances posing for us. In recent years we have even found a dependable location for Black-bellied Whistling Duck. We have great chances with a variety of birds capturing and holding fish or other prey items; subjects with prey might include Osprey, Red-shouldered Hawk, several shorebird species, and all the regular heron, egret, and other wading bird species. On the 2010 IPT we had great chances at Ding Darling NWR with both Pied-billed Grebe and Double-crested Cormorant holding pretty big fish. Though the glory days of Ding Darling are long gone there is always a chance of getting to photograph Roseate Spoonbill on our visits.
Barring unforeseen circumstances we should get to photograph Great Blue Heron, Great Egret, Snowy Egret, Reddish Egret (both white and dark morphs), Tricolored Heron, Little-blue Heron, Yellow-crowned Night Heron, White Ibis, Wood Stork, Anhinga, Brown Pelican, White Pelican, Mottled Duck, Black-bellied Whistling Duck, Pied-billed Grebe, Royal Tern, Forster's Tern, Ring-billed Gull, Laughing Gull, Osprey, and Burrowing Owl. Likely shorebird subjects include Black-bellied Plover, Wilson's Plover, Snowy Plover, Piping Plover, Semipalmated Plover, Willet, Ruddy Turnstone, Sanderling, Red Knot, and Western Sandpiper.
The following species range from probable to how-lucky-can-you–get?: Roseate Spoonbill, Great White Heron (the white form of Great Blue Heron), Black-Crowned Night-heron, Green Heron, Red-shouldered Hawk, Great-horned Owl, Short-billed Dowitcher, American Oystercatcher, Sandwich Tern, Black Skimmer, Herring Gull, Lesser-black-backed Gull, Turkey Vulture, Black Vulture, Palm Warbler, Fish Crow, and American Alligator.
Though there is never a formal itinerary on this IPT (or most others for that matter) we usually visit the following spots: Venice Rookery, Placida/Boca Grande, Little Estero Lagoon—which has been great in recent years, Cape Coral, and several locations on Sanibel including Ding Darling NWR, Blind Pass, the East Gulf beaches, and the fishing pier. If the forecast is for fog and drizzle forecast we will likely head to Corkscrew Swamp & Sanctuary.
Our tentative plan from the prior evening is always subject to change as are the afternoon plans that we make in the am; the weatherman in not always right. Ensuring that the group is in a location that will maximize the photographic opportunities is much more important to me than sticking to a plan…. Having visited each of these sites many times over the past two decades I know where to be when and in what weather. I know the light and the winds and the affect that each will have on our chances. On all IPTs we think out loud. When we choose a location or opt to make a move we will let you know why. That way when you get back to your home patch you will be able to apply the lessons learned on the IPT so that you too wind up in the right place at the right time.
That said it is nature photography and sometimes the birds do not read the book. I often tell my groups, "Don't praise me too highly when the birds are great or trash me on the rare day when they do not cooperate. All that I can do is put you in the right place every morning and every afternoon; if the birds do not show up look forward to the next day. And the same goes for the weather. Over the decades I have enjoyed the best weather karma of anyone I know of . We do love Happy Campers and all are required to pass the Happy Camper test before we cash their deposit check.
Yikes. Did I mention the great leader and co-leaders? Folk are usually amazed at the effort that we put in to ensure the success of a given IPT and that goes double for SW FLA. And it goes without saying that I can teach….. This year I will be joined for part of the trip by skilled photographer, BBC-honored, digital imaging expert and all around technical whiz-kid, Robert O'Toole for the first few days.. For the third year running he will be joined skilled photographer and crack-BPN Avian Moderator Randy Stout. And Peter Kes, BPN gear forum Moderator will be with us for the whole trip–all the way from Switzerland!
I hope that you can join me on the upcoming SW Florida IPT. It is for good reason my bread and butter/can't miss trip: folks just starting out can learn the basics from the best while advanced folks will pick up the fine points that you just will not find in any book; escape winter's icy grip and come on down to photograph lots and lots of tame birds!
no images were found
Left to right and top to bottom: Great Blue Heron, Venice Rookery. Roseate Spoonbill, Little Estero Lagoon. Burrowing Owl, Cape Coral. Great Egret with baby blowfish, Little Estero Lagoon. Wood Stork and Great Egret, pleasing blur, Little Estero Lagoon. Back of American Alligator, Ding Darling NWR, Sanibel. Brown Pelican–in the water up to my neck again!, Placida. Gulf sunrise feeding spree silhouette, Little Estero Lagoon. White Pelican face portrait, Placida.
I do hope that you can join us for this great Instructional Photo-Tour.
For additional details or for more information, please e-mail. If you are good to go send your $500 non-refundable deposit check (made out to "Arthur Morris") along with the completed paperwork that you find here to us as follows: Arthur Morris/BIRDS AS ART, PO Box 7245, Indian Lake Estates, FL, 33855. Or call us at 863-692-0906 with your credit card in hand. (Note: we prefer a check for deposits; IPT balances must be paid by check.)
no images were found
Left to right and top to bottom: Great Blue Heron squawking, Little Estero Lagoon. Black-bellied Whistling Duck, South Venice. Mark Hardymon and Great Egret, Little Estero Lagoon. Great Egret in mega-breeding plumage, Little Estero Lagoon. Tricolored Heron, high key, Little Estero Lagoon. Burrowing Owl, Cape Coral. Great Blue Heron in breeding plumage, Venice Rookery. Brown Pelican swallowing fish, Placida. Pied-billed Grebe with fish, Ding Darling NWR, Sanibel.
Earn Free Contest Entries and Support both the Bulletins and the Blog by making all of your B & H purchases here.
More and more folks are earning multiple contest entries with their B & H purchases. See here for details on that. Eleven great categories, 34 winning and honored images, and prize pools valued in excess of $20,000. Click here to visit the competition home page.
Shopper's Guide
Below is a list of the gear used to create the images in today's blog post. Thanks a stack to all who have used the Shopper's Guide links to purchase their gear as a thank you for all the free information that we bring you on the Blog and in the Bulletins. Before you purchase anything be sure to check out the advice in our Shopper's Guide.
Canon 70-200mm f/2.8L IS II lens. Man, I am loving this lens on my shoulder with the 2X III teleconverter. I also use it a lot–as I did for the image of the eagle with fish–with the 1.4X III TC.
Canon 800mm f/5.L IS lens. Right now this is my all time favorite super-telephoto lens.
Canon EOS-1D Mark IV professional digital camera body. My two Mark IVs are my workhorse digital camera bodies.
And from the BAA On-line Store:
LensCoats. I have a LensCoat on each of my big lenses to protect them from nicks and thus increase their re-sales value. All my big lens LensCoat stuff is in Hardwood Snow pattern.
LegCoat Tripod Leg Covers. I have four tripods active and each has a Hardwood Snow LegCoat on it to help prevent further damage to my tender shoulders 🙂
Gitzo GT3530LS Tripod. This one will last you a lifetime.
Mongoose M3.6 Tripod Head. Right now this is the best tripod head around for use with lenses that weigh less than 9 pounds. For heavier lenses, check out the Wimberley V2 head.
CR-80 Replacement Foot for Canon 800. When using the 800 on a Mongoose as I do, replacing the lens foot with this accessory lets the lens sit like a dog whether pointed up or down and prevents wind-blown spinning of your lens on breezy days by centering the lens directly over the tripod.
Double Bubble Level. You will find one in my camera's hot shoe whenever I am not using flash.
Be sure to check out our camera body User's Guides here.
The Lens Align Mark II. I use the Lens Align Mark II pretty much religiously to micro-adjust all of my gear an average of once a month and always before a major trip. Enjoy our free comprehensive tutorial here.
Canon EOS-1D Mark IV User's Guide. Learn to use your Mark IV the way that I use mine. Also available for the 7D and the Mark III here.