SELECTED IPT INFO
PLEASE READ THIS IF YOU ENJOY THE BULLETINS AND THE BLOG
B&H OVERSEAS ORDERING
CANON EOS-1DX AVAILABLE FOR PRE-ORDER
NIK Color Efex Pro
ROCKING BPN THREADS
IN MEMORIAM: ELLIOT KUTNER
IPT UPDATES
no images were found
Join me this summer and live on a boat for six full and two half days of Coastal Brown (Grizzly) Bear photography. At close range. Live your dream. Great food too! Images copyright Arthur Morris & Robert O'Toole. If you are seriously interested please e-mail for itinerary and additional details.
SELECTED IPT INFO
KATMAI BEAR BOAT IPT: July 24-31, 2012 from Kodiak, AK: $6699. Limit 6/Openings 3. Coastal Brown Bears (Grizzlies) Galore!
Coastal Brown Bears at point blank range foraging & clamming with a good chance of copulations; cubs nursing and playing. Likely additional subjects include Horned and Tufted Puffins, nesting Bald Eagle and Black-legged Kittiwake, Steller's Sea Lion, rafts of Sea Otters and more. Halibut fishing optional
MORRO BAY, CA IPT. APR 2-4, 2012. 3-FULL DAYS: $1499. Introductory Slide program: 7pm on 4/1. Limit: 10/Openings: 2.
Please call or e-mail for late registration discount information.
Click here to learn more about this IPT.
no images were found
This incoming Steller's Sea Eagle image was created on the eagle boat just outside the harbor at Rausu, Japan with the hand held Canon 300mm f/2.8 L IS II lens, 1.4X III TC, and the Canon EOS-1D Mark IV. ISO 400. Evaluative metering +2 stops off the snow: 1/2500 sec. at f/4 in Manual mode.
Central Sensor/AI Servo Rear Focus active at the moment of exposure. Click here if you missed the Rear Focus Tutorial. Click on the image to enjoy a larger version.
You can learn a ton by studying the BreezeBrowser Main View screen capture (and my comments) below.
no images were found
Note that the central AF sensor was on the upper flank where the wing meets the body, on the same plane as the bird's eye. That was not by planning; I was just trying to keep the sensor on the bird and fit the bird into the frame. You can see that the original was exposed well to the right and looked extremely washed out (as it should). Pushing the exposure to the right without burning the WHITEs ensures detail in the dark feathers.
PLEASE READ THIS IF YOU ENJOY THE BULLETINS AND THE BLOG
Many of you are trying to help us but are screwing up unintentionally. Please read on for the whole story….
In July 2010, less than two years ago, BIRDS AS ART became a B&H affiliate. We asked folks to consider making their lens, camera, and photographic accessory purchases through B&H using either our main link or specific links to various products. We suggested that doing so would be a great way to thank us for the free information that we have been providing on the blog and in Bulletins for many years. And to thanks me for the hundreds of gear-related, photo-related questions that I answer personally via e-mail every year. It is my firm belief that the topics, tutorials, and information in the blog and Bulletins–all dealing with nature photography, and all free–are unmatched anywhere. I quite literally put in at least twenty hours a week on the blog, and most Bulletins, in addition, takes 8-16 hours to create.
I will admit at times to feel overwhelmed by my desire to create new and exciting blog posts and Bulletin features on a near-daily basis, and to feeling crushed at times by the number of folks writing to request information or have their questions answered. Though I am sure that I miss an e-mail on occasion, such instances are very rare. We do ask that folks write only with new questions that have not been answered previously on the blog, in Bulletins, or in ABP, in ABP II, or in Digital Basics, and that they try a quick search before writing.
At times I have considered going to a pay as you ask system for those wishing e-mail answers, or a shareware payment for the blog and the Bulletins–pay something if you wish–all donations accepted. But I have always resisted, preferring instead to keep everything totally free.
Many folks have kindly used our B&H links. We thank them for the patronage and greatly appreciate the 3% that we receive from B&H. Our commissions have ranged from pennies on small accessories (21 cents on a AA battery case) to $416.97 on the purchase of a Canon 800mm f/5.6L IS lens for $13,899.00 less than a week ago–thanks you very much for that one! Wow, the price on that lens has gone way up. No matter the size of our commissions all BAA B&H purchases are greatly appreciated at this end. And you will simply not find better prices or more reliable service anywhere: order by 4pm for same day shipment and an easy 30-day return policy. In business since 1973 B&H is simply the world's leading retailer of imaging products. As for those low prices, when I order an item through the Explorers of Light program I get it for 10% off low dealer price. The low dealer price is the B&H price. That should tell you something.
Now here is what we have discovered recently: many folks, wishing to earn free entries into the BAA 1st International Bird Photography Competition, are sending us B&H receipts and asking for their free contest entries. The only problem is that they have not begun their searches with our track-able BAA/B&H affiliate link. And they have not use one of the track-able specific product links that grave most every Bulletin and blog post. Folks send us the B&H receipt that they received via e-mail. Jim checks the transaction reports and is unable to match the purchase. Then he e-mails back letting folks know of their error. Then the folks write back and say, "Sorry–my bad."
If you wish to thank us by making your B&H purchases via a BAA/B&H affiliate link, you can click here to ensure that your purchases are tracked to BAA.
Or you can use this link:
Or you can click on any one of the B&H logo links that are found all over the web site and the blog. They look like this:
If you have a specific product in mind, you can use one of the product specific links that can be found on the blog or in Bulletins both in our legendary educational captions or in the Shopper's Guide features near or at the bottom of each blog post or Bulletin. Note: to check and make sure that you are using a valid BAA/B&H link hold your cursor over the link and check out the URL in the bottom left of your browser window. It should always end in 7226, our B&H affiliate code number. If you make a purchase from a link without the 7226 appendage, you are not making a BAA/B&H purchase. Not to worry: once you get to the B&H web site you will no longer see the 7226 code. The order is tracked to BAA invisibly.
Lastly you can e-mail me and let me know which product you will be buying. I will shoot you back the correct link asap.
Best of all, you still have two weeks to earn free entries into the contest with your major purchases. See here for payment options and here for complete details.
Much appreciated.
ps: If you purchase a new lens or camera body from B&H using a BAA/B&H link you can further help us out by ordering the additional stuff that you need from us at BIRDS AS ART. These items might include the right Gitzo Tripod for you, a Mongoose M3.6 or a Wimberley V2 head, LensCoats or LegCoats, camera plates or lens plates and replacement feet, flash brackets, flash cards, and lots more. Your BAA Online Store purchases are always appreciate.
no images were found
This Snow Money was photographed at Jigokudani Yaenkoen, Nagano Prefecture, Japan with the Canon 70-200mm f/2.8L IS II lens, the 1.4X III TC (hand held at 235mm), and the Canon EOS 5D Mark II. ISO 400. Evaluative metering +1 stop: 1/250 sec. at f/7.1 in Manual mode.
Manually selected the third sensor up from the Central Sensor/AI Servo Rear Focus active at the moment of exposure. Click here if you missed the Rear Focus Tutorial. Click on the image to enjoy a larger version.
The mist from the hots springs pool left the original image here looking totally foggy. To learn how to optimize such images see "I Haven't the Foggiest" here.
B&H OVERSEAS ORDERING
Many folks from overseas are concerned that if they order from B&H using a BAA link that they will be crushed by import duties and VAT. Folks from all over the globe are invited to send me an e-mail requesting the B&H Landed Cost Calculator PDF. Please cut and paste B&H Landed Cost Calculator PDF into the subject line. The PDF explains how you can determine the total cost (in your currency) to most any location in the world and includes all duties, taxes, VAT, shipping and other charges. With their prices so low it is worth investigating as you might actually save significant money in the long run.
CANON EOS-1DX AVAILABLE FOR PRE-ORDER
The much anticipated Canon EOS-1DX, their next generation full frame professional digital camera body, is available for pre-order at B&H here. It is expected to start shipping at the end of April.
You can learn more about the 1DX here and here. I will be ordering mine later today to go along with the Canon EOS 5D MIII that I order last week. I am super-excited about the brand new AF system that is nearly identical in each of the two new cameras. And after having so much fun with the 5D MII that saved my Southern Oceans trip I am not as concerned as I was about the fact that the 1DX will autofocus only to f/5.6; it will not AF with the 1.4X III TC on an f/5.6 lens like the 800 L IS or with the 2X III TC on any f/4 lenses like the 500mm or 600mm f/4L IS II lenses. I will be writing User's Guides for both the 5D III and the 1DX.
IN MEMORIAM: ELLIOT KUTNER
I learned via e-mail last week from James Remsen of the South Shore Audubon Society of the death of my dear friend and birding mentor Elliot Kutner on March 2, 2012.
Bob Elliot Kutner changed my life and the lives of many, many others. He met my late wife-Elaine Belsky Morris in an Italian restaurant in Bushwick, NY at lunch every Friday and invited himself to show his backyard home movies of warblers to the fifth and sixth graders in an assembly program. The movies were pretty bad but it was his infectious enthusiasm that got me started looking at birds through binoculars in 1976. He showed me my first Snowy Owl on a cold, cold day at Jones Beach, West End, Long Island, NY. I used to joke that I'd know when Elliot had a group at West End in winter: I could feel the ground shake. Elliot's Army. No matter the cold he attracted many dozens of folks–sometimes more than a hundred–on his walks. And like me, many of those went on to have birds become an integral part of their lives solely through his influence.
Thank you Elliot.
You can find additional tributes here.
no images were found
These battling Red-crowned Cranes were photographed at the Tsurui Itoh Sanctuary, Hokkaido, Japan with the tripod-mounted Canon 800mm f/5.6L IS lens and the Canon EOS-1D Mark IV. ISO 400. Evaluative metering +2 stops off the snow: 1/1250 sec. at f/5.6 in Manual mode.
Central Sensor/AI Servo Rear Focus active at the moment of exposure. Click here if you missed the Rear Focus Tutorial. Click on the image to enjoy a larger, more spectacular version.
To see the original capture and learn a bit more about NIK Color Efex Pro 4 check out the animated GIF and my comments immediately below.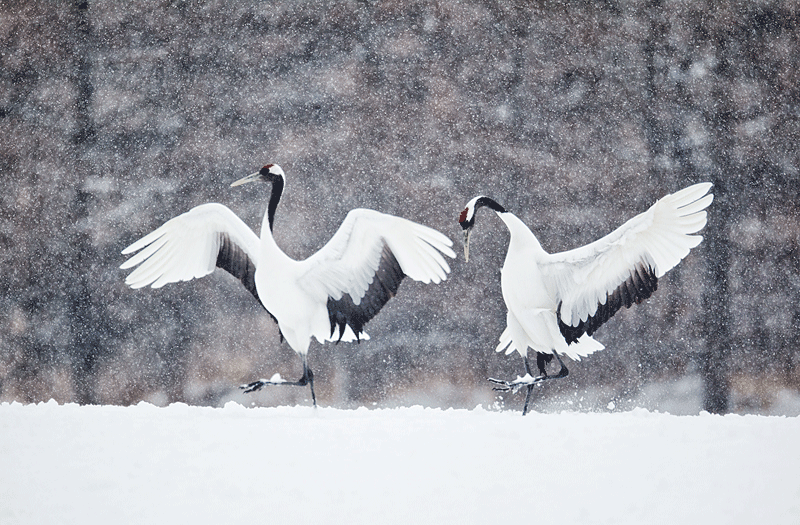 As regular readers know, NIK Color Efex Pro 4 has changed my digital workflow dramatically and for the better. To transform the original into a dramatic piece of art I ran Tonal Contrast at 100% Opacity, Detail Extractor at 50%, and boosted the BLACKs a bit more by applying the Pro Contrast filter and moving the Dynamic Contrast slider to the right to 50%. See below for a short tutorial on how to stack filters and adjust the opacity of each.
With the image open in Photoshop click on Filter/NIK/Color Efex Pro. When the plug in opens click on Tonal Contrast from the filter list on the left side of the NIK window. For this image I ran Tonal Contrast at 100%. To stack or add a second filter click on "+ Add Filter" at the bottom of the Control Panel (which is on the right side of the NIK window). For this image I applied Detail Extractor at 50%. To reduce the effect of a given filter as I did here click on the words "Control Points" near the bottom of the Control Panel. An Opacity slider will open just below. Then adjust the Opacity slide to taste. To note the effect of an individual filter click the check box to the left of the name of the filter at the top of the control panel on and off. (Note: it is very easy to over-do Detail Extractor.)
As you practice feel free to experiment by adjusting the opacity of the various filters and clicking the effects on and off to compare. In time you will become more comfortable and more confident when using NIK Color Efex Pro 4. And your images will begin to look better and better. (Note: the directions above my not make sense if you are using a version earlier than CE Pro 4.)
NIK
As regular readers know NIK's Color Efex Pro 4 is now an integral part of my workflow. You can save 15% on all NIK products by clicking here and entering BAA in the Promo Code box at check-out. Then hit Apply to see your savings. You can download a trial copy that will work for 15 days and allow you to create full sized images.
NIK Creative Efex Collection
NIK recently announced the availability of a special limited production bundle of 3 of their most popular products, Color Efex Pro 4, Silver Efex Pro 2, and HDR Efex Pro. You can save more than $200 on the bundle which is available only through NIK affiliates. If you would like additional info, please e-mail with the words "Creative Efex Collection" in the Subject line. If you have been on the fence about purchasing the plug-ins mentioned above this is a great chance to save some significant bucks.
ROCKING BPN THREADS
At times, certain BPN threads take on a life of their own spurring unexpected questions, thoughtful answers, and a seemingly unending exchange of ideas.
The most recent example is a thread that I started last week in the Photography Gear Forum, Field Tested: the Canon 300mm f/2.8L IS II. (It was adapted from the blog post here.) As I type the post has garnered 1,345 views and 64 replies. Discussions have included why AF slows down with TCs, which is the best telephoto for Avian photography, 7D image quality, a discussion of sharpness and MTF charts, and links to some incredibly detailed technical articles by Roger N. Clark. (See in Pane 26 for example.) Roger is a BPN Moderator in the Digital Photography Workflow Forum.
In Avian Jack Breakfast's flapping young King Eider here and the lovely Red-crested Pochard posted by my friend and web guy Peter Kes here received lots of play.
Caption Exercise posted in BPN's by Steve Adkins in Out-of-the-Box Forum and Andrew McLachlan's Gadwall Preening will give you an idea of the creativity of the folks who post there regularly.
You can learn about my new strategies for creating images with more detail in the WHITEs by reading As Usual/Head Hunter; you will need to scroll down a bit to get to the good stuff that begins in Pane 8.
no images were found
This preening Red-crowned Crane was photographed at the Akan Crane Center with the with the tripod-mounted Canon 800mm f/5.6L IS lens, the 1.4X III TC, and the Canon EOS-1D Mark IV. ISO 400. Evaluative metering +2/3 stop off the snow: 1/640 sec. at f/13 in Manual mode.
Central Sensor/AI Servo Rear Focus on the bird's eye and recompose. Click here if you missed the Rear Focus Tutorial. Click on the image to enjoy a larger, more spectacular version.
The power of this image is a result of the strong diagonal. You can learn more about learning to create effective compositions in the chapter on "Advanced Composition and Image Design" that begins on page 164 of the Art of Bird Photography II (ABP II: 916 pages on CD only).
Earn Free Contest Entries and Support both the Bulletins and the Blog by making all your B & H purchases here.
More and more folks are earning multiple contest entries with their B & H purchases. See here for details on that. Eleven great categories, 34 winning and honored images, and prize pools valued in excess of $20,000. Click here to visit the competition home page.
Shopper's Guide
Below is a list of gear that I used to create the image in this blog post. Thanks a stack to all who have used the Shopper's Guide links to purchase their gear as a thank you for all the free information that we bring you on the Blog and in the Bulletins. Before you purchase anything be sure to check out the advice in our Shopper's Guide.
Canon 70-200mm f/2.8L IS II lens. Man, I am loving this lens on my shoulder with the 2X III teleconverter. I also use it a lot–with the 1.4X III TC.
Canon 300mm f/2.8 L IS II lens. I used this lens a ton both on the Southern Ocean and the Japan trips both hand held and on a tripod for both birds and wildlife. Images created with both the 1.4X and 2X III TCs were super-sharp. Click here to read my evaluation of the 300 f/2.8 II.
Canon 800mm f/5.L IS lens. Right now this is my all time favorite super-telephoto lens.
Canon EOS-1D Mark IV professional digital camera body. My two Mark IVs are my workhorse digital camera bodies.
Canon EOS 5D Mark II Digital Camera. Canon's lightweight full frame body is perfect for serious landscape photography and worked out great for wildlife on my Southern Oceans voyage.
And from the BAA On-line Store:
LensCoats. I have a LensCoat on each of my big lenses to protect them from nicks and thus increase their re-sales value. All my big lens LensCoat stuff is in Hardwood Snow pattern.
LegCoat Tripod Leg Covers. I have four tripods active and each has a Hardwood Snow LegCoat on it to help prevent further damage to my tender shoulders 🙂 And you will love them in mega-cold weather….
Gitzo GT3530LS Tripod. This one will last you a lifetime.
Mongoose M3.6 Tripod Head. Right now this is the best tripod head around for use with lenses that weigh less than 9 pounds. For heavier lenses, check out the Wimberley V2 head.
CR-80 Replacement Foot for Canon 800. When using the 800 on a Mongoose as I do, replacing the lens foot with this accessory lets the lens sit like a dog whether pointed up or down and prevents wind-blown spinning of your lens on breezy days by centering the lens directly over the tripod.
Double Bubble Level. You will find one in my camera's hot shoe whenever I am not using flash.
The Lens Align Mark II. I use the Lens Align Mark II pretty much religiously to micro-adjust all of my gear an average of once a month and always before a major trip. Enjoy our free comprehensive tutorial here.
Canon EOS-1D Mark IV User's Guide. Learn to use your Mark IV the way that I use mine. Also available for the 7D and the Mark III here.
BreezeBrowser. I do not see how any digital photographer can exist without this program.