Season's Greetings
Important Contest News
An Amazing Streak
The Blog is the Bomb!
Jim Neiger's Osprey Heaven Workshops
Flight Plan
Snow Goose Image Optimization
The Animated GIF MP-4 Photoshop Video Tutorial
Affiliate Links
IPT INFO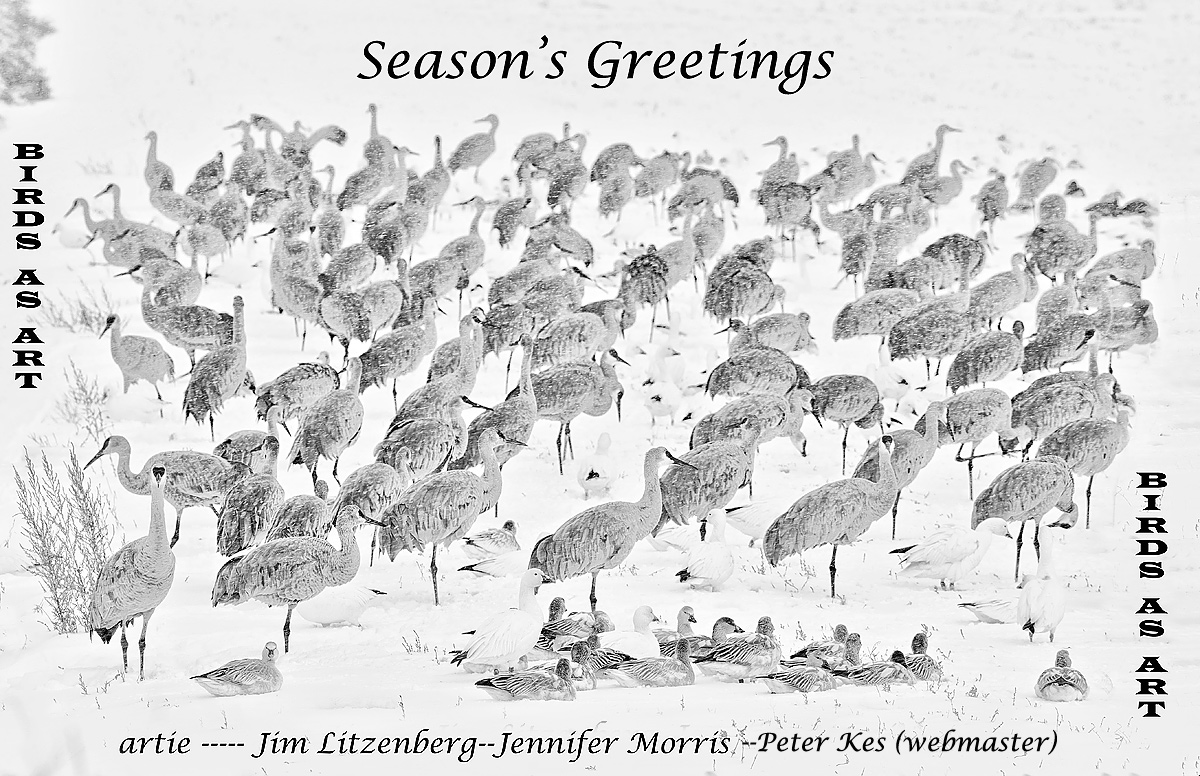 Breathe deeply. Have fun. Love what is. Don't take it personally. Happiness is a choice. 🙂
Season's Greetings
My right-hand man Jim Litzenberg, my daughter Jennifer, and I would like to wish everyone a joyous holiday season and a wonderful, healthy, and productive 2014 filled with love, happiness, family, and lots of photography. Thanks to all who made BIRDS AS ART an important part of their lives. We look forward to seeing, working, and staying in touch with each of you in the coming year.
Important Contest News
Contest Deadlines Extended!
BIRDS AS ART 2nd International Bird Photography Competition
New Entry Deadline: January 31, 2014; see additional details below
With so many folks signing up at the last minute and with so many folks having trouble uploading their images due to server overload the deadline for entering the contest (registering and paying) has been extended until January 31, 2014 and the deadline for uploading images has been extended until midnight Eastern time on February 10, 2014. Take advantage of this extension to have a crack at the great prizes.
Learn more and enter the BIRDS AS ART 2nd International Bird Photography Competition here. Twenty-five great prizes including the $1000 Grand Prize and intense competition. Bring your best.
Register and Pay
To register click here.
To learn of payment options, click here.
Important Contest Note
Jim Litzenberg will be on vacation until Thursday, January 2, 2014; those who paid for the for the contest very recently will receive their payment confirmation e-mail some time on Thursday.
An Amazing Streak
Today's blog post, Wonderful and Rewarding Stuff, marks 36 days in a row with a new post, a new record by far that should continue for at least another week or two. To show your appreciation, we ask that use our B&H and Amazon affiliate links for all of your B&H and Amazon purchases. Please check the availability of all photographic accessories in the BIRDS AS ART Online Store. We sell only what I use and depend on. We will not sell you junk. We know what you need to make creating great images easy and fun. And we are always glad to answer your gear questions via e-mail.
You can find the following items in the store: Gitzo tripods, Mongoose M3.6 and Wimberley heads, plates, low feet, and accessories, flash brackets, , Delkin e-film Pro Compact Flash Cards, LensCoat products, and our unique line-up of educational materials including ABP I & II, Digital Basics, Site and Set-up e-Guides, Canon and Nikon Camera Users and AF e-Guides, and MP-4 Photoshop video tutorials among others.
We would of course appreciate you using our B&H and Amazon affiliate links for all of your B&H and Amazon major gear, video, electronic, household, and personal purchases. For the photographic stuff mentioned above we would of course great appreciate your business.
Thanks and enjoy!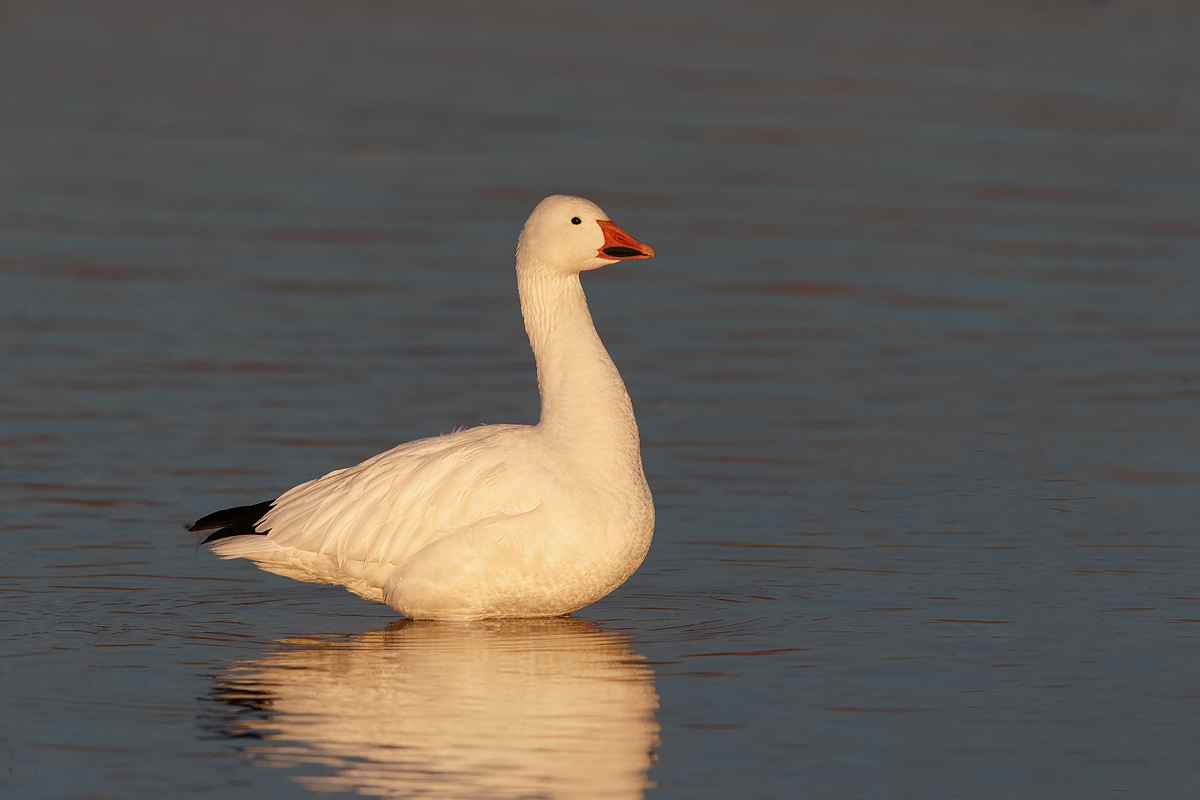 This Snow Goose image was created in early morning light the Bosque IPT with the tripod-mounted Canon EF 600mm f/4L IS II USM lens, the Canon 1.4x EF Extender III (Teleconverter), and the Canon EOS-1D X Digital SLR camera. ISO 800. Evaluative metering +2/3 stop: 1/2000 sec. at f/7.1 in Manual Mode. (Should have been ISO 400/+1/3 stop).
Before you scroll down take a close look at this image and let us know if you see anything that looks fishy. No fair peeking first.
Central sensor Surround/AI Servo/Rear Focus AF on the front of the bird's lower neck active at the moment of exposure. Click here if you missed the Rear Focus Tutorial. Click on the image to see enjoy larger version.
The Blog is the Bomb!
For the past month I have been putting in 25 to 30 or more hours per week into the blog to ensure that it remains informative, timely, and beautiful. Many of the educational features that formerly appeared in BAA Bulletins now grace the BAA Blog. If you are not subscribed, you are missing a ton of great stuff almost daily. You can subscribe to the blog posts by clicking here. If you have a problem subscribing, please contact us via e-mail.
Here are some links to recent posts of interest:
For years I have posted images created in Manual exposure mode, in Av Mode, in Tv mode, and rarely in Program mode. And about two years ago I promised to write an article letting folks know when and why I use each of these modes. Many folks firmly believe that real photographers use Manual exposure mode 100% of the time. In the At Long Last, As Promised: the Greatest, Most Educational Blog Post Ever? Manual… Av… Tv… Program… Which is The Best Shooting Mode? blog post I lay waste to that myth. This is the definitive piece on shooting modes for nature photography, one that you will want to bookmark and study. But only if you want to become a better photographer.
I followed that up four days later with The #1 Reason that it is Mandatory, Imperative, and Vitally Important that you Work in Manual Mode for Flight Photography to drive home a point that I made in the post mentioned above.
Learn about the importance of head angle in bird photography in "El Capitán…" here.
Learn how blessed I've been in Reflections, and An Invitation and in Wonderful & Rewarding Stuff.
Learn about the importance of understanding perspective choice with big lenses in What Garbage Can?
And here are four of the most popular recent blog posts:
Gear Bag Discussion for a Big Trip
Near Perfection Equals Total Failure
You Gotta See This: First Ever Published BAA Video
Long Lens Depth-of Field Lessons from LaJolla, CA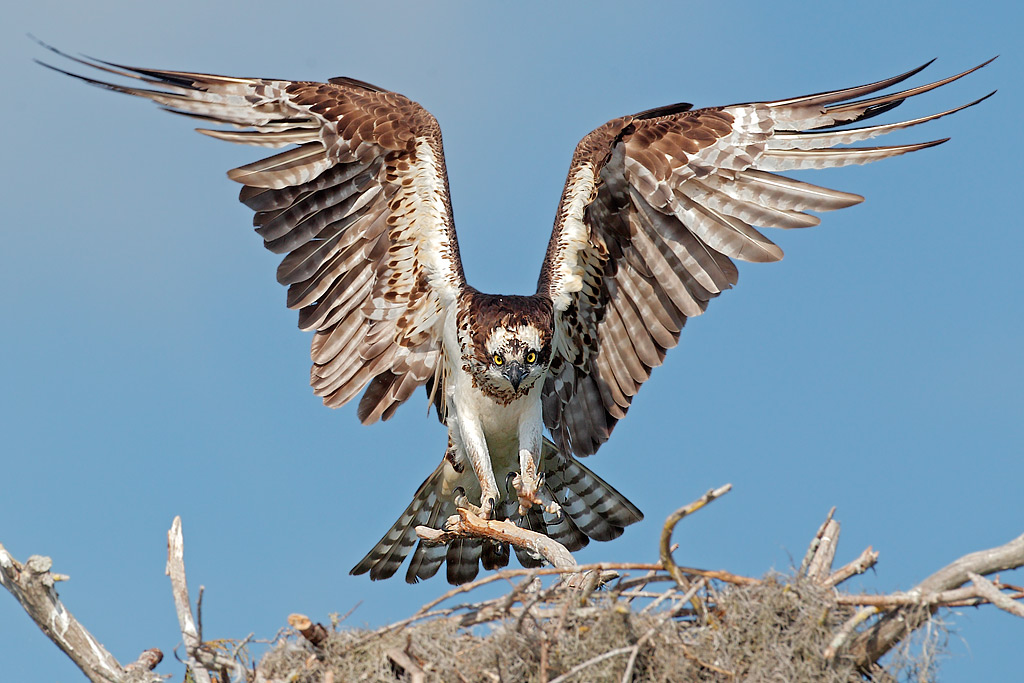 Osprey landing at natural nest. Image copyright 2013: Jim Neiger/Flight School Photography
Jim Neiger's Osprey Heaven Workshops
Each workshop will include a four hour classroom session, welcome dinner, four morning photography sessions, and three afternoon photography sessions. Each photography session will be of three to four hours in duration. Five of the photography sessions will be conducted via a specially configured pontoon boat that has been customized for photography from the water (weather permitting). The remaining photography sessions will be land based sessions in the field. The workshops will be limited to five participants so that everyone may photograph in comfort and receive personalized instruction.
The photography sessions by boat will be held on the unspoiled and unparalleled Lake Blue Cypress. This spectacularly beautiful lake is virtually free of civilization and man made elements. The lake is surrounded by ancient cypress swamp and marshy wetlands. Here, the gorgeous cypress trees grow from the lake bottom, surrounded on all sides by water. Osprey nest by the hundreds in these trees, and participants will be able to photograph them as the fly to and fro, dive for fish, gather nesting materials, and feed their young chicks. Some of the nests are actually at or below eye level when standing in the boat. The only distractions in this pristine, wilderness environment are the constant cries of the Osprey as they frolic in the air and defend their nests from other birds.
Lake Blue Cypress is also a landscape photographers dream. The horizons contain nothing of man's influence and only the beauty of the real Florida wilderness. Perches and backgrounds are spectacular beyond belief. April and May are the best months to be at Lake Blue Cypress. Many of the birds are actively nesting and rearing their young during this time. Wildflowers cover the stumps and trees like blankets of radiant color. The skies glow with spectacular, multi-hued sunrises and sunsets. Hundreds of different species of birds are possible including the typical Florida waders and water fowl. Large Alligators are commonly seen sunning themselves on top of the fallen trees and stumps amidst the colorful wildflowers. The biggest problem for a photographer here is deciding which subject to photograph. Even the weather cooperates at this time of year. It is the dry season and clear, sunny days are the most common weather condition.
The photography sessions on land will be held in remote areas of southern Osceola County. Here, participants are likely to have opportunities to photograph birds that are endangered and rarely seen. Possible species include: Whooping Crane, Swallow-tailed Kite, Great Horned Owl, Barred Owl, and Red-Shouldered Hawk among others. Sandhill Cranes, a common bird in Central Florida, are tame enough to approach as closely as you like. Participants will also learn how to safely use bird song recordings to attract birds. Jim has developed his own, innovative techniques for using recordings to attract birds, in such a way, that amazing photographic opportunities are common when they would be almost impossible otherwise. This includes special techniques that encourage birds to fly and land as desired; this can provide spectacular opportunities for both flight and perched images (with the perches being selected for their beauty).
Jim is known for his consistent production of amazing flight images and for his images of desirable subjects. His imagination and dedication have resulted in his developing many new techniques, techniques that can only be learned from Jim. His Flight School Photography Workshops are a must for any serious nature photographer.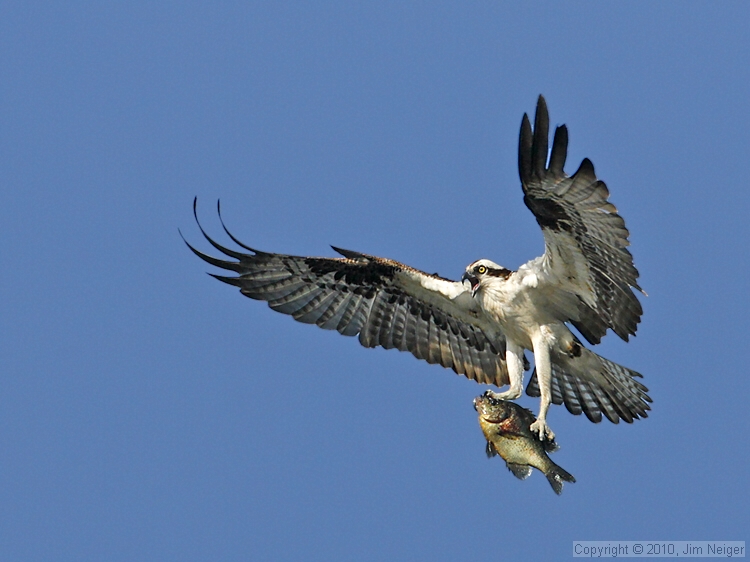 Osprey landing with bream. Image copyright 2013: Jim Neiger/Flight School Photography
Workshop Dates
Workshop LBC-1: March 16-20, 2014
Workshop LBC-2: April 14-18, 2014
Workshop LBC-2: April 24-28, 2014
Workshop Costs and payment
The cost of each workshop is $1600 per person. Each workshop includes a four hour formal classroom instruction session, a welcome dinner, 4 morning photography sessions, and 3 afternoon photography sessions. The photography sessions include personalized instruction in the field. Each participant will receive a copy of Jim's e-book "Flight Plan – How to Photograph Birds in Flight" when they sign up for the workshop. Discounted lodging is available but is not included in the workshop fee. An $800 non-refundable deposit is required to reserve a spot in a workshop. The remaining $800 is due 30 days before the start date of the workshop. If you are unable to attend the workshop after paying the balance, the balance payment will be refunded ONLY if your spot can be filled, on short notice, from the waiting list. All workshop payments must be made by check or money order. Credit cards are not accepted.
Participant Requirements
Participants should have working knowledge of how to create a properly exposed image, a telephoto lens of 400mm or more (300mm with a teleconverter is acceptable), and be physically capable of holding their camera and lens up to their eye in shooting position for at least 20 seconds. Participants must also have a vehicle to travel to and from the photography locations.
Lodging and Logistics
Workshop participants who require lodging during the workshop should stay at the hotel in Vero Beach where the classroom sessions will be conducted. Participants arriving via air arrive at the Orlando International Airport, which is the closest major airport to Vero Beach. Rental vehicles are available at the airport. Flight School Photography will assist participants with arranging the sharing of vehicles and/or lodging if desired. Detailed information will be provided when you sign up for the workshop or upon request. Lodging, transportation, and meals (except for welcome dinner) are not included.
Learn more here. View Jim's incredible image gallery here. And see some of artie's images here.
Flight School Custom Anytime Workshops
Learn about Jim's Flight School Custom Anytime Workshops here.
Contact Information
Contact Information: Jim Neiger, Flight School Photography, Inc. 550 Basin Drive, Kissimmee, FL 34744-4804
Cell phone: (407) 247-5200. e-mail.
Flight School website.
Flight Plan
I can say without a doubt that after spending more than two months (part time) editing Jim Neiger's great e-Guide, Flight Plan, that my flight photography has improved by leaps and bound whether I am working off a tripod or hand holding. His explanation of the bumping the focus technique finally sunk in. Learning to use this technique regularly is a huge help for any all types of flight photography.
You can learn more about Flight Plan here or order a copy by clicking here.
Snow Goose Image Optimization
Image clean-up was–as you can see–extensive. I used the Patch Tool, the Clone Stamp Tool, the Spot Healing Brush, and even a good bit of Content Aware Fill. The latter worked much better than I expected. Note also I how lower the Saturation of the YELLOW channel only for this very early morning light image. All as detailed in my Digital Basics File, an instructional PDF that is sent via e-mail. It includes my complete digital workflow, dozens of great Photoshop tips, several different ways to expand canvas, all of my time-saving Keyboard Shortcuts, Quick Masking, Layer Masking, and NIK Color Efex Pro basics, my killer image clean-up techniques, Digital Eye Doctor, and tons more.
The Animated GIF MP-4 Photoshop Video Tutorial: $4.00
Over the past few months I have received many e-mails asking how I create the Animated GIF files that grace many blog posts and Bulletins. Many folks know how to create animated GIFs of poor quality. Yesterday morning I created a new MP-4 Photoshop Tutorial Video that covers how to create a high quality animated GIF and tips on using the Text Tool to type on images. It is available in the BAA Online Store for only $4.00 by clicking here. See here for the current video tutorial library.
2014 Tanzania Summer Safari
If you are interested in joining us in Tanzania next summer please shoot me an e-mail and I will be glad to forward you the PDF with dates, itinerary, and price.
Support the BAA Blog. Support the BAA Bulletins: Shop B&H here!
This Bulletin took about 12 hours to prepare
We want and need to keep providing you with the latest free information, photography and Photoshop lessons, and all manner of related information. Show your appreciation by making your purchases immediately after clicking on any of our B&H or Amazon Affiliate links in this blog post. Remember, B&H ain't just photography!
Amazon
Everyone buys something from Amazon, be it a big lens or deodorant. Support the blog by starting your search by starting your search by clicking on the logo-link below. No purchase is too small to be appreciated; they all add up. Why make it a habit? Because I make it a habit of bringing you new images and information on an almost daily basis.
Typos
In all Bulletins, feel free to e-mail or leave a comment regarding any typos, wrong words, misspellings, omissions, or grammatical errors. Just be right. 🙂
IPT Info
Many of our great trips are filling up. See especially info on the South Florida, Holland, and Nickerson Beach IPTs. Two great leaders ensure that you will receive individual attention, have all of your questions answered, and learn a ton including how to think like a pro, see the situation, and get the right exposure every time. In addition you will have fun, and make lots of great images. Click here for IPT details and general information.