Antarctica/The Extended Expedition
Sea Duck Exposure Lessons
The Amazing Streak Continues
The Blog is the Bomb!
Important Contest News
Used Canon 800mm f/5.6L IS Lens for Sale/Price Reduced $1,000!
Affiliate Links
IPT INFO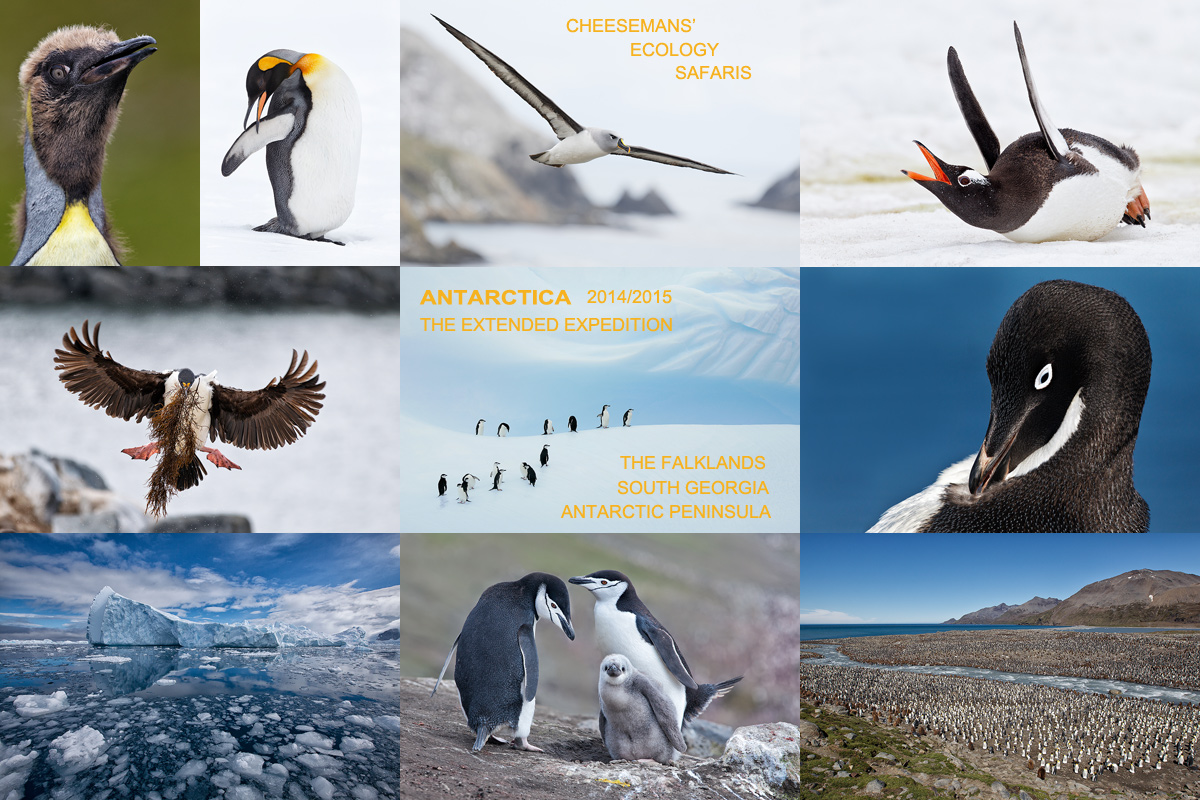 Breathe deeply, bite the bullet, and live life to its fullest; we all get only one ride on the merry-go-round… Join me on this great trip.
Click on the image to enjoy a larger version.
The Cheesemans' Ecology Safaris Antarctica/The Extended Expedition
Antarctic Peninsula, South Georgia and Falkland Islands: December 13, 2014 to January 10, 2015
I've been blessed. I've made three trips to the Southern Ocean, two extended trips that visited the Falklands, South Georgia, and the Antarctic Peninsula, and one to the Falklands and South Georgia. Each was a truly amazing experience. With three trips under my belt, I have a pretty good idea about how to make great images at each of the iconic landings. And I would love the chance to share my knowledge with you.
And I know from personal experience that if you are a photographer who is going to invest in Southern Ocean voyage that you will want to put your money on Cheesemans'. No other tour company goes so far out of their way to ensure making every possible safe landing. And no other tour company will have you spending more time on land. Here, from the" Way to Go CES! (Cheeseman's Ecology Safaris)" blog post here, is one of my favorite Cheesemans' stories:
The landing at Bailey Head, Antarctica, was especially rewarding to me as I had been sitting in a zodiac 100 yards off shore on my 2007 trip when the zodiac in front of mine swamped and the captain of the ship called off the landing…. Early that day it looked as if my weather Karma might not be working. Ted's "Good morning shipmates" was followed by the news that we would not be able to land at Bailey Head that morning as the swell was too big. The beach there is sloped tremendously and the sea strives to pull the zodiacs back into the ocean before folks have gotten off with their gear. Tom Murphy had said to me several days before, "We will get you on the beach at Bailey Head." Ted concluded his morning greetings by saying, "We are sending out a scout team to see if landing is possible."
After breakfast I was thrilled to hear Ted's voice again on the PA, "We will be landing at 8am." Afterwards folks noted that it was the calmest landing ever at this amazingly beautiful spot. My good weather Karma (courtesy of late-wife Elaine) had come through one last time. Along with St. Andrews Bay, it was one of my two favorite super-great once-in-a-lifetime days of the trip. And we even got to enjoy three additional hours at Hannah Point, Antarctica before calling it a wrap and heading for the feared Drake Passage. All thanks to Cheesemans' Ecology Safaris.
Why Sign Up Through BIRDS AS ART?
If you have been thinking and dreaming of finally visiting South Georgia and Antarctica, this is the trip for you. Quit dreaming and act now. Though I will not be an official leader on this trip, those who have traveled with me know that I cannot help but teach. I will make pre-trip gear recommendations. I will hold informal pre-landing briefings. In the same vein, everyone will receive a free copy of our Antarctica Site Guide once they are paid in full (August 15, 2014). I will be available on the ship to review your images, answer questions, and conduct informal over-the shoulder Photoshop sessions. And best of all everyone who signs up under the auspices of BAA are invited to tag along with me on the landings where I will be glad to offer invaluable in-the-field advice. And the same goes for the ship-board birds in flight and marine mammal photography opportunities.
Do join us. To learn how to become part of the BAA group please e-mail me with the words Antarctica/Extended Expedition BAA Info Please cut and pasted into the Subject line.
From the CES website:
Join us on a voyage of discovery to an awe-inspiring world devoted to nature, wildlife, science, and peace. This expedition will have you completely captivated, from the stunning vistas of Tierra del Fuego to the busy penguin rookeries of the Falklands, from the dramatic landscapes of South Georgia to the ice-covered terrain of the Antarctic. Board the comfortable, safe and newly upgraded Ortelius for an expedition offering an unparalleled 17 landing days in the Southern Ocean. Our voyage includes three days in the Falklands with a huge diversity of species, six days at South Georgia Island, the all but undiscovered rugged land of towering mountains and thriving colonies of penguins, seals, and albatross, one day at the South Orkneys with nesting Snow Petrels, and seven days along the Antarctic Peninsula, the wonderland of ice and inconceivably vibrant polar wildlife. During days at sea, our naturalists on the ship's bridge and stern share sightings of whales and seabirds, including many of the world's species of albatross. Maximum time both on shore and Zodiac cruising will be available for photography, wildlife experiences, and exploring the landscapes of the great Southern Ocean. Our priority is assuring the most in-depth wildlife experience in the Antarctic, an experience made possible by our excellent itinerary and committed expedition staff.

I can personally attest to the accuracy of everything above. 🙂
Additional Links
Learn about the global ocean here.
Antarctic Inspiration from Paul Mckenzie here.
Way to Go CES! (Cheeseman's Ecology Safaris) here.
Or simply type any of the following words or phrases in the little white search box on the top right of this page, hit Search, and follow the links: penguin; Antarctica; South Georgia; Falklands. Have fun.
The Pull is Too Strong…
The pull is too strong. I need to go back. And I am going back. Do join me for an unparalleled wildlife and scenic photography experience. Please e-mail for additional information.
Questions?
I'd be glad to answer all of your Southern Ocean/Falklands/South Georgia/Antarctica questions. Please leave a comment if you'd like to learn more.
Sea Duck Exposure Lessons
Folks who have been following the blog are aware that I enjoyed some excellent sea duck action on my recent Long Island visit. The image above, the two below, and the amazing image featured in the "Against All Odds" blog post here, will teach you a lot about exposure. The White-wing Scoter image there was created at 1/1250 sec. at f/9 as I was not expecting to see the WHITE wing patch. The few blinkies that resulted were easily recovered during conversion in Canon's DPP (Digital Photo Professional).
Drake Common Eider (with bright WHITES) in late afternoon winter sun
With the late afternoon sun I made a test image or two in Av mode at zero, i.e., with no exposure compensation. The camera suggested 1/1250 sec. at f/9. The resulting images had lots of blinkies on the bright WHITEs so I went to Manual mode, set 1/1600 sec. at f/9, made another test image, and was pleased that there were no blinkies and that the histogram looked good with no clipping of any of the channels. This assured me that the WHITEs would open in Photoshop after being converted in DPP with no or very few at most RGB values greater than 235. This ensured clean, bright WHITEs with nice detail. With birds this bright I almost always run a bit of NIK Detail Extractor to further enhance the detail in the WHITEs and to open up the BLACKs a bit. I used a Hide-All mask to paint in the 50% layer or Detail Extractor right where it was needed.
All of the above and tons more as detailed in my Digital Basics File, an instructional PDF that is sent via e-mail. It includes my complete digital workflow, dozens of great Photoshop tips, several different ways to expand canvas, all of my time-saving Keyboard Shortcuts, Quick Masking, Layer Masking, and NIK Color Efex Pro basics, my killer image clean-up techniques, Digital Eye Doctor, and lots more. Learn the details of advanced Quick Masking techniques in APTATS I. Mention this blog post and apply a $5 discount with phone orders only. Learn advanced Layer Masking Techniques in APTATS II. Mention this blog post and apply a $5 discount with phone orders only. by the pair, APTATS I and APTATS II and we will be glad to apply at $15 discount with phone orders only.
DPP RAW Conversions
To learn why I switched from ACR to DPP for my RAW conversions see our DPP RAW Conversion Guide here.
Adult Female Common Eider (with immature male in the background) in late afternoon winter sun
I created the first image here at 1/1600 sec. at f/5.6. The image of the hen above here was created in the same light one full stop lighter–1/1600 sec. at f/9 is one full stop darker than 1/800 sec. at f/9. The principle here is that middle tones need one stop more light to be properly exposed than bright WHITEs in the same light. I did not worry about the insignificant patch dingy WHITE on the breast of the young male in the background; the blinkies there were easily recovered while converting the image in Canon's DPP (Digital Photo Professional).
Drake Common Eider (the same bird as in the first of the three images here) when a dark cloud covered the sun
In the first drake Common Eider image above, the one made in full sun, I subtracted 1/3 stop of light. In the image immediately above, I added 1 2/3 stops of light. Same bird, same inlet water. Why the difference? In the image here a dark cloud had obscured the sun. I have been teaching the principle for years: when the sun is out the meter is pretty smart. With the subject in the shade, the camera's meter is dumb. You need to be the smart one. The lighter the overall tonality of the subject and the scene the more light you need to add. The RAW file for the image created in the shade was actually still about one stop under-exposed despite the fact that I had added 2 full stops more of light–from -1/3 to + 1 2/3 = 2 full stops.
The Amazing Streak Continues….
As of January 14, 2014 I had posted a brand new educational blog post for 49 straight days, a record by far that should be extended for at least another week or two. Or not. 🙂 To show your appreciation, we ask that use our B&H and Amazon affiliate links for all of your B&H and Amazon purchases. Please check the availability of all photographic accessories in the BIRDS AS ART Online Store. We sell only what I use and depend on. We will not sell you junk. We know what you need to make creating great images easy and fun. And we are always glad to answer your gear questions via e-mail.
You can find the following items in the store: Gitzo tripods, Mongoose M3.6 and Wimberley heads, plates, low feet, and accessories, flash brackets, , Delkin e-film Pro Compact Flash Cards, LensCoat products, and our unique line-up of educational materials including ABP I & II, Digital Basics, Site and Set-up e-Guides, Canon and Nikon Camera Users and AF e-Guides, and MP-4 Photoshop video tutorials among others.
We would of course appreciate you using our B&H and Amazon affiliate links for all of your B&H and Amazon major gear, video, electronic, household, and personal purchases. For the photographic stuff mentioned above we would of course great appreciate your business.
The Blog is the Bomb!
For the past month I have been putting in 25 to 30 or more hours per week into the blog to ensure that it remains informative, timely, and beautiful. Many of the educational features that formerly appeared in BAA Bulletins now grace the BAA Blog. If you are not subscribed, you are missing a ton of great stuff almost daily. You can subscribe to the blog posts by clicking here. If you have a problem subscribing, please contact us via e-mail.
Here are some links to recent posts of interest:
For years I have posted images created in Manual exposure mode, in Av Mode, in Tv mode, and rarely in Program mode. And about two years ago I promised to write an article letting folks know when and why I use each of these modes. Many folks firmly believe that real photographers use Manual exposure mode 100% of the time. In the At Long Last, As Promised: the Greatest, Most Educational Blog Post Ever? Manual… Av… Tv… Program… Which is The Best Shooting Mode? blog post I lay waste to that myth. This is the definitive piece on shooting modes for nature photography, one that you will want to bookmark and study. But only if you want to become a better photographer.
I followed that up four days later with The #1 Reason that it is Mandatory, Imperative, and Vitally Important that you Work in Manual Mode for Flight Photography to drive home a point that I made in the post mentioned above.
The "Long Island/San Diego Trip Gear Bag" post here was extremely popular.
Not a Snowy Owl I featured a nice Black Scoter image.
It's hard to believe that young Black-crowned Night Herons winter regularly on Long Island but they do. Learn more in "Not a Snowy Owl II" here.
See which bird excited me even more than a Snowy Owl in "Not a Snowy Owl III."
And for a good laugh, check out the "Snowy Owl Hallucinations" blog post here.
Important Contest News
Contest Deadlines Extended!
BIRDS AS ART 2nd International Bird Photography Competition
New Entry Deadline: January 31, 2014; see additional details below
With so many folks signing up at the last minute and with so many folks having trouble uploading their images due to server overload the deadline for entering the contest (registering and paying) has been extended until January 31, 2014 and the deadline for uploading images has been extended until midnight Eastern time on February 10, 2014. Take advantage of this extension to have a crack at the great prizes.
Learn more and enter the BIRDS AS ART 2nd International Bird Photography Competition here. Twenty-five great prizes including the $1000 Grand Prize and intense competition. Bring your best.
Register and Pay
To register click here.
To learn of payment options, click here.
Used Canon 800mm f/5.6L IS Lens for Sale/Huge Price Reduction!
Friend and multiple IPT-veteran Monte Brown is offering his lightly used Canon 800mm f/5.6L IS lens in excellent condition for sale for $8,500. Purchase includes the lens case and hood, the 4th Generation Design Low Foot, the original foot, a LensCoat, the original invoice and the original Canon shipping carton. The lens was purchased new from B&H in April 2009 and was recently underwent a pre-sale clean and check by Canon. The buyer pays insured shipping via UPS Ground to US addresses only. The lens will be shipped only after your check clears.
The Canon EF 800mm f/5.6L IS USM Autofocus lens sells new for $13,223.00 so you will save a bundle on a great lens. No need to ever use a 2X…
If interested you can contact Monte by phone at 1-765-744-1421 or via e-mail.
2014 Tanzania Summer Safari
If you are interested in joining us in Tanzania next summer please shoot me an e-mail and I will be glad to forward you the PDF with dates, itinerary, and price.
Support the BAA Blog. Support the BAA Bulletins: Shop B&H here!
This Bulletin took about 12 hours to prepare
We want and need to keep providing you with the latest free information, photography and Photoshop lessons, and all manner of related information. Show your appreciation by making your purchases immediately after clicking on any of our B&H or Amazon Affiliate links in this blog post. Remember, B&H ain't just photography!
>



Amazon
Everyone buys something from Amazon, be it a big lens or deodorant. Support the blog by starting your search by starting your search by clicking on the logo-link below. No purchase is too small to be appreciated; they all add up. Why make it a habit? Because I make it a habit of bringing you new images and information on an almost daily basis.
Typos
In all Bulletins, feel free to e-mail or leave a comment regarding any typos, wrong words, misspellings, omissions, or grammatical errors. Just be right. 🙂
IPT Info
Many of our great trips are filling up. See especially info on the South Florida, Holland, and Nickerson Beach IPTs. Two great leaders on most trips ensure that you will receive individual attention, have all of your questions answered, and learn a ton including how to think like a pro, see the situation, and get the right exposure every time. In addition you will have fun, and make lots of great images. Click here for IPT details and general information.