Hard to Believe…
Used Canon 800mm f/5.6L IS Lens for Sale
"CBS This Morning" News Flash for Tuesday, September 2, 2014
Japan In Winter IPT. February, 2016
Affordable Bosque Educational Opportunities
The Art of Flower Photography
Jim Neiger Flight School Photography/2014 Alaska Bald Eagle Workshops, Haines, Alaska
IPT Updates and Info
Selling Your Used Photo Gear Through BIRDS AS ART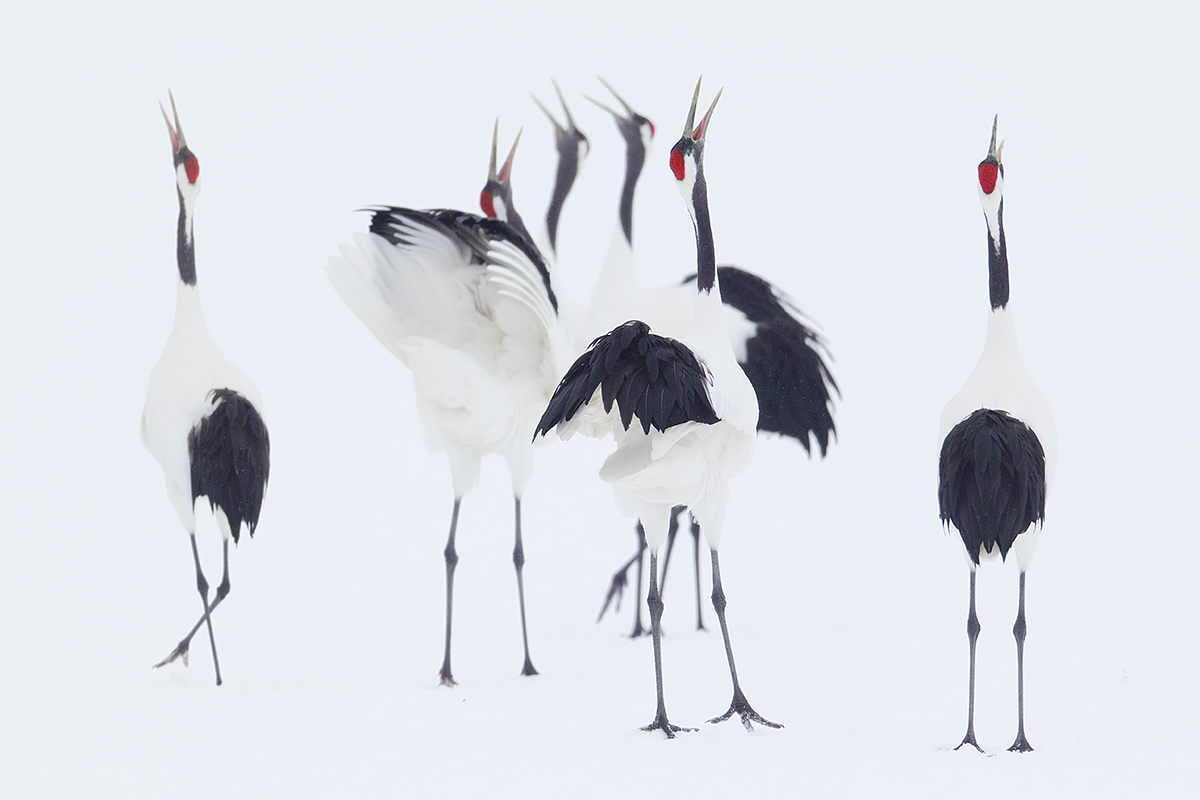 This image was created on the first Japan in Winter IPT with the Gitzo 3530 LS CF tripod now replaced by the Gitzo 3532 LS carbon fiber tripod, the Mongoose M3.6 head, the Canon EF 800mm f/5.6L IS USM lens and the EOS-1D Mark IV (now replaced by the Canon EOS-1D X). ISO 400. Evaluative metering +1 2/3 stops off the snow: 1/1250 sec. at f/5.6 in Manual mode was somewhat of an underexposure.
Central sensor/AI Servo/Surround Rear Focus AF as framed was active at the moment of exposure. Click here to see the latest version of the Rear Focus Tutorial. Click on the image to see a larger version. This is the full frame original capture.
Your browser does not support iFrame.
Hard to Believe…
I poked around in two old folders with my Japan in Winter keepers hoping to find an image or two to use to promote the 2016 trip that I am leading with Paul Mckenzie and Denise Ippolito. I was stunned. The image above, from my first trip, was one of many dozens of excellent images that I had never processed. Or even taken a second look at….
If you would like to consider joining us for a trip to remember, scroll down to Item 4 below.
Used Canon 800mm f/56L IS USM Lens
Multiple IPT veteran and good friend Mike Gotthelf, is offering a used Canon EF 800mm f/5.6L IS USM lens in excellent + condition for $8850. The lens is like new except for some very minor wear on the finish. The sale includes the leather hood, the original hard case and key, a low foot, a LensCoat, and insured shipping via UPS Ground to US addresses only. Personal checks only; your new lens will be shipped only after your check clears.
This great lens, my favorite for 3 years, sells new at B&H for $13,999.00. B&H is asking $11,399.95 for a used one here in the same condition as Mike's. They recently dropped their price for this lens from $11,999.90…. Buy Mike's lens and save $2456.95 right now! It will save you a ton of dough and you will have a super-sharp lens with lots of reach. And it works great with a 1.4X TC too with all pro bodies and with the 5D Mark III.
Interested folks can contact Mike via e-mail or by phone at (978)-407-0679 (eastern time).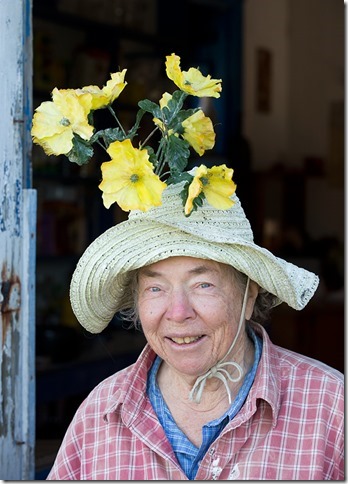 Great Gull Island Project Director Helen Hays standing in one of the three GGI HQ doorways. The flowered straw hats (and other types of unique headgear) are designed to prevent scalp lacerations caused by terns defending their nest sites, eggs, and/or offspring.
"CBS This Morning" News Flash for Tuesday, September 2, 2014
Helen Hayes/Great Island Feature to Air
While I was on Great Gull Island this past July photographing Common and Roseate Terns as well B-roll GGI, a crew from CBS news showed up as scheduled to do a feature on Helen Hayes, now in her 47th year of studying the terns of GGI. The crew was made up of on-air talent/host Michelle Miller, producer Alberto Moya, videographer Paul Lederman, and talent acquisitions specialist (aka "talent scout") Ginny de Liagre, nice folks all.
The feature on Helen will air nationally on "CBS This Morning" between 8:00 and 9:00am on Tuesday, September 2, 2014. Be sure to tune in or catch it on Tivo or whatever device you use to record TV shows. Helen's dedication to the terns of GGI is unparalleled. My older daughter Jennifer worked on Great Gull for five summers and met her husband Erik there. As far as I know, the plan is to use six of my tern images in the feature.
Note: "CBS This Morning" airs from 7:00 to 9:00am. My understanding is that the GGI segment will air during the 2nd hour….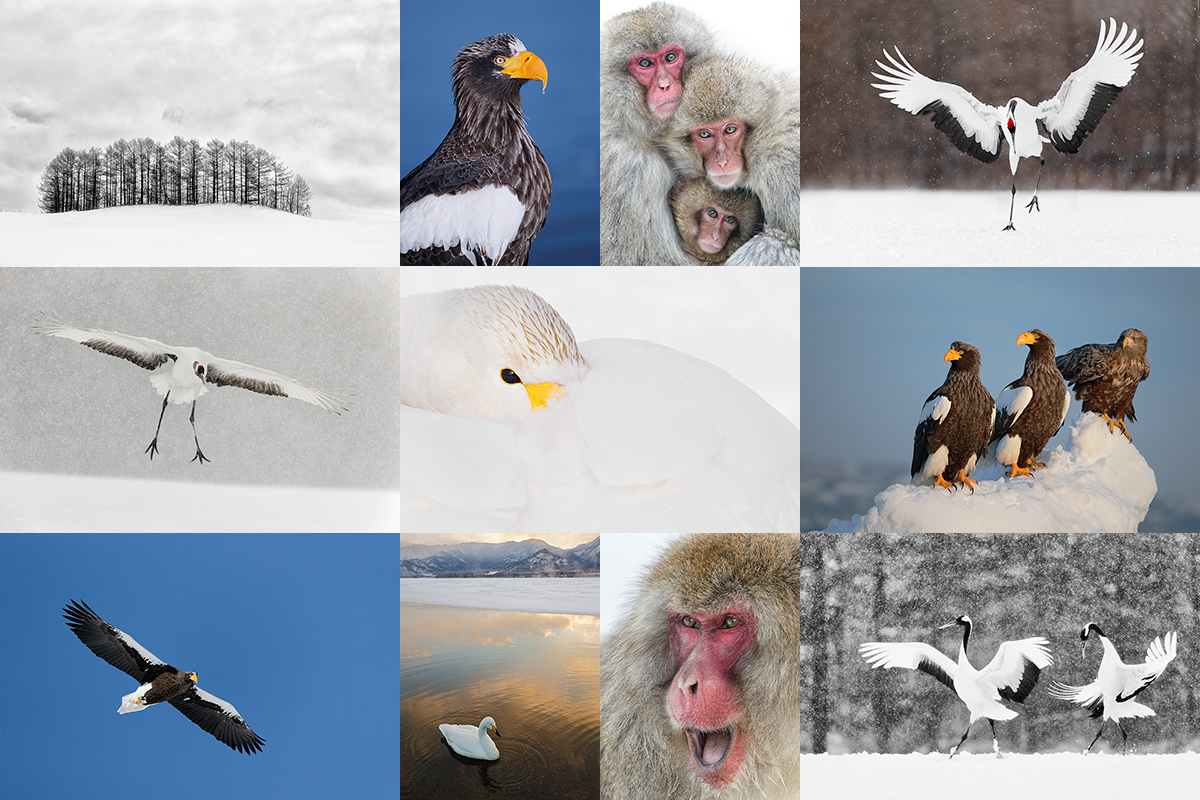 Consider joining us in Japan in February, 2016; the world's best Japan in Winter workshop. Click on the card to enjoy the spectacular larger version.
Japan In Winter IPT. February 9-24, 2016: $13,999/double occupancy. Limit 7: Openings: 5.
Needs five to run; just 3 more to go. All lodging including Tokyo hotel on 9 FEB, all breakfasts & dinners, ground transport and transfers including bus to the monkey park hotel, and all entrance fees and in-country flights are included. Not included: international flights, all lunches–most are on the run, and alcoholic beverages.
This trip is one day longer than the 2014 trip to allow for more flexibility, more time with the cranes, and most importantly, more time for landscape photography. Hokkaido is gorgeous. Three great leaders plus the world's best Japan in winter Japanese photography guide: the amazingly creative Denise Ippolito, multiple award winning photographer Paul McKenzie and yours truly. Tons of trip planning and gear advice, in-the-field instruction and guidance, at-the-lodge Photoshop and image review sessions in addition to short introductory slide programs for each of the amazing locations.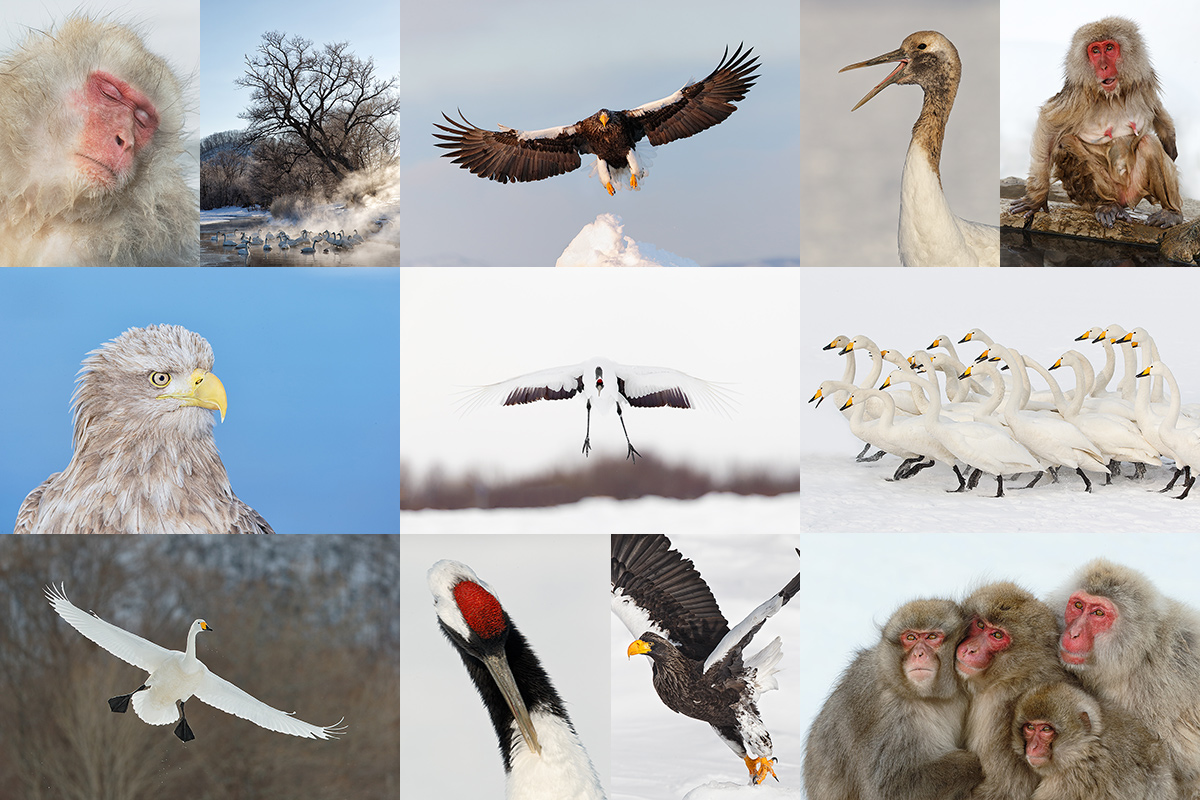 Amazing subjects. Beautiful settings. Nonstop action and unlimited opportunities. Join us.
Arrive Tokyo: 9 FEB 2016 the latest. 8 FEB is safer and gives you a day to get acclimated to the time change. Your hotel room for the night of the 9th is covered.
Travel to Monkey Park Hotel: 10 FEB: Short 1/2 DAY of Monkey photography possible depending on our travel time….
Full Day snow monkeys: FEB 11.
Full Day snow monkeys: FEB 12.
13 FEB: Full travel day to Hokkaido/arrive at our lodge in the late afternoon. The lodge is wonderful. All the rooms at the lodge have beds. Bring your warm pajamas. Local onsen (hot springs bath and tubs) is available for $5 each day before dinner–when you are cold, it is the best thing since sliced bread. Smile emoticon The home cooked meals at the lodge are to die for.
FEB 14-23: Red-crowned Crane, raptors in flight, Whooper Swans, and scenic photography. Ural Owl possible. One 2-night trip to Rausu for Steller's and White Tailed Sea Eagles on the tourists boats dependent on sea ice conditions. Only our trip offers complete flexibility in this area. It saved us this year. One afternoon of duck photography in the harbor is a strong possibility in Rausu. 2-3 boat trips. In addition, few if any tours offer at least one afternoon boat trip….
Lodging notes: bring your long johns for sleeping in the lodge. In Rausu and the snow monkey park, the hotel the rooms are Japanese-style. You sleep on comfortable mats on the floor. Wi-fi is available every day of the trip.
FEB 24. Fly back to Tokyo for transfer to your airport if you are flying home that night, or, to your hotel if you are overnighting. If you need that room it is on you.
To save your spot, please send your $5,000 non-refundable deposit check made out to "Arthur Morris to Arthur Morris/BIRDS AS ART, PO Box 7245, Indian Lake Estates, FL 33855. We do hope that you can join us for this trip of a lifetime. Do e-mail with any questions or give me a buzz at 863-692-0906.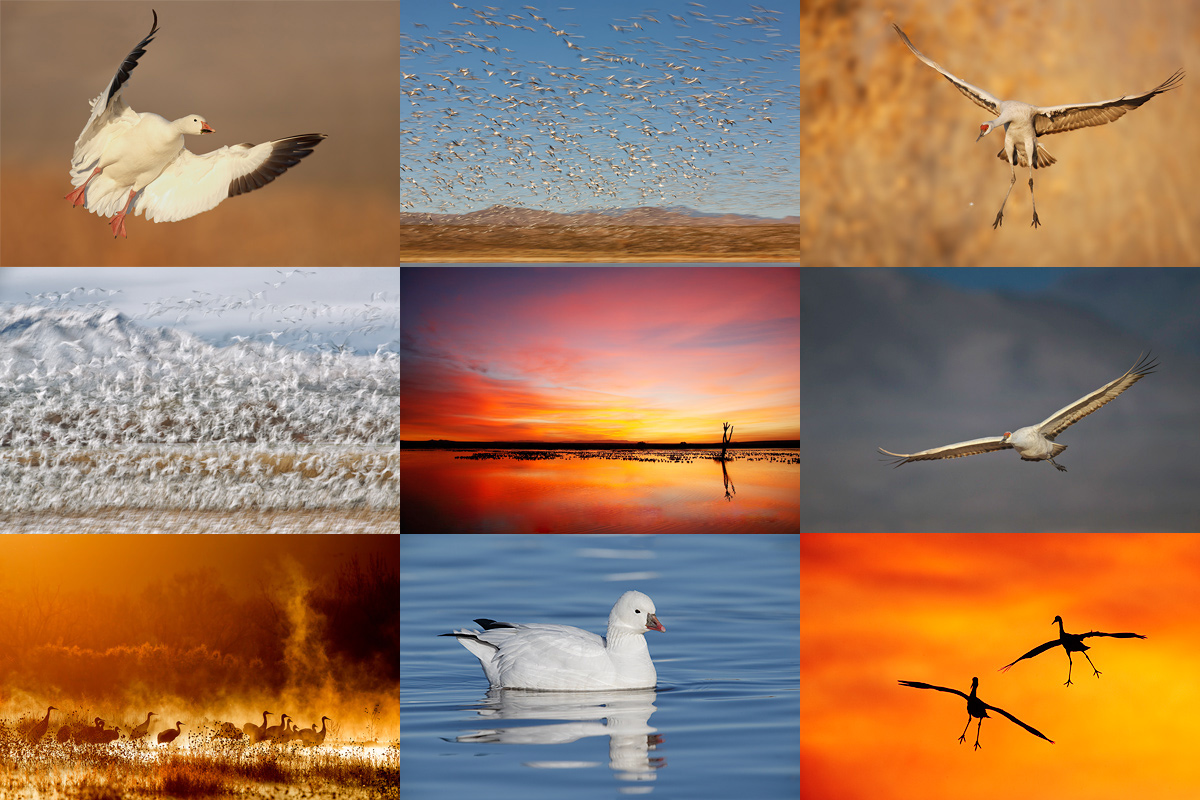 Get your butt on a plane and take advantage of some downright cheap instruction! Please click on the card to enjoy a larger version.
Affordable Bosque Educational Opportunities
I will be at Bosque this year for nearly three full weeks. There are a host of affordable educational opportunities on the slate including four early morning in-the-field photography workshops and an afternoon seminar (both with Denise Ippolito) and a free slide program entitled "A 20-Year Love Affair With Bosque." All of the above are in conjunction with the Festival of the Cranes. And there is still some room on the 2-DAY Bosque Creative IPT (again with Denise).
Click here for complete details and if you are interested in getting one of the valued spots on the early morning in-the-field photography workshops you'd best read the registration details carefully or risk being shut out.
The Art of Flower Photography
Click here if you missed the recent eBook announcement.
Ken Kovak: I have been working my way through the "Art of Flower Photography" and it is both a feast for the eyes and quite informative.
Art Buesing: Artie and Denise have outdone themselves with "The Art of Flower Photography." Gorgeous photos with careful explanations of the production techniques for camera and computer. A valuable addition to my photography library!
Jim Neiger Flight School Photography/2014 Alaska Bald Eagle Workshop, Haines, Alaska
Click here for details on Jim's Bald Eagle workshop and see a collection of his great eagle photographs.
IPT Updates
The 2015 UK Puffins and Gannets IPT
There are now just 2 slots left on the 2015 UK Puffins and Gannets IPT; if you are seriously interested in joining us on this truly wonderful trip it would be best not to tarry…. Scroll down here for complete details.
2015 Palouse IPT #2
The first 2015 Palouse IPT is sold out with a long waiting list. There are now just 3 slots left on the Palouse IPT #2. Scroll down here for complete details.
Click here for complete IPT schedule and info.
Selling Your Used Photo Gear Through BIRDS AS ART
Selling your used (or like-new) photo gear through the BAA Blog or via a BAA Online Bulletin is a great idea. We charge only a 5% commission. One of the more popular used gear for sale sites charges a minimum of 20% plus assorted fees! Yikes. The minimum item price here is $500 (or less for a $25 fee). If you are interested please e-mail with the words Items for Sale Info Request cut and pasted into the Subject line :). Stuff that is priced fairly–I offer free pricing advice, usually sells in no time flat. In the past few months, we have sold just about everything in sight. You can see the additional listings here. Immediately below is today's featured item, a new listing.
Facebook
Be sure to like and follow BAA on Facebook by clicking on the logo link upper right. Tanks a stack!
Support the BAA Blog. Support the BAA Bulletins: Shop B&H here!
We want and need to keep providing you with the latest free information, photography and Photoshop lessons, and all manner of related information. Show your appreciation by making your purchases immediately after clicking on any of our B&H or Amazon Affiliate links in this blog post. Remember, B&H ain't just photography!
…..
Amazon.com
Those who prefer to support BAA by shopping with Amazon may use this link:
Amazon Canada
Many kind folks from north of the border, ay, have e-mailed stating that they would love to help us out by using one of our affiliate links but that living in Canada and doing so presents numerous problems. Now, they can help us out by using our Amazon Canada affiliate link by starting their searches by clicking here. Many thanks to those who have written.
Typos
In all blog posts and Bulletins, feel free to e-mail or to leave a comment regarding any typos, wrong words, misspellings, omissions, or grammatical errors. Just be right. 🙂