The Canon Digital Learning Center "Bird Photography with Arthur Morris" 7-Video Instructional Series
King Penguin Abstract
The Morro Bay, CA Canon Live Learning EOS Destination Workshop
The Blog is the Bomb!
Jim Neiger Osprey Heaven and Custom Anytime Workshops
Hooptie Deux/Roseate Spoonbills and More Instructional Photo-Tour: 1 Opening Due to a Cancellation!
The Canon Digital Learning Center "Bird Photography with Arthur Morris" 7-Video Instructional Series
If you've missed the fun and learning, you can see all seven videos by clicking here and then clicking on any one of the seven images in the scrolling photo bar.
Here is a list of the seven videos:
Location scouting for the perfect shot
One Shot and AI Servo AF
Sunrise and Sunset/Blurs and Silhouettes
Getting the right exposure
Arthur's Gear Bag (aka "The Junk in the Trunk")
Camera settings
Tele-Extenders
You can see the original announcement on the blog here. The series is getting lots of play on Facebook and Twitter. All are invited, with thanks, to share or re-Tweet.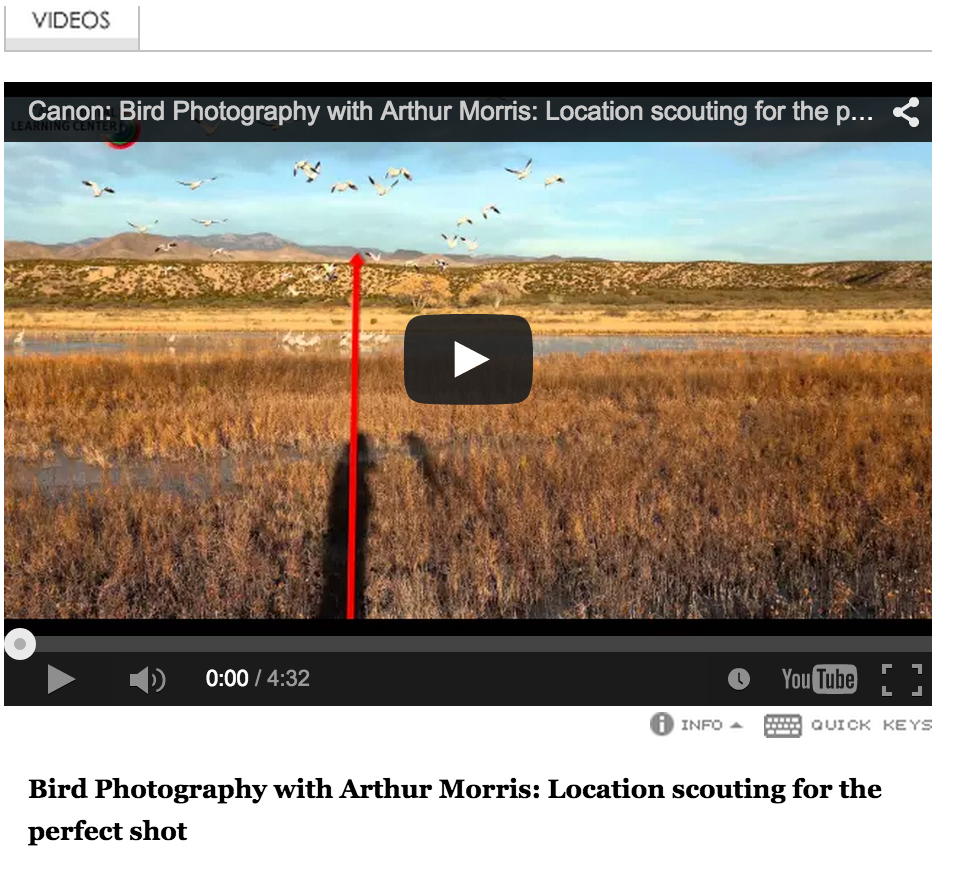 Canon CDLC Video #1: Location Scouting for the Perfect Shot/Understanding the Light and the Wind Direction. Note: you need to follow the link below to view the video. 🙂 Above: a still from the "Point your shadow at the subject" segment.
Here is a typical YouTube comment:
DesertPackrat: Thank goodness. Finally a video that teaches the more advanced, subtle improvements of light and position placement for nature photography. I have seen plenty of beginner camera tips and a fair amount of advanced studio lighting techniques but this is the first series that I have seen that covers more advanced concepts for outdoor photography. Thank you so much for sharing. I am now inspired to see the Sandhill cranes in Willcox, AZ. Please keep making these tutorials; I promise to buy more Canon gear if you do.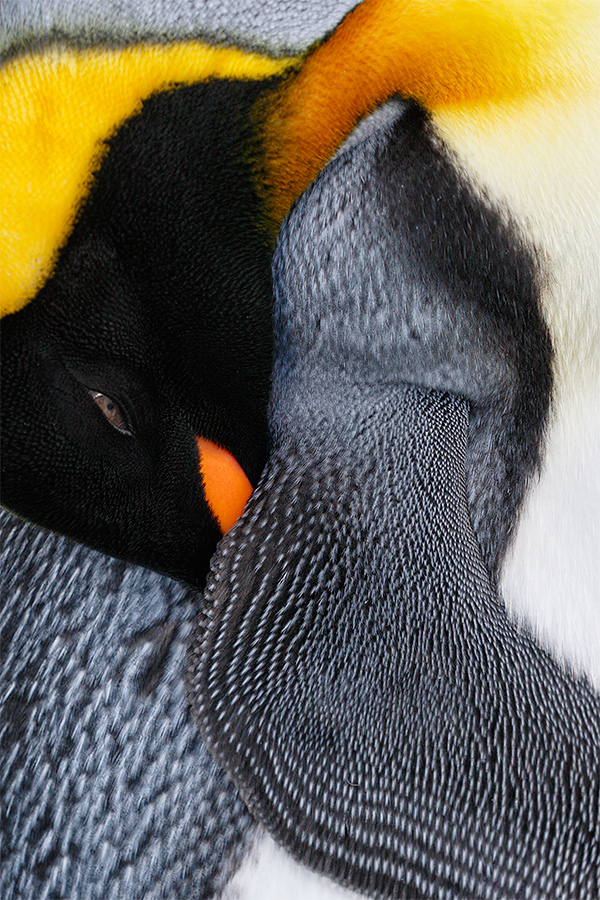 This image was created in cloudy conditions on December 25, 2014 at St. Andrews Bay, South Georgia. I used the handheld Canon EF 70-200mm f/2.8L IS II USM lens, the Canon Extender EF 1.4X III (at 210mm), and the amazing Canon EOS 7D Mark II. ISO 400. Evaluative metering +1/3 stop: 1/160 sec. at f/7.1.
Central sensor/AI Servo Surround Rear Focus AF as framed was active at the moment of exposure (as is almost always best when hand holding). Click here to see the latest version of the Rear Focus Tutorial. Click on the image to see a larger version.
Your browser does not support iFrame.
King Penguin Abstract
A raging ice melt river more than two feet deep with a 6 knot current kept me and many others on the trip from making it to the best vantage points on a ridge above the King Penguin colony. That left me to work with hundreds of silly tame King Penguins along the beach. I photographed them coming out of the surf. I did head portraits. And tried my best to capture a few courtship interactions. But as always with this species, I could not resist creating a few tight abstracts of the bird's heads, necks, and faces. With the bright colors and intricate patterns there is pretty much an infinite number of complex abstract images there for the making.
The success of this image was due in large part to my crouching down to best parallel the resting subject.
One of my King Penguin neck abstracts had recently been honored in the 2013 Nature's Best Competition. Click here to see the image and here for additional contest info.
Be sure to check the BAA blog this week for two more superb King Penguin abstracts (he said modestly).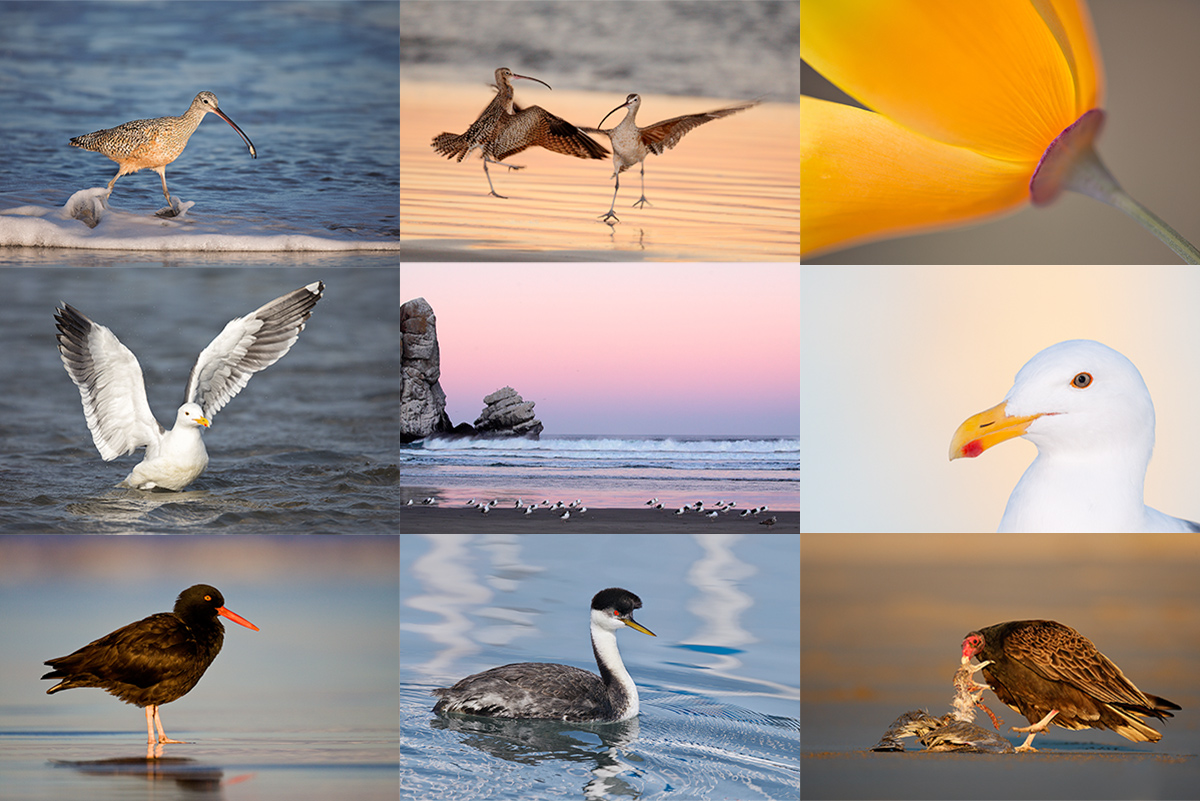 Morro Bay offers a wealth of very attractive natural history subjects in a variety of attractive settings. Do consider joining me there on the March 20-22, 2015 Canon Destination Workshop. Complete info and register here
BIRDS AS ART Morro Bay, CA Canon Live Learning EOS Destination Workshop
March 20-22, 2015: $1050

Borrow great Canon gear. Head home with a print or two. Learn from the best.
Click here for complete info or to register.
Click here to see the course agenda.
Join me in one of the most beautiful and scenic places on the planet to photograph a large variety of birds of the sea and shore. The star of the show will be the spectacular Long-billed Curlew. There will be lots of Marbled Godwits and Willets as well as lots of the smaller shorebird species. Black Oystercatcher is likely and we should get to photograph large flocks of Western Sandpipers in flight over the bay; with any luck we should enjoy some great sunrise and sunset photography. There are lots of gulls including Western, California, and Mew. There is one good location where we should get to photograph Western, Clarke's, Eared, and Pied-billed Grebe, Lesser Scaup, and Common Loon–you will be able to borrow a long lens from Canon along with various camera bodies. We may get to photograph some passerines including Anna's Hummingbird, Brewer's Blackbird, and White-crowned Sparrow. And we have a chance for several species of raptors. Yikes, I almost forgot California Poppy. And California Ground Squirrel. Sea Otters are also possible.
Folks who register after seeing this notice are asked to shoot me a copy of their BIRDS AS ART Morro Bay Registration Confirmation via e-mail.
See lots more Morro Bay images here.
All previously scheduled BIRDS AS ART Canon Destination Workshops have sold out without being advertised in the blog or in a Bulletin. As Canon has not advertised this offering yet it represents a special opportunity to get in on the fun and learning.
The Blog is the Bomb!
Though page views on the BAA Blog dropped by about 35% during my relatively long absence, readership is now back to normal levels at about 3,000-4,000 page views/day. I've actually started a new but modest streak that currently stands at 11. 🙂 The epic streak ended on December 1, 2014 after 366 days in a row with a new educational blog post.
The end result is that i am once again been putting 20 or so hours each week into the blog to ensure that it remains informative, timely, and beautiful. Most of the educational features that formerly appeared in BAA Bulletins now grace the BAA Blog. If you are not subscribed, you are missing a ton of great stuff daily. I am currently working on a streak of 306 days in a row with a new educational blog post. You can subscribe to the blog posts by clicking here. If you have a problem subscribing, please contact us e-mail.
If you doubt me or have been missing out, click here and scroll down. Here are some links to recent posts of interest:
"Two Things I Do Not Like About the Canon EOS-7D Mark II" garnered nearly 4,000 page views.
Most folks will get a virtual life bird when checking out "Photographing an Erratic, Speeding-Bullet-of-a Bird with the Canon EOS-7D Mark II" in the blog post here.
You can see my very favorite image in the "My Favorite Flying Penguin Image" blog post here and learn more about that incredible afternoon in "Flying Penguin Circus."
You can learn about the current trend of going to lighter and shorter focal length lenses here.
See two great penguin chick images made with the 300 II/2X II/7D II combo in "A More Than Viable Combination."
Even while I was away on the Southern Ocean trip there were some important and meaningful posts:
"A Brush-up Tutorial on Working in Manual Mode" on December 19 and "Manual… Av… Tv… Program… Which is The Best Shooting Mode?"
Lastly, if you missed"Incredible luck: photographing a Big Cat from my vehicle at Bosque," you will surely want to click here. Be sure to read all the insightful comments.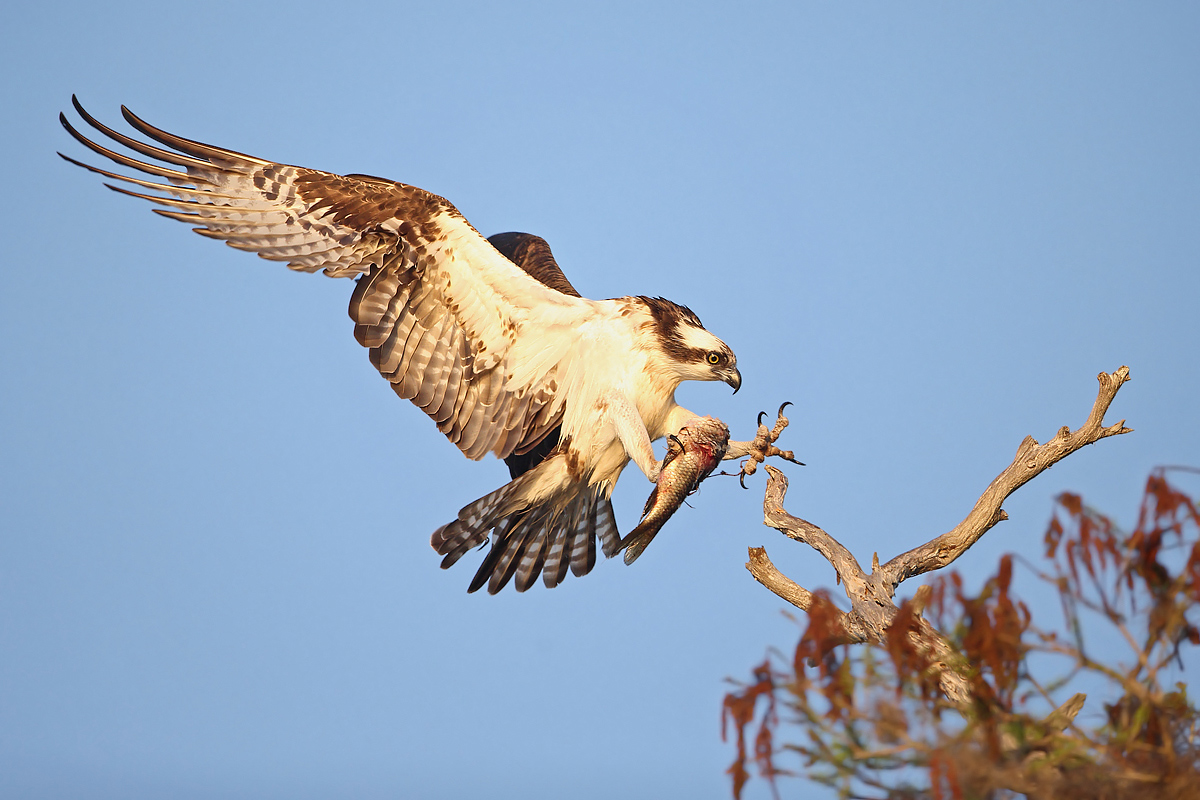 Osprey landing with fish. Image copyright 2013: Jim Neiger/Flight School Photography
Jim Neiger's Osprey Heaven Workshops 2015
Lake Blue Cypress (Vero Beach), Florida
Flight School Photography returns to Lake Blue Cypress for the sixth year and will be featuring three, five day workshops in spring, 2015. The workshops will be conducted by expert bird photographer Jim Neiger, who knows the lake and surrounding area like no-one else. Jim has spent the past several years perfecting his unique techniques for photographing birds in flight using large telephoto lenses, hand held. The focus of these workshops will be learning Jim's hand held, long lens techniques for photographing birds in flight and in other action. The workshops will be held in some of the most beautiful, wild, and unspoiled wilderness areas of central Florida.
Each workshop will include a four hour classroom session, welcome dinner, four morning photography sessions, and three afternoon photography sessions. Each photography session will be of three to four hours in duration. Five of the photography sessions will be conducted via a specially configured pontoon boat that has been customized for photography from the water (weather permitting). The remaining photography sessions will be land based sessions in the field. The workshops will be limited to five participants so that everyone may photograph in comfort and receive personalized instruction.
The photography sessions by boat will be held on the unspoiled and unparalleled Lake Blue Cypress. This spectacularly beautiful lake is virtually free of civilization and man made elements. The lake is surrounded by ancient cypress swamp and marshy wetlands. Here, the gorgeous cypress trees grow from the lake bottom, surrounded on all sides by water. Osprey nest by the hundreds in these trees, and participants will be able to photograph them as the fly to and fro, dive for fish, gather nesting materials, and feed their young chicks. Some of the nests are actually at or below eye level when standing in the boat. The only distractions in this pristine, wilderness environment are the constant cries of the Osprey as they frolic in the air and defend their nests from other birds.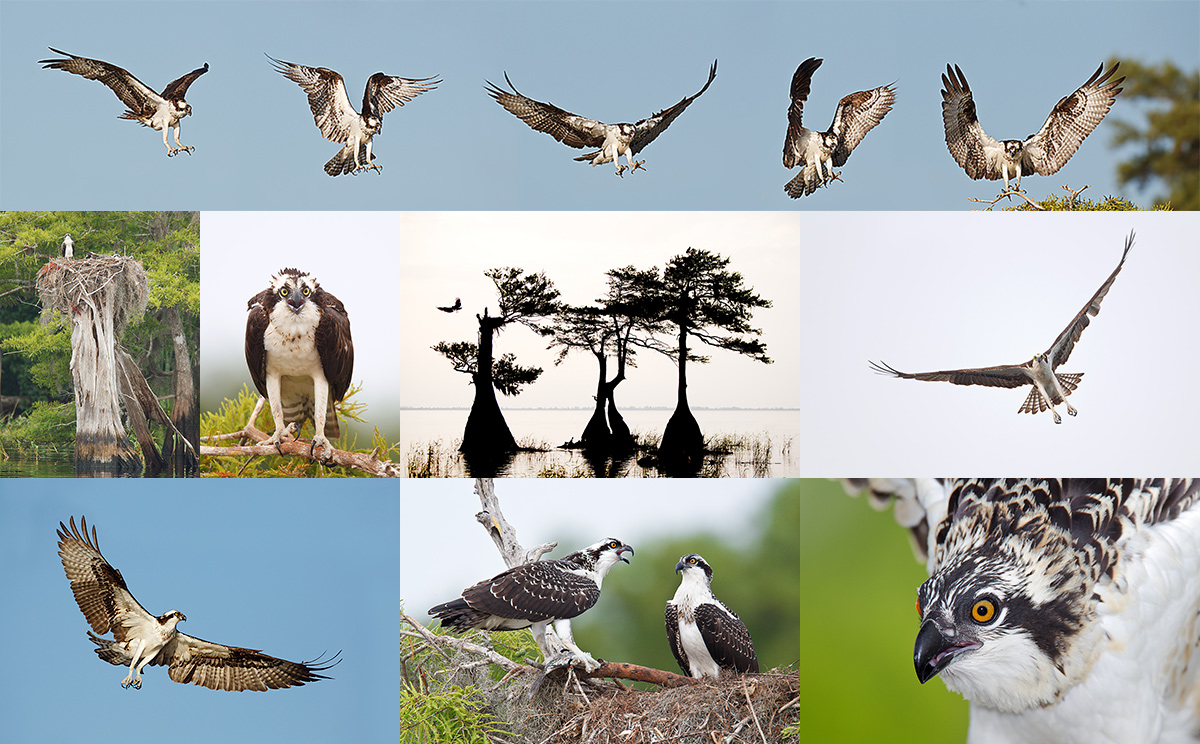 These are artie's images from Lake Blue Cypress trips with Jim Neiger.
Lake Blue Cypress is also a landscape photographers dream. The horizons contain nothing of man's influence and only the beauty of the real Florida wilderness. Perches and backgrounds are spectacular beyond belief. April and May are the best months to be at Lake Blue Cypress. Many of the birds are actively nesting and rearing their young during this time. Wildflowers cover the stumps and trees like blankets of radiant color. The skies glow with spectacular, multi-hued sunrises and sunsets. Hundreds of different species of birds are possible including the typical Florida waders and water fowl. Large Alligators are commonly seen sunning themselves on top of the fallen trees and stumps amidst the colorful wildflowers. The biggest problem for a photographer here is deciding which subject to photograph. Even the weather cooperates at this time of year. It is the dry season and clear, sunny days are the most common weather condition.
The photography sessions on land will be held in remote areas of southern Osceola County. Here, participants are likely to have opportunities to photograph birds that are endangered and rarely seen. Possible species include: Whooping Crane, Swallow-tailed Kite, Great Horned Owl, Barred Owl, and Red-Shouldered Hawk among others. Sandhill Cranes, a common bird in Central Florida, are tame enough to approach as closely as you like. Participants will also learn how to safely use bird song recordings to attract birds. Jim has developed his own, innovative techniques for using recordings to attract birds, in such a way, that amazing photographic opportunities are common when they would be almost impossible otherwise. This includes special techniques that encourage birds to fly and land as desired; this can provide spectacular opportunities for both flight and perched images (with the perches being selected for their beauty).
Jim consistently produces amazing flight images. His imagination and dedication have resulted in his developing many new techniques, techniques that can only be learned from Jim. His Flight School Photography Workshops are a must for any serious nature photographer.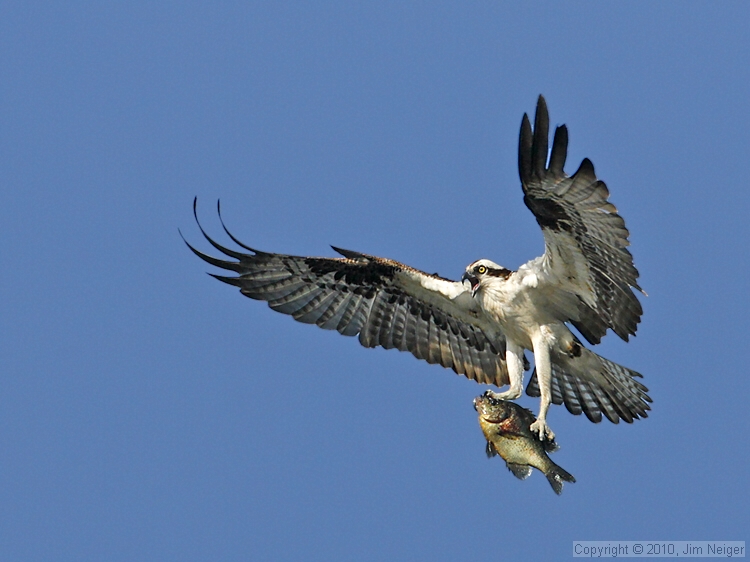 Osprey landing with bream. Image copyright 2013: Jim Neiger/Flight School Photography
Workshop Dates
Workshop LBC-1: March 16-20, 2015/1 opening.
Workshop LBC-2: April 13-17, 2015/3 openings.
Workshop LBC-2: April 20-24, 2015/4 openings
Note: you can set up an Osprey Custom Workshop any time from March 10 through April 30 when Jim does not have a LBC workshop scheduled. Custom workshops before March 10 will be held at various locations south of Orlando.
Workshop Costs and Payment
The cost of each workshop is $1750 per person. Each workshop includes a four hour formal classroom instruction session, a welcome dinner, 4 morning photography sessions, and 3 afternoon photography sessions. The photography sessions include personalized instruction in the field. Each participant will receive a copy of Jim's e-book "Flight Plan – How to Photograph Birds in Flight" when they sign up for the workshop. Discounted lodging is available, but is not included in the workshop fee. A $875 non-refundable deposit is required to reserve a spot in a workshop. The remaining $875 is due 30 days before the start date of the workshop. If you are unable to attend the workshop, after paying the balance, the balance payment will be refunded ONLY if your spot can be filled, on short notice, from the waiting list. All workshop payments must be made by check or money order. Credit cards are not accepted.
Participant Requirements
Participants should have working knowledge of how to create a properly exposed image, a telephoto lens of 400mm or more (300mm with a teleconverter is acceptable), and be physically capable of holding their camera and lens up to their eye in shooting position for at least 20 seconds. Participants must also have a vehicle to travel to and from the photography locations.
Lodging and Logistics
Workshop participants who require lodging during the workshop should stay at the hotel in Vero Beach where the classroom sessions will be conducted. Participants arriving via air arrive at the Orlando International Airport, which is the closest major airport to Vero Beach. Rental vehicles are available at the airport. Flight School Photography will assist participants with arranging the sharing of vehicles and/or lodging if desired. Detailed information will be provided when you sign up for the workshop or upon request. Lodging, transportation, and meals (except for welcome dinner) are not included.
Learn more here. View Jim's incredible image gallery here. And see some of artie's images here.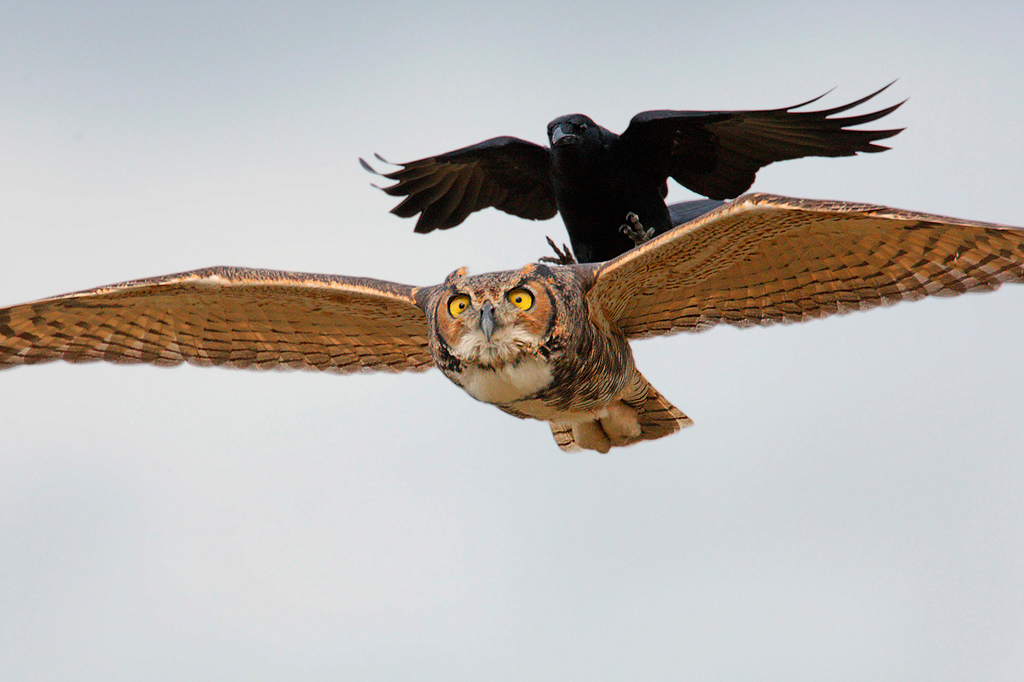 Great Horned Owl being harassed by Fish Crow. BBC Honored image copyright: Jim Neiger/Flight School Photography
Flight School Custom Anytime Workshops
Flight School Photography offers private, customized workshops, September thru May, in some of the most beautiful, wild, and unspoiled areas of central Florida. Your instructor and guide, Jim Neiger, has spent several years observing, studying, and photographing the varied birds near his home in central Florida and knows this avian rich area like no one else. If you prefer, Jim will travel to a location selected by you to provide personal instruction.
These individual or small group workshops are tailored exclusively to the participants' interests, goals, and schedule. Workshops are conducted by boat, on land, or a combination of both. Personalized instruction lets you make the most of your time. The workshops can range from a single half-day workshop to multi-day or week-long workshops. Snacks and drinks are provided during every workshop session.
You have the following options: scheduling a private, individual custom workshop; putting together a small group of photographers for a customized workshop; or having Jim travel to your location to provide a custom workshop. You can also choose the species you wish to focus on and/or the topics you would like to learn more about. Jim's experience in the central Florida area allows him to locate the most sought after species in settings and conditions that are optimal for photography.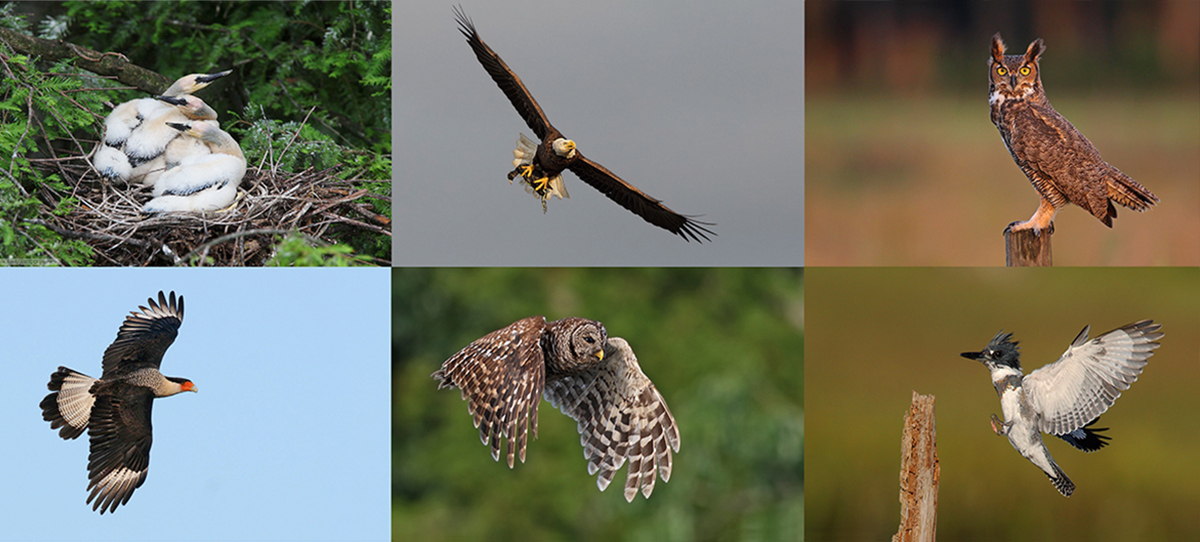 Jim's Custom Workshops offer a great variety of desirable subjects.
Custom Workshops by Boat
Jim's pontoon boat was purchased and customized specifically for use during photography workshops. It is roomy, comfortable, and stable. The boat is equipped with an extremely quiet, four-stroke motor for silent cruising. It also has a powerful, silent, electric trolling motor with wireless remote control. This allows Jim to position the boat precisely and silently. The boat has a capacity of twelve people, but Jim limits the number of participants to five or less so that everyone has room to photograph in comfort. The boat can be configured with no top, a half canopy to provide shelter from sun and rain, or with a half enclosure that can completely protect participants from the elements. Using the boat allows close access to some of the most difficult and desirable subjects in North America. Many of the images of these subjects in their wetland habitat would not be possible from land.
Note: you can set up an Osprey Custom Workshop any time from March 10 through April 30 when Jim does not have a LBC workshop scheduled.
Custom Workshops on Land
Land-based sessions are held in a number of wild and remote locations of central Florida. Jim has spent several years learning the out-of-the-way wilderness areas in the region. He has also written a best selling guide to photographing birds in central Florida. The variety of birds in the area is astounding, and Jim knows where to find them and how best to photograph them. Participants will need to provide their own vehicle for the land-based workshops, unless there is only 1 photographer.
Both land and boat workshops are likely to provide participants with opportunities to photograph birds that are uncommon and rarely seen. Possible subjects include: Crested Caracara, Sandhill Cranes, Whooping Cranes, Barred and Great Horned Owls, Bald Eagles, Osprey, Snail Kites, Red-Shouldered Hawks, Red Cockaded Woodpeckers, Pileated Woodpeckers, Limpkins, Ibis, Wood Storks, Purple Gallinules, various wading birds, warblers, sparrows, and many others too numerous to list.
Custom Workshop Instruction
Custom workshops may also include personalized, in-the-field instruction; formal classroom instruction; or an introductory slide presentation, if desired. Topics may include instruction devoted to learning or practicing:
· Jim's unique handheld techniques for photographing birds in flight using long telephoto lenses.
· Jim's unique techniques for using recordings safely to attract and photograph birds successfully
· Making proper exposures working in manual exposure mode
· Other nature photography topics of your choice
Learn more about Jim's Flight School Custom Anytime Workshops here. See the spectacular image gallery here. See the custom workshop rates here.
Contact Information
Contact Information: Jim Neiger, Flight School Photography, Inc. 550 Basin Drive, Kissimmee, FL 34744-4804
Cell phone: (407) 247-5200. e-mail.
Flight School website.
Flight Plan
I can say without a doubt that after spending more than two months (part time) editing Jim Neiger's great e-Guide, Flight Plan, that my flight photography has improved by leaps and bound whether I am working off a tripod or hand holding. His explanation of the bumping the focus technique finally sunk in. Learning to use this technique regularly is a huge help for any all types of flight photography.
You can learn more about Flight Plan here or order a copy by clicking here.
Bob Hollowell's Flight Plan Comments
I just wanted to send kudos to both you and Jim Neiger for the excellent E-book that you referenced in a recent BAA blog post. I immediately purchased a copy, and have finished my first read and will now read it a second time just to make sure I'm ready to take it to the field. My favorite haunt is Squaw Creek NWLR and I've stumbled & fumbled with flight photos using both tripod & monopod as support for my Canon 7D, and just can't seem to come up with real sharp photos using that method. Jim's text is well written, and really puts flight photography in a whole new perspective for me. I'm 76 years old, and I'm sure I'll have to experiment with the handholding methodology a bit, but I'm excited at the prospect of applying Jim's methods.
Thanks again… Bob H.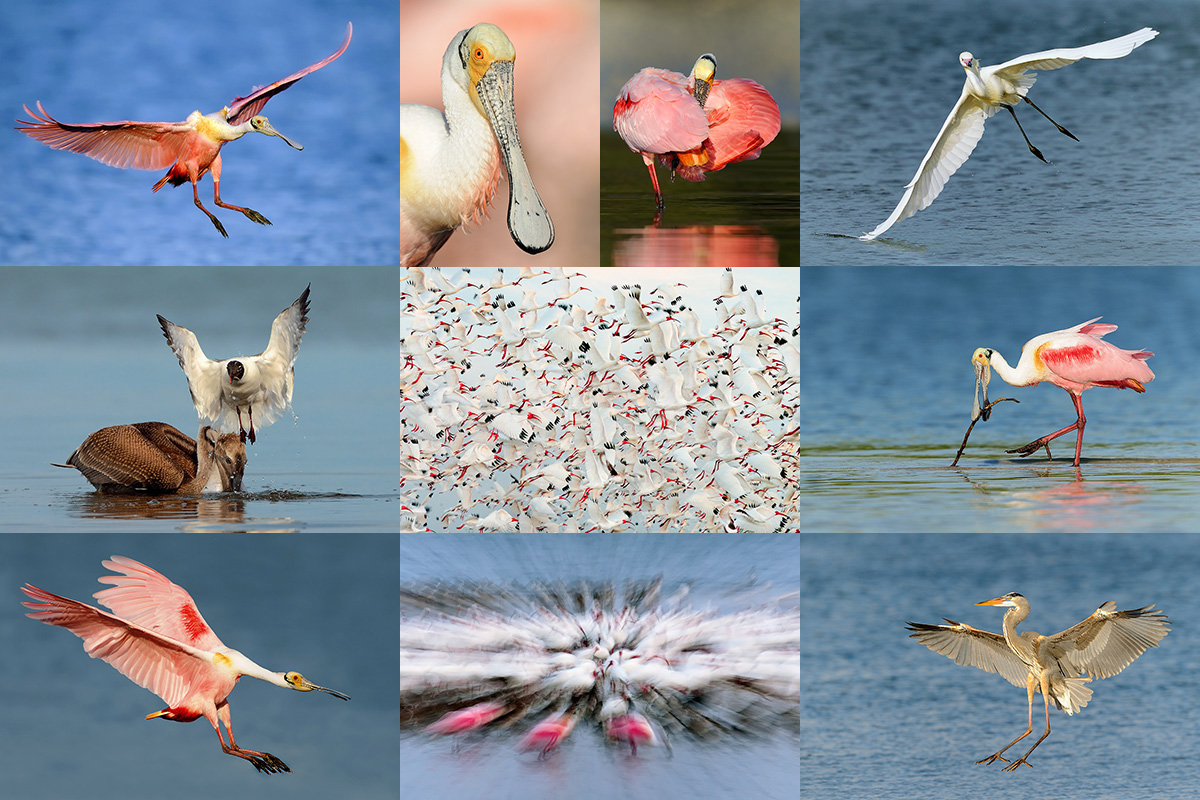 Images courtesy of and copyright Captain James Shadle (aka Froggie). All of the images here were created at Alafia Banks. Card creation and design by Arthur Morris/BIRDS AS ART.
The Hooptie Deux/Roseate Spoonbills and More Instructional Photo-Tour via pontoon boat. 4 1/2 DAYs: $3200. SUN FEB 22 thru lunch on THUR FEB 26, 2015/Strict Limit: 6 photographers/Openings 3.
Meet and greet on the evening of SAT 21 FEB. Two great leaders: Captain James Shadle (Nikon) and Canon Explorer of Light Emeritus Arthur Morris.
Roseate Spoonbill is one of if not the most sought after avian photographic subjects in Florida. They are generally hard to find and somewhat difficult to approach. They are relatively easy to find at Alafia Banks—heck, you can't miss seeing them, but even there they can on some days be somewhat difficult to approach. On some days we may be able to get ridiculously close to them. The huge incentive to get out to Alafia Banks in mid-February is the chance to photograph this species at the height of its spectacular breeding plumage….
Weather permitting there will be nine boat trips: 5 mornings and 4 afternoons! Mornings to Alafia Banks for spoonbills and Brown Pelicans (with lots of flight photography with the birds likely carrying nesting material), cormorants, ibises (both Glossy and White in breeding plumage. Many of the White Ibises will be sporting their spectacular, distended, red, naked (un-feathered) throat pouches—typically larger in the females. In addition we will get to photograph egrets including Great and Reddish, both in full breeding plumage, shorebirds, and more. There will be lots of flight photography opportunities. Afternoon trips either to Alafia Banks for spoonbills and more or to a more sheltered inland rookery location for a variety of nesting birds. In the event of horrific weather artie will either take the group to Fort DeSoto or will conduct an image review/Photoshop session. This IPT includes five lunches that will be followed by small group image sharing and review and some over-the-shoulder Photoshop instruction.
Important Notes
We stay in Brandon, FL for this IPT. From our hotel there it is is only about 20 minutes to the dock. The plan is for all nine sessions to be by boat. For the Alafia Banks segments, Captain Shadle provides light weight chest waders as much of the photograph will be done while we are standing in fairly shallow water behind our tripods. We help you get in and out of the boat with your gear. This is likely not the best trip for folks with balance problems. Note however that some folks may opt to stay on the boat. They usually have lots of chances for flight photography of spoonbills and other species but are almost always pretty far away from the spoonbills that land.
I recently saw a similar trip advertised two months too late for breeding plumage spoonbills (and two months too late for most of the rest of the species in breeding plumage). 5 Days: $3200. With only four boat trips…. The Hooptie IPT represents an incredible opportunity and with 3 slots filled already the remaining three spots should fill very quickly. We hope that you can join us. Scroll down for registration info.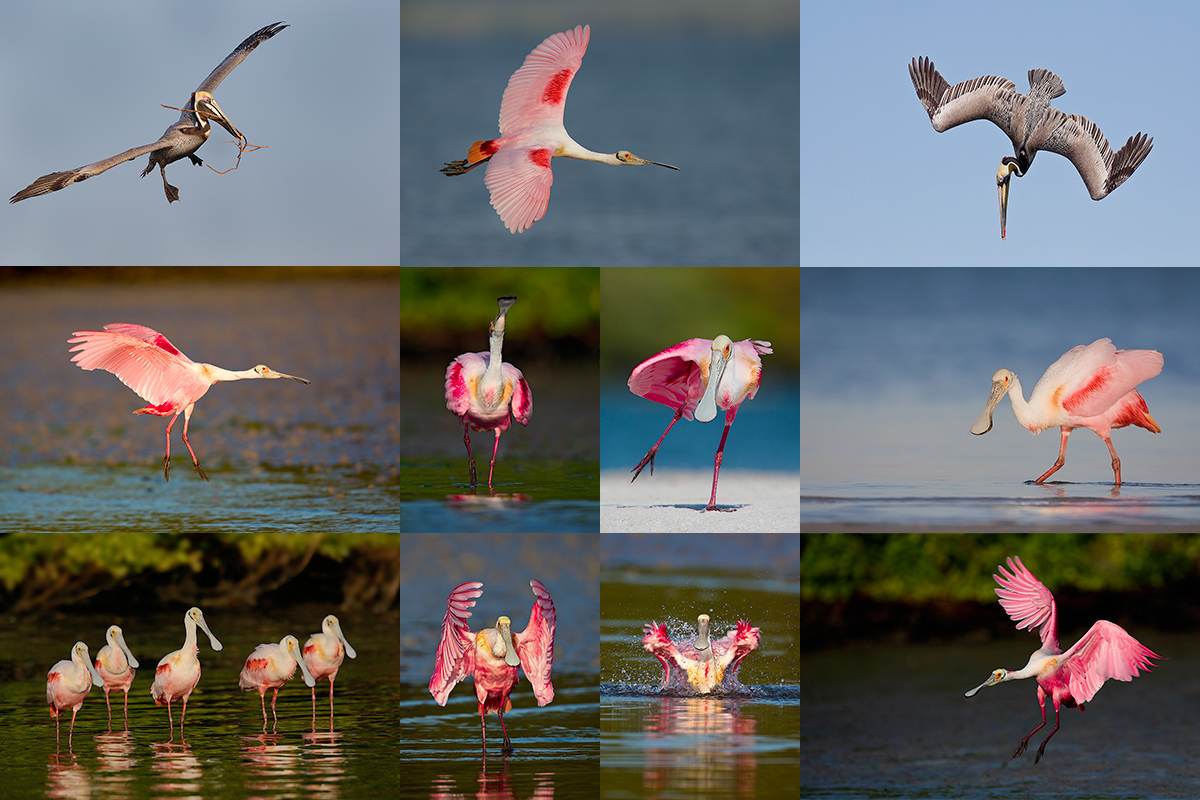 All of the images here were created at Alafia Banks in the month of February. Images copyright Arthur Morris/BIRDS AS ART. Card creation and design by Arthur Morris/BIRDS AS ART.
Hooptie IPT Registration Info
A $449 non-refundable deposit is required to hold your slot for this IPT. Your balance, payable only by check, will be due on 11/22/2014. If you cancel and the trip fills, we will be glad to apply a credit applicable to a future IPT for the full amount less a $100 processing fee. If we do not receive your check for the balance on or before the due date we will try to fill your spot from the waiting list. If your spot is filled, you will lose your deposit. If not, you can secure your spot by paying your balance.
Please print, complete, and sign the form that is linked to here and shoot it to us along with your deposit check (made out to "Arthur Morris.") You can also leave your deposit with a credit card by calling the office at 863-692-0906. If you register by phone, please print, complete and sign the form as noted above and either mail it to us or e-mail the scan. If you have any questions, please feel free to contact me via e-mail.
Huge Thanks!
Though page views on the BAA Blog dropped by about 35% during my absence, y'all did a great job of remembering to use my B&H affiliate links while I was on my busman's holiday. We sold about ten each of the new 100-400 II L IS lenses and 7D Mark IIs. I should be getting my 100-400 from B&H in a few days and plan on bringing it to San Diego where I will be using it extensively with both my 7D II and a 1D X. IAC, thanks a stack to all those who use the BAA affiliate links for their December and early January purchases. Readership is now back to normal levels at about 3,000 page views/day.
To show your appreciation for my continuing efforts here, we ask, as always, that you use our the B&H and Amazon affiliate links on the right side of the blog for all of your purchases. B&H Is recommended for you major photography gear purchases, Amazon for your household, entertainment, and general purpose stuff. Please check the availability of all photographic accessories in the BIRDS AS ART Online Store, especially Gitzo tripods, Wimberley tripod heads, and the like. We sell only what I have used, have tested, and can depend on. We will not sell you junk. We know what you need to make creating great images easy and fun. And we are always glad to answer your gear questions via e-mail. I just learned that my account was suspended during my absence; it should be up and running by Monday at the latest.
I would of course appreciate your using our B&H affiliate links for all of your major gear, video, and electronic purchases. For the photographic stuff mentioned in the paragraph above we, meaning BAA, would of course greatly appreciate your business. Here is a huge thank you to the many who have been using our links on a regular basis and visiting the BAA Online store as well.
IPT Info
Most IPTs are sold out. You can access the complete schedule by clicking here.
Facebook
Be sure to like and follow BAA on Facebook by clicking on the logo link upper right. Tanks a stack!
Support the BAA Blog. Support the BAA Bulletins: Shop B&H here!
We want and need to keep providing you with the latest free information, photography and Photoshop lessons, and all manner of related information. Show your appreciation by making your purchases immediately after clicking on any of our B&H or Amazon Affiliate links in this blog post. Remember, B&H ain't just photography!
…..
Amazon.com
Those who prefer to support BAA by shopping with Amazon may use this link:
Amazon Canada
Many kind folks from north of the border, eh, have e-mailed stating that they would love to help us out by using one of our affiliate links but that living in Canada and doing so presents numerous problems. Now, they can help us out by using our Amazon Canada affiliate link by starting their searches by clicking here. Many thanks to those who have written.
Typos
In all blog posts and Bulletins, feel free to e-mail or to leave a comment regarding any typos or errors. Just be right :).