So You Brought the 600 II to the UK: How'd That Work Out?
Why?
2016 UK Puffins and Gannets IPT
Jim Neiger Flight School Photography Haines, Alaska 2015 Bald Eagle Workshops
South Georgia October 2015
Your Help Needed and Appreciated/Affiliate Stuff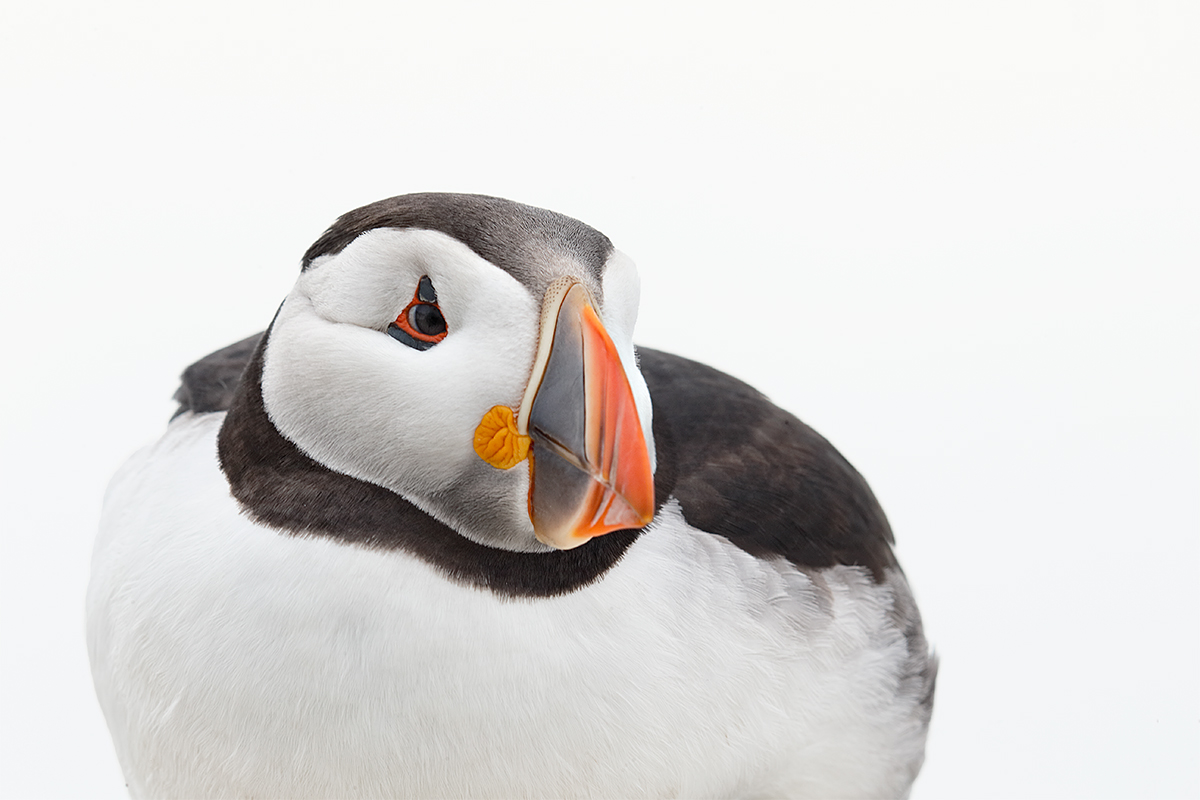 This image was created on the recently concluded 2015 UK Puffins and Gannets IPT with the tripod-mounted Canon EF 600mm f/4L IS II USM lens, the Canon Extender EF 2X III, and the Canon EOS-1D X. ISO 400. Evaluative metering +2 stops: 1/125 sec. at f/14. AWB.
Center AF point (by necessity)/AI Servo Expand/Rear Focus AF on the puffin's eye and re-compose for a pleasing composition. Click here to see the latest version of the Rear Focus Tutorial. Click on the image to see a larger version.
Your browser does not support iFrame.
So You Brought the 600 II to the UK: How'd That Work Out?
I traveled to the UK with the 600 II in my big Think Tank rolling bag. I lugged it onto the islands every day in the LensCoat 4X Expandable Long Lens Bag with the companion harness.
As it turned out, I rarely used the 600 II at all. In fact, I used it less than 5% of the time. For most of the trip, about 90% of the time or more, I went with the amazingly lightweight and versatile Canon EF 100-400mm f/4.5-5.6L IS II USM lens except for the morning that I was fortunate enough to borrow Bill Lloyd's Canon EF 400mm f/4 DO IS II USM lens. You can learn about the amazing flight images that I created with that and the Canon EOS 7D Mark II.
The situation here was that several puffins were sitting on a stone wall with a white sky background….
Why?
Why travel many hours by car or plane to visit Machias Seal Island, Maine to photograph puffins and sit in a cramped blind for one whole hour with no possibility of flight photography when you can hop on a red-eye flight to Edinburgh, Scotland, live and breathe puffins up close and personal for five full days with tons of flight photography? Not to mention that we get to photograph a fairly wide variety of other seabirds, spend a long morning photographing Northern Gannets in flight until you cannot lift your lens any longer, stay in a lovely place, and photograph two beautiful and historic castles? All of the above while learning from two knowledgeable and creative leaders who love to share and to teach. With 5 (now 6) of the ten slots already filled, this trip may sell out almost instantly. If you have been dreaming of puffins and are good to go, please call (863-692-0906) or shoot us an e-mail so that we can save your spot.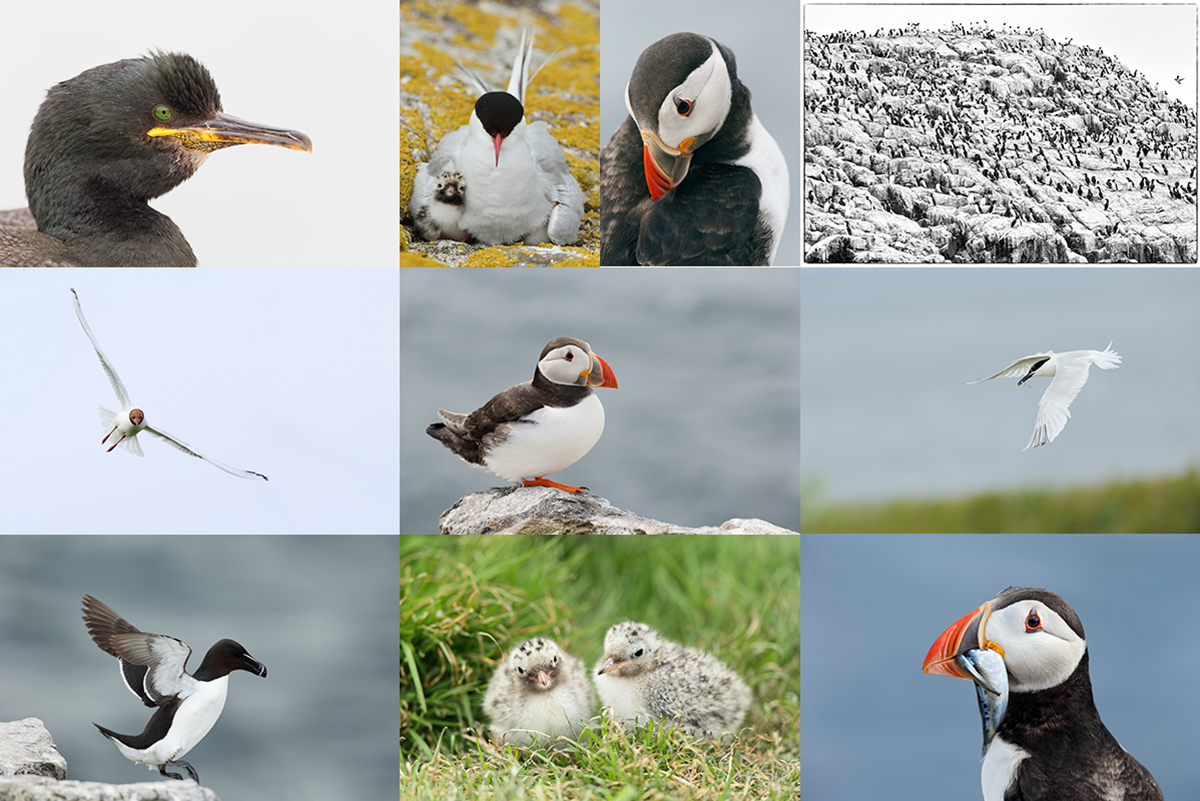 Images and card design copyright: Arthur Morris/BIRDS AS ART. Click on the card to enjoy a spectacular larger version.
2016 UK Puffins and Gannets IPT
June 27 through July 4, 2016: $5699: Limit 10 photographers/only 5 spots left. Two great leaders: Denise Ippolito and Arthur Morris.
This Just In: If all promised deposits arrive only 4 slots left….
Here are the plans: take a red eye from the east coast of the US on June 26 arriving in Edinburgh, Scotland on the morning of Monday 27 June no later than 10am (or simply meet us then at the Edinburgh Airport–EDI, or later in the day at our cottages if you are driving your own vehicle either from the UK or from somewhere in Europe). Stay 7 nights in one of three gorgeous modern country cottages.
There are 5 days of planned puffin/seabird trips and 1 morning of gannet photography, all weather permitting of course.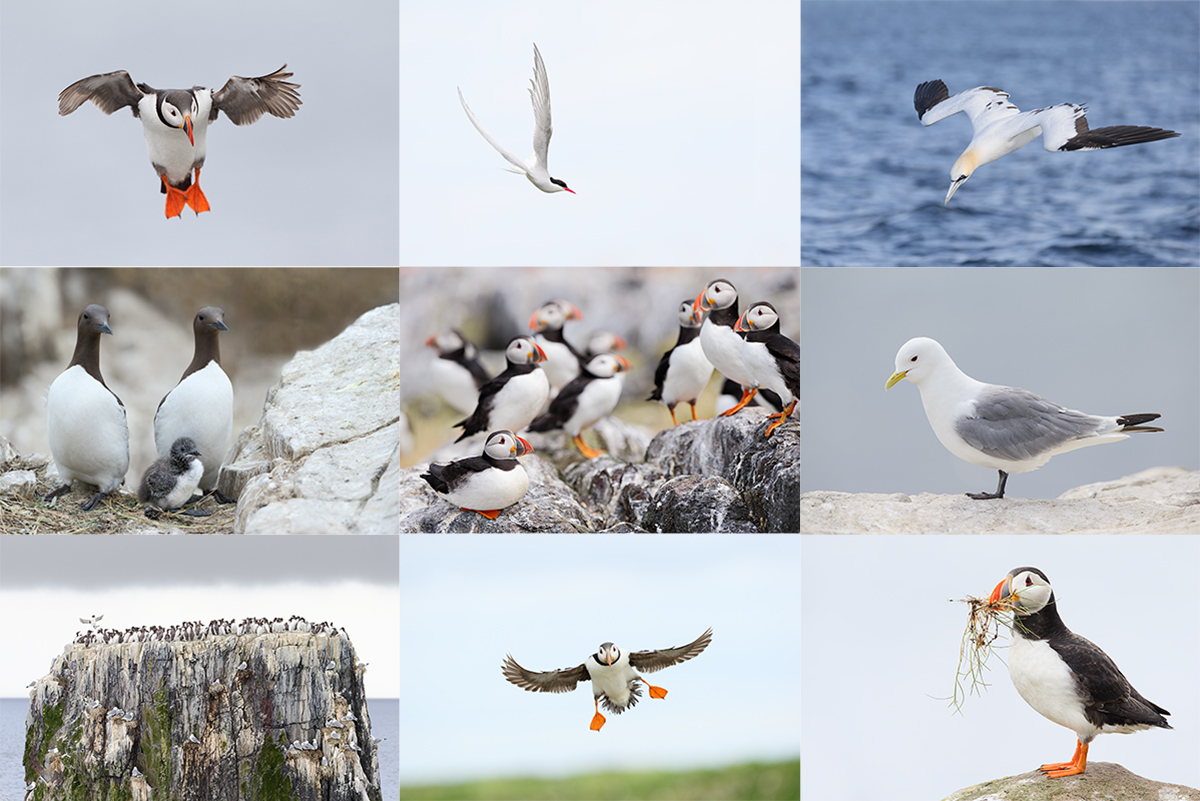 Images and card design copyright: Arthur Morris/BIRDS AS ART. Click on the card to enjoy a spectacular larger version.
The Details
We will get to photograph Atlantic Puffin, Common Murre, Razorbill, Shag, and Northern Gannet; Arctic, Sandwich, and Common Terns, the former with chicks of all sizes; Black-headed, Lesser-Black-backed, and Herring Gulls, many chasing puffins with fish; Black-legged Kittiwake with chicks. And two species of castles 🙂 We will be staying in upscale country-side lodging that are beyond lovely with large living areas and lots of open space for the informal image sharing and Photoshop sessions. The shared rooms are decent-sized, each with a private bathroom. See the limited single supplement info below.
All breakfasts, lunches and dinners are included. All 5 puffins boat lunches will need to be prepared by you in advance, taken with, and consumed at your leisure. I usually eat mine on the short boat trip from one island to the other. Also included is a restaurant lunch on the gannet boat day and a farewell thank you dinner.
Plan to fly home on the early morning of Monday July 4 or to continue your stay or travels.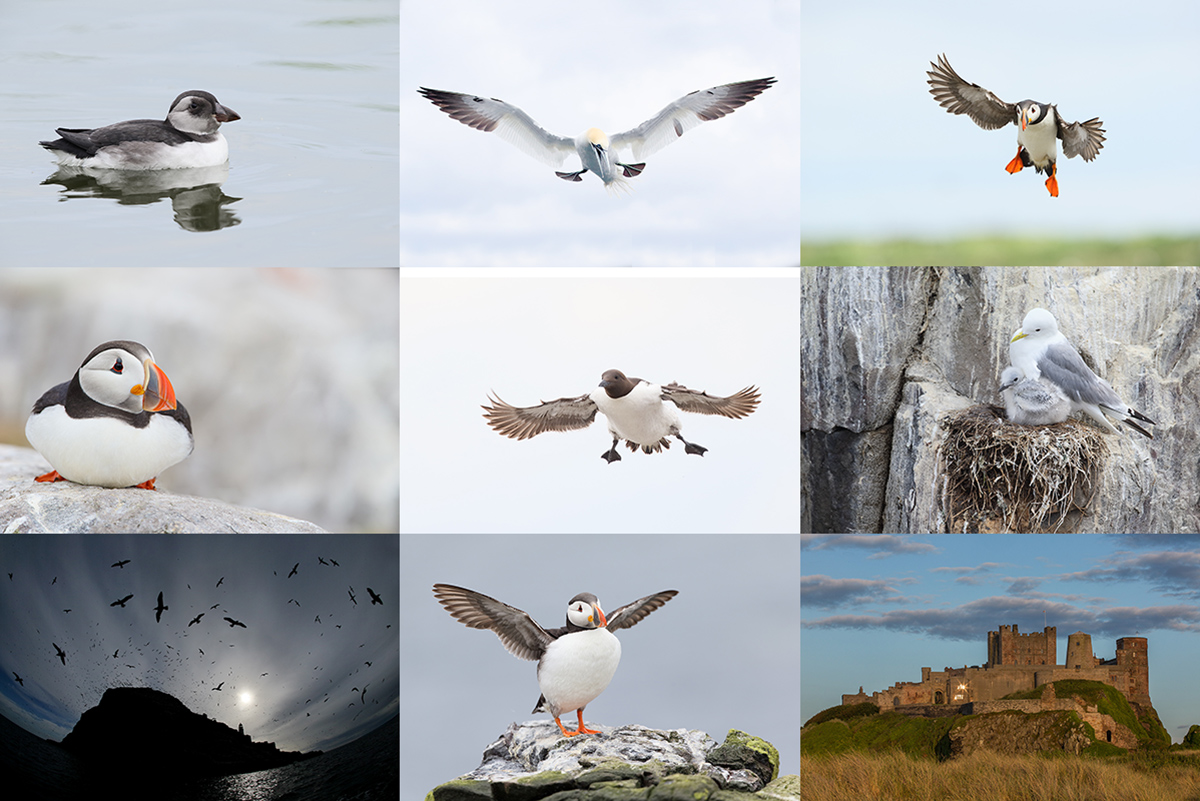 Images and card design copyright: Arthur Morris/BIRDS AS ART. Click on the card to enjoy a spectacular larger version. Scroll down to join us in the UK in 2016.
Deposit Info
If you are good to go sharing a room–couples of course are more than welcome–please send your non-refundable $2,000/person deposit check now to save a spot. Please be sure to check your schedule carefully before committing to the trip and see the travel insurance info below. Your balance will be due on March 29, 2016. Please make your check out to "Arthur Morris" and send it to Arthur Morris/BIRDS AS ART, PO Box 7245, Indian Lake Estates, FL, 33855. If we do not receive your check for the balance on or before the due date we will try to fill your spot from the waiting list. If your spot is filled, you will lose your deposit. If not, you can secure your spot by paying your balance.
Single Supplement Deposit Info
Single supplement rooms are available. To ensure yours, please register early. The single supplement fee is $1575. If you would like your own room, please request it when making your deposit and include payment in full for the single supplement; your single supplement deposit check should be for $3,575. As we will need to commit to renting the extra space, single supplement deposits are non-refundable so please be sure that check your schedule carefully before committing to the trip and see the travel insurance info below.
Travel Insurance
Travel insurance for big international trips is highly recommended as we never know what life has in store for us. We strongly recommend that you purchase quality insurance. Travel Insurance Services offers a variety of plans and options. Included with the Elite Option or available as an upgrade to the Basic & Plus Options you can also purchase Cancel for Any Reason Coverage that expands the list of reasons for your canceling to include things such as sudden work or family obligation and even a simple change of mind. My family and I use and depend on the great policies offered by TIS whenever we travel. You can learn more here: Travel Insurance Services. Do note that many plans require that you purchase your travel insurance within 14 days of our cashing your deposit check of running your credit card. Whenever purchasing travel insurance be sure to read the fine print careful even when dealing with reputable firms like TSI.
We do hope that you can join us. artie and denise
Bald Eagle top shot/Image copyright 2013: Jim Neiger/Flight School Photography
Jim Neiger Flight School Photography Haines, Alaska 2015 Bald Eagle Workshops
Flight School Photography introduces a newly developed workshop to take place at the Alaska Chilkat Bald Eagle Preserve near Haines, Alaska. Each fall, hundreds of Bald Eagles gather along the Chilkat river to feed on spawned out salmon that are accessible due to the open running water. A natural phenomenon in the area warms the water in the river and prevents it from freezing. More than three thousand Bald Eagles congregate here each fall to feed on the Salmon in the shallow open water streams flowing thru the river valley. Towering snow covered mountains surround the river valley providing magnificent backgrounds for our Bald Eagle images. The Eagles soar over the valley and swoop down to attack each other as they battle for their share of the Salmon from the river. We will have front row seats for this spectacular show. If you like Bald Eagles in action and gorgeous scenery, this is a workshop that should not be missed. While our focus will be on photographing the Bald Eagles, we will also have opportunities to photograph the magnificent scenery and other wildlife. Possibilities include bear, moose, and other species of birds.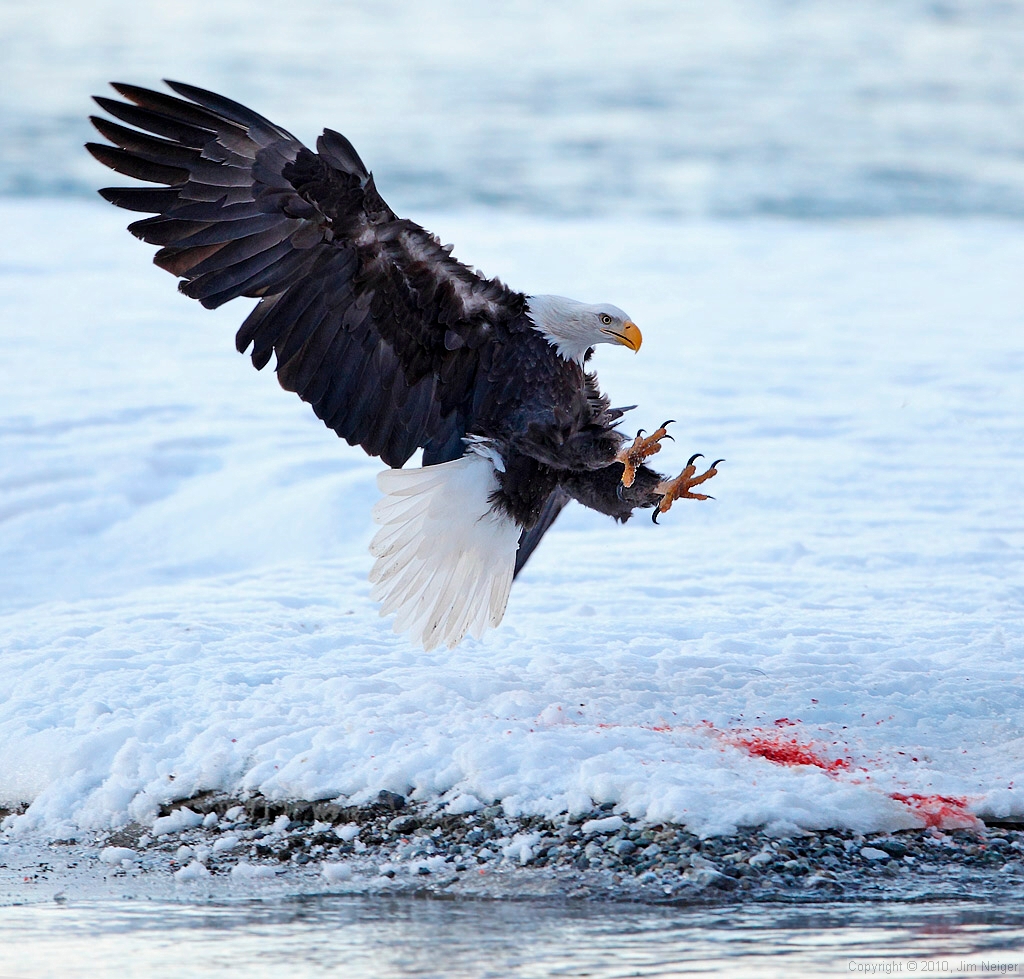 Bald Eagle talons out/Image copyright 2013: Jim Neiger/Flight School Photography
Details
The workshop will take place in early November of 2015. The workshop will be conducted by expert bird photographer, Jim Neiger. Jim has perfected unique techniques for photographing birds in flight using large telephoto lenses, hand held. The focus of the workshops will be to learn Jim's hand held, long lens techniques for photographing birds in flight and in other action. Jim is known for his consistent production of amazing flight images and images of the most desirable subjects. His Flight School Photography Workshops are a must for any serious nature photographer.
The workshop will last 6-days and will include a four hour classroom session and 5 days of photography in the field. The workshops will be limited to six participants so that everyone may receive personalized instruction in the field.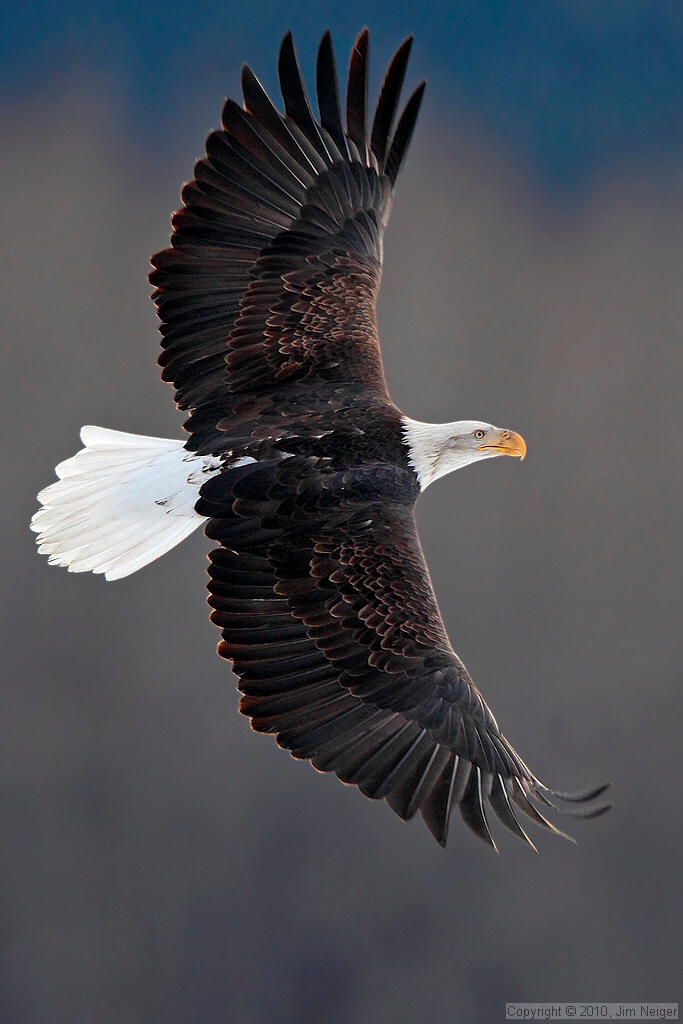 Bald Eagle vertical banking top shot/Image copyright 2013: Jim Neiger/Flight School Photography
Workshop Dates: Workshop AK-2: November 1st – November 6th, 2015
Workshop Itinerary
Day 1 (afternoon/evening ): Arrive in Juneau, Alaska which is the base location for the classroom portion of the workshop. There will be a four hour classroom session from 2:00pm to 6:00pm in the hotel meeting room. The classroom instruction will focus on using hand held techniques for photographing birds in flight to prepare participants for the subsequent photography sessions.
Day 2: Morning ferry ride to Haines, Alaska where we will check in to our hotel and spend the afternoon exploring the small town and getting ready for the in the field portion of the workshop.
Days 3-5: In the field photography sessions in the Bald Eagle Preserve.
Day 6: We will spend the day photographing in the preserve followed by an evening ferry ride back to Juneau.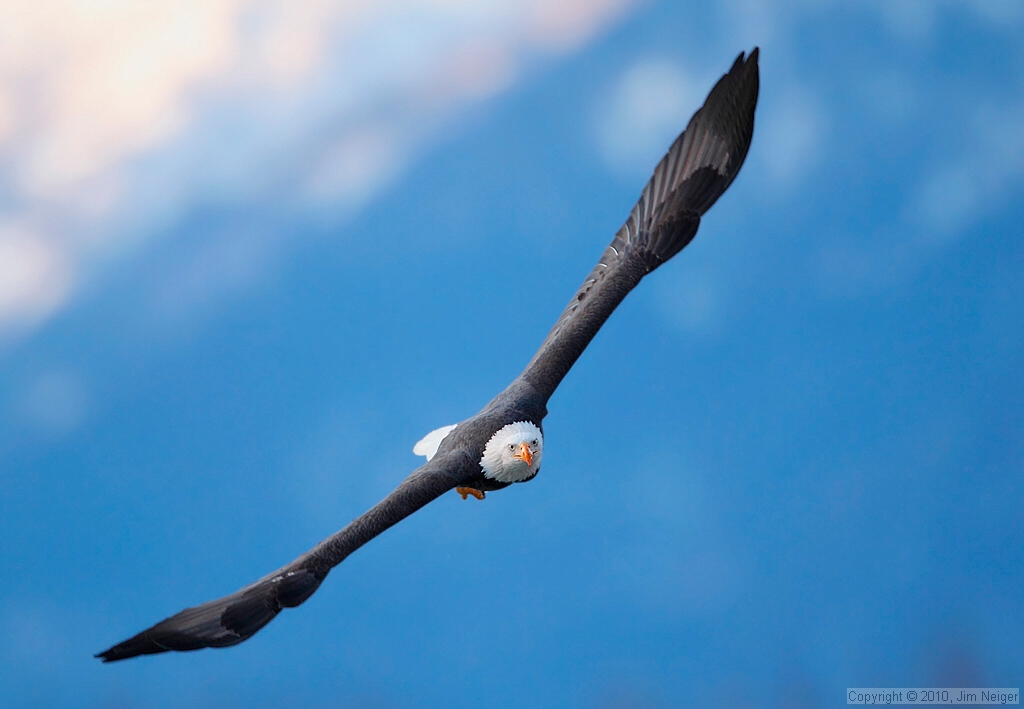 Bald Eagle mountain background/Image copyright 2013: Jim Neiger/Flight School Photography
Workshop Cost and Payments
The cost of each workshop is $2250 per person. The workshop includes a four hour formal classroom instruction session and 4 full day photography sessions. The photography sessions include personalized instruction in the field. Discounted lodging is available, but is not included in the workshop fee. A $1125 non-refundable deposit is required to reserve a spot in a workshop. The remaining $1125 is due 30 days before the start date of the workshop. If you are unable to attend the workshop, after paying the balance, the balance payment will be refunded ONLY if your spot can be filled, on short notice, from the waiting list. All workshop payments must be made by check or money order. Credit cards are not accepted.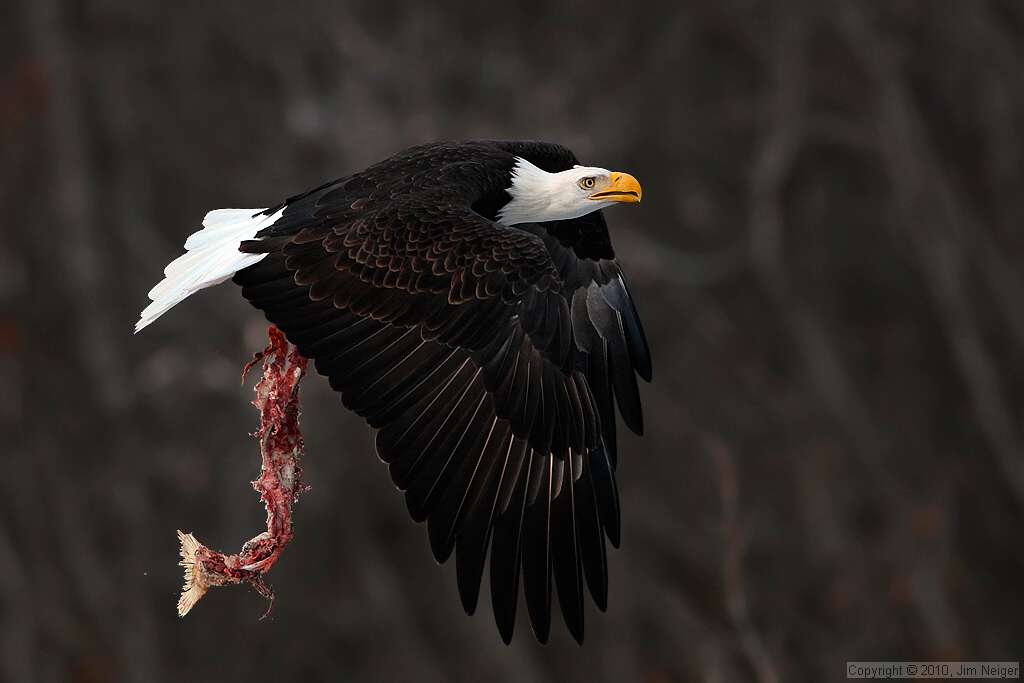 Bald Eagle carrying natural salmon carcass/Image copyright 2013: Jim Neiger/Flight School Photography
Participant Requirements
Participants should have working knowledge of how to create a properly exposed image, a telephoto lens of 400mm or more, and be physically capable of holding the camera and lens up to their eye in shooting position for at least 20 seconds. Participants must also have a vehicle to travel to and from the photography locations. Rental vehicles are available in Juneau and also in Haines.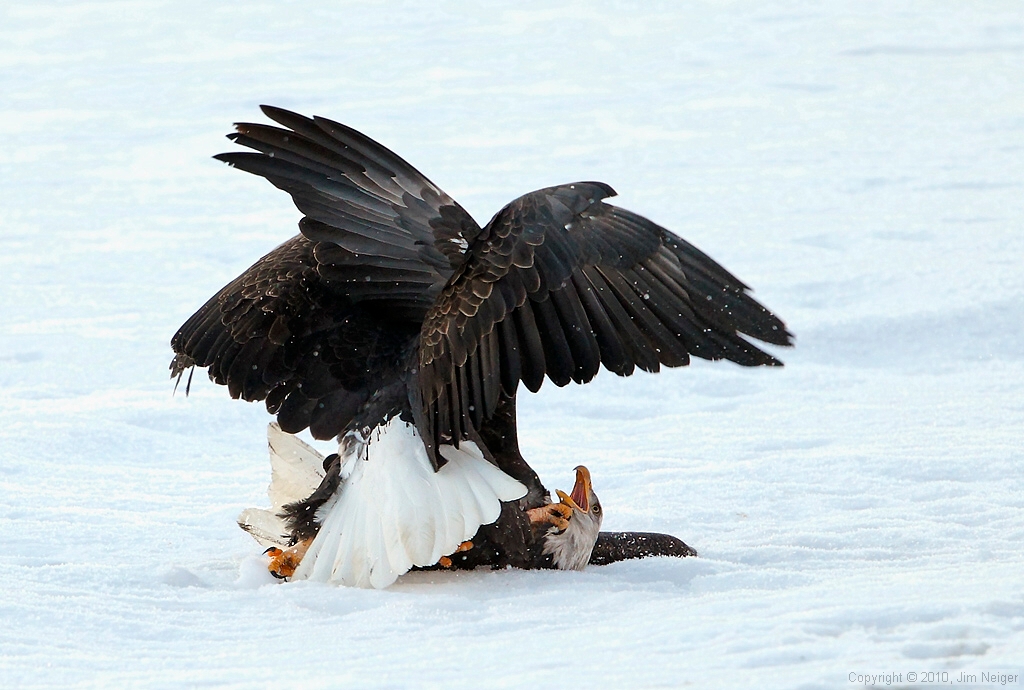 Bald Eagle saying "uncle!"/Image copyright 2013: Jim Neiger/Flight School Photography
Lodging and Logistics
Workshop participants who require lodging during the workshop should stay at the hotels in Juneau and Haines where the workshop classroom and photo sessions will be conducted. Flight School Photography will reserve a block of rooms at a special rate for workshop participants. Participants arriving via air arrive at the Juneau Airport, which is the closest major airport. Arriving flights should arrive in Juneau the day prior to the start of the workshop and return flights should leave the day after the workshop ends. Rental vehicles are available at the airport and also in Haines. Flight School Photography will assist participants with arranging the sharing of vehicles and/or lodging if desired. Detailed information will be provided when you sign up for the workshop or upon request. Lodging, transportation, and meals are not included.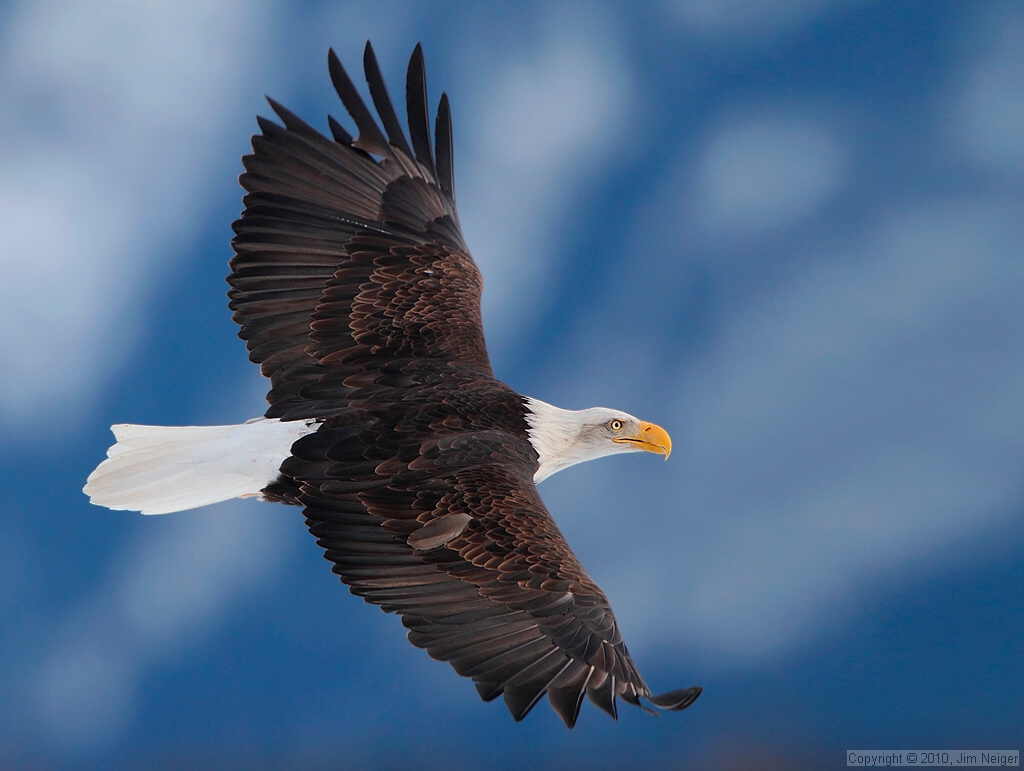 Bald Eagle top shot/Image copyright 2013: Jim Neiger/Flight School Photography
Contact Information
Contact Information: Jim Neiger, Flight School Photography, Inc. 550 Basin Drive, Kissimmee, FL 34744-4804
Cell phone: (407) 247-5200. e-mail.
See a sample gallery of Haines, AK images here.
Flight School website.
Flight Plan
I can say without a doubt that after spending more than two months (part time) editing Jim Neiger's great e-Guide, Flight Plan, that my flight photography has improved by leaps and bound whether I am working off a tripod or hand holding. His explanation of the bumping the focus technique finally sunk in. Learning to use this technique regularly is a huge help for any all types of flight photography.
You can learn more about Flight Plan here or order a copy by clicking here.
Bob Hollowell's Flight Plan Comments
I just wanted to send kudos to both you and Jim Neiger for the excellent E-book that you referenced in a recent BAA blog post. I immediately purchased a copy, and have finished my first read and will now read it a second time just to make sure I'm ready to take it to the field. My favorite haunt is Squaw Creek NWLR and I've stumbled & fumbled with flight photos using both tripod & monopod as support for my Canon 7D, and just can't seem to come up with real sharp photos using that method. Jim's text is well written, and really puts flight photography in a whole new perspective for me. I'm 76 years old, and I'm sure I'll have to experiment with the handholding methodology a bit, but I'm excited at the prospect of applying Jim's methods.
Thanks again… Bob H.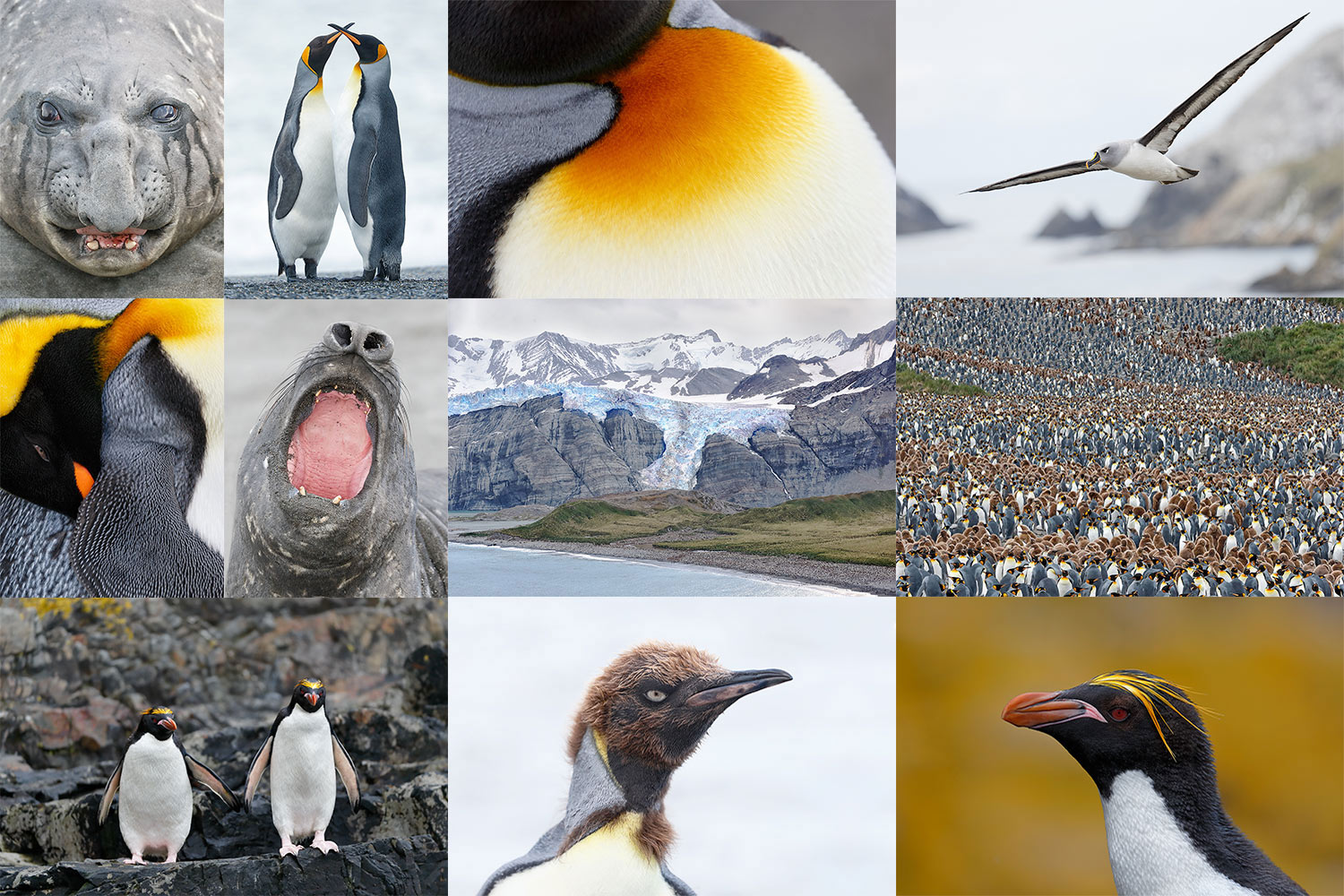 All of the images on the card were made on South Georgia. This remote wilderness island offers both spectacular scenery and hordes of tame wildlife and birds. From top left clockwise to the center: Southern Elephant Seal, courting King Penguin pair, King Penguin abstract, Grey-headed Albatross, King Penguin rookery on Salisbury Plain, Macaroni Penguin head portrait, King Penguin molting Okum Boy, Macaroni Penguin pair, King Penguin preening, Southern Elephant Seal yawning, the view of Gold Harbour from a Light-mantled Sooty Albatross nest.
Click on the image to see an extra large version.
The Southern Ocean
South Georgia Expedition Voyage
I've been blessed. I've now made four trips to the Southern Ocean, three expeditions that visited the Falklands, South Georgia, and the Antarctic Peninsula, and one to the Falklands and South Georgia. Each was a truly amazing experience. South Georgia has been the star of the show each time: rugged snow covered peaks, tame and abundant wildlife including Southern Elephant Seal and Southern Fur Seal, and penguins: more King Penguins than you could ever have dreamed of. Gentoos. And my favorite, the golden-yellow spaghetti-topped Macaronis. With four trips to South Georgi under my belt, I have a pretty good idea about how to make great images at each of the iconic landings. In addition, we should have some pretty good flight photography sessions from the stern of the ship. I would love the chance to share my knowledge with you.
Going Light
On my recent trip, I found myself going with shorter lenses and lighter gear than on any previous Southern Ocean Expedition. In part that was due to the crop factor of the 7D Mark II, in part because going light makes life (and landings!) much easier. I made many landings with just the 7D II and the 70-200mm f/2.8L IS. I refined the way that I got my gear safely from ship to shore. Lots more on that here soon.
Cheesemans' Well Deserved Kudos
I know from personal experience that if you are a photographer who is going to invest in Southern Ocean voyage, you will want to put your money on Cheesemans'. No other tour company goes as far out of their way to ensure making every possible safe landing. And no other tour company will have you spending more time on land. Michael Viljeon from South Africa was aboard the Ortelius on a Southern Oceans voyage that preceded the Cheesemans' trip that we were both on. As we headed back to Ushuaia, he said, "The folks that ran that first trip were pathetic. Too rough. No landing today. Surf too high today. No landing. Wind wrong direction. No landing. Cheesemans' routinely and safely gets folks on land in conditions where the leaders of other tour companies do not even bother getting out of their bunks."
Here, from the" Way to Go CES! (Cheeseman's Ecology Safaris)" blog post here, is one of my favorite Cheesemans' stories:
The landing at Bailey Head, Antarctica, was especially rewarding to me as I had been sitting in a zodiac 100 yards off shore on my 2007 trip when the zodiac in front of mine swamped and the captain of the ship called off the landing…. Early that day it looked as if my weather Karma might not be working. Ted's "Good morning shipmates" was followed by the news that we would not be able to land at Bailey Head that morning as the swell was too big. The beach there is sloped tremendously and the sea strives to pull the zodiacs back into the ocean before folks have gotten off with their gear. Tom Murphy had said to me several days before, "We will get you on the beach at Bailey Head." Ted concluded his morning greetings by saying, "We are sending out a scout team to see if landing is possible."
After breakfast I was thrilled to hear Ted's voice again on the PA, "We will be landing at 8am." Afterwards folks noted that it was the calmest landing ever at this amazingly beautiful spot. My good weather Karma (courtesy of late-wife Elaine) had come through one last time. Along with St. Andrews Bay, it was one of my two favorite super-great once-in-a-lifetime days of the trip. And we even got to enjoy three additional hours at Hannah Point, Antarctica before calling it a wrap and heading for the feared Drake Passage. All thanks to Cheesemans' Ecology Safaris.
Why Sign Up Through BIRDS AS ART?
If you have been thinking and dreaming of finally visiting South Georgia, this is the trip for you. Quit dreaming and act now. Though I will not be an official leader on this trip, those who have traveled with me know that I cannot help but teach. I will make pre-trip gear recommendations. I will hold informal pre-landing briefings. In the same vein, everyone will receive a free copy of our Antarctica Site Guide once they are paid in full (July 2, 2015). I will be available on the ship to review your images,, answer questions, and conduct informal over-the shoulder Photoshop sessions. And best of all, everyone who signs up under the auspices of BAA are invited to tag along with me on the landings where I will be glad to offer invaluable in-the-field advice. And the same goes for the ship-board birds in flight and marine mammal photography opportunities.
Do join us. To learn how to be part of the BAA group please e-mail me with the words Antarctica/Extended Expedition BAA Info Please cut and pasted into the Subject line.
Important Notes
#1: If you fail to e-mail me as noted directly above, and register directly with CES you MUST let them know that you would like to be part of the BIRDS AS ART group.
#2: Joining the BIRDS AS ART group as above will not cost you one penny.
The Cheesemans' Ecology Safaris South Georgia Expedition Voyage
An in-depth Adventure aboard the Ortelius: October 29 to November 17, 2015
From the CES website:
We are very excited to be able to bring this special in-depth expedition to you. This is a product of years of experience leading voyages to South Georgia and a passion for everything found here. Our itinerary is specifically designed to take advantage of the vibrant early season on South Georgia when snow blankets the mountains and early summer brings special wildlife treats seldom experienced. We will explore vast colonies of King Penguins, elephant seals in their peak of breeding activity, and colonies of Wandering, Gray-headed, Light-mantled, and Black-browed albatross. This cruise allows us many days to explore this truly unique island, the crown jewel of the Antarctic. The landscape filled with expanses of glaciers pouring into the sea provides rare beauty and photogenic impressiveness that words cannot convey. We will enjoy about nine days in the midst of the most beautiful and wildlife-rich island on the planet! Exceptional leadership expertise will enrich your experience throughout the voyage. Our priority on this special expedition is to give you the maximum time possible in the field so you can explore at your own pace during a special time on South Georgia. Come explore South Georgia with us!

I can personally attest to the accuracy of everything above. 🙂
More CES Kudos
From multiple IPT veteran Alan Lillich who (along with wife Pat) was in the BAA group on a 2012 CES voyage with me:
Start with some of the world's best alpine landscapes, add an overwhelming abundance of tolerant wildlife, and finish with tour operators who put you there and give you the freedom to explore. It doesn't get any better.
Questions?
I'd be glad to answer all of your Southern Ocean/Falklands/South Georgia/Antarctica questions. If you would like to join me for an unparalleled wildlife and scenic photography experience, please shoot me an e-mail.
Please Remember to use our Affiliate Links 🙂
To show your appreciation for my continuing efforts here, we ask, as always, that you use our the B&H and Amazon affiliate links on the right side of the blog for all of your purchases. B&H is recommended for you major photography gear purchases, Amazon for your household, entertainment, and general purpose stuff. Please check the availability of all photographic accessories in the BIRDS AS ART Online Store, especially the Mongoose M3.6 tripod heads, Gitzo tripods, Wimberley heads and plates, LensCoats and accessories, and the like. We sell only what I have used, have tested, and can depend on. We will not sell you junk. We know what you need to make creating great images easy and fun. And we are always glad to answer your gear questions via e-mail. I just learned that my account was suspended during my absence; it should be up and running by Monday at the latest.
I would of course appreciate your using our B&H affiliate links for all of your major gear, video, and electronic purchases. For the photographic stuff mentioned in the paragraph above we, meaning BAA, would of course greatly appreciate your business. Here is a huge thank you to the many who have been using our links on a regular basis and visiting the BAA Online store as well.
Facebook
Be sure to like and follow BAA on Facebook by clicking on the logo link upper right. Tanks a stack!
Support the BAA Blog. Support the BAA Bulletins: Shop B&H here!
We want and need to keep providing you with the latest free information, photography and Photoshop lessons, and all manner of related information. Show your appreciation by making your purchases immediately after clicking on any of our B&H or Amazon Affiliate links in this blog post. Remember, B&H ain't just photography!
…..
Amazon.com
Those who prefer to support BAA by shopping with Amazon may use this link:
Amazon Canada
Many kind folks from north of the border, eh, have e-mailed stating that they would love to help us out by using one of our affiliate links but that living in Canada and doing so presents numerous problems. Now, they can help us out by using our Amazon Canada affiliate link by starting their searches by clicking here. Many thanks to those who have written.
Typos
In all blog posts and Bulletins, feel free to e-mail or to leave a comment regarding any typos or errors. Just be right :).