Mega-Sun Fun and Related Lessons: Exposure Note and Worthless or Worthwhile?
The Namibia IPT
Jim Neiger Flight School Photography Haines, Alaska: 2015 Bald Eagle Workshops
Your Help Needed and Appreciated/Affiliate Stuff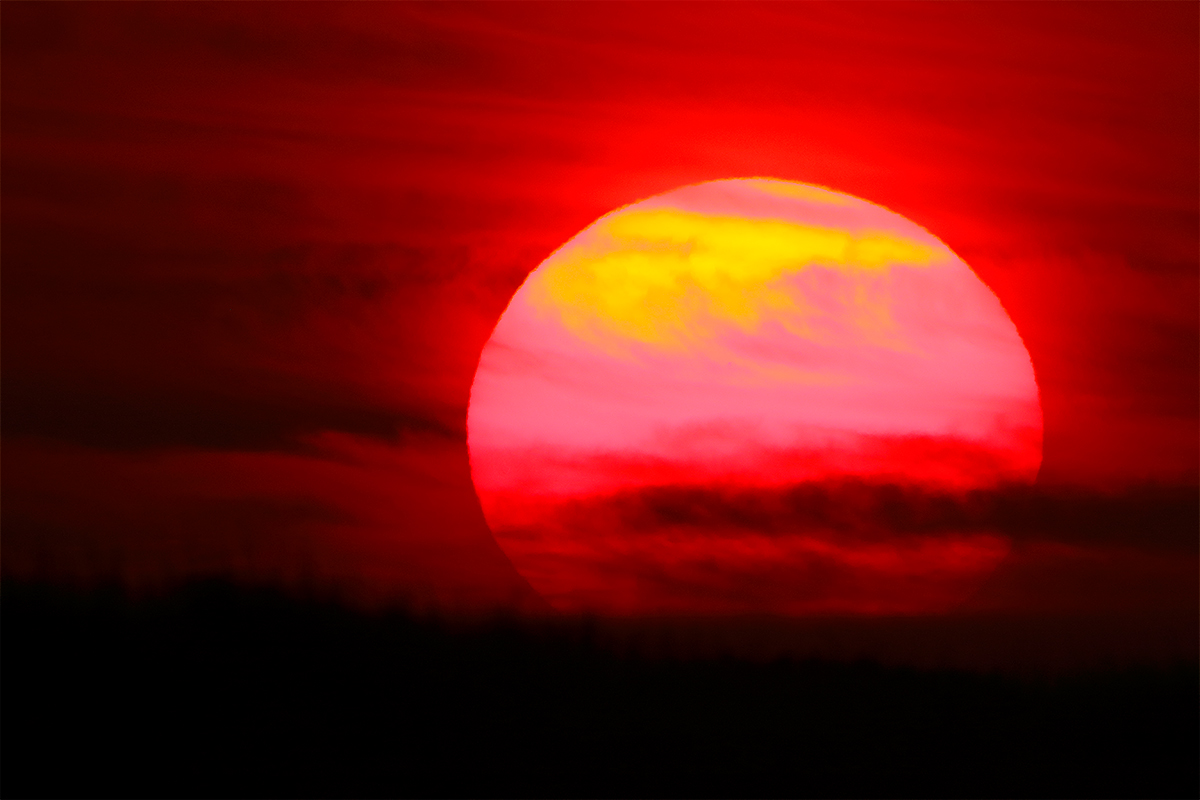 This image was created just after sunrise on the third morning of the Nickerson Beach IPT. I used the tripod-mounted Canon EF 600mm f/4L IS II USM lens, the Canon Extender EF 2X III, and the amazing Canon EOS 7D Mark II. ISO 400. Evaluative metering +3 1/3 stops: 1/800 sec. at at f/11. Color temperature: 8500K.
Center AF point (by necessity)/AI Servo Expand/Rear Focus AF on the edge of the sun and and re-compose. Click here to see the latest version of the Rear Focus Tutorial. Click on the image to see a larger version.
Sun at 6:11am at Nickerson Beach, Long Island, NY.
Your browser does not support iFrame.
Mega-Sun Fun
I like getting up and out very early. And I like staying out late. Whenever I see a well muted sun I just cannot resist going long and created large-in-the-frame images of the orb that is our celestial light source. Every sunrise (and sunset) is slightly different with different color tones and different skies. At times, as here, the patterns of clouds can add drama to such images. And with the 7D II it is no longer necessary to stack extenders; a 600mm lens with a 2X III teleconverter and a 7D Mark II will produce a huge sun straight up. Remember that it is important that the sun be well muted, covered by a thin layer of clouds or fog, lest you risk damaging your retina. On clear mornings or evening the sun can damage our eyes even when it is touching the horizon.
When we arrived at the beach at 5:15am, I took one glance at the light layer of clouds in the east and predicted a spectacular muted sunrise that would be perfect for long lenses. I had no idea that it would turn out to be as spectacular as it did!
Exposure Note!
I made the first image at +1/3 stop EC and was amazed to see that it was a huge underexposure. I was astounded to see that +3 1/3 yielded a perfect histogram with no burning of the RED channel. I have no understanding of how or why that happened but it obviously had to do with how muted the sun was. IAC, I was thrilled. I did make a few just a bit later with a bird on the face of the sun. I will share the best of those with everyone on the BAA blog soon. If you are not subscribed to the blog you are missing out on a ton of great free info pretty much on a daily basis….
Worthless or Worthwhile?
For several decades many a stock agent has shown great interest in my huge suns. I have been making such images forever even in the prehistoric days of film. The truth however, is that I can barely recall ever selling one. I have in fact sold tons of fairly boring moon images. Has it been worth it? For me, of course. No sales does not mean no fun: I love creating this type of image and will keep making them until I can no longer lift a big lens.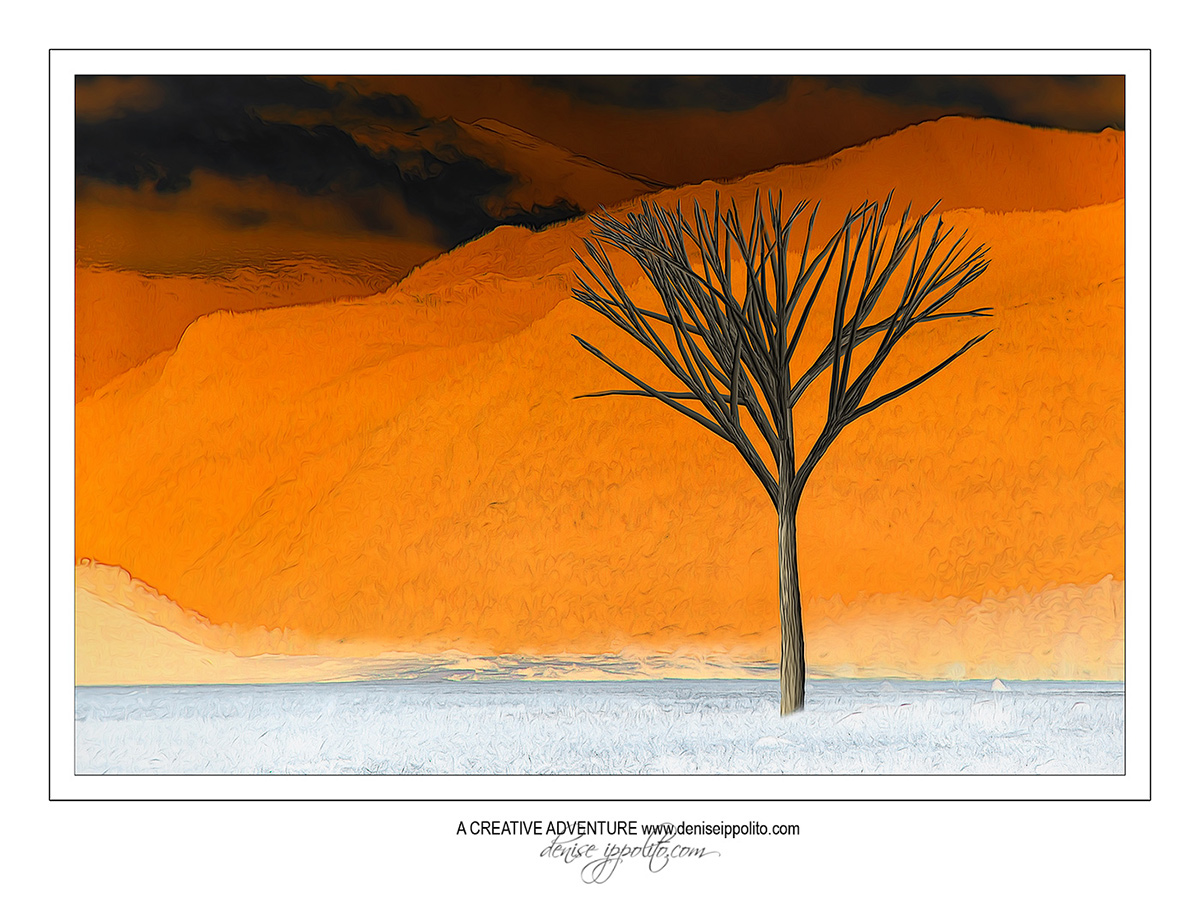 Deadvlei Tree photo illustration courtesy of and copyright 2015: Denise Ippolito/A Creative Adventure
Denise created this artwork by combining an image of some Colorado mountains with a tree that she created in Photoshop. The rest is simply her creative filter magic. It is a given that denise's creativity is virtually unlimited and unmatched. Just don't ask me how she did it….
Namibia
Photos of Namibian dunes, dead trees, birds, and wildlife often grace prestigious natural history calendars and are honored annually in pretty much all of the top flight nature photography contests including and especially the BBC Wildlife Photographer of the Year Competition and the Nature's Best Windland Smith Rice International Awards Contest. Both denise and I have long dreamed of visiting. Our dream is coming true. With four folks signed up before the tour was even announced, this trip is a go. Most traveling from the US will likely want to be on one of the direct flights to Johannesburg, South Africa from New York's JFK. In addition, we would both be thrilled to meet some of our overseas followers on this trip. So far we have assembled a cast of international participants: one from the US, two from South Africa, one from Hong Kong, and one from Australia. More than a few of those folks represent world class photographic talent….
In addition to enjoying several world class nature photography locations, you will learn more than you ever thought possible via in-the-field instruction from two of the best instructors on the planet and informal image sharing and Photoshop sessions at the lodge. We hope that you can join us.
The 2016 Namibia BIRDS AS ART/A Creative Adventure Instructional Photo-Safari: April 14-28, 2016 on the ground: $8999. Limit: 10 photographers/openings: 4.
Our truly great itinerary is below. This workshop was planned with the help of two BBC-honored local photographers with an intimate knowledge of the area who will act as our guides for the entire trip. This IPT will be co-led by Denise Ippolito and yours truly. The dates and the price are set in stone: April 14-28, 2016. 15/days/14 nights: $8999 from Windhoek, Namibia (Hosea Kutako International Airport, airport code WDH). Please contact me via e-mail if you would like to register. Then please fill out, print, and sign the Registration and Release forms that are linked to here. Then mail it to us here: PO Box 7245, Indian Lake Estates FL 33855 along with your $3,000 non-refundable deposit check made out to "Arthur Morris."
Single supplements may be available for parts (or all) of the trip. They will be quite expensive. Best not to ask 🙂 Please inquire as to availability.
Travel Insurance
Please understand that we need the deposits for international trips as arrangements must be paid in full far in advance. If everybody decides to cancel then we are sort left holding a very short straw 🙂 Seriously interested folks are urged to consider getting trip insurance within two weeks of sending their deposit checks. There are lots of options with Travel Services Insurance (TSI). You can explore them here.
The Namibia IPT Itinerary
Day 1: April 14, 2016. Fly into Windhoek (Hosea Kutako International Airport, airport code WDH. Spend the night at River Crossing Lodge.
Day 2: Early departure to QuiverTree Forest Lodge on the outskirts of Keetmanshoop. Here we will be able to capture the beauty of the magnificent QuiverTree forest as well as have access to the Giant Playground area for some spectacular landscape photography. The sessions will include afternoon and evening shoots, the latter with stars, milky way, and star trails photography. Night photography instruction will be provided. In addition, we will let you know in advance what lenses and accessories you will need for the night photography.
Day 3: After breakfast we depart for the luxurious Sossusvlei Dune Lodge for 3 nights inside Namib Naukluft National Park. The distance to Sossusvlei is about 550km and the trip should take about 7 hours. Thanks to our experienced guides we will enjoy unparalleled after hours access to dead tree scenics at Dead Vlei. Arrangements have been made to to leave the lodge in the mornings an hour before sunrise to capture the best possible lighting conditions. We will be visiting Dead Vlei and Dune 45. There is a fairly strenuous up-and-down hike to some of the best photo locations that should take really fit folks about 15-20 minutes and as much as 45 minutes for the older fit folks or those with a bad knee. Denise is in the former category, Artie fits in both of the latter categories :). At Sossusvlei two desert systems come together: the beautiful red dunes of the Kalahari desert and the breathtakingly stark Namib desert. The desert experience is a surreal and life-changing one and even the best images do not reflect the amazing beauty of these unique deserts. Deadvlei, with its ancient trees in the now dried up lake, is a feast for photographers who are looking for something stark, different, and dramatic. Along with the spectacular landscapes we should get to photograph some wildlife as well with chances for oryx and springbok among others.
Day 6: From Sossusvlei we head off to Swakopmund to spend some three nights at the Swakopmund Beach Hotel. One morning will head into the dunes to target species such as the Desert Chameleon, Horned Adder, Sand-Diving Lizards, and Palmato Gecko—the world's cutest gecko. We will spend time photographing the amazing bird life in and around the Walvisbay area. The Salt Mine and bay area is especially productive with a huge selection of waders and other waterfowl along with large numbers of flamingoes. We will enjoy one chartered boat trip to target pelicans in flight. Those and a selections of skua's and cormorants will keep the most discerning bird photographers happy. Afternoons in the area will be spent driving along the beach to the huge seal colonies and photographing their playful interactions and antics. A tentative schedule is below:
Day 7: Morning (private tour) Desert Experience photographing Palmato Gecko / Sidewinders / Desert Chameleon etc, etc. Afternoon we either shoot Pelican point for seals or Walvisbay for flamingos and more.
Day 8: Morning bay cruise with chartered boat shooting pelicans flying in . We will likely spend the afternoon with the seals at Pelican point.
Day 9: After breakfast we depart for Etosha; arrive that afternoon at Halali and spend 3 nights there. Just when you thought it could not get any better we head further north to the wide-open plains of Etosha. Here the wildlife spectacle is arguably one of the best in Africa. Etosha is home to not only the Big Five, but also a variety of other species such as Cheetah, Honey Badger, Oryx, Springbok, Dik-Dik, Black-Faced Impala, Eland, Ostrich and more. Depending on our route this could take as long as four hours to get to the park entrance and another 2 hours drive to Halali. We will travel about 400km
Day 12:. We wrap-up at Halali and move down to Okaukuejo where we will spend three nights. Okaukuejo Camp is famous for its large floodlit waterhole, the hub of animal activity especially in the early morning and early evening hours. We will see and photograph many species including and especially the endangered Black Rhino. There will be game drives during the say. For the night water hole photography flash is optional but recommended.
Day 15: April 28, 2016. We make the 4-5 hour drive back to Windhoek in time for your international flights.
This price of this tour includes:
All Accommodations.
All breakfasts and dinners.
Logistics make formal lunches impossible. There will, however, be a variety of snacks including nuts and cheeses along with sodas and bottled drinking water in each vehicle.
Bottled water at the lodges and in the vehicles. Also included at the lodges are soft drinks and sodas and local wines and liquors (excluding premium and imported hard drinks).
All transportation from the time you arrive in Windhoek to the time you leave again.
All park entrance fees
One extra-late night in Deadvlei where we will use NWR vehicles for transport.
The chartered boat activities in Walvisbay.
The Private Desert Experience tour in Swakopmund.
The price of this tour does not include:
Your flights to and from Windhoek.
Visa costs: no visa is needed for folks from the US and most other countries.
Gratuities and items of a personal nature.
Bald Eagle top shot/Image copyright 2013: Jim Neiger/Flight School Photography
Jim Neiger Flight School Photography Haines, Alaska 2015 Bald Eagle Workshops
Flight School Photography introduces a newly developed workshop to take place at the Alaska Chilkat Bald Eagle Preserve near Haines, Alaska. Each fall, hundreds of Bald Eagles gather along the Chilkat river to feed on spawned out salmon that are accessible due to the open running water. A natural phenomenon in the area warms the water in the river and prevents it from freezing. More than three thousand Bald Eagles congregate here each fall to feed on the Salmon in the shallow open water streams flowing thru the river valley. Towering snow covered mountains surround the river valley providing magnificent backgrounds for our Bald Eagle images. The Eagles soar over the valley and swoop down to attack each other as they battle for their share of the Salmon from the river. We will have front row seats for this spectacular show. If you like Bald Eagles in action and gorgeous scenery, this is a workshop that should not be missed. While our focus will be on photographing the Bald Eagles, we will also have opportunities to photograph the magnificent scenery and other wildlife. Possibilities include bear, moose, and other species of birds.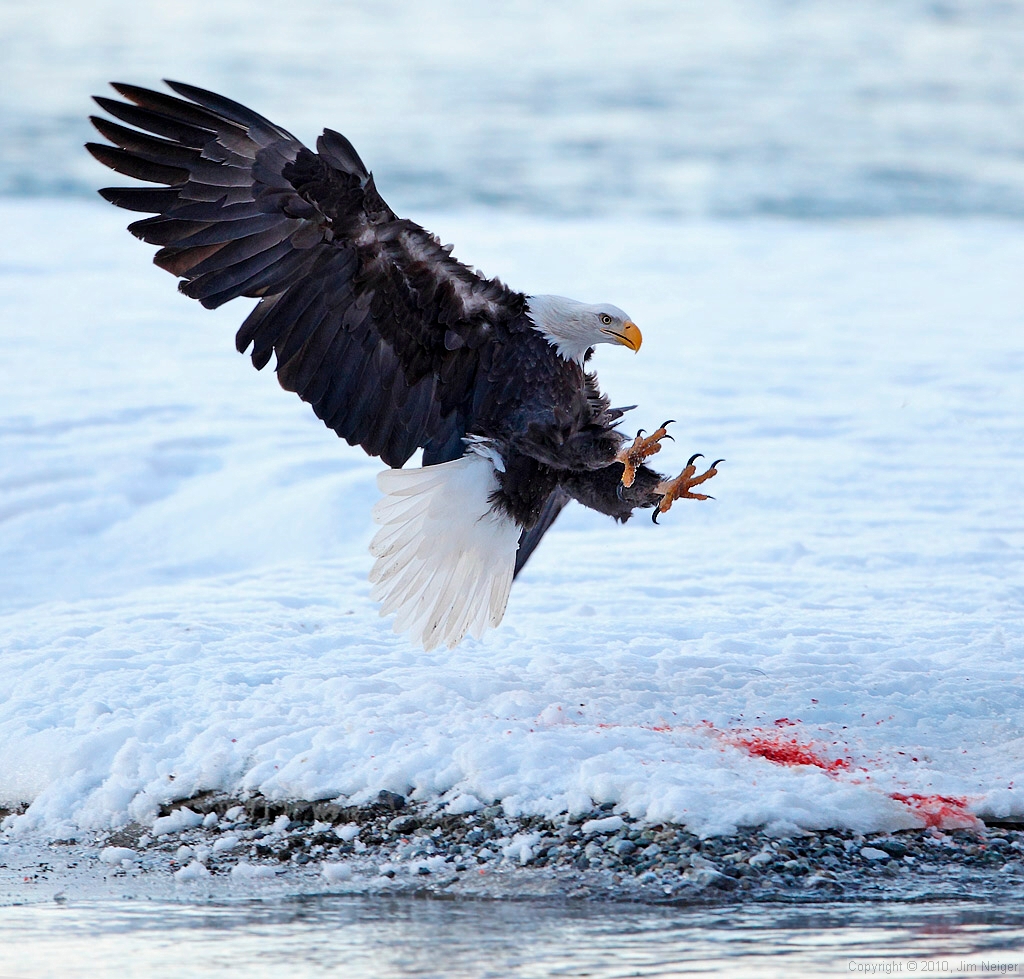 Bald Eagle talons out/Image copyright 2013: Jim Neiger/Flight School Photography
Details
The workshop will take place in early November of 2015. The workshop will be conducted by expert bird photographer, Jim Neiger. Jim has perfected unique techniques for photographing birds in flight using large telephoto lenses, hand held. The focus of the workshops will be to learn Jim's hand held, long lens techniques for photographing birds in flight and in other action. Jim is known for his consistent production of amazing flight images and images of the most desirable subjects. His Flight School Photography Workshops are a must for any serious nature photographer.
The workshop will last 6-days and will include a four hour classroom session and 5 days of photography in the field. The workshops will be limited to six participants so that everyone may receive personalized instruction in the field.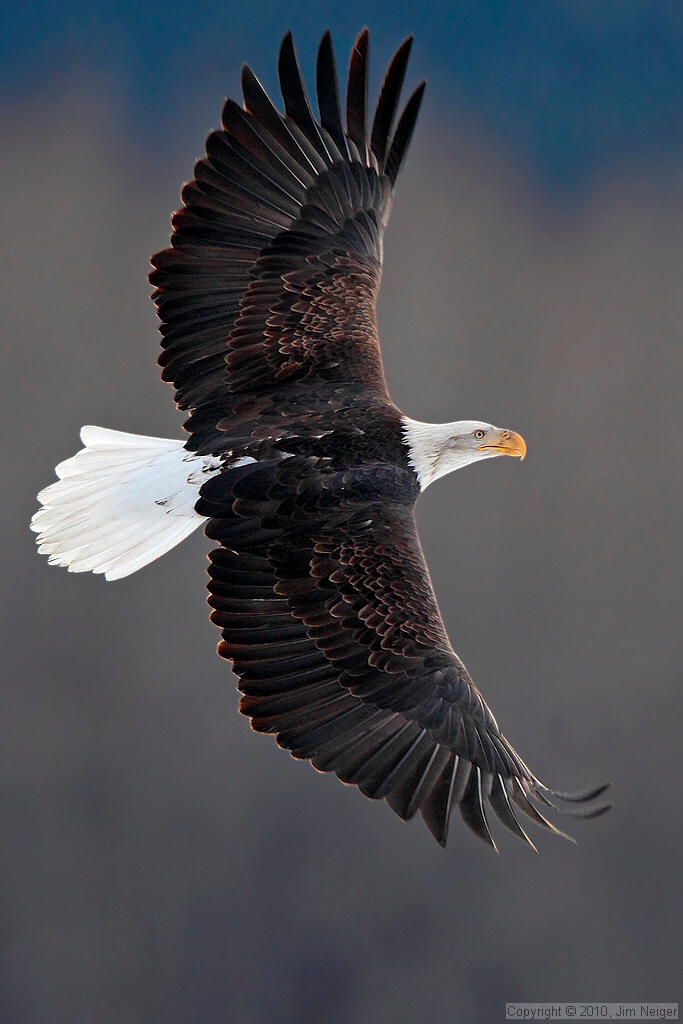 Bald Eagle vertical banking top shot/Image copyright 2013: Jim Neiger/Flight School Photography
Workshop Dates: Workshop AK-2: November 1st – November 6th, 2015
Workshop Itinerary
Day 1 (afternoon/evening ): Arrive in Juneau, Alaska which is the base location for the classroom portion of the workshop. There will be a four hour classroom session from 2:00pm to 6:00pm in the hotel meeting room. The classroom instruction will focus on using hand held techniques for photographing birds in flight to prepare participants for the subsequent photography sessions.
Day 2: Morning ferry ride to Haines, Alaska where we will check in to our hotel and spend the afternoon exploring the small town and getting ready for the in the field portion of the workshop.
Days 3-5: In the field photography sessions in the Bald Eagle Preserve.
Day 6: We will spend the day photographing in the preserve followed by an evening ferry ride back to Juneau.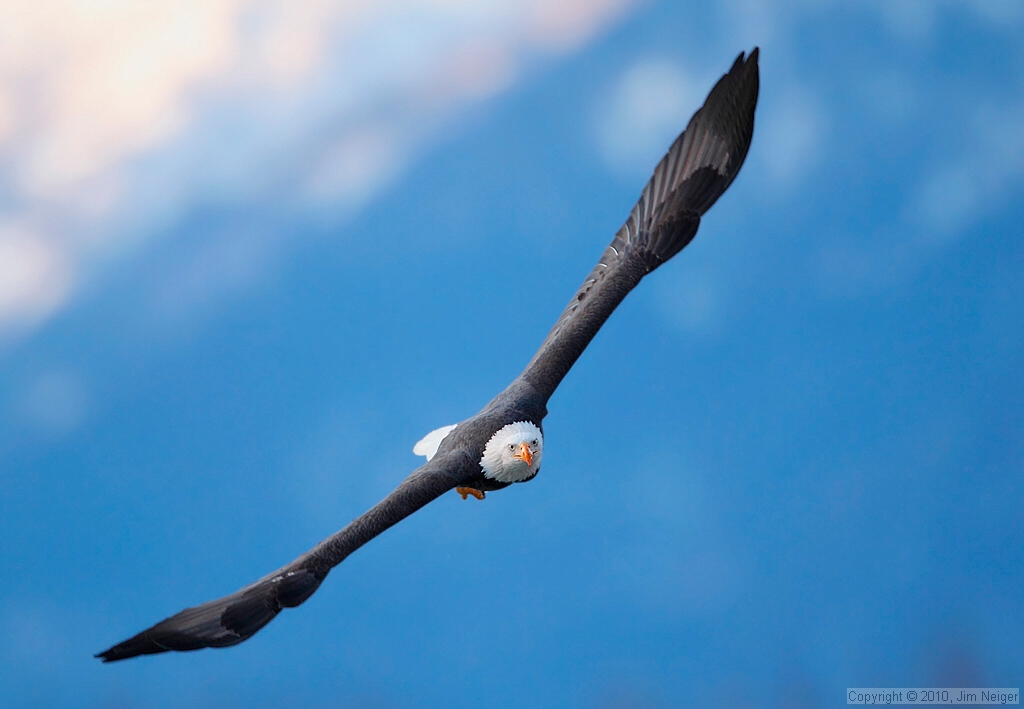 Bald Eagle mountain background/Image copyright 2013: Jim Neiger/Flight School Photography
Workshop Cost and Payments
The cost of each workshop is $2250 per person. The workshop includes a four hour formal classroom instruction session and 4 full day photography sessions. The photography sessions include personalized instruction in the field. Discounted lodging is available, but is not included in the workshop fee. A $1125 non-refundable deposit is required to reserve a spot in a workshop. The remaining $1125 is due 30 days before the start date of the workshop. If you are unable to attend the workshop, after paying the balance, the balance payment will be refunded ONLY if your spot can be filled, on short notice, from the waiting list. All workshop payments must be made by check or money order. Credit cards are not accepted.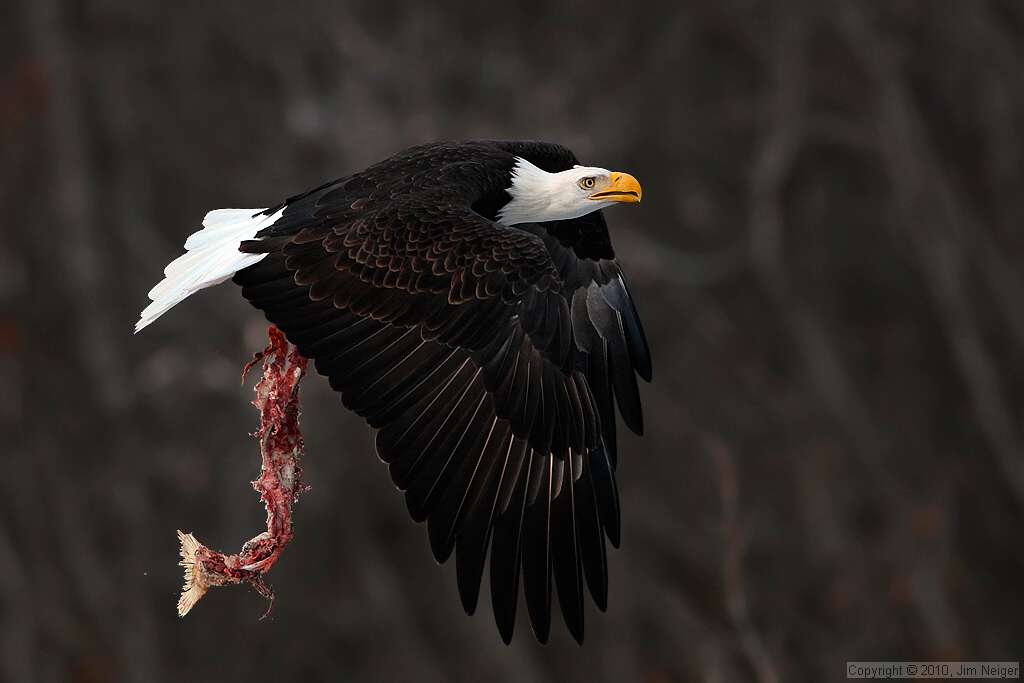 Bald Eagle carrying natural salmon carcass/Image copyright 2013: Jim Neiger/Flight School Photography
Participant Requirements
Participants should have working knowledge of how to create a properly exposed image, a telephoto lens of 400mm or more, and be physically capable of holding the camera and lens up to their eye in shooting position for at least 20 seconds. Participants must also have a vehicle to travel to and from the photography locations. Rental vehicles are available in Juneau and also in Haines.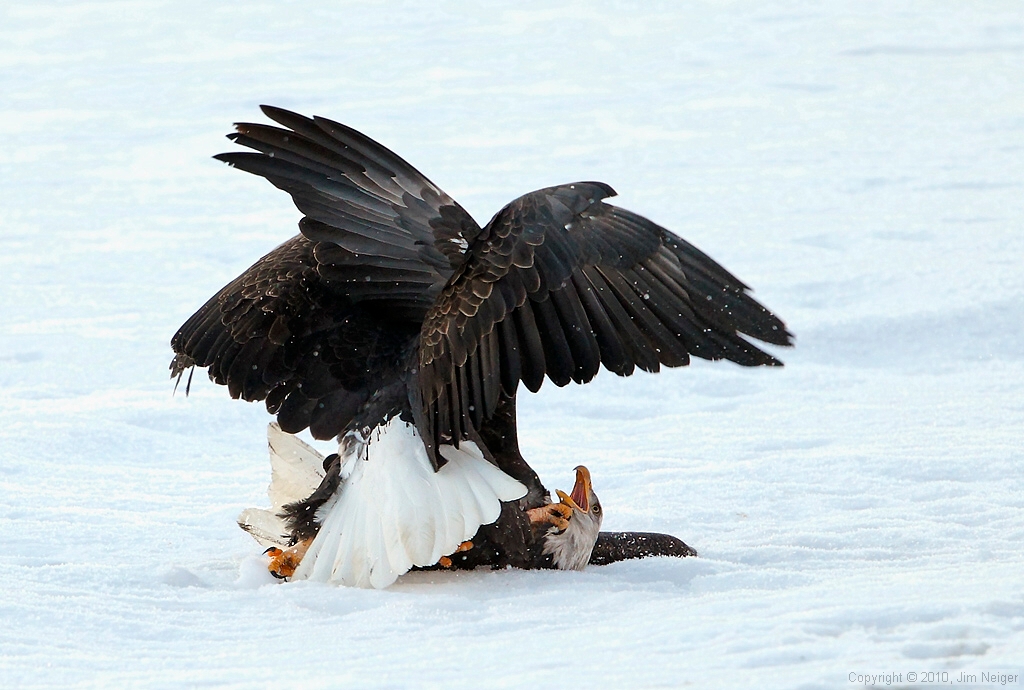 Bald Eagle saying "uncle!"/Image copyright 2013: Jim Neiger/Flight School Photography
Lodging and Logistics
Workshop participants who require lodging during the workshop should stay at the hotels in Juneau and Haines where the workshop classroom and photo sessions will be conducted. Flight School Photography will reserve a block of rooms at a special rate for workshop participants. Participants arriving via air arrive at the Juneau Airport, which is the closest major airport. Arriving flights should arrive in Juneau the day prior to the start of the workshop and return flights should leave the day after the workshop ends. Rental vehicles are available at the airport and also in Haines. Flight School Photography will assist participants with arranging the sharing of vehicles and/or lodging if desired. Detailed information will be provided when you sign up for the workshop or upon request. Lodging, transportation, and meals are not included.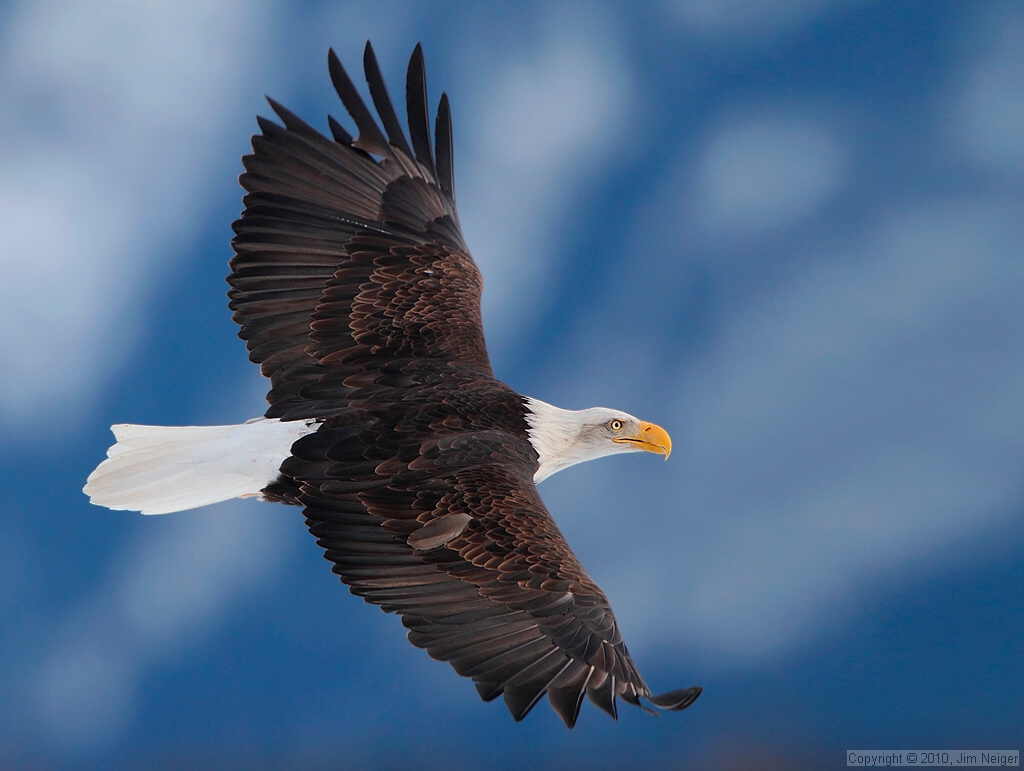 Bald Eagle top shot/Image copyright 2013: Jim Neiger/Flight School Photography
Contact Information
Contact Information: Jim Neiger, Flight School Photography, Inc. 550 Basin Drive, Kissimmee, FL 34744-4804
Cell phone: (407) 247-5200. e-mail.
See a sample gallery of Haines, AK images here.
Flight School website.
Flight Plan
I can say without a doubt that after spending more than two months (part time) editing Jim Neiger's great e-Guide, Flight Plan, that my flight photography has improved by leaps and bound whether I am working off a tripod or hand holding. His explanation of the bumping the focus technique finally sunk in. Learning to use this technique regularly is a huge help for any all types of flight photography.
You can learn more about Flight Plan here or order a copy by clicking here.
Bob Hollowell's Flight Plan Comments
I just wanted to send kudos to both you and Jim Neiger for the excellent E-book that you referenced in a recent BAA blog post. I immediately purchased a copy, and have finished my first read and will now read it a second time just to make sure I'm ready to take it to the field. My favorite haunt is Squaw Creek NWLR and I've stumbled & fumbled with flight photos using both tripod & monopod as support for my Canon 7D, and just can't seem to come up with real sharp photos using that method. Jim's text is well written, and really puts flight photography in a whole new perspective for me. I'm 76 years old, and I'm sure I'll have to experiment with the handholding methodology a bit, but I'm excited at the prospect of applying Jim's methods.
Thanks again… Bob H.
Please Remember to use our Affiliate Links 🙂
To show your appreciation for my continuing efforts here, we ask, as always, that you use our the B&H and Amazon affiliate links on the right side of the blog for all of your purchases. B&H is recommended for you major photography gear purchases, Amazon for your household, entertainment, and general purpose stuff. Please check the availability of all photographic accessories in the BIRDS AS ART Online Store, especially the Mongoose M3.6 tripod heads, Gitzo tripods, Wimberley heads and plates, LensCoats and accessories, and the like. We sell only what I have used, have tested, and can depend on. We will not sell you junk. We know what you need to make creating great images easy and fun. And we are always glad to answer your gear questions via e-mail. I just learned that my account was suspended during my absence; it should be up and running by Monday at the latest.
I would of course appreciate your using our B&H affiliate links for all of your major gear, video, and electronic purchases. For the photographic stuff mentioned in the paragraph above we, meaning BAA, would of course greatly appreciate your business. Here is a huge thank you to the many who have been using our links on a regular basis and visiting the BAA Online store as well.
Facebook
Be sure to like and follow BAA on Facebook by clicking on the logo link upper right. Tanks a stack!
Support the BAA Blog. Support the BAA Bulletins: Shop B&H here!
We want and need to keep providing you with the latest free information, photography and Photoshop lessons, and all manner of related information. Show your appreciation by making your purchases immediately after clicking on any of our B&H or Amazon Affiliate links in this blog post. Remember, B&H ain't just photography!
…..
Amazon.com
Those who prefer to support BAA by shopping with Amazon may use this link:
Amazon Canada
Many kind folks from north of the border, eh, have e-mailed stating that they would love to help us out by using one of our affiliate links but that living in Canada and doing so presents numerous problems. Now, they can help us out by using our Amazon Canada affiliate link by starting their searches by clicking here. Many thanks to those who have written.
Typos
In all blog posts and Bulletins, feel free to e-mail or to leave a comment regarding any typos or errors. Just be right :).