SW FLA IPT REPORT
THE STATE OF DING DARLING
DIGITAL IMAGES AND SHARPNESS
COLOR MANAGEMENT, DISABLING ADOBE GAMMA, AND THE NEW COLORVISION SPYDER
THE ART OF NATURE PHOTOGRAPHY; IT AIN'T JUST BIRDS" WEEKEND SEMINARS
GALAPAGOS JULY 2006 JUST ANNOUNCED; DO NOT HESITATE!
SILVER SALMON CREEK BEAR PHOTOGRAPHY/SALMON FISHING TRIP
WANTED TO BUY: USED 600MM F/4 L IS LENS
IPT UPDATES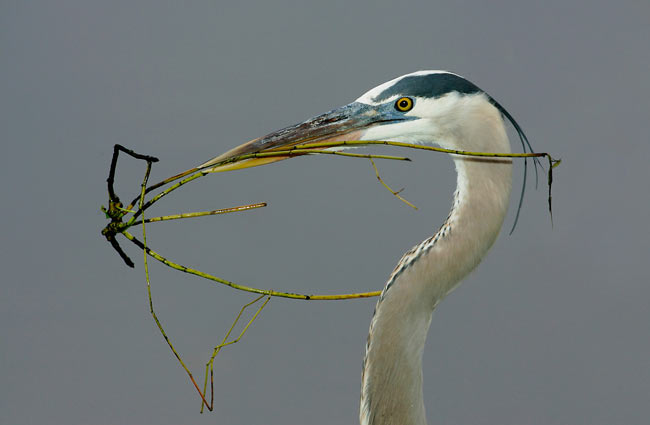 Great Blue Heron w/nesting material, Venice Rookery, FL
Image copyright 2005 Arthur Morris/BIRDS AS ART
Canon 500mm f/4 L IS lens with EOS 1D Mark II on Gitzo CF 1325 tripod. ISO 500. Evaluative metering +1/3 stop: 1/250 sec. at f/8. Fill flash at -2 stops with the 580 flash and Better Beamer FX-3.
I just love using fill flash when working against backgrounds of still water on cloudy days... The matte-gray backgrounds are studio-like. Note also the absolutely perfect head angle: turned a very few degrees toward the imaging sensor.
Note: maximize this e-mail for best formatting.
Photo Theme: My favorite images from the 5-DAY President's Holiday SW FLA IPT.
Important Request: if responding to this e-mail, please take the time to delete the images and all irrelevant text. Thanks!
SW FLA IPT REPORT
The 5-Day President's Holiday 5-DAY SW FLA IPT was a success despite the fact that there were fewer opportunities on average than in previous years. I do not feel that the poorer photographic conditions were at all hurricane-related (but I could be wrong...) Ding Darling (see below) was a total bust. On one gorgeous morning, we drove through Ding once without once slowing down... We continued on to Blind Pass where there were no fisherman and not birds. At a loss, I decided, on a hunch, to check out a spot that I had been thinking about for years; that moved saved the day as we had lots of action with a perched Osprey with a big flounder, a Turkey Vulture in perfect light that hung above several participants as if on a kite string, holding in place in the strong east winds, and many, many pelicans both perched and in flight. The latter included a single White Pelican. We visited Venice Rookery twice and had many good chances. The placement of most of the nests this year is less than ideal. Many folks took advantage of the pre-dawn flash flight/blur opportunities that are available there on most mornings (provided the you arrive early enough).
We enjoyed a wonderful trip on Captain Marian Schneider's big pontoon boat, Recovery Room. Osprey and several hundred White Pelicans were the stars of that show. If you visit the rookery in the morning, you would surely enjoy and afternoon on the water with Marian, lots of great birds, and a smashing sunset. Get together a small group and give Marian a call at Grande Tours: 941-697-8825 or visit the web site at:
http://www.grandetours.com/
. Be sure to click on the photography page.
Little Estero Lagoon was productive. A brilliant dark morph Reddish Egret and a nice white phase danced in front of and between us for more than an hour. Villa from Finland and Sid from ??? got down on the ground and made some great shorebird images. A pair of cooperative American Oystercatchers provided a fine ending to our Estero morning. Red Knots, Willets, and some lovely Snowy Plovers were at my favorite Gulf beach on Sanibel, and the fishing pier was productive as well with lots of Snowy Egrets frolicking in the surf. Lastly, the Burrowing Owls at Cape Coral delighted everyone but with increasing development their numbers are decreasing, and the protective ordinances that are in place are totally ineffective. As has been our pattern for the past two centuries, development and the dollar rule.
I am working on the SW FLA Site Guide and hope to have it available before long.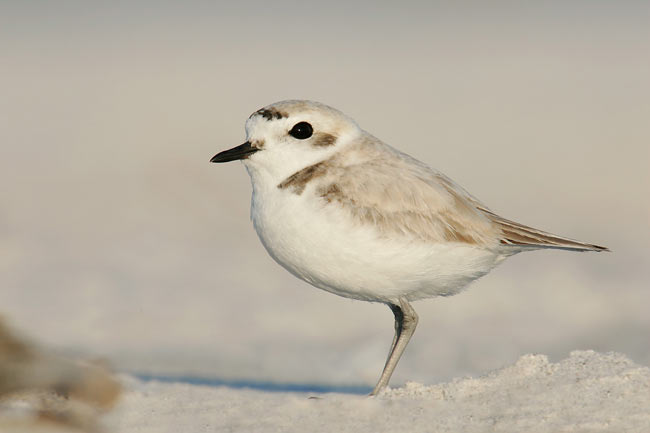 Snowy Plover, wide-eyed adult. Gulf beach, Sanibel, FL
Image copyright 2005 Arthur Morris/BIRDS AS ART
Canon 500mm f/4 L IS lens with 2X II TC and EOS 1D Mark II on Panning Ground Pod. ISO 250. Evaluative metering +2/3 stop: 1/200 sec. at f/16.
I have recently begun stopping way down when photographing birds on the ground, provided that the backgrounds are distant. We had eight Snowy Plovers; the trick was finding an angle with a relatively clean background, right Sid?
THE STATE OF DING DARLING
I have been visiting Ding Darling NWR on Sanibel Island since the late 1980s. In the good old days, photographers would experience huge feeding aggregations right next to the road on most mornings, or at least on many mornings if you deduct for the memory-exaggeration factor. To the very best of my understanding, all of the water on the left side of the road, the first three pools, was--at that time--brackish. And as witness to the huge feeding aggregations, it was obvious that there were huge schools of various baitfish in the impoundments (that were originally diked in an effort to control mosquitoes). The water levels in these pools were adjusted twice each year, with low water levels during the colder months and higher water levels during the warmer months (I believe in an effort to control the mosquitoes).
During the 1990s, nature photographers from around the world flocked to Ding to photograph the egrets, herons, cormorants, Wood Storks, pelicans, ibises, and most significantly, the Roseate Spoonbills that took part in the large feeding aggregations. About four years ago, refuge management and biologists decided to restore the natural water flow to the first three pools on the left side of the road. To do this, the water control structures were rebuilt at taxpayers' expense. I would assume that the cost was measured in the millions of dollars.
As a result of this decision, the pools on the left of the road are now tidal. In the years since the new water control policies were instituted, photography at the refuge has gotten worse each year. At present, the photographic conditions at Ding now range from terrible to fair to (on rare occasion--though you could not prove it by me), good. On my recent BIRDS AS ART SW Florida Instructional Photo-Tour we made two trips through Ding on our third day. We barely even slowed down. Despite perfect weather and a lovely breeze from the east, there were simply no photographable birds in any of the first three pools, heck, there were few birds anywhere on the refuge at all.
In a conversation last week with a young man who recently worked as a refuge biologist, I reviewed the above scenario carefully with him. He stated that the refuge's position was that the health of the eco-system was in much better condition now than it was in the late 1980s and throughout the 90s. When I added, "And conditions for bird photography are now much, much worse," he said, "That's right." How no birds, no fish, and no great feeding aggregations jibe with a healthier ecosystem is a mystery to me. Ding Darling, the former jewel in the crown of the National Wildlife Refuge System simply ain't what it used to be. If you do decide to spend your ecotourism dollars on a trip to Ding, you'd best bring your rabbit's foot...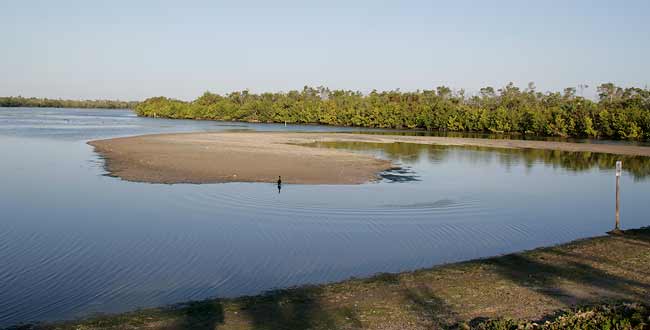 The Mud Bar, Tower Pool, Ding Darling NWR, FL
Image copyright 2005 Arthur Morris/BIRDS AS ART
On windless mornings, spoonbills used to be the rule rather than the exception here. Their pink against the still blue water got my blood boiling with excitement. Those days are pretty much gone. The scene above is, unfortunately, becoming more and more typical in recent years. The lack of birds has not cut down on visitor-ship by tourists. A mid-day swing through the refuge reminded me of the Long Island Expressway...
DIGITAL IMAGES AND SHARPNESS
In the past few weeks, I have received several e-mails from folks concerned that the images that they download from their digital cameras are simply not sharp. The fact is that the images that come from digital cameras simply are not sharp. In order to appear sharp, digital images must be sharpened. They should not, however, be sharpened at all until they are sized for final use. It is recommended that the sharpening setting on your digital cameras be set to "none" or "zero." (Note: some folks recommend sharpening all digital images a very small amount before viewing and before final sizing and sharpening. In any case, the amount of sharpening is dependent on the size of the image when it is ready to be used. We make three sharpening passes at 125, .2, 0 for our e-mail j-pegs. We use one round at 175, .4, 2 followed by two rounds at 125, .2, 0 for images being prepared for digital slide programs. And now that we are making prints as large as 12 X18" on our Epson 2200 printer, we are using much higher sharpening settings in the range of 300-500, .3 to .8, 0. Do realize that all sharpening is done to taste; two images of the same size may need totally different amounts of sharpening. Experiment, view your results at 100%, and beware of edge haloes and other sharpening artifacts.
I recommend that all folks just getting started in Digital Photography purchase our Digital Basics PDF file (
http://www.birdsasart.com/digitalbasics.htm
) which covers all the bases. If you are relatively new to digital and are spending a good deal of time banging your head against the wall, it will behoove you to click on the link above. In addition those who wish to learn my streamlined digital workflow may wish to do the same. My goal when optimizing images in Photoshop CS is to make the images look as good as possible as quickly as possible. Ellen Anon is working on her very own PDF, Digital Basics for Macs & Printing. It will cover her more advanced work flow (designed for making quality prints rather than for speed) and detail the downloading, editing, and raw conversion options available for Mac users lamenting the fact that Downloader Pro and Breezebrowser Pro are available only for PCs. Lastly, Ellen will--in short order--teach you how to become a master print maker, just as she taught me when she visited BAA on the weekend after the SW Florida IPT. I went from big time print-dummy to feeling totally confident in a matter of two days. Both Jim and I are now able to create high quality digital prints on demand. Ellen will cover printer profiles, color management, and will include detailed and explicit directions for creating digital prints with Photoshop/Print Preview. We hope that Ellen's "Digital Basics for Mac and Printing" will be available soon.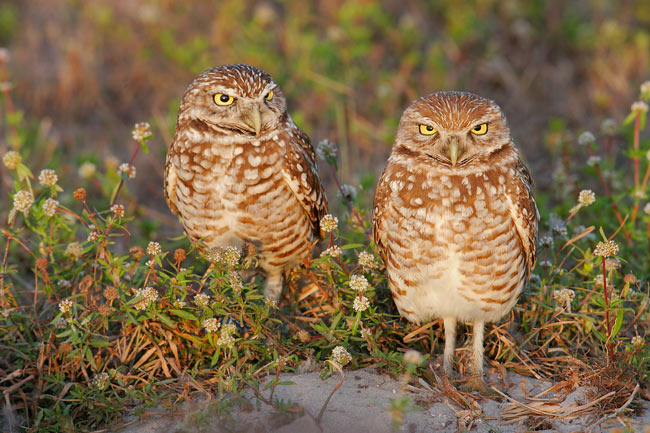 Burrowing Owl, pair, Cape Coral, FL
Image copyright 2005 Arthur Morris/BIRDS AS ART
Canon 600mm f/4 L IS lens with Mark II on Gitzo CF 325 tripod. ISO 400. Evaluative metering at zero: 1/125 sec. at f/11.
I went to f/11 here in an effort to render the eyes of both birds sharp.
COLOR MANAGEMENT, DISABLING ADOBE GAMMA, AND THE NEW COLORVISION SPYDER
In an effort to properly color manage, I have been calibrating my monitors for years with the original Pantone ColorVision Spyder without realizing that my efforts had been totally in vain until Ellen Anon visited as noted above. My problem was that I had failed to disable Adobe Gamma at Startup... (There is a warning to do just that but I did not know how.) If you calibrate your monitor (all serious digital photographers should) with one of the many excellent units available today, it is absolutely necessary to disable Adobe Gamma at Startup. If not, your computer will use your Adobe Gamma settings instead of your color profile. (Using Adobe Gamma to calibrate your monitor is primitive at best because it relies upon subjective visual judgments made by humans whereas calibration units such as ColorVision's Spyder2 rely upon objective measurements and calculations made by hardware devices. The latter are of course far more accurate. To disable Adobe Gamma at Startup, click on All Programs and then click on Startup. If you see Adobe Gamma in the Startup list, highlight it, right click, and then select delete. A box should pop up stating that you are only deleting the shortcut and not the program itself. Click OK to delete the shortcut from the Startup Menu. This prevents Adobe Gamma from running automatically each time that you start up the computer. If you are upgrading to one of the newer, better units, you will need to disable your previous color profiles at Startup in a fashion similar to that described above.

The new ColorVision Spyder2, which, like its predecessor, can be used with either CRT or LCD monitors, has much improved hardware and software combined with an easy to use interface. Those working with a two monitor setup may wish to choose the Spyder2ProStudio which will allow you to calibrate both monitors. In addition, the latter offers unlimited choices of monitor gamma and monitor temperatures that might be of interest to master printmakers. Other options include the Monaco EZ Color and Gretag Macbeth Eye-One units. After Ellen calibrated my Apple 23 inch Cinema monitor with the new Spyder2, the very first print that we made was right on; it matched the color on the monitor as perfectly as possible.

If you would like to purchase one of the new Spyder2 calibration units, Ellen can offer you a nice discount on the price as well as free shipping and no tax (unless you live in NJ or CA). The Spyder2 is available from Ellen for $179 (the full retail is $189 plus shipping) and the Spyder2ProStudio is available for $279 (the full retail is $299 plus shipping). To take advantage of this arrangement you can download the attached PDF file and either fax it to ColorVision at 609-895-7447 (this fax # is on the form) or send an email to customerservice@colorvision.com and attach the PDF. Alternatively, you can e-mail Ellen (anonpsych@aol.com) or call her (814-838-1996) with your credit card information and she will order it for you. You must either call Ellen or use the attached PDF file in order to obtain the discount. Please do not send any money to Ellen! All Color Vision products come with a 2 year warranty, free technical support and free software updates.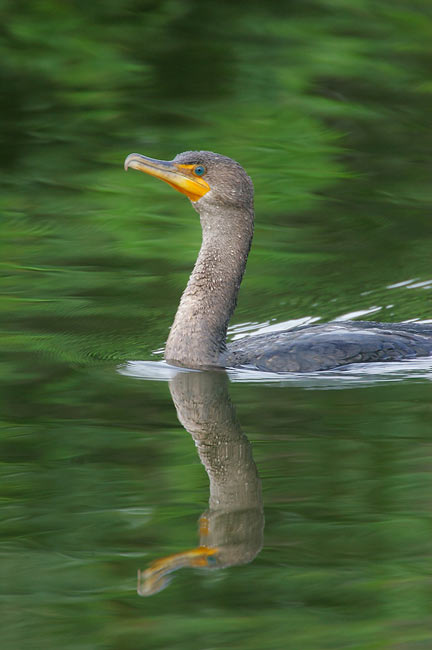 Double-crested Cormorant, Venice Rookery, FL
Image copyright 2005 Arthur Morris/BIRDS AS ART
Canon 500mm f/4 L IS lens with 2X II TC and the EOS 1D Mark II on Gitzo CF 1325 tripod. ISO 400. Evaluative metering -1/3 stop: 1/160 sec. at f/8.
Even though it was cloudy, I subtracted 1/3 stop of light for the dark green water to avoid overexposing the orange bill. I find working in veritcal format with the 2X difficult in situations like this as it is difficult to keep the central sensor on the bird's neck... I just love the patterns in the water here.
THE ART OF NATURE PHOTOGRAPHY; IT AIN'T JUST BIRDS" WEEKEND SEMINARS
The Art of Nature Photography; It Ain't Just Birds!
Weekend Seminars
Sponsored by Canon USA
In conjunction with Photo Road Shows
Atlanta, Georgia, July 30-31, 2005
Dallas, Texas, September 24-25, 2005
Click here for full details: http://www.birdsasart.com/photoroadshow.htm
If anyone in the Atlanta area has local photography club or camera store contacts and would like flyers for this event, please request same via e-mail. Thanks!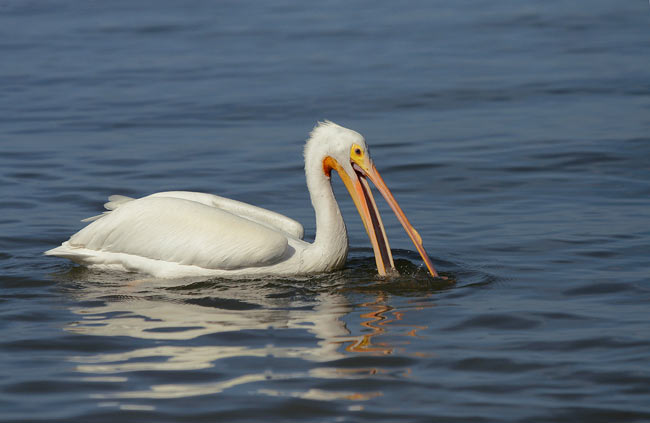 White Pelican feeding, Sanibel, FL
Image copyright 2005 Arthur Morris/BIRDS AS ART
Canon 70-200mm f/2.8 L IS lens with EOS 20D (handheld). ISO 200. Evaluative metering -2/3 stop: 1/6400 sec. at f/4.
I have recently begun using the 70-200 quite a bit, often with the 20D. I quickly noticed that the meter on most 20Ds is about 1/3 stop lighter than on most EOS 1D Mark IIs and routinely use 1/3 stop less light than I would with the Mark II. Trying a new spot saved what would have been a very poor morning. When I am leading a group, I pretty much never give up!
GALAPAGOS, JULY 2006
As the July 2005 Galapagos trip sold out within 14 hours of being announced in a BAA notes last October, I have committed to returning to this world-renowned wildlife photography destination in July 2006. The dates for the trip are July 12-22, 2006. This includes the travel days. The cost of the trip is $4299. If you are serious about joining us, you should call Janie Bullard immediately at 1-888-419-6677. If she does not answer, leave a message stating, "I wish to send a deposit for the 2006 Galapagos trip with Arthur Morris. Please save me a spot." This trip is limited to 14 participants and Janie has already received several deposits. You may e-mail if you like for additonal details (but if you do that, the trip will in all likelihood be sold out).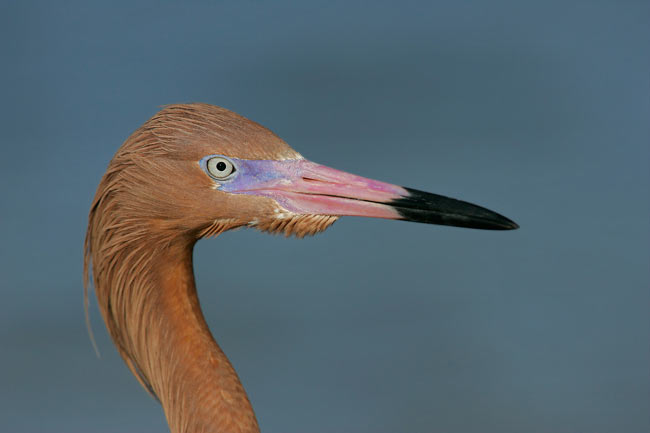 Reddish Egret, dark morph in breeding plumage, Little Estero Lagoon, FL
Image copyright 2005 Arthur Morris/BIRDS AS ART
Canon 500mm f/4 L IS lens with 1.4X II TC and EOS 1D Mark II. ISO 250. Evaluative metering -1/3 stop: 1/1250 sec. at f/8.
After trying for any hour with a handheld lens to capture this guy (and a white morph as well) doing their drunken-sailor dance, I grabbed the long tripod-mounted lens and made this image. Increased hormonal flow in herons and egrets actively involved in courtship and breeding intensifies the soft parts colors (as seen here).
SILVER SALMON CREEK BEAR PHOTOGRAPHY/SALMON FISHING TRIP
Photograph Coastal Brown Bears safely at close range as they fish for salmon and cavort through the streams. There should be some young bears around, and in most years there are one or more pairs of spring cubs. We will also fish for salmon ourselves and may do one trip for halibut if the tides cooperate. We will fly to the fabled Silver Salmon Creek Lodge from Anchorage on the morning of Friday, September 16, 2005 and fly back to Anchorage about mid-day on Thursday September 22. The 7-day/6-night package includes all meals, photo boat trips, salmon fishing and sea kayaks for the young and brave. If we do fit in a halibut trip near the end of our visit, the cost is $50 per person. There will of course be lots of in-the-field instruction and ample opportunities for image sharing and photoshop lessons. The cost of the trip is $3399. If you would like to join us, please--at your earliest convenience--send a $1700 deposit check made out to Arthur Morris (PO Box 7245, Indian Lake Estates, FL 33855). Six of the ten slots are filled at present.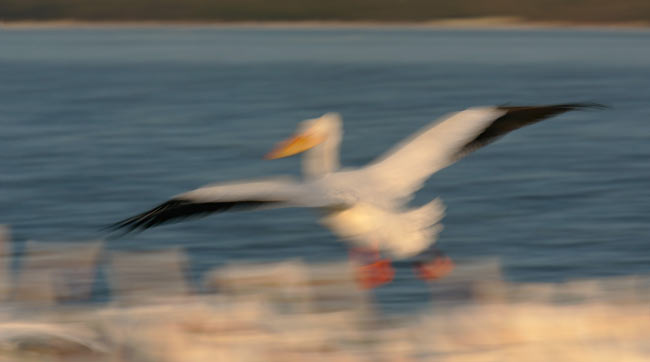 White Pelican, Grande Tours pontoon boat, Gasparilla Sound, FL
Image copyright 2005 Arthur Morris/BIRDS AS ART
Canon 600 mm f/4 L IS lens with 1.4X II TC and EOS 1D Mark II on Gitzo CF 1325 tripod. ISO 50. Evaluative metering at zero set manually: 1/13 sec. at f/29.
With wind somewhat-against-sun conditions, I decided to try and make soup from a stone by creating some intentional blurs. I drastically lowered the ISO in order to get the blur speed that I wanted.
WANTED TO BUY: USED 600MM F/4 L IS LENS
If you have a used six IS that you would like to sell, get in touch with Michael Murphy at mmurph1@dot.state.tx.us.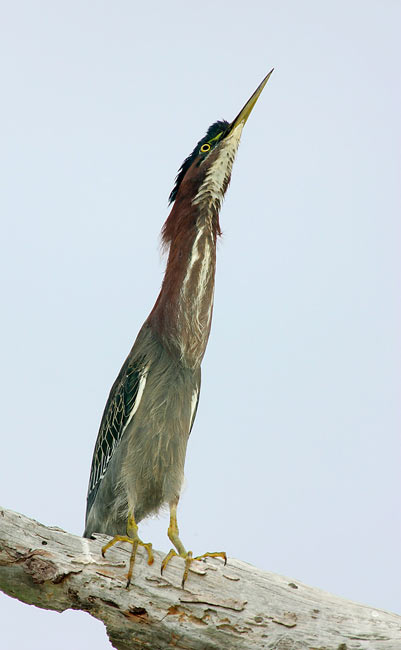 Green Heron, Venice Rookery, FL
Image copyright 2005 Arthur Morris/BIRDS AS ART
Canon 500mm f/4 L IS lens with 2X II TC and the EOS 1D Mark II on Gitzo CF 1325 tripod. ISO 400. Evaluative metering + 1 2/3 stops: 1/250 sec. at f/11.
With a skinny-in-the-frame subject and a white sky, I made one frame at +2 stops and noted on the histogram that I was close the edge, so I backed off 1/3 stop. When the bird, high, high in a dead pine tree stretched tall to tell off a grackle that had landed nearby, I was ready with the perfect exposure. When working subjects that are "way, way up," pulling your tripod legs in a bit will decrease the angle of inclination.
IPT UPDATES
Lake Martin, La, Nesting Spoonbill IPTs 3 -DAY: $899 MAR 19-21, 2005 (One opening due to a cancellation as of 3-5) May 13-15, 2005 (Sold out)