MORE ON THE PLAMP

ANNOUNCING THE 2003 POST X-MAS SW FLA IPT

Purple Coneflower, Peck's Farm, Chicago, IL

Digital capture with Canon EOS 1Ds, 180mm macro lens, 1.4X II teleconverter, & 25 extension tube ISO 250. Evaluative Metering at zero: 1/60 sec. at f/10. Macro Twin Light +2/3 stop. Manual focus. Cable Release, Plamp. Image made with Linhoff Prophy II Ballhead and Gitzo 1325 Carbon Fiber Tripod.

Image copyright 2003 Arthur Morris/BIRDS AS ART

The Plamp does and amazing job of stabilizing windlown subjects without damaging the plant stems. As it turned out, Todd told me that a week after I was in Chicago there were no coneflowers in bloom...

MORE ON THE PLAMP

I typed this text yesterday and intended to include it in Bulletin 109, but it mysteriously disappeared from the MS Word document...

As we saw yesterday, the Plamp can be used to stabilize windblown subjects. It can also be used to adjust the position and angle of macro subjects (relative to the film plane), to move or pin down distracting elements in the background or hold back obstructing foliage, or to hold diffusers or reflectors in place. Serious macro photographers will want to own several of these amazingly handy gizmos. The Plamp weighs just 5 ounces and is 22" long when extended fully.

We have many Plamps in stock. They are available for $36.95 plus $2.00 shipping. Order two or more and shipping is on us. You may return your Plamp within 30 days for a full refund (less the 2 bucks shipping).

American Oystercatcher, Little Estero Lagoon, FL

Digital capture with Canon EOS 1D, 600mm f/4 L IS lens with 1.4X II teleconverer. ISO 250. Evaluative metering -2/3 stop: 1/1000 sec. at f/11.

Image copyright 2003 Arthur Morris/BIRDS AS ART

We did well on this species last December at Estero, but I almost lost a sneaker to the thick mud while crossing the lagoon! With most subjects in bright sun, I use 1/3 stop less light than I used to use with film. Here, with the extensive black affecting the meter, I'd underexpose by 1/3 when using film (to keep from burning the bright whites), but went 1/3 stop darker with digital after seeing the flashing black of the highlight alert. (All digital photographers should consult their camera body manual and learn to enable "Highlight Alert." It is one of the most valuable tools available to us. This is especially true for Canon users because the histograms (especially on the 1D and the 1Ds are difficult to read even in the best conditions. Nikon histograms, with their red and yellow color scheme, have Canon beaten badly on this important detail. It is easy to see even a few tiny pixels on the right end of a Nikon histogram because the red and yellow stand out so clearly. This is not the case with the histograms on the Canon 1D and 1Ds, so enabling "Highlight Alert" is absolutely mandatory for those using either of these bodies. The histogram on the 10D is better, but still not as good as on the Nikon digital bodies.
SW FLA IPT DEC 28-30, 2003: $829 (Limit 12; openings: 10)
Introductory Slide Program: SAT DEC 27th (7:30pm)
THIS IS MY BREAD & BUTTER CANíT MISS IPT: TAME HERONS, EGRETS, GULLS, TERNS, SHOREBIRDS, OSPREY, BURROWING OWL & BOTH PELICANS. SPOONBILLS & WOOD STORK LIKELY. GREAT BLUE HERONS IN BREEDING PLUMAGE: COURTING, BUILDING NESTS, AND COPULATING.
Last year, Todd and Jacqueline Schneider of Pennsylvania asked if I could put together a SW FLA IPT especially for them immediately after Christmas. I did, and it turned out to be a great success with seven others joining us for some wonderful photography. This year, when Dick Rhudy contacted me with the same request, I immediately scheduled one for this year. The Venice Rookery is superb in late December and with a bit of decent weather and a south or east wind in morning, photo opps can can be spectacular. After lunch on rookery-day, we will photograph both Brown and White Pelicans practically at arm's length and then take a ride on Captain Marian Schneider's pontoon boat, hopefully to photograph large flocks of White Pelicans in front of a spectacular sunset.
Estero Lagoon was as good as it had been in years last December, and we did well also at Ding with a foraging Wood Stork and with Royal Terns and various herons, egrets, and shorebirds at Blind Pass. Burrowing Owls at close range are pretty much a sure thing, and the Sanibel Fishing Pier can provide an afternoon of solid action (though it has not been as consistently good as it had been in the past). Either the causeway or the Gulf Beach provide excellent backup subjects including Snowy Plovers at the latter location. If you would like to join us this year and celebrate the holiday season with some great bird photography, do send a deposit check for $200 to reserve your spot. And that goes double for those Northerners wishing to escape the oncoming winter.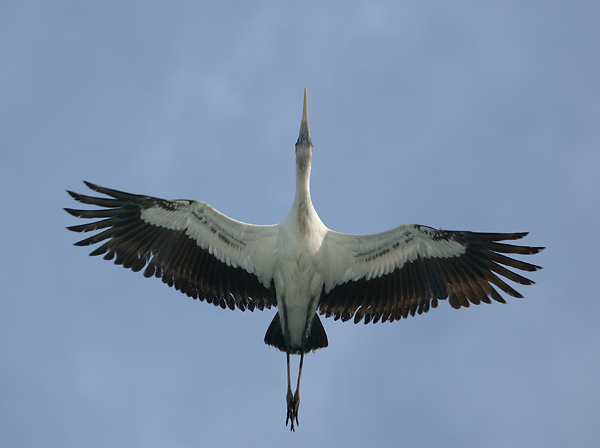 Wood Stork, Venice, FL
Digital capture with Canon EOS 1D, 100-400 IS Zoom lens at 210mm. ISO 100. Evaluative metering +2/3 stop: 1/500 ec. at f/5.0. Fill flash with Better Beamer at -1 stop. Handheld of course.
Image copyright 2003 Arthur Morris/BIRDS AS ART
I had my flight lens on my shoulder when I saw this bird approaching. I grabbed the lens, racked well back on the focal length when I saw that the bird was going to fly right over my head at close range, dialed in +2/3 exposure compensation, and made one image! If I had done a single thing wrong, I would not have gotten the image. I love the technique of racking back on the focal length to what you estimate will be ideal. This is far better than continously zooming out as the bird approaches. With practice, you can become proficent with this technique. And I just love flash- flight!
Burrowing Owl, Cape Coral, FL
Digital capture with Canon EOS 1D and 600mm f/4 L IS lens. ISO 400. Evaluative meter reading set two stops darker in Manual Mode: 1/60th sec. at f/4.0. Flash at main light at zero with Better Beamer.
Image copyright 2003 Arthur Morris/BIRDS AS ART
Here, I chose the concrete road as background, knowing that by underexposing the light grey roadway with the sun already down that a rather dark blue background would be the result. (Just like film, digital sees shaded colors as more blue than they appear to our eyes.) Use manual mode with flash as main light to control the tonality of the background by playing with the shutter speed and aperture. The exposure for the bird will remain constant as it is determined only by the flash! (If you do not understand that concept, then you do not understand flash as main light. See" flash as main light" in Chapter Four of "The Art of Bird Photography.")