BIRDS AS ART BULLETIN #111
AUGUST 12, 2003
LINHOF BALLHEAD INFO
ANNOUNCING THE JAN 2004 SAN DIEGO IPT
2ND IN-THE FIELD WORKSHOP ADDED TO NYC PHOTO WEEK!
IPT UPDATES
HUNT'S SPECIALS
Columbine, North Carolina
Image copyright Arthur Morris/BIRDS AS ART
Canon EOS 1Ds and EF 180mm macro lens with 1.4X II TC and Macro Twin.
ISO 250. Evaluative Metering -1/3 stop: 1/25 sec. at f/11. Flash at zero.
I now use a Linhof Prophy ballhead for all of my macro work.
LINHOF BALLHEAD INFO
For longer than I care to remember, I used and recommended the Arca-Swiss B-1 ballhead, but in recent years quality control has slipped badly and a number of recurring problems (that have been previously documented both here and elsewhere) led me to find a better mousetrap. I have done so.
While I love my Wimberley head for big glass, it is obvious to most that it is overkill for intermediate telephotos, thus the need for a reliable ballhead for lenses in this class. In addition, a ballhead is also much better for macro photography.
I can unequivocally recommend the second ballhead down on this page, the Linhof Prophy II:
http://www.bhphotovideo.com/bnh6/controller/home?A=search&Q=&b=50&shs=&ci=140&Submit.x=30&Submit.y=8
If you cannot get the link to work, go to
www.bhphotovideo.com
. Click on tripods and supports. Then click on ballheads. Then scroll down to
Linhoff.
Here is the model that you want to get for use with intermediate telephotos and macro lenses:
The Linhof Profi-II Ballhead with Independent Panning Lock (63mm Base/77mm Top) -Supports 17.60 lb (7.98 kg)Price $ 230.00 +shipping.
The last time I checked this item was out of stock, but it is well worth waiting for. It has a very smooth ball that never locks up. The adjustable tension is set easily by rotating a collar just inside the main locking knob. When the ball becomes dirty (as all will inevitably), it is easy to clean with 91% or higher isopropyl alcohol and a soft rag. And the horizontal pan knob works well, tightening easily with hand pressure so that the head will not rotate easily. And it is just as easy to loosen...
When you purchase this ballhead, you will need to remove the platform that comes with the head and replace it with the correct Wimberley clamp, which for most applications would be the Wimberley C-10 clamp for intermediate telephotos, and possibly the larger C-30 for off-brand super-telephotos like the Sigma 50-550 mm.

You can shop around for the Linhof ballhead or order one from B&H, but trust me, they are hard to find! You can order the Wimberley Plates from us. The C-10 is $79 and the C-30 is $100 (both plus shipping).

Do know that I have no ties to either Linhof or B & H photo. I own and use the Prophy III for my intermediate telephotos and my 180 macro, but this model is larger and heavier than need be.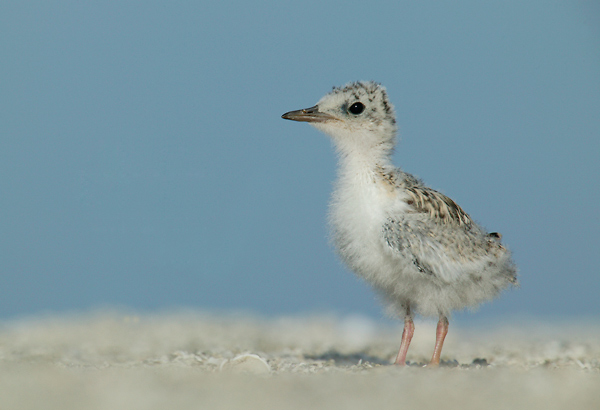 Least Tern chick, Lido Key, Sarasota, FL
Image copyright Arthur Morris/BIRDS AS ART
Canon EOS 1Ds with 600mm f/4 L IS lens and 2X II TC on Panning Ground Pod.
ISO 250. Evaluative Metering at zero: 1/800 sec. at f/11.
As opposed to 2002, it was a bad year at Lido for the terns and skimmers.
On my last visit I stumbled upon this little one and its nest-mate while heading over to help a friend!
ANNOUNCING THE JAN 2004 SAN DIEGO IPT
SAN DIEGO, CA INSTRUCTIONAL PHOTO-TOUR
JANUARY 9-11, 2004 3-DAY: $899 (Limit: 10, Openings: 8)
GET TO PHOTOGRAPH CALIFORNIA BROWN PELICANS IN SPECTACULAR BREEDING PLUMAGE AT CLOSE RANGE, BRANDT'S (& OTHER) CORMORANTS, WESTERN, CALIFORNIA, HEERMAN'S--ALSO IN SPECTACULAR BREEDING PLUMAGE, & OTHER GULLS. WE WILL HAVE INCREDIBLE FLIGHT PHOTOGRAPHY OPPORTUNITIES WITH ALL OF THE ABOVE SPECIES. ALSO: LESSER SCAUP, WOOD, RING-NECKED AND OTHER DUCKS AS WELL AS MARBLED GODWIT, WILLET, WHIMBREL, SURFBIRD, WANDERING TATTLER & OTHER SHOREBIRDS, EVERYTHING AT CLOSE RANGE! HARBOR SEALS & SEA LIONS.
2ND IN-THE-FIELD WORKSHOP ADDED TO NYC PHOTO WEEK
Due to popular demand, we have added a second In-The-Field Workshop at Jamaica Bay Wildlife Refuge on Tuesday, August 26, 2003. Both the Monday ITF-Workshop and the IPT that follows have long been sold out. Do note that there is lots of room at the Sunday "The Art of Nature Photography; It Ain't Just Birds" full day how-to Seminar, and that we will have lots of great door prizes as well.
The Seminar will be held in Bayside, Queens and walk-ins are more than welcome. Show up with a friend and each of you can apply a $10 discount. The location will be the Ramada Adria Hotel and Conference Center at 220-33 Northern Boulevard, Queens New York. The telephone number there is 718-631-4900. You can see a map here:
http://makeashorterlink.com/?S39522D65
Prairie flowers, Chicago, IL
Image copyright Arthur Morris/BIRDS AS ART
Canon EOS 1Ds and EF 180mm macro lens handheld.
ISO 50. Evaluative Metering at zero: 1/6 sec. at f/32.
I needed to choose the lowest possible ISO in order to get a shutter speed of 1/6 sec. I intentionally shook the camera to make this image.
I made 26 similar ones but this was the most successful by far...
IPT UPDATES
The first Bosque (23-25 NOV) trip has 7 slots open, the second is sold out.
The Post-X-mas SW FL 3-DAY IPT (28-30) DEC has 7 slots open, but both the 25-29 SW FLA 5-DAY IPT and the 3-DAY FORT DESOTO/SARASOTA IPT are shaping up right now as private tours, as is the 23-25 APR, 2004 St. Augustine Alligator Farm IPT.
For details and general information on all BAA/IPTS click here:
Velvia 50 RVP 20-PACK $89.80 USA
Provia F-100 RDPIII 20-PACK $89.80 USA
Velvia 100 RVP 20- PACK 117.80
FUJI MAILERS $3.79 a mailer in 5-packs
Flat rate shipping on film orders: $6.00 ground.

Delkin 640 e-film Pro Card (Artie's first choice!) $209.99
Delkin 20gb 439.95
Delkin 30gb 479.95
Delkin 40gb 539.95
Delkin 60gb 639.95
Shipping on the above is 10.00 ground.

Canon 10D: ask for BAA Bulletin subscriber price
Canon EOS 1Ds: $7200
Ask for prices on Canon long lenses

Lowepro Road runner AW $349.99. Shipping $25.00 ground.

Rocket to clean your digital camera's sensor (recommended by Artie): $9.99

Papers & Inks:
Epson S041655 24X100 $107.99 premium semi gloss
Epson SO41657 44X100 $187.99 premium semi gloss
Epson S041461 24X100 $107.99 premium luster
Epson S041463 44X100 $187.99 premium luster
Epson 9600 220ml $79.99
Free ground shipping on all Epson 7600 and 9600 supplies over $500.00
Epson 2200 $9.49
Epson 2000 color $28.95
Epson 2000 black $26.95
Epson 1280 color $23.95
Epson 1280 black $20.50
Epson S041286 $10.49 premium glossy
Epson S041405 $26.95 premium luster
Epson SO41257 $9.49 matte heavy weight $9.49
Contact Gary Farber 1-800-221-1830 ext 2332 or email him at
filmguygary@aol.com
. Or contact John Duggan ext 2314. Subscribers are advised to comparison shop. Be sure to ask for a quote on shipping charges when doing so.