ALASKA TRIP REPORT
TWO OPENINGS ON TANZANIA SAFARI
WELL KNOCK ME OVER WITH A FEATHER...
HUNT'S SPECIALS
What, no birds?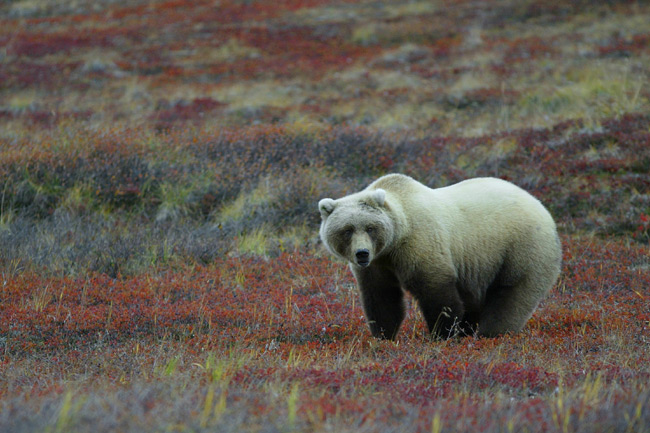 Grizzly on fall tundra, Denali National Park, AK
Image copyright 2003 Arthur Morris/BIRDS AS ART
Canon 1D with 300mm f/4 L IS lens. ISO 400, Evaluative Metering -1/3 stop: 1/640 sec. at f/4. AI Servo AF.
This pretty blonde was the first bear that we saw at close range. Notice that exposure with digital is generally 1/3 stop less across the board than with film.
Handheld intermediate telephoto lenses were invaluble when photographing from the bus.
ALASKA TRIP REPORT
I left NYC on September 5 and met the Alaska Photo Tour group on the evening of the 6th. We headed for Talkeetna and were treated to spectacular views of Denali--Mount McKinley from one of the classic pull-outs. We had a sumptuous lunch in town and again photographed the mountain against brilliant clear blue skies. What's this stuff about the mountain that's always covered by fog and clouds we wondered... We over-nighted in a killer B&B owned and run at present by noted Alaska photographer Steve Gilroy, where we once again had great views of the mountain.
The next morning we headed towards the park and were met by our Camp Denali bus. We spent the afternoon photographing the incredible scenery en route to the lodge which was located 90 miles into the park. On our first morning I awoke early and was treated to a spectacular display of Northern Lights (that I was unprepared to photograph...) The next four days was a jumble of gorgeous fall tundra, frost-covered blueberries, incredible mountain ranges, beaver, caribou, moose, grizzly, and flocks of migrating Sandhill Cranes. We even had a chance to photograph Denali from Reflection Pond on yet another clear morning.
Our departure brought the weather we had heard so much about, wind, cold and snow. It was pretty hairy making our way along the steep cliffs on the slippery roads, but our skilled driver got us safely back to our vans before lunch. The park roads were actually closed for most of the rest of the day...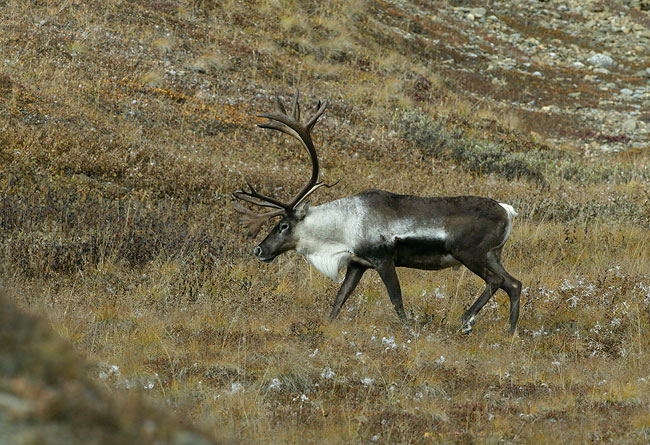 Caribou on hillside, Denali National Park, AK
Image copyright 2003 Arthur Morris/BIRDS AS ART
Canon 1Ds with 500mm f/4 L IS lens on beanbag. ISO 400, Evaluative Metering -1/3 stop: 1/500 sec. at f/11.
Phogtographing from the bus was a big challenge. It seemed that whatever lens I had in my hand at a given moment was the wrong one...
TWO OPENINGS ON TANZANIA SAFARI
Due to a cancellation, we now have two openings on the JAN-FEB 2004 Tanzania Photo Safari that I am co-leading with Todd Gustafson. Todd and I were so thrilled with our 2003 Tanzania experience (Todd was born there to missionary parents) that we will be returning to Tanzania next year just a bit later. We will be arriving in Arusha on the evening of 1-28. We will then have 14 full and one half-day of photography with game drives every morning and every afternoon; there will be no wasted travel days. Though there are no guarantees, the dates overlap the typical wildebeest birthing dates, and there will be dozens of other wildlife subjects including elephants, zebras, giraffes, antelopes, predators, and a good variety of birds. The cost of this trip is $7000 (all inclusive except for dinner on the last day). We have first class accommodations all the way in two tented camps and both rustic (Ndutu) and luxury (Sopa Crater) lodges. Please e-mail immediately for additional details if you would like to join us for what will be a truly extraordinary experience. (Electricity available at all locations.)
Mount McKinley (Denali) from Talkeetna
Image copyright 2003 Arthur Morris/BIRDS AS ART
Canon 1Ds with 100-400mm IS zoom lens on tripod at 275mm. ISO 50. Evaluative Metering +1/3 stop: 1/50 sec. at f/22.
As far as seeing the mystical mountain, we were blessed. By the third day, pretty much nobody bothered looking at it though it was "out" virtually all of the time that we were there.
WELL KNOCK ME OVER WITH A FEATHER...
Tom Vezo, long time friend and skilled bird photographer has--after more than 30 years of using Nikon equipment--switched to Canon. He recently purchased two EOS 1V camera bodies, the 300mm f/2.8 L IS, the 500mm f/4 L IS, and the 600 mm f/4 L IS lenses among others.
I spoke to Tom recently about his decision and he mentioned that the primary reason for his switching was that with the Canon system he found the sp
eed and ease of initial autofocus acquisition (especially in low light) was far superior to Nikon's. He felt that Nikon AF had a problem finding middle-toned subjects against middle-toned backgrounds even in decent lighting conditions. "As far as AF is concerned, the Canon stuff blew Nikon away," he said, "No more of that AF searching and searching for a bird that's just sitting there." He was also incredibly impressed with the sharpness of the images produced with the 2XII teleconverters and the super-telephoto lenses. He also praised the ergonomics of the 1V.
I gave him the same tip that I give to everyone who purchases big Canon glass: "Don't drop it!"
Here is a list of the Nikon equipment that Tom has for sale:
Nikon Equipment for Sale; contact Tom Vezo at: tvezo@cox.net
Two (2) Nikon F5 Camera Bodies – one is in excellent condition (revamped by Nikon) including new grips and new DP-30 viewfinder- $1500.00– the other is in good to excellent condition and has not been used much.- $1200.00
Nikon 600mm f/4 AFS-D-II Lens - Excellent Condition one small rub mark from carrying with strap and a few small rub marks on hood. -$6500.00
Nikon 300MM f/2.8 AFS-D-II Lens - Excellent Condition with a few rub marks on hood. $3700.00
Nikon 80-400 mm VR Lens - Excellent Condition. -$1100.00
Nikon 80-200mm f/2.8 AF-S D Lens with HB-17 Hood - Excellent Condition.$1200.00
Nikon 200mm Macro – AF-D Lens with HN-30 Hood - Excellent Condition with a few rub marks. -$1100.00
Nikon 24-120mm Lens with HB11 Hood - Good Condition. -$400.00 –
Nikon 17-35mm 2.8 D Lens - Excellent Condition with HB-23 Hood.-$1100.00
Nikon TC-14E 1.4 Tele-converter Small Scratch in corner of lens does not affect photos. -$200.00
Nikon SB-25 Flash – Good Condition -$150.00
Quantum 1+ Battery with Cord that hooks directly into the SB-24 Flash – Good Condition -$125.00
Please contact Tom directly by e-mail as above. Thanks, and best of luck to Tom with his new toys...