WARBLER IPT TYPO CORRECTION
PHOTOSHOP WIZ/ETHICAL DILEMMA?
MORE IPT KUDOS
THANKSGIVING AT BOSQUE
Photo Theme: The versatile 28-135mm IS lens may often be the best tool, even for birds!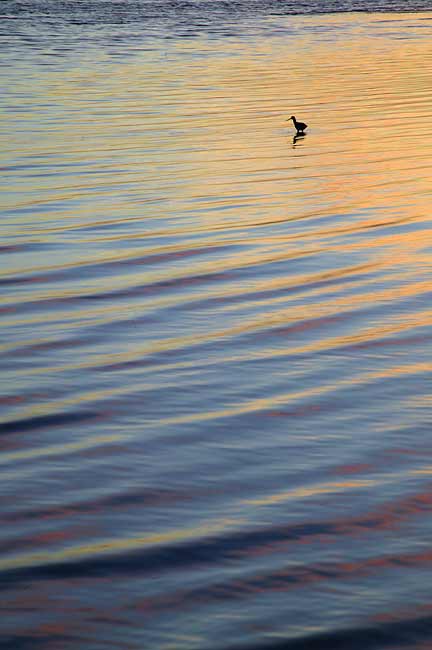 Willet at sunrise, Fort DeSoto Park, FL
Image copyright 2003 Arthur Morris/BIRDS AS ART
Canon EOS 1Ds with 28-135mm IS lens at 135mm (handheld). ISO 250. Evaluative metering +1 stop: 1/13 sec. at f/5.6.
In reality, good photographers make good images with whatever lenses they have in their hands at the time. Once in a while, I like to take a walk, as I did here at Ft. DeSoto in the pre-dawn, and see what I can do with a shorter focal length lens. When working with small in the frame subjects like this, it is usually best to tuck them well into one of the corners of the frame... It is easy to make sharp images while handholding this short IS lens at very slow shutter speeds. Some pros report success down to 1/2 second! Now that is IS!
WARBLER IPT TYPO CORRECTION
Here are the correct dates for the two new Warbler IPTs.
Pt. Pelee (Leamington, Ontario) Warbler IPT May 9-11, 2004. Limit 10. 3-DAY: $829 US funds) .
Magee Marsh/Crane Creek (Toledo, Ohio) IPT May 14-16, 2004. Limit 10. 3-DAY: $829.
To register, send a $200 check made out to "Arthur Morris" to PO Box 7245, Indian Lake Estates, FL 33855.
For additional IPT details & general information and for cancellation policies, visit:
http://www.birdsasart.com/tours.html
For additional Warbler IPT tales, visit: http://www.birdsasart.com/bn49.htm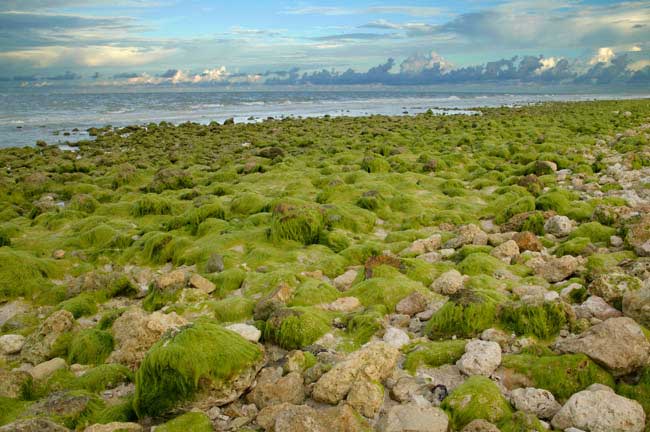 Seaweed-covered Rocks, Honeymoon Island State Park, FL.
Image copyright 2003 Arthur Morris/BIRDS AS ART
Canon EOS 1Ds, 28-135mm IS lens (at 30mm).
Evaluative metering -2/3 stop, set manually: 1/40 second at f/16 (handheld).

No birds? Try "SEAWEED AS ART"! This scene caught my eye on a Saturday but it was clear and sunny, so I returned the next morning when cloudy skies reduced the contrast. Note the placement of the large boulder in the lower left foreground (which serves as a compositional anchor). The sky and water were selected in PhotoShop and darkened in levels. (Proper exposure for the dark green seaweed left the sky washed out but not over-exposed in the original image.)
PHOTOSHOP WIZ/ETHICAL DILEMMA?
Commenting my Photoshop work on the Forster's Tern image in Bulletin 115, subscriber and friend Bill Hill wrote:
I can't resist this. I love the Tern photo and the explanation of the work that was done. When I read on page 15 of my favorite book : The Art of Bird Photography " the author says, " The same goes for those who dramatically
alter or create images on the computer....." Must be that guy that was going to be buried with his film camera.
Boy am I glad that we are not too old to learn new tricks. If you hadn't gone digital and learned more about photoshop, neither would I. Having a great time in this new era. Keep up the great work and get the next book out!
Best, Bill
Here is the sentence before the one quoted: "To my mind, those who photograph animals at zoos, raptor rehabilitation centers, or game farms) and then attempting to pass these images off as real (often, for example, by labeling them as "mountain lion, Montana"--Montana being the game farm location) are simply lying to the viewer.
Without going into full defensive mode, I wrote Bill and let him know that in the Forster's Tern image that I had neither dramatically altered the image nor created in on computer. To my mind, I simply enhanced the image that I had captured. When I submit the Forster's Tern image for publication, this enhancement will not be specifically noted, but I will include a more general note with my digital images stating that minor digital improvements have been made. To the casual viewer, the two images in Bulletin 115 would seem virtually indistinguishable, and the enhanced version is true to nature.
I am glad that I am not too old to learn new tricks. And while I am embracing the new technology and enjoying the world of digital photography, I do feel that I am still creating images that accurately represent what I saw in the viewfinder.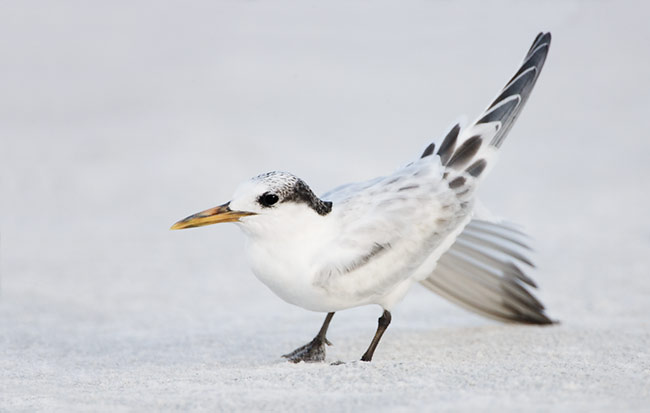 Sandwich Tern, Honeymoon Island State Park, FL
Image copyright 2003 Arthur Morris/BIRDS AS ART