HELP NEEDED DESPERATELY WITH LA PHOTO WEEKEND
WHICH CANON INTERMEDIATE TELEPHOTO LENS IS BEST?
SPACE COAST BIRDING & WILDLIFE FESTIVAL
THANKSGIVING AT BOSQUE/IPT UPDATE
TIM GREY'S AMAZING DDQ
Photo theme: images made with intermediate telephoto lenses.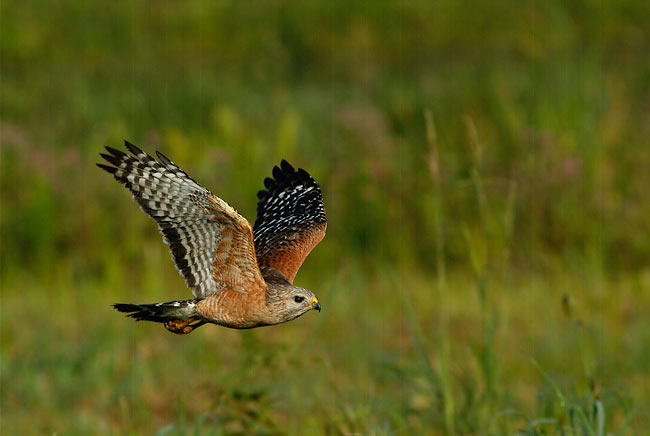 Red-shouldered Hawk, Indian Lake Estates, FL
Image copyright 2003 Arthur Morris/BIRDS AS ART
Canon EOS 1Ds with 300mm f/4 L IS lens (handheld). ISO 250.
Evaluative metering of grass -1/3 stop set manually: 1/1600 at f/5.6.
The bird was perched on a sign. By setting the exposure in manual mode I was OK whether the bird flew low against the field or up into the sky; the exposure for the bird would be correct (and I would not need to put in any exposure compensation). Set your exposures manually in situations where the background tonality is changing.
HELP NEEDED DESPERATELY WITH LA PHOTO WEEKEND
Camera, photo, and natural history club members who can help to promote the Saturday (November 1) "The Art of Nature Photography; It's Not Just Birds" Seminar and the Monday & Tuesday In-The-Field Workshops (Nov 3 & 4) via e-mail or the club web site may offer their groups a $10 discount for the seminar and a $25 discount on the ITF-Workshops (and Bulletin subscribers are invited to do the same). For registration and more info, visit:
http://www.birdsasart.com/laphotoweekend.htm
The Saturday Seminar is in Torrance and the ITF-Workshops will be at Bolsa Chica, so folks from San Diego can make a weekend of it by attending the LA Zoo Day on Sunday. (I will be doing an afternoon presentation there.) If you have any other ideas as to how to promote these events, please do call or e-mail.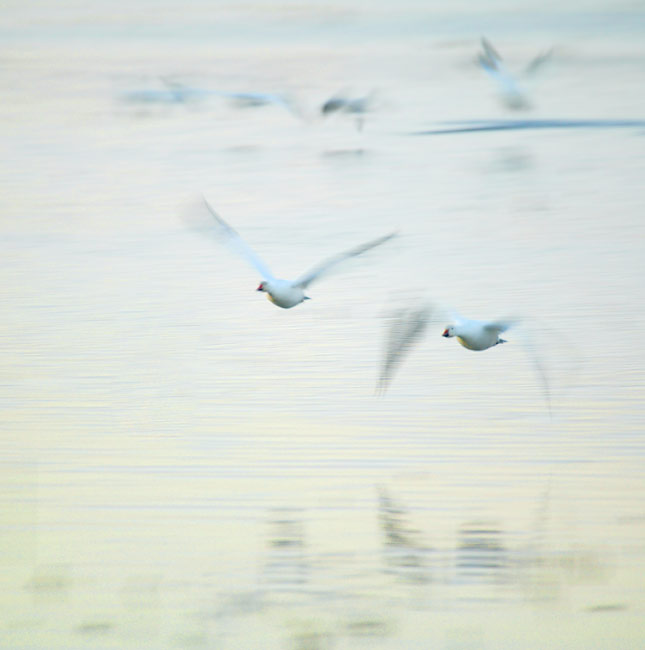 Snow Geese Leaving at Dawn... Bosque Del Apache NWR, NM
Image copyright 2003 Arthur Morris/BIRDS AS ART
Canon EOS 1Ds, 100-400mm ISO L lens at 400mm, handheld, IS 2 mode for panning.
ISO 100. Evaluative metering +1 2/3 stops set manually: 1/25 sec. at f/5.6

At Bosque the 1-4 has become my favorite lens. With the incredible variety of situations that await visiting photographers, the ability to frame at focal lengths ranging from 100 to 400mm is invaluable.
WHICH CANON INTERMEDIATE TELEPHOTO LENS IS BEST?
I get several e-mails each week from folks wanting to know which intermediate hand-holdable Canon telephoto lens is best for them... The truth is that I cannot possibly know which lens is best for them. They need to gather the facts, and then make a decision based on their needs... Here are the facts:
The Canon EF 400mm f/5.6 L (my old "toy lens") will give you great reach with the whatever camera you are using and is much lighter than the 100-400mm zoom. It has the greatest minimum focusing distance of the three which is not good for flowers and dragonflies but is actually an advantage when doing flight photography; initial focus acquisition is faster because the lens does not have to search as close to the camera as the other two (which have shorter MFDs) even with the lens on the far distance range setting (as it should be for flight photography). It is, in short, a great flight photography lens. When used with a digital camera like the 1d (1.3X multiplier effect) or a 10D (1.6X multiplier effect) it is even more deadly as a flight lens because with these effective focal lengths (520 and 640mm respectively) the birds speed relative to your position is slower, so it is easier to follow and track birds in flight. It is the sturdiest of the three lenses (as the IS units do fail on occasion...). It is not an Image Stabilized lens. On a tripod with the 1.4X II TC in place, this lens will--when used with good sharpness techniques--yield professionally sharp images on a consistent basis.

The Canon EF 100-400mm zoom is the heaviest and the slowest to acquire focus but is by far the most versatile with it's great zoom range. For folks who do general nature and other types of general photography (not just birds), this lens would seem to be the obvious choice. At places like Bosque Del Apache, or when on safari, this lens is invaluable. With an extension tube or two, it--like the 300mm f/4 L IS lens, makes a great quasi macro lens for large flowers, frogs, dragonflies, and the like. Add the 500D two-element diopter and you can be doing life-size plus! This lens is, however, not the sturdiest lens ever made; lots of folks including me have had problems with this lens (not only with the IS unit but with the zooming mechanism as well). Others have used their 1-4s for years without a single problem.
The 300 mm f/4 L IS lens is light and it has a great close focus and IS. As an f/4 lens it will focus faster than the two lens above as it lets in more light. With either the 1D or the 10D it is a deadly flight lens. (AF needs light to focus: the more light, the faster is focuses). It is probably a tad sharper than the 400 f/5.6 which in turn is probably a tad sharper than the 100-400... But the difference in sharpness would be readily apparent only to folks with an extremely critical eye (count me out...) Like the 1-4 zoom, it makes a great close-up lens with a variety of accessories (as above). In addition, as an f/4 lens, it will be more effective when used with the 1.4X teleconverter.
My good friend and student Rocky Sharwell owns (as I do) all three of these lenses. He recently told me that he wanted to sell one of the them, but just could not make up his mind because he uses each of them often as each excels in different situations. As for me, I am not selling any of them!
For more information on these three lenses, visit: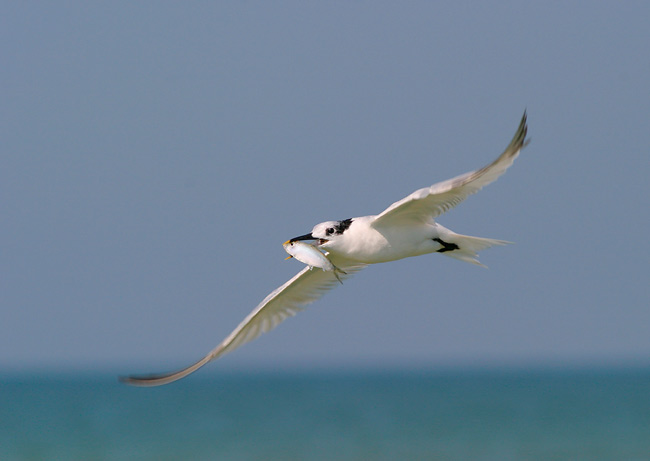 Sandwich Tern with baitfish, Fort DeSoto Park, FL
Image copyright 2003 Arthur Morris/BIRDS AS ART
Canon EOS 10D, 400mm f/5.6 L lens.
ISO 200. Evaluative metering -2/3 stop: 1/1000 at f/10.
The old 400 is still--IMHO--the best flight lens in the world. While the 400mm f/4 DO lens will focus faster, the far lighter weight of the "toy lens" makes it #1 for flight in my book. With a 10D body, the effective 640mm focal length gives you incredible reach and in addition, "slows down" the bird's speed relative to your position, making it easier to follow the birds in flight.
For info on the Fort DeSoto/Sarasota IPT (March 26-28, 2004) visit: http://www.birdsasart.com/tours.html and scroll down.
SPACE COAST BIRDING AND WILDLIFE FESTIVAL
I will be doing several programs for the Space Coast Birding and Wildlife Festival November 12-16 based in Titusville, FL. In fact, my only ever photography teacher, Milton Heiberg, and Joanne Williams, a friend and accomplished student of mine, will both be presenting and leading at the festival. Imagine, three student/teacher generations under one roof!
In addition there is a great cast of presenters and leaders including most notably Shorebird/Red Knot expert Brian Harrington, noted birders Kenn Kaufmann and Pete Dunne, and photographer Karen Hollingsworth plus dozens more--including lots of Florida experts--too numerous to mention! It will be hard to decide which programs and trips to attend...
.....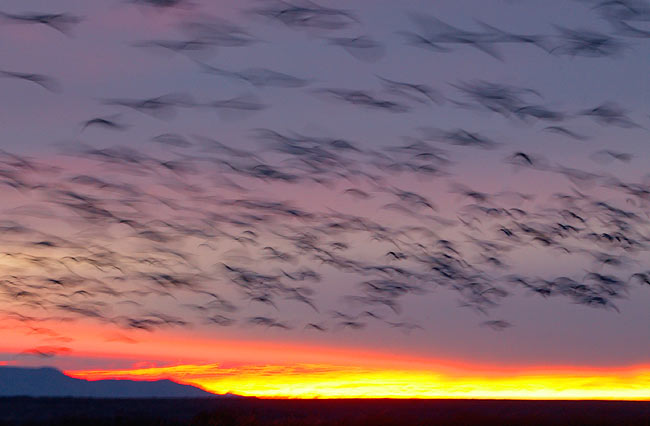 Snow Geese at dawn, Bosque Del Apache NWR, NM
Image copyright 2003 Arthur Morris/BIRDS AS ART
Canon EOS 1D, 100-400mm IS lens at 180mm (handheld).
ISO 800. Evaluative metering +2/3 stop: , set manually: 1/10 second at f/8.