NANPA 2004...
ON THE ROAD AGAIN
MORE ON INTERMEDIATE TELEPHOTOS; MISSED ONE?
IPT UPDATES
SHARPENING IMAGES
Photo theme: images made at Fort DeSoto Park south of St. Petersburg, FL.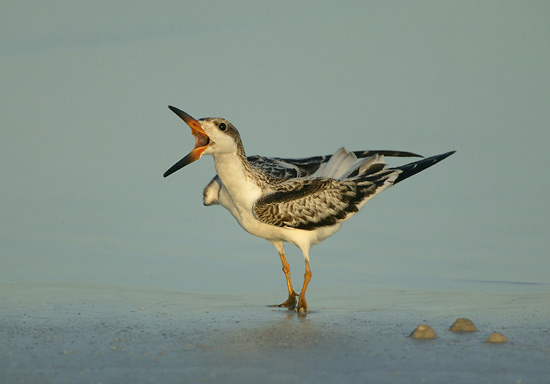 Black Skimmer begging juvenile, Fort DeSoto Park, FL
Image copyright 2003 Arthur Morris/BIRDS AS ART
Canon 500mm f/4 L IS lens with 2X II TC and EOS 1Ds camera body. ISO 400.
Evaluative metering +1/3 stop: 1/800 sec. at f/8.
Fort DeSoto is one of those rare, rare places where you have a chance to make some good bird photos virtually 365 days a year.
NANPA 2004
I am proud to announce that I have been invited to do a Breakout Presentation at the North American Nature Photography Association's 10th Anniversary Summit in Portland, OR (January 21-24.) The program will be entitled "Discovering Digital; Digital Discoveries." I was at NANPA's formative meeting in Jamestown, NY and have been to all but one of the annual meetings--I missed Las Vegas...
For more information on the Summit, visit:
http://view.exacttarget.com/?j=189510&l=77360_HTML&e=birdsasart@verizon.net
.....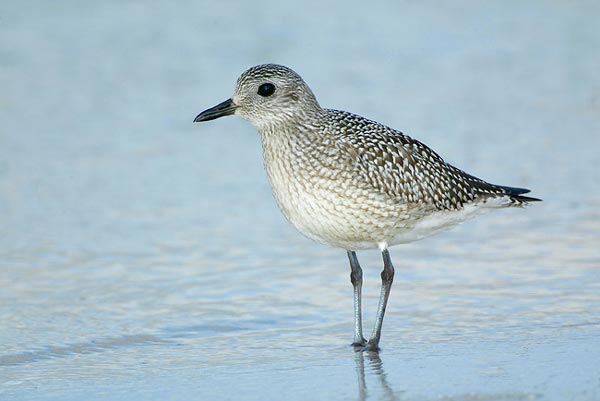 Black-bellied Plover, Fort DeSoto Park, FL
Image copyright 2003 Arthur Morris/BIRDS AS ART
Canon 500mm f/4 L IS lens with 2XII TC and EOS 1Ds camera body. ISO 200. Evalutaive metering at zero set manually: 1/500 sec. at f/8. Fill flash at -2/3.
I've always loved shorebirds, and enjoy studying the different plumages. This black-belly is in fairly fresh juvenal plumage, almost surely less than three months old. It was the first one that I'd seen in Florida. If you do not have a copy, most of you would enjoy shorebird book, "Beautiful Beachcombers." You can order signed copy off of the web site.
.....
ON THE ROAD AGAIN
I fly to Louisville, KY to photograph on my friend Neil Kaufman's farm for four days and then fly to Southern California for the LA Photo Weekend (NOV 1-4, 2003) For information, visit:
http://www.birdsasart.com/laphotoweekend.htm
As I will not be back in the office until NOV 7, I will be unable to respond to most e-mails until then. As always, Lois Smith will be hear to handle your mail order needs. Thanks, BTW, to all of our valuable customers; we sell only the things that I use on a daily basis, and our policy is to price everything that we carry as low or--in most cases--lower than it is available anywhere else...
MORE ON INTERMEDIATE TELEPHOTOS; MISSED ONE?
The following is paraphrased from and e-mail that I received from subscriber Ty Smedes:
Thanks for the write-up comparing the three Canon intermediate telephotos. All three have different characteristics and are a bit hard to compare. I think, however, that you missed the boat a bit here... I find the 35-350mm zoom to be the most versatile zoom lens around. Although not an IS lens, it is incredibly versatile. I have not used it for flight photography (although you could), and find that I use it for much of my non-nature stock photography as well as for a large share of my nature photography. This lens creates 1/4 life-size images at the 135mm setting, and I use it regularly with the 500D 2-element diopter to create close-up images. The 35mm wide-angle capability is invaluable, and I was especially happy to have this lens with me in Kenya & Tanzania (last January). The 35mm focal length let me stay with a large mammal even as it walked right by the vehicle. When the animal moved away, I used the longer focal lengths for head/shoulder portraits or frame-filling profiles ...
As you say...it all comes down to the needs of the individual photographer, but this is a great lens that many folks may want to evaluate ...
Just my two-cents worth.. :-)
Regards,
Ty
.....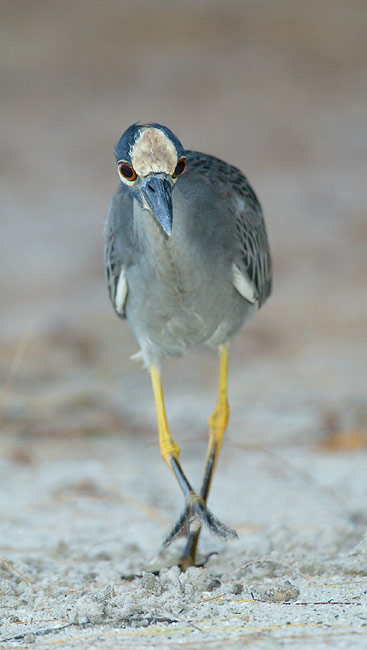 Yellow-crowned Night Heron, Fort DeSoto Park, FL
Image copyright 2003 Arthur Morris/BIRDS AS ART