SCARED, CONFUSED?
LEARNING THE BACKYARD SLOTS...
BLUE JAY B&B, LOUISVILLE, KY
Photo theme: images made at the home of Neil Kaufman of Louisville, KY.
View from the gazebo blind, Louisville, KY

Image copyright 2003 Arthur Morris/BIRDS AS ART
Go from left to right and try to visualize what the backgrounds will look like with a bird on each perch. Note that no perch merges another; wherever you point your camera you will be shooting down a clean slot.
Canon and EOS 1Ds and 28-135mm IS lens.
SCARED, CONFUSED?
I learned the basics of digital by helping a friend who had just bought a Canon EOS D-60. Even with this "head-start," I can remember being terribly frustrated by having to learn simple tasks involving downloading and converting images, file management, and the Photoshop basics. Along the way, I learned by asking those more knowledgeable than I: Ellen Anon, Tim Grey, Juan Pons, Gregory Georges, Matt Haggadorn, E.J. Peiker, and Greg Downing among others.
I have now written more than 30,000 words for "The Art of Bird Photography II," which I hope to self-publish in about 15 months. One of the strengths of the book will be the chapter on Digital Basics. Both the book and this chapter in particular, will detail the way that I do things. With digital that means Canon cameras, a Toshiba PC, Breezebrowser, and Photoshop.
As the publication of the book is at least 15 months in the future, and quite possibly well more than that, and the info is so valuable to beginning digital photographers, especially Canon/PC/Breezebrowser users, we are now offering a PDF file of the Digital Basics chapter for $20 (on-line delivery via e-mail only).
At present I have covered the following topics:
the advantages of digital photography, compact flash cards and re-formatting, downloading images to your laptop, file management (including creating folders and sub-folders and, the filing systems that we use here at BIRDS AS ART), viewing and editing images in Breezebrowser (two methods for editing quickly), the digital workflow including opening Breezebrowser images automatically in Photoshop, converting images from raw to tiff in Breezebrowser, cropping and cloning, Levels and Hue/Saturation adjustments in layers, correcting a colorcast, saving images, sharpening images, saving for web use, and sizing horizontal and vertical images in one step.
In addition, updated PDF files will be sent you as the chapter is further developed. To order your copy, send a check (made out to "Arthur Morris") or a Paypal (visit the web site and click on any Paypal link) for $20 and specify "Digital Basics PDF." You must include an e-mail address if sending a check. For those just getting started in digital photography this chapter will save you months of struggling; it will be the best $20 that you ever spent.
Blue Jay on bark perch
Image copyright 2003 Arthur Morris/BIRDS AS ART
Canon 500mm f/4 L IS lens with 2XII TC and EOS 1Ds camera body. ISO 500. Evaluative metering -1/3 stop set manually: 1/125 sec. at f/14. Fill flash with Bette Beamer at -2/3.
When using the 2X at point blank range it is important to maximize depth-of-field as D-O-F decreases as camera to subject distance decreases...
.....
LEARNING THE BACKYARD SLOTS
I flew to Louisville, KY to photograph Blue Jays at my friend Neil Kaufman's home last month. I taught Neil a lot and learned a lot as well. Neil and his wife Sharon were most generous hosts. When I arrived Neil had about a zillion really ugly perches set up and the whole feeding station was a cluttered mess. We spent a few hours walking in the woods and found a few perches with some character.
After taking down just about every one of Neil's perches I put up a few select ones, being careful to place each perch in front of a pleasing, distant background and making sure that none of the perches merged with each other, thus teaching Neil the principle of "shooting down the slots. " By utilizing only a very few attractive perches you increase your chances of making great images: in a perfect backyard set-up, you will have a good chance each and every time that a bird lands! You will need to work hard by eliminating the lousy landing spots...
Study the bird photographs made from inside Neil's gazebo blind and see if you are able to figure out which perch is depicted in the image. By doing so, you will come to understand the principle of "shooting down the slot" and will be able to make your backyard or feeder set-up "a better place to be." (Apologies to the late Harry Chapin.)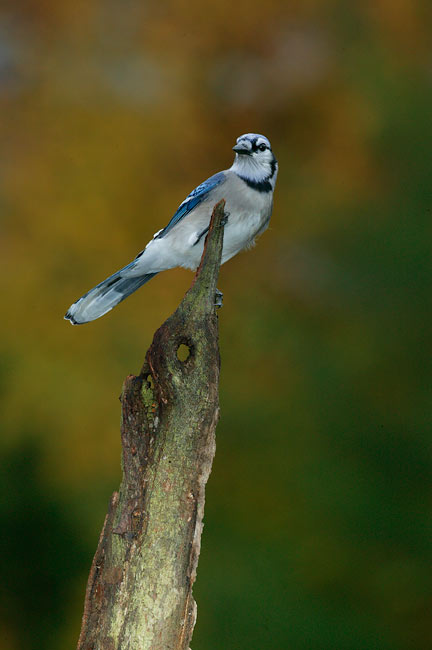 Blue Jay against fall colors
Image copyright 2003 Arthur Morris/BIRDS AS ART
Canon 1Ds with 500mm f/4 L IS lens. ISO 400. Evaluative metering -1/3 stop set manually: 1/160 sec. at f/11. Fill flash at -2/3 stop with Better Beamer. (45 point AF in AI Servo mode)


This perch was carefully positioned to yield a pleasing background; just out of frame-left was a neighbor's white fence in the distance...
BLUE JAY B&B
Neil Kaufman is opening his home to bird photographers who wish to photograph Blue Jays in his back yard or mallards and other ducks (later on in the season) from the two blinds on his pond. In addition to the Blue Jay there may be Sharp-shinned Hawk, Northern Cardinal, American Goldfinch, Tufted Titmouse, and several woodpecker species among others. White-throated Sparrows and several additional species will be present during the colder months. The big negative is that if you get a clear sunny morning the jays will be directly backlit... Using flash at zero in this case may yield some nice rim-lit images.
Here are the rates
Full day of photography: $75
Morning of photography: $40
Luxury lodging with private bath and three meals (dinner,breakfast, and lunch): $100
Contact Neil via his cell phone (leave a message if no answer): 502-741-9568
Neil is also offering similar opportunities to photograph ducks (from hunting blinds) on his farm in western Kentucky... His "wildlife refuge" farm attracts more ducks than any other location in western KY and his censused twice weekly by the KY fish and game folks by aircraft! Contact Neil as above for details on the duck photography.
.....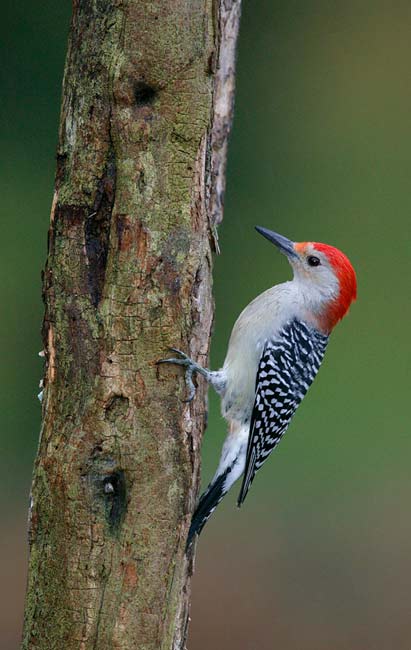 Red-bellied Woodpecker
Image copyright 2003 Arthur Morris/BIRDS AS ART