TANZANIA PHOTO SAFARI REPORT
KENYA PHOTO SAFARI AUGUST 2004; JOIN US!
SW FLA 5-DAY IPT
IPT UPDATES
HUNT'S SPECIALS
Photo Theme: my favorite images from the Gustaphoto/BIRDS AS ART Tanzania Safari. Note: all images were made using Auto White Balance.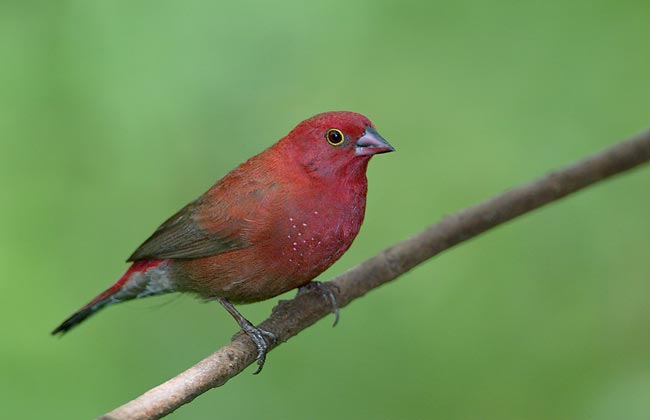 African Firefinch, male. Kirirumu Camp, Tanzania
Image copyright 2004 Arthur Morris/BIRDS AS ART
Canon EF 500mm f/4 L IS lens with 2X II TC and Canon EOS 1D digital camera. ISO 400. Evaluative metering - 1/3 stop: 1/160 sec. at f/11. Fill flash with Better Beamer at -2/3 stops.
Being prepared is alway essential, but more so on safari. I set up my rig as we exited the van and then I headed to lunch early. It was sunny and hot and birds streamed into the water bath right next to the veranda. I made dozens of wonderful images within minutes. Soon thereafter, it clouded over and the parade of birds came to a screeching halt...
TANZANIA PHOTO SAFARI REPORT
Ten photographers joined Todd Gustafson and I for what turned out to be an incredible experience. The Kreug's, traveling from Canada, were delayed by -40 degree temperatures, missed the flight to Amsterdam, and caught up with us after our first morning at Arusha National Park. George Smiley had the most frustrating travel problem--after hours waiting to be de-iced and re-de-iced in DC, he made it to Amsterdam in time to watch our plane pull away from the gate and then sit just 100 feet away waiting to be--you guessed it--de-iced. He begged and pleaded with the KLM folks but they would not bring the plane back to the gate and allow him to board. He wound up missing 1 1/2 days of the Safari and caught up with us at Kirirumu Camp above Manyara National Park. I am now two for two at Manyara in finding a female lion posing in an attractive bare tree!
George and Brutus Oostling from Sweden spent most of the trip in search of birds to photograph. George was often heard saying things like, "What, another black-maned male lion!" and "Who cares if the three cheetah brothers are killing an adult Wildebeest; let's go look for the Winding Cisticola." Dawn Douglas now of California made a great image of two young cheetahs chasing the Reedbuck that had just jumped over their heads! Wes and Patti Ardoin from Louisiana were besides themselves with happiness for the entire trip. Wes made many great images including one of a fight between a male and female lion. We believe that the fight was a result of the male lion being unable to perform and refusing to take his Viagra... Patti photographed all of her target species. She would wish for a subject, and it would appear magically beside the van; she proved to be a great person to ride with! Jim Urbach of Longwood Florida helped us out most days as a van leader; communication with the drivers is of utmost importance. Todd's friend's Mike made lots of great images and his buddy Tom from St. Louis (the only all-film shooter on the tour) and I spent hours of riding time discussing the state of the world and our lives. I hope to share some of the great images made by the participants in an upcoming Bulletin. Todd made so many great images each day that at times I felt totally incompetent and often bordered on giving up photography completely... I shall feature an on-line gallery of Toddi's stuff soon so that you too might consider doing the same..
Our ten days at Ndutu and Ngorongoro Crater were--as expected--spectacular. We had lion kills, baby cheetahs, Black Rhinos, baby lions (well, some of us did...), several almost-mating lions, young giraffes, adult lions, several large Elands, a group of 80 young Ostriches, displaying bustards of several species, lots of Grey-crowned Cranes, nursing Grant's gazelles, a zebra birth, many newborn Wildebeests, dozens of great bird species, hippo families on land, an incredible Egyptian Goose battle, and so much more that it strains the memory. For me, the most moving morning was on the plains at Ndutu where we came across a zebra mare that had died minutes before during labor. Her stallion stayed with her for hours trying to keep the vultures and hyenas at bay, kissing and nuzzling her all the while, refusing to accept her death. (Needless to say I identified with the mourning male zebra who had lost his spouse.) We photographed the scene for more than three hours. At times, there were so many vultures on the carcass that you could not see a trace of the zebra. I captured an image of a single hyena ripping the tiny blood-soaked foal from the mothers body and several of two hyenas engaged in a tug-of-war with various baby zebra body parts. I shall post a photo essay on this topic soon.
All in all the trip was a huge success despite the exhaustive rigors of international travel; my trip home took 37 hours door-to-door.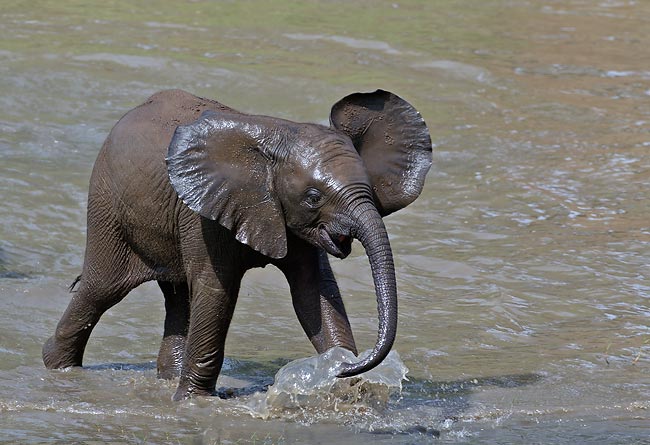 African Elephant, baby emerging from river, Terenegire National Park, Tanzania
Image copyright 2004 Arthur Morris/BIRDS AS ART
Canon EF 500mm f/4 L IS lens with Canon EOS 1D digital camera. ISO 100. Evaluative metering - 1/3 stop: 1/250 sec. at f/8.
My van was in the wrong spot (there was a small crowd) to photograph the bathing elephants but in the right spot to make this image of the happy youngster apres bath...
KENYA PHOTO SAFARI AUGUST 2004; JOIN US!
To see a spectacular portfolio of co-leader Todd Gustafson's Kenya images, click HERE. If you are interested in joining us, do get in touch as we are considering some small date and itinerary changes.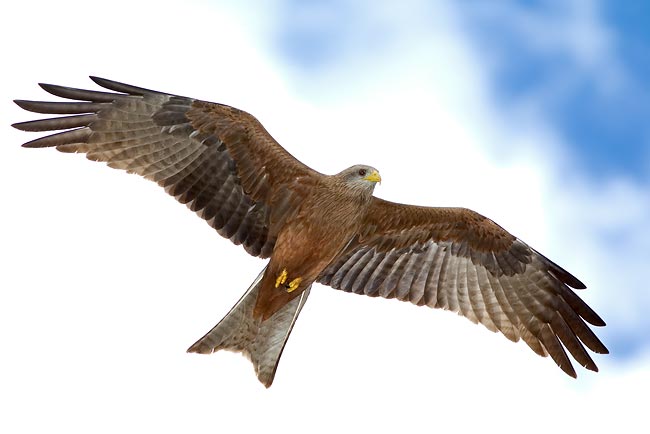 Yellow-billed Kite, Ngorongoro Crater, Tanzania
Image copyright 2004 Arthur Morris/BIRDS AS ART
Canon EF 300mm f/4 L IS lens with Canon EOS 1D digital camera. ISO 100. Evaluative metering +1 1/3 stops: 1 /500 sec. at f/7.1. Flash effectively as main light at 0 with Better Beamer.
This bold bird had just stolen a corn muffin that I was putting in my mouth while sitting between two drivers in the shade of our van! As regular readers know, I just love the flash-flight technique with digital.
SW FLA 5-DAY IPT
Though this IPT is effectively sold out, we do have room for one or two local or visiting folks who wish to join us only for the weekend (FEB 28 & 29) as two folks are leaving the tour early. The fee for the two days of In-the-Field instruction with the group would be $499. Please e-mail immediately if you would like to join us or if you require more information.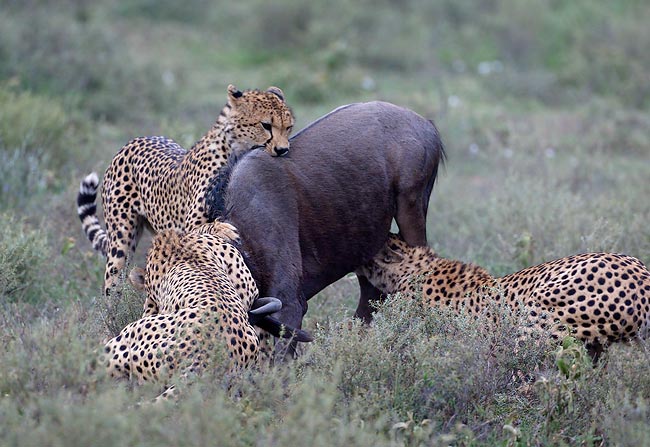 Cheetahs killing adult Wildebeest, Ndutu, Tanzania
Image copyright 2004 Arthur Morris/BIRDS AS ART
Canon EF 500mm f/4 L IS lens with EOS 1D digital camera. ISO 400. Evaluative metering: 1 /160 sec. at f/5.6.
Todd spotted the hunting Cheetah brothers from miles away and made sure that all of our vans were in perfect position. Talk about not breathing...
IPT UPDATES
Due to a cancellation, the Fort DeSoto/Sarasota, FL IPT: 3-DAY MAR 26-28, 2004 has two slots open.
The following tours have lots of room:
St. Augustine Alligator Farm, FL-- 3-DAY: APR 23-25, 2004.
Point Pelee Warblers--3-DAY MAY 9-11, 2004
Magee Marsh, Toledo, OH. Warblers--3-DAY: MAY 14-16, 2004
Bosque Del Apache NWR, NM. Geese and cranes. 3-day IPTs, NOV 21-23 and NOV 27-29. 2004: $849. Ellen Anon will be co-leading both of these trips with me. (Limit: 14) Note: several folks have already signed up for Bosque 2004!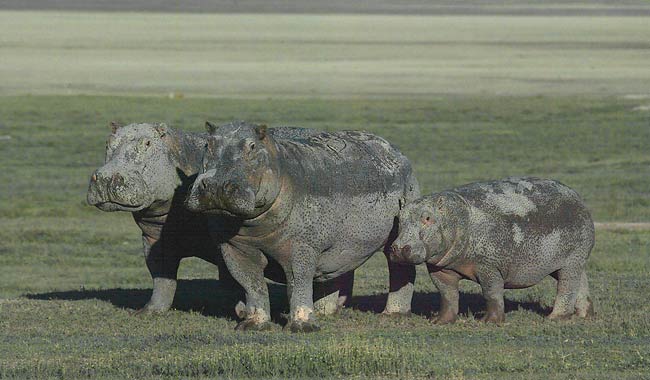 Hippo Family Portrait, Ngorongoro Crater, Tanzania
Image copyright 2004 Arthur Morris/BIRDS AS ART
Canon EF 100-400mm IS L zoom lens at 320mm with EOS 1D digital camera. ISO 250. Evaluative metering -3 stops!: 1 /5000 sec. at f/10.
Our driver, Baldwin, spotted this "large" family running in a river bed. We sped ahead and lucked out when they came up onto the plain. We had been photographing a Thompson's Gazelle in silhouette against a very bright sun and I had forgotten to re-set my compensation dial. As we slowed to a halt, I called out, get your 100-400s! I made three images as the family posed perfectly, only to look at the LCD and see the 3 stops of underexposure. The family stopped several more times for us, but always with poppa hippo hiding behind momma. I converted the image 1 1/3 stops lighter and then fine-tuned it using levels and Shadow/Highlight adjustments. I was thrilled that I was able to save the image.
HUNT'S SPECIALS
Canon EOS 10D. Ask for Birds as Art Subscriber's Price.
Canon EOS 1D Mark II: $4500. Hunt's will be getting small shipments in March and a heavy shipment in the month of April, May and June. Email Gary if your interested in getting on the list.
New lenses: Canon EF 70-300mm DO IS and EF 28-300mm L IS. Contact for prices and more information.
Ask about Hunt's competitive prices on all Canon products including long lenses.
Pecpads and Sensor-cleaning fluid can be ordered on-line at
www.wbhunt.com
Call for price on Epson inks and papers and 7600 and 9600 printers. Epson will drop-ship printers to you for no extra charge.
Ask about prices on the new Nikon and Epson scanners. Free ground shipping scanners.
Velvia 100-36 USA: $5.49/roll in 20 packs.
Velvia 50-36 USA (8/04 dating): $2.69/roll
Provia F 100-36 USA (4/04 dating): $2.99/roll (Order 60+ rolls: $2.79/roll)
Fuji mailers: $3.75
Contact Gary Farber at 1-800-221-1830 ext 2332 or John Duggan at 2314 or email Gary at
filmguygary@aol.com
.
Be sure to ask for an exact quote on shipping charges: we will not rip you off on shipping charges.
Best and great picture making to all,
Artie