SW FLORIDA IPT REPORT
OPENING ON THE NOME IPT
KENYA PHOTO SAFARI AUGUST 2004
REVISED ITINERARY/REDUCED PRICE
IPT UPDATES
HUNT'S SPECIALS
Photo Theme: my favorite images from the recent SW FLORIDA IPT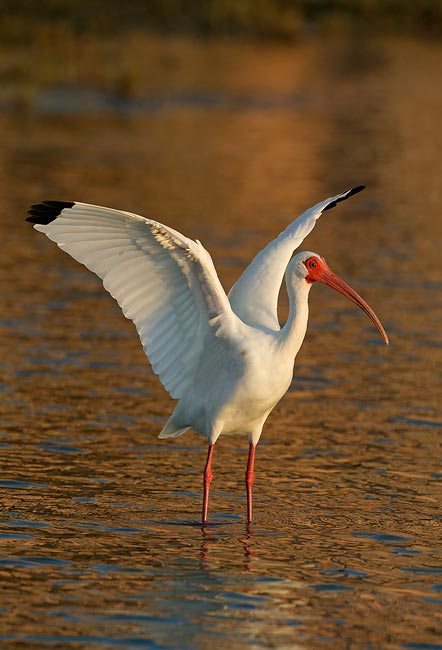 White Ibis, Little Estero Lagoon, Fort Myers Beach, FL
Image copyright 2004 Arthur Morris/BIRDS AS ART
Canon EF 500m f/4 L IS lens with Canon EOS 1Ds digital camera. ISO 250
Evaluative metering at zero: 1/320 sec. at f/8.
It was almost comical; this bird kept raising its wings and holding them above his head for several second for more than 10 minutes with most of the group gathered around him. He stood, of course, in the only section of the lagoon that was still lit by the setting sun.
SW FLORIDA IPT REPORT
Fourteen photographers joined Ellen Anon and me for five days of bird photography and learning... Ooops, make that four days of bird photography and five days of learning: at about 8am on our first morning we were hit by a monsoon of a thunderstorm. I tried doing some teaching on the laptop while hiding under bridge at Blind Pass but with the fierce winds blowing the rain sideways and the huge temperature drop, we soon headed back to the LaQuinta Inn and got most of our evening slide show work out of the way.
Days two and three were OK, and days four and five were magical (sorry Hal and Barb...). We had fair chances on spoonbills at Ding Darling one morning followed by a point-blank Great Egret feeding spree. The Venice Rookery was pretty good with lots of flight opportunities, and our boat trip with Marian Schneider of Grande Tours (http://www.grandetours.com/photography.htm) that afternoon was thrilling in spite of the clouds. There was a huge fly-in of White Ibises and Snowy Egrets. The birds would sporadically burst into flight as they settled onto the dredge spoils island where they roost. Todd Gustafson spent the day (and the next morning) with us and made magic as usual.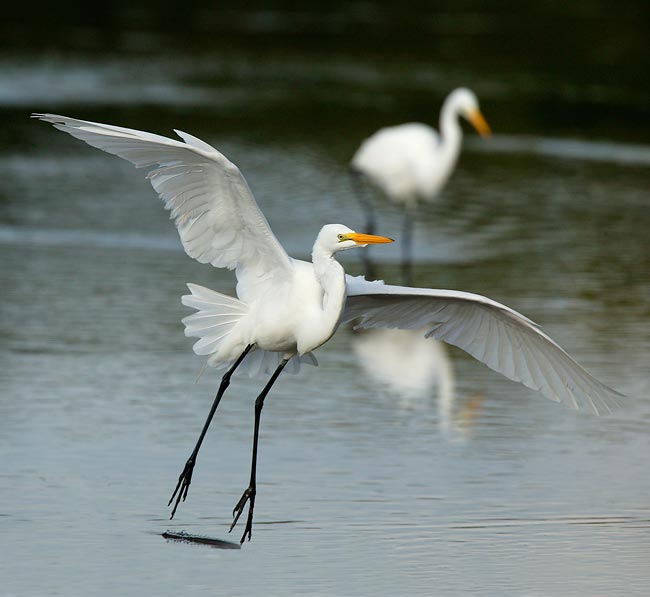 Great Egret, Ding Darling NWR, Sanibel, FL
Image copyright 2004 Arthur Morris/BIRDS AS ART
Canon EF 500m f/4 L IS lens with 1.4X II TC and Canon EOS 1Ds digital camera. ISO 250. Evaluative metering +2/3 stop off of the light-blue water set manually: 1/1250 sec. at f/8.
As the birds flew in, the background would change from dark black water to light blue water so I advised everyone to set their exposures manually once they figured the correct exposure for the white bird so that the background would not influence the exposures.
Blind Pass shone on Sunday morning as there were lots of fisherman and pelicans as well as the ever-present, totally pet-able Great Blue Heron. The fishing pier was spectacular on Sunday afternoon as the clouds saved us in the usually difficult wind-against-sun conditions with Snowy Egrets fighting in mid-air almost continuously...
A new cut has opened at Estero Lagoon and totally rejuvenated the ecosystem. There were lots of birds including some fairly approachable American Oystercatchers. We finished off the day with the remarkable ibis featured at the beginning of this bulletin. We received many compliments as to the level of instruction that we provided while at the same time receiving the usual complaints: "there are too many birds and they are too close!, I do not know if I can survive this grueling schedule, I'm running out of flash cards, and the portions in this restaurant are too large!"
OPENING ON NOME IPT
Due to a cancellation, there is now a single opening on the Nome, Alaska IPT
NOME, ALASKA, JUNE 2004.
JUNE 11-20, 2004 10-DAY IPT: $3500 (includes ground transportation and all food and snacks)
RED-THROATED LOON, TUNDRA SWAN, LONG-TAILED DUCK, GYRFALCON, ROUGH-LEGGED HAWK, COMMON RAVEN, LONG-TAILED & PARASITIC JAEGER, ARCTIC & ALEUTIAN TERN, MEW GULL, BLACK-LEGGED KITTIWAKE, BAR-TAILED GODWIT, PACIFIC & AMERICAN GOLDEN-PLOVER, BLACK-BELLIED PLOVER, DUNLIN, SEMIPALMATED, WESTERN, AND LEAST SANDPIPER, WILLOW & ROCK PTARMIGAN, LAPLAND LONGSPUR, COMMON AND HOARY REDPOLL, ARCTIC WARBLER, SIBERIAN RARITIES POSSIBLE. MUSK OX.
Click here to see some Nome images: http://www.birdsasart.com/bn107.htm
It would be best to E-mail immediately if you are seriously interested in this IPT as this slot will be filled very soon.
Snowy Egrets fighting, Sanibel, FL
Image copyright 2004 Arthur Morris/BIRDS AS ART
Handheld Canon EF 100-400mm IS L zoom lens with Canon EOS 10D digital camera. ISO 200. Evaluative metering +1 1/3 stop: 1/1000 sec. at f/5.0.
With the wind against sun conditions we were able to make some nice images that would not have been possible on a blue sky day (when we would have been looking directly into the sun...
KENYA PHOTO SAFARI AUGUST 2004
REVISED ITINERARY/REDUCED PRICE
August 24-Sept 7, 2004--15 days on the ground on safari: $6500/person ($200 discount off the second registration for couples. Single supplement: $1200.) Airfare not included.
Participants need to be in Nairobi at 9am on Tuesday 24 AUG.
Lake Naivasha Country Club, Lake Nakuru, Samburu, & Maasai Mara.
To see a spectacular portfolio of co-leader Todd Gustafson's Kenya images, click HERE.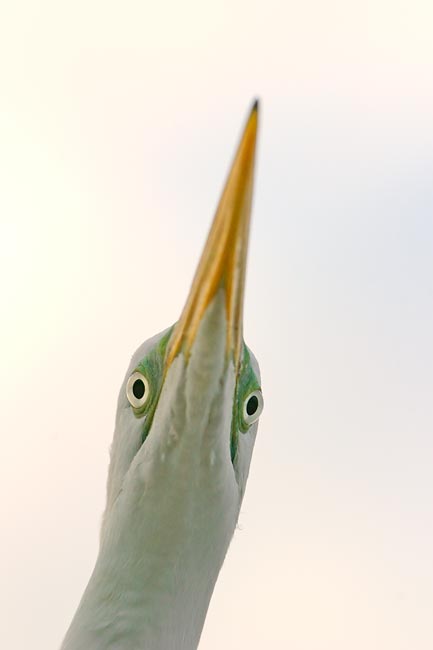 Great Egret, Sanibel Fishing Pier, Sanibel, FL
Image copyright 2004 Arthur Morris/BIRDS AS ART
Canon EF 100-400 IS L zoom lens at 400mm with the Canon EOS 10D digital camera. ISO 400. Evaluative metering at + 12/3 set manually: 1/200 sec. at f/10.
I had visualized an image like this for years. The cloudy day kept contrast down and the 10D's multiplier effect and the close-focusing capabilities of the 1-4 zoom gave me magnification that I needed. After sharing this image with the group on the camera's LCD display, most of the folks laid down flat on their backs on the pier (in with the fish blood) to photograph the egrets that were sitting on the railing from below. For some reason working at the fishing pier has always inspired me to expand my creative vision...
.....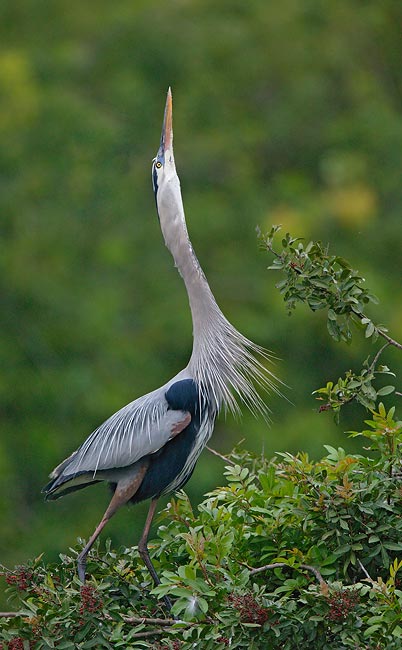 Great Blue Heron displaying, Venice Rookery, FL
Image copyright 2004 Arthur Morris/BIRDS AS ART
Canon EF 500mm f/4 L IS lens with 1.4X II TC and EOS 1Ds digital camera. ISO 400. Evaluative metering -2/3 stop: 1 /400 sec. at f/6.3.
This guy was displaying for nearly an hour. I teach folks to work against distant backgrounds at Venice to produce a cleaner look to their images.
IPT UPDATES
The Fort DeSoto/Sarasota, FL IPT: 3-DAY ($829) MAR 26-28, 2004 has one slot left.
The St. Augustine Alligator Farm, FL IPT: 3-DAY ($829) APR 23-25, 2004 has nine openings.
The Point Pelee Warbler IPT: 3-DAY ($829) MAY 9-11, 2004 has six openings.
The Magee Marsh, Toledo, OH Warbler IPT: 3-DAY ($829) MAY 14-16, 2004 is wide open.
Bosque Del Apache NWR, NM. Geese and cranes. 3-day IPTs ($849) NOV 21-23 and NOV 27-29. 2004. Ellen Anon will be co-leading both of these trips with me. (Limit: 14) Both of these IPTs are beginning to fill.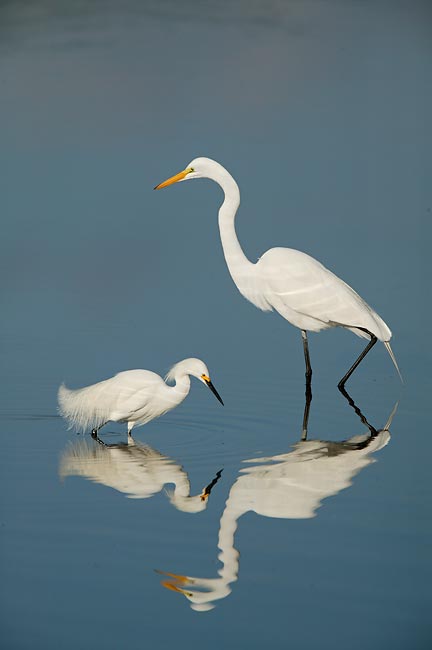 Great & Snowy Egrets foraging, Ding Darling NWR, FL
Image copyright 2004 Arthur Morris/BIRDS AS ART
Canon EF 500mm f/4 L IS lens with 1.4X II TC and EOS 1Ds digital camera. ISO 400. Evaluative metering -2/3 stop: 1 /400 sec. at f/6.3.
Sometimes an image exists in the viewfinder for only an instant. Having chosen AFPS (all 45 AF points active) here really helped.
HUNT'S SPECIALS
Canon EOS 1D Mark II: $4500. The official shipping date is believed to be April 4th. If you would like to order one from Hunt's, e-mail Gary your name, shipping address, and phone number and you will be added to the wait list. Credit cards will not be billed until the order is shipped. Delivery time for folks ordering now would be in about a month or so. There is free shipping for BIRDS AS ART subscribers.
Gary is also taking orders on the Epson 4000 printer at $1799.99 with free shipping. Credit card will not be billed until the order has been shipped.
Epson 2200 printer: $639.99
2200 inks: $9.49
Short-dated Velvia 50 (9/04 dating) USA $2.69/roll
Provia F 100-36: $2.69/roll for 60+ rolls (4/04 dating) USA
Call or e-mail for Canon lens prices.
Contact Gary Farber at 1-800-221-1830 ext 2332 or John Duggan at 2314 or email Gary at
filmguygary@aol.com
.
Be sure to ask for an exact quote on shipping charges.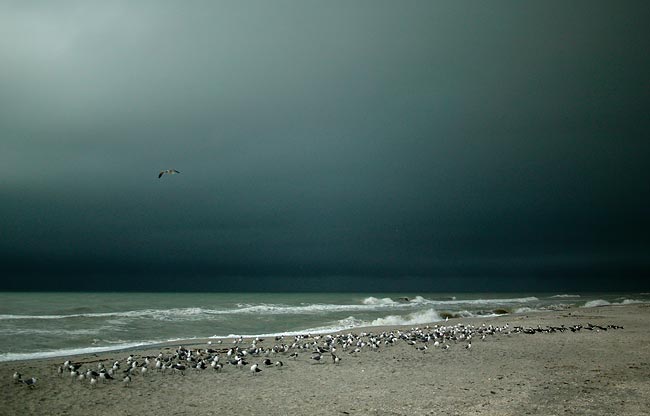 Image copyright 2004 Arthur Morris/BIRDS AS ART
Gulls and terns with storm cloud, Blind Pass, Captiva Island, FL
Canon 28-135mm IS zoom lens at 38mm with Canon EOS 1Ds digital camera body. ISO 400. Evaluative metering -2/3 stop: 1/500 sec. at f/4.
When I said monsoon, I was not kidding. Most of the group was laying in the sand but photographing individual birds. I had been late getting down to the beach and when I arrived I yelled out, "The picture is the big black cloud!" I strive to keep the 28-135 IS lens in my vest at all times. Whenever I forget it, I regret it!