NEW ADDITIONS TO MY LIBRARY
FORT DESOTO PERSONALIZED INSTRUCTIONAL SLOT OPEN FOR THIS WEEKEND...
AF FUNCTION WITH VARIOUS CANON LENSES and TELECONVERTERS
UPDATE: THE KENYA PHOTO SAFARI, AUGUST 2004
IPT UPDATES
ANNOUNCING THREE NEW IPTs
Photo Theme: favorite images from the recent SW FLORIDA IPT + one from Niagara Falls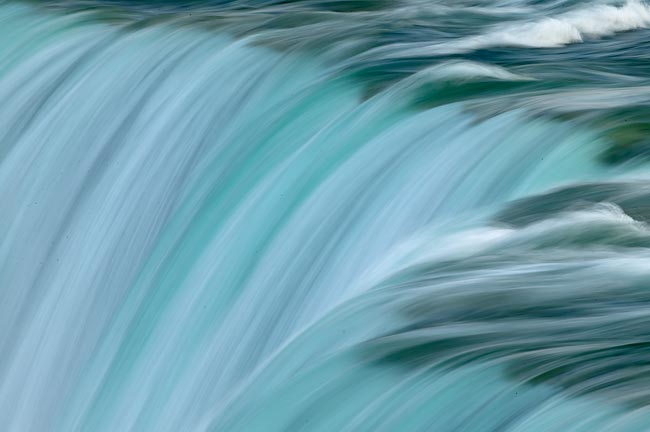 Falls falling... Niagara Falls, Canada
Image copyright 2004 Arthur Morris/BIRDS AS ART
Canon EF 500m f/4 L IS lens with Canon EOS 1Ds digital camera. ISO 50
Evaluative metering +1 stop: 1/5 sec. at f/16.
This past weekend, I spoke at the NFRCC annual meeting. When I mentioned to a colleague of mine (who happens to be Canadian) that I had been having fun photographing the falls in the cloudy conditions, he stated that he had often photographed the falls in a variety of "better" lighting conditions and had, therefore, left his gear home. When I showed him this image, he said, "Ooooooh, my, my. That is very nice." This image was inspired in part by images from Brenda Tharp's book (see below).
NEW ADDITIONS TO MY LIBRARY
Looking for the Summer
, Jim Brandenburg. In this sequel to
Chased by the Light
, Jim presents a single selected image for each of the 94 days of summer. Each photograph was created with a Nikon digital camera in his beloved northern Minnesota wilderness. In "The Stories" section of the book, the reader gains an insight into the mind of a nature photographer widely recognized as one of if not the most creative folks around as he discusses the creation of each image. Among the many outstanding images, the Day 13 blueberry is my favorite. Do know that I have idolized Jim since the day that I first met him at the NANPA Summit in San Diego... (
www.jimbrandenburg.com
)
Mastering Digital Photography and Imaging, Peter Burian. Hot off the press, Peter's new book is the perfect reference for folks either considering switching to or just getting started in Digital Photography. The book is divided into three sections, Essential Digital Imaging Equipment, Capture, and Optimizing Images. Each chapter is chock full of helpful tips and suggestions. Just about every digital-related topic under the sun is covered, and covered well. Peter's explanations of technical matters are easily understood because of his clear concise writing style. The text is amply illustrated with Peter's fine images and many well-chosen screen-captures. Do know that Peter is a good friend who has made a career evaluating new camera equipment for many prominent publications and is also the co-author of the popular National Geographic Photography Field Guide.
National Audubon Society Guide to Nature Photography (Revised Edition),
Tim Fitzharris. This attractive soft cover book is loaded with countless how-to and where-to tips from one of today's top nature photographers. From the sneering buffalo on the front cover to the beautiful image of blurred flamingoes on the back cover, this volume is lavishly illustrated with Tim's wonderful photographs, photographs that depict a wide variety of natural history subjects. Though my favorite is the black bear with the salmon on page 69 (in the Exposure section), it is Tim's landscape images that are the strength of the book. The text is an easy read all the way and Tim's engaging style allows you to enjoy the material while learning a ton. Do know that Tim is a dear friend and a prolific author and self-publisher who frequently photographs on extended trips made with his wife Joy and their two children. (
www.timfitzharris.com
)
Digital Photography
, Tim Grey, Sean Duggan, and Katrin Eismann. The clover blurb reads, "Industrial Strength Digital Photography Techniques" and they have pretty much hit the nail on the head... This book is laid out in four sections, Digital Photography Essentials, Digital Photography Techniques, the Digital Darkroom, and Output, Manage, and Present." The number of concepts presented here is simply staggering, and you will find that the nuts and bolts advice on topics such as Photoshop Preferences and Color Settings and Monitor Profiling to be invaluable. The section on Photoshop techniques is well written, easy to follow, and well-illustrated by dozens and dozens of explanatory screen-captures. Do know that my dear friend Tim Grey is known to many (by way of his DDQ--Daily Digital Questions e-newsletter--be sure to subscribe) as digital guru to the world! (
http://www.timgrey.com/
)
At the Pulse of Life
, Fritz Polking. The incredible images in this book will blow most anyone away. The collection reflects a lifetime of hard work and dedication to craft matched by few if any contemporary nature photographers. Fritz writes about each image (the text appears in both German and English) in an engaging style and if you have ever met him, you can actually detect the glint in his eyes while reading his words. The text is so personal that you will feel as if you were there right beside him as he created each image. The chosen images show nature as reality, many feature life and death struggles while others convey feelings of tenderness, love, and affection. To choose a single image as a favorite would prove a hopeless chore for most folks... Many of the African photos are especially powerful as are those in the Osprey section, but you will find a gem or two with just about every turn of the page. This, his 24th book, may be the best by far. Do know that Fritz is a dear friend who cracks me up each time that we meet by bowing to me... (
www.poelking.com
)
Creative Outdoor and Nature Photography
, Brenda Tharp. This book is ideal for all photographers who wish to heighten their creative vision. Among the 12 well-written chapters are three that are particularly informative and inspiring: Learning to See, Expressive Techniques, and Artistic Interpretations (which contains some great tips on panning with stills). There are many strong and graphically designed images in the book. River Abstract (pg. 101) and Merced River (page 117), both of which feature water as the subject, are my very favorite photographs in the book. I have always maintained that seeing as many good images as possible is the best way to improve your photography and this book makes that easy to do. Do know that Brenda is a good friend and colleague and is well-respected as one of the top general nature photography instructors around today. (
www.brendatharp.com
)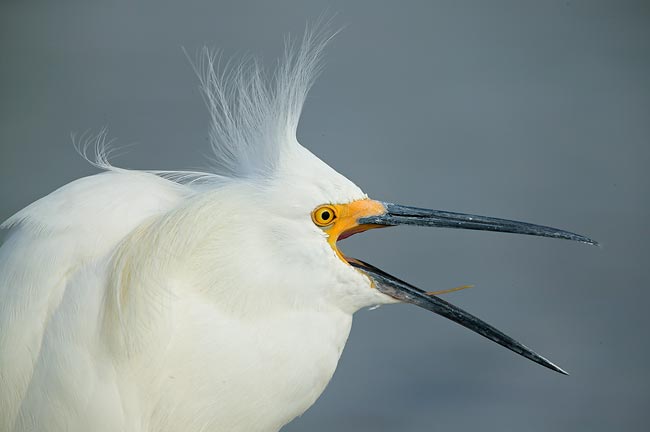 Snowy Egret, Little Estero Lagoon, Fort Myers, FL
Image copyright 2004 Arthur Morris/BIRDS AS ART
Canon EF 500mm f/4 L IS lens with 2X II TC and EOS 1Ds digital camera. ISO 250. Evaluative metering +1/3 stop: 1 /640 sec. at f/8.
When I approached this very tame bird with five of the photographers in my group, I did not expect that we would be able to make any outstanding images as the bird's bill looked pretty pathetic... As is often the case, however, magic occurred as soon as we put our tripods down. The wind picked up and began to blow that bird's crest all over the place for more than ten minutes. Each time that he yawned we were presented with a superb opportunity. Note that when the sun is partially obscured by a cloud and you have white against blue, you need to add a bit of light (rather than subtract a bit as you would with the sun at full strength).
FORT DESOTO PERSONALIZED INSTRUCTIONAL SLOT OPEN FOR THIS WEEKEND...
I have a single slot open for anyone wishing to join me this weekend (MAR 13-14) for one or two days of personalized instruction at Fort DeSoto just south of St. Petersburg, FL. Please e-mail or call (863-692-0906) ASAP for details.