The SW Florida IPTs

(herons, egrets, gulls, terns, shorebirds, Burrowing Owl, Osprey, & both pelicans. Spoonbills likely. Ding Darling, Sanibel Island, Blind Pass, Placida, Venice Rookery, Estero Lagoon, and Cape Coral.

POST X-MAS: DEC 28-30, 2004, 3-DAY: $869. (Limit 12--7 openings.)

PRESIDENTS HOLIDAY IPT: FEB 18-22, 2005, 5-DAY: $1399. Ellen Anon will assist me as co-leader on this IPT and conduct a Photoshop Basics session. (Limit 14--6 openings.)

Click here to enjoy the SW-FL IPT Experience.

The San Diego IPT California Brown Pelican in spectacular breeding plumage at close range, Brandt's and other cormorants, Western, California, Heerman's (also in full breeding plumage) and other gulls. (There will be great flight photography opportunities with the preceding species.) Lesser Scaup, Wood, Ring-necked, and other ducks. Marbled Godwit, Willet, Whimbrel, Surfbird, Wandering Tattler & other shorebirds, most at close range. Harbor seals and sea lions. Digital expert and Photoshop Instructor Ellen Anon will assist me as co-leader on this IPT and conduct a Photoshop session.

San Diego IPT: January 6-9, 2005, 4-DAY: $1299

(Limit: 12, 3 openings.) Click here to enjoy the San Diego ITP Experience.

Homer, AK, Bald Eagle IPT w/co-leader GREG DOWNING FEB 4-8 & 9-13, 2005 5-DAY: $1599. 10-DAY: $2999 (both are near sell outs)

Lake Martin, La, Spoonbills, MAR 19-21 & MAY 13-15, 2005, 3 -DAY: $899 (Limit 10) Roseate Spoonbill (& Great Egret) rookery in budding cypress swamp; courtship & nest building. (Barring natural disaster, spoonbill chicks 2nd trip only.) 500 or 600mm lenses mandatory; rentals available. Also Green & Little Blue Herons, both night-herons, sunrise scenics, & flowers. Includes a complimentary crawfish etouffe dinner; hosts: Wes & Patti Ardoin. Here is a message that I received from them last week:

Dear Artie, During the last eight months my wife, Patti, and I have had the distinct pleasure of photographing with you on five different IPTs. There is only one reason someone would schedule so many educational tours--- they are fantastic learning experiences. At the time of this letter we have four more scheduled for the next year! We each entered a photograph in a contest in Galveston before we left in June to spend three weeks with you in Alaska. Out of more than 100 entries, Patti won Best of Show for her image of a Great Egret turning an egg, and my Roseate Spoonbill portrait was awarded third place. Both of us feel that you really are the winner because of your willingness to share your knowledge and expertise with your students. Both of the prize-winning images were made earlier this year at Lake Martin, LA. Patti photographs once and often twice a day at "The Lake" in spring. We encourage photographers to sign up for one or both of the Lake Martin IPTs in the spring of 2005. See you in SW Florida next! Love to you and your family, Wes and Patti Ardoin

The Fort DeSoto/Sarasota IPT Royal Terns & Laughing Gulls in spectacular breeding plumage/courtship and copulations, dark and white phase Reddish Egrets in breeding plumage, several other heron and egret species, Sandwich & Forster's Terns, Long-billed Curlew and a dozen or more easily approachable shorebird species, great flight photography opportunities in Sarasota: Brown Pelican, Great Egret, Great Blue Heron, & Black-crowned Night-Heron (head and shoulders portraits likely with this species).

Fort DeSoto/Sarasota IPT: April 8-10, 2005 (Note possible/likely date change to April 1-3), 3-DAY: $869 (Limit: 12, 10 openings.)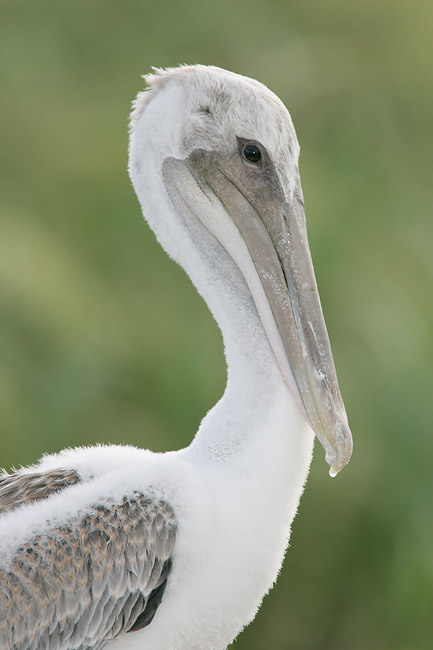 Brown Pelican, large chick standing near nest, Egmont Key NWR, FL
Image copyright 2004 Arthur Morris/BIRDS AS ART
Canon EOS 1D Mark II digital camera with 500mm f/4 L IS lens and 1.4X II TC.
ISO 125. Evaluative Metering +1/3 stop: 1/400 sec. at f/5.6.
(High speed synch) fill flash at -1 2/3 stops with Better Beamer FX-2
In exchange for agreeing to donate images, I was able to secure a Special Use Permit to photograph at this location. The nesting Brown Pelicans were totally placid upon our slow approach.
To lessen our impact (which seemed nil), we concealed ourselves in the reeds and spent only a few minutes near a small group of nests directly adjacent to the beach.