Impala leaping, Maasia Mara, Kenya
Image copyright 2004 Todd Gustafson
Though Todd was impressed with the Mark II's autofocus, it is the photographer who makes the images...
He read the animal's behavior and knew that the animals would soon be leaping and he was ready with a clean flash card. I, on the other hand, made a single image and found myself with a full card...
KENYA PHOTO SAFARI MID-AUGUST 2005
Both Todd Gustafson and I will be returning to Kenya in mid-August 2005 to co-lead our fifth African Photo Safari together. This trip, which will run about 2 1/2 weeks, will be a joint BIRDS AS ART/Gustafson Photo Safari venture. It will be a fly/drive safari so that we can eliminate at least two of the long drives. We shall be spending a good part of the trip at two spectacular spots that we each feel deserve more time than is offered on most safaris: Lake Nakuru and Maasai Mara. Do note that this will be a Photo Safari, not an Instructional Photo Tour. Todd and I will of course be glad to offer instruction to those in our vans each day. Van assignments will be on a rotating basis so that all will be able to benefit from traveling with the leaders. Experienced photographers will of course get the most out of this Photo Safari and both Todd and I will be glad to review both our and your images at meals and during breaks. If you are interested in joining us for another great Kenya experience, please drop me a short note via e-mail.

Elephant family in silhouette, Samburu, Kenya
Image copyright 2004 Todd Gustafson
When some felt that the light was lousy, Todd simply went to work and made magic.
BREEZEBROWSER V2.10 NOW AVAILABLE
20 September 2004: Breeze Systems today announced BreezeBrowser v2.10, the latest release of its raw conversion, browsing and web page generation software. This release offers raw conversions for the Canon EOS-1D Mark II, PowerShot Pro1 and S60 digital cameras.
In addition with v2.10 the ability to view, rename and copy Raw+JPEG images has been extended to the Canon EOS 1D Mark II and EOS 20D camera bodies as well as the Nikon D70 and Nikon D2H. (Raw conversions for the 20D are not available with V.210.) BreezeBrowser v2.10 now supports the high quality conversion of raw files from the following Canon EOS cameras: 1D Mark II, 1Ds, 1D, 10D, 300D/Digital Rebel, D60 and D30 and the following Canon Powershot cameras: G5, G3, G2, G1, Pro1, Pro90IS, S60, S50, S45, S40 and S30.
To purchase or learn more about Breezebrowser, visit: visit: http://www.birdsasart.com/breezebrowser.htm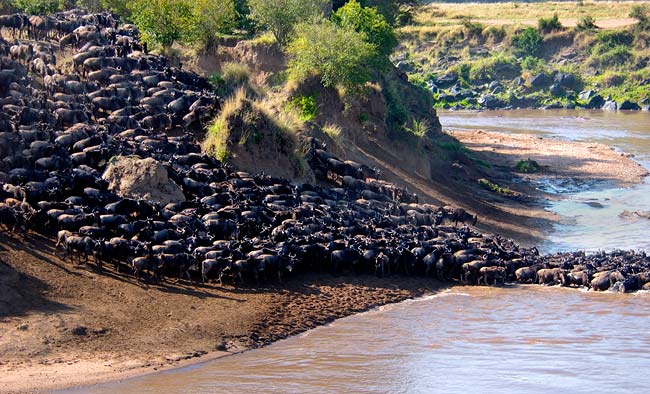 Wildebeest crossing, Maasai Mara, Kenya
Image copyright 2004 Todd Gustafson
Todd's van had a different view of this spectacular crossing than the other four vans. And Todd is equally at home whether working with extreme focal length lenses or with wider focal length lenses (as shown here).
BREEZEBROWSER V2.11 beta 1 NOW AVAILABLE
This in-development version offers Canon EOS 20D raw conversions.
BreezeBrowser 2.11 beta 1 can be downloaded from http://www.breezesys.com/BreezeBrowser/support.htm#20D . Users will need to install Canon's EOS Viewer Utility v1.1 software for this to work. A full release is planned for early November after Canon has released a new Software Development Kit for the 20D.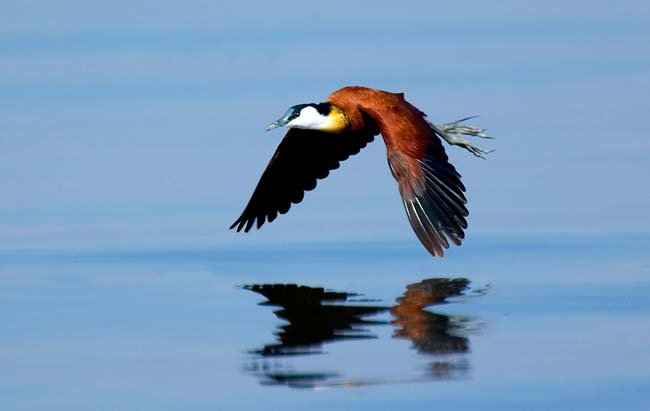 African Jacana in flight, Crescent Island, Kenya
Image copyright 2004 Todd Gustafson
Whether he is using Canon or Nikon equipment, Todd is incredibly skilled at capturing flight and action...
IPT UPDATES
The Bosque Del Apache NWR, NM 2004 IPTs The NOV 21-23 IPT and
NOV 27-29 IPTs (both co-lead by Ellen Anon) are both Sold Out.
Important Notice: I have just arranged to have Greg Downing co-lead the last Bosque trip (DEC 3-5, 2004 3-DAYs: $869) with me. As a result, we will now be able to accommodate 14 folks and have a single opening which will surely be gone in a virtual instant... (Ellen Anon could not make this trip.) Greg is an incredibly skilled photographer and a wonderful teacher. And like Ellen, he has been a tremendous help to me over the years. He is a digital photography and computer expert. He will be a great asset.
The SW Florida IPTs Post X-mas: DEC 28-30, 2004 3-DAY: $869 (Sold Out) PRESIDENT'S HOLIDAY: FEB 18-22, 2005, 5-DAY: $1399 w/Ellen Anon co-leading (3 Openings)
The San Diego IPT : January 6-9, 2005, 4-DAY: $1299 (Sold Out)
Homer, AK, Bald Eagle IPT w/co-leader Greg Downing FEB 4-8 (Sold Out) & 9-13 (four openings), 2005. 5-DAY: $1599. (please e-mail for details)
Lake Martin, La, Nesting Spoonbill IPT 3 -DAY: $899 MAR 19-21, 2005 (Oversold!) May 13-15, 2005 (4 Openings)
Fort DeSoto/Sarasota IPT: NEW DATE: April 1-3 3-DAY: $869 (7 Openings). Join me at my new favorite bird photography hot spot!
St. Augustine Alligator Farm IPT April 28 (aft) thru May 1, 2005. 3 1/2-DAYS: $1049 (Limit 12, 10 openings)
Register early! You snooze, you lose!
Nome, Alaska IPT June 10-20, 2006: (Please note the year: 2006 is not a typo!) Sold Out, but please contact me if you are interested in joining us as part of a second group being led by Greg Downing. We will be sharing our talents on this trip and sharing nest sites and other info via GPS. In addition, we will be holding joint critiquing and Photoshop sessions. Long lenses are a necessity.
For general IPT info, deposit and registration details, and cancellation policies, please visit: http://www.birdsasart.com/tours.html
If you would like your name placed on a waiting list for one or more trips, please e-mail, indicate the trip or trips that you are interested in, and be sure to include both day and evening phone numbers. We often have late cancellations...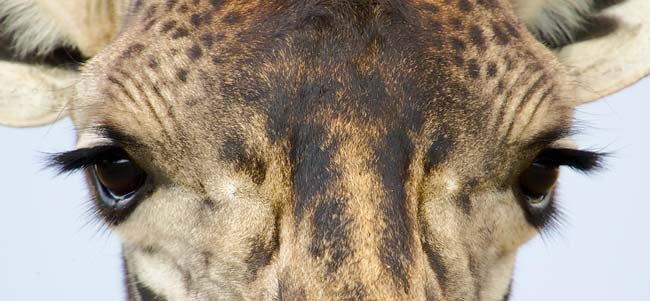 Giraffe eyelashes..., Kenya
Image copyright 2004 Todd Gustafson
Though Todd says that I taught him everything that he knows about compostion and image design, he has obviously developed his own creative vision quite nicely...
HUNT'S SPECIALS
Contact: Gary Farber Tel# 800-221-1830 ext. 2332, Fax# 800-336-3841
E-mail: FilmGuyGary@aol.com
SPECIALS FOR BIRDS AS ART SUBSCRIBERS
Canon 1DS: call for BAA Subscriber price
Hunt's will be getting a shipment of Canon 20D Kits with the 18-55mm and 17-85 mm lenses within the next week. Please call to place your order. No shipping charge for BAA subscribers.
Call for the BAA subscriber prices on the Canon Mark II and its delivery time or for Canon long lens prices.
Gitzo 1325 (in stock) $ 489.99
Gitzo 1548 (in stock) $ 679.99
Hunt's is now taking orders on the new Canon 10-22mm and 17-85mm lenses and the 580 Flash.
Canon Off Camera Shoe Cord…… in stock $ 59.99
Hunt's is taking orders on the new Epson 4000 Pro Professional Edition including ColorBurst Rip & 10/100 Base-T Ethernet Card: $2,195.00
For BAA Subscribers who have Epson 7600 or 9600 printers and would like to try an Epson papers, call Gary for a free sample roll.
Photo CS Upgrade PC/Mac $ 149.99
Photo CS Upgrade Full Version $ 579.99
*****Check our Website for many other great products: www.huntsphotoandvideo.com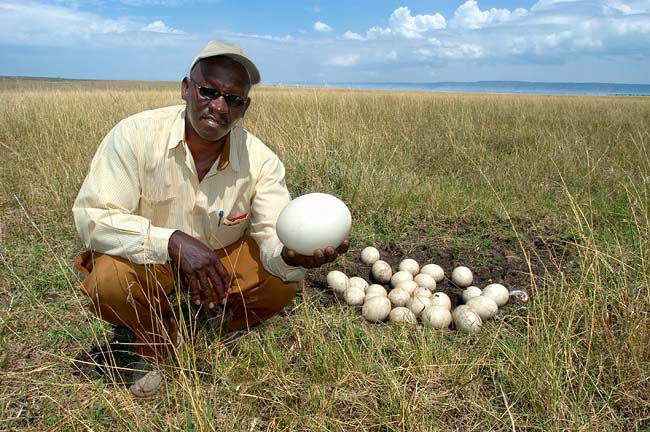 Ostrich eggs and nest, Maasai Mara, Kenya
Image copyright 2004 Todd Gustafson
Todd is also amazingly talented as a travel photographer. After coming across an abandoned ostrich nest, Todd posed Musimba--one of our skilled driver/guides--beautifully, and then created a stunning image.