All three Bosque Del Apache NWR, NM 2004 IPTs
(NOV 21-23 and NOV 27-29 with co-leader Ellen Anon and DEC 3-5, 2004 with Greg Downing) are Sold Out.
The SW Florida IPTs Post X-mas: DEC 28-30, 2004 3-DAY: $869 (Sold Out) PRESIDENT'S HOLIDAY: FEB 18-22, 2005, 5-DAY: $1399 w/Ellen Anon co-leading (Sold out with one participant joining us from Finland!)
The San Diego IPT : January 6-9, 2005, 4-DAY: $1299 (Sold Out)
Homer, AK, Bald Eagle IPT w/co-leader Greg Downing FEB 4-8 (one opening) & 9-13, 2005. 5-DAY: $1599. (please e-mail for details)
Lake Martin, La, Nesting Spoonbill IPT 3 -DAY: $899 MAR 19-21, 2005 (Sold Out) May 13-15, 2005 (4 Openings)
Fort DeSoto/Sarasota IPT: April 1-3 3-DAY: $869 (4 Openings). Join me at my new favorite bird photography hot spot!
St. Augustine Alligator Farm IPT April 28 (aft) thru May 1, 2005. 3 1/2-DAYS: $1049 (Limit 12, 9 openings)
Register early! You snooze, you lose!
Nome, Alaska IPT June 10-20, 2006: (Please note the year: 2006 is not a typo!) Sold Out, but please contact me if you are interested in joining us as part of a second group being led by Greg Downing. We will be sharing our talents on this trip and sharing nest sites and other info via GPS. In addition, we will be holding joint critiquing and Photoshop sessions. Long lenses are a necessity.
Antarctica/South Georgia/Falkland Islands Zegrahms Cruise with Arthur Morris and Greg Downing: January 2007. Please e-mail birdsasart@verizon.net for details.
Kenya August 2005 Fly/Drive Photo Safari with Todd Gustafson (dates & details TBA soon): Lake Baringo, Lake Nakuru, and Maasai Mara. Please e-mail birdsasart@verizon.net for details.
For general IPT info, deposit and registration details, and cancellation policies, please visit: http://www.birdsasart.com/tours.html
If you would like your name placed on a waiting list for one or more trips, please e-mail, indicate the trip or trips that you are interested in, and be sure to include both your day and evening phone numbers. We often have late cancellations...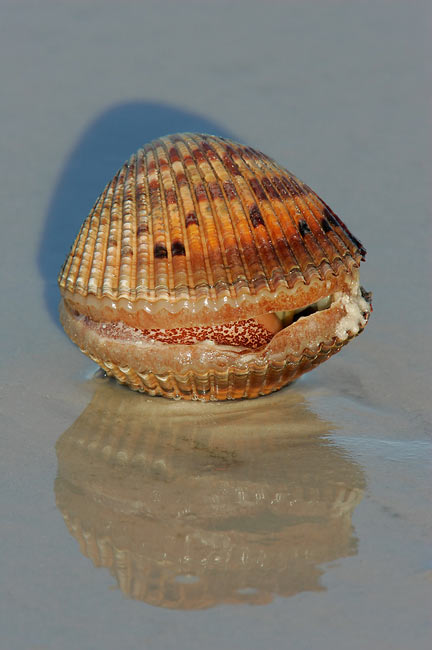 Scallop, Fort DeSoto Park, FL
Canon 600mm f/4 L IS lens with 1.4X II TC and EOS 1D Mark II. ISO 250. Evaluative metering at 0: 1/125 sec. at f/18.
You've heard of happy as a clam, how about smiling like a scallop? While I love birds, my eyes are always open for new and interesting subjects, especially when there are very few birds around. With a very low tide at North Beach this past Saturday morning, birds were few and far between. This one sort of reminds me of the plant in the great movie, "Little Shop of Horrors."