HOLIDAY GREETINGS
HOLIDAY GIFT!
Snow Geese on snow, Bosque Del Apache, NWR, San Antonio, New Mexico
Image copyright 2004 Arthur Morris/BIRDS AS ART
Canon 600mm f/4 L IS lens with 2X II TC and EOS 1D Mark II on Gitzo CF 1325 tripod with Wimberley head. One Shot AF with Central Sensor by necessity; focused on the front bird's eye and recomposed. ISO 800. Evaluative Metering +2 stops: 1/200 sec. at f/16.
On my last morning (I flew home that afternoon), I received an early holiday gift in the form of three inches of soft, wet snow. It was the first snow that I had experienced in ten years of NOV/DEC visits. I was like a kid in a candy store. For this image, I chose f/16 in an effort to render both birds sharp. (I always focus on the eye of the closest bird in a group. Always.)
Photo Theme: It Ain't Just Birds!
Canon 100-400mm IS L Zoom Lens handheld at 400mm with EOS 1D Mark II. Servo AF with AFPS (45 Point) AF. ISO 400. Evaluative metering -1 stop: 1/800 sec. at f/8.
For me, the single fish just left of center that appears to be totally out of the water makes this image special.
NEW SEMINAR ANNOUNCEMENTS
The Art of Bird Photography; It Ain't Just Birds!
Weekend Seminars
Sponsored by Canon USA
In conjunction with Photo Road Shows
Atlanta, Georgia, July 30-31, 2005
Dallas, Texas, September 24-25, 2005
Internationally renowned bird photographer Arthur Morris (hey, that's me!) is offering--in conjunction with Photo Road Show--two (two-day) weekend seminars, The Art of Nature Photography: It Aint Just Birds. More than 18,000 of my technically perfect, artistically designed images have appeared in virtually all natural history, photography, and birding publications, as well as in many general interest publications, prestigious calendars, advertisements, and on posters and web sites the world over. A Canon contract photographer since 1995, I did a worldwide television commercial for the EOS 1N and appeared in seven episodes of the Canon Photo Safari television program. I am a contributing photographer with VIREO, Windrush Photos, Visuals Unlimited, Windigo Images, and The Corbis Stock Market, and have written four books; the latest, The Art of Bird Photography is considered the classic how-to work on bird photography. In addition, I am a contributing editor for Nature Photographer and a columnist for Popular Photography.
But more important than the fact that I am well known and oft-published is the fact that I am one of the premier photo-educators around. I lead more than a dozen BIRDS AS ART/Instructional Photo-Tours each year, and all sell out well in advance. Part of the reason for the great popularity of the IPTs is the in-classroom instruction that is part of each tour. Having taught elementary school for 23 years, I am a skilled instructor with a straightforward, easy-going style. My points are made clearly and concisely, and each is illustrated with one or more spectacular BIRDS AS ART images. My sense of humor will often leave the audience laughing out loud, and the pace of the seminar days is fast and varied, so you can rest assured that you will not be sleeping through your investment.
This seminar is for all nature photographers who want to learn how to make better images. I will describe the methods and techniques that I have developed and used since 1983. My comments on equipment (including digital), autofocus, light, composition and image design, and sharpness and my tips on getting close to wild subjects and photographing action and behavior will benefit everyone with a telephoto lens who wishes to dramatically improve the quality of their images. Since going all-digital in November 2002, I have--in short order--become a digital photography and Photoshop expert. My approach to optimizing images is to create a master file of excellent quality in the shortest possible time. I will share our workflow and numerous Photoshop tips during the Sunday sessions.
Weekend package (2 days): $159. Either Saturday or Sunday: $109. To register send a check for the full amount made out to "Arthur Morris" to PO Box 7245, Indian Lake Estates, FL 33855. We are accepting Paypal payments for these events. (Click on any Paypal link at: www.birdsasart.com) Be sure to include your e-mail address, your mailing address, and your daytime and evening phone numbers. Here is the Cancellation Policy for these events. Photo Road Show is relying on your attendance, so if for ANY reason you need to withdraw, please notify Arthur Morris as soon as possible. Once we receive written notice of your cancellation, at which time the following fees apply: cancel 31+ days prior to the start of the workshop and your fee will be refunded less a $50.00 cancellation fee. Cancel less 30 days prior to the date of the workshop and there will be no refund.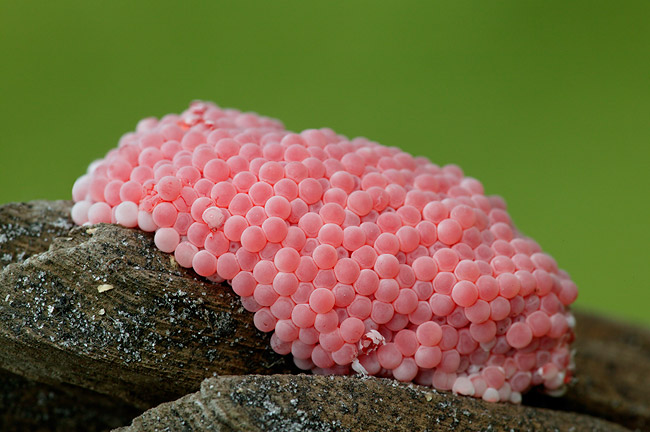 Apple snail eggs, Lake Marian, FL
Image copyright 2004 Arthur Morris/BIRDS AS ART
Canon EOS 1Ds digital camera with 180mm macro lens, 1.4X II TC, and 25mm extension tube.
ISO 250. Evaluative Metering +2/3 stop set manually: 1/40 sec. at f/13. Mirror lock (CF-12-1) w/2 second self-timer (set with "Drive" buttons)
MT 24 Macro Twin Light Flash as fill at -1 1/3 stops with 1:4 ratio.
The bubble gum pink colors and the luminescence of the eggs caught my eye. Jim Urbach turned me on to this egg mass on a log close to the bank. I sat in the mud for nearly 40 minutes and got stiff and sore. This, the very first image that I made, was my favorite... I just loved the color contrast with the rough browns of the log, the bright pinks of the eggs, and the patented <smile> BIRDS AS ART O-O-F green background. Using extension tubes and teleconverters with your macro lens greatly expands its range of magnification and versatility.
.....
Seminar Schedules:
SAT: Principles and Techniques for Successful Nature Photography
: Welcome and Introduction
: Putting Art in Your Nature Photography: Composition and Image Design
(Includes Autofocus Tips)
: Break/Marketplace
: Understanding and Using Natural Light
: Tripods, Heads, Tripod Handling, Ground Pods, and Stalking Tips
: Getting Close; 1,000 Ways to Skin the Cat
: Lunch/Break/Marketplace
: Choosing and using lenses
: Better Beamer and flash set-up Demonstration
: Understanding flash as main light and flash as fill
: Break/Marketplace
: Capturing action and behavior (with more Autofocus tips)
: Image sharpness, Depth-of Field, Shutter Speed and ISO Choices,
: Door prizes/Break
: A Look at Some Recent Images
: Q&A/Closing
: The End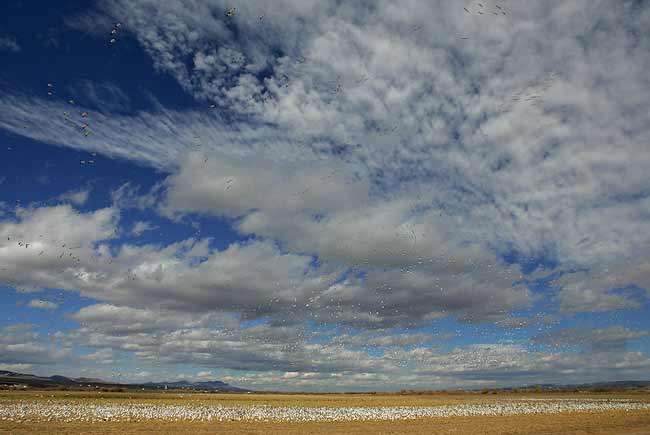 Snow Geese at farm fields, Bosque Del Apache NWR, NM
Image copyright 2004 Arthur Morris/BIRDS AS ART
Canon 16-35mm lens at 16 mm with EOS 1D Mark II camera handheld.
ISO 250. Evaluative Metering -2/3 stop: 1/4000 sec. at f/6.3.
With big skies filled with clouds, think wide angle...
SUN: Digital Rocks! Digital Photography and Photoshop
: Welcome and Introduction
: Why Digital? (And Why Not?)
: Break/Marketplace
: Understanding, Evaluating, and Adjusting Histograms
: Comments on Canon Digital Cameras
: Lunch/Break/Marketplace
: Creating Intentional Blurs, Zoom Blurs, and Flash Blurs.
: Photoshop CS: the BIRDS AS ART Workflow (with selected images).
: Break/Marketplace
: Downloader Pro, Breezebrowser Pro (Image Handling, Editing, and Filing),
and Pictures to Exe (worlds greatest slide program software!)
: Working with Selections in Photoshop
: Door prizes/Break
: A Look at Some New Images
: Q&A /Closing
: The End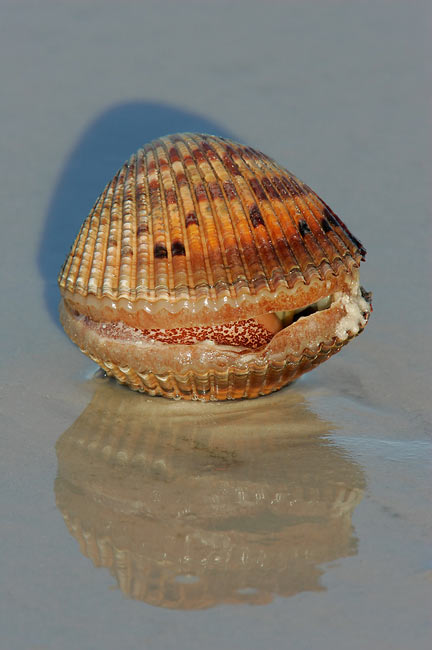 Scallop, Fort De Soto Park, Tierra Verde, FL
Image copyright 2004 Arthur Morris/BIRDS AS ART
Canon 600mm f/4 L IS lens with 1.4XII TC,a 25mm extension tube, and the EOS 1D Mark II on Gitzo CF 1325 tripod with Wimberley head. One-Shot AF with Central Sensor. ISO 250. Evaluative Metering at zero: 1/125 sec. at f/18.
I found this live shell half buried, pulled it out of the sand, washed it off, and placed it on some wet sand. I used lots of depth of field as I was extremely close; depth of field increases as the distance from the camera to the subject increases... After I made several images I told the scallop a joke and it smiled! So did I...
HOLIDAY GREETINGS