IPT UPDATES

The SW Florida IPTs Post X-mas: DEC 28-30, 2004 3-DAY: $869 (Sold Out) PRESIDENT'S HOLIDAY: FEB 18-22, 2005, 5-DAY: $1399 w/Ellen Anon co-leading (Sold out with one participant joining us from Finland!)

The San Diego IPT : January 6-9, 2005, 4-DAY: $1299 (Sold Out)

Homer, AK, Bald Eagle IPTs w/co-leader Greg Downing FEB 4-8 (Sold out)& 9-13 (Sold out), 2005. 5-DAY: $1599.

Lake Martin, La, Nesting Spoonbill IPTs 3 -DAY: $899 M

AR 19-21, 2005 (

Sold Out

) May

13-15, 2005 (2 Openings)

Fort DeSoto/Sarasota IPT: April 1-3 3-DAY: $869 (Sold Out)

St. Augustine Alligator Farm IPT April 28 (aft) thru May 1, 2005. 3 1/2-DAYS: $1049 (Limit 12, 2 openings)

Bosque IPTs 3 -DAY: $929. All with co-leader Ellen Anon. NOV 15-17

, 2005 (

Limit 14, 12 openings

), NOV 20-22 (

Limit 14, 11 openings

) & NOV 26-28 (

wide open

).

Register early! You snooze, you lose!

August 2005 Fly/Drive Kenya Photo-Safari

August 15-31, 2005--16 days on the ground: $8,200/person.

$500 deposit

(Single supplement: $1,700.) Airfare to and from Nairobi, Kenya not included.

14 full and two half days of photography

When comparing the cost of this safari with others please note that we do NOT include travel days to and from Africa...

Limit: five vans of three photographers including the leaders.
Luxury accommodations on a twin-share basis with private facilities.
Full American breakfast daily, 16 lunches and 15 dinners

Transport via 4WD vehicle with fully removable roof-hatch with English speaking driver-guide (maximum 3 passengers per vehicle).
All park entry fees and hotel taxes

Air Transport from Nairobi to Maasai Mara and from Maasai Mara back to Nairobi. (This eliminates a killer drive over horrific roads.)

Complimentary water (1/2 liter per person per day) on Days 2-16.

Price does Not Include:

Passport and visa fees and airport taxes.
Airfares to and from Kenya (usually via Amsterdam).
Beverages, laundry, telephone calls or any other items of a personal nature.
Gratuities to hotel porters, wait staff, room attendants and driver-guides.

(The suggested tip for driver guides is $15 US per person/day.)

To see some spectacular Kenya images click on any of the following links:

http://www.martinplant.com/photo/photos.php or: http://www.birdsasart.com/bn146.htm or: http://www.birdsasart.com/bn147.htm or: http://www.birdsasart.com/n147.htm

Galapagos Cruise, July 2005 (Sold Out)

Nome, Alaska IPT June 10-20, 2006: (Please note the year: 2006 is not a typo!) Sold Out, but please contact me if you are interested in joining us as part of a second group being led by Greg Downing. We will be sharing our talents on this trip and sharing nest sites and other info via GPS. In addition, we will be holding joint critiquing and Photoshop sessions. Long lenses are a necessity.

Antarctica/South Georgia/Falkland Islands Zegrahms Cruise with Arthur Morris and Greg Downing: January 2007. Please e-mail birdsasart@verizon.net for details.

For general IPT info, deposit and registration details, and cancellation policies, please visit: http://www.birdsasart.com/tours.html

If you would like your name placed on the waiting list for one or more trips, please e-mail, indicate the trip or trips that you are interested in, and be sure to include day, evening, and cell phone numbers. We often have late cancellations...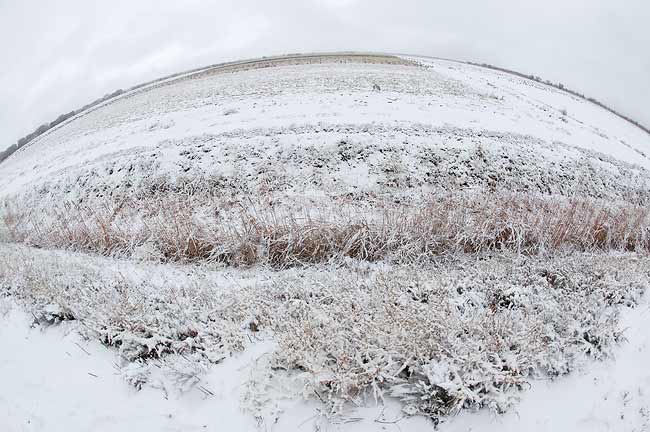 Snow-covered farm fields, Bosque Del Apache, NWR, San Antonio, New Mexico
Image copyright 2004 Arthur Morris/BIRDS AS ART
Canon EF 15mm fish eye lens with EOS 1Ds. ISO 400. Evaluative metering +1 stop: 1/800 sec. at f/10.
Inspired by Robert O'Toole's fish eye creations, I was able to obtain one on short notice from CPS and had fun experimenting with it. I will have one at Bosque again next year.
HUNT'S SPECIALS