A BIT MORE ON THE UMBRELLA CLAMP RIG
BIRDS AS ART KUDOS
USED CANON 500mm F/4 L IS LENS SOLD
USED GITZO CF 1548 FOR SALE
Brown Pelican, LaJolla, CA
Image copyright 2005 Arthur Morris/BIRDS AS ART
Canon 100-400mm IS L zoom lens (at 350mm) handheld with the EOS 1D Mark II. ISO 250. Evaluative metering at zero: 1/2000 sec. at f/5.6.
The 100-400 is deadly for capturing action and behavior, and as this image shows, it is sharp even at the long end...
Photo Theme: Reasons to visit San Diego in February...
ON THE ROAD AGAIN
I fly to Anchorage this Sunday afternoon and drive down to Homer on Monday. Greg Downing and Heather and I will have three days of photography and scouting before the first of the two Bald Eagle IPT-folks show up. Several participants registered for both trips! I am totally excited as I have never visited Homer in winter before. I will be back in the office on the afternoon of Tuesday, February 14th and then leave for the SW FLA President's Weekend 5-Day IPT that Thursday! One whole day home... Such is the life of a nature photographer. I love it, because it's my passion and it is what is! I regret that I will not be able to personally answer your questions while I am away so; it would be best if you could hold off on sending them until early March. Jim and Jennifer will be here to help you with IPT registrations and information and with your mail orders.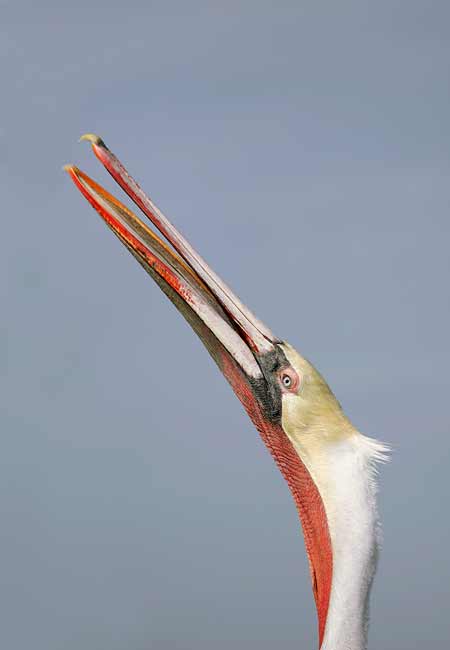 Brown Pelican, LaJolla, CA
Image copyright 2005 Arthur Morris/BIRDS AS ART
Canon 100-400mm IS L zoom lens (at 220mm) handheld with the EOS 1D Mark II. ISO 250. Evaluative metering +2/3: 1/2500 sec. at f/5.6.
Capturing the elusive head throw is one of the great challenges of pelican photography. Using a zoom lens gives you the best odds. Here, I still managed to clip the bill tip but saved the image by adding canvas and then reconstructing the tip of the bill. Or did I?
ALASKAN BEARS NEED YOUR HELP
I received the e-mail below from subscriber Ken Stinnett and thought it important to pass it on to the group.
"No this isn't about a dead relative in Nigeria who left me $15 million. It's about an issue that needs to be addressed fairly soon. The field site where Karyn Rode has worked for the past 3 years (up to 5 months at a time) is being considered by the Alaska Board of Game for bear hunting. The area has been closed for 15 years and is adjacent to arguably the best brown bear viewing area in the world. We need as many folks as possible to send a letter to the Alaska Board of Game and to write or call the Governor of Alaska. At stake is the loss of McNeil River State Game Sanctuary. Comments need to be received by Feb. 18th.

The bottom line is that the Board of Game is considering two proposals in particular (129 and 137) that would open previously closed lands to brown bear (grizzly) hunting. The lands are between the McNeil River State Game Sanctuary and a National Park. The lands have been closed since 1985 and bear numbers have declined at McNeil River State Game Sanctuary. These proposals would not
close open areas but would keep closed areas closed. Aside from the ethics of allowing hunting between two areas where bear viewing is steadily increasing, opening these lands could impact the viability of bear viewing and hunting in other areas. There are other issues such as the lack of any
science going into these proposals or into the Board of Games' decisions.
It would also be great if you could 1) send comments and 2) spread the word. Even though you may not live in Alaska, the state generates a lot of money from visitors so outside perception of the state's attitudes towards these types of issues is important. Karyn and I would be happy to fill you or anyone else in on details. If you would like to receive the an e-mail with more detailed info attached, please e-mail Ken Stinnett (
kenstin@totacc.com
) and request same.
Please send written comments OPPOSING proposals 129 and 137 to the Alaska Board of Game and to Governor Frank Murkowski, Office of the Governor, Box 110001 Juneau, AK 99811 or call him at 907.465.3500
and write to:
Alaska Department of Fish and Game/ATTN: Bog Comments/Boards Support Section, P.O. Box 25526 Juneau, AK 99802-5526
Best and thanks,
Dr. Robert Pattison (775-232-9409)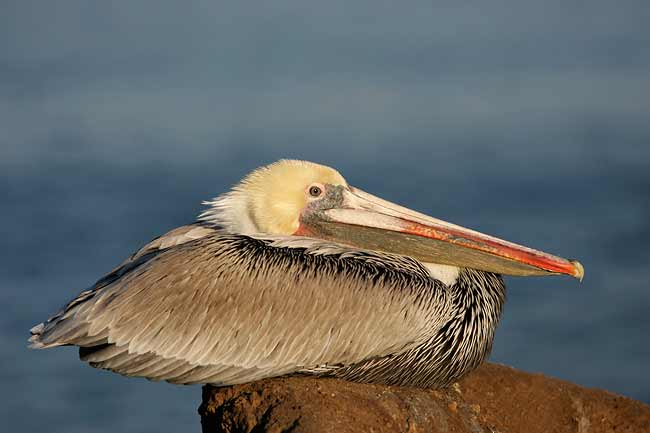 Brown Pelican on rock, LaJolla, CA
Image copyright 2005 Arthur Morris/BIRDS AS ART
Canon 70-200mm f/2.8 L IS lens with 1.4X II TC and the EOS 1D Mark II. ISO 250. Evaluative metering +2/3 stop: 1/2500 sec. at f/4.
I started experimenting with this new lens (with both teleconverters) in San Diego and was thrilled with the results. AF is fast and the lens is way sharp! I will be using the 70-200 IS a lot in Homer. This is a simple yet effective composition...
ELLEN'S TIPS #2
Ellen Anon is my friend, teaching assistant, digital expert, and an accomplished photographer in her own right. Here is Ellen's Tip #2:
Unfortunately, Breezebrowser is only available for PCs, so we Mac people have to follow a slightly different workflow with different programs. I recommend creating a folder on your desktop with a title that reflects something about what you shot (i.e. SanDiego1a) and download your CF card into that folder. To edit the folder I recommend one of several approaches. Each has merit and people tend to have their own preferences. You can use the File Browser within Photoshop CS to scan through the images, delete some, and flag others. By dragging the vertical and horizontal bars surrounding the image preview, you can preview an image fairly large on your monitor. You can then save this as your Image Editing workspace with Photoshop so that you can return to it at will by selecting it from Window-Workspace. You can go to View-Flagged and see only the flagged images if you wish. You can also create a quick slide show to view your images in the File Browser.
The disadvantage of using Photoshop to edit is that you can't zoom in beyond however large you set the File Browser to display the preview image. On a large monitor, the preview can actually be quite huge, but on a smaller monitor it may difficult to determine critical sharpness without converting or opening the images. You also cannot compare two images side by side. If you do use Photoshop for your image editing, then converting the RAW files is simply a matter of double clicking the desired file; the Adobe RAW converter will open. Adjust a few sliders and you are done. This is my usual workflow.
I will mention that Adobe Camera Raw, the Photoshop converter, may not be quite as good on some images as the native one provided by your camera manufacturer. Some people prefer to convert in Capture One. Due to some technical issues that I won't go into here, the actual algorithms that the converters use are slightly different and your file may look different depending on which one you use. Please be aware that in most cases these differences are slight. The only time I personally have had a large difference was with a highly saturated area in several images of hot lava from a volcano.
Many people like Capture One because you can compare images and zoom in to check for critical sharpness. It offers an excellent converter for RAW files as well, but is a fairly expensive program and involves using a second program (as does Breezebrowser).
Another approach is to use iView Pro which is an inexpensive program that makes it easy to edit your pics. You can zoom in, flag, and delete images but you cannot convert them. You have to open them in another program (such as the File Browser of Photoshop) to do the actual conversion. Nonetheless, the actual editing of keepers is pretty straightforward with this program. Lastly there is a very inexpensive program called Lightbox that offers a whole image management system for Mac users. It offers an easy approach to editing images as well as making slide shows, preparing web pages, and organizing your storage system. It includes a converter, but you are likely to want to use the one within Photoshop. For more information on this program, go to www.lightboxsoftware.com.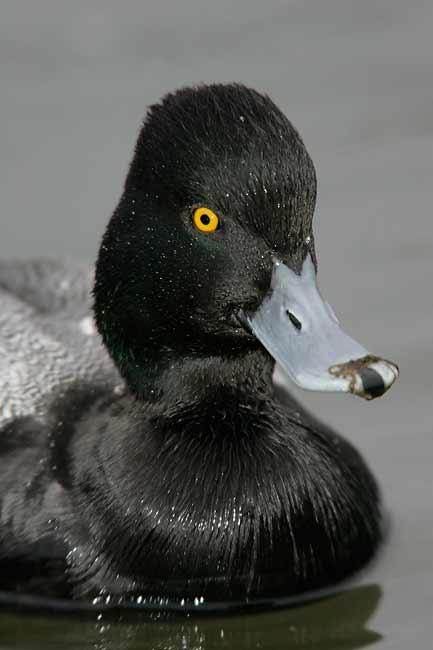 Lesser Scaup drake, San Diego, CA
Image copyright 2005 Arthur Morris/BIRDS AS ART
Canon 600mm f/4 L IS lens with 1.4X II TC, 25mm Extension Tube, and the EOS 1D Mark II on Gitzo CF 1325 tripod. ISO 800. Evaluative metering -1/3 stop: 1/250 sec. at f/5.6. Fill flash at -1 stop with Better Beamer.
The San Diego Site Guide details the best place in North America to photograph Lesser Scaup at point-blank range.
SAN DIEGO SITE GUIDE NOW AVAILABLE
The San Diego Site Guide, the third in the series, is now available. The Site Guides are the closest thing to joining an IPT that you can experience without actually joining us. And they cost only fifty bucks; a lot less than an IPT! I share everything that I know about the five killer photography spots within 20 minutes of downtown San Diego. Learn where and how and when to photograph the amazing California race of Brown Pelican; Marbled Godwits against bright buff backgrounds; Wood Ducks, Lesser Scaup, and Ring-necked Duck at point blank range; and a variety of stunning gulls (including Heerman's, Western, and California) both perched and in flight. You will learn where to go on what wind and what tides are best for each coastal location. As usual, I have held nothing back. The Fort DeSoto and Bosque Site Guides have received nothing but praise from the more than 200 photographers who were able to visit these sites for the first time as if they had been photographing them for a decade.
The San Diego Site Guide (8936 words, 38 color photographs) is available right now. It will prove most useful to folks visiting in the colder months, but many of the locations are productive in other seasons as well, especially spring. You can send us a Paypal for $50 or call (Monday-Friday) with a credit card number. (If the latter, you will need to give us your e-mail address.) Yes, BAA is finally accepting credit cards over the phone!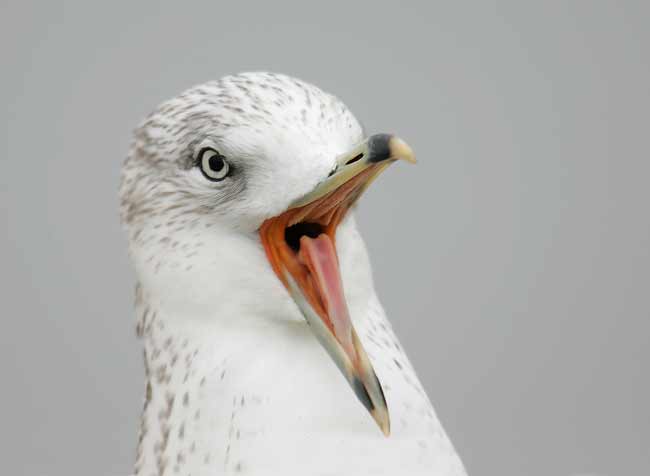 Ring-billed Gull yawning, San Diego, CA
Image copyright 2005 Arthur Morris/BIRDS AS ART
Canon 600mm f/4 L IS lens with 2X II TC and EOS 1D Mark II on Gitzo CF 1325 tripod. ISO 400. Evaluative metering +1 stop: 1/125 sec. at f/8. Fill flash with Better Beamer at -2 stops.
When working with a 2X TC and an f/4 lens, you will be limited to using the central sensor only. Here, I centered the subject and then cropped to a more pleasing composition. I use this strategy often, rezzing up the file by using Bicubic Smoother in Photoshop CS (as recommended by Ms. Anon).
A BIT MORE ON THE UMBRELLA CLAMP RIG
I have used the Umbrella Clamp Rig (UCR) only with my regular Wimberley head; I am unsure of its compatibility with other tripod heads. In March, I shall run an article here with close-up photos, detailed specs, and tips on use.
(To see a photo of the set-up in action, click here:
Bulletin Archives
.) The combination of the Bogen Super clamp (without stud) and the Avenger Add-a-Head is relatively heavy, about four pounds or possibly more; mine was on its way to Homer via Fed-X Ground so I am was not able to weigh it...I had tried many methods of attaching an umbrella to my Wimberley head and had no success at all until a Gitzo rep provided the elegant solution. The Add-a-Head will accept a great variety of umbrella shaft diameters and the rig is designed so that it is possible to place the umbrella (not included) in a variety of positions and at a variety of angles. With a medium or large umbrella it is easy to use a flash under the Umbrella Clamp Rig so long as you do not need to point your lens too far upwards. While it is obvious that one should not use the rig during thunder and lightening storms or in high winds, we ask you to exercise common sense when using the Umbrella Rig. By doing so you will assure that you will not be fried by lightening and that your 500mm IS lens and Mark II will not wind up flying up, up, and away like a kite!
We are offering the Umbrella Clamp Rig (UCR) for $66.00 plus $12.00 shipping (by US Priority Mail/Signature Confirmation.) Florida residents need to add 7% sales tax to the cost of the rig only ($4.62). We are placing our order today so they should be in stock by next week. Order today to ensure that you get one from our first shipment. That way, when it rains, you can smile as you head out to photograph birds knowing all the while that your valuable photographic equipment will be safe and dry. (A future Bulletin will include the exact weight, photographs, and tips on using the UCR.)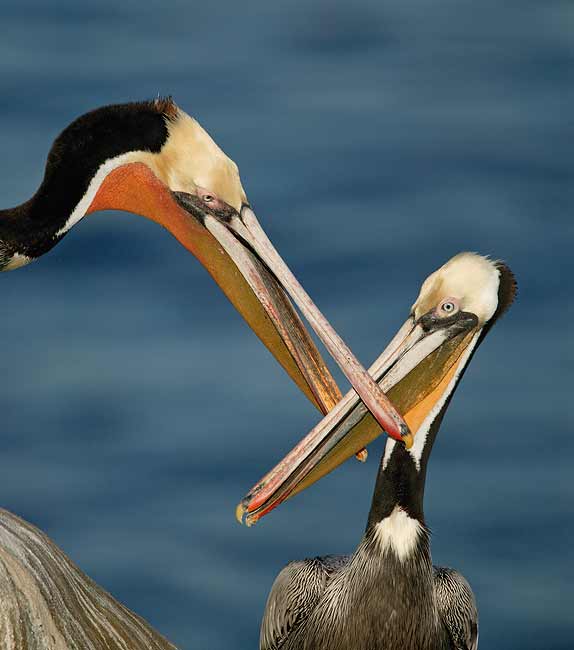 Brown Pelicans squabbling, LaJolla, CA
Image copyright 2005 Arthur Morris/BIRDS AS ART
Canon 500mm f/4 L IS lens with 1.4XII TC and EOS 1DS on Gitzo CF 1325 tripod. 45 Point AF (AFPS). ISO 250. Evaluative metering at zero: 1/2000 sec. at f/5.6.
45-Point AF works extremely well when the subject or subjects are roughly parallel to the film plane...
BIRDS AS ART KUDOS

From SW FLA Post X-mas IPT Mike Elliot:
Before too much time goes by, I wanted to write and thank you once again for your outstanding instruction and work ethic at Fort Myers this year. It was another memorable IPT. Special thanks for your company when we drove together on the last day of the tour. I enjoyed your stories and companionship very much. My photography, and interest in photography, took a big step forward after my first IPT with you in Bosque, Nov. 2003. Last week, during the critiques, you made it very clear to me what I need to work on so that I can continue to improve, and that is exactly what I plan to do starting this week! I'm already looking forward to our next meeting.
Royce Howland's comments (from Calgary, Alberta) on BAA Mail Order :
Hey folks. Just a quick note to say the Wimberley head, etc. arrived today. Everything is in good order and I spent a bunch of time kitting up this evening. I hope to get out with the new head this week. I have a Sigma 300-800mm zoom supertele, and the Wimberley is going to be a godsend. After fighting with the lens on a Manfrotto pan & tilt video head I feel only now will I be able to start using it properly. The Wimberley head & flash bracket look fantastic -- this stuff is well designed and built to last, probably longer than any other gear I currently own! (Including my knees & back.) :~) Thanks for the prompt shipment!
USED CANON 500mm F/4 L IS LENS SOLD
Marbled Godwit in flight, San Diego, CA
Image copyright 2005 Arthur Morris/BIRDS AS ART