YOU GOTTA LOVE IT: A
YOU GOTTA LOVE IT: B
MY PHOTOSHOP ETHICS
ATLANTA SEMINAR: VENUE & HOTELS ANNOUNCED
SILVER SALMON CREEK BEAR PHOTOGRAPHY/SALMON FISHING TRIP
Photo Theme: miscellaneous: is a picture worth a thousand words?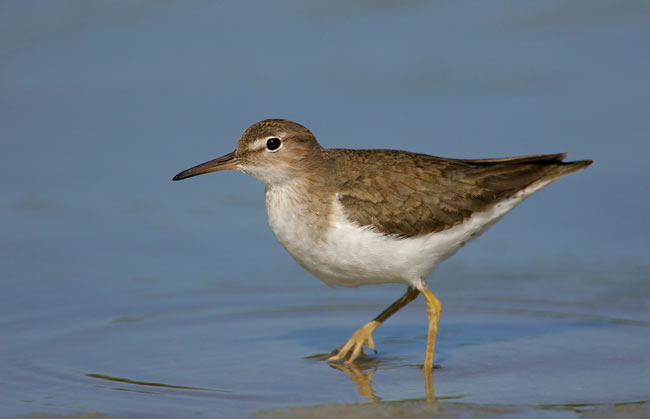 Spotted Sandpiper, Little Estero Lagoon, Ft. Myers Beach, FL
Image copyright 2005 Arthur Morris/BIRDS AS ART
Canon 500mm f/4 L IS lens with 2X II TC and the EOS 1D Mark II on Gitzo CF 1325 tripod. ISO 250. Evaluative metering +1/3 stop: 1/1250 sec. at f/8.
The raised foot and the alert posture made this one the lone keeper of about 15 images of this bird. Spotties are uncommon at best around salt water in the east.
YOU GOTTA LOVE IT: A
On February 27, I received the type-written letter below. We did not correct the numerous spelling and grammatical errors so that Bulletin readers could enjoy the true flavor of the letter.
My god Artie, you've turned into a complete Charlatan! A phony, fake, fraud. We new you when you actually did real bird photography with a T90 and 800mm manual lens. But now you've crossed the line and become a fraudulent manipulator of images! Twig in the way, Photoshop to the rescue. Shitty exposure, Photoshop to the rescue. You blew the highlights, no problem, Photoshop to the rescue. You have turned into exactly what you used to publicly hold in contempt! Poor Elaine is rolling in her grave at what you've become.
Now I have absolutely no problem with digital images. Based on film costs I would certainly shoot digital if I were a photographer. But people like you doing digital manipulation and staged shots are giving the industry a terrible reputation. Nobody trusts the content of an image when it's shot digitally because of phonies like you. I know you'll just tell yourself that I'm full of crap and continue running your geriatric based bird shooting tours fleecing the old folks out of their money. But since your images are sterile and second rate, you'll never get your images into National Geographic or any major pubs. When they need bird images they'll continue to contact other real photographers to do the job.
My daughter used to get your bulletins and we would laugh at the contents. You continue to prove that you can only shoot sterile, emotionless, boring birds images and even those images are after bracketing, examining histograms, and extensive Photoshopping! You tried to shoot your daughter's wedding and failed miserably. Year after year you try to shoot African safari images and again fail miserably. But that's okay since you fleece the lemmings for thousands of dollars as they pay ridiculous sums to follow you to Africa or Bosque or wherever you attempt to lead them.
I respect the fact that you've put in your time teaching NY PS kids and there is no more honorable profession that teaching. But to continue to portray yourself as a teacher of nature photography only serves to give real photography teachers a bad name. Oh and nice job with your Outdoor Photographer column… I think that relationship lasted all of one issue. Maybe I'll check your website bulletin archives in the near future to see if you have the balls to address this letter…but I'm sure you won't. Phonies always convince themselves that it's the rest of the world that's wrong. In the mean time…keep on Photoshopping!
The letter above, postmarked Salt Lake City, Utah, came in a plain envelope with no return address. And here is the best part: the letter was unsigned! If I had received this letter a year or two ago, I would have been both furious and hurt. I would have wasted a ton of energy trying to find out who wrote it. I would have spent hours punishing myself with my own thoughts. But after I read it, I just laughed. The difference: the self-help teachings of Byron Katie. You can learn about this remarkable woman and her easy-to-learn program, "Loving What Is" at www.thework.org. I am not sure why I felt the need to publish the letter above, but I guess that the contrast with the e-mail above is just too dramatic to ignore. In any case, there is absolutely no need for any of you to send supportive e-mails decrying the obviously bitter, unhappy, jealous person who took the time to write the letter. I am happier and more comfortable with who I am than I have been since I was a kid playing stickball in the park on Avenue U and E. 38th St. in Brooklyn, NY in 1959.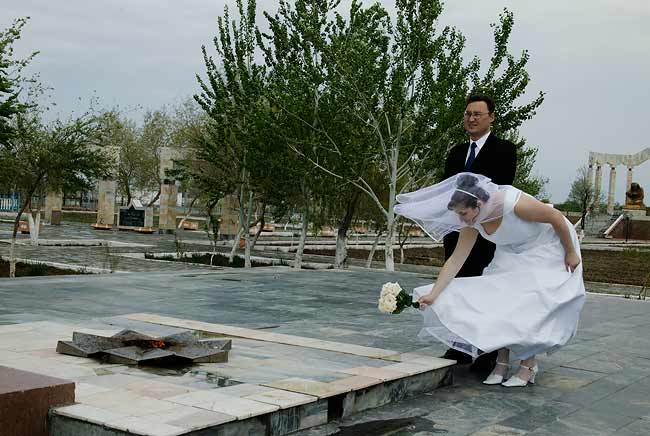 Lissy placing flowers on her wedding day, Nukus, Uzbekistan
Image copyright 2005 Arthur Morris/BIRDS AS ART
One man's failure is another's cherished memory...
YOU GOTTA LOVE IT: B
The following day, I received this e-mail:
Dear Arthur,
I am writing to you from South Africa, a country blessed with some 920 bird species and lots of wildlife as well. I have always been a keen nature lover, photographer and bird watcher, but never before has anyone inspired me to pursue bird photography as you have done. And, perhaps more than anything else, to simply enjoy birds for the wonderfully elusive, magical things they are.
During a four year diplomatic assignment in the US I bought your book "The Art of Bird Photography" and have read it several times. What I enjoy most, however, is your Birds as Art web site with the immensely informative Bulletins. Just looking at the pictures and reading your very helpful comments is like having a live teacher (and a damned fine one too, if you don't mind me saying so!) right by your side. I do not think you have any idea how much wanna-be bird photographers like me (I guess all over the world!) appreciate your incredible dedication to the art of bird photography, and your willingness to share your vast experience with us. It has made a tremendous difference in my life, and through your teaching I have developed the ability to take a new, fresh look at birds - and nature in general - around me.
To be honest, I almost cried when I read about Elaine in your book, and even though I know this happened many years ago, I think she would have been so proud to have been part of your immense success as (I believe) the world's foremost avian photographer. As you will know better than most of us, time does heal all wounds, and it seems to have done the same for you. I don't need to say anything about the book, other than to confirm that it is the finest book on the subject that money can buy. I can't wait for the new edition to be published, but I understand the issue of priorities, as you once explained.
Let me not take up too much of your valuable time. Just wanted to let you know that, through your unbelievable talent and willingness to share what is commonplace to you, but is extremely valuable to us, you have made an immense difference in my life. If the short comments accompanying your pictures are anything to go by, your teaching skills must be awesome in real life. I wish you the very best for the future; may you find the happiness you undoubtedly deserve, and may we as amateurs have the privilege of enjoying your incredible talents, both in your photographic art and in your teachings, for many years to come.
Very best wishes from a warm and sunny South Africa,
Peter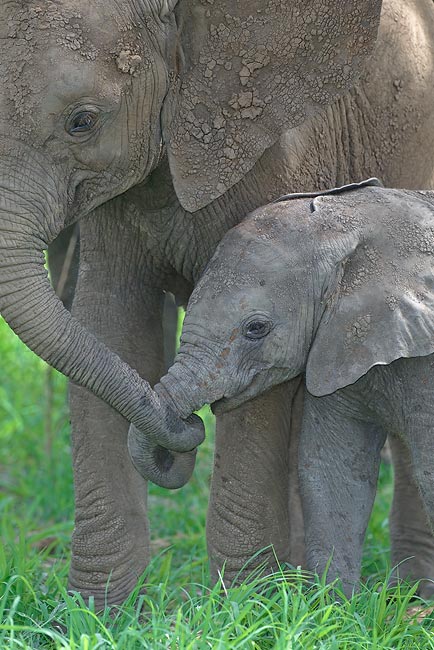 African elephant mother and young, Terenegire National Park, Tanzania
Image copyright 2004 Arthur Morris/BIRDS AS ART
On each of my four visits to Africa I have been able to produce moving and dramatic images while teaching others to do the same.
MY PHOTOSHOP ETHICS
When optimizing images in Photoshop CS, each image is corrected for color and contrast. Dust spots are cloned out and minor distracting background elements are often removed. On rare occasion I may spend 30 minutes or more removing a major distracting background element (or elements). Sometimes the distracting element is a birds that by the luck of the draw ruined an otherwise spectacular image. And with a very, very few spectacular images of birds in flight, I have reconstructed a near or far wingtip. In addition, I often do extensive work on the eyes of my subjects, especially when using flash. The eyes of birds depicted in digital images tend to get quite funky. To my mind, I never change the natural history of an image. If a bird was flying, or foraging, or preening when I made the image, it will still be flying, or foraging, or preening when I am finished optimizing it.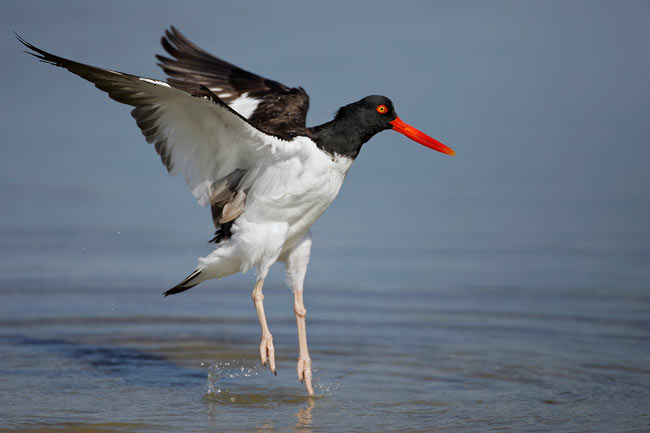 American Oystercatcher flapping après bath, Little Estero Lagoon, Ft. Myers Beach, FL Image copyright 2005 Arthur Morris/BIRDS AS ART
Canon 500mm f/4 L IS lens with EOS 1D Mark II on Gitzo CF 1325 tripod. ISO 250. Evaluative metering +1/3 stop: 1/5000 sec. at f/4.
As soon as this bird started to bathe, I put my teleconverter in my pocket knowing that the after-bath flap was coming soon. Framing looser rather than tighter is the way to go when you think that action may be imminent. I have recently begun attempting to capture more images that depict action and behavior. Selective sharpening of the eye on the master file saved this one from the trash heap.
.....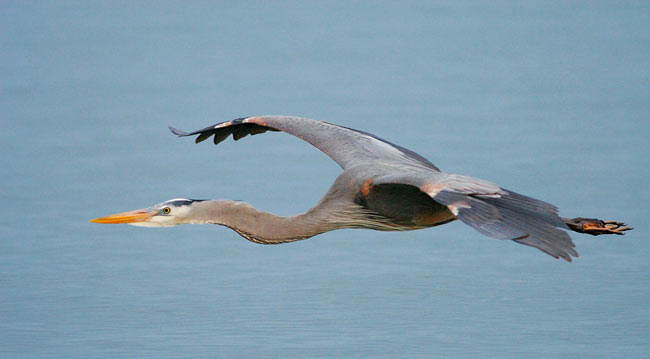 Great Blue Heron in flat flight, The Causeway, Sanibel, FL
Image copyright 2005 Arthur Morris/BIRDS AS ART
Canon 300mm f/4 L IS lens with EOS 20D handheld. ISO 1600. Evaluative metering +2/3 stop set manually near dusk: 1/640 sec. at f/4.
Despite nasty comments about the 20D's AF capabilities on the web, I find it to be excellent, especially when activating the central sensor only (strongly recommended for flight photography with that camera). Perhaps those complaining are falling victim to operator error...
.....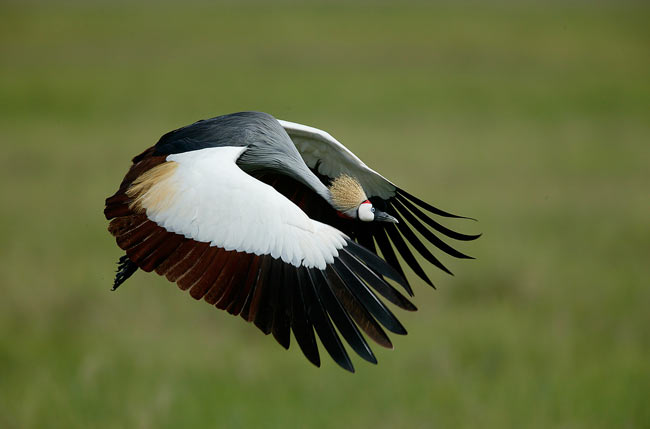 Grey-crowned Crane in flight, Ngorogoro Crater, Tanzania
Image copyright 2004 Arthur Morris/BIRDS AS ART
This image ran as a double truck with one of my Popular Photography columns last year. In order to do that column, I needed to give up my Outdoor Photography column. Rob Sheppard, OP's classy editor understood and invited me to continue writing for his great magazine. I have been too busy to do so...
ATLANTA SEMINAR: VENUE AND HOTELS ANNOUNCED
Those joining us from out of town might consider the following lodging choices:
#1: The Renaissance Waverly Hotel, 2450 Galleria Parkway, Atlanta, GA 30339. tel: 770-953-4500. $129 per night.
#2

:

Hampton Inn Atlanta-Galleria, 2733 Circle 75 Parkway, Atlanta, GA 30339. tel: 770-955-1110. $99-$129 per night.
#3: Clarion Suites, 4900 Circle 75 Parkway, Atlanta, GA 30339. Tel: 770-956-1504. $89-$119 per night.
#4: Comfort Inn Galleria, 2800 Highlands Parkway, Smyrna, GA 30082. Tel: 678-309-1200. $65-99 per night.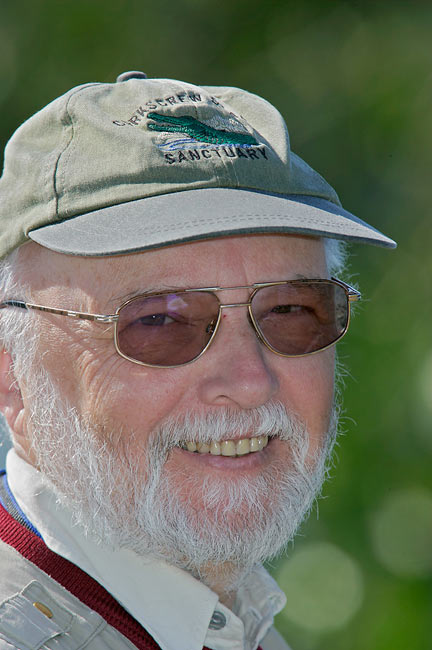 Fritz Poilking, Ding Darling NWR, Sanibel, FL
Image copyright 2005 Arthur Morris/BIRDS AS ART
It ain't just birds! The principles that help me make the bird photographs that I want, the images that excite me and so many others, are the same regardless of the subject. Here, toning down the highlights on the right side of Fritz's face in Highlight/Shadow saved improved the image. Ansel Adams did the same thing every day in his wet darkroom...
SILVER SALMON CREEK BEAR PHOTOGRAPHY/SALMON FISHING TRIP
Photograph Coastal Brown Bears safely at close range in Lake Clark National Park as they fish for salmon and cavort through streams. There should be some young bears around, and in most years there are one or more pairs of spring cubs. We will also fish for salmon ourselves and may do one trip for halibut if the tides cooperate. We will fly to the fabled Silver Salmon Creek Lodge from Anchorage on the morning of Friday, September 16, 2005 and fly back to Anchorage about mid-day on Thursday September 22. The 7-day/6-night package includes all meals, photo boat trips, salmon fishing and sea kayaks for the young and brave. If we do fit in a halibut trip near the end of our visit, the cost is $50 per person. There will of course be lots of in-the-field instruction and ample opportunities for image sharing and photoshop lessons. The cost of the trip is $3399. If you would like to join us, please--at your earliest convenience--send a $1700 deposit check made out to Arthur Morris (PO Box 7245, Indian Lake Estates, FL 33855). Six of the ten slots are filled at present.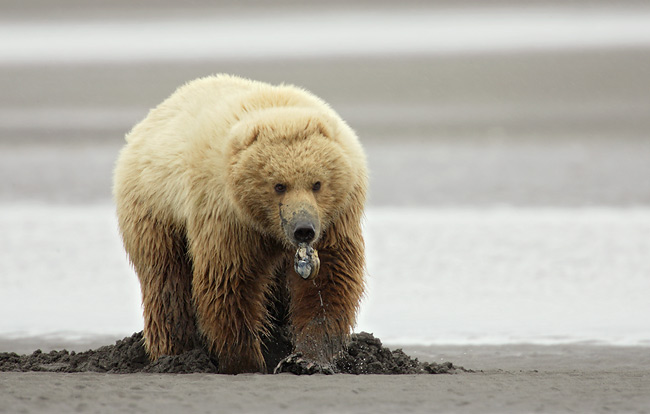 Brown Bear clamming, Katmai National Park, AK
Image copyright 2005 Arthur Morris/BIRDS AS ART
My love affair with bears grows more passionate with each trip to Alaska.
Best and love and great picture-making to all,
Artie
Note: Arthur Morris has been a Canon contract photographer since 1994 and continues in that role today. Hunt's Photo of Boston, MA is a BIRDS AS ART sponsor, as is Delkin Devices. Do feel free to forward this Bulletin to one or more photographer-friends. Those wishing to subscribe click here: mailto:http://birdsasart.us1.list-manage.com/subscribe?u=94ad23bd96f48a1de2ca612b3&id=bdb4a511a0?subject=subscribe To unsubscribe, click here: mailto:birdsasart@verizon.net?subject=unsubscribe. Back issues of all BAA Bulletins and relevant BAA Notes are archived on the web site at: http://www.birdsasart.com/bn.html