WHICH EXTERNAL HARD DRIVES?
AOL AND BAA
THREE NEW IPTs SCHEDULED
HEADED FOR KAMLOOPS
DELKIN e-FILM PRO COMPACT FLASH CARD PRICES SLASHED
USED EQUIPMENT FOR SALE/WANTED TO BUY
ATLANTA and DALLAS SEMINARS
Photo Theme: working tight.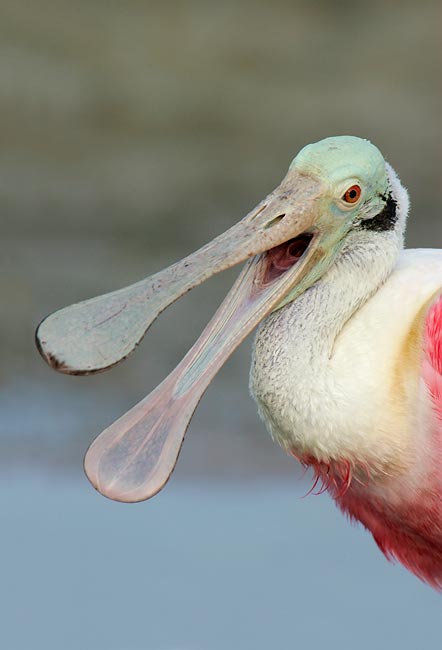 Roseate Spoonbill, Fort DeSoto Park, Tierra Verde, FL
Image copyright 2005: Arthur Morris/BIRDS AS ART
Canon 600mm f/4 L IS lens with 2X II TC and EOS 1D Mark II. ISO 400.
Evaluative Metering +1/3 stop: 1/320 sec. at f/11.
When you are in One-Shot AF and the bird moves its head, you need to be lucky to come up with at sharp one. Here, I was very lucky. Do consider joining us on the newly announced Fort DeSoto IPT. (See same below.)
WHICH EXTERNAL HARD DRIVES
Here is my response to an e-mail from a bulletin subscriber:
Subscriber: I was lucky enough to find a Pileated Woodpecker nest. Well, I shouldn't say I found it. God was gracious enough to lead me to it. The Pileated Woodpecker is my favorite subject. Anyway, I am running out of hard drive space on my computer. Tomorrow's images will not fit on the hard drive. I want to purchase a portable hard drive to plug into my computer. I am weary of trying to decide which model to buy. I read in some of your bulletins of lemons you had that failed and crashed. Could you tell me what your recommendations are for the most reliable and trustworthy hard drive?
AM: Right now we are using Maxtor One-Touch 2 300gb External Hard Drives and we love them. They have performed flawlessy for several months now (knock on wood).
For travel, I am using a Western Digital Passport 80gb Portable USB Hard Drive. It is fast and rugged, my computer recognizes the drive every time that I plug it in, and it gets power from my USB port; with most modern laptops, there is no need to plug it in to a wall socket so there are less cords to travel with. Though I have been using it only for a short while, I absolutely love it. (Note: with other lightweight portable external drives that I have tried, the computer often failed to detect the drive even though it was properly connected and powered.)
It sounds to me that you may not be editing tightly enough and that you are currently not backing up your images. If the latter is true, you are on very thin ice. Have you purchased our Digital Basics File yet? If not, you should as it seems to me that you should as you are missing some very important--even vital--points regarding Digital Photography. You can find the information here: http://www.birdsasart.com/digitalbasics.htm
Best and love, artie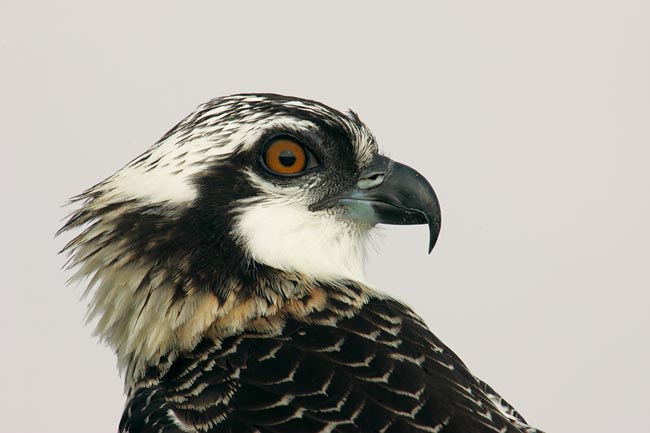 Osprey, fledgling, Indian Lake Estates, FL
Image copyright 2005: Arthur Morris/BIRDS AS ART
Canon 600mm f/4 L IS lens with 2X II TC and EOS 1D Mark II. ISO 250. Evaluative Metering +1/3 stop: 1/200 sec. at f/16.
I found this youngster perched on a chain link fence that surrounded some sort of electrical machinery near the marina at the lake that is three minutes from my home. As I drove up to the bird, a good image seemed impossible as there was a metal post there angled away just behind the bird. As I approached ever-so-slowly, I noticed that I might be able to hide the post behind the bird's torso and head, and, with the front wheels of my Sequoia practically hanging over the edge of the sidewalk above the lake, that is exaclty what I did... I often speak of my many blessings, and having some great bird photography within minutes of my home often adds joy to my already rich life. Speaking of which, my younger daughter Alissa, who has been living happily in Tashkent, Uzbekistan, arrived in NY yesterday after the U.S. State Department issued "get out of Dodge" warnings to Americans living or working in Uzbekistan. Lissy's husband Azik will be joining her in August. They will live and work in the Washington D.C. area and, if all goes well, I will become a grandpa for the third time in December. <smile>
AOL & BAA
About six weeks ago after sending out a Bulletin, I began receiving e-mails asking why we were sending the Bulletins as zipped files. Others wrote stating that they were receiving badly corrupted files filled with strange characters and other jibberish, and, of course, without any images. In 99% of these instances, I checked the e-mail address before responding and noted that each was an AOL address.
Many, many years ago, I used AOL briefly, and, upon the advice of many others, I switched to ATT as my e-mail server. We continue to use ATT and are happy with it, and about a year ago we added a Verizon account so that we could use Verizon DSL and enjoy the more liberal sending allowances of the Verizon business account. It is my very strong belief that AOL is the worst e-mail provider in existence. Many basic features that are available in virtually all other e-mail systems are absent in AOL. For years, various folks have e-mailed complaining that they could not open images, could not receive e-mails with more than one image attached, and that they did not receive PDF files that we sent. Again, 99% of the time they were AOL-users. My advice to all AOL-users is that they switch immediately to another e-mail provider. (Note: similar problems have been documented recently on the Alligator Farm list.) As far as I am concerned, AOL should receive a Nobel Prize for advertising...
(In all fairness, folks with other e-mail providers occasionally, no--make that rarely--encounter similar problems.)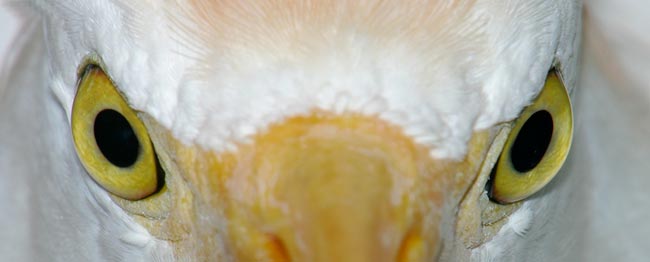 Cattle Egret, Gatorland, Kissimmee, FL
Image copyright 2005: Arthur Morris/BIRDS AS ART
Canon 600mm f/4 L IS lens with three extension tubes (two-25mms and on 12mm) plus both the 1.4XII and 2X II TCs with the EOS 1D Mark II. ISO 400.
Manual Flash at 1:1 (full power) with Better Beamer. Exposure was set manually at 1/60 sec. at f/10. This approximately represented the Evaluative Meter reading. Note, however, that this was actually a 2/3 to one stop underexposure as if I had not been using flash I would have added 2/3 to one stop of light to come up with the correct exposure.
When I came across a placid Cattle Egret sitting on eggs right near the boardwalk, I immediately knew what was possible. Wanting to be able to focus as closely as possible, I put the three extension tubes on the lens with the stacked teleconverters behind the tubes. This gives you the absolute closest focus, but requires that you turn off AF and focus manually. Thanks again to Greg Downing who taught me the basics of manual flash while we were in Homer. I used the measure tool in Photoshop CS to level the eyeballs and make the pano-crop. These techniques are described in our Digital Basics File:
http://www.birdsasart.com/digitalbasics.htm
.
THREE NEW IPTs SCHEDULED
FORT DESOTO IPT, MAR 24-26, (slide program on Thursday, MAR 23 at 7pm): 3-DAY: $899 (Limit 12)
Fort DeSoto has rapidly become one of my very favorite photo locations. Join us during prime time to photograph Royal and Sandwich Terns & Laughing Gulls in spectacular breeding plumage/courtship and copulations; dark and white phase Reddish Egrets in breeding plumage; many other tame heron and egret species; Forster's Terns, Long-billed Curlew and a dozen or more easily approachable shorebird species; great flight photography opportunites will be available at DeSoto. Depending on local conditions we may or may not enjoy the following in Sarasota: great flight photography opportunities: Brown Pelican with nesting material, Great Egret, Great Blue Heron, & Black-crowned Night-Heron (head and shoulders portraits likely with this species). This IPT will include at least three slide programs.
LAKE MARTIN, LA SPOONBILL IPTs, APR 8-10, 2006 (slide program on Friday, APR 7), and APR 28-30 (slide program on Friday, APR 27). 3 -DAY: $949 (Limit 12)
Join us to photograph nesting Roseate Spoonbills, Great & Cattle Egret, and Little Blue Heron in a budding cypress swamp. We will witness and photograph a variety of courtship behaviors as well as lots of nest building
. Barring a natural disaster there will be Great Egret chicks on both IPTs. Tiny spoonbill chicks are possible on the second IPT but will almost surely be difficult to photograph. Both IPTs will feature spoonbills in mind-boggling breeding plumage (unlike anything I've ever seen here in Florida), but there will be more birds in mega-breeding plumage on the first tour. The spoonbills will be courting, building nests, copulating, and fighting. Good flight photography opportunities are expected on both IPTs. 500 and 600mm lenses with 1.4 and 2X TCs are recommended; equipment rentals are available. Barred Owls are guaranteed. There will also be Green Heron, both night-herons, scenic sunrises, nutria, alligators, and lots of flowers. Sunny afternoons will be tough at Lake Martin but mornings will be spectacular. With cloudy weather the days will be long... This IPT includes four slide programs. Registration includes a complimentary homemade crawfish etouffe dinner: hosts: Wes and Patti Ardoin. (Fly to Lafayette, La.)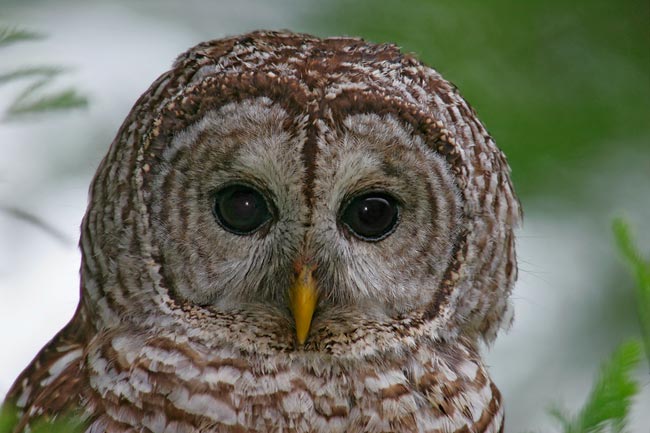 Barred Owl, Lake Martin, LA
Image copyright 2005: Arthur Morris/BIRDS AS ART
Canon 600mm f/4 L IS lens with 2XII TC and EOS 1D Mark II. ISO 400.
Evaluative Metering at zero: 1/60 sec. at f/8. Fill Flash at -2 stops with Better Beamer. .
I have no problem at all with the judicious use of recorded calls to attract birds into photograhic range. Many folks who use tapes to attract songbirds choose not to mention that fact when posting their images... This adult Barred Owl sat right above our car when I played its calls on the CD player. Barred Owl is guaranteed on both Lake Martin IPTs,
HEADED FOR KAMLOOPS
On Wednesday morning, I am flying to Kamloops, British Columbia to spend eight days with my friend and IPT-veteran Derick McDonald. Derick runs a resort hotel on the world's premier rainbow trout lake, a lake that was one of three used in the World Flyfishing Championships several years ago. Derick has been after me for years to visit, and after we hung out together in Texas this spring he finally--with tales of Barrow's Goldeneyes and other wondrous birds--convinced me to join him. Report to follow. I will be back in the office on June 24 so please go easy with the e-mail questions till then <smile>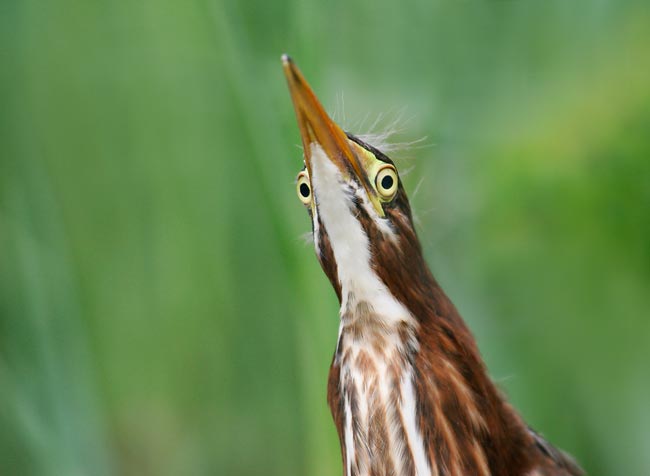 Green Heron, fledgling, Indian Lake Estates, FL
Image copyright 2005: Arthur Morris/BIRDS AS ART
Canon 600mm f/4 L IS lens with 2X II TC and EOS 1D Mark II. ISO 400. Evaluative Metering -1/3 stop: 1/400 sec. at f/8.
Jim and I found six recently fledged Green Herons on our morning exercise walk to the lake. I used -1/3 to ensure against burning the highlights on the neck after I noted a few flashing highlight pixels... Considering the low light, this was a surprise, but is just another example of the superiority of digital capture to film.
DELKIN e-FILM PRO COMPACT FLASH CARD PRICES SLASHED
We have slashed our prices on the Delkin e-film Pro 1gb and 2 gb Compact Flash Cards that I use and abuse every day. Check out our prices here: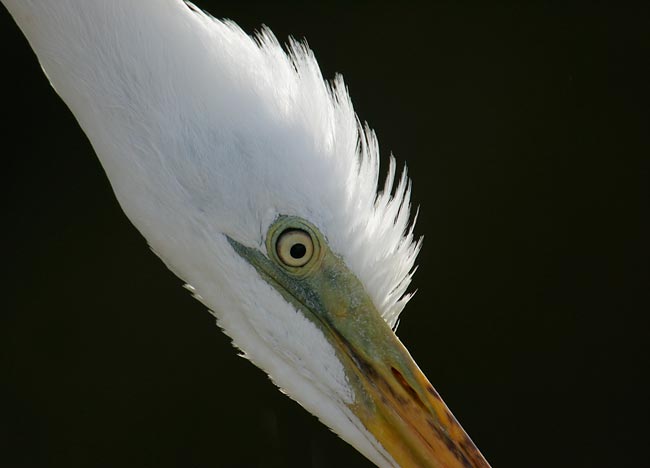 Great Egret, backlit, Fort DeSoto Park, Tierra Verde, FL
Image copyright 2005: Arthur Morris/BIRDS AS ART
Canon 600mm f/4 L IS lens with 2X II TC and EOS 1D Mark II. ISO 400.
Evaluative Metering -2/3 stop: 1/1250 sec. at f/8.
I pride myself in being able to make soup from a stone. In my upcoming book on CD, "The Art of Bird Photography II," I tackle the issue of creative vision. This not so great looking bird was sitting atop a garbage can with the background of Australian pines in deep shade. I made a few static (read boring) backlit images, but when the bird leaned forward and began scratching, I was rewarded. With the black background, I knew that I would need -2/3 to save the rim-lit highlights.
USED EQUIPMENT FOR SALE/WANTED TO BUY
For Sale:
We are offering a used Gitzo G-1320 Tripod in like-new condition for $250.00 (reduced from $275.00) plus ground shipping. You can see this product and the price new here:http://www.bhphotovideo.com/bnh/controller/home?O=productlist&A=details&Q=&sku=170784&is=REG. We are trying to sell this tripod for one of the folks on the St. Augustine IPT who was enlightened as to the weight savings with the CF 1325 and purchased the lighter tripod from us on the spot. Please call (863-692-0906) or e-mail (birdsasart@att.net) if you are strong, looking for a solid tripod, and are interested in saving some money... (The CF 1325 sells for $526.98 new: http://www.birdsasart.com/accs.html#GITZO%201325%20CF%20TRIPODS).
For Sale:
Subscriber Vinny Berdar is offering a used Canon 1V HS in very good to excellent condition for $1,100.00 plus insured shipping. It includes the original box and all paperwork. There are a few scuff marks behind the hotshoe and near the vertical shutter release. Includes RRS camera plate. It will be under warranty until 7/17/05. Buyer pays shipping/seller accepts Paypal.
You can contact Vinny by e-mail at vberdar@nycap.rr.com or by phone as follows: day: (518) 469-4535 or evenings: (518) 348-1730.
Wanted to Buy:
We have a buyer seeking a used Canon 600mm f/4 L IS lens. Please contact us at birdsasart@att.net if you have one for sale. Thanks.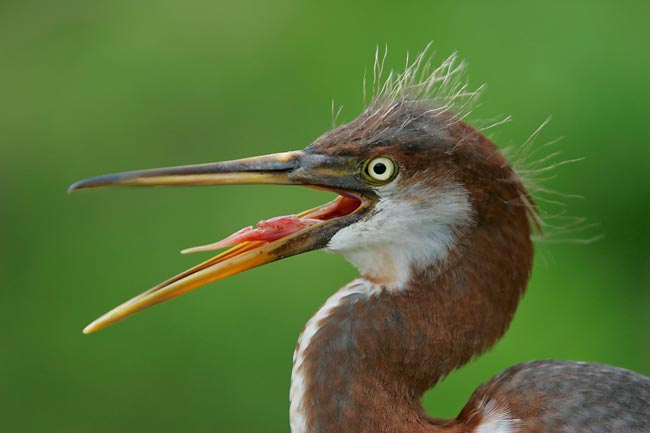 Tricolored Heron, fledgling, Gatorland, Kissimmee, FL
Image copyright 2005: Arthur Morris/BIRDS AS ART
Canon 70-200mm f/2.8 L IS lens with 1.4XII TC and the EOS 1D Mark II. ISO 400. Evaluative Metering at zero: 1/2500 sec. at f/4.
There were lots of young Tricoloreds on the railings and with a careful approach, head shots were possible. This is a perfect example of when to use 45-point AFPS.
ATLANTA and DALLAS SEMINARS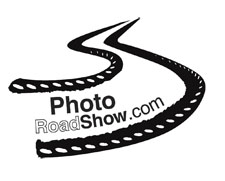 The Art of Bird Photography; It Ain't Just Birds! Weekend Seminars
Atlanta, Georgia, July 30-31, 2005 Presented by Photo Road Show
Dallas, Texas, September 24-25, 2005
These seminars are for all nature photographers who want to learn how to make better images. I will describe the methods and techniques that I have developed and used since 1983. My comments on equipment (including and especially digital equipment), autofocus, light, composition and image design, and sharpness and my tips on getting close to wild subjects and photographing action and behavior will benefit everyone with a telephoto lens who wishes to dramatically improve the quality of their images. Since going all-digital in November 2002, I have--in short order--become a digital photography and Photoshop expert. My approach to optimizing images is to create a master file of excellent quality in the shortest possible time. I will share our workflow and numerous Digital and Photoshop tips during the Sunday sessions.
Weekend package (2 days): $159. Either Saturday or Sunday: $109. To register send a check for the full amount made out to "Arthur Morris" to PO Box 7245, Indian Lake Estates, FL 33855. We accept credit cards by phone: 863-692-0906. In either case, we need your e-mail address, your mailing address, and your daytime and evening phone numbers. Here is the Cancellation Policy for these events: Photo Road Show is relying on your attendance, so if for any reason you need to withdraw, please notify Arthur Morris as soon as possible. Once we receive written notice of your cancellation the following fees apply: cancel 31+ days prior to the start of the workshop and your fee will be refunded less a $50.00 cancellation fee; cancel less 30 days prior to the date of the workshop and there will be no refund.
The Atlanta Venue is the Renaissance Waverly Hotel. There are no special rates available at this location. Please e-mail us at birdsasart@verizon.net for a list of additional lodging options.
The Dallas event will take place at the Verizon Place Hotel & Conference Center- Dallas. This beautiful facility is adjacent to the Dallas/Fort Worth Airport and offers around the clock shuttle service to and from DFW. There is a special rate on rooms for this event: $79 single and $89 double occupancy. To get the Photo Road Show preferred rate, 1-800-731-6131 and mention "booking # 1576". Room availability is limited so be sure to take advantage of this offer soon!
Please e-mail us at birdsasart@verizon.net to request the SAT/SUN schedules.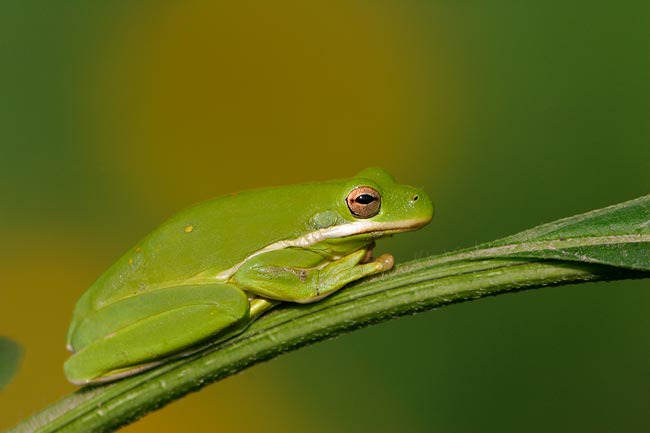 Tree Frog, Lake Martin, LA
Image copyright 2005: Arthur Morris/BIRDS AS ART
Canon 500 mm f/4 L IS lens with three extension tubes (two-25mms and on 12mm) and the EOS 1D Mark II. ISO 400.
Evaluative Metering at zero: 1/500 sec. at f/5.6.
Charlie Krebs found this guy in a pipe and was kind enough to share it with us. As always, remember, it ain't just birds.
Best, and love and great picture-making to all,
Artie