IMPORTANT BULLETIN ANNOUNCEMENT
SILVER SALMON CREEK TRIP REPORT
WIMBERLEY ANNOUNCEMENT
TIM GREYT!
NWPphotoforum.com INTERVIEW
DALLAS SEMINAR: NOV 5-6, 2005
BETTER BEAMER QUESTIONS
CANON 500 IS FOR SALE/GREAT PACKAGE DEAL PRICE!
NEW: GALAPAGOS PHOTO TOUR
IPT UPDATES
Photographic Theme: Some of my favorite images from my recent trip to Silver Salmon Creek Lodge.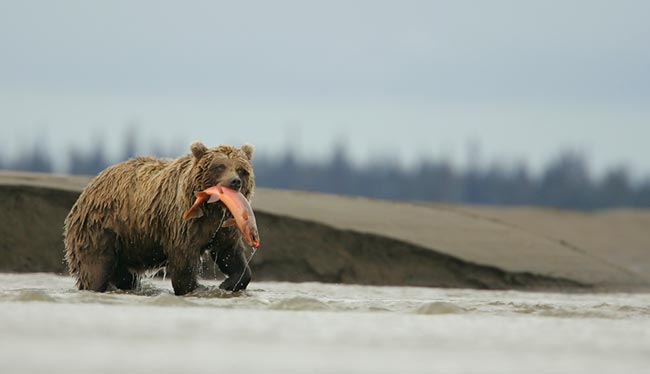 Brown Bear with silver salmon, Silver Salmon Creek Lodge, Lake Clark National Park, AK
Image copyright 2005: Arthur Morris/BIRDS AS ART
Canon 500mm f/4 L IS lens with 1.4XII TC and EOS 1D Mark II. ISO 400. Evaluative Metering +1 stop: 1/500 sec. at f/5.6.
I made the mistake of not bringing my ground pod, but when I saw this bear fishing and catching I could not resist the temptation. I laid right down in the wet sand and gravel and placed the foot of the lens on the ground. I knew that I would like the distant trees in the background.
IMPORTANT BULLETIN ANNOUNCEMENT
Beginning with this Bulletin, we are going back to sending BAA Bulletins (with all text and images) via e-mail to each subscriber. We had countless problems and hundreds of complaints since we began sending only the link. For those of you who are getting ready to send us a vitriolic letter of complaint, please consider the following:
#1: BAA Bulletins are free.
#2: I spend four to eight hours preparing most Bulletins.
#3: We are doing our very best.
#4: All BAA Bulletins contain a wealth of information including where-to, how-to, and why-to info relating to bird photography. There are often links to other sites with relevant photography information. Lastly, the captions that accompany each image offer tons of tips for those who take the time to read them.
#5: If you would prefer to receive
only a notice with a link
, please send a blank e-mail to us at
birdsasart@att.net
with the following cut and pasted into the subject line:
Request Bulletins Via Link Only.
We will then remove your name from the Bulletin list and place your e-mail address in a new Link Only group. When a new Bulletin is e-mailed you will receive a link to the new Bulletin (which will already be posted on-line).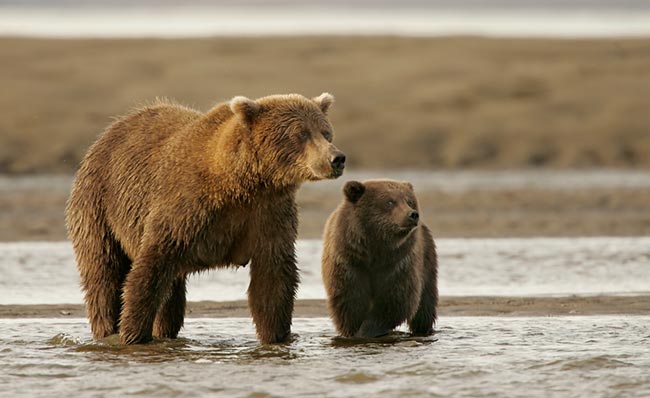 Brown Bear with spring cub, Silver Salmon Creek Lodge, Lake Clark National Park, AK
Image copyright 2005: Arthur Morris/BIRDS AS ART
Canon 500mm f/4 L IS lens with 1.4XII TC and EOS 1D Mark II. ISO 400. Evaluative Metering +1/3 stop: 1/500 sec. at f/5.6.
This sow had three cubs who usually stuck pretty close by her.
SILVER SALMON CREEK TRIP REPORT
After the incredible bear boat experience, I flew back to Anchorage and then continued on to Silver Salmon Creek Lodge by bush plane. It was exciting landing on the beach! Four of the six folks from the bear boat trip (Wes & Patti Ardoin, Forrest Roberts, and Robert O'Toole) continued on to SSCr with me, and we were joined by three other photographers: Marty Maxwell, Tom Schwab, and Doug McLarty (from way up north: Rankin Inlet, Canada)!
When we arrived at SSCr we learned that the September rainfall has already been 8 times the average monthly amount! The lakes were over-flowing and the creeks swollen and muddy. The bears usually catch salmon in the creek right in front of the lodge. This creek is normally fifty feet wide and only a few inches deep in many spots, a foot or two at its deepest. While we were there it was about 100 yards wide and four feet deep in the channels at high tide. The photo opportunities that we had were certainly different than they were in Kinak Bay, and were not typical of the opportunities at SSCr in most years. I just loved working with the bears against clean backgrounds of sand and water and distant forest and the braided creek mouth provided lots of scenic opportunities as well. Lake Clark National Park was even more beautiful than Katmai. In addition to the scenic opps, there were lots of macro opportunities and Robert shared his technique with the group on several occasions. As our mobility was somewhat limited by the high water levels, we really needed some cloudy weather in the mornings and we were pretty much blessed in that department also.
David Coray was a wonderful host, making sure that our every need was attended to. The lodge was lovely and the food was very good. Our guides, John and Dawn, were superb. They were friendly, knowledgeable, hard working, and adaptable. And they knew the bears well. Many of us enjoyed some great fishing for sea-run silver salmon. All in all, it was a great trip. I am planning to return to Silver Salmon Creek Lodge in August 2007 when we will enjoy and photograph bears catching salmon and grazing in the meadows, catch some salmon and halibut (optional), and, visit two rookery islands where we will get to spend a day or two photographing Horned (and possibly Tufted) Puffins in flight and on the ground. I am trying to have both Todd Gustafson and Ellen Anon join me as co-leaders so that we can split into three groups. There will be kittiwakes and other nesting seabirds as well. If you are interested in receiving priority info on this trip, please e-mail me.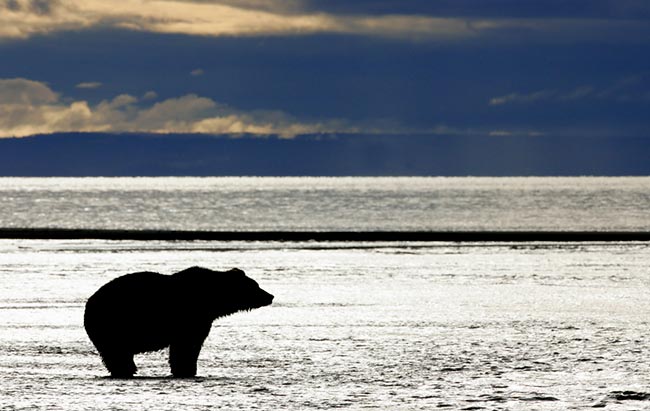 Brown Bear silhouette, Silver Salmon Creek Lodge, Lake Clark National Park, AK
Image copyright 2005: Arthur Morris/BIRDS AS ART
Canon 500mm f/4 L IS lens with EOS 1D Mark II. ISO 400. Evaluative Metering +2/3 stop: 1/400 sec. at f/20.
With our mobility limited, we needed cloudy conditions during the morning low tides; for the most part, we were blessed. The wide, braided river and the wide open spaces allowed us to create many unique images. When making silhouettes, it is important to avoid having the dark subject merge with any dark or black background elements (in this case, the strip of outer beach).
WIMBERLEY ANNOUNCEMENT
Our friends at Wimberley have announced a new Wimberley Head, the Wimberley Head Version II. The new head is scheduled to be released on November 14, 2005. The price will be
$595.00 plus shipping and handling. We are expecting an initial order of 12 units. I have not had a chance to test the new head but am thrilled that it will weigh one pound less than the old one and that the knobs are improved for cold weather gripping. I will post an evaluation via Bulletin as soon as I have had a chance to field-test the new head at Bosque.
Here is some info from Wimberley:
The Wimberley Head Version II offers the same stiffness, capacity, and fluid movement of the old version in a more compact and lightweight package. It is (at 3.15 lbs) one pound lighter and about two inches shorter. The head's redesigned panning base has zero play and the pan locking knob has been moved to the side of the head; this allows the user to easily operate both knobs with the same hand. The new lobed "soft-touch" knobs provide a more comfortable grip and perform better when using gloves. In addition to the above improvements, Wimberley has examined all aspects of the head, tightened the tolerances, and improved friction materials. Our goal has been to make this head functionally and aesthetically better in every way than the old version and competing products. The new head has a built-in Arca-Swiss style quick-release clamp. It is not available without the quick-release. The dovetail on the swing-arm of the new head is Arca-Swiss compatible. This was not true of the old version of the head. Thus, the Wimberley Head Flash Bracket, the one that attached to the swing arm of the old Wimberley head, is not compatible with the new Wimberley Head without the use of an adapter. This adapter (FA-09 Wimberley Head Flash Adapter) should be available by November 14th. The retail price will be $28.00. The new head will use the Module 9; a new flash bracket being developed for the new Wimberley Head. We will do our best to have this module available on or near November 14th. The retail price will be $110.00
We will be carrying all of the new products and will update the web site with photos and additional information and explanations soon.
If you would like to place an order for the new head, please e-mail us for details. If you would like to see photos of the new head, please e-mail and cut and paste New Wimberley Head Photos Please into the subject line.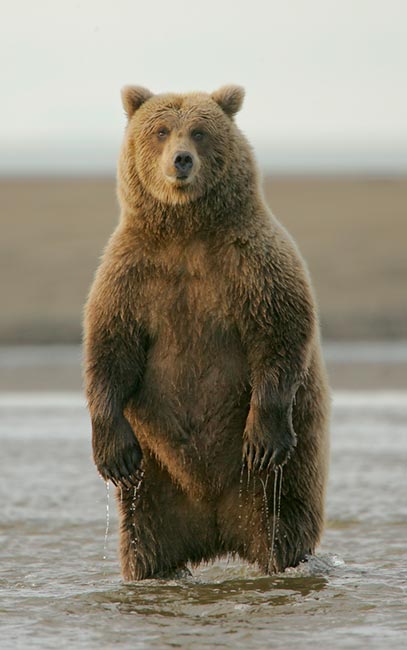 Brown Bear standing, Silver Salmon Creek Lodge, Lake Clark National Park, AK
Image copyright 2005: Arthur Morris/BIRDS AS ART
Canon 500mm f/4 L IS lens with 1.4XII TC and EOS 1D Mark II. ISO 400. Evaluative Metering at zero: 1/640 sec. at f/5.6.
The soft light made it easy to capture incredible detail in this bear's fur. Though digital capture offers great latitude, doing the same thing with a wet bear on a sunny day is well nigh impossible... When you see something spectacular, it often pays (as it did here) to simply point and shoot rather than to try to make the image more perfect... For me, that is usually easier said than done!
TIM GREYT!
Tim Grey has been the digital guru to legions of nature photographers for years. In his Digital Darkroom Questions (DDQ) he answers a wide variety of questions about all aspects of digital photography. The breadth of his knowledge is staggering. Below are two interesting excerpts from recent DDQs:


Do hard drives such as the Maxtor One Touch units really have such a limited life or does this estimated life span assume that they are running 24 hours a day?
==========
The most often used measure of hard drive lifespan is MTBF (Mean Time Between Failure). This is the average time one would expect a drive to fail. It used to be that most drives would have an MTBF in the range of about 100,000 hours of use, which would translate into about 11 years of continual use, 24 hours a day, 7 days a week. More recently, drives have been rated with MTBF values in the 1 million hours range, which would translate into about 100 years of continued use. What do you think the odds of that are in the real world? These values are difficult to translate into real terms. They can also be misleading from the standpoint that if you have a drive that lasts 199,000 hours and I have a drive that only lasted 1 hour, the MTBF between the drives is still 100,000 hours. Of course, a sampling of two drives is hardly statistically valid, but the point is that just because the average drive lasts for years doesn't mean yours will last that long. Many drives fail right out of the box. So regardless, it is critically important to backup your work on a regular basis.
Of course, 10 to 100 years sounds pretty good. But there are other factors than the general wear and tear associated with these figures that affect your real-world results. Things such as excessive heat (which is a high probability inside a computer), power spikes and surges, and other events that can stress the drive can greatly shorten the life (for example, a strong power surge can cause a drive to fail immediately). So, considering all the real-world possibilities, I'd say a 3-10 year is reasonably accurate, though for most drives handled with reasonable care I would tend to estimate a bit higher on the low end. Another important thing to remember about these failure estimations is that they are based on hours of continual use. If you have a drive storing images in an archival fashion where it is disconnected from the computer (or connected and not powered up) that can greatly extend the life of the drive.
You're right that a decade isn't very long for a hard drive to last. Most of you probably have slides that are considerably older than ten years. However, the thing to keep in mind with hard drives (and other storage media) is that this is generally a problem that solves itself. By the time a drive would otherwise failed, you've typically replaced it with a bigger, faster, and cheaper drive. Just be sure, no matter how frequently you upgrade your media, that you backup on a regular basis, because no matter what the statistics might say, drives do fail, and almost without exception they fail unexpectedly and with minimal warning.
(Note from Artie: I know of some very talented photographers who have lost wonderful images because they have not attended to the vital task of making multiple back-ups of all of their work. Our Digital Basics file details the methods that we use to protect BIRDS AS ART images.)
Here is the second DDQ excerpt:
What are the keystrokes necessary to get the copyright symbol?
==========
On Windows you hold the Alt key and then on the numeric keypad (not the numbers at the top of the keyboard) type 0169 and release the Alt key. On Macintosh hold the Option key and press G. Naturally, you'll need to do this when you're editing text, which in Photoshop generally means adding (or modifying) a text layer using the Text tool.
You can sign up for free to receive Tim's DDQ by clicking here: http://www.timgrey.com/ddq/index.htm.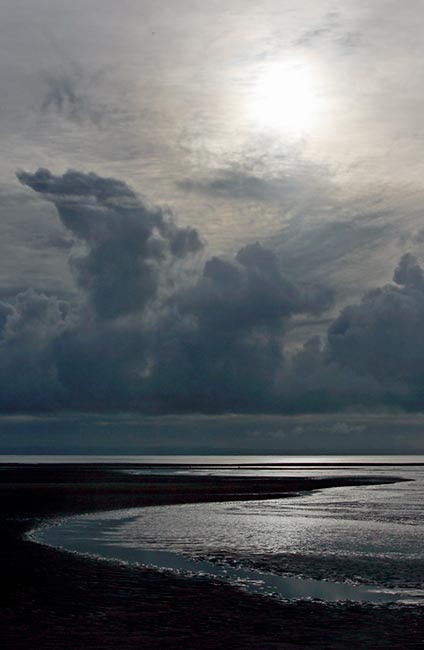 flooded creek mouth on stormy morning, Silver Salmon Creek Lodge, Lake Clark N. Pk., AK
Image copyright 2005: Arthur Morris/BIRDS AS ART
Canon 28-135mm IS lens (handheld at 73mm) with EOS 1D Mark II. ISO 400. Evaluative Metering -2 stops: 1/2000 sec. at f/16..
The stormy sky, the classic S- curve, and the rule of 1/3rds placement of the horizon line are all textbook scenic strategies.
NWPphotoforum.com INTERVIEW
Two months ago I spent several hours on the phone with James Morrissey who interviewed me extensively. If you would like to learn more about me, you can find the this revealing, in-depth interview here: http://www.nwpphotoforum.com/ubbthreads/JM_Pieces/amorris/amorris_pt1.htm. The interview is in four parts. Part I: About Artie Morris. Part II: Artie on Business. Part III: The Environment. Part IV: Tricks and Tips.
Doug McLarty photographing Brown Bears, Silver Salmon Creek Lodge, Lake Clark National Park, AK
Image copyright 2005: Arthur Morris/BIRDS AS ART
Canon 500mm f/4 L IS lens with EOS 1D Mark II. ISO 400. Evaluative Metering -2 stops: 1/5000 sec. at f/22.
I made this tight image of Doug against a brilliantly bright background. To create images like this, I use 2-3 less light than suggested by the Evaluative Meter. Why? The meter is programmed to think that the brightest thing possible is a white wall in full sun. But with the "blasting sun on water" conditions, there is much more light than is reflected by a white wall in bright sun. The camera does not think that that is possible so it opens up to the correct "white wall in full sun" reading (which is 1/1500 sec. at f/5.6 with 100 ISO, or, to the extrapolated equivalent). This will overexpose the image so we need to subtract several stops of light to come up with the exposure that we want.
DALLAS SEMINAR: NOV 5-6, 2005
Registration for the seminar has been picking up but we still have lots of room. If you are within a three hour drive or plane flight from Dallas we would love to see you for a great weekend of fun, learning, and super door-prizes.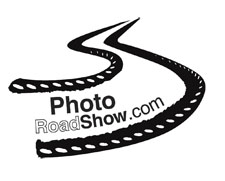 The Art of Bird Photography; It Ain't Just Birds! Weekend Seminar
Presented by Photo Road Show
Dallas, Texas, November 5-6, 2005
a first-class facility located in Richardson, Texas.
First class lodging is available at the adjacent Renaissance Dallas Richardson Hotel
1-800-627-7468
Rooms are blocked for this event. Please mention Photo Road Show to secure the $129/night rate for November 4-6, 2005
This seminar is for all nature photographers who want to learn how to make better images. I will describe the methods and techniques that I have developed and used since 1983. My comments on equipment (including and especially digital equipment), autofocus, light, composition and image design, and sharpness and my tips on getting close to wild subjects and photographing action and behavior will benefit everyone with a telephoto lens who wishes to dramatically improve the quality of their images. Since going all-digital in November 2002, I have--in short order--become a digital photography and Photoshop expert. My approach to optimizing images is to create a master file of excellent quality in the shortest possible time. I will share our workflow and numerous Digital and Photoshop tips during the Sunday sessions.
Weekend package (2 days): $159. Either Saturday or Sunday: $109. To register send a check for the full amount made out to "Arthur Morris" to PO Box 7245, Indian Lake Estates, FL 33855. We accept credit cards by phone: 863-692-0906. In either case, we need your e-mail address, your mailing address, and your daytime and evening phone numbers. Here is the Cancellation Policy for these events: Photo Road Show is relying on your attendance, so if for any reason you need to withdraw, please notify Arthur Morris as soon as possible. Once we receive written notice of your cancellation the following fees apply: cancel 31+ days prior to the start of the workshop and your fee will be refunded less a $50.00 cancellation fee; cancel less 30 days prior to the date of the workshop and there will be no refund.
Please e-mail us for the complete weekend schedule and lodging options.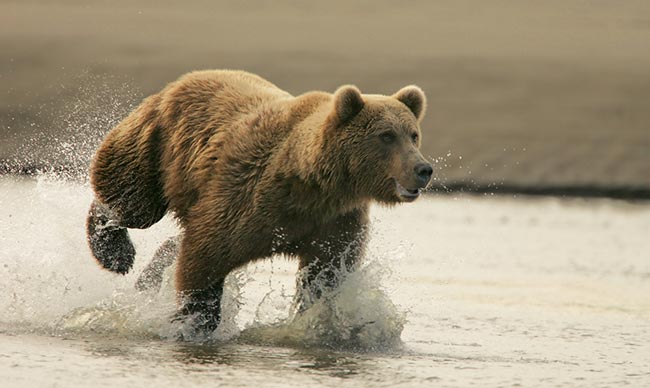 Brown Bear chasing salmon, Silver Salmon Creek Lodge, Lake Clark National Park, AK
Image copyright 2005: Arthur Morris/BIRDS AS ART
Canon 500mm f/4 L IS lens with 1.4XII TC and EOS 1D Mark II. ISO 400. Evaluative Metering at zero: 1/1250 sec. at f/5.6.
At low tide, the bears at Silver Salmon Creek were able to spot the silvers in the shallows from a long way off. They would often run long distances before their attack.
BETTER BEAMER QUESTIONS
From subscriber Lee Karney:
LK: How far will the Better Beamer project my flash?
AM: To calculate the exact effective distance of a flash (with or without a Better Beamer), one would need to know the ISO, the aperture, the level of flash desired, the level of ambient light, the flash setting (as main light or as fill), and a few more items that I do not remember. And even if I knew all of that, I simply could not do the math! There is, however, a very simple answer to your question: using a Better Beamer will increase your flash output by roughly 3 full stops. This will roughly triple the distance at which your flash is effective. It's that simple. If you are using flash as main light effectively at 20 feet in a given situation, mounting the beamer will allow you to use flash as main light with the same aperture at 60 feet. If you are using fill flash effectively at 50 feet with the flash alone, you would be able to use it effectively at approximately 150 feet with the beamer in place. Best and great picture-making, artie
From subscriber Steve Graham:
SG: You recommend using the Better Beamer only with 300mm or longer focal length telephoto lenses. I am looking to increase my flash output when using my Canon 550 flash with the Canon 70-200L f/2.8 L IS lens when photographing football games at night from the sidelines. What problems might I encounter if I use a Better Beamer?
AM: I love that lens! If your effective focal length is less than 300mm, you will encounter a spotlighting effect, i.e., only the central portion of the image will be effected by the flash. To determine the effective focal length of the lens, you need to multiply the focal length by the multiplier effect of your digital camera (if you are using one). Likewise if you are using a teleconverter.
For example, if you are using the lens alone at 180mm with no teleconverter and a 1D Mark II, you would multiply 180 X 1.3. The effective focal length here would be 233mm, not enough to ensure full flash coverage when using a Better Beamer. (Do note that at times the spotlit effect can create some interesting images.) If, however, you are using the lens at 200mm with an EOS 20D, then you would multiply 200 X 1.6. The effective focal length in this case would be 320mm. Using the beamer here would be fine as long as your effective focal length remains above 300mm. Good luck, and best, artie
For more info on the Better Beamer, visit: http://www.birdsasart.com/accs.html#BEAMER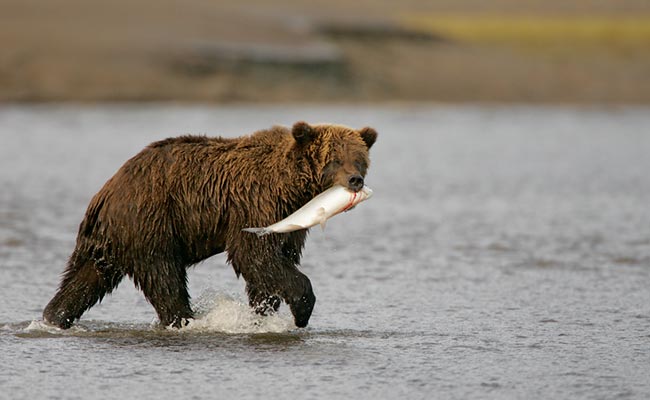 Brown Bear with silver salmon, Silver Salmon Creek Lodge, Lake Clark National Park, AK
Image copyright 2005: Arthur Morris/BIRDS AS ART
Canon 500mm f/4 L IS lens with 1.4XII TC and EOS 1D Mark II. ISO 400. Evaluative Metering at zero: 1/1600 sec. at f/5.6.
With the soft light, I knew that I would not need to underexpose to keep from blowing out the highlights on the salmon's belly.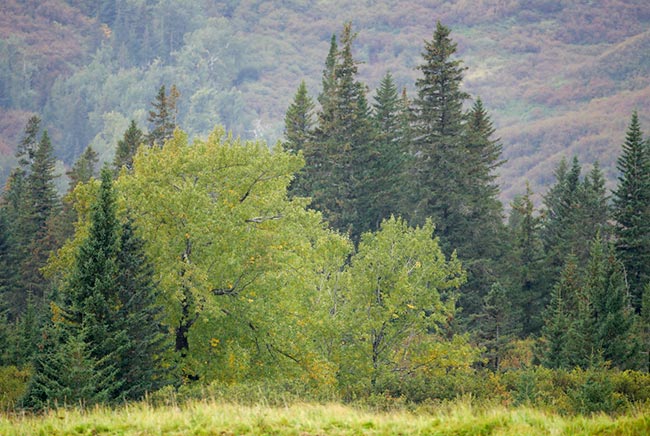 Spruce and Yellow Poplar Trees, Silver Salmon Creek Lodge, Lake Clark National Park, AK
Image copyright 2005: Arthur Morris/BIRDS AS ART
Canon 500mm f/4 L IS lens with EOS 1D Mark II. ISO 400. Evaluative Metering +1/3 stop: 1/400 sec. at f/4.
I often use a long lens to extract distant elements that are pleasingly arranged or that otherwise catch my eye.
NEW: GALAPAGOS PHOTO TOUR
GALAPAGOS 2006/2ND TRIP ADDED BY POPULAR DEMAND
Galapagos Trip #2: June 28-July 8, 2006. (Dates firm/trip tentative--see below for details). We will have a minimum of six full and two half-days of photography.
The cost of this trip will be $4499.00 per person based on double occupancy. This trip is at priced at least $1,000 less than similar trips offered by Zegrahm ($5700) and Linblad ($5500) and neither of those trips have me as the leader. An $800.00 per person deposit is required at the time of booking. The deposit is non-refundable (see below for exception). Final payment is due on February 1, 2006. The trip fees will be non refundable at that time unless your spot is resold.
To reserve a spot now, Call Janie Bullard 888-419-6677 or e-mail her at Janie@Distinctive-Journeys.com.
If you leave a phone message, be sure to state the following: "I wish to send you a deposit for the first 2006 Galapagos trip, June 28-July 8, 2006 with Arthur Morris. Please save a spot for me." We already have deposits for at least 8 of the fourteen slots.
At this time the above trip is a tentative one. We need to have the trip sold by the third week of October or we will be unable to commit to renting the yacht. If you are seriously interested, please do let us know. In the unlikely event that the trip does not go, your entire deposit will--of course--be promptly refunded.
Rough itinerary:
June 28: fly to Quito, Ecuador
June 29: R&R or Quito city tour (for the culturally inclined). This day is scheduled in case of any travel problems. Miss the flight on the 29th and you miss the boat!
June 30: Fly to Baltra to meet and board the yacht "Beluga." Afternoon of amazing wildlife photography.
July 1-6: unparalleled wildlife photographic opportunities. Based on what I learned last year, both of this year's itineraries will be fine-tuned to maximize the amount of time spent at the best locations. We will be spending a morning with the tortoises, the ones in the wild not the captives, but will be avoiding some of the other touristy spots that are not as productive as Hood and Tower Islands.
July 7: Photograph in the morning and then depart Baltra for flight to mainland.
July 8: Fly home or possibly join a land-based bird photography tour that we may be putting together...
Included: The opportunity to photograph the Galapagos with world-renowned bird photographer, Arthur Morris. In-the-field instruction and on board slide programs (on a large laptop) included. This journey will be strictly limited to 14 participants; 2 nights at Colon Hilton including tax and Breakfast; 1 night at Hampton Inn Guayaquil; City tour of Quito; All ground transfers; All inner Galapagos airfare; 7 nights aboard the private yacht Beluga including all meals and guide services; Galapagos National Park Entrance Fees.
Not included: International air from your home to and from Miami. DO NOT book your air travel until you receive a final itinerary and approval to do so from Janie Bullard at Distinctive Journeys. Add-on air fares from various gateway cities are available; Trip Cancellation and Interruption Insurance (which is highly recommended); Costs of passport; Alcoholic Beverages; Personal incidentals; Meals not mentioned in itinerary; Phone calls; Gratuities for guide and boat staff.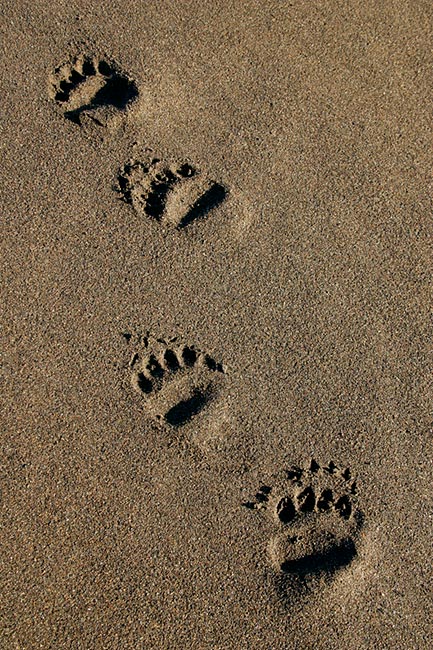 Brown Bear footprints, Lake Clark National Park, AK
Image copyright 2005: Arthur Morris/BIRDS AS ART
Canon 28-135mm IS lens (handheld at 41mm) with EOS 1D Mark II. ISO 400. Evaluative Metering at zero: 1/100 sec. at f/11.
We took a boat ride down the coast on an early morning high tide. We did not have much luck, but I was thrilled to find these prints in the gravelly sand just after sunrise. The low angled light added texture to both the sand and the paw-prints. The wet sand was a perfect middle tone so the metered exposure was an obvious choice. As the beach was angled slightly away from me I went to f/11 in an effort to make all the prints sharp. I focused on the second print from the bottom which is about 1/3 of the way into the frame.
IPT UPDATES
BOSQUE IPTs 3-DAY: $929.
All with co-leader Ellen Anon.
NOV 15-17
, 2005 (Limit 14, 3 openings), NOV 20-22 (Limit 14, 1 openings) & NOV 26-28 (Limit 14; 4 openings).
SW FLA, Post X-mas IPT. 3 -DAY: $929. DEC 28-30, 2005. (Limit 12; 5 openings)
SAN DIEGO 4-Day IPT: $1399 w/co-leader Ellen Anon. JAN 5-8, 2006 (Limit 12, 10 Openings.) This IPT is shaping up to be a near-private affair. Do consider joining us to photograph Brown Pelican and Heerman's Gulls in spectacular breeding plumage, loads of tame shorebirds, Lesser Scaup, and Wood and Ring-necked Ducks at close range. In addition there is lots of great behavior and flight photography and lots of really great restaurants.
SW FLA President's Holiday IPT w/co-leader Ellen Anon: $1549. FEB 17-21, 2006. (Limit 14; 6 openings)
FORT DESOTO IPT, MAR 24-26, (slide program on Thursday, MAR 23 at 7pm): 3-DAY: $899 (Limit 12, 10 openings.)
Fort DeSoto has rapidly become one of my very favorite photo locations. Join us during prime time to photograph Royal and Sandwich Terns & Laughing Gulls in spectacular breeding plumage/courtship and copulations; dark and white phase Reddish Egrets in breeding plumage; many other tame heron and egret species; Forster's Terns, Long-billed Curlew and a dozen or more easily approachable shorebird species; great flight photography opportunities will be available at DeSoto. Depending on local conditions we may or may not enjoy the following in Sarasota: great flight photography opportunities; Brown Pelicans with nesting material; Great Egret, Great Blue Heron, & Black-crowned Night-Heron (head and shoulders portraits likely with this species). This IPT will include at least three slide programs.
LAKE MARTIN, LA SPOONBILL IPTs, APR 8-10, 2006 (Limit 12, 9 openings): slide program Friday, APR 7. APR 28-30 (Limit 12, 7 openings): slide program Friday, APR 27. 3 -DAY: $949.
Join us to photograph nesting Roseate Spoonbills, Great & Cattle Egret, and Little Blue Heron in a budding cypress swamp. We will witness and photograph a variety of courtship behaviors as well as lots of nest building

. Barring a natural disaster there will be Great Egret chicks on both IPTs. Tiny spoonbill chicks are possible on the second IPT but will almost surely be difficult to photograph. Both IPTs will feature spoonbills in mind-boggling breeding plumage (unlike anything I've ever seen here in Florida), but there will be more birds in mega-breeding plumage on the first tour. The spoonbills will be courting, building nests, copulating, and fighting. Good flight photography opportunities are expected on both IPTs. 500 and 600mm lenses with 1.4 and 2X TCs are recommended; equipment rentals are available. Barred Owls are guaranteed. There will also be Green Heron, both night-herons, scenic sunrises, nutria, alligators, and lots of flowers. Sunny afternoons will be tough at Lake Martin but mornings will be spectacular. With cloudy weather the days will be long... This IPT includes four slide programs. Registration includes a complimentary homemade crawfish etouffe dinner: hosts: Wes and Patti Ardoin. (Fly to Lafayette, La.)

ST. AUGUSTINE ALLIGATOR FARM IPT MAY 12-14, 2006. 2 1/2 DAY IPT (Limit: 12, 10 openings): $649

Heron and egret rookery. Nesting Great Egrets with chicks, nesting Snowy and Cattle Egrets, and Tricolored Herons. Courtship behaviors, copulations, eggs, nests and possibly tiny chicks. Includes three classroom sessions in air-conditioned comfort during the heat of the day. The introductory slide program will be at 2pm on Friday May 12, 2006.

January 2006 Tanzania Photo-Safari with co-leader Todd Gustafson. January 16-30, 2006 (14 full and one half-day of photography): $7762.50/person. Non-refundable $1000 deposit required. See or request Bulletin 166 in the archives for complete details. (Sold out.)

Summer 2006 Kenya Photo-Safari with co-leader Todd Gustafson. Please e-mail for details. A non-refundable $1000 deposit required.

HOMER AK Bald Eagle IPT MAR 3-7, 2006 5-day: $1699 (limit 10). (Sold out.) The opportunities in Homer are beyond-spectacular. We are currently accepting $500 deposits for the 2006 Homer IPT, but these tours will be cancelled if the town, state, or Fish and Wildlife institute a ban on eagle feeding. Please do not purchase your non-refundable plane tickets until after you hear from us in November. According to some reliable information that I received just yesterday, it seems almost certain that there will not be a ban on eagle feeding at Homer in the 2005-2006 season, so the tour should be a go, but please wait until hearing from me in late co November before making your travel plans.

NOME, ALASKA IPT June 10-20, 2006 in conjunction with Greg Downing: (Greg has a single opening due to a cancellation.) Please e-mail us if you are interested in filling Greg's last slot. Long lenses are a necessity.

Antarctica/South Georgia/Falkland Islands Zegrahms Cruise with Arthur Morris and Greg Downing: January 4-24, 2007. Please e-mail birdsasart@verizon.net for details. Note: Only a very few of our slots remain for this trip.

For general IPT info, deposit and registration details, and cancellation policies, please visit: http://www.birdsasart.com/tours.html

If you would like your name placed on the waiting list for one or more trips, please e-mail, indicate the trip or trips that you are interested in, and be sure to include day, evening, and cell phone numbers. We often have late cancellations.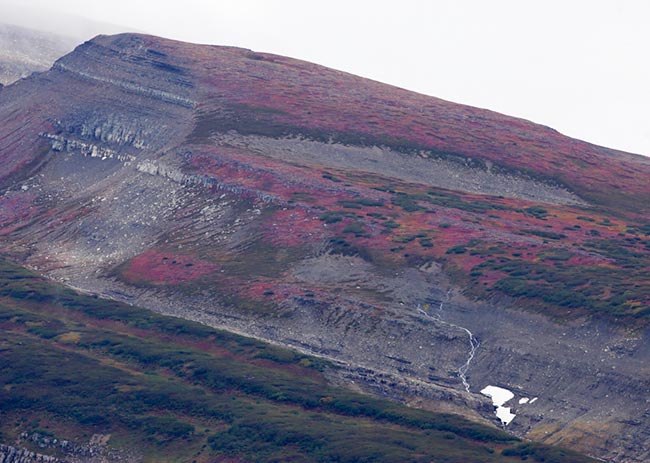 Slope Mountain, Silver Salmon Creek Lodge, Lake Clark National Park, AK
Image copyright 2005: Arthur Morris/BIRDS AS ART
Canon 500mm f/4L IS lens with EOS 1D Mark II. ISO 400. Evaluative Metering at zero: 1/400 sec. at f/8.
My eye was attracted to the rich fall colors of the foliage of the blueberry bushes. I made many similar images varying my framing for the most part by moving closer to or farther from the mountain. Here I used the small snow field in the lower right corner as a compositional anchor.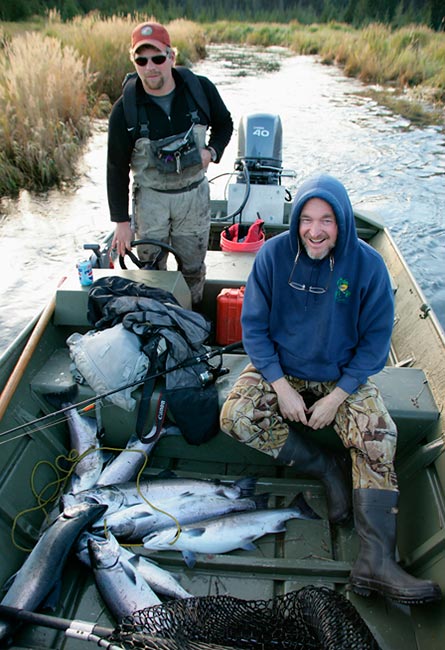 happy fisherman (me!) with salmon and bear guide
Silver Salmon Creek Lodge, Lake Clark National Park, AK
Image copyright 2005: Robert O'Toole
Best and love and great picture-making to all,
Artie