GET WELL SOON
GALAPAGOS PHOTO TOUR/IMPORTANT NOTICE
HOMER, AK EAGLE IPTs
"PHOTOSHOP FOR NATURE PHOTOGRAPHERS"/CONGRATS TO ELLEN AND TIM
DALLAS SEMINAR: NOV 5-6, 2005/WALK-INS WELCOME
KENYA 2006 FLY-FLY-FLY PHOTO SAFARI
BETTER BEAMER INFO
GITZO 1320 TRIPOD FOR SALE (USED)
SELECTED IPT UPDATES
FREE EXCERPT from "THE ART OF BIRD PHOTOGRAPHY II"
HUNT'S SPECIALS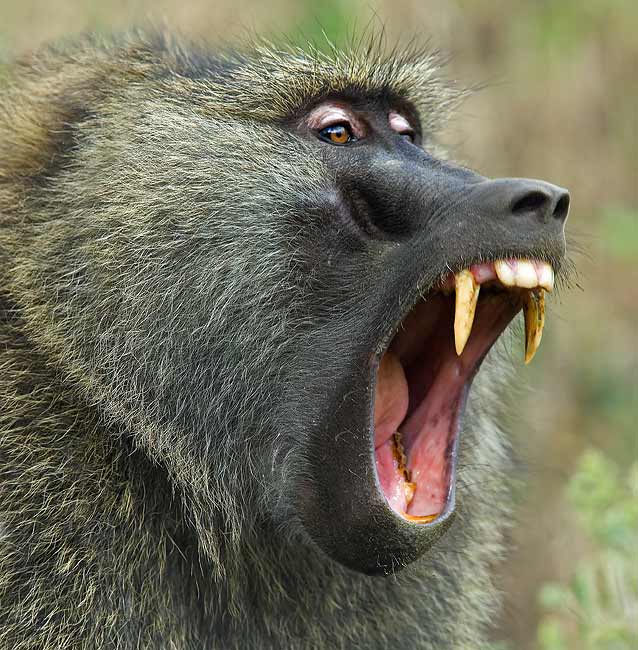 Olive Baboon, Kenya
Image copyright 2005: Todd Gustafson
GET WELL SOON
On Friday October 14th I had arthroscopic surgery on my left knee, which had been bothering me on and off for a year. The problem first developed after a wet, hilly exercise walk in Kenya in August 2004. It was healing nicely until October 2004 when I jumped off of a moving train in Germany, and was healing nicely again by January 2005 when I lost my balance on the cliffs at LaJolla, CA and was forced to jump. Then it was doing great for more than six months until I was on my knees photographing a mother and baby sea lion in the Galapagos in July 2005. Poppa came charging out of the water at me and I hurt the knee again as I scrambled away. The last straw was in Kenya this past August. I had asked the guide "Is the planned afternoon walk hilly?" He said, "No." He was right. It was more loose-rocky-mountainous...

I have healed nicely, am feeling great (no crutches, no pain pills needed), and am regaining range of motion and strength daily. No need for get-well e-mails but thanks to all for your concern and good wishes.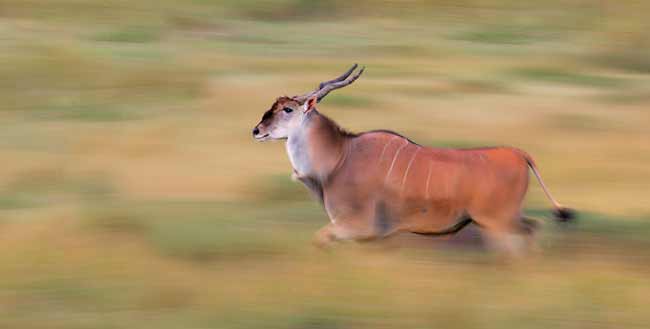 Eland bull blur, Kenya
Image copyright 2005: Todd Gustafson
GALAPAGOS PHOTO TOUR/IMPORTANT NOTICE
Galapagos Trip #1: July 12-22, 2006: SOLD OUT
Galapagos Trip #2: June 28-July 8, 2006: $4499 per person double occupancy. Limit: 14.
This trip is at priced at least $1,000 less than similar trips offered by Zegrahm ($5700) and Linblad ($5500) and neither of those trips have me as the leader <smile>. An $800.00 per person deposit is required at the time of booking. The deposit is non-refundable unless we are forced to cancel. We currently have five deposits for this trip. We need to have the trip full by late January or we will be forced to cancel as the cost of the boat has increased so much that we need a full trip to make it a go. We currently have the need for one female roommate. If you are seriously interested in an amazing trip and a great value, call Janie Bullard right now to reserve a spot: 1-888-419-6677 or e-mail her at Janie@Distinctive-Journeys.com. 5 down, 9 to go.
Please e-mail for a tentative itinerary. The itinerary will be fine-tuned to maximize the photographic opportunities and eliminate the touristy sightseeing-only islands. The trip includes in-the-field instruction, on-board slide programs, image sharing, and critiquing sessions upon request. For last year's trip report and images, please visit: http://www.birdsasart.com/bn180.htm and http://www.birdsasart.com/bn181.htm.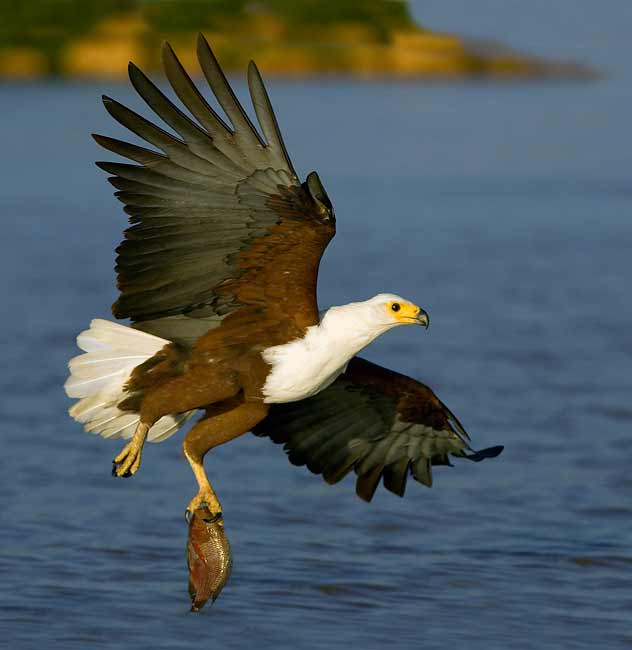 African Fish eagle with catch, Kenya
Image copyright 2005: Todd Gustafson
HOMER, AK EAGLE IPT UPDATES AND ANNOUNCEMENT
In response to popular demand and in view of the fact that this may very well be the last year for photographers to enjoy photographing and feeding eagles on the Homer Spit, I have scheduled a second Bald Eagle IPT to follow the first. In addition, I am proud to announce that Todd Gustafson will be joining me as co-leader for both trips. (Todd is currently using a Canon EOS 1D Mark II on the Canon 600 IS and the Nikon D2X on the killer 200-400 VR lens, a strange but very effective combination. Todd has used primarily Nikon equipment in his short but meteoric career.) Adding Todd will enable us to take 12 participants on each IPT. Here is the down and dirty as of Thursday am.
HOMER AK Bald Eagle IPT #1: MAR 3-7, 2006 5-day: $1699 (limit 12. One slot open). This fee does not include shared SUV (possibly mandatory...), meals, lodging, or flights. Includes four slide programs, and image critique, a year's experience at Homer, in-the-field instruction and fish feeding.
HOMER AK Bald Eagle IPT #2: MAR 8-12, 2006 5-day: $1699 (limit 12. seven slots open). This fee does not include shared SUV (possibly mandatory...), meals, lodging, or flights. Includes four slide programs, and image critique, a year's experience at Homer, in-the-field instruction and fish feeding.
BOTH HOMER Bald Eagle IPTs: MAR 3-12, 2006, 10-DAY: $3198 (one slot open).
I have decided that the Homer IPTs will run this year. My understanding is that there is a well less than 1% chance that the local authorities might put some type of ban in place that would forbid eagle feeding anywhere on the spit this year. If that happens, BIRDS AS ART will not be held liable for the cost of your plane ticket. You might, therefore, consider #1: using frequent-flier miles (as I did) for your ticket (which would then--in most cases--be fully refundable less a $100 fee). #2: Purchasing a refundable ticket (quite expensive). #3: Waiting two or three months to purchase your plane ticket.
In all likelihood the last eight slots will go very quickly. We accept credit card deposits by Paypal on line or by phone: 863-692-0906. You can see some of my images from last year here:
http://www.birdsasart.com/bn162.htm
(Note: Greg Downing bowed out as co-leader for both of the 2006 trips (above). Most amazingly, my Corbis editor Dave Ross selected an astounding 28 of my Homer images (including 25 eagle photos) for acquisition.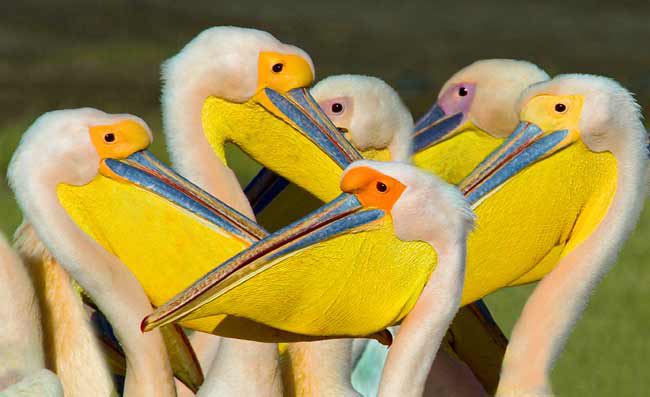 Great White Pelicans (with Canon 600 IS and stacked multipliers), Lake Nakuru, Kenya
Image copyright 2005: Todd Gustafson
"PHOTOSHOP FOR NATURE PHOTOGRAPHERS"/CONGRATS TO ELLEN AND TIM
Sybex recently released "Photoshop for Nature Photographers" co-authored by Ellen Anon and Tim Grey. I gave the book a critical read and was most impressed. The book is easy to read and the instructions are easy to follow. (To learn the most in the least amount of time, I recommend opening an image and following the Photoshop script, just as I do for our Digital Basics File.) Even though I consider myself pretty decent at Photoshop, I was amazed to learn how much I do not know, and that includes lots of basic information... There is a great section on using all of the selection tools, and the bit on turning off the Contiguous Option when using the Magic Wand tool (pages 73-74) was a real eye-opener for me. Also revealing was Table 6.1 on page 156, which describes a simple way to identify a color cast by looking at the RGB readings on the info palette. I offer a big tip of the hat to both Ellen and Tim for a job well done. You can find the book on Amazon.com where it has been selling like hotcakes, or better yet, if you would like a copy signed by Ellen, you can e-mail her at
anonpsych@aol.com
. It is my very great preference to purchase a signed copy of all photography books for a few bucks more from the starving artist-photographer. And I do mean starving. When Amazon.com sells a copy of "The Art of Bird Photography" I make about 78 cents. When we sell you a personally signed copy off of the web site, we make about 14 times that... And it is so much nicer to have a signed copy.
Silver-backed Jackal (from moving safari van), Kenya
Image copyright 2005: Todd Gustafson
DALLAS SEMINAR: NOV 5-6, 2005/WALK-INS WELCOME
We currently have only 39 folks signed up for the seminar. Even if you know as much as I do about nature photography, you should attend simply because of the great door prizes: one (1) Lowepro RoadRunner AW; two (2) 1gb e-Film Pro Cards; five (5) Nature Photographer Magazine 1-year gift subscriptions; two (2) certificates from Visual Echoes for a free Better Beamer; two (2) WildBird Magazine 1-year gift subscriptions; five (5) Plamps from the great folks at Wimberley; and one (1) $50-off coupon from Vested Interest. If you are within a three hour drive or plane flight from Dallas we would love to see you for a great weekend of fun, learning, great images, and super door-prizes.
The Art of Nature Photography; It Ain't Just Birds! Weekend Seminar
Dallas, Texas, November 5-6, 2005
The Countrywide Theater at the Eisemann Center in Richardson, Texas.
For directions, click here:
This seminar is for all nature photographers who want to learn how to make better images. I will describe the methods and techniques that I have developed and used since 1983. My comments on equipment (including and especially digital equipment), autofocus, light, composition and image design, and sharpness and my tips on getting close to wild subjects and photographing action and behavior will benefit everyone with a telephoto lens who wishes to dramatically improve the quality of their images. Since going all-digital in November 2002, I have--in short order--become a digital photography and Photoshop expert. My approach to optimizing images is to create a master file of excellent quality in the shortest possible time. I will share our workflow and numerous Digital and Photoshop tips during the Sunday sessions.
Weekend package (2 days): $159. Either Saturday or Sunday: $109. To register send a check for the full amount made out to "Arthur Morris" to PO Box 7245, Indian Lake Estates, FL 33855. We accept credit cards by phone: 863-692-0906. In either case, we need your e-mail address, your mailing address, and your daytime and evening phone numbers.
Please e-mail us for the complete weekend schedule and lodging options.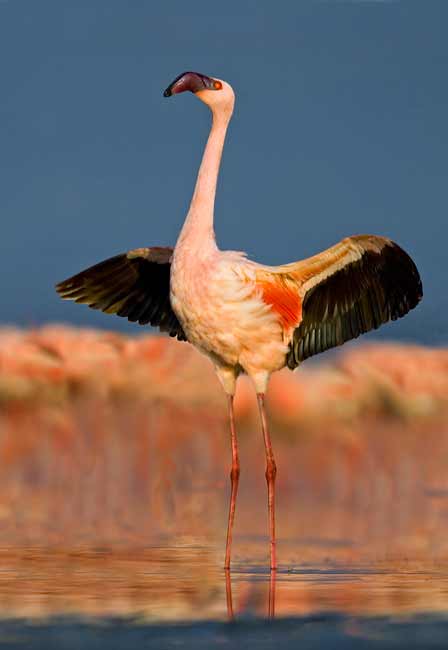 Lesser Flamingo wingstretch, Kenya
Image copyright 2005: Todd Gustafson
KENYA 2006 FLY-FLY-FLY PHOTO SAFARI
Kenya Fly/Fly/Fly Photo Safari: Leave the US: August 21, 2006. Amsterdam to Nairobi: August 22. Nairobi to Amsterdam: September 6. Amsterdam to US: September 7.) $9,499 per person.
Todd Gustafson and I will again be collaborating on a killer African Photo-Safari, this one to Kenya. It will be our seventh trip to Africa and our fourth to Kenya. Our safaris are designed to maximize photo opportunities and time by flying from site to site and by avoiding the let's-visit-every-refuge-in-the-country mentality. We will be staying two nights at Naivasha where we will visit Crescent Island by boat and walk with the animals and birds. Then we fly to Samburu with its specialty birds and animals (and great potential for all the cats, including leopard) for five nights. We then fly to Maasai Mara with our visit timed to coincide with the peak of the great wildebeest and zebra migration. With luck, we will get to experience one or more Mara River crossings. (I had two last trip!) The cost of the trip is $9,499 per person all-inclusive on the ground in Kenya. You are responsible for the airfare to and from Nairobi. A non-refundable deposit of $1,000.00 per person is required. Please e-mail for complete itinerary.
For last year's trip report, click here: http://www.birdsasart.com/bn183.htm
To view an on-line gallery of Todd's 2005 Kenya images, visit: http://www.birdsasart.com/toddkenya/index.htm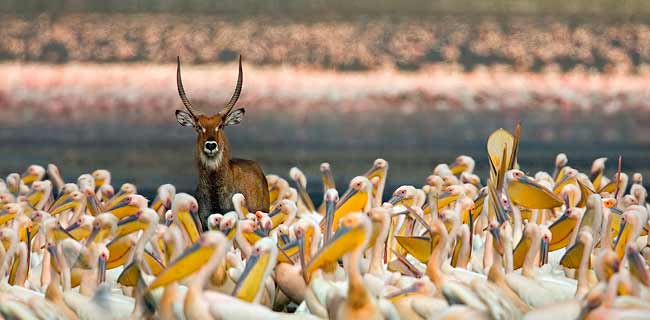 Waterbuck and Great White Pelicans, Kenya
Image copyright 2005: Todd Gustafson
BETTER BEAMER INFO
Here is my e-mail to subscriber Dennis Luz:
DL: I purchased a BB and wonder if there are any recommendations for flash settings. The only instructions that came with the BB were to set the zoom level of my Sigma EF500-DGS flash to 50mm.
AM: With the Better Beamer in place, you do not do anything different as far as setting your flash. The flash turns itself off when the level of exposure that you have set is reached. The beamer concentrates the light so that the flash is able to turn itself off more quickly. Imagine that you have a bucket that automatically shuts off the flow of water when the bucket is full. It does not matter if you use a thin hose (a flash without a Better Beamer) or a thick hose (a flash with a beamer) because the bucket will turn
the hose off when the bucket is full. Just as the flash will turn itself off when the desired level of flash exposure is set.

If your fill flash, flash-as-main-light, and manual flash techniques are good, you can expect the exact same results when you are using a beamer. (Your flash, however, will of course have greater effective distance.) You can find more beamer info here: http://www.birdsasart.com/bn50A.htm, and there lots more in the Bulletin Archives (which has a great Google search feature). For product info, click here: http://www.birdsasart.com/accs.html#BEAMER.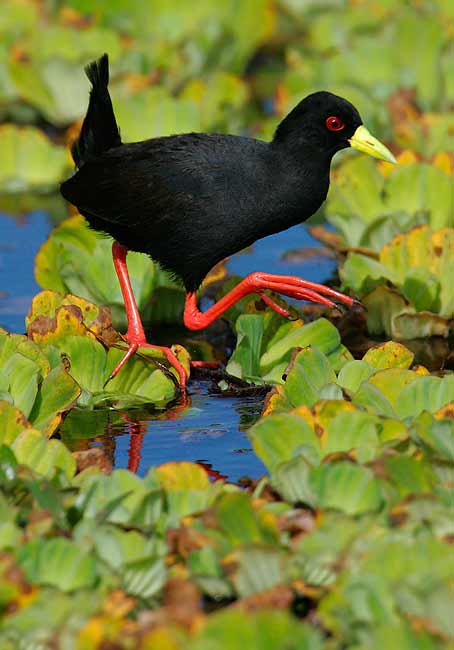 Black Crake, Kenya
Image copyright 2005: Todd Gustafson
GITZO 1320 TRIPOD FOR SALE (USED)
Subscriber Deb Sandidge is offering a used, like-new Gitzo G-1320 Tripod in like-new condition for $250.00 (reduced from $275.00) plus ground shipping. You can see this product and the price new here:http://www.bhphotovideo.com/bnh/controller/home?O=productlist&A=details&Q=&sku=170784&is=REG. Please contact us at 863-692-0906 or birdsasart@att.net if you are looking for an inexpensive, heavy-duty, sturdy tripod and are interested in saving some money...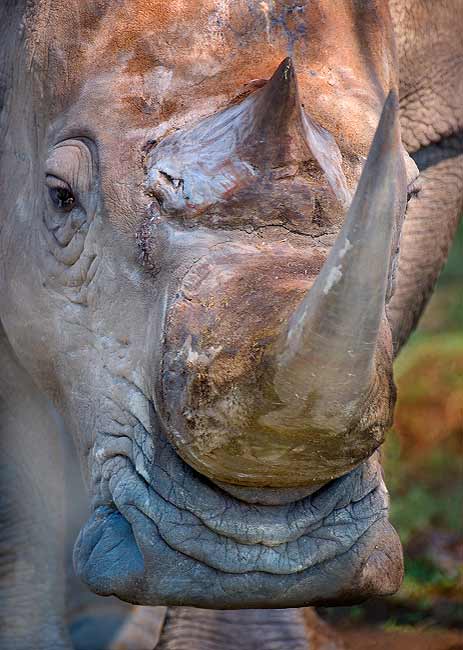 White Rhino, Kenya
Image copyright 2005: Todd Gustafson
SELECTED IPT UPDATES
BOSQUE IPTs 3-DAY: $929. All with co-leader Ellen Anon. NOV 15-17, 2005 (Limit 14, 4 openings), NOV 20-22 (Limit 14, 1 openings) & NOV 26-28 (Limit 14; sold out)
Note: Because we have had several late cancellations for the first Bosque IPT, I am offering a late-registration discount. Please call me at 863-692-0906 for details.
SW FLA, Post X-mas IPT. 3 -DAY: $929. DEC 28-30, 2005. (Limit 12; 5 openings)
SAN DIEGO 4-Day IPT: $1399 w/co-leader Ellen Anon.
JAN 5-8, 2006 (Limit 12, 10 Openings.)
This IPT is still shaping up to be a near-private affair. Do consider joining us to photograph Brown Pelican and Heerman's Gulls in spectacular breeding plumage, loads of tame shorebirds, Lesser Scaup, and Wood and Ring-necked Ducks at close range. In addition there will be lots of opportunities for great behavior and flight photography and some really good food. You can see some San Diego IPT pix here:
http://www.birdsasart.com/bn159.htm
.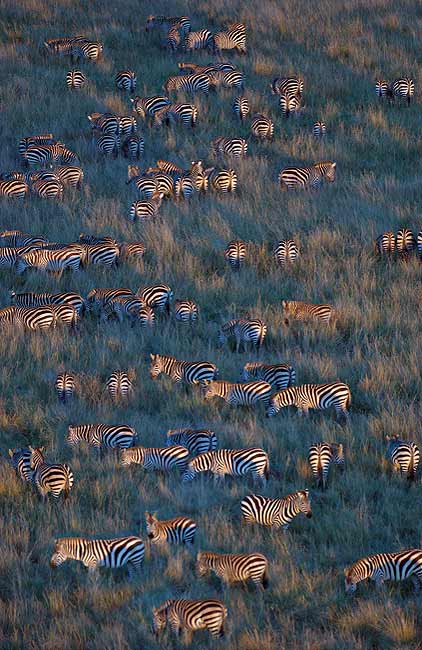 Burchell's Zebras from balloon, Kenya
Image copyright 2005: Todd Gustafson
FREE EXCERPT from "THE ART OF BIRD PHOTOGRAPHY II"
I began working on "The Art of Bird Photography II" on January 3, 2003 so it is coming up on three years now. I worked on it in fits and starts, always tearing myself away to do some photography... About two months ago I re-committed myself to finishing it. My current goal is to have it done before the December holidays. ABP II will be a CD book. I hope to have CDs available for purchase some time in February. At present, I have no plans to have the book printed, ever... Why? It simply contains too much information and too many images. Right now it looks as if the book will come in somewhere around 500 pages, more than twice the size of "The Art of Bird Photography; The Complete Guide to Professional Field Techniques (which quickly became the how-to bird photography bible after its release in 1998). We have sold more than 15,000 copies of "the first book."
ABP II will be a revolutionary publication. In addition to the illustrated text, most chapters will feature image galleries that are designed to further and better illustrate the concepts covered in the text. Each image in the book, both in the main sections and in the galleries, will feature detailed captions that will include the subject and location, the technical details, and the thoughts that were in my head before and after I created the image. The captions will be very much like the captions that accompany the images in our Bulletins, captions that have proved to be the most popular and educational Bulletin feature.
You can get a great idea of how amazing ABP II will be by checking out the free excerpt from the "Advanced Composition and Image Design" chapter here:
The text has not been proofed so you may find some errors.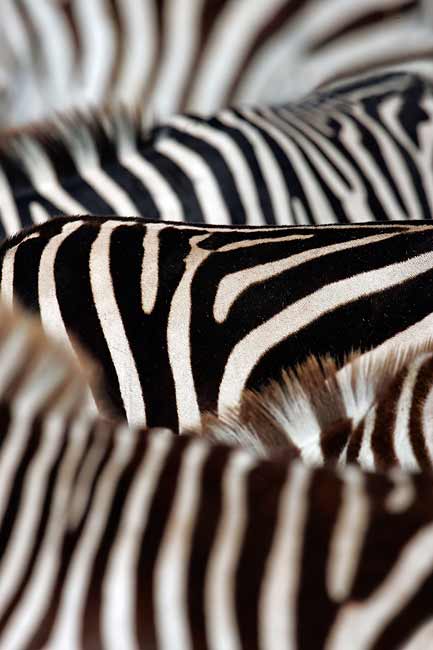 Burchell's Zebra stripes, Kenya
Image copyright 2005: Todd Gustafson
HUNT'S SPECIALS
100 Main Street Melrose, MA 02176
Contact: Gary Farber Tel#800-221-1830 ext. 2332, Fax#781-662-6524
Email: FilmGuyGary@aol.com
SPECIALS FOR BIRDS AS ART SUBSCRIBERS (Expiration November 7, 2005)
Canon 1D Mark II N (Limited quantity; in stock. "Free" shipping for Birds as Art Subscribers.)
Canon 1DS Mark II $7299.99
Canon 5D (In stock; "Free" shipping for Birds as Art Subscribers)
Canon 20D (with $100.00 mail in rebate) $1299.99
Final Price $1199.99
Ask about Canon long lenses 300, 500, 600, and all other Canon lenses.
LowePro Road Runner AW $379.99
Quantum 2x2 Turbo Battery (Special price for Birds as Art Subscribers)
Epson 4800 Printer Birds as Art Subscribers "Call"
(Now has a $400.00 Mail-In Rebate; valid 'til October 31, 2005)
Epson 2400 Printer $799.99
Epson R1800 Printer $519.99
$100.00 Mail-In Rebate; valid 'til October 31, 2005
Epson 2200 Inks $8.99
Epson 2400 Inks $11.99
Epson R800/1800 Inks $11.99
Epson 4800, 7800, 9800 Inks "Call"
Epson 220ml $79.99
Epson 110ml $49.99
EpsonP4000 80 GIG (Now taking orders; should ship in a few weeks; "Free" shipping for Birds as Art Subscribers)
Epson P2000 40GIG $ 479.99
Hunt's is getting in a limited quantity of refurbished Canon lenses, flashes, and digital SLR cameras. Call for price and availability.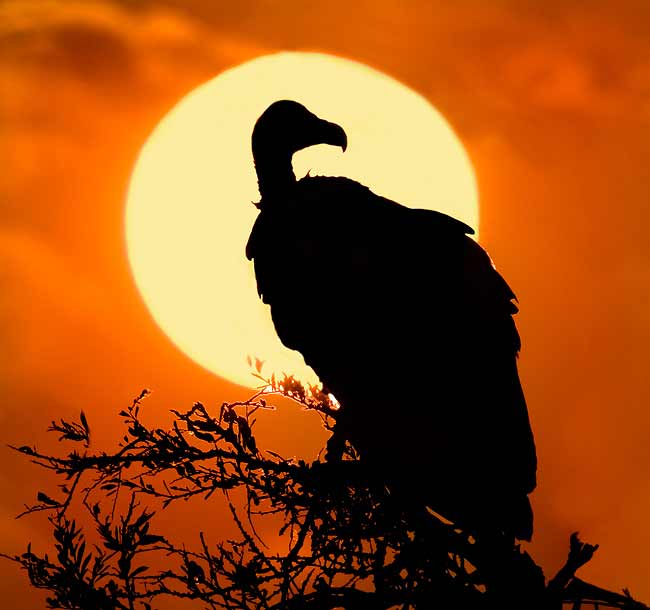 Vulture Sunrise, (w/stacked TCs on Canon 600 f/4 IS lens), Kenya
Image copyright 2005: Todd Gustafson