BIRDS AS ART BULLETIN 194
February 16, 2006
ANTARCTICA, JANUARY 2007/URGENT!
NANPA SUMMIT REPORT
THE ART OF BIRD PHOTOGRAPHY II
ERROR CORRECTION
IPT, LENS PEN, & BAA KUDOS
IPT UPDATES
Photographic Theme: More of my favorite images from the recent Tanzania Photo-Safari .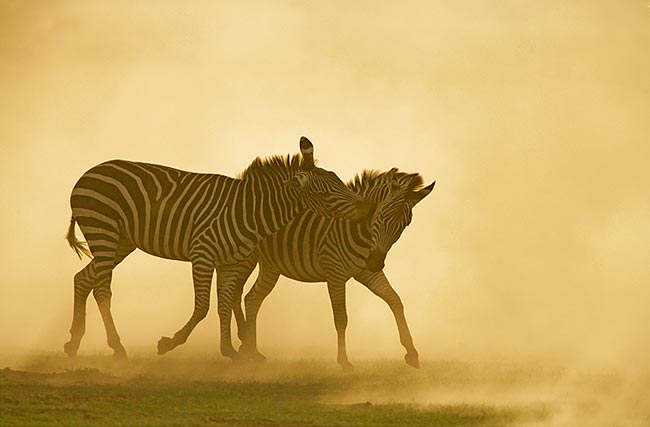 Common Zebras horsing around, Lake Manyara National Park, Tanzania
Image copyright 2006: Arthur Morris/BIRDS AS ART
Canon 500mm f/4L IS lens with 2X II TC and EOS 1Ds Mark II. ISO 800.
Evaluative Metering at zero: 1/1600 sec. at f/8.
This is another image from our spectacular double rainbow afternoon. I had the driver reposition the van to maximize the blowing dust. Having made this image at the metered exposure, I needed to lighten it a bit in Photoshop.
ANTARCTICA, JANUARY 2007/URGENT!
Janie Bullard (of Distinctive Journeys) and I filled four of our six Antarctica slots at the recent NANPA Summit. We still have two slots left as follows:
Cabin 206/Category 3/$12,680 per person based on double occupancy exclusive of air and insurance. (two openings)
Cabin 102/Category 1/$11,480 per person based on double occupancy exclusive of air and insurance. (two openings)
If you are seriously interested in joining us on this amazing trip (or if you would like to know the price of a single supplement), call Distinctive Journeys immediately at 770-888-6677 or 888-419-6677 (toll free) and speak to Kathy (or leave a message). We technically had only until February 15th, to fill these slots, but it looks as if Monday February 20 will be the absolute deadline. Here is the basic info:
Greg Downing and I will be leading a small group of serious photographers as part of the January 4-24 (these dates are travel inclusive) Zegrahm's Cruise to Antarctica, South Georgia, and the Falkland Islands. World renowned seabird expert Peter Harrison is one of the many expert leaders who will be presenting a variety of programs during the voyage. At one point all of our slots were filled, but six folks cancelled when the final details were announced. You can find the complete details (including rates) here: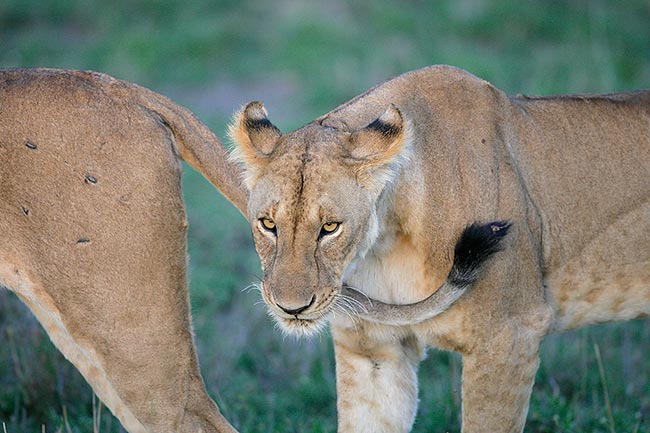 African Lions, "tail necklace," Ndutu, Tanzania
Image copyright 2006: Arthur Morris/BIRDS AS ART
Canon 500mm f/4L IS lens with EOS 1Ds Mark II. ISO 800.
Evaluative Metering at zero: 1/640 sec. at f/4.
As moments like the one depicted here are fleeting at best, being ready and being intently focused on the task at hand is a necessity for nature photographers... Inspired by Todd's fierce concentration, I have striven to improve in these areas. This image is a result of my efforts.
NANPA SUMMIT REPORT
I spent an enjoyable and productive four days at the NANPA Summit in Denver last week. It was great seeing so many of you there. I particularly enjoyed the keynote program by Bob Rosinski and Wendy Shatill; Wendy's new "fox in the cemetery" series amazed everyone and the final image left more than a few in tears. Also superb were the Great Grey Owl keynote by Daniel J. Cox and Patricio Robles-Gil's banquet presentation. The comedy team of Tim Gallagher and Bobby Harrison had everyone rolling on the floor while describing their quest for and re-discovery of Ivory-billed Woodpecker. (With all due respect to Tim and Bobby, both of whom are friends, I would love to see absolute proof of the bird's continued existence...) Walt Anderson presented a great flash program and Heidi Brandenburg-Ross opened my eyes as to marketing prints and running a gallery. Getting to work with the High School Scholarship students was a treat as always and this year's group was truly a special one. I told two of the young aspiring bird photographers that they were making images as good as I was after fifteen years of hard work... Digital capture has made it relatively easy for serious beginners to learn at an astronomical pace. Many of the programs focused on conservation and the environment and on the business nature photography, but there were still many great images (can you say Jack Dykinga?) to be seen and enjoyed. I am already looking forward to Palm Springs.
A NANPA Summit is the premier nature photography networking event on the planet. This year I made arrangements to visit several great lodges in Ecuador as a guest of the lodge owners and in addition, was invited to speak in Finland in October 2006. Sales at the booth were brisk and many dozens of folks dropped by to chat and to learn.
I had somewhat of a travel adventure on the way home. Having left the airport at 4am sharp with a friend who had an early flight, I was there in plenty of time to make my 8:30 am direct flight from Denver to Orlando on Ted. About 1 1/2 hours out, the pilot calmly announced "We have been diverted to Atlanta as we need to get on the ground quickly. We have lost our main electrical system and our backup electrical system. We are running on our redundant backup system and if that fails it would not be a good thing... Fifteen minutes later, with most of the passengers holding their breath (I was doing meditation breathing), we landed safely in Birmingham, Alabama. When we got about 100 feet from the terminal building the plane slowed to a halt as all the interior lights went out. Six hours later we were all on another Airbus 320 and made it to Orlando just before 9pm. I finally made it home (after a nap in the CVS parking lot in Lake Wales) a few minutes before midnight. You just gotta love those long travel days.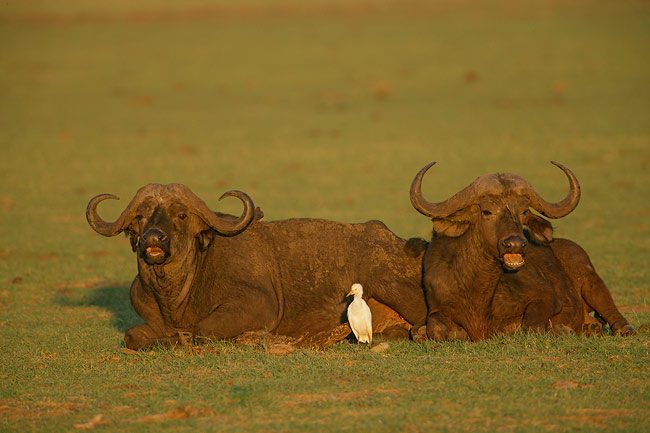 Cape Buffalo with Cattle Egret, Lake Manyara National Park, Tanzania
Image copyright 2006: Arthur Morris/BIRDS AS ART
Canon 500mm f/4L IS lens with 2X II TC and EOS 1Ds Mark II. ISO 640.
Evaluative Metering -1/3 stop: 1/320 sec. at f/8.
The early morning light, the open mouths, and the perfectly positioned Cattle Egret (with a good head angle to boot) made this one special for me. With large dark subjects dominating the center of the frame I dialed in -1/3 stop to ensure maintaining detail in the whites (despite the soft light).
THE ART OF BIRD PHOTOGRAPHY II
Note: A 4-page "Teaser" excerpt from the Practicalities Chapter can be viewed here:
It is most gratifying that we have sold more than 250 pre-publication copies of The Art of Bird Photography II in the week since we announced its availability. Response so far has been completely favorable. Carl R. Sams stated that the book is "incredible" and continued by saying that anyone who looks at the first 100 pages will be blown away by the beauty of the images.
From Jim Johnson via e-mail:
I purchased your "Art of Bird Photography II" Book (on CD) at the trade show in Denver, and it is terrific. I was hoping to find a book with very specific advice that is useful in the field (not just theory), and you hit that mark perfectly...you even threw in illustrations to drive the point home! I love your book.
The cost of the manufactured book replete with fancy CD cover will be $60 plus a buck postage. It should be available about April 15, 2006. As many of you know, the book will be an all-new continuation of "The Art of Bird Photography; The Complete Guide to Professional Field Techniques." One chapter will include cover all aspects of Digital Photography and include a section on understanding histograms. It will also include our complete digital workflow along with tons of great Photoshop tips. Other chapters will include "Equipment; What's New?," "Advanced Composition and Image Design," "It Ain't Just Birds," "Exposure and Flash Simplified," and "Advanced Sharpness Techniques & Creating Pleasing Blurs." The "Practicalities" chapter will include a detailed section on setting up your backyard for bird photography as well as sections on photographing on safari and on the tundra. Each image in the book will include all technical info as well as our legendary educational captions. Most chapters will include one or more galleries designed to illustrate and reinforce the principles covered in the text.
There are two copies of the book on the CD. Open the "Spreads" version to best enjoy the beauty of the images and the layout and design. Open the "Single Pages" version for easy reading.
You can order a pre-publication copy of ABP II right now for $30 plus a buck shipping by calling us at 863-692-0906 between 8am and 9pm Eastern Time with your credit card information, by sending us a Paypal for $31.00, or by sending a check for $31.00 made out to "Arthur Morris" to PO 7245, Indian Lake Estates, FL 33855. When the new book is available, you will be notified via e-mail and have the option to purchase one with a $20 discount. If you take advantage of this offer you will be getting the book two months in advance for a mere $10.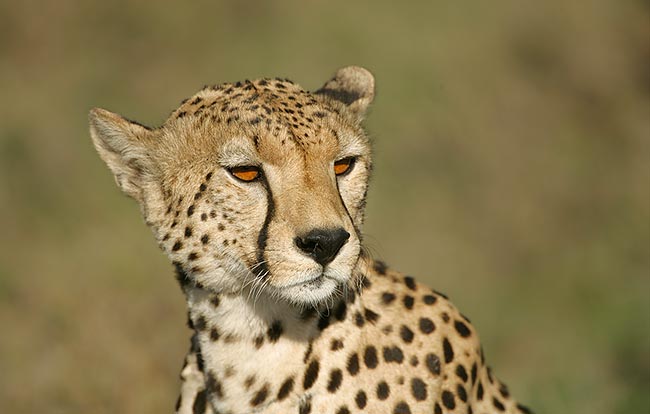 Cheetah, head portrait, Ndutu, Tanzania
Image copyright 2006: Arthur Morris/BIRDS AS ART
Canon 500mm f/4L IS lens with 1.4X II TC and EOS 1Ds Mark II. ISO 50.
Evaluative Metering +1/3 stop: 1/320 sec. at f/5.6.
To ensure a pleasingly defocused background, I made this image on the BLUBB while working from an open window in the safari van (rather than from the working from an open roof hatch as I usually do). Getting lower always moves the background effectively farther from the subject thus softening the background.
ERROR CORRECTION
Several folks let me know of a grievous "wrong word" error in the last Bulletin when I confused "concave" and "convex." One was kind enough to teach my a way to ensure that I will never get it wrong again. A concave surface is "caved" in a bit... There, you will never mix them up again. And neither will I!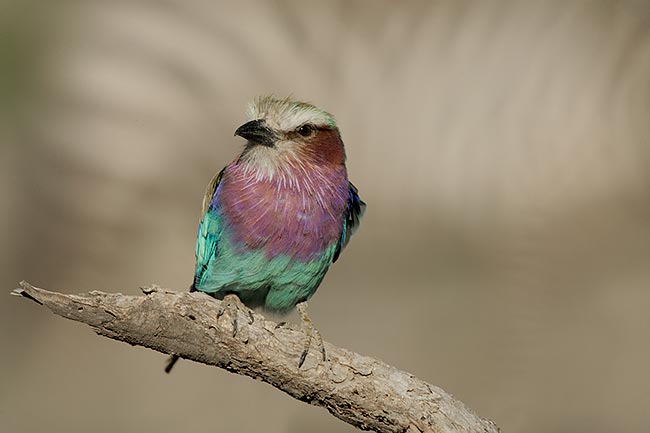 Lilac-breasted Roller with Zebra Background, Ndutu, Tanzania
Image copyright 2006: Arthur Morris/BIRDS AS ART
Canon 500mm f/4L IS lens with 2X II TC and EOS 1Ds Mark II. ISO 400.
Evaluative Metering at zero: 1/400 sec. at f/16.
When a group of zebras walked behind this perched roller, I went to f/16 and made a long series of images hoping to catch a zebra background. Todd helped me "bring up the zebra" in Photoshop by suggesting that I make a loose selection of the zebra pattern, feather it 100 pixels, darken the selected area, and increase the contrast in the selected area a bit. It was a great suggestion!
BLUBB UPDATE
We have sold 62 BLUBBs so far and will have more in stock no later than the end of this week. Friend and IPT veteran Rocky Sharwell had this to say about the BLUBB: "I used the BLUBB for the first time yesterday--It is killer! It is the perfect bean bag for use with big lenses. I cannot think of anyway to improve it."
From Robert J. Amaruso:
I purchased a BLUBB last month and wanted to let you know how pleased I am. My very first time out using with it was on my boat in Osceola County shooting Snail Kites. The bag performed flawlessly and was easily mounted on the boat's windshield, gunwale or seats where I turned it over and placed the lens between the ears. As noted in your instructions, tying off the inboard handle to the interior of the vehicle, or in this case the boat, saved it from going overboard. I was able to kneel on the deck and make sharp image of the perching kites. Since that time I have used in extensively at Vierra Wetlands and at Merritt Island NWR while shooting from my van.
The BLUBB allows the lens to sit securely nestled inside the cradle. It performed equally well when used inverted as previously mentioned. As recommended in your instructions 16 lbs of pinto beans seems to be just right. The bad is stiff when draped over the window but the bag easily forms to the shape of the lens. Your recommendation to use a Panning Ground Pod worked well when I used my 500mm lens with the Wimberley Flash Bracket attached to the lens plate. Congrats on a job well done and thanks for sending the BLUBB so quickly.

BLUBBS are $100 (shipped empty, no beans included) plus $6 shipping and handling (US Priority mail/signature required). If you would like additional BLUBB information and photos please e-mail us at birdsasart@att.net and request same.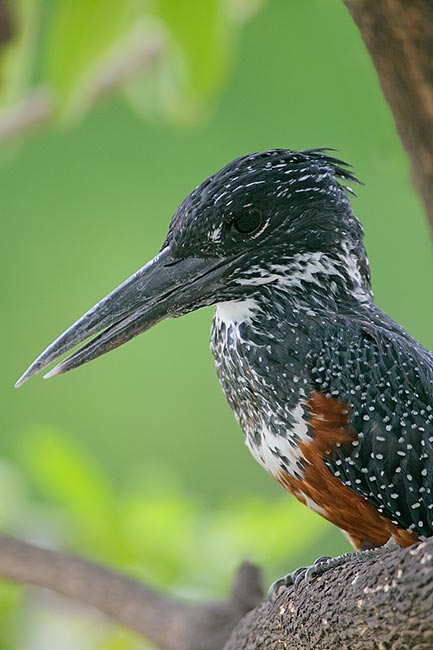 Giant Kingfisher, Lake Manyara National Park, Tanzania
Image copyright 2006: Arthur Morris/BIRDS AS ART
Canon 500mm f/4L IS lens with 2X II TC and EOS 1Ds Mark II. ISO 1000.
Evaluative Metering at zero: 1/125 sec. at f/8. Fill Flash at -1 with Better Beamer.
This species had been virtually impossible to photograph on my previous safaris. We spied this big bird perched right next to the road and pulled right up to it, but it was totally blocked by leaves. By moving the van well forward and having the driver position it front-end in, we were able to make some quality images. With dark subjects in low light I used a relatively high level of fill flash here.
IPT, LENS PEN, & BAA KUDOS
From IPT veteran David Hoyt (via e-mail):
After receiving my lens pens and sensor-cleaning instructions, I tackled the job of sensor cleaning for the first time. My camera was a bit dirty but the whole idea of me doing this surgery left me as nervous as a prostitute in church! I followed the instructions to the letter and voila, a perfectly clean sensor. Thanks.
Also a thanks to AM for continually sharing free photographic wisdom with us lesser-skilled folks. I can sit for 2 hours reading the bulletin archives and get more information there than anywhere else online or in a book. (Note from AM: that was true until the release of ABPII)
And to be constructively yelled at while on an IPT: that's the photo education pinnacle! In a day when many teaching pros are dead silent about sharing knowledge unless they see dollar bills, AM is rare. (Note from AM: I sometimes scold, but never raise yell.)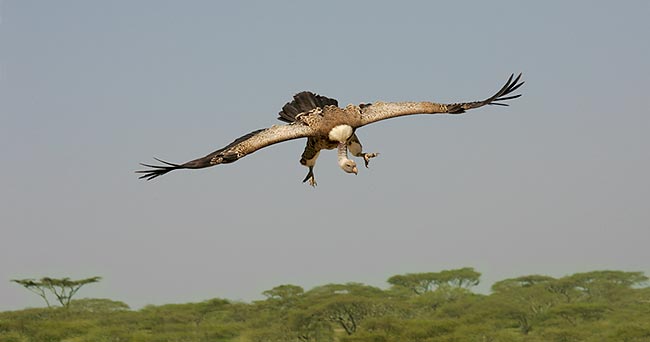 Ruppell's-Griffon Vulture in flight above woodlands, Ndutu, Tanzania
Image copyright 2006: Arthur Morris/BIRDS AS ART
Canon 100-400 IS L zoom lens with EOS 1D Mark II. ISO 400.
Evaluative Metering at zero: 1/500 sec. at f/18.
This is not my typical "in your face" image, but working wide like this and including some habitat can yield pleasing, extremely saleable images. Looking closely at the exposure settings reveal that I was doing something other than flight photography just before I saw this opportunity. (I should have added light to the exposure and worked at an aperture no smaller than f/8.)
With an image like this with lots of blue sky, you might need to spend 15 minutes cloning out dust spots if your sensor is not clean. By using my small Lens Pen and blower brush every night, I was able to keep my sensors relatively clean despite the extremely dusty conditions.
IPT UPDATES
HOMER EAGLE IPTs, MAR 3-7 and 8-12, 2006. Sold Out.
FORT DESOTO IPT, with co-leader Ellen Anon,MAR 24-26, 2006 3-DAY: $899 (LIMIT: 12 Openings: 3) ROYAL & SANDWICH TERNS & LAUGHING GULL: ALL COURTSHIP BEHAVIORS, REDDISH EGRET (dark and white phases), OTHER HERONS & EGRETS, LONG-BILLED CURLEW & OTHER TAME SHOREBIRD SPECIES.
LAKE MARTIN, LA SPOONBILLS, 3 -DAY: $949 APR 8-10 (Limit 12, Openings: 4) & 28-30, 2006 (Limit 12, Openings: 6) ROSEATE SPOONBILL (& GREAT EGRET) ROOKERY IN CYPRESS SWAMP; COURTSHIP & NEST BUILDING. 500 or 600mm LENSES RECOMMENDED, RENTALS AVAILABLE. ALSO GREEN & LITTLE BLUE HERONS, BOTH NIGHT-HERONS, SUNRISE SCENICS; FLOWERS. INCLUDES A COMPLIMENTARY CRAWFISH ETOUFFE DINNER: HOSTS: WES & PATTI ARDOIN
ST. AUGUSTINE ALLIGATOR FARM IPT MAY 12-14, 2006. 2 1/2 DAY IPT: $649 (Limit: 12, Openings: 8) HERON AND EGRET ROOKERY. NESTING GREAT EGRETS WITH CHICKS, NESTING SNOWY AND CATTLE EGRETS AND TRICOLORED HERONS. COURTSHIP BEHAVIORS, COPULATIONS, EGGS, NESTS AND POSSIBLY TINY CHICKS. INCLUDES TWO CLASSROOM SESSIONS.
GALAPAGOS PHOTO CRUISE/YACHT BELUGA JUNE 30-JULY 7, 2006. We have an opening for either a single female or for two folks traveling together. Please e-mail janie@distinctive-journeys.com for details if you would like to join us.
KENYA FLY-DRIVE PHOTO SAFARI, AUG 2006. SAMBURU, MAASAI MARA, AND MORE. With co-leader Todd Gustafson. Leave the US AUG 21. Amsterdam to Nairobi: AUG 22. Amsterdam to US: SEPT 7. $9499 per person (round trip airfare to Kenya not included). Please e-mail for itinerary. Only 4 slots left.
Bosque #1: "The Fall Color IPT" NOV 14-16, 2006. Slide Program on the evening of NOV 13. 3-DAY: $929. Limit 14. Co-leader Ellen Anon. This IPT should feature a better chance for a day or two of the rare south winds that drastically improve flight photography and will definitely feature the brightest fall-color cottonwoods.
Bosque #2: "The Pre-Thanksgiving IPT" NOV 19-21, 2006. Slide Program on the evening of NOV 18. 3-DAY: $929. Limit 14. Co-leader Ellen Anon. This and the next IPT have sold out for the past eight years. In 2006 I may once again be hosting a Thanksgiving day luncheon buffet. If it goes, folks will need to reserve a spot and pay in advance. Details TBA. Dinner will be strictly limited to 50 folks. This IPT will feature increasing numbers of geese and cranes with lots of great opportunities.
Bosque #3: "The Post-Thanksgiving IPT" NOV 25-27, 2006. Slide Program on the evening of NOV 24. 3-DAY: $929. Limit 14. Co-leader Ellen Anon. This IPT has sold out for the past eight years as it is scheduled on dates that I consider peak for Bosque.
Seminar: DEC 2-3, 2006. BIRDS AS ART "The Art of Nature Photography; It Ain't Just Birds!" How-To Weekend Seminar in Albuquerque, NM. Details TBA. Folks wishing to combine an IPT with the Seminar should sign up for either Bosque #3 (above) or Bosque #4 (below). Details TBA.
Bosque #4: "The Full Moon IPT" DEC 4 (mid-day) through DEC 7 (mid day), 2006. 3-DAY: $929. Slide Program mid-day on DEC 4. Co-leader TBA. This IPT includes a half day of photography on the 4th, two full days of photography on the 5th and 6th, and a final half day on December 7th. Limit 14. This IPT has been scheduled to maximize the opportunities to include the rising and setting full (DEC 5) and near-full moon in your images. There will be lots of the usual chances as well, and this time period has provided more than its share of spectacular sunrises and sunsets over the years.
Amazingly, we already have 16 folks registered for Bosque 2006.
To register for any of the IPTs above, you can send a $200 deposit check made out to "Arthur Morris" to us at: BIRDS AS ART, 4041 Granada Drive, Indian Lake Estates, FL 33855, send us a Paypal (use any Paypal link on our web site), or call 863-692-0906 with your credit card info. Balances due can be paid only by personal check or money order.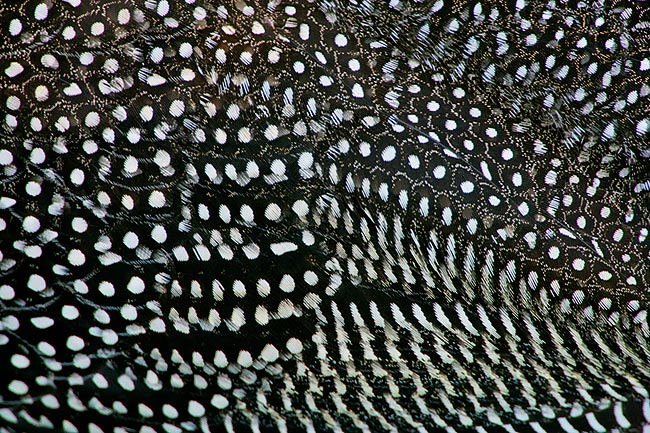 Plumage detail, Helmeted Guinea Fowl, Ngorngoro Crater, Tanzania
Image copyright 2006: Arthur Morris/BIRDS AS ART
Canon 500mm f/4L IS lens with 2X II TC and EOS 1Ds Mark II. ISO 640.
Evaluative Metering -1/3 stop: 1/60 sec. at f/10. Fill flash at -1 stop with Better Beamer.
This bird was resting in the shade of a big bush at the picnic area. I chose a bit of extra depth-of-field in an effort to render all of the feathers sharp despite the curvature of the bird's body.
Best and love and great picture-making to all,
artie
Note: Arthur Morris has been a Canon contract photographer since 1994 and continues in that role today. Hunt's Photo of Boston, MA is a BAA sponsor as it Delkin Devices. Back issues of all BAA Bulletins are archived in the Bulletin Archives which may be accessed from the home page at www.birdsasart.com