BIRDS AS ART BULLETIN 196
HOMER, AK IPT REPORT
HOMER IPT KUDOS
LIGHT ON THE EARTH
JOHN SHAW e-BOOK
URGENT HELP NEEDED
NOME IPT w GREG DOWNING
LENS PEN INFO
CHARLOTTE HARBOR, FL KAYAK FESTIVAL
IPT UPDATES
USED WIMBERLEY HEADS FOR SALE
We gladly accept credit card orders by phone 8am till 9pm Eastern Time.
You can use the Paypal links on the web site to order anything. Just type in the item(s) and the amount. If using your own Paypal account, please send to either of the e-mail addresses above.
Photographic Theme: My favorite images from the recent Homer, AK IPT.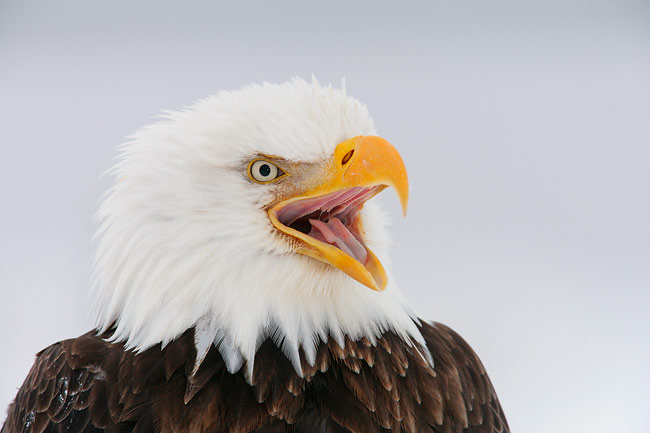 Bald Eagle, Homer, AK
Image copyright 2006: Arthur Morris/BIRDS AS ART
Canon 600mm f/4L IS lens with 1.4X II TC and EOS 1Ds Mark II. ISO 500.
Evaluative Metering +1 1/3 stops: 1/100 sec. at f/5.6 set manually.
Fill flash with Better Beamer at -2 stops.
Using the BLUBB filled with 15 pounds of pinto beans allowed me to create sharp images with long focal lengths at relatively slow shutter speeds. (BLUBBs will be back ordered until early April. We are maintaining a waiting list.) I went to Homer in hopes of making some good images of adult eagles screaming (or yawning, as here) and came home with many.
HOMER, AK IPT REPORT
I was joined in Homer by 23 IPT participants and 3 professional fish-throwers (Robert O'Toole, Robert Amoruso, and Jim Neiger) for ten days of spectacular eagle photography. On my first visit to Homer in February 2005, we had ice in the Theater Bay for the first three days and then it was gone; that pattern was repeated this year. The first group (each IPT was five full days) enjoyed cloudy bright, cloudy, and dreary conditions with a few hours of heavy snow and a few hours of light snow on the last afternoon. The second group had 2 1/2 days of sun and 2 1/2 cloudy days. When it is clear in Homer the wind almost always blows towards the sun making flight photography extremely difficult. It is amazing how many bird photographers do not understand that wind against sun is bad... On many occasions we watched other groups feed the birds for hours in strong light with the wind blowing directly against the light. I kept my group busy with indoor programs during the midday hours. We would head out late in the afternoon as the wind shifted a bit (as it does late on most days...) We then would enjoy great light and decent light angles while the other groups were eating dinner. The best (or worst) of it was the last sunny afternoon when the wind was blowing really hard against the sun. (With these conditions, the birds are flying directly away from you and from the light...) When we arrived, I thought to myself, "What a lovely cloud/fog bank over Cook Inlet." About 25 photographers were photographing in near-futile conditions. (The only possible good images at these times are vertical bank shots as the birds turn back towards the light...) Just as they finished throwing the last of their bait, the sun began to peek behind the clouds. Amazingly, several tour leaders had their groups pack up amidst talk of the day being ruined by the clouds... I was ecstatic. Robert O'Toole had already made his way down to the shore looking back towards the fading sun. He had birds handing directly above his position looking right down the barrel of his lens, suspended above him like so many kites...
Except for me, nobody realized what he was doing. I kept my mouth shut as everyone except for the folks in my group left the Fishing Hole. When it was just us, I instructed the group to carefully make their way down to the edge of the lagoon with a short lens. We enjoyed an hour of phenomenal flight photography. When we were chased from the Fishing Hole by a Port of Homer official, we moved a short way to a spot at the Theater Beach where the birds hung above us as we fed them herring. On all BAA IPTs I work very hard to put my folks in the right spot at the right time and in Homer that plan worked to perfection. I always get a chuckle when I hear folks say that they don't need Arthur Morris or an IPT to go here or there. "What could he do for me that I could not do for myself?" Interesting also was the fact that my group was followed constantly by photographers who came to Homer on their own. A very few of them asked me if they could chip in for fish but the vast majority simply free-loaded... What to do? Not a thing. Usually the best of the photography was over with by the time folks spotted and caught up with us, but a small number of folks became adept at following our every move.
Bald Eagle, hazy sunset, Homer, AK
Image copyright 2006: Arthur Morris/BIRDS AS ART
Canon 70-200mm f/2.8 L IS lens (handheld at 153mm) with EOS 1DN MII. ISO 400.
Evaluative Metering -1 1/3 stops: 1/8000 sec. at f/5.
As in 2005, the 70-200 was a great lens to have in Homer. Many of the IPT participants purchased or borrowed on at my suggestion and all were thrilled with its performance. I made this image at the Theater Beach after we were chased from the Fishing Hole by Port of Homer officials.
.....
Both Isobel Wayrick a veteran of many IPTs and Tod Witt ("It was -37 degrees when I left home..."), an IPT first-timer from Fairbanks, AK signed up for the whole ten days. And they survived! Matt Hagadorn, another multi-IPT veteran, was kind enough to do an informative Photoshop session for the first group. Carl Sams and Jeannie Stoick (
http://www.carlsams.com/
) of "Stranger in the Woods" fame, came to Homer as my guests for the last six days and were kind enough to do an evening program for each IPT group. If your child or grandchild does not have a copy of both "Stranger in the Woods" and "Lost in the Woods" you are being somewhat remiss... The story of the success of these two books (and their spin-off products) is a heartwarming one, and the success could not have happened to two nicer folks. Carl and Jean give a lot back, donating books and time and money to a variety of organizations and school systems. In addition, they are both world class nature photographers. Carl had folks oohing and aahing whenever they stood behind his laptop...
I had an exciting adventure on the first afternoon. After cautioning the group to be careful going down an icy slope to the beach, I slipped, trapping my left leg beneath me as I fell over backwards, totally out of control. Some of you might remember that I had surgery on my left knee in October. As I was falling I thought, "I will be airlifted to Anchorage for immediate surgery." If an NFL player fell the way that I did, the announcer would have said, "Folks, we are gonna show the replay. If you have a queasy stomach, you might want to look away..." I lay still for a minute as several folks came to my aid. I was surprised that I was able to stand without much pain. (That came the next day...) I iced the knee every day and was able to get around pretty well by walking stiff-legged, but I was sure that I would need additional surgery. By days nine and ten things were improving a bit; I no longer had to lift my left leg by the cuff of my pants to put my socks or shoes on. On the way home from the airport, I had an appointment with chiropractor Scott Pancake (really...) in Kissimmee, FL. After he worked on me for a bit, the knee felt better and has continued to improve. Chiropractor/nutritionist Cliff Oliver of San Diego, who is my health guru, spiritual advisor, and great friend, told me that the accident may prove a blessing as the severe hyper-flexion of the left knee most likely broke up some of the adhesions in the knee joint. It looks as if he is correct, as I now have a greater range of motion than at any time since the surgery. Go figure...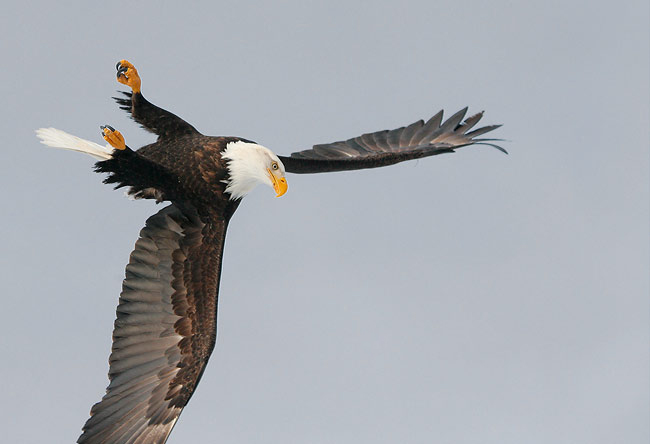 Bald Eagle, upside down, Homer, AK
Image copyright 2006: Arthur Morris/BIRDS AS ART
Canon 70-200mm f/2.8 L IS lens (handheld at 125mm) with EOS 1Ds MII. ISO 400.
Evaluative Metering +2 stops off the sky: 1/1250 sec. at f/5.6.
Taking a meter reading off of the grey sky 30 degrees up from the horizon and setting it manually yielded a perfect histogram 99% of the time. There are two advantages of working in Manual mode. #1: Your exposure will be correct regardless of the tonality of the background. (I always use Manual mode when working against changing backgrounds.) #2: If you attempt to create large in the frame flight images while working in Av mode at say +1 exposure compensation, your images will be grossly overexposed if there are large areas of an eagle's blackish-brown plumage in the frame.
.....
I would be remiss not to comment on the eagle feeding situation in Homer. When folks think Homer, they think eagles (or halibut...) Jean Keene, the famed eagle lady, has been feeding the Bald Eagle there for nearly three decades. Jean is seen by many as a saint and while I am sure that her efforts have been good for the birds, she is quite controlling, often absurdly controlling, attempting to rule the photographers who work in the RV campground around compound with an iron hand. Her rantings usually go unchallenged. She insists that folks in the campground stay in their cars not only while she is feeding, but well before and well after as well, citing disturbance of the birds as the reason. All the while the folks who photograph from inside her compound are free to come and go as they wish. On numerous occasions I saw here reprimanding a photographer in the parking lot while one of her patrons stood right next to her photographing the eagles... I often wonder why the first two rows of parking to the left of Jean's compound are blocked by logs in winter... As someone in the group pointed out, Jean could have been loved and revered by all photographers has she been a bit kinder over the years to those not photographing in her yard.
After the Alaska Fish and Game board refused to act on several proposed bans in February, the town council passed a ban on eagle feeding to take effect June 1, 2005. Under that ordinance, Jean Keene alone has been granted the right to continue feeding the eagles for four more years (does that sound unconstitutional to you?) should she survive and wish to. She is 85. A member of our group spoke to some locals who said that the town council is now dominated by a bunch of folks from California who moved to Homer and became politically active, and that the locals, especially the business owners on the Spit, are totally against the ban and will work hard to vote those who were in favor of the ban out of office in an effort to have it over-turned. (I have no idea if that information is indeed correct.) In addition, there is the possibility that someone may challenge the ban in court. As far as I could determine, all of the reasons given for the ban are totally without basis in fact and most are downright ludicrous. Fewer and fewer folks (and no organized photography tour groups) will be visiting Homer in 2007 and beyond; the winter economy of Homer will take a tremendous hit. If Jean survives and feeds for a few more years, the decline in winter tourism will be gradual, if not, it will be steep and catastrophic. I wish the folks at Lands End resort the best...
Bald Eagle landing on ice, Homer, AK
Image copyright 2006: Arthur Morris/BIRDS AS ART
Canon 70-200mm f/2.8 L IS lens with 1.4X II TC (handheld at 225mm) with EOS 1Ds MII. ISO 400.
Evaluative Metering +2 stops off the sky: 1/1650 sec. at f/5.
At the Fishing Hole, I was unable to make it down to the water's edge in fear of falling again, so I went to the 1.4X TC for extra reach. Though there were no signs, we were chased from various public areas by Homer Port officials for a variety of ridiculous reasons.
I received the e-mail (Thanks Joe!) that follows as I was preparing this Bulletin.
Hi Artie, I've been meaning to sit down and write to you but ever since we got back into the studio we have been running non stop; we are playing catch-up now big time. Just wanted to say "Thank You" for the great IPT to Homer, Alaska. I had never been to Alaska before and it was just incredible to be there as part of your class. I had a great time and the photo opportunities with the eagles were way beyond what I had expected. I have to admit that when we were first driving into town and seeing all the eagles perched everywhere I felt like a kid in a candy store. That first morning at Jean's was overwhelming for lack of a better word. Homer is really hard to describe unless you have experienced it first hand. Our group always seemed to be the first ones out in the morning and the last ones to come back in the evening. Too bad all those other instructors didn't understand the concept of sweet light and the correct wind direction in order to bring back outstanding images like you do. I guess those guys liked that harsh light and liked photographing eagle butts! I can't believe how many images I came back with...almost 50gigs worth. It's going to be a real chore to go through and edit all of these and select the real keepers. I sent out some of my favorites to a few of my photographer friends and they couldn't believe them. Homer is definitely a magical place and the IPT was definitely the experience of a lifetime. I'm sure glad that Mary Jean and I stuck through it with all the bumps in the road we had along the way. Also...thanks for bailing me out when my 100-400 went down. Hope To See You Soon...Joe Campanelie
Editor's note #1: On big trips, I always ship lots of back-up equipment. I have rarely made a big trip without having one or more major items fail. For this one I sent up my 600 IS lens, the 400 f/5.6, the 300 f/4 IS, an extra Gitzo 1325 CF tripod, and several more lenses: a 70-200 IS and a 300 f/2.8. Those two lenses and an extra Mark II 1Ds were courtesy of Canon Professional Services. Robert J Amoruso, one of the hired-hand herring photographers (the three of them were just great!), had his 500 go down in the wind when he left his rig to protect mine. It was smashed into about 8 pieces. I was able to loan him my 500mm as I was using the 600 when we went to the long lenses. My tripod developed a loose leg so that back-up saved me. Joe Campanelie's 100-400 became inoperable the first morning so I loaned him the 300 f/4 IS, and Jim Neiger (another paid herring tosser) had his 20D fail on about Day 6. Because I had the extra Mark II 1Ds we were able to loan him an EOS 1DN. He was so impressed that he ordered one the day he got home. One lady on the IPT borrowed the 300 2.8 and rarely let it out of her hands...
Editor's note #2: I returned from Homer with only 533 image files in my A A A Homer to Transfer file: 10.5 gb of good stuff.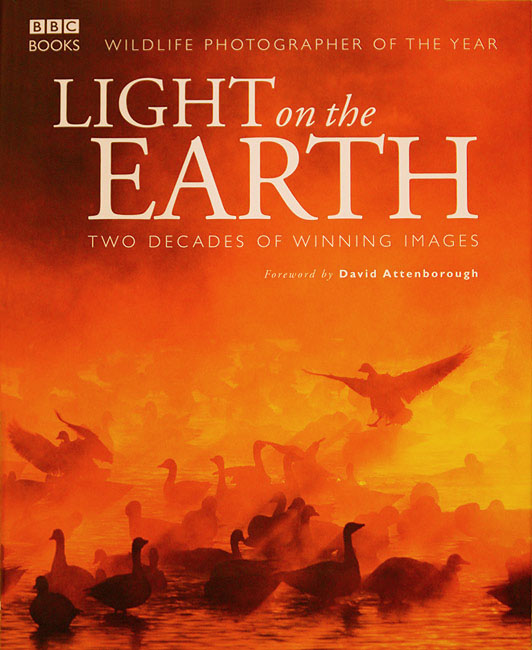 Snow Geese, Fire in the Mist, Bosque Del Apache NWR
Image copyright 1995: Arthur Morris/BIRDS AS ART
LIGHT ON THE EARTH
About six months ago I received an e-mail informing me that one of my images, "Fire in the Mist," had been chosen for inclusion in the book, "Light on the Earth," a compilation of twenty years of the best winning and commended images in the BBC Wildlife Photographer of the Year competition. I was thrilled of course, but a bit disappointed that only one of my five commended images had been chosen. As I read on, I was quite a bit more thrilled when I learned that "Fire in the Mist" would not only appear in the book but would be used as cover art, gracing the partial wrap-around dust jacket. The book, which features 170 images, is--at 224 pages and just under five pounds--a large one by any standards. The images are of course for the most part breath-taking (though I would disagree with a few of the choices...) In addition to the images, there are essays by some of the world's premier photographic artists including one of my idols, Jim Brandenburg.
We have a limited number of signed copies available: $55 plus $9 shipping (signature required). The book will be signed on page 35 where "Fire in the Mist" appears. If you would like me to personalize the book, please let us know when you order and I shall do so on the title plate. If you request a personalized copy and I am on the road, your order will be shipped when I return home. To purchase a copy now please send a check for $64 made out to "Arthur Morris" to us at BAA, PO BOX 7245, Indian Lake Estates, FL 33855. Paypals and phone-in credit card orders are also welcome. Thanks and best.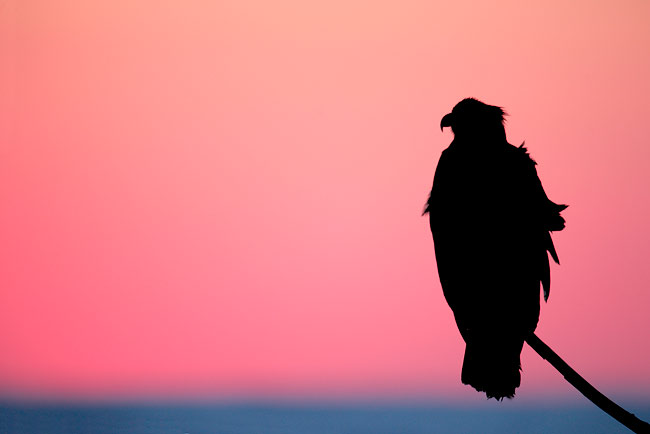 Bald Eagle after sunset, Homer, AK
Image copyright 2006: Arthur Morris/BIRDS AS ART
Canon 600mm f/4 L IS lens with EOS 1Ds MII. ISO 400.
Evaluative Metering at zero: 1/500 sec. at f/4.
We met a small group from NJ and often worked with them to maximize our efforts. They were feeding at sunset but the birds were landing on a cluttered, crummy looking snag. I ran to my SUV, grabbed a large perch that we found, and stuck it into the roots of the stump. One of the guys said, "That perch is too skinny; no eagle will land on it." Not!
JOHN SHAW e-BOOK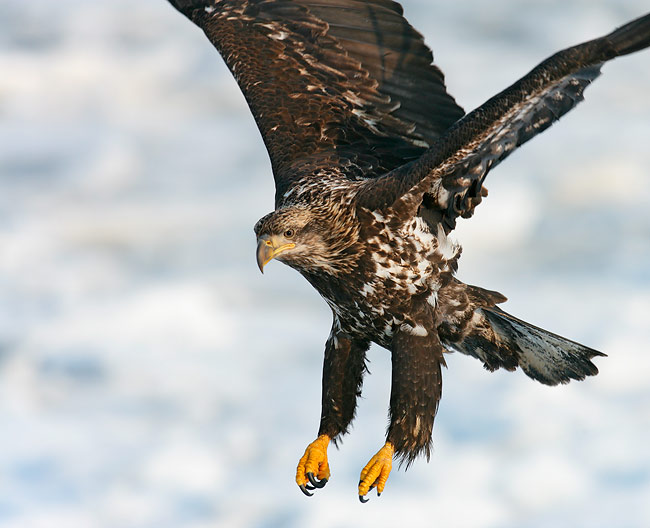 Bald Eagle, immature landing, Homer, AK
Image copyright 2006: Arthur Morris/BIRDS AS ART
Canon 600mm f/4 L IS lens with EOS 1Ds MII. ISO 400.
Evaluative Metering plus two stops off of gray sky: 1/1000 sec. at f/5.6.
Without a bright white head, immature eagles need less light for a proper exposure than adults. When working in manual mode (as you should be when doing eagles) it is best to lower your shutter speed a click or two when you see a young bird coming into range...
URGENT HELP NEEDED
I received the e-mail below from an old friend, Dan Smith: I sent donated three of my favorite prints to the auction. Established professionals who receive the Bulletin are invited to make donate a framed print only ASAP by following the directions below. All are invited to make a cash contribution by clicking here:
https://www.blacktie-colorado.com/online_sales/nonprofit_donation.cfm?id=1534
Dear Fellow-Photographers, One of my colleagues at the Rocky Mountain News, Steve Nickerson, is battling a rare and life-threatening form of the disease Scleroderma. He has recently found a very promising treatment but the catch is that it is ungodly expensive. Unfortunately, the insurance company WON'T cover the treatments. Our staff has been working on staging a print auction with all proceeds going toward Steve's treatment fund. So I'm putting a shout out to all you folks who'd like to contribute a photo (or photos) to the cause. Any image that you are proud of and more specifically will generate a high bid is welcome. To date we have a number of Pulitzer-winning images, work from Eugene Richards, Jim Natchwey, Joe Rosenthal and many others, but more are needed. (Note: Prints can't be returned if they don't sell.) The event is March 26, but we'd like to get prints by March 23rd. Here is a link to the "event page" for the auction:
http://www.tinyurl.com/kpp55


Ship what you can to: Dennis Schroeder, Photography Department, The Rocky Mountain News, 400 W. Colfax Avenue, Denver, CO 80204. Here is a story about Steve at NPPA:
http://www.nppa.org/news_and_events/news/2006/03/nickerson.html
Thank you VERY MUCH. E-mail me if you have any questions: mahoneyj@rockymountainnews.com

Joe Mahoney Staff Photographer/The Rocky Mountain News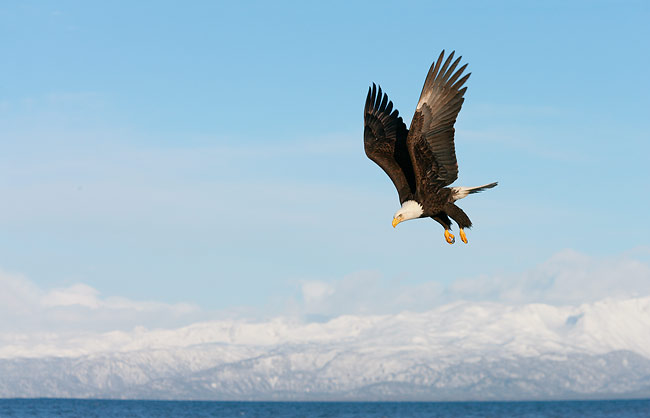 Bald Eagle above wintry mountains, Homer, AK
Image copyright 2006: Arthur Morris/BIRDS AS ART
Canon 70-200mm f/2.8 L IS lens (handheld at 120mm) with EOS 1Ds MII. ISO 400.
Evaluative Metering +1 stop off the light-blue sky: 1/1000 sec. at f/6.3.
There is nothing more satisfying than pre-visualizing an image, teaching the concept to the group, and then making an image as perfect as the one that you saw in your mind. I explained that by using 45 point AFPS in AI Servo mode it would be possible to make an image featuring an eagle in flight well off center while working wide so as to include the distant snow-covered mountains and a strip of Cook Inlet. There was a bit of luck involved in catching such a spectacular wing position, but luck favors the well prepared...
NOME IPT w GREG DOWNING
Greg Downing and I are taking two groups to Nome, AK to photograph Arctic nesting birds (in breeding plumage) that are difficult or impossible to photograph anywhere in North America. Some of the expected species are Western and Semipalmated Sandpiper, Dunlin, Bar-tailed Godwit, American and Pacific Golden-Plover, Black-bellied Plover, Gyrfalcon, Arctic and Aleutian Tern, Golden-crowned Sparrow, Yellow Warbler, and Common Redpoll among others. Some shorebird chicks are expected.
Greg's group has two openings. Please contact BAA via e-mail at birdsasart@att.net if you are interested in joining us. June 10-19, 2006. Ten full days: $3750 includes all meals and ground transportation. Flights to and from Nome and lodging not included.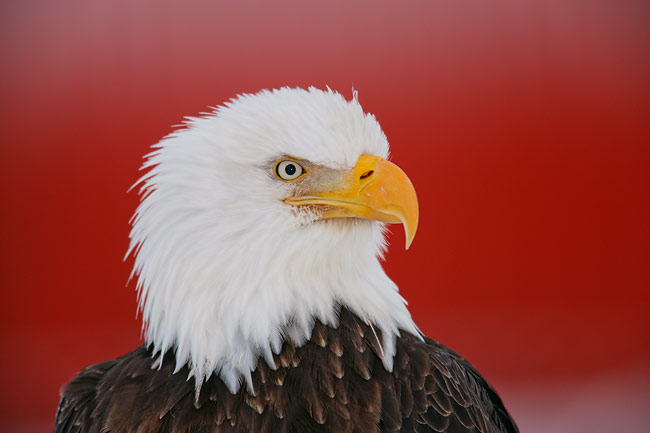 Bald Eagle, Homer, AK
Image copyright 2006: Arthur Morris/BIRDS AS ART
Canon 600mm f/4L IS lens with 1.4X II TC and EOS 1Ds Mark II. ISO 500.
Evaluative Metering +1/3 stop: 1/60 sec. at f/5.6 set.
Fill flash with Better Beamer at -2 stops.
Again, the BLUBB allowed me to make a sharp image at a slow shutter speed. The red background was a red building.
LENS PEN INFO
John Shaw tried a Lens Pen in San Diego and now recommends them unequivocally. We have sold more than 2,000 Lens Pen Combo kits. Two folks wrote for additional help. The other 1,998 were thrilled with the results. Here is the most recent e-mail I received on the subject:
Dear Sirs, Gotta say, well done for making this simple product available to us, it is fantastic; so easy to use, great results, no hassle. Why are more people not shouting from the rooftops about this simple way to get rid of sensor dust ? Thanks from the UK !!! Cheers, Henry Gilbey
We sell the combo kit with two Lens Pens. Since our first sales efforts I have realized that there are several great uses for the larger lens pen which is traditionally used for cleaning the front element of a lens. I have always had trouble cleaning the front element of a teleconverter without disturbing the rubber gasket that encircles the lens element. You can use the larger Lens Pen to do this quickly and easily. And the same goes for the rear elements of various lenses and teleconverters. Many of these have recessed rear elements that are hard or impossible to reach. Use your large Lens Pen on these rear elements after first using your blower brush.
We should have let folks know that in addition to a Lens Pen set (and our invaluable directions that are sent via e-mail), you need a large Blower Brush and either a micro-fiber cloth or a single Pec Pad. The latter items are used to remove the small bit of graphite lubricant from the tip of a fresh lens pen.
The image below is not a photograph of the surface of the moon onto which a vacuum cleaner bag has been dumped. It is a photograph of the dirtiest sensor I have ever seen. It was from an EOS 20D owned by one of the first Homer IPT participants. He shall go un-named... I am not sure where the gunk on the sensor came from but it was easily removed by the Lens Pen.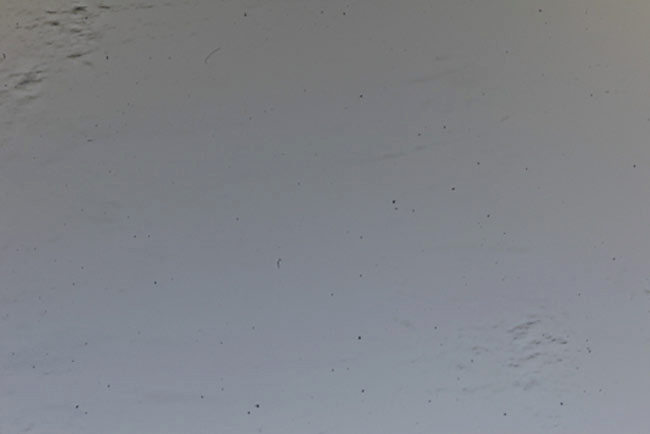 After two cleanings with the small Lens Pen (following our directions to the letter) here is the un-manipulated (honest!) result: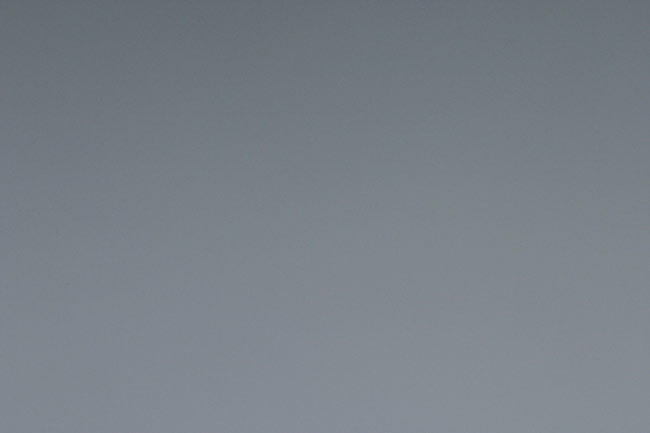 Detailed instructions for creating before and after test images like those above are included in our Lens Pen instruction file. The file is sent via e-mail after we ship your order. (As we have had so, so many orders, we have missed sending a few of the instruction files. If you do not receive your file, please send us an e-mail reminder. Thanks!
CHARLOTTE HARBOR, FL KAYAK FESTIVAL
I will be the featured speaker at the Charlotte Harbor Kayak & Wildlife Festival (May 6-7,2006, at the Port Charlotte Beach Complex, 4500 Harbor Boulevard, Port Charlotte, FL). We shall post a schedule of my programs in a future Bulletin. In the meantime, you can find the basic info here: http://www.charlotteharbortravel.com/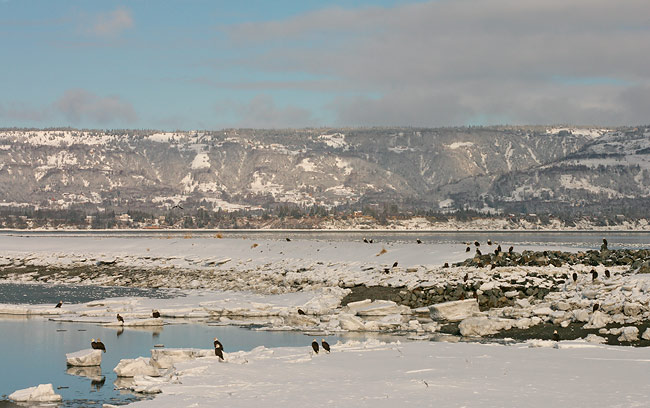 Bald Eagles at Fishing Hole, Homer, AK
Image copyright 2006: Arthur Morris/BIRDS AS ART
Canon 70-200mm f/2.8 L IS lens (handheld at 125mm) with EOS 1Ds MII. ISO 400.
Exposure set after histogram evaluation: 1/250 sec. at f/29.
The words Homer, AK have been synonymous with Bald Eagles for as long as most folks can remember. In my opinion the eagle feeding ban is a most unfortunate development.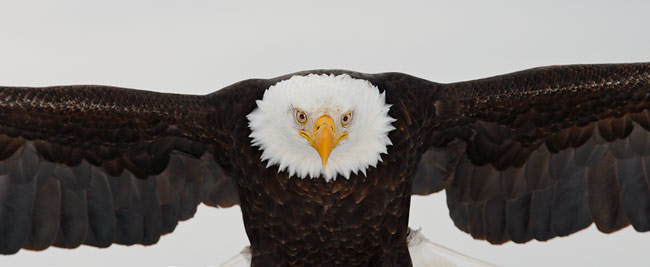 Bald Eagle, incoming, Homer, AK
Image copyright 2006: Arthur Morris/BIRDS AS ART
Canon 300mm f/2.8 L IS lens (handheld) with EOS 1DN MII. ISO 400.
Evaluative Metering +2 stops off the gray sky: 1/1600 sec. at f/7.1.
I rarely use the 300mm because it is so, so heavy. I have a problem hand-holding it for more than a few minutes. It is the favorite lens of many of the world's best raptor photographers: Brian K. Wheeler, Ned Harris, and Jim Zipp.
IPT UPDATES
FORT DESOTO IPT: MAR 24-26, 2006. 3-DAY: $899 (Limit 14, SOLD OUT)
ROYAL & SANDWICH TERNS & LAUGHING GULL (all courtship behaviors), REDDISH EGRET (dark and white forms), AND OTHER HERONS & EGRETS, LONG-BILLED CURLEW AND OTHER TAME SHOREBIRDS SPECIES.
LAKE MARTIN, LA SPOONBILLS, 3 -DAY: $949 APR 8-10 (Limit 12, SOLD OUT) & 28-30, 2006 (Limit 12, Openings: 5)
ROSEATE SPOONBILL & GREAT EGRET ROOKERY IN CYPRESS SWAMP; COURTSHIP & NEST BUILDING. 500 or 600mm LENSES RECOMMENDED--RENTALS AVAILABLE. ALSO GREEN & LITTLE BLUE HERONS, BOTH NIGHT-HERONS, SUNRISE SCENICS; FLOWERS. INCLUDES A COMPLIMENTARY CRAWFISH ETOUFFE DINNER: HOSTS: WES & PATTI ARDOIN
ST. AUGUSTINE ALLIGATOR FARM IPT MAY 12-14, 2006. 2 1/2 DAY IPT: $649 (Limit: 12, Openings: 6) Slide Program midday on May 12. Write for details of for the morning of May 12.
HERON AND EGRET ROOKERY. NESTING GREAT EGRETS WITH CHICKS, NESTING SNOWY AND CATTLE EGRETS AND TRICOLORED HERONS. COURTSHIP BEHAVIORS, COPULATIONS, EGGS, NESTS AND POSSIBLY TINY CHICKS. INCLUDES TWO CLASSROOM SESSIONS.
GALAPAGOS PHOTO CRUISE/YACHT BELUGA JUNE 30-JULY 7, 2006. We now have a single opening for a male to share a cabin. Please e-mail janie@distinctive-journeys.com for details if you would like to join us.
KENYA FLY-DRIVE PHOTO SAFARI, AUG 2006. SAMBURU, MAASAI MARA, AND MORE. With co-leader Todd Gustafson. Leave the US AUG 21. Amsterdam to Nairobi: AUG 22. Amsterdam to US: SEPT 7. $9499 per person (round trip airfare to Kenya not included). Please e-mail for itinerary. Only 4 slots left.
Bosque #1: "The Fall Color IPT" NOV 14-16, 2006. Slide Program on the evening of NOV 13. 3-DAY: $929. (Limit 14, Openings: 8) This IPT should feature a better chance for a day or two of the rare south winds that drastically improve flight photography and will definitely feature the brightest fall-color cottonwoods.
Bosque #2: "The Pre-Thanksgiving IPT" NOV 19-21, 2006. Slide Program on the evening of NOV 18. 3-DAY: $929. (Limit 14, Openings: 9) This and the next IPT have sold out for the past eight years. In 2006 I may once again be hosting a Thanksgiving day luncheon buffet. If it goes, folks will need to reserve a spot and pay in advance. Details TBA. Dinner will be strictly limited to 50 folks. This IPT will feature increasing numbers of geese and cranes with lots of great opportunities.
Bosque #3: "The Post-Thanksgiving IPT" NOV 25-27, 2006. Slide Program on the evening of NOV 24. 3-DAY: $929. (Limit 14 Openings: 6) This IPT has sold out for the past eight years as it is scheduled on dates that I consider peak for Bosque.
Seminar: DEC 2-3, 2006. BIRDS AS ART "The Art of Nature Photography; It Ain't Just Birds!" How-To Weekend Seminar in Albuquerque, NM. Details TBA. Folks wishing to combine an IPT with the Seminar should sign up for either Bosque #3 (above) or Bosque #4 (below).
Bosque #4: "The Full Moon IPT" DEC 4 (mid-day) through DEC 7 (mid day), 2006. 3-DAY: $929. (Limit 14 Openings: 11) Slide Program mid-day on DEC 4. Co-leader TBA. This IPT includes a half day of photography on the 4th, two full days of photography on the 5th and 6th, and a final half day on December 7th. Limit 14. This IPT has been scheduled to maximize the opportunities to include the rising and setting full (DEC 5) and near-full moon in your images. There will be lots of the usual chances as well, and this time period has provided more than its share of spectacular sunrises and sunsets over the years.
ANTARCTICA PHOTO CRUISE/JAN 2007 w co-leader Greg Downing. We are leading a small group of photographers on the If you would like details for this trip or have your name added to the waiting list, please e-mail janie@distinctive-journeys.com immediately.
Amazingly, we already have 27 folks registered for Bosque 2006.
To register for any of the IPTs above, you can send a $200 deposit check made out to "Arthur Morris" to us at: BIRDS AS ART, 4041 Granada Drive, Indian Lake Estates, FL 33855, send us a Paypal (use any Paypal link on our web site), or call 863-692-0906 with your credit card info. Balances due can be paid only by personal check or money order.
April 28-30, 2006.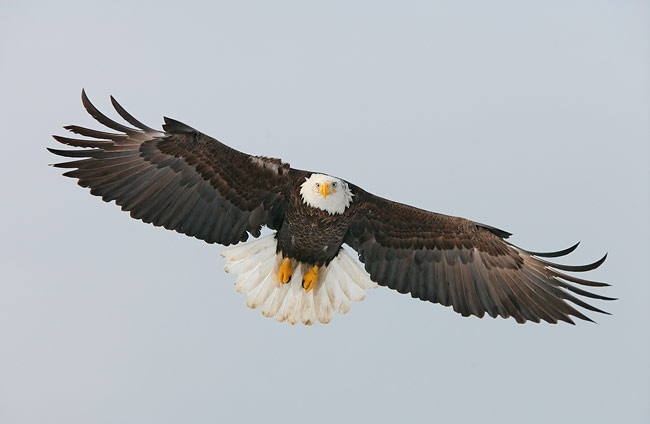 Bald Eagle braking in flight, Homer, AK
Image copyright 2006: Arthur Morris/BIRDS AS ART
Canon 70-200mm f/2.8 L IS lens (handheld at 130mm) with EOS 1Ds MII. ISO 400.
Evaluative Metering +2 stops off the gray sky: 1/1600 sec. at f/7.1.
For the first six days or so we were blessed with good snow cover. This provided lots of reflected light that illuminated the undersides of the eagles in flight.
USED WIMBERLEY HEADS FOR SALE

Two original style Wimberley heads (WH-101 - quick release type), each with a few scratches but in excellent condition: $425 each - shipping included

Two F-4 flash arms for the original style Wimberley heads in excellent condition: $125 each - shipping included.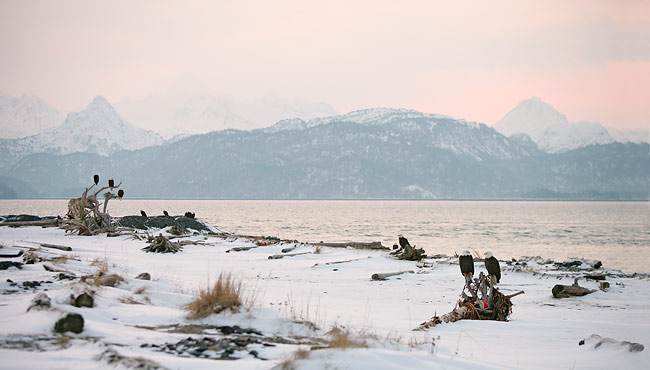 Bald Eagles on beach in predawn light, Homer, AK
Image copyright 2006: Arthur Morris/BIRDS AS ART
Canon 70-200mm f/2.8 L IS lens (handheld at 120mm) with EOS 1Ds MII. ISO 400.
Evaluative Metering +1 stop: 1/400 sec. at f/2.8.
The RAW file for this image was created using Auto White Balance. It had a severe blue cast as expected. Converting with either Cloudy or Shade WB helped a bit, but a blue cast remained. Dan Twitchell, a participant on the first IPT suggested setting the Color Temperature in Breezebroswer to 10,000 and then converting. Voila! The pinks that I had seen when I made the image were perfectly rendered. It is amazing how many valuable lessons I learn from my students. Thanks Dan!
Best and love and great picture-making to all,
artie
Note: Arthur Morris has been a Canon contract photographer since 1994 and continues in that role today. Hunt's Photo of Boston, MA is a BAA sponsor as it Delkin Devices. Back issues of all BAA Bulletins are archived in the Bulletin Archives which may be accessed from the home page at www.birdsasart.com