BIRDS AS ART BULLETIN #231
MAY 13, 2007
Visit: www.birdsasart.com
ROBERT O'TOOLE'S APATATS 1 AVAILABLE
YET ANOTHER DATE CORRECTION: ROBERT O'TOOLE'S BAA/IPT ST. AUGUSTINE APTATS (Advanced Photoshop Techniques and Tips Simplified) BAA/IPT WORKSHOPs
A TALE OF TWO IPTs…
ROBERT AMORUSO WEB SITE & WORKSHOPS
BOSQUE FLIGHT SCHOOL WORKSHOPS WITH JIM NEIGER
NEW YORK CITY SEMINAR
ST. AUGUSTINE IPT LATE REGISTRATION DISCOUNT OFFER AND SELECTED IPT UPDATES
Contact us by phone at 863-692-0906 (Eastern Time Zone) or by e-mail at birdsasart@att.net or birdsasart@verizon.net. The att e-mail address is best from overseas.
We gladly accept credit card orders by phone 8am till 9pm Eastern Time (8 am till 3pm Fridays).
You can use the Paypal links on the web site to order anything. Just type in the item(s) and the amount. If using your own Paypal account, please send to either of the e-mail addresses above.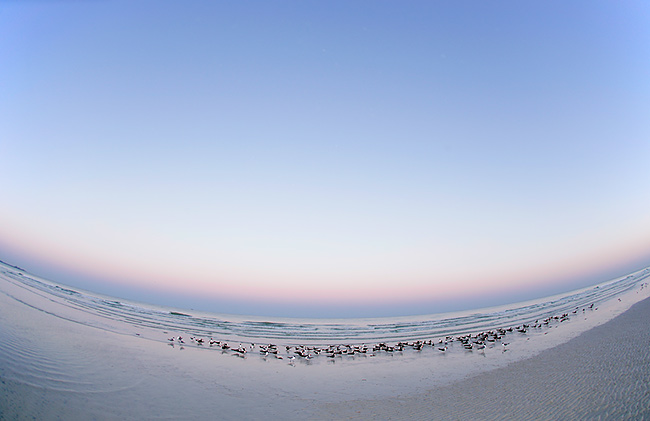 Black Skimmers, Laughing Gulls, and pre-dawn earth shadow, Fort DeSoto Park, Mullet Key, FL
Image Copyright 2007: Arthur Morris/BIRDS AS ART
Canon 15mm fish eye lens, handheld with the EOS-1Ds Mark II. ISO 400.
Evaluative metering +1 stop: 1/125 sec. at f/4.
This image was made on the first morning of the first DeSoto IPT. Robert O'Toole has inspired me to begin practicing with the fish eye lens. I do not like using it when it is sunny as my shadow will almost always be in the image…
Here I used One-Shot AF and focused on the first row of birds.
ROBERT O'TOOLE'S APTATS-1 AVAILABLE
I am proud to announce that Robert O'Toole's first of the series Advanced Photoshop Tips and Techniques Simplified (APTATS-1) PDF (available only on CD) is now available. We will begin shipping the CDs on Tuesday.
Well more than two thousand folks have cut their digital and Photoshop teeth on our Digital Basics file, and I am certainly proud of everything that I have learned (most of it with the help of others), proud of all the folks who have learned to optimize their images quickly and efficiently thanks to Digital Basics, and even more proud of how my images look. When I watch Robert O'Toole sit down to work on his images, however, I feel totally inept. Robert is simply amazing when he performs his Photoshop magic. Robert's Quick Mask techniques will let you work faster and more efficiently. If you regularly use either the Clone tool or the Patch tool, learning to use Quick Masks instead will totally change the way you do things and approach difficult problems. On the APTATS-1 CD you will find the following: an introductory (MS Word) letter, five before images and five finished images, and the five corresponding how-to files. Both Robert and I worked very hard to produce a guide that can be understood and followed by pretty much anyone. The guide includes an almost countless number of screen captures to ensure that you do not stray from the path of success. In addition, there are—right in the text—before, during (many, as needed…), and after versions of the image that you are working on.
The five topics covered in APTATS-1 are:
1: Quick Mask Object Removal
2: Eye realignment and Repair
3: Restoring Highlight Detail
4: Clipped Feather Tip Repair
5: Clipped Wing Repair (with Exposure Adjustment)
With a bit of practice, using the techniques will become second nature. Once you learn the basics of using Quick Masks, you will find yourself using them for many tasks that are not specifically covered in the PDF.
You can order your APTATS-1 PDF (on CD only today for $20 plus $3 shipping and handling ($23 total) in the US. Florida residents need to add 7% sales tax: $21.40 plus the $3 shipping and handling ($24.40 total). To Canada the cost is $20 plus $6 shipping ($26 total). For overseas customers the cost will be $20 plus $8 shipping and handling ($28 total). APTATS-1 is being shipped in its final form; it will not be updated.
As is usual Paypal is quite convenient. Be sure to include your ship-to address. You can call us at 863-692-0906 with credit card in hand, or send a check for the correct amount made out to "Arthur Morris" to us as follows: Arthur Morris/BIRDS AS ART, PO Box 7245, 4041 Granada Drive, Indian Lake Estates, FL 33855.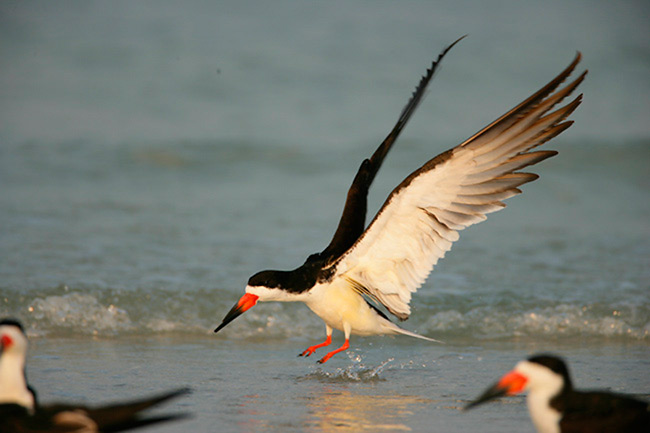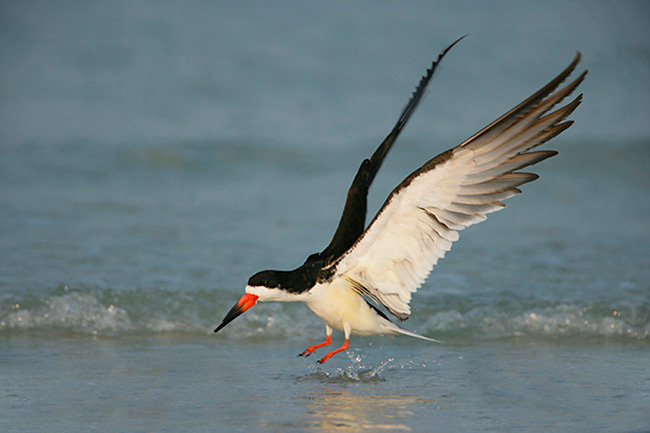 Black Skimmer flapping after bath, Fort DeSoto, FL
Image Copyright 2007: Robert O'Toole
Here, Robert used the Quick Mask Object Removal techniques that he developed to remove the two distracting foreground birds quickly and easily.
YET ANOTHER DATE CORRECTION: ROBERT O'TOOLE'S BAA/IPT ST. AUGUSTINE APTATS (Advanced Photoshop Techniques and Tips Simplified) BAA/IPT WORKSHOPS
In Bulletin 230, I inadvertently typed in the dates for Robert's ST. Augustine offerings. Here is the correct info:
St. Augustine Alligator Farm BAA IPT/APTATS workshops (limit: 4). Wednesday May 16 and Monday, May 21, 2007. $399 per session/$349 per session if two or more registrants. 10AM-5PM. Six hours of instruction, one hour lunch break (laptop with Photoshop required).

These workshops are scheduled so that IPT participants can attend the IPTs without conflict (either before of after the IPTs). Non-IPT participants are welcome.
APTATS workshops are designed for the digital photographer with an emphasis on simplicity and will be conducted in a relaxed and personalized atmosphere. Robert will demonstrate the step by step procedures for each task and explain the theory as well. Participants will progress at their own pace with the demonstration images that he provides. The small group size will allow for personalized instruction. Ambitious folks can enjoy an early morning of great photography in the field and then bring their images to life in the APTATS Workshops.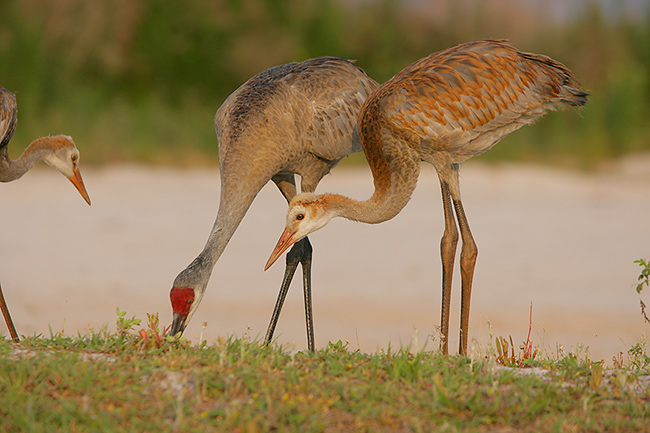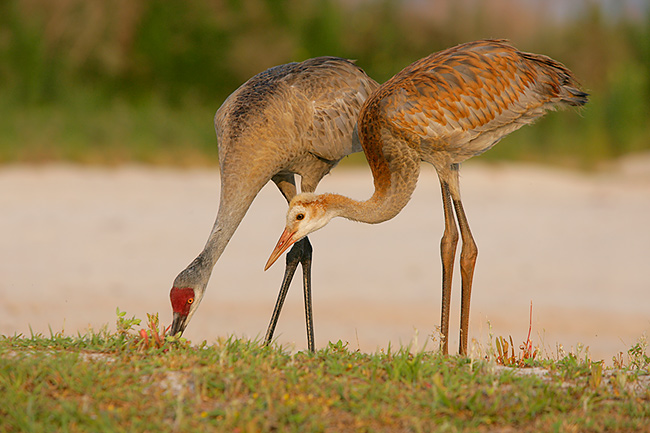 Sandhill Crane colt waiting for breakfast, Indian Lake Estates, FL
Image Copyright 2007: Arthur Morris/BIRDS AS ART
Canon 70-200mm f/4L IS lens with 1.4X II TC and the EOS-1Ds Mark II. ISO 400.
Evaluative metering +2/3 stop: 1/250 sec. at f/5.6.
Here, I used Robert's Quick Mask Object Removal techniques to clean up the image and replace the adult bird's eye with an eye from another crane- frame. I warped and sized the eye using the techniques outlined in APTATS.
A TALE OF TWO IPTs…
On the first Fort DeSoto IPT the birds were plentiful and the weather and the winds were pretty much perfect. We had east winds each morning and west winds in the afternoon; just what the doctor ordered. The group was thirsty for knowledge, asked dozens of questions, was amazingly appreciative, and made lots of great images. On the second IPT, many of the birds pretty much disappeared and the weather could not have been worse. The winds were wrong and it got colder. We even lost half a morning to pouring rain. We improvised. We made a trip to the Skyway Bridge Fishing Pier, we created 10am silhouettes, and we photographed some migrant songbirds. And guess what? The group was thirsty for knowledge, asked dozens of questions, was amazingly appreciative, and made lots of great images. This despite the absence of the Marbled Godwits, Caspian Terns, Red Knots, and the white phase Reddish Egret that had been around for the first IPT. When the birds are scarce and the weather less than favorable, we work even harder to please, and when it rains, we add extra classroom time.
As is typical, we had about 50% repeat participants and it was great seeing old friends and meeting new ones. Keith Kennedy and son David, both highly skilled photographers returned for their second straight DeSoto IPT and were again joined by Keith's lovely fanatic-birder wife Sharon. All the Kennedys will be joining Toddi and me in Kenya late this summer. It was great to see Steve Shore again; he had been on a Bosque IPT nearly ten years ago. He brought along his lovely lady-friend Elizabeth Loeber who was an enthusiastic and quite proficient beginner. She made quite a few images that left Steve mumbling… Jeff Armstrong had joined me in San Diego this year, and Layton Parham, Brian Kennedy and Allison Hurley were all IPT veterans, with Allison having attended several. IPT newbies Laurent Gressont, Larry Herbert, Sean Traynor, and Doug Cockrill rounded out the roster for the first IPT.
On DeSoto #2 IPT veterans Monte Brown and Doug West were back for more as were James S. White and Lou Newman who have done many IPTs. (James and lovely wife Linda went to Africa with Toddi and me about 18 months ago.) Pat Dunnock and friend Glenda finally made it; she had cancelled their IPT reservations several times before. It was great meeting folks who, like me, realize that alternative medicine offers lot of great options for those wishing to live longer and healthier. Mike and Carol Conlon, two of the nicest folks around were on their first IPT as were Shawn Oleson, Bill Petrunich, and Carleton Sheely. All were welcome additions to the BAA family.
For whatever reason the DeSoto IPTs always features the most wonderful group dynamics.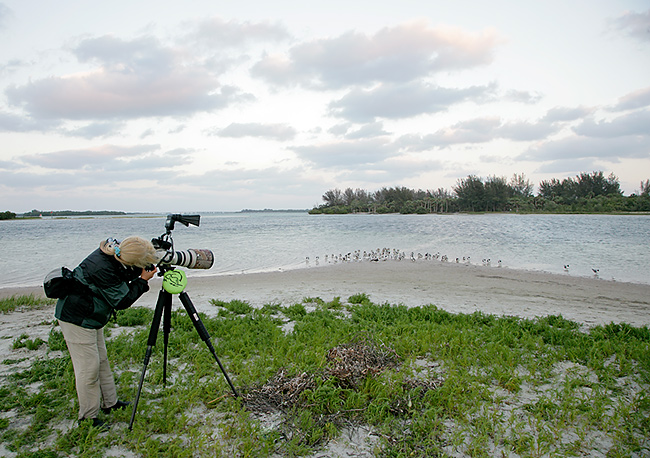 Fabiola Del Alcazar and shorebirds, Fort DeSoto Park, Mullet Key, FL
Image Copyright 2007: Arthur Morris/BIRDS AS ART
Canon 24-105mm IS L lens handheld at 24mm with the EOS-1Ds Mark II. ISO 400.
Evaluative metering at zero: 1/30 sec. at f/9 in Tv Mode.
Jeff Armstrong was kind enough to loan me his 24-105; mine was in my SUV… Why no plus compensation for this overall light scene in soft light? I used One-Shot AF and focused on Fabs' black and dark green jacket—the meter opened up for the jacket which was in the "center" of the frame when the exposure was locked… Learn where and when to photograph at DeSoto with our great Site Guide: http://www.birdsasart.com/siteguides.htm#the%20Fort%20DeSoto/Sarasota%20Site-Guide
ROBERT AMORUSO'S WEB SITE AND WORKSHOPS
Robert Amoruso, award winning photographer, long time student, and BAA Posse member & IPT co-leader, offers BAA-approved private and small group instruction as follows (from Robert):
Personalized Photographic Instructional Workshop (PPIW)
Central Florida Brevard/Orange County Areas that includes such popular sites at Merritt Island National Wildlife Refuge, Viera Wetlands,
Blue Heron Wetlands, Orlando Wetlands Park and Canaveral National Seashore.
I design PPIW workshops for all experience levels but they have become especially popular with beginners due to my hands-on approach. I discuss curriculum in advance with the participant(s) to cover just what they need to make it a productive and rewarding experience. Workshops are strictly limited to no more than four persons.
Morning sessions start pre-dawn and last 3 to 4 hours. Afternoon sessions start 3 to 4 hours before sunset when they wrap up. Post processing and workflow instruction is included on full day sessions. Always included is a post-workshop five-image critique. I can also offer some visits to various locations aboard my 17' SeaRay open-bow boat.
For rates and terms, click here: http://www.wildscapeimages.com/, click on "Instruction," and scroll down.
To learn more about Robert, click here: http://www.wildscapeimages.com/ and go surfing.
Check out Bulletin 230 to see some of Robert's great images. (It will most likely be posted to the archives this Tuesday.)
Photographic Instructional Workshop (PIW) – For the first time in 2007, I am offering organized photographic workshops. These workshops will feature limited attendance to keep them intimate and will be designed to introduce you to some unique shooting locations and advanced techniques. I am formalizing specifics for the following so please email me if you are interested.
Magnificent Frigatebird Roosting Island/AM and Fort Desoto/PM – Three 2-day workshops in the Tampa/St. Pete area. The Frigatebird roosting island is only accessible by boat and is about a ½-hour cruise from the public boat ramp in Clearwater, FL. If you have not seen these birds up-close, you are in for an experience. With a wingspan exceeding 7 feet they are a remarkable sight when they first leave their roosting trees in the early morning light. Standing in water up to a foot deep just offshore the island and using a short telephoto lens (100-400mm, 70-200mm with TCs, 200-400mm), you have opportunities at unbelievable flight photography. Cormorants and Pelicans also inhabit the island. Though other birds nest on the island, this is not a nesting colony for the frigatebirds. They nest south in the Caribbean and roost here in the summer. In August when we will visit, other species nesting will be over so we will not be disturbing that important behavior. Other spoils islands and shoals may be visited after the frigatebirds depart. In the afternoon, we will venture to Fort Desoto, the premier bird photography location on the Gulf of Mexico.
The workshops are scheduled for August 18 & 19, August 22 & 23 and August 25 & 26. The workshop hotel will be announced at a latter date. These workshops are limited to 3 persons each.
For more details including cost and images from past trips, please go to my website at www.wildscapeimages.biz.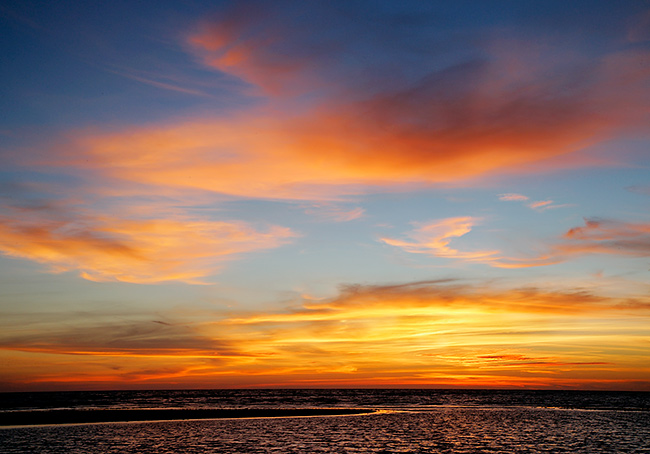 Sunset over the Gulf, Fort DeSoto Park, Mullet Key, FL
Image Copyright 2007: Arthur Morris/BIRDS AS ART
Canon 24-105mm IS L lens handheld at 58mm with the EOS-1Ds Mark II. ISO 400.
Evaluative metering +1/3 stop: 1/60 sec. at f/9.
I made this image with Jeff Armstrong's lens about 30 minutes after I created the previous image. Note the compositional balance between the large cloud in the upper right and the dark sandbar in the lower left-center…
BOSQUE FLIGHT SCHOOL WORKSHOPS WITH JIM NEIGER
With thousands of migratory birds in flight daily at Bosque del Apache, what better site for Flight School Photography workshops? Expert photographer and pontoon boat captain Jim Neiger will be leading two Flight School Photography Workshops at Bosque in early November, 2007. The workshops are scheduled so that folks could attend both a

(BAA-approved)

Flight School Workshop and a BIRDS AS ART IPT without conflict. As regular Bulletin readers know, Jim has spent the past several years perfecting his techniques for photographing birds in flight and in action using large, hand-held telephoto lenses. These workshops are designed to teach you to do just that. The workshops will be held in early November, with its spectacular fall colors and smaller crowds.
Workshop Dates:
3-DAY Workshop 2007-FSP-B1: November 9, 2007 thru November 12, 2007 ($899). Mix and match with BAA Bosque IPT #1.
2-DAY Workshop 2007-FSP-B2: November 15, 2007 thru November 17, 2007. ($699.) Mix and match with BAA Bosque IPT #1 or #2.
Each workshop will include 2 hours of classroom instruction on the first evening, and three morning and afternoon 3-4 hour sessions on the remaining days. The workshops will be strictly limited to four participants so that everyone may receive personalized instruction in the field.
The cost of the NOV 9-12 3-DAY workshop is $899 per person. The cost of the NOV 15-17 two day workshop is $629. A $199/person non-refundable deposit is required. The balances are due 45 days before the date of the workshop. If you are unable to attend the workshop, after paying the balance, your monies will be refunded only if your spot can be filled, on short notice, from the waiting list. Credit cards are not accepted; all workshop payments must be made by check or money order.
Participants should be able to create a properly exposed image. A telephoto lens of 400mm or more (300mm with a teleconverter is acceptable) is required. You will need to be physically capable of holding your rig in shooting position for at least 10 seconds. Participants must also have a vehicle to travel to and from the photography locations; car-pooling is always an option.
Please contact Jim Neiger as follows: via phone: 407-247-5200 or via e-mail:
jimn@cfl.rr.com
Flight School website: www.flightschoolphotography.com.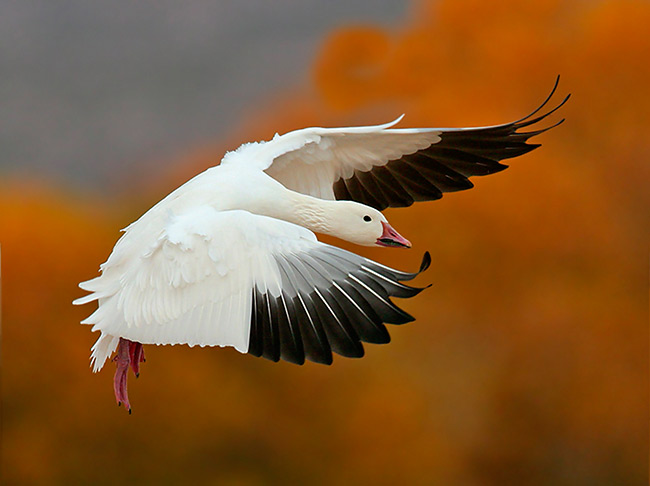 Snow Goose and cottonwoods, Bosque Del Apache NWR, San Antonio, NM
Image Copyright 2007: Jim Neiger
NYC SEMINAR
The Art of Nature Photography; It Ain't Just Birds!
Weekend How-To Seminar
Queens, New York (near JFK Airport)
August 18-19, 2007
This seminar is for all nature photographers who want to learn how to make better photographs. If you live within a three hour drive and are not planning on attending, you are either an amazingly talented photographer and Photoshop expert or you need to re-think things <smile> On Saturday I will describe the methods and techniques that I have developed and used since 1983. My comments on equipment (including and especially digital equipment), autofocus, light, and on composition and image design, and my tips on getting close to free and wild subjects and creating pleasing blurs will benefit everyone who owns a telephoto lens and wishes to dramatically improve the quality of their images. Since going all-digital in November 2002, I have--in short order--become a digital photography and Photoshop expert. My approach to optimizing images is to create a master file of excellent quality in the shortest possible time. I will share our workflow and numerous Digital and Photoshop tips on Sunday. As more and more folks are using Digital Capture, I am finding on our IPTs that many good to excellent photographers have no clue as to how to use Photoshop to make their images look better. In fact, many of them make their best images look worse! My workflow is designed to quickly produce master files of high quality. I can and will teach you to do just that at this seminar.
The cost of the weekend seminar is $169. The cost of either single day is $99. Members of qualifying camera clubs are invited to apply a $10 discount. (If you are a member of a camera club or other photography organization please e-mail for details.) Register with a friend or spouse and take $10 off each registration. Register in groups of four or more and take $20 off of each registration. Get a group of ten photographers together and apply a $30 discount to each registration. (Please e-mail for group registration details.) It is highly recommend that folks purchase the buffet luncheon option ($15/day includes tip and tax) as there are no fast food restaurants nearby. Those purchasing the lunch option will receive their lunch coupon when they check in each morning.) The cost of the weekend seminar plus the two lunches is $199.
To register, send a check for the full amount made out to "Arthur Morris" to PO Box 7245, Indian Lake Estates, FL 33855, call with a credit card: 863-692-0906, or send a Paypal (using either any link on our site or your Paypal account) to us at birdsasart@att.net In all cases, we will need your e-mail address, your mailing address, and your daytime and evening phone numbers. Here is our Cancellation Policy: If for any reason you need to withdraw, please notify us ASAP. Once we receive your e-mail, phone call, or written notice of your cancellation the following fees apply: cancel before May 17, 2007 and your fee will be refunded less a $20.00 cancellation fee; cancel by July 17, 2007 and your fee will be refunded less a $50.00 cancellation fee; cancel after July 17, 2007 and there will be no refund.
The doors will open on both days at 8 am and the programs will begin at 9 am sharp. There will be tons of great door prizes. I hope that you will be able to join me for what will be an incredibly educational and fun-filled weekend. (If anyone would like to help us set up or to simply hang out, be there at 7:00am.)
The seminar hotel is the Crowne Plaza JFK Hotel

,
151-20 Baisley Blvd., Jamaica, NY 11434.
The first 40 attendees who stay at least two nights at the seminar hotel will receive a free Lens Pen Combo Kit
—a $20 value--plus our detailed instructions (those sent via e-mail). Room rates anywhere in NYC are extremely high; we have negotiated a fantastic low rate of $139 per night for those who register in a timely fashion. (The lowest internet rate that I could come up with for the Crowne Plaza was $161/night). To secure your room, please call 718-489-1000 with a credit card in hand, state that you wish to make a BIRDS AS ART reservation, and give them the confirmation code:
BAA
.
Please click here for additional details and the tentative schedule:

http://www.birdsasart.com/seminars.htm

.
In August, fall shorebird migration is well underway at the nearby Jamaica Bay Wildlife Refuge. Photography at the East Pond there can be excellent, especially for those who do not mind crawling in the mud and muck. Folks joining us from out of town should strongly consider bringing their gear and doing some photography at J-BAY, one of my favorite places on the planet, and one of my three soul-places. I would advise staying on after the seminar (rather than coming in early) as the juvenile shorebirds, which can be extraordinarily tame, begin arriving in mid-August

.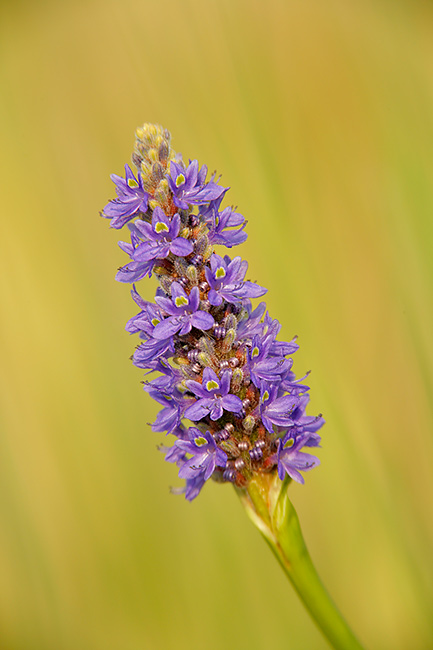 Pickerelweed blossom, Indian Lake Estates, FL
Image Copyright 2007: Arthur Morris/BIRDS AS ART
Canon 600mm f/46L IS lens with 1.4XII TC, 75 mm of extension, and the EOS-1D Mark II. ISO 400.
Evaluative Metering +2/3 stop: 1/800 sec. at f/5.6.
Beginner Basics: use an extension tube or two with a telephoto lens when you need to work inside of your lenses minimum focusing distance so that your small subject will fill more of the frame. I rotated the lens in the tripod collar to introduce diagonal elements to the image. And always remember, it ain't just birds.
ST. AUGUSTINE IPT LATE REGISTRATION DISCOUNT OFFER AND SELECTED IPT UPDATES
I have doubled the Late Registration Discount on the St. Augustine Alligator Farm IPT. Please call for details: 863-692-0906.
St Augustine Alligator Farm IPT MAY 17-20, 2007. 3 1/2 DAY IPT: $1099 (Limit: 12; openings: 2) Introductory Slide Program from 2-4pm on the afternoon of Thursday, May 17. This IPT includes 7 photography sessions and four slide programs, with at least two devoted totally to Photoshop. Amazing heron and egret rookery. Nesting Great, Snowy, and Cattle Egrets and Tricolored Herons, all with chicks.
The third Bosque IPT has been sold our for some time and #1 and #2 are filling quite nicely.
Bosque #1: "The Fall Color IPT" NOV 13-15, 2007. Slide Program on the evening of NOV 12. 3-DAY: $999. (Limit 14; openings: 8). Co-leader: Robert O'Toole. This IPT should feature a better chance for a day or two of the rare south winds that drastically improve flight photography and will definitely feature the brightest fall-color cottonwoods.
Bosque #2: "The Pre-Thanksgiving IPT" NOV 18-20, 2007. Slide Program on the evening of NOV 17. 3-DAY: $999. (Limit 14; openings: 7). Co-leader: Robert O'Toole & Alfred Forns. This IPT will feature increasing numbers of geese and cranes with lots of great opportunities. In 2007, I will again be hosting a Thanksgiving Day luncheon at Las Lunas Mansion, a fine restaurant in an historic building. You will need to reserve a spot and pay in advance. Details TBA; strictly limited to 50 folks.
Bosque #3: "The Post-Thanksgiving IPT" NOV 24-26, 2007. Slide Program on the evening of NOV 23. 3-DAY: $999. (Limit 14: Sold Out) Assistant leaders: Robert O'Toole, Robert Amoruso, and Alfred Forns. This IPT is scheduled on dates that I consider peak for Bosque. (There may be a Full Moon Add-on NOV 23; details TBA. If you register for this one, hold off on buying your plane ticket if you might be interested in the add-on.) In 2007, I will again be hosting a Thanksgiving Day luncheon at Las Lunas Mansion, a fine restaurant in an historic building. You will need to reserve a spot and pay in advance. Details TBA; strictly limited to 50 folks.
SW FLA Post X-mas IPT: DEC 27-29, 2007). Slide program on the evening Wednesday, DEC 26, 2006. 3-DAY: $1029. (Limit 12) Co-leaders: Alfred Forns, & Robert O'Toole. Sanibel Island, Venice Rookery, Cape Coral, and possibly Little Estero Lagoon (depending on the tides). Herons, egrets, gulls, terns, skimmers, shorebirds, both pelicans, Osprey, Burrowing Owl, and lots more. Roseate Spoonbill and Wood Stork possible.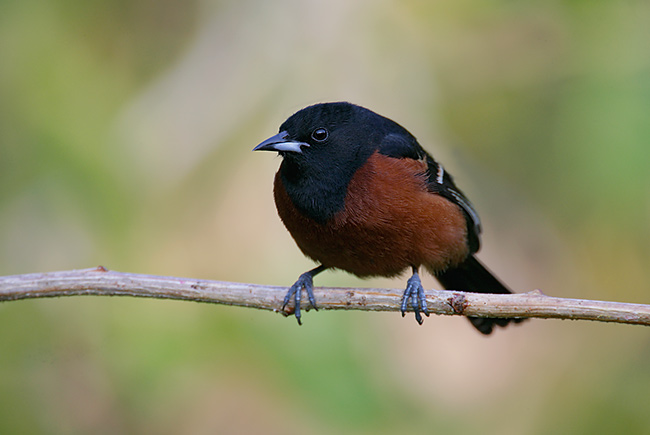 Orchard Oriole, male, the Mulberry Tree, Fort DeSoto Park, Mullet Key, FL
Image Copyright 2007: Arthur Morris/BIRDS AS ART
Canon 500mm f/4L IS lens with the 2XII TC and the EOS-1Ds Mark II. ISO 500.
Evaluative Metering at zero: 1/160 sec. at f/8.
On the 2nd IPT, a very few diehards stuck it out till the bitter end and were rewarded with some good chances on migrant songbirds. Several orchards were coming to an orange put out by the birders but this perch was buried in leaves and branches. I simply wove the distracting branches into a nearby shrub and waited and waited, eventually being rewarded… Learn where and when to photograph at DeSoto with our great Site Guide: http://www.birdsasart.com/siteguides.htm#the%20Fort%20DeSoto/Sarasota%20Site-Guide
Best and love and great picture-making to all,
artie
Note: Arthur Morris has been a Canon contract photographer since 1994 and continues in that role today. Hunt's Photo of Boston, MA is a BAA sponsor as it Delkin Devices. Back issues of all BAA Bulletins can be found in the Bulletin Archives which may be accessed from the home page at www.birdsasart.com