BIRDS AS ART BULLETIN 234
JUNE 10, 2007
Visit: www.birdsasart.com
ANNOUNCING ZEGRAHM'S"WILD BRITAIN " CRUISE
NEW YORK CITY SEMINAR NEWS
MARK III USER'S GUIDE
ASSORTED BAA KUDOS
ROBERT O'TOOLE'S QUICK MASK TIP
BLOGS
GITZO GT 6X SERIES TRIPOD FOLLOW-UP
IPT UPDATES
SILVER SALMON CREEK OPENING
RICHARD CROSSLEY'S RESPONSE
Contact us by phone at 863-692-0906 (Eastern Time Zone) or by e-mail at birdsasart@att.net or birdsasart@verizon.net. The att e-mail address is best from overseas.
We gladly accept credit card orders by phone 8am till 9pm Eastern Time (8 am till 3pm Fridays).
You can use the Paypal links on the web site to order anything. Just type in the item(s) and the amount. If using your own Paypal account, please send to either of the e-mail addresses above.
Note: maximize this e-mail for best formatting.
Important Request: if responding to this e-mail, please take the time to delete all images and all irrelevant text.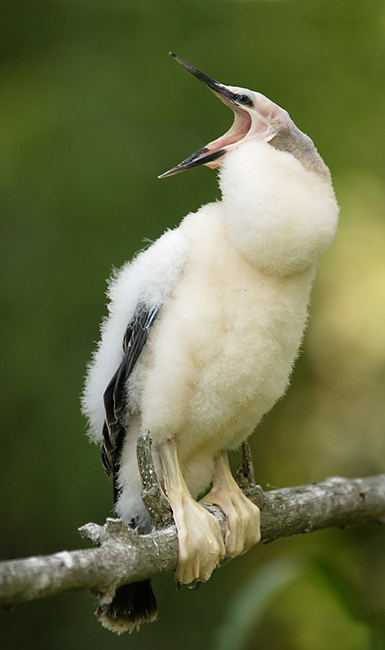 Anhinga, abandoned chick, West Lake Toho, Kissimmee,FL
Image Copyright 2007: Arthur Morris/BIRDS AS ART
Canon 400mm f/4 IS DO lens handheld with the EOS-1Ds Mark II. ISO 400. Evaluative metering +1/3 stop: 1/320 sec. at f/5.6.
The more that I use the 400mm DO lens (borrowed from CPS Loans), the more I think about getting one. It is a great hand-holdable flight lens and is wonderful when used on any type of boat be it flats boat (Mr. Shadle), pontoon boat (Mr. Neiger), V-haul bow rider (Mr. Amoruso), Zodiac (Antarctica and Wild Britain), or panga (Galapagos). It is also the perfect "big lens" for folks with physical problems who are not able to carry either the 500 or 600mm f/4 lenses.
ANNOUNCING ZEGRAHM'S "WILD BRITAIN" CRUISE
I will be leading a photography group with Zegrahm Expeditions on their Wild Britain cruise, May 28 -- June 11, 2008 (from US $9580, all inclusive).
This will be a rare opportunity on several counts. First, world renowned seabird expert Peter Harrison (author of Seabirds; An Identification Guide, one of the nicest and funniest persons I know) will be the ship's ornithologist for the duration of the voyage and will lead us to some of his favorite seabird haunts. Second, the itinerary, designed in part by Peter, offers an amazing array of opportunities to visit some of the largest and most isolated seabird colonies in all of Europe. Third; though I expect folks from all over the world to join us, it will be a great opportunity for many of our friends and supporters from the UK, Germany, Finland, and other European countries to learn from me during both in-classroom and in-the-field sessions. I will be presenting Instructional programs during the voyage and in addition, we will have opportunities for image sharing and Photoshopping on our passages from one location to another. Lastly, Zegrahm's is first class all the way: great ships, great staff, amazingly knowledgeable leaders, all of whom are superb speakers.
This from Zegrahm: Our return voyage to the British Isles brings a renewed opportunity to explore three timeless lands steeped in the lore and history of the Celts, Anglo-Saxons, King Arthur, Sir Walter Raleigh, and Macbeth. Join us as we tarry in villages and islets with intriguing names such as Iona, Staffa, Saltee, Bass Rock, the Isle of Man, Orkneys, Shetlands, and many more. Raise a pint with the chaps in a local pub, shop for woolens in Lerwick and silver in Kirkwall, and enjoy close encounters with jaunty puffins. Be ready with your camera, as the photographic opportunities here will be staggering!
This is the perfect time of year to visit Britain, as late spring turns to early summer, and the countryside is ablaze with a profusion of wildflowers. Our expedition puts us in the midst of heathered moorlands, ancient woodlands, Neolithic monuments, stone abbeys, and Celtic fortresses. Just offshore, on isolated islands, lie Europe's largest seabird colonies-resonating with the constant caws and cries of puffins, guillemots, kittiwakes, gannets, and many others, all in a frenzy of breeding activity. The long days preceding the solstice give us the chance to enjoy an action-packed itinerary that includes visits to some of the most isolated and remote regions of the British Isles. And the superb, 100-passenger Island Sky-intimate and comfortably elegant-is the perfect vessel for maneuvering the narrow channels and waterways of the region. We also make full use of her fleet of Zodiacs, not only for landings but for scenic exploration along the spectacular coast of Britain. Our adventure around the British Isles offers the perfect blend of historic castles, breathtaking botanical gardens, impressive cliff scenery, quaint villages, charming people, and an astonishing array of birds. Among the many highlights are visits to the World Heritage Sites of Giant's Causeway in Ireland, St. Kilda in Scotland's Hebrides, and the Neolithic stones of Orkney. Excursions by Zodiac bring us to grottoes that echo with history, from infamous Bruce's Cave on Rathlin Island to the enchanting formations of Fingal's Cave whose sonorous sea sounds inspired an overture from Mendelssohn. We stroll through the subtropical gardens surrounding the stunning medieval Tresco Abbey in the Scilly Isles; drive through sublimely beautiful Killarney National Park and the legendary Ring of Kerry; and savor a cuppa with the charming residents of remote Fair Isle. We look forward to sharing with you many favorite spots and hope you'll join us, along with our outstanding team of naturalists and authoritative historians, as we explore and discover the beguiling treasures of the British Isles.
Here is a closer look at the itinerary through the eyes of the nature photographer:
May 28, 2008: independent flights to London, UK
May 29/ DAY 1: After independent check-in at the Crowne Plaza London - St. James in central London, we are at leisure to explore the city on our own. The photography group will make our way to nearby St. James Park to photograph at the local ponds where we should find a great variety of ducks and possibly handsome Black-headed Gulls in breeding plumage.
May 30/ DAY 2: London/Portsmouth/Embark Island Sky. After breakfast we depart for Portsmouth where we board the Island Sky. After lunch we enjoy time to explore and settle into our home for the next twelve nights.
May 31/ DAY 3: Isles of Scilly. Once the scourge of seamen whose ships were frequently lost among these 150 or so granitic isles, the Scillys are known today for their lovely beaches, rocky promontories, and ideal climate. Warmed by the North Atlantic Drift, the Isles of Scilly have given their fortunate inhabitants the luxury of turning a passion for flower growing into a major industry. In the morning we visit the capital of Hugh Town, situated on St. Mary's Island. Boarding Zodiacs in the afternoon, we cruise to Tresco for a visit to the ruins and exquisite sub-tropical gardens at the medieval Tresco Abbey. We set sail in the late afternoon for southern Ireland. Birders will have a busy day checking for late spring migrants in one of Britain's top birding destinations. For photographers both St. Mary's and Trescoe offer good photographic opportunities with gulls ((including Herring—a different race from North America, and Lesser and Great Black-backed) on sandy beaches. There are also reasonable opportunities for Eurasian Oystercatcher, Ringed Plover, Gadwall, Common Tern, Eurasian Shelduck, and Eurasian shag.
June 1/ DAY 4: Sneem/Ring of Kerry/Cahirciveen, Ireland. This will be a day replete with opportunities to create some wonderful scenic images. Our full-day excursion encompasses some of the world's finest scenery as we drive east from Sneem to the market town of Kenmare. The circular route then climbs through Moll's Gap, revealing idyllic lake and mountain panoramas. We visit Muckross House in Killarney National Park, a restored 19th-century Elizabethan-style manor house and gardens, where artisans ply their traditional trades and craftwork in the Kerry Folklife Centre. After lunch in nearby Killarney town, we have time to explore before continuing along the northern route through Killorglin with its grand land- and seascapes and along the shores of Dingle Bay. We re-embark the ship in Cahirciveen.
June 2/ DAY 5: Waterford/Saltee Islands. We make our way up the River Suir this morning to the town of Waterford. Settled by Danish invaders who were in turn driven out by the Normans in 1170, this historic town has a wealth of monuments, including a tower built by the Danes in 1003. Our tour here includes a visit to the renowned Waterford Crystal glassworks, where we watch master craftsmen at work. After a drive through the beautiful countryside, we arrive at a fine old pub whose walls date back to Viking times. The Saltees, two privately owned islands along Ireland's east coast, attract nearly three million birds to their craggy masses. On Great Saltee Island we will see puffins, murres, razorbills, gannets, and more of the 47 bird species known to inhabit the island. The Saltees represent a mega-photo opportunity; without doubt, it offers some of the best seabird photography in all of Europe. The island we will visit is relatively small, fairly low, and we will be free to roam independently. We need to check tidal conditions for our entry into the river to enable us to get up to Waterford. The Zegrahm staff will do everything possible to get photographers and birders onto the island as early as possible and most likely in the afternoon and evening we would be able to photograph the many species that nest here. Photographers can get within a few feet of puffins, common murres, razorbills, fulmars, kittiwakes, shags, and gannets. The gannets are simply sensational and are the easiest gannets in all of Europe to photograph. The gannetry is an easy 40-minute easy walk from the landing site. Gannets are typically a very difficult species to photograph due to their cliff-nesting habits. Here, at the Saltee Islands, the colony is easily approached and we can walk to within just a few yards of the birds… We will also have our best opportunities to photograph Razorbills and fulmars.
June 3/ DAY 6: Isle of Man. A mid-morning arrival brings us to Port St. Mary on the Isle of Man, situated halfway between Northern Ireland and England. On shore, we board the Isle of Man Steam Railway, the single remnant from the extensive Victorian system that served the main centers on the island. Our ride takes us through quaint and picturesque villages and to the southern resort of Port Erin. At 15 and one half miles, the railway is the longest narrow gauge steam line in Britain. Weather and seas permitting, the nature photography group will take a spectacular 2-hour Zodiac cruise to the seabird cliffs where we will find tens of thousands of murres, Razorbills, and kittiwakes.
June 4/DAY 7: Northern Ireland. We spend the morning along the North Antrim Coast, witnessing the dramatic landscape of Northern Ireland; there will be ample opportunities for making scenic images from the ship. We dock at Portrush, from where we travel overland to the World Heritage Site of Giant's Causeway. This three-mile section of coastline is a geological masterpiece—some 40,000 closely-packed hexagonal columns of varying heights line the coast and descend like a staircase into the sea. These were formed by the shrinking of basaltic lava that fractured into vertical pillars as it cooled. Here again we should have some amazing photo ops; this site is both breath-taking and unique.
In the afternoon we visit the rugged cliffs and lighthouse of Rathlin Island which is home to more than a quarter million seabirds including guillemots, kittiwakes, razorbills, and puffins. The natural beauty of the island belies its tumultuous place in history, and among its infamous sites is Bruce's Cave, refuge of the fugitive Scottish King, Robert the Bruce, who later returned to Scotland to rout the British. This area offers spectacular opportunities to photograph "rock stacks" covered with birds. We will not be at all close enough to photograph individual birds, but scenically this will be absolutely spectacular with nearly 100,000 murres; there are often more tan 40 birds per square meter perched on the rock stacks right in front of you, and the stacks are several hundred feet high! Other species include Atlantic Puffin, Razorbill, Northern Gannet, Black Guillemots, Black-legged Kittiwakes, and more!
June 5/DAY 8: Isles of Iona/Staffa, Inner Hebrides, Scotland. Long regarded as a sacred place, Iona was the early center of Celtic Christianity. In A.D. 563 the Christian missionary St. Columba built a monastery here and spread Christianity throughout Scotland. Though it suffered repeated attacks by Vikings over the centuries and the original was destroyed, the monastery was rebuilt each time, and some of these later buildings still stand. We visit the monastery site; the nearby cemetery of St. Oran, where numerous Scottish kings are buried; and the 12th-century Iona Abbey. The photo group will attempt to call in the secretive Corn Crake, but photo opportunities will be problematic at best. We will have the rare opportunity to photograph the endangered Twite that is very common here.
In the afternoon, weather and seas permitting, we will be exploring the uninhabited island of Staffa via Zodiac. We will visit the famous Fingal's Cave; the peculiar rock formations and unusual coloring are a delight to behold, and the wonderful echo of the sea from within once served as the inspiration for Mendelssohn to write an overture. Again—weather and seas permitting—the photo group will disembark via Zodiac. A short walk takes us to a small puffin colony with some of the most habituated puffins in Europe. Numbers vary year to year but it is usually a great photographic opportunity.
June 6/DAY 9: am: St. Kilda/pm: Flannan, The Outer Hebrides. The Outer Hebrides, a group of stark and dramatically rugged islands, are one of Britain's most isolated spots. We spend the morning at St. Kilda, the westernmost island of the group. At one time, St. Kilda was home to a small community; we visit their abandoned houses and cleits, beehive-shaped cells of rough stone where goods were stored. We will sail by Britain's greatest seabird citadel with over 500,000 pairs of seabirds. Photo opportunities will not be as good as at some of the other places we've stopped at for puffins (300,000 pairs) as the archipelago has high islands with scattered colonies. Gannet photography from the ship, however, is mind-blowing as we get just yards away from the rock stacks and the 59,000 pairs of breeding Northern Gannets .The fulmars, 44,000 pairs, are also sensational.
As we sail among the Flannan Islands in the afternoon, puffins, fulmars, murres, and kittiwakes should be plentiful. Of special interest to birders is the Leach's petrel colony on the grassy slopes of Eilean Mor beneath the lighthouse. Even with good weather, if possible this will be our toughest landing. Peter describes it as a "true expeditionary landing on a remote and rarely-visited island." This is the best puffin photography opportunity in all of Europe; it is simply sensational, but we need the right wind and wave conditions to pull this landing off. There are thousands of Atlantic Puffins, tame and confiding. We were the first company to ever land here; puffin central! Nowhere else is quite like it. Just about every puffin image that Peter uses in his lectures was taken here. Other species include Razorbills, Common Murres, kittiwakes, and oystercatchers.
June 7/DAY 10: Kirkwall, Orkney Islands. We arrive in the capital city of Kirkwall on Mainland Island in the Orkneys today for visits to magnificent St. Magnus Cathedral and some of the island's major archaeological sites. Maes Howe, a chambered tomb dating from 3500 B.C., is also noted for its runic hieroglyphs left by visiting 12th-century Vikings. We also explore the enigmatic Standing Stones of Stenness, the Ring of Brodgar, and Skara Brae, a remarkably well preserved Stone Age village buried in sand some 4,500 years ago. This afternoon, we enjoy a walking tour of this charming town.
June 8/DAY 11: Mousa/Isle of Noss/Lerwick, Shetland Islands. The Shetland Islands, a group of remote islands with a distinctly Norse feel to them, are replete with ancient archaeological sites. One of these, Mousa (our next stop if the weather permits) boasts one of Britain's finest Iron Age ruins, an unusually well preserved 40-foot broch, a dry stone structure, dating from about A.D. 200. After visiting the broch, we walk to a nearby beach where gray and common seals often haul out to loll on the beach. Departing Mousa we cruise by the Isle of Noss, one of Europe's largest and most diverse seabird colonies, home to 80,000 seabirds. Here we sail right by spectacular, towering cliffs, jam-packed with guillemots, razorbills, gannets, shags and more. In the early afternoon we arrive in Lerwick, capital of the Shetland Islands. We enjoy a guided walking tour of the town and environs, which are steeped in Norse heritage. There is also time to browse through the shops and narrow streets, shopping for the world famous Shetland sweaters. This evening we are dockside on board the Island Sky.
June 9/DAY 12: Fair Isle. Regarded as the most isolated settlement in the British Isles, the island is renowned for the high quality and intricacy of its woolens and as a haven for seabirds. After a short walk, we join some of the islanders, who number only about 70, at their community center for tea and cakes, and visit the local museum. The photo group will love this spot: they will have "puffins galore plus point blank chances on Great Skua and Parasitic Jaeger.
June 10/DAY 13: am: Isle of May/pm: Bass Rock/Leith, Scotland. The Isle of May is another of Scotland's great seabird islands. In the morning, conditions permitting, we will land by Zodiac and visit the small bird observatory on the island. The number of birds is staggering, and they are astonishingly fearless. The birds are habituated to the human presence as a result of the numerous visitors that come to the island from the mainland. This is a wonderful ending with puffins by the thousands, kittiwakes by the cliffs-full, shags on every available rock, and eiders and shelducks at your feet. The Isle of May is the best site in the world to photograph Eurasian Shag. Photographers can photograph from the Zodiacs or land (if possible). Or both. This will be a grand finale to what is truly a spectacular seabird expedition around the British Isles.
On our way to Leith we circumnavigate Bass Rock, renowned for its 100,000 resident gannets—the largest gannet colony in the world. Seals haul up on the surrounding rocks and numerous other seabirds command the lower regions of the island, including guillemots, razorbills, and shags. Flight photography should be mind-blowing. The pioneer nature documentary broadcaster, David Attenborough, calls Bass Rock "one of the Twelve Wildlife Wonders of the World." In the evening we arrive in Leith, the port for Edinburgh. Dinner and overnight pier-side on board the Island Sky.
June 11/DAY 14: Leith/Edinburgh. After breakfast on board, transfer to the Edinburgh airport for independent flights homeward.
I hope that you can join Peter and me for our voyage around the British Isles; it will present a rare opportunity to photograph some of the most spectacular seabird colonies in the eastern North Atlantic at the height of the breeding season. According to Peter, this is the finest seabird voyage that anybody can take in the North Atlantic; we will get to places that are way off the beaten track, places that are impossible to get to unless you have your own vessel.
If you are seriously interested in joining me on this trip, please send an e-mail to birdsasart@att.net with the words Wild Britain Registration Info Please in the Subject line.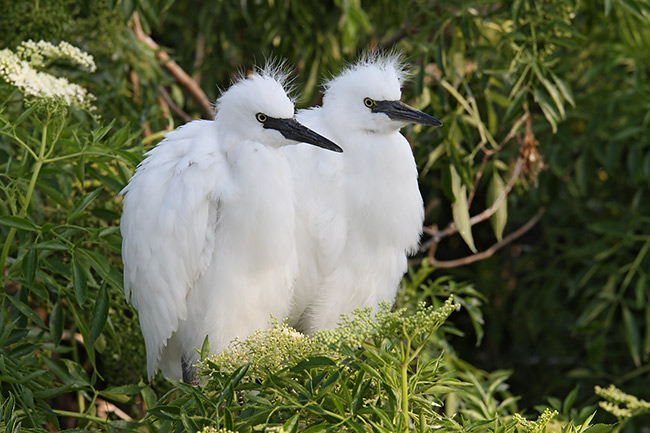 Snowy Egret chicks near nest, Gatorland, Kissimmee, FL
Image Copyright 2007: Arthur Morris/BIRDS AS ART
Canon 70-200 f/4L IS lens with the 1.4X II TC handheld at 135mm with the EOS-1D Mark III. ISO 400. Evaluative metering -1/3 stop: 1/200 sec. at f/11 in Manual mode.
I stopped all the way down to f/11 in order to render the eyes and bills of each bird sharp. I used the depth-of-field preview button to ensure that I was going to get the results that I desired. The stop-down button is located in the same position as it was on previous generation Canon professional bodies; it can be pushed in with the ring finger on your right hand while your eye is at the viewfinder.
NYC SEMINAR NEWS
Canon Pro-Markets rep Alyssa Cohen will be joining us with a few large equipment trunks of great Canon gear (new and old) for you to get your hands on. Every pro-markets rep that I have worked with at the various seminars has been a wealth of technical knowledge and has been mobbed by eager participants during the breaks. In addition, we will have a host of great door prizes including stuff from Lowepro, Delkin, Hunt's, Wimberly, Nature Photographer magazine, Birder's World, WildBird, and Bird Watcher's Digest among others.
The Art of Nature Photography; It Ain't Just Birds!
Weekend How-To Seminar
Queens, New York (near JFK Airport)
August 18-19, 2007
This seminar is for all nature photographers who want to learn how to make better photographs. If you live within a three hour drive and are not planning on attending, you are either an amazingly talented photographer and Photoshop expert or you need to re-think things <smile> On Saturday I will describe the methods and techniques that I have developed and used since 1983. My comments on equipment (including and especially digital equipment), autofocus, light, and on composition and image design, and my tips on getting close to free and wild subjects and creating pleasing blurs will benefit everyone who owns a telephoto lens and wishes to dramatically improve the quality of their images. Since going all-digital in November 2002, I have--in short order--become a digital photography and Photoshop expert. My approach to optimizing images is to create a master file of excellent quality in the shortest possible time. I will share our workflow and numerous Digital and Photoshop tips on Sunday. As more and more folks are using Digital Capture, I am finding on our IPTs that many good to excellent photographers have no clue as to how to use Photoshop to make their images look better. In fact, many of them make their best images look worse! My workflow is designed to quickly produce master files of high quality. I can and will teach you to do just that at this seminar.
The cost of the weekend seminar is $169. The cost of either single day is $99. Members of qualifying camera clubs are invited to apply a $10 discount. (If you are a member of a camera club or other photography organization please e-mail for details.) Register with a friend or spouse and take $10 off each registration. Register in groups of four or more and take $20 off of each registration. Get a group of ten photographers together and apply a $30 discount to each registration. (Please e-mail for group registration details.) It is highly recommend that folks purchase the buffet luncheon option ($15/day includes tip and tax) as there are no fast food restaurants nearby. Those purchasing the lunch option will receive their lunch coupon when they check in each morning.) The cost of the weekend seminar plus the two lunches is $199.
To register, send a check for the full amount made out to "Arthur Morris" to PO Box 7245, Indian Lake Estates, FL 33855, call with a credit card: 863-692-0906, or send a Paypal (using either any link on our site or your Paypal account) to us at birdsasart@att.net In all cases, we will need your e-mail address, your mailing address, and your daytime and evening phone numbers. Here is our Cancellation Policy: If for any reason you need to withdraw, please notify us ASAP. Once we receive your e-mail, phone call, or written notice of your cancellation the following fees apply: cancel before May 17, 2007 and your fee will be refunded less a $20.00 cancellation fee; cancel by July 17, 2007 and your fee will be refunded less a $50.00 cancellation fee; cancel after July 17, 2007 and there will be no refund.
The doors will open on both days at 8 am and the programs will begin at 9 am sharp. There will be tons of great door prizes. I hope that you will be able to join me for what will be an incredibly educational and fun-filled weekend. (If anyone would like to help us set up or to simply hang out, be there at 7:00am.)
The seminar hotel is the Crowne Plaza JFK Hotel,
151-20 Baisley Blvd., Jamaica, NY 11434.
The first 40 attendees who stay at least two nights at the seminar hotel will receive a free Lens Pen Combo Kit
—a $20 value--plus our detailed instructions (those sent via e-mail). Room rates anywhere in NYC are extremely high; we have negotiated a fantastic low rate of $139 per night for those who register in a timely fashion. (The lowest internet rate that I could come up with for the Crowne Plaza was $161/night). To secure your room, please call 718-489-1000 with a credit card in hand, state that you wish to make a BIRDS AS ART reservation, and give them the confirmation code:
BAA
.
Please click here for additional details and the tentative schedule:

http://www.birdsasart.com/seminars.htm

.
In August, fall shorebird migration is well underway at the nearby Jamaica Bay Wildlife Refuge. Photography at the East Pond there can be excellent, especially for those who do not mind crawling in the mud and muck. Folks joining us from out of town should strongly consider bringing their gear and doing some photography at J-BAY, one of my favorite places on the planet, and one of my three soul-places. I would advise staying on after the seminar (rather than coming in early) as the juvenile shorebirds, which can be extraordinarily tame, begin arriving in mid-August

.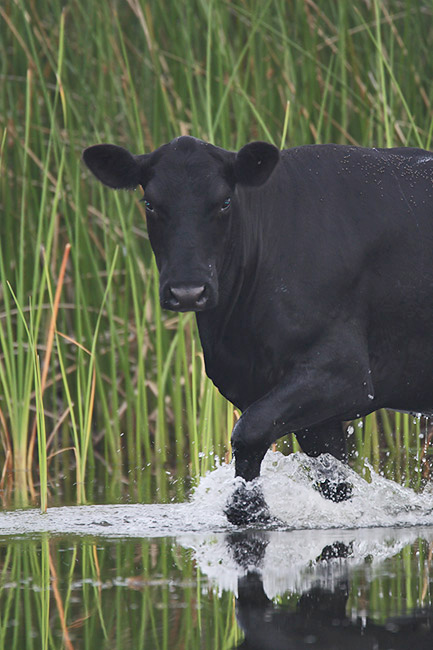 Cow—black, looking mean, Lake Cypress, FL
Image Copyright 2007: Arthur Morris/BIRDS AS ART
Canon 500mm f/4L IS lens with the 1.4X II TC handheld with the EOS-1D Mark III. ISO 1000. Evaluative metering at zero: 1/320 sec. at f/5.6 in Manual mode. And remember, it ain't just birds! See you in NYC.
This lady strolled by as we were photographing a crane family. I think that this image might have potential and hope that my Corbis editor
Dave Ross chooses it when I make my next submission. It seems that the Mark III handles blacks better than any camera I have ever owned…
MARK III USER'S GUIDE
The word has spread on the web that the MIII User's Guide (6967 words) can help folks begin making great pictures with their Mark III in short order; we are selling the guides all over the world to all types of photographers. With 9 menus containing 40 items and four Custom Function groups with 57 Custom Functions, the only other option is to spend a week curled up with your camera manual trying to figure everything out! The camera is quite complex and many of the basic camera operations are very different from previous generation Canon digital cameras. And if you are moving up in class from a 20-D or a 30D that goes double!
The MIII UG includes instructions on how to set and use all of the menu items and Custom Functions that I am currently using. And best of all, your purchase will include at least one (but probably more) free updates (as I learn more about the camera). In addition, the UG will include basic directions for using Digital Photo Professional (DPP), the packaged RAW processing software that comes (on CD) with the MIII. At present, BreezeBrowser does not support the MIII and the Adobe Camera Raw plug-in for the Mark III RAW is available for use only with CS3. (All of the MIII images in this bulletin were converted using DPP 3.0.)
You can order your copy of the Mark III User's Guide PDF right now for $20—it is sent by e-mail only. As is usual Paypal is quite convenient; simply click here: https://www.paypal.com/cgi-bin/webscr, type in MIII UG and $20 and hit OK. Or, you can call us at 863-692-0906 with credit card in hand, or send a check for the correct amount made out to "Arthur Morris" to us as follows: Arthur Morris/BIRDS AS ART, PO Box 7245, 4041 Granada Drive, Indian Lake Estates, FL 33855. (If the latter be sure to include your e-mail address.)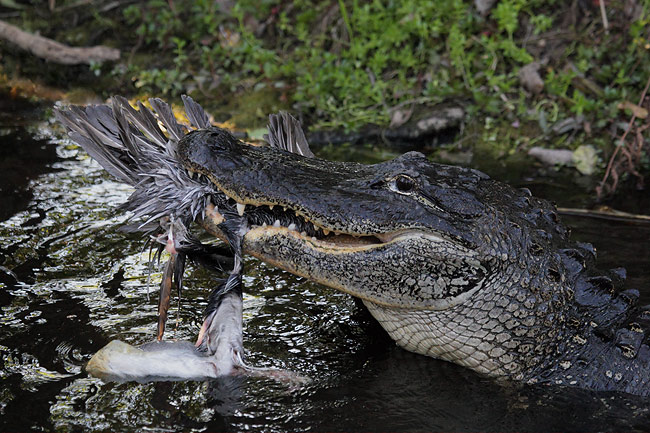 American Alligator chomping on Brown Pelican, Anhinga Trail, Everglades National Park
Image copyright 2007: Arthur Morris/BIRDS AS ART
Canon 100-400mm IS L Zoom lens handheld at 210mm with pre-production model EOS-1D Mark III. ISO 3200.
Evaluative Metering -2/3 stop: 1/500 sec. at f/5.
On the Anhinga Trail ITF-Workshop I had two pre-production Mark II bodies to test. We watched an alligator dine on an unfortunate Brown Pelican. With the Mark III in my hand I figured that it would be a good chance to check out the high ISO settings; with the gator chewing I knew that I needed a shutter speed of at least 1/500 sec. to freeze the action so ISO 3200 it was. I had enabled the High ISO Noise Reduction Custom Function. The image was processed in DPP with Low Noise Reduction set for both color and luminance. The converted RAW image exhibited very little noise. Both Robert O'Toole and I agreed that the noise in this and other ISO 3200 images from the Mark III was comparable to ISO 400 in the 1Ds MII and the MII 1DN. Virtually noise-free images at ISO 3200 will open up new worlds to nature photographers.
ASSORTED BAA KUDOS
John Lampkin, who posted this somewhere on line, sent me a copy via e-mail:
"I'm sure that you all know the basic selection methods and treatments, but I just came across one that is so fast and simple that I wish I had had this arrow in my quiver years ago. The technique uses Quick Mask mode and is on a CD by Robert O'Toole. It is available from Arthur Morris who is a renowned photographer and trip leader, for $20. The tutorial is well presented and carefully laid out; even a novice PS user should have no trouble understanding and mastering the technique very quickly. I would give you the method, but that wouldn't be ethical. You will not regret spending the $20, I promise you! You will also enjoy being on Art's email list. You can email him directly at birdsasart@att.net.
This, via e-mail, from Lou Newman, who was on the Pontoon Boat IPT:
"I want to thank you for your patience with me as I tried to pull all of the pieces of the puzzle together to move forward with my photography. Your explanations (sometimes in more than one format until I could grasp it) were excellent and greatly appreciated. I especially enjoyed the opportunity to ride with you and explore subjects that would not otherwise have been possible. The IPT met my expectations in every way. Admittedly, the loss of the boat and less than perfect weather were disappointments, but even that taught the necessity of having a backup plan and rolling with the punches, and you created some learning experiences that may have been more beneficial to me in the long run than the boat experience would have been. Thanks a million. I look forward to my next opportunity to photograph with you."
From Bill Hill, also by e-mail,:
"Thanks for the info on the Mark III. You are very generous with your price. I can see that many hours of work in this thing and it will be of great value not to have to repeat all of the trial and error that I am sure you went through. I would also like to thank you for making the APTATS available. The quick mask technique is worth twice the price. I still have to go back and read the directions now and then but it has saved me a great deal of time and I am getting better and better results. I will be looking for the MIII UG update and trust that you will be around to write them."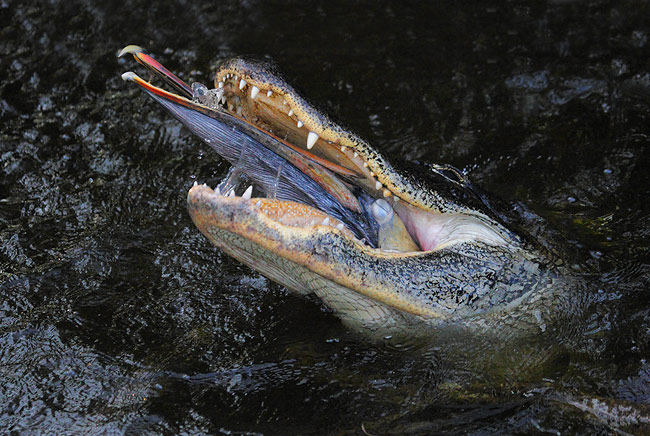 American Alligator swallowing Brown Pelican, Anhinga Trail, Everglades National Park
Image copyright 2007: Arthur Morris/BIRDS AS ART
Canon 100-400mm IS L Zoom lens handheld at 190mm with pre-production model EOS-1D Mark III. ISO 6400.
Evaluative Metering -2/3 stop: 1/1000 sec. at f/5.
As it got darker and the gator's thrashing became more violent so I went for the whole nine yards: ISO 6400. The large J-PEG (representative of the RAW file when viewed in Breezebrowser) exhibited lots of noise—especially in the red channel, so I converted the image in DPP with High Noise Reduction set for both color and luminance. The resulting TIFF file looked much better but I wanted to eliminate all of the color noise in the blacks so using the techniques detailed in this section of our Digital Basics File: Using Color Range Selections to Remove a Color Cast and was thrilled with the results. (You can learn more about Digital Basics here: http://www.birdsasart.com/digitalbasics.htm (Photoshop note: a bit of canvas was added to the top of this image.)
ROBERT O'TOOLE'S QUICK MASK TIP
My first goal when optimizing an image is to improve the image or make repairs without leaving any traces. Selective sharpening is an important part of the process, but if done without care or without excellent technique sharpening artifacts or halos can be present. The easiest way to avoid these after effects is to use a Quick Mask when doing selective sharpening. In this example I simply used a soft brush in Quick Mask mode to paint the area around the eyes including the lores. Then the selection is placed on a new layer. When you use this technique there will be no traces of the selection edges or of other sharpening artifacts.
Here is the original image: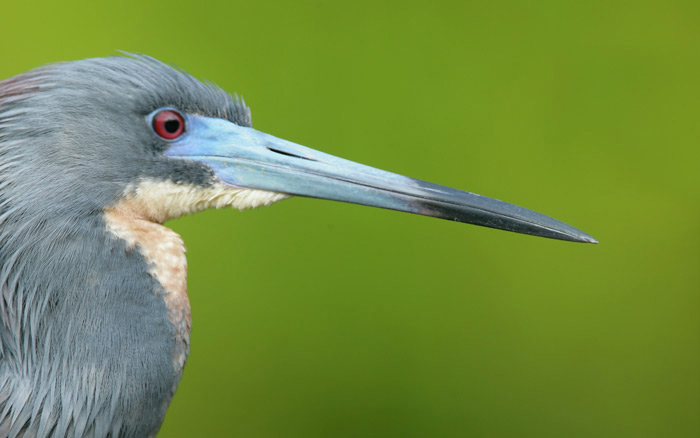 Tricolored Heron, post-breeding, St. Augustine Alligator Farm, FL
Image copyright 2007: Robert O'Toole
Canon 600mm f/4L IS lens with 1.4XII TC and the EOS-1Ds Mark II. ISO 400. Evaluative metering at zero: 1/160 sec. at f/5.6 set manually.
The bird's eye is nowhere near razor sharp…
.....
Press the Z key for the Zoom tool and draw a box around the bird's head to zoom in on the eye and the lores. To start the selection process, press the letter Q on the keyboard to enter Quick Mask mode. Press the B key to access the brush tool. Check the Brush settings in the brush menu below. Normal mode, opacity 100%, Flow 100%, 40 px, Hardness 0-50%. Change the brush diameter as needed using the left and right bracket keys. Use the Brush tool to 'Paint' around the eye and lores area. Press Q to exit Quick mask mode and re-enter standard RGB mode.

Press Ctrl+Shift+I (letter i) to invert the selection. Now Press Ctrl+J to copy the selection of the eye and lores to a new transparent layer. Go to Menu>Filter>Sharpen>Unsharp mask to apply sharpening. Use your own sharpening settings (which will depend totally on the size of the file you are working on). Press OK to accept. If the sharpening effect is too strong simply reduce the opacity of the layer with the opacity slider in the layers window. When you are satisfied, you can either press Ctrl+E to merge the 2 layers, or save the image with the layers intact.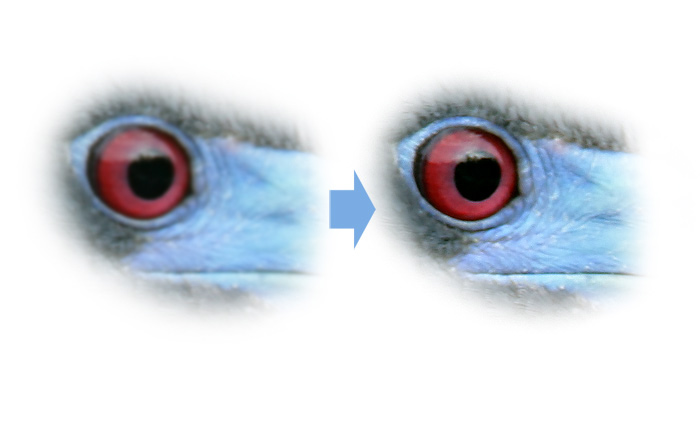 Above are before and after close-ups of the eye and lores. Below is the final image: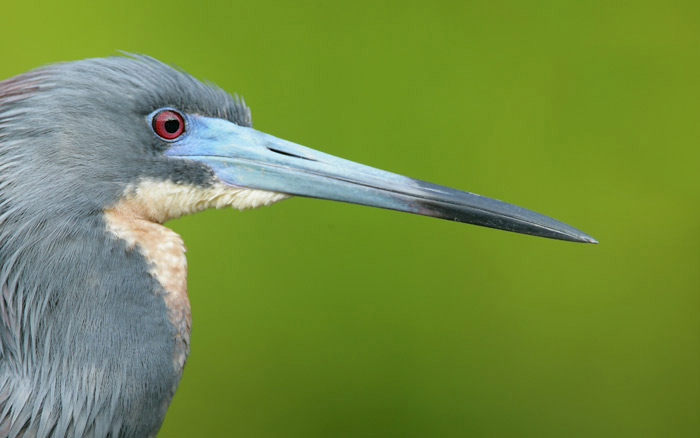 Robert O'Toole is a fine young photographer who had his first (but surely not his last) image recognized in the BBC Wildlife Photographer of the Year Contest (2006). He is a BIRDS AS ART posse member who has co-lead more IPTs than anyone. He recently moved to St. Petersburg, FL and teaches small group and individual Photoshop and In-the-Field nature photography workshops and seminars. Recently, I hired him to optimize about 85% of my new images in Photoshop. He is one of four BAA-approved instructors. You can contact Robert by e-mail at robert@robertotoolephotography.com or by cell phone: 1-310.619.8017. You can learn tons more about using the Quick Mask Techniques for many different Photoshop techniques in his APTATS PDF that is available here: http://www.birdsasart.com/aptats.htm
BLOGS
Would you like a chance to chat with two of the world's top nature photographers, to learn what they were thinking when the depressed the shutter button, or to just plain hang out with them? If the answer to one or more of those is yes, check out these two blogs:
Bill Neill, Outdoor Photographer columnist and one of the world's premier landscape photographers, shares his musings here: http://web.mac.com/wgneill/iWeb/wnblog/Blog/Blog.html
And world renowned wildlife photographer Andy Rouse has a great blog here: http://www.andyrouse.co.uk/blog.asp
Tricolored Heron fledgling squawking, Gatorland, Kissimmee, FL
Image Copyright 2007: Arthur Morris/BIRDS AS ART
Canon 70-200 f/4L IS lens with the 1.4X II TC handheld at 280 mm with the EOS-1D Mark III. ISO 400. Evaluative metering -1/3 stop: 1/2500 sec. at f/5.6 in Manual mode.
Here I used Automatic AF Point Selection to make it easier as the bird was moving about frantically.
GITZO GT 6X SERIES TRIPOD FOLLOW-UP
BAA Computer Consultant Bob Ettinger suggested that using a little silicone caulk between the rubber feet and the tripod legs might be a better choice than using semi-permanent Loctite (as I mentioned in Bulletin 233). He went on to state that it is easier to remove the feet if need be and that all of his feet have behaved perfectly since he tried the silicone caulk.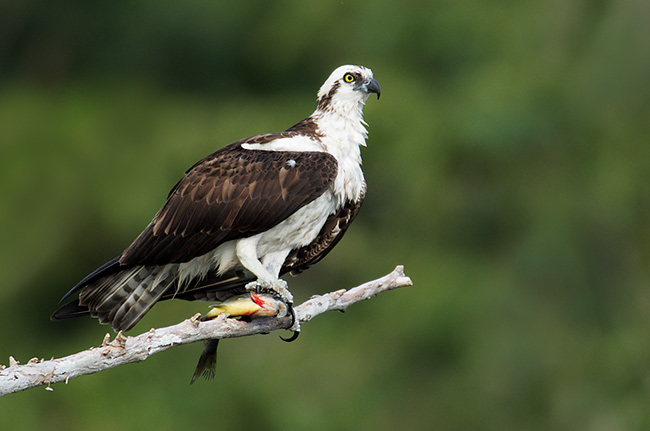 Osprey, Blue Cypress Lake, FL
Image Copyright 2007: Arthur Morris/BIRDS AS ART
Canon 600mm f/4L IS lens with the 2X II TC and the EOS-1D Mark III. ISO 1000. Evaluative metering plus two stops off the white sky: 1/400 sec. at f/8 in Manual mode.
We started our drift (on Jim Neiger's Pontoon boat) with this bird against a white sky background. Having checked the histogram and verified the exposure, I used the same manual settings when the background switched to green. With constant light levels and potentially changing backgrounds it is best to set the verified exposure manually.
IPT UPDATES
The Bosque IPTs are filling nicely. Acclaimed UK photographer Andy Rouse (who has had multiple images honored in the BBC Wildlife Photographer of the Year Competitions) will be joining me as guest co-leader on the last day of Bosque #1 and for all of Bosque #2.
Bosque #1: "The Fall Color IPT" NOV 13-15, 2007. Slide Program on the evening of NOV 12. 3-DAY: $999. (Limit 14; openings: 5). Co-leader: Robert O'Toole. Guest leader (DAY 3 only): Andy Rouse. This IPT should feature a better chance for a day or two of the rare south winds that drastically improve flight photography and will definitely feature the brightest fall-color cottonwoods.
Bosque #2: "The Pre-Thanksgiving IPT" NOV 18-20, 2007. Slide Program on the evening of NOV 17. 3-DAY: $999. (Limit 14; openings: 4). Co-leader: Robert O'Toole & Alfred Forns. Guest leader: Andy Rouse. This IPT will feature increasing numbers of geese and cranes with lots of great opportunities. In 2007, I will again be hosting a Thanksgiving Day luncheon at Las Lunas Mansion, a fine restaurant in an historic building. You will need to reserve a spot and pay in advance. Details TBA; strictly limited to 50 folks.
Bosque #3: "The Post-Thanksgiving IPT" NOV 24-26, 2007. Slide Program on the evening of NOV 23. 3-DAY: $999. (FULL) Assistant leaders: Robert O'Toole, Robert Amoruso, and Alfred Forns. This IPT is scheduled on dates that I consider peak for Bosque. (There may be a Full Moon Add-on NOV 23; details TBA.) If you register for this one, hold off on buying your plane ticket if you might be interested in the add-on.) In 2007, I will again be hosting a Thanksgiving Day luncheon at Las Lunas Mansion, a fine restaurant in an historic building. You will need to reserve a spot and pay in advance. Details TBA; strictly limited to 50 folks.
SW FLA Post X-mas IPT: DEC 27-29, 2007). Slide program on the evening Wednesday, DEC 26, 2006. 3-DAY: $1029. (Limit 12) Co-leaders: Alfred Forns, & Robert O'Toole. Sanibel Island, Venice Rookery, Cape Coral, and possibly Little Estero Lagoon (depending on the tides). Herons, egrets, gulls, terns, skimmers, shorebirds, both pelicans, Osprey, Burrowing Owl, and lots more. Roseate Spoonbill and Wood Stork possible.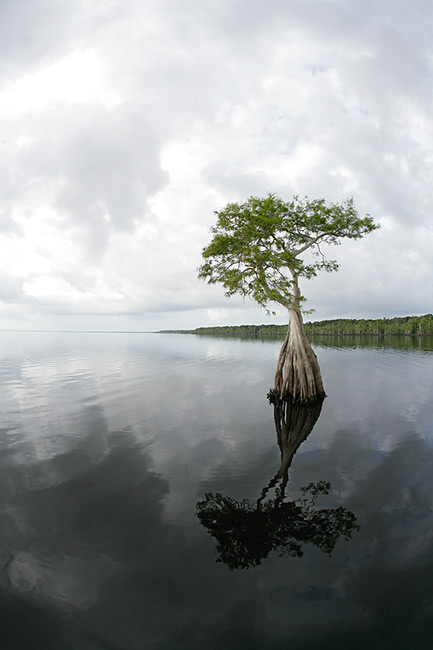 Cypress tree, Blue Cypress Lake, FL
Image Copyright 2007: Arthur Morris/BIRDS AS ART
Canon 15mm fish eye lens handheld with the with EOS 1Ds Mark II. Evaluative metering +1 stop: 1/400 sec. at f/8.
After photographing this tree from about two feet away I had Jim re-position the boat. In this, the resulting image, I love the reflections of the grey clouds in the water.
SILVER SALMON CREEK OPENING
There is now a single opening on this summer's Silver Salmon Creek Lodge Bear and Puffin trip. We can accommodate either a male or a female photographer. Here are the details:
Silver Salmon Creek Lodge Bear/Puffin IPT. AUG 8-14, 2007. 5 FULL & 2 HALF-DAYS OF PHOTOGRAPHY: $4,999. Absolute limit: 12 photographers. Co-leaders: Robert O'Toole & Robert Amoruso
On this trip we will expect from 12 to 24 bears on the flats right in front of the lodge either clamming or catching salmon. There will be lots of opportunities to photograph Coastal Brown Bear (a large race of grizzly) at fairly close range. The bears of Lake Clark National Park are not hunted and are totally comfortable around humans, just as they are in Katmai National Park. In addition to the bears, we will be concentrating on puffins, especially on Horned Puffin (which is the easier of the two western species to photograph on the islands near SSCrL). All of the puffin outings will require a boat trip and a bit of climbing. There should be lots of great opportunities to photograph the Horned Puffins in flight. We may try for Tufted Puffin as well but they are much tougher to photograph than the Horned Puffins. There are lots of opportunities for scenic and macro photography as Lake Clark is a beautiful, biologically diverse area. There will be optional fishing trips for both halibut and silver salmon. I will be doing quite a bit of fishing. Last year I brought home 50 pounds of salmon. The SSCr guides are expert at preparing your catch for travel and/or shipping. Nobody has to fish if they do not want to, and there will always be a competent photography leader for each of our daily groups.
We will be splitting up into two or three groups on a daily basis. While we will do our very best to ensure that you will be able to do exactly what you want to each day, there may be an occasion or two when that is not possible. We will be in Alaska, so please be aware that we might encounter some lousy weather. You will need to be in Anchorage on the afternoon of August 7, 2006 to ensure that you will make the float plane on the morning of August 8. I will be paying for your double-occupancy room on the night of August 7th. You can upgrade to a single room upon payment of a single supplement of approximately $85. (Hotel rooms in Anchorage are extremely expensive in summer.) It would be best if everyone planned to get to Anchorage a day early (on August 6th) to allow for any travel delays that might cause you to miss the scheduled float plane convoy (9am on August 8th). Do note that the float plane trips are dependent on decent flying weather. They are delayed at times.
We will have dinner together at 6pm sharp on the evening of August 7th. Please plan to arrive in Anchorage so that you can make this dinner as we will be doing our introductory slide program then.
We will be doing many instructional slide programs and tons of Photoshop instruction. In addition, there will be lots of opportunities for image sharing and critiquing. Don't be shy; critiquing is the very best way to learn how to make better images. For the 2005 trip report and lots of great images, click here: http://www.birdsasart.com/bn185.htm
We will be staying in one of the two Silver Salmon Creek lodge buildings (that are just a short walk apart). All of the lodge rooms are double occupancy. Some rooms have a private bath, others have a shared bath.
Payment in full is now due, but if you would like to make arrangement to pay in two installments, please contact me immediately by phone: 863-692-0906. Your first payment, $2500, will be non-refundable. The second payment, $2499, would be due on July 8, 2007.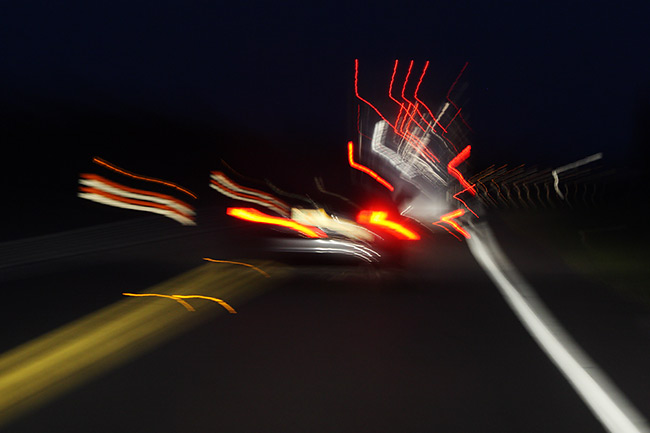 Traffic on SR 60E, west of Vero Beach, FL
Image Copyright 2007: Arthur Morris/BIRDS AS ART
Canon 70-200mm f/4 L IS lens handheld at 150mm with the EOS-1D Mark III. ISO 1600. Evaluative metering -1 stop: ¼ sec. at f/9.
With a digital camera in hand I will try to photograph just about anything at any time. Lou Newman was kind enough to drive us from Vero Beach to Lake Cypress. I made this image on the way home…
RICHARD CROSSLEY'S RESPONSE
"COMMENTS FROM A FRIEND/WHAT MAKES A GOOD PHOTOGRAPH?" appeared in BAA Bulletin 232. As a favor to that friend, I agreed to publish his response (which appears below). Jennifer has been volunteering at Sam and Maya's day camp so Bulletin 232 is not yet posted in the Bulletin Archives. If you would like a copy sent to you, please request so via e-mail.
I appreciate the opportunity to respond to Artie's comments on my "Dump the gear" article. My comments were not written as an attack on Artie's work and I am sorry that Artie felt that they were. I aimed to encourage people to expand their horizons and view things with a more open mind. This is a view that Artie has also taken and I applaud him for that. I stand by my article as an alternative approach that people should be encouraged to try. Below are a few of my viewpoints regarding Artie's response to my article.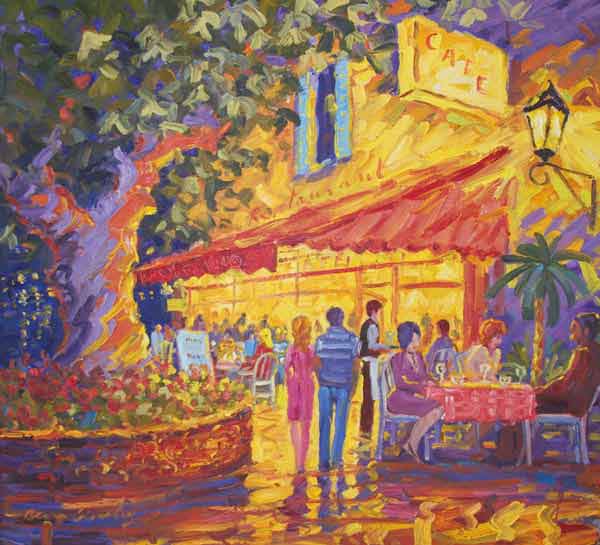 Painting. Copyright B. Crossley.
Is this a good or bad painting? My guess is that the opinions are varied from "great" (mine) to "don't like it". I like it more now than I would have years ago as my tastes have changed. My point is that it is not always easy to determine whether something is good or bad – it is subjective. Taste is acquired to some degree in art as well as food, drink, fashion etc and much of this is determined by how much exposure you have to it. This is my Dad's work. Like him, I love abstract bright images.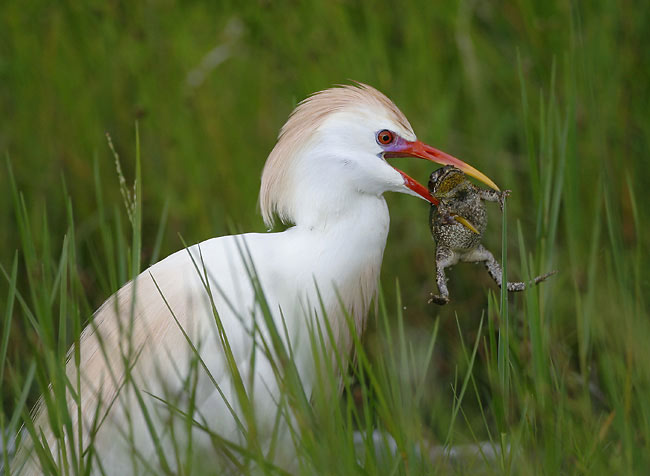 Photo 2 – Cattle Egret. Image copyright Richard Crossley.
Artie was incorrect on my opinion of his Cattle Egret image. I like the soft background with green outlining the bird. In this situation I might have used a tripod, as I often do. Here is a good image to illustrate some of our differences. It is an image of Cattle Egret that I took at about the same time. The camera and lens (Canon 500mm, F4) was hand held, with the lens hood, flash, tripod and other equipment – all in the car. There is vegetation in the background – habitat provides great help with id. The food item in the bird's bill can also give id pointers. The pose/shape of the bird is typical for Cattle Egret (shape is often misleading in photos). I enjoyed the challenge of trying to get close and was able to maneuver to see through the vegetation. I don't like carrying lots of equipment and there was a good chance I would have flushed the bird if I had. I don't call this photo 'art' but I consider it a decent informative photo. Many people would not, as clean images are visually appealing to the eye! It is not a better image or taken better than Artie, it's just different.
The things I mentioned are important to ME and that is why I prefer it. The image that would really capture my heart would be a bird running after an insect being kicked up, with the cow's leg in the photo. This would capture the essence of Cattle Egret as I see it. Mood and a story set images apart. They are difficult to take. Artie's "Cranes in the mist" – that for me is what dreams are made of!
I do not see these photos clinically as 'good' and 'bad', 'right' or 'wrong'. To me there is a lot of space between these words and views will vary. Artie is correct to say that NEVER using tripods etc is absurd, but it would also be absurd to think you can't often take great images without a tripod, even if you use a large lens. There are distinct benefits to both.
Shorebirds; Beautiful Beachcombers is a nice book. There is a Hudsonian Godwit image with beach vegetation in the background. Another image shows the photographer wearing bright red shorts –even back then I liked bright colors and often didn't use a tripod! (Note the first image mentioned was by Richard, the second of him.)
There are a number of things that were missed in the translation between Artie and me. One of them is the clear distinction between a' good' photograph and an 'artistic' one. 'The Shorebird Guide' has many good photographs from identification and behavioral standpoints. They are in no way artistic!
A massive amount of thought was put into the layout and choice of photos – far too much to explain here. My goal (Kevin and Michael speak for themselves) was to change the way people try to identify birds through the use of photographs. Images had to be chosen that people could relate to and the layout had to be entertaining and educational. These are lofty aims, but sales and reviews would strongly suggest we were successful. As for Artie's comments about it only being suitable for Shorebird addicts, I would disagree. If that is the case about 20,000 people have so far bought it and 360 of my bad images by mistake. There are many stunning photos by some of the worlds' best photographers, many of them artistic and others simply entertaining and/or educational. To try and categorize photos individually is to totally miss the concept and design of the book. I personally hate some of the images that Kevin and Michael liked and vice versa. Not liking an image artistically does not necessarily make it a bad one!
Presently I am working on a larger photographic project – a 'photographic field guide'. This includes comparison, impression and flight shots. Yes, that includes flight shots of Warblers, Kinglets etc (get in touch with me if you are good at page layout, Photoshop and can think 'out of the box' – thanks for the ad, Artie!) I have been shooting for this for some time. I sometimes think it would be nice to take artistic images though I do enjoy the challenge of the tough stuff. I have little doubt that constantly taking images for bird books influences my views.
As a business man and a leader in many aspects of photography there is nobody I respect more than Artie. When it comes to questions and opinions on photography he has always been the first and usually the last I speak to. Do I agree with everything he says? Of course not! I don't agree with anyone 100% of the time – ask my wife and kids!"
Richard Crossly (thebrit1@verizon.net), Cape May, NJ. May 29, 2007.
Best and love and great picture-making to all,
artie
Note: Arthur Morris has been a Canon contract photographer since 1994 and continues in that role today. Hunt's Photo of Boston, MA is a BAA sponsor as it Delkin Devices. Back issues of all BAA Bulletins can be found in the Bulletin Archives which may be accessed from the home page at www.birdsasart.com