SEPTEMBER 3, 2007
Visit www.birdsasart.com
THE SILVER SALMON CREEK IPT REPORT
THE NEW YORK CITY SEMINAR REPORT
MY USED EOS 1Ds MII FOR SALE
THE ART OF BIRD PHOTOGRAPHY/SOFT COVER EDITION: TEMPORARILY OUT OF PRINT
FLIGHT PHOTOGRAPHY BASICS
THE MONGOOSE M3.5 VERSUS THE WIMBERLEY HEAD
USED CANON 500mm f/4L IS LENS FOR SALE
IPT UPDATES
HUNT'S SPECIALS
Contact us by phone at 863-692-0906 (Eastern Time Zone) or by e-mail at birdsasart@att.net or birdsasart@verizon.net. The att e-mail address is best from overseas.
We gladly accept credit card orders by phone 8am till 9pm Eastern Time (8 am till 3pm Fridays).
You can use the PayPal links on the web site to order anything. Just type in the item(s) and the amount. If using your own PayPal account, please send to either of the e-mail addresses above.
Note: maximize this e-mail for best formatting.
Photographic theme: A collection of recent images...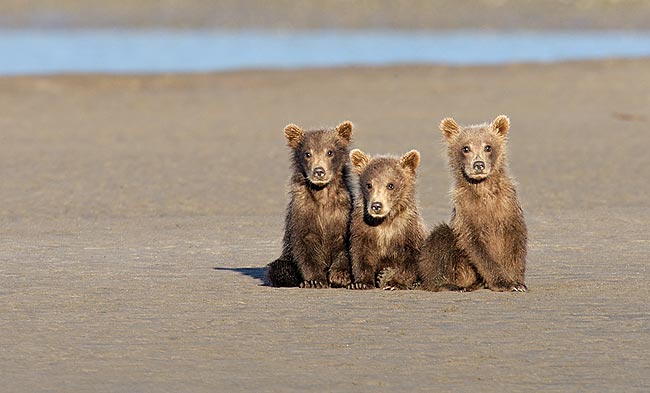 Brown Bear spring cubs, watching momma fish, Silver Salmon Creek Lodge, Lake Clark N. Pk, AK
Image Copyright 2007: Arthur Morris/BIRDS AS ART
Canon 500mm f/4L IS lens with stacked teleconverters (2X II TC plus 1.4X II TC) and the EOS-1D Mark III. ISO 1000. Evaluative metering +1/3 stop: 1/320 sec. at f/10.
With the great high ISO images that come out of the MIII I did not hesitate to go to ISO 1000 when I needed some extra shutter speed and a smaller aperture..
THE SILVER SALMON CREEK IPT REPORT
On the morning of August 8, twelve eager photographers joined me and posse members Robert Amoruso and Robert O'Toole and flew—on four bush planes and one float plane to Silver Salmon Creek Lodge to photograph coastal Brown Bears and Horned Puffins. In addition, several of us caught some nice halibut and a few silver salmon. The trip was planned two years in advance to coincide with the peak of the silver salmon run and some excellent puffin photography. Unfortunately the fish forgot to read the book; the salmon were about a week late. They began running well towards the end of our trip and we had some great opportunities with the bears catching salmon right in front of us. The hit of the trip was the blondish mother with three spring cubs. She was remarkably accepting of our presence and we had many chances to photograph her and the kids at relatively close range.
As expected, David Coray was an accommodating host and our guides, John and Dawn, were tremendously helpful. Eight IPT veterans were joined by newcomers Ken and Paul Siegel and Bob and Barb Reimer, a Canadian couple now living and working in the United Arab Emirates. The Siegel brothers were delightful and eager to learn. The Reimers were delightful as well; they provided a wealth interesting information on the UAE. I am always amazed by the lives of the folks on IPTs. On this trip Ralph Bendjebar, a retired NWA pilot, Lou Newman a retired large animal (can you say horses and cows?) vet, and Jim Heupel, retired chief judge of the US Air Force, kept all entertained on a regular basis with tales from their worlds. It was great finally meeting Jim's wife Jackie who created some lovely, impressionistic water colors on the trip.
The perfect beach weather that I encountered in Iceland continued in Alaska, with one blue sky day after another forcing us to confine our photography sessions to early and late in the day. That left lots of time for sharing (and polishing) the slide programs that I had prepared for the NYC Seminar. In addition, we did lots of Photoshop and image sharing. Having Robert and Robert along allowed us to split up into two or sometimes three groups as needed. We made four boat trips to Duck Island for the puffins (and Common Murres) and yours truly came up with a totally new strategy for that spot that proved to be exceedingly successful.
At the end of the trip Jim Heupel and Jackie graciously drove me to the fish-shipping plant in Anchorage. After a great lunch at the Glacier Brew House the Heupels dropped me at the airport for my red-eye to Chicago and the early morning flight to New York's LaGuardia to put the finishing touches on the seminar presentations.
By e-mail from Lou Newman:
Hello Artie, This is just a quick thank you for the unique learning opportunities you provide. All of your IPTs are exceptional photographic/learning experiences and the Alaskan Silver Salmon Creek Lodge IPT was no exception. The trip exceeded all of my expectations. I for one greatly appreciate the special educational photo tours that you have developed. Taking the BAA IPTs has made a world of difference in my digital imaging skills and my life. Had I not met you, retirement would not have been anywhere near as rewarding as it has been. I hope you have a wonderful time with your family while you are in New York. Best, Lou
Via e-mail from Ken Siegel:
I have been meaning to drop you a line ever since returning home from Alaska… I wanted to thank you for a wonderful week of photography and camaraderie. I really appreciated Robert and Robert sharing so much of their knowledge; that coupled with your expertise really made for an excellent learning experience. I am hopeful that my work life will allow me to join up with you more frequently. Once again thanks for wonderful time! Thank You, Ken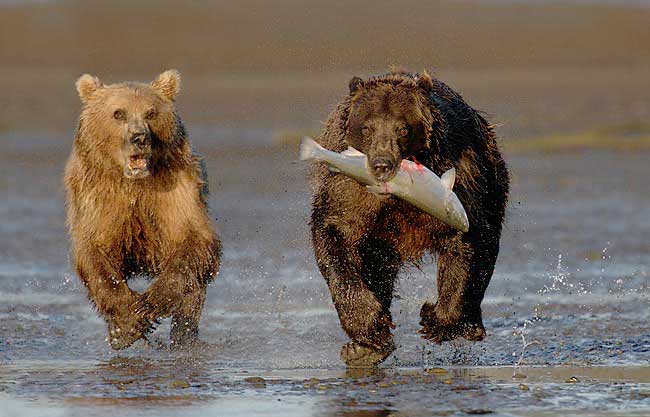 Brown Bear momma chasing a dark female with a silver salmon, Silver Salmon Creek Lodge, Lake Clark N. Pk, AK
Image Copyright 2007: Arthur Morris/BIRDS AS ART
Canon 500mm f/4L IS lens with the 2X II TC, and the EOS-1D Mark III. ISO 800. Evaluative metering -1/3 stop: 1/1000 sec. at f/8.
With the entire group in perfect position it was a thrill to have this chase develop right in front of us and right down the proper sun angle. A bit of canvas was added to the left side of the frame using the techniques described in detail in Digital Basics: http://www.birdsasart.com/digitalbasics.htm.
THE NEW YORK CITY SEMINAR REPORT
The NYC Seminar was—by far—the best ever (he said modestly). In all previous seminars many of the individual Saturday segments were too long. As a result, I was always an hour or more behind by lunch and was forced to fly through the afternoon's material in an attempt to catch up. When preparing for NYC, I reduced the number of images in each section and made sure not to tell too many stories… The result was perfect timing and a much more relaxed pace. Folks were attentive and involved. Business at the BIRDS AS ART tables was excellent and Gary Farber came down from Boston with tons of photographic gear and accessories and had a great day also.
The Crowne Plaza turned out to be a wonderful venue (but for a few broken vehicle windows for those who opted to park on the street…) Thanks to Richard Sarno for all of his help in arranging the event and ensuring that it ran smoothly. In addition, the buffet lunches were fantastic. Jim Litzenberg (my right-hand person) and lovely wife Fran traveled to NY and did a great job at the BAA table. They were joined by BIRDS AS ART special friend Bob Ettinger who helped out in more ways than I could count.
All of the folks that we deal with were exceedingly generous in sending along and almost endless supply of door prizes. Sponsors included Lowepro, Delkin Devices, Wimberley, 4th Generation Design, Visual Echoes, LensCoat, Birder's World, Bird Watcher's Digest, WildBird, Popular Photography, John Stanford (BLUBBS), and Bob Pelz (Throw-over Blinds & Tripod Pads). Thanks to all!
…..
Below are just a few of the many e-mails that I received after the seminar.
The seminar was great! It validated a number of things I already do, particularly with Photoshop, and added a great deal to my repertoire of things to do both in the field and with Photoshop. Artie was a delight as a speaker and very informative. I am very happy that I decided to attend the seminar! Hopefully, I can scrape together the funds to attend one of the IPT's. After seeing him in action, I know it would be beneficial to my photography. Thank you for providing such a wealth of information and inspiration! Best wishes to all, Joe Swift
…..
I was on last year's St Augustine IPT which was unbelievably great. After attending "The Art of Nature Photography; It Ain't Just Birds!" seminar in NYC I continue to be blown away by your generosity in sharing so much information that helps improve my ability to capture images of birds. Although the seminar was a distant second to attending an IPT, it proved to be an exceptional return on my investment. The weekend provided a deeper insight and understanding of what goes into capture and processing my images and included great tips on using my equipment. The demonstration on packing your Lowepro Roadrunner AW was both great and critically important in this post-911 travel age.
Additionally there was plenty of time to meet other photographers and to exchange ideas. And having Gary Farber with all the Hunt's show specials was brilliant. You encouraged audience questions and provided direct and thorough answers to all of the questions. I'm exhausted and I didn't teach/present for two full days! Thanks for a terrific weekend!! I appreciate your hard work and continuous dedication to helping people become better nature photographers.
When are you coming back to New York? Marc Schoenholz
…..
I wanted to send this note of appreciation for the terrific seminar in NY last weekend. Although I had other commitments for Sunday, the Saturday session was special. It gave me a few ideas about how I could improve my own work; your images were just stunning. We are about the same age and its great to see your passion still burns brightly; you have a great gift. Be well, Larry Pinsky
…..
What can I say? Your weekend seminar, "The Art of Nature Photography; It Ain't Just Birds!" was FANTASTIC!!! You really gave it your all and everything you did was greatly appreciated. It was my first seminar and I really learned a lot. I found your step by step editing of photos on Sunday very illuminating. I purchased you CD Book and am looking forward to revisiting much of what you have taught us and much more. Your enthusiasm is catching. I also have been reading your wonderful Bulletins in which you have been sharing generously your expertise and remarkable experiences. I have been a photographer all my life, but have just begun to explore the world of digital and spending time under your tutelage was a great beginning for me. Thanks again for a great weekend and best wishes for continued happiness. You are a very talented man and I really enjoyed spending time with you. Sincerely, Ralph Zalma, Ed.D.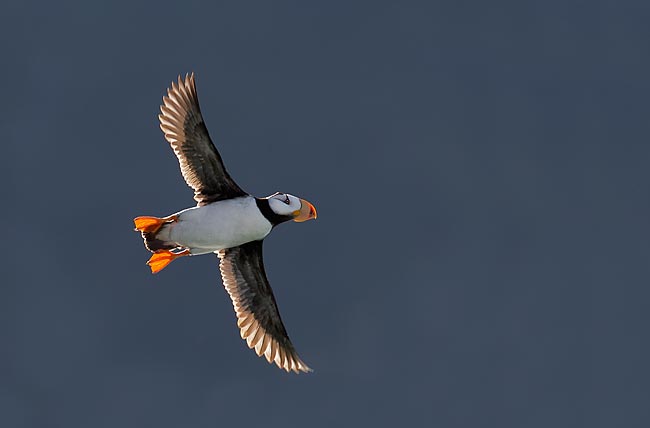 Horned Puffin, backlit flight, Duck Island, Lake Clark National Park, AK
Image Copyright 2007: Arthur Morris/BIRDS AS ART
Canon 500mm f/4L IS lens (handheld) with the EOS-1D Mark III. ISO 400. Evaluative metering -1/3 stop: 1/1000 sec. at f/6.3.
When I spotted lots of puffins attempting to land in a backlit situation I had David Coray re-position the boat. Birds that aborted their landings provided us with lots of great opportunities.
…..
And last, an e-mail exchange with Mark Friedman:
AM: Hi Mark,
MF: This is just a short note about the NYC show. First of all, good job! The Saturday program was worth the price of admission by itself. Glad that you finally were able to make it back to the Big Apple.
AM: Thanks for your kind words.
MF: I found it interesting that like me, most of the people (I'd guess 90%), did not own a really long lens.
AM: It was (as expected) probably about 75%. Part of the message was and always will be that it is the photographer who creates the images, not the camera or the lens...
MF: You did not specifically talk about your filing system. In the old days with slides I used a software program that generated labels and at the same time made a database entry. Each slide had its own unique number and a short description and was filed by category. I could then—for example—search for all heron slides or for all heron slides taken at Jamaica Bay. How are you doing that now? Does BreezeBrowser handle this or must you make another entry in a different database program?
AM: Some folks might be amazed to learn that we do not use any database program (and never have). Only our digital images have file numbers on them, those generated by the camera. We manage our images using Breezebrowser and a simple species- or topic-based filing drawer system like this:
Photo Gear
CONVERTED
Photographers
CONVERTED
Raptors
Hawk, Red-shouldered
CONVERTED
Hawk, Red-tailed
CONVERTED
Hawk, Rough-legged
CONVERTED
Vulture, Black
CONVERTED
Vulture, Turkey
CONVERTED
Etc, etc, etc. The RAW files are kept in the species folders while the optimized images are kept in the respective CONVERTED folder.
We do not utilize any type of location-based search feature (and have never found the need for one).
later and love, artie
MY USED EOS 1Ds MII FOR SALE
I am offering my EOS 1Ds MII camera body for sale for $4800 plus shipping. This 1Ds MII has been my very favorite Canon pro body for nearly two years. The camera is in perfect operating order and in very good to excellent condition with a few small paint nicks on the lower right corner and a few tiny ones elsewhere. The sale includes two Canon batteries, the charger, the original box with all materials, cords, camera strap, CDs, manuals (in English and Spanish) and everything else that was in the box! I would be glad to sign the body with a silver Sharpie pen should you so desire. Please do not request a photo of the camera as it is accurately described and priced to sell. If you are seriously interested, please call me immediately at 863-692-0906. If I am out on my health walk, you will need to leave a message.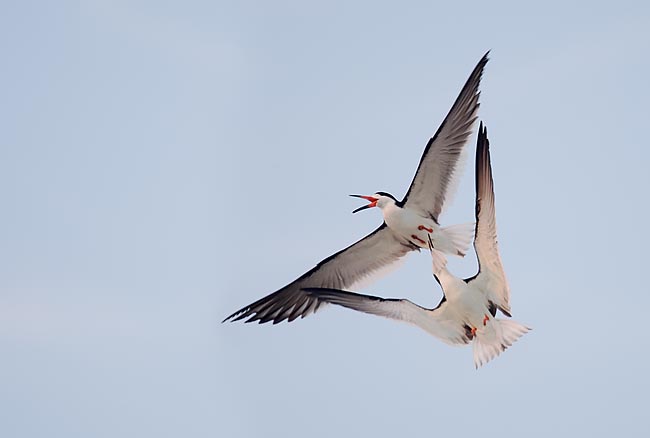 Black Skimmers squabbling in flight, Nickerson Beach, Point Lookout, NY
Image Copyright 2007: Arthur Morris/BIRDS AS ART
Canon 70-200mm f/4 L IS lens (handheld at 280mm) with the1.4X II TC and the EOS-1D Mark III. ISO 800. Evaluative metering +1 1 /3 stops off the sky: 1/800 sec. at f/5.6 in Manual mode.
As I was unable to track the fighting skimmers in flight with only the central sensor, I switched to AAFPS. This, the first frame in the sequence was sharp; the next two were not. In the original, the birds were well to the left in the frame. Interesting enough, I have long believed that when using either 45-point or AAFPS (the MIII equivalent) that birds on the edge of the focusing array will more often be in sharp focus than birds in the center of the AF array. I have long felt the 45-point is not as central-sensor dominant as it should be. I have been telling Canon this for years. Do note that this observation applies to all Canon pro bodies since the EOS 3 (when I first noticed the problem).
THE ART OF BIRD PHOTOGRAPHY/SOFT COVER EDITION: TEMPORARILY OUT OF PRINT
The original "The Art of Bird Photography; The Complete Guide to Professional Field Techniques was released in 1998 by Amphoto, NY. 15,000 copies were sold. The classic how-to work was re-released in soft cover in 2003 and another 15,000 copies have been sold since then. I was surprised to learn a few months ago that Amphoto is letting the book go out of print. I immediately decided to re-publish the book on my own and am currently working toward that end. To avoid confusion the book will feature the original cover and a similar title, "The Art of Bird Photography." The content of the book will remain unchanged.
We still have a very few copies of slightly damaged or mis-signed books for sale at the regular price. We hope to have the newest edition in stock within six months.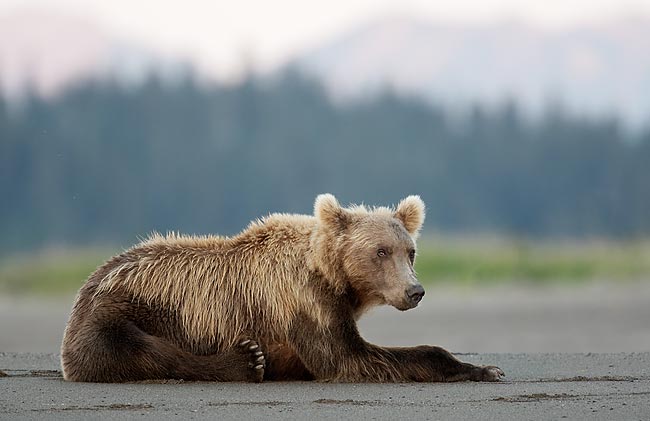 Brown Bear resting in pre-dawn light, Silver Salmon Creek Lodge, Lake Clark N. Pk, AK
Image Copyright 2007: Arthur Morris/BIRDS AS ART
Canon 500mm f/4L IS lens with the 1.4XII TC and the EOS-1D Mark III. ISO 800. Evaluative metering +1 stop: 1/80 sec. at f/5.6 in Manual mode.
I try to keep my eyes open so that I can create environmental portraits like this when the situation arises.
FLIGHT PHOTOGRAPHY BASICS
Ullin Levell: My auto focus goes wild when I try to take pictures of flying birds. In and out, in and out, in and out. Could you kindly share the basics with me?
AM: Flight photography is extremely challenging.
When it is sunny, flight photography is best when the wind and the sun are both coming from behind you. When it is cloudy, try to get in a spot with wind behind you. In both cases, the birds will be flying towards you. (Note, when it is sunny, having the correct light-angle, with your shadow pointed at the bird, is of utmost importance. Even with a perfect light angle the bird's near-wing may cast a shadow onto its body or the head and neck may cast a shadow onto the far wing if it is in the down stroke position). I rarely find such images effective.
Next, make sure that the limit range switch on your lens is at the far setting. So that your AF system will track the subject in flight, be sure that it is set to AI (Artificial Intelligence) Servo mode (not to One-Shot). The corresponding Nikon setting for proper tracking is C (Continuous) (not S).
With the Mark II bodies you will usually get the sharpest images by using only the central sensor but it is difficult for many folks to keep the central sensor on the bird consistently. The alternative is to use AFPS with all 45 points activated. It is much easier to keep the subject in focus especially with birds flying against the sky (rather than against a distant background). While I have found that fewer images are razor sharp when using 45 point (or AAFPS with the MIII), folks like Robert O'Toole use it all the time with great results. Similarly, folks using the pro-sumer camera bodies (like the 20D, the 30D, and the new 40D) need to choose between the central sensor and the full AF array while Nikon folks need to decide whether to use the central sensor or the dynamic AF setting. (Hope that I got that right…)
I do not attempt to track the birds from the time they are small in the frame until the time comes to make a good few images. Instead, I pre-focus manually as the bird approaches "The Zone." For me, the bird is in "The Zone" when it is flying towards me and towards the light (if it is sunny) and when it fills a good portion of the frame.
In almost all cases I make only one to three images as the bird enters and remains in the zone. Once it leaves the zone I rarely make any images. Folks who create ten or fifteen images as a bird flies by are almost always just trying to impress the folks standing around them...
Once you start creating in-focus images only a small percentage will be very good or excellent images. Good flight photographs almost always include pleasing head angles and wing positions. Wings in the full upstroke or full down stroke position usually yield acceptable or exceptional images. When the wings are relatively flat, the images are generally effective only when the bird is angling towards you.
Most important of all is that you get out and practice, practice, and practice some more.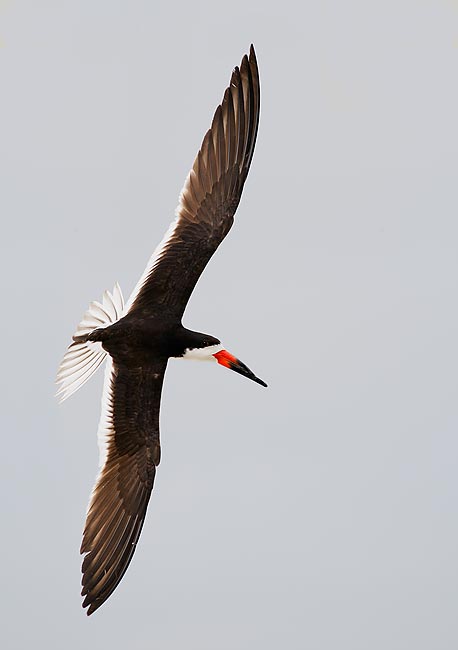 Black Skimmer banking in flight, Nickerson Beach, Point Lookout, NY
Image Copyright 2007: Arthur Morris/BIRDS AS ART
Canon 400mm f/5.6 L lens (handheld) with the EOS-1D Mark III. ISO 400. Evaluative metering +1 stop off the sky: 1/1000 sec. at f/7.1 in Manual mode.
With the soft sunlight I added one stop to the Evaluative meter reading off of the sky and set it manually. This image was created as a vertical original. While barely fitting the bird in the frame I clipped a tiny bit of the longest primary on the upper wing and a similar amount off of two or three tail feathers. I used Robert O'Toole's Quick Masking techniques to select similar nearby feathers, change their size and shape, and place them precisely. The original is below:
THE MONGOOSE M3.5 VERSUS THE WIMBERLEY HEAD
In recent months I have been using the Mongoose M3.5 Action Tripod Head with my Canon 500mm f/4L IS lens for both travel and for long walks on the beach. To save weight and ease the task of carrying my big lens, I took only the Mongoose M3.5 to both Iceland and Ecuador. The two pound savings in weight (as compared to the Wimberley head) was great for both travel and for my right shoulder. Overall, I was satisfied with the handling and performance. I had no problem creating sharp images with the M3.5 (the larger of the two Mongoose heads) and the head performed admirably in flight photography situations. When using the Wimberley head, it is possible to adjust the height of the platform (by raising or lowering it) so that the rig sits like a dog (i. e., stays in place) when the lens is pointed either a bit upwards toward the sky or a bit down toward the ground (this only after the rig has been precisely balanced beforehand). With the Mongoose M3.5 and the 500 F/4 IS lens it is impossible to do this as there is no platform to raise or lower. This effects both ease of handling and the ability to make sharp images at very slow shutter speeds. To combat this I balance the rig at the shooting angle rather than true level; if I am photographing shorebirds in the water from a standing position I move the lens forward in the clamp until the rig is pointing down a bit toward the subject when it is balanced. If I am doing flight photography, I do the opposite, positioning the rig a bit farther back in the clamp so that the lens is aimed upward toward the subject when balanced.
I will, however, continue to use only my Wimberley head at places like Bosque where I do tons of flight photography and at locations where I will be working close to my vehicle. In addition, when locked down tight, the Wimberley heads allows for creating the sharpest possible images when working at exceedingly slow shutter speeds. If you are using a 500mm lens, the question of Wimberley head versus the Mongoose M3.5 is a matter of personal choice with each of these two fine products offering specific advantages and disadvantages. I am lucky in that I own both and am able to select the one that I feel will best suit my needs in a given situation. Do note that the Wimberley head is way overkill for the Nikon 200-400 VR lenses, the Canon 400mm DO lens, and any of the 300mm f/2.8 lenses. For those lenses we unequivocally recommend the Mongoose M3.5 (along with the corresponding low foot and the lightweight flash bracket). (Note: for all of the smaller intermediate telephoto lenses we use and wholeheartedly recommend only the Mongoose M2.3. These lenses include the Canon 100-400IS L zoom, the 300mm f/4L IS, the 400 f/5.6, and all of the 70-200mm lenses. The Nikon lenses in this class include the 70- or 80-200s, the 300mm f/4, and the 80-400 VR.)
Robert O'Toole has been using the M3.5 with his 600mm IS lens for more than six months with great success but I cannot in good faith recommend that others do the same. With the great weight and bulk of the 600 it is difficult to move your rig fore and aft in the clamp to rebalance it whenever teleconverters, extension tubes, and or your flash set-up are added to or removed from the mix. I use only the Wimberley V-2 head with my Canon 600mm f/4L IS lens.
When using a 500mm lens on the M3.5 a bit of extra care is called for to prevent smashing lens disasters. While standing in the parking lot at Nickerson Beach in Point Lookout, Long Island, NY recently I wanted to remove the flash and the (extremely simple and lightweight) Mongoose flash bracket, but instead of depressing the lever to remove the flash bracket I mistakenly undid the clamp. As my rig fell toward the asphalt I made a great save with my right hand grabbing the lens and the MIII just before the rig crashed into the asphalt...
I will be bringing my Mongoose M3.5 to Kenya on September 10 to take advantage of its light weight and the fact that the lens sits higher on it than even on the older-style Wimberley head. This is useful when photographing from the open roof hatches of the safari vans.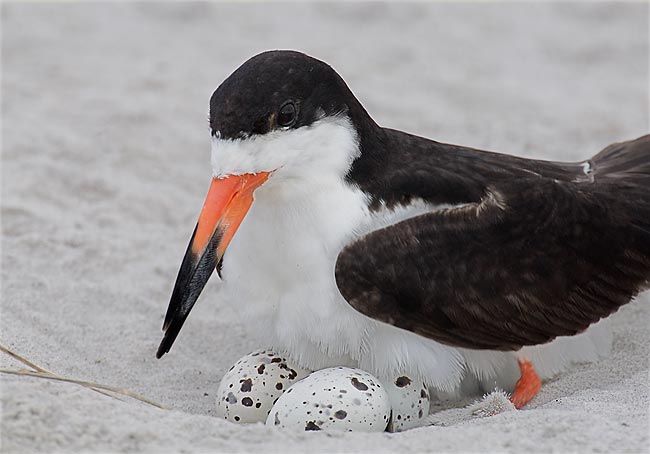 Black Skimmer on nest, Nickerson Beach, Point Lookout, NY
Image Copyright 2007: Arthur Morris/BIRDS AS ART
Canon 500mm f/4L IS lens with the 2X II TC and the EOS-1D Mark III. ISO 800. Evaluative metering +1 2/3 stops off the sand: 1/250 sec. at f/11 in Manual mode.
Fill flash at -3 stops with Better Beamer and Mongoose Flash Bracket.
In both Alaska and NYC I depended on the Mongoose M3.5 full time. I learned about Nickerson Beach while visiting a great new educational web site, Wild Photographers.com (http://www.wildphotographers.com/phpBB3/index.php). The folks there are quite friendly and willing to share. Ed Prete, the site owner and administrator (and others) turned me on to Nickerson Beach.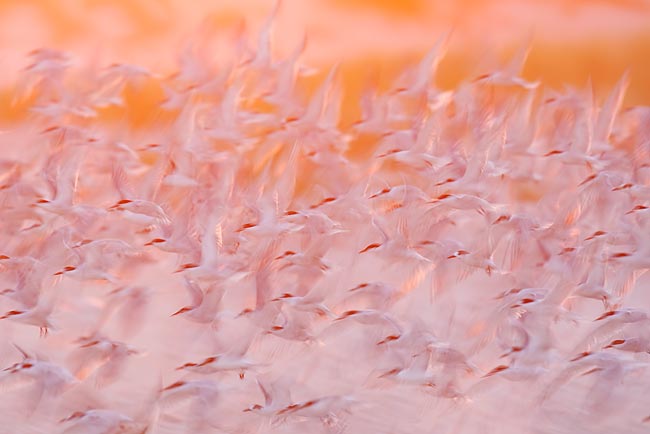 Common Terns at sunset, Bosque at the Beach! Nickerson Beach, Point Lookout, NY
Image Copyright 2007: Arthur Morris/BIRDS AS ART
Canon 500mm f/4L IS lens with 1.4X II TC and the EOS-1D Mark III. ISO 200. Evaluative metering +1 stop: 1/30 sec. at f/9 in Tv Mode
Late on the afternoon of 28 AUG, just before sunset, several large groups of migrant Common Terns arrived and began roosting on the beach. For unknown reasons, the birds blasted off every few minutes. As the sun sunk lower in the western sky, the light got pinker and peachier with each passing moment. I used one-shot AF to create this image as the contrast was so low that AI Servo AF could not hold focus consistently. Note also the low ISO to ensure a relatively large aperture. (With Highlight Tone Priority set on the MIII, ISO 200 is a low as you can go.) To earn to make great images right out of the box with your Canon EOS MIII, do consider our MIII User's Guide: http://www.birdsasart.com/MARK%20III%20USER%20GUIDE.htm
IPT UPDATES
Note: All presently scheduled North American IPTs except San Diego (see same below) are currently sold out with waiting lists.
Bosque #1: "The Fall Color IPT" NOV 13-15, 2007. Slide Program on the evening of NOV 12. 3-DAY: $999. (Limit 14; Sold Out). Co-leader: Robert O'Toole. Guest leader (DAY 3 only): Andy Rouse. This IPT should feature a better chance for a day or two of the rare south winds that drastically improve flight photography and will definitely feature the brightest fall-color cottonwoods.
Bosque #2: "The Pre-Thanksgiving IPT" NOV 18-20, 2007. Slide Program on the evening of NOV 17. 3-DAY: $999. (Limit 14; Sold Out). Co-leader: Robert O'Toole, Robert Amoruso, & Alfred Forns. Guest leader: Andy Rouse. This IPT will feature increasing numbers of geese and cranes with lots of great opportunities. In 2007, I will again be hosting a Thanksgiving Day luncheon at Las Lunas Mansion, a fine restaurant in an historic building. You will need to reserve a spot and pay in advance. Details TBA; strictly limited to 50 folks.
Bosque #3: "The Post-Thanksgiving IPT" NOV 24-26, 2007. Slide Program on the evening of NOV 23. 3-DAY: $999. (Limit 14: Sold Out). Co-leaders: Robert O'Toole, Robert Amoruso, and Alfred Forns. This IPT is scheduled on dates that I consider peak for Bosque. (There may be a Full Moon Add-on NOV 23; details TBA.) If you register for this one, hold off on buying your plane ticket if you might be interested in the add-on.) In 2007, I will again be hosting a Thanksgiving Day luncheon at Las Lunas Mansion, a fine restaurant in an historic building. You will need to reserve a spot and pay in advance. Details TBA; strictly limited to 50 folks.
BIG NEWS! SW FLA Post X-mas IPT: DEC 27-29, 2007. Slide program on the of evening Wednesday, DEC 26, 2006. 3-DAY: $1029. (Limit 12; Sold Out). Co-leaders: Alfred Forns, & Robert O'Toole. Joining us as guest co-leader will be full time professional photographer John Moran, Florida's unofficial Photographer Laureate. You can learn about John's amazing work here: www.johnmoranphoto.com. John will be doing his program, "Journal of Light: A Photographer's Search for the Soul of Florida" for the group on Wednesday, DEC 26 at 3:30 pm. John's work is so different from mine and from everyone else's that he has been a huge inspiration to me over the past two years. We will be visiting Sanibel Island, Venice Rookery, Cape Coral, and possibly Little Estero Lagoon (depending on the tides). Herons, egrets, gulls, terns, skimmers, shorebirds, both pelicans, Osprey, Burrowing Owl, and lots more. Roseate Spoonbill and Wood Stork possible.
NEW: San Diego IPT: JAN 20-23, 2008. Slide program on the Saturday early evening of JAN 19. 4-DAYS: $1399. (Limit 12; openings: 8.) LaJolla, LaJolla Shores Beach, Coronado, and Santee Lakes. Brown Pelicans in spectacular breeding plumage, Heerman's & Western Gulls, Marbled Godwits & lots more shorebirds, Wood & Ring-necked Ducks & Lesser Scaup. Great flight photography. And lots more.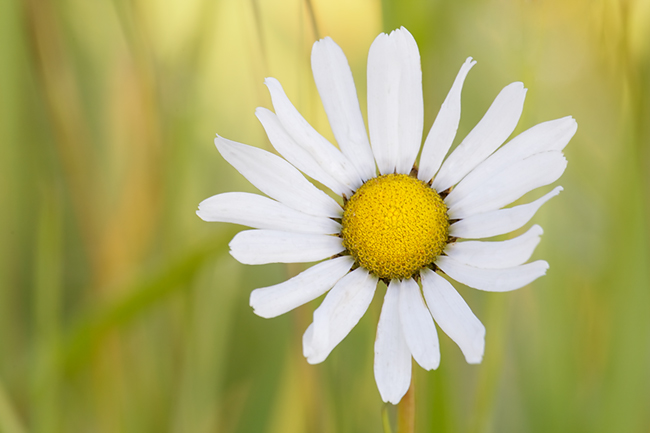 daisy blossom, Silver Salmon Creek Lodge, Lake Clark N. Pk, AK
Image Copyright 2007: Arthur Morris/BIRDS AS ART
Canon 500mm f/4L IS lens with 62.5mm of extension and the EOS-1D Mark III. ISO 250. Evaluative metering +1 stop: 1/50 sec. at f/5.6.
On all BIRDS AS ART IPTs, we strive to take advantage of the teachable moments. With too much harsh sun, we showed folks how to shade a sunlit blossom with their bodies. Several extension tubes turned my super-telephoto lens into a macro lens. With an overall light scene and the sun effectively "in," it was necessary to add a full stop of light to come up with a good histogram. All of the tips above included in detail in ABP II (on CD only: http://www.birdsasart.com/ABPII.htm), the all-new continuation of the original and now out of print "The Art of Bird Photography."
HUNT'S SPECIALS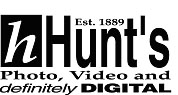 Contact: Gary Farber Tel#800-221-1830 ext. 2332, Fax#800-336-3841
Email: DigitalGuyGary@wbhunt.com
Birds as Art Specials (Expires: September 28, 2007)
Canon Canon has announced new products. Gary is taking pre-orders on the following: Canon 40D (which is scheduled to ship next week), Canon G9 (which is scheduled to ship mid September/early October), and the Canon 1DS Mark III (scheduled to ship in November). Members interested in being placed on the waiting list regarding these items, please contact Gary via email or telephone. Note: Gary is still taking pre-orders for the Canon 1D Mark III. You can contact Gary via email or telephone to be placed on the list. I am doing my best to fill all the orders within a reasonable time frame with the limited supply that has been available. Ask about the great price on the Canon 5D with 24-105 lens which includes a case and an extra battery.
Canon Lenses Hunt's is an authorized Canon Dealer. We stock the full line and only USA product. We do not deal with grey market product. Ask about the price and availability on the following lenses:
24-105 F4L IS
100-400 F4.5 5.6 IS USM
70-200 F4 IS USM
16-35 2.8 II USM
500 F4 L ISM
600 F4.0 L IS USM
180 3.5 L Macro
70-200 2.8 L IS USM
400 4.0 DO IS USM
300 2.8 L IS USM
400 5.6 L USM
300 4.0 L IS USM
New product – Gary is also taking pre-orders on the 14 2.8 L II (scheduled to ship late September '07)
Canon Pro Video
XL-H1 (24P Hi Def camcorder with interchangeable lens system supports Canon EF lenses with adapter)
XH-A1 (Hi Def camcorder with integrated 20X L Series lens)
Contact Hunt's for prices and availability.
Canon Digital Projectors
Hunt's is a full line dealer. Contact me for pricing on the latest models.
Canon Printers
Hunt's stocks a full line of Canon Printers. "Call" for pricing on IPF 5100 and IPF 9000 printers.
Nikon has announced new products. I am now taking pre-orders on the following (estimate shipping date is November '07):
Nikon D300, Nikon D3, Nikon 14-24, Nikon 24-70, Nikon 400 2.8G ED VR, Nikon 500 F4 G ED VR, and Nikon 600 F4 G ED VR.
Members interested in being placed on the waiting list regarding these items, please contact Gary via email or telephone.
Nikon Lenses
Note: Hunt's is an authorized Nikon Dealer. We stock the full line and only USA product. We do not deal with grey market product.
Ask about pricing and availability on the following lenses – 18-200VR, 105VR, 200-400, and 70-200VR, 200 4.0 D AF Macro, 70-300VR 4.5 5.6 Lens and 80-400 4.5 5.6 D VR.
Epson
Call for great prices on Epson 1800, 2400, 3800 printers, and Epson P3000 and P5000 storage devices as well as Epson 700 and 750 scanners.
Epson will soon be announcing some new large format printers. Members interested in knowing more about them, send me your full address and telephone number. When I obtain more information on the printers, I will then contact you.
Inks
Epson 2200 inks $ 9.00
Epson 1800 inks $ 11.99
Epson 2400 inks $ 11.99
Epson 3800 inks $ 47.99
Canon Pixma Pro 9000 (8 pack) $ 79.99
Canon BCI-6 Multipack $ 49.99
Canon Pixma Pro 9500 (10 pack) $119.99
Note: A flat $8.00 shipping charge is being offered when placing an order on the above inks.
HP Printers
Hunt's stocks a full line of HP Printers. Ask about price on the Z2100 24" and 44" pedestal printers, Z3100 24" and 44" pedestal printers. Hunt's will drop ship and include free shipping.
"Free Shipping" is being offered when ordering the following:
All LowePro Bags and Tamrac Bags
Photo Shop CS 3 Upgrade $189.99
Photo Shop CS 3 Full Version $609.99
Hoodman Loop $ 59.99
X-Rite Eye-One Display 2 $179.99
Note: If you do not calibrate your monitor, you might as well delete all of your images.
A "10% Discount" is being offered on the following:
Trekpods
Lens Babies 3G for Nikon and Canon
Kata Rain Covers
Shutter Hat
McClamp/McStik
All Stofen products
Photo Shop Light Room book by Scott Kelby
Photo Shop Elements book by Scott Kelby
Note: A flat $5.00 shipping is being offered on the above 10% discount products.
Best and love and great picture-making to all,
artie
Note: Arthur Morris has been a Canon contract photographer since 1994 and continues in that role today. Hunt's Photo of Boston, MA is a BAA sponsor as is Delkin Devices. Back issues of all BAA Bulletins can be found in the Bulletin Archives which may be accessed from the home page at www.birdsasart.com