NOVEMBER 19, 2007
Visit www.birdsasart.com
BOSQUE DEL APACHE IPT REPORTS
BOSQUE DEL APACHE NWR NEWS FOLLOW-UP
BOSQUE KUDOS
THE THANKSGIVING LUNCHEON AND THE WEDDING!
BOSQUE SITE GUIDE UPDATE
BOSQUE SITE GUIDE KUDOS
ANTARCTICA SITE GUIDE AVAILABLE
CANON EOS MARK III INFO & COMMENTS
CLEARWATER AUDUBON SOCIETY PROGRAM
POSSE NEWS/FABIOLA FORNS
POSSE NEWS/JIM NEIGER
POSSE NEWS/ROBERT O"TOOLE
POSSE NEWS/ROBERT AMORUSO
IPT UPDATES
HUNT'S SPECIALS
Contact us by phone at 863-692-0906 (Eastern Time Zone) or by e-mail at birdsasart@att.net or @verizon.net. The att e-mail address is best from overseas.
We gladly accept credit card orders by phone 8am till 7 Eastern Time ( till Fridays).
You can use the PayPal links on the web site to order anything. Just type in the item(s) and the amount. If using your own PayPal account, please send to either of the e-mail addresses above.
Note: maximize this e-mail for best formatting.
Photographic theme: Images from my recent trip to Bosque Del Apache NWR, San Antonio, NM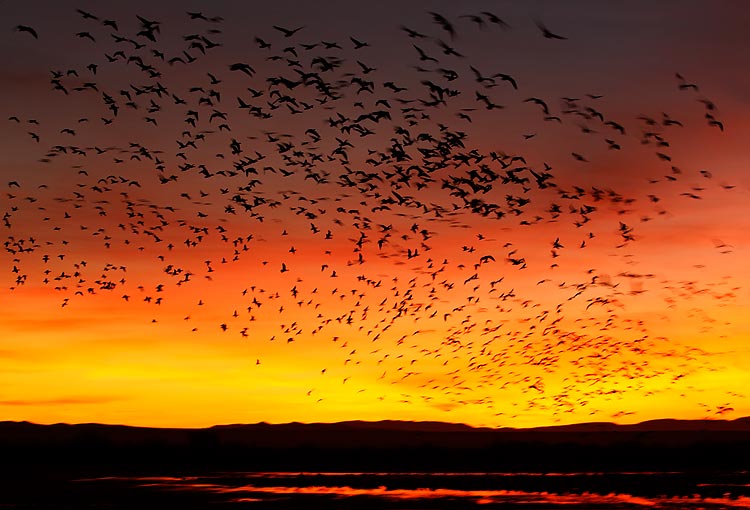 Snow Geese fly-in with intense sunrise colors, Bosque Del Apache NWR, San Antonio, NM
Image Copyright 2007: Arthur Morris/BIRDS AS ART
Canon 70-200mm f/2.8 L IS lens (handheld at 70mm) with the EOS-1D MIII. ISO 400. Evaluative Metering +2/3 stop: 1/25 sec. at f/5.6.
I used 45-point AAFPS to create this image; it always worked well in flocks-in-flight situations even before I installed the new firmware (see below).
Important Request: if responding to this e-mail, please take the time to delete all images and all irrelevant text.
BOSQUE DEL APACHE IPT REPORTS
Despite the fact that photographic conditions were far less than ideal for a variety of reasons (see more below), everyone in all three groups went home extremely happy. We worked very hard not only to put each group in the best position but to explain to folks the factors that influenced our decisions. These always include the weather, the lighting conditions, the wind direction, and recent bird behavior. We do this so that folks will be able to apply the principles that they have learned when they get back to their home turf or when they visit new locations on their own.
As usual, the attending Posse members provided great help to everyone on the IPTs including me. Each of them is a superb teacher and I thank them for their efforts. Robert O'Toole was with us for all three IPTs, provided great in-the-field instruction and inspiration; he is always coming up with new and creative techniques. This year's best was creating both pleasing blurs and sharp silhouetted images of cranes in flight using stacked teleconverters. We were able to focus accurately with both the EOS-1n Mark II and the EOS-Mark III camera bodies. In addition Robert presented an APTATS program for each group detailing his amazing work with Quick Masks. Glenn Wheeler (http://www.glennwheeler.com/) of Arkansas joined my Posse for the first time and was instrumental to the success of the first IPT, offering help to all whenever needed.
Andy Rouse (http://www.andyrouse.co.uk/index.asp), visiting from the UK, helped out for the last day of the first IPT and for the entire second IPT. He put together an impromptu slide program for each group; most folks including myself were totally amazed by his work and felt like tossing their photo equipment in the nearest lake. Andy has had four images honored in the past three BBC Wildlife Photographer of the Year Competitions, but after seeing his program most folks were left wondering "Why so few?" Andy's tales of photographing in Antarctica while roped into a Royal Navy helicopter flying sideways with the door off or creating images of a huge black-maned lion from underneath a safari van enchanted everyone and left most folks wondering if he had more than a few loose screws. And Andy's dry and understated British wit was appreciated by all; he cracked us up time after time. You can check out Andy's Bosque images on his Blog here: http://www.andyrouse.co.uk/index.asp
Robert Amoruso, Alfred Forns, and Fabiola Del Alcazar (who became Mr. and Mrs. Alfred Forns at the Thanksgiving luncheon; see more below) were with us for IPTs #2 & 3 and all provided generous help throughout. On several occasions Al and Fabs took folks back to the refuge early while I took advantage of INT (Instructor Nap Time). Their quarry on these forays included the several recently released Aplomado Falcons, hunting Northern Harriers, Northern Pintails, and massed blackbirds blasting off. Thanks to all of the Posse members who helped out at Bosque this year; they are one of many reasons that attending a BAA IPT offers the most intense teaching/learning nature photography experience available anywhere on the planet at any price.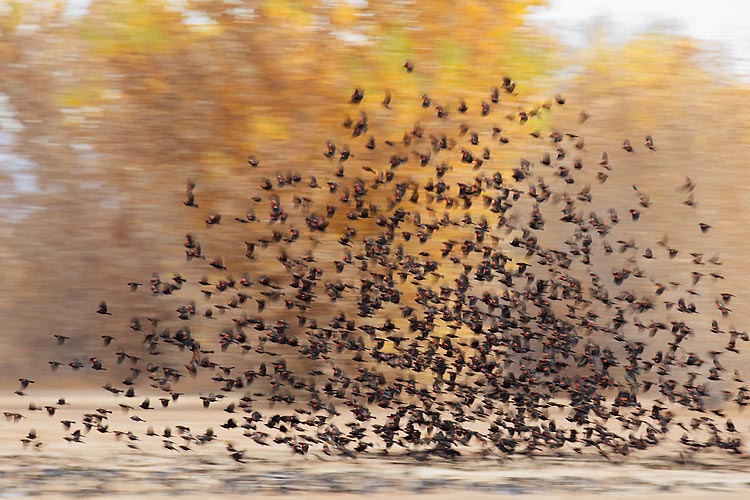 Red-winged Blackbird flock, Bosque Del Apache NWR, San Antonio, NM
Image Copyright 2007: Arthur Morris/BIRDS AS ART
Canon 600mm f/4 L IS lens with the EOS-1D MIII. ISO 50. Evaluative metering +1 stop: 1/30 sec. at f/6.3 set manually.
There were very few cranes early on and the geese were far from the road but the fall colors were lovely.
…..
Thanks also to the folks at the Socorro Super 8 Motel, especially manager Louise Darnell. The Super 8 puts out the earliest breakfast in Socorro and the rooms are always clean, the sheets fresh, and the wake-up calls on time. K-Bobs, which is under new management, has graciously hosted BAA/IPTs for the past six years. We conduct all of our slide programs there, eat all of our lunches there, and enjoy a great fajita buffet on critiquing night. The fajitas and burgers are great as is the salad bar. Without K-Bobs help I would be pretty much dead-in-the-water. Thanks also to Johnny at the Socorro Springs Brewing Company where we held our farewell dinners.
I am truly blessed that our IPTs attract so many nice folks and so many excellent photographers. After several last second cancellations, we had 15, 15, and 14 in the three groups. Of the 44 attendees, 19 (43%) were repeat-participants. Diana Zorrilla dew Farias of Monterrey, Mexico attended her first IPT and Robert Malpas, a fine photographer from the UK, attended his third consecutive Bosque IPT and his third consecutive Thanksgiving Luncheon. He is a true recidivist.
The North Railroad Pond and the two crane pools offered the best opportunities for all three groups, and on the last day of the third IPT the folks got to enjoy a truly spectacular sunrise replete with various shades of red, yellow, violet, magenta, orange, and even a bit of sky blue. And the geese cooperated majestically flying in and swirling about at the absolute peak of the color. Mid-morning on the first day of the second IPT some folks opted to head back early to the refuge headquarters to get warm. Those who chose to stay with me were rewarded with a spectacular blast off from the cornfield. There had been about 8,000 geese in the field when another huge group flew in. The birds formed a huge, tightly-packed mass of swirling hungry birds and I knew that a blast-off was imminent. We needed to be at our orientation meeting by 10am. At 9:50am I told the remaining folks that if we left no later than 9:55 we would be only a few minutes late. At exactly 9:53 the birds rumbled into the sky to the north in one of the most spectacular blast-offs I have ever witnessed.
Thanks to all who attended and again to the Posse members and to the great folks in the eco-tourist friendly town of Socorro, New Mexico.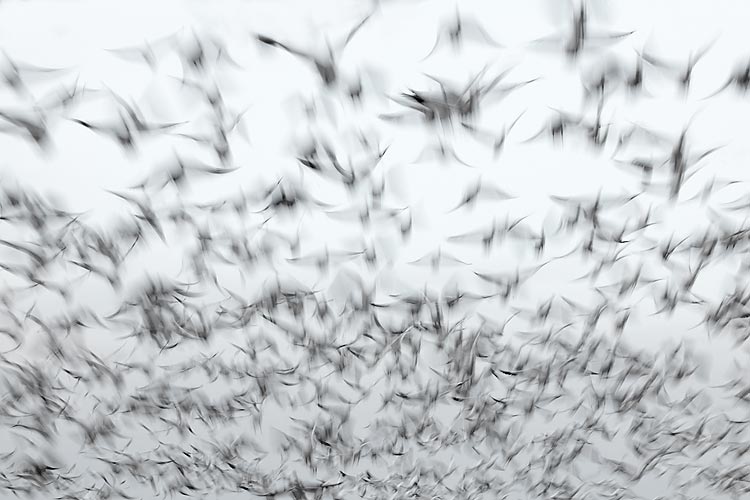 Snow Geese blast-off on cloudy morning, Bosque Del Apache NWR, San Antonio, NM
Image Copyright 2007: Arthur Morris/BIRDS AS ART
Canon 70-200mm f/2.8 L IS lens (handheld at 115mm) with the EOS-1D MIII. ISO 400. Evaluative Metering +1 stop: 1/30 sec. at f/9.
The degree of blurring depends only in part on the shutter speed. The closer the birds are to your position, the greater the degree of blurring (at the same shutter speed). Note here that the birds at the top of the frame are considerably more blurred than the birds at the bottom of the frame.
BOSQUE DEL APACHE NWR NEWS FOLLOW-UP
On the morning of Tuesday, November 27, 2007, I had a great ride-around-the-refuge visit with Senior Biologist John Vradenburg. It seems that I may have finally gotten in touch with the right person and am very optimistic about the future. I look forward to working with John to ensure that photographic opportunities at one of my favorite places on the planet are maximized. During our 90 minute in-the-truck meeting John explained to me in detail what the refuge staff is trying to accomplish with regards to their moist soil management program and the cooperative farming program. I in turn explained the needs of visiting photographers and emphasized that the things that would make photographers happy would not require any great changes or any great challenges to the refuge staff.
John explained that with the staff working hard to fulfill some of the requirements of a large federal wetlands program grant, much of the clearing of vegetation along the ditches had been neglected. Even though I was leaving the following day, I suggested that opening up lines of sight near the sorghum field (the triangular shaped field that is currently being inhabited by lots of cranes) and doing the same at the cornfield past the Audio 13 sign would be a wonderful sign of good faith and would improve photographic opportunities drastically. He said that he would do his best to do so.
He stated that 18D, the Main Impoundment, would be disked and bulldozed and that by the time that the birds arrive in early fall 2008 18D would be a huge lake. I have been waiting for this since about 1994 and if the plans materialize things should be spectacular next year.
John was eager to hear what I had to say and was quite receptive. It is very likely that I will be trying to assemble a team of volunteers to visit Bosque in mid-September to help improve things as needed. If you are seriously interested, please contact me via e-mail.
I received the following e-mail from John Vradenburg this past Friday:
Artie,

I went out this morning with one of our operators and identified locations to get some of the vegetation knocked down. These are going to be small areas to begin with and I will have the youth groups complete the clearing as time allows. No promises on if the clearing will be completed today for several reasons including a change in bird behavior due to a weather shift that is keeping them in the fields all day and maintenance of the slope mower. We do anticipate that the work will be completed on Monday at the latest but if all goes well this morning they may get some of it cleared this afternoon..

Hope this helps.

John Vradenburg
Senior Biologist - Bosque Del Apache
I was thrilled by this news and look forward to working with John in the future to improve photographic conditions at the refuge.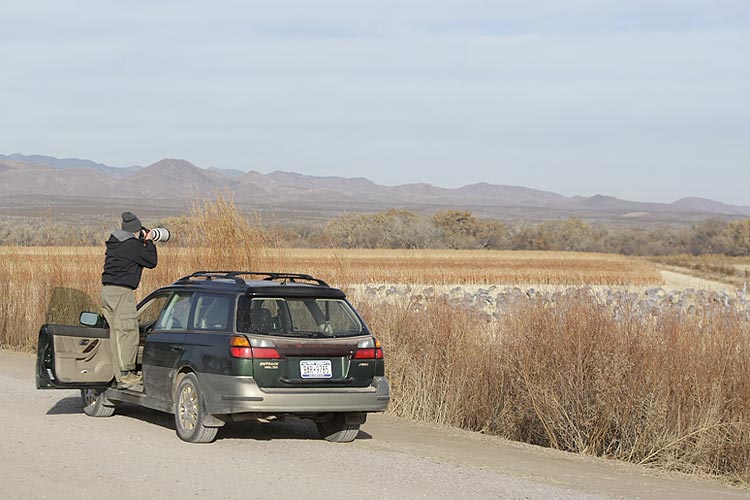 Photographer standing on car at the sorghum field, Bosque Del Apache NWR, San Antonio, NM
Image Copyright 2007: Arthur Morris/BIRDS AS ART
It looks as if scenes like this may soon be a thing of the past at Bosque… The vegetation along the ditch at the north end of the refuge was not cut this year as it usually is as the staff was busy with other things. It looks as if two vital areas will be cleared soon.
BOSQUE KUDOS
I received the e-mail below from Bosque IPT #2 participant Dan O'Leary:
Artie -
I want to thank you again for the wonderful experience that I had on IPT #2. I know that you were—at times-- frustrated with the state of the refuge and the photographic conditions, but, as someone here for the first time, I was blown away by Bosque, by the opportunities it presented, and by your instruction and mentorship. The IPT is something I will never forget.
Thanks also to Robert 1 and Robert 2, along with Alfred and Fabs and Andy. It is hard to imagine a more qualified, dedicated and helpful group. Their work was an inspiration to us all. I look forward to attending future IPTs and plan to go on Robert Amoruso's Merritt Island INWR tour in January. Please add me to the bulletin mailing list (I've always read the archives - it's time to commit!) and any short list of folks that you contact in the event of cancellations on IPTs, if such a list exists. After just three days I am beat. Your drive, energy and passion are amazing and infectious. You are a machine!
Best and love and great picture-making! ;-)
Dan O'Leary
ps - I've attached a copy of my "best back flap ever" image from the Wigeon pond last Monday. I used the techniques that Robert O'Toole shared with us in his APTATS demo to remove a duck head from the bottom left corner. Hope you like it!
I received the e-mail below from BAA Friend Keith Kennedy:
Artie,
It was great to see you at Bosque last week. It was nice of you to invite us to the introductory slide show (that was excellent by the way). I found it to be extremely helpful in terms of ideas for shooting strategies at Bosque. In fact, I think we may have gotten more out of it than some of the new people simply because I have gained so much valuable experience from previous IPT's and I have been able to put what I have learned into practice.
You continue to be an outstanding teacher and your willingness to help people learn in all situations is exemplary. I am not sure if most people appreciate just how giving you are with your knowledge and your support but I do because I see it all the time. Your encouragement of my son David is a good example and one for which I am I deeply indebted to you. He thinks you are the greatest but then so do Sharon and I.
Hope that the birds are more cooperative for you on IPT #3. Thanks again for dinner. It was a nice get together; I owe you one! Keith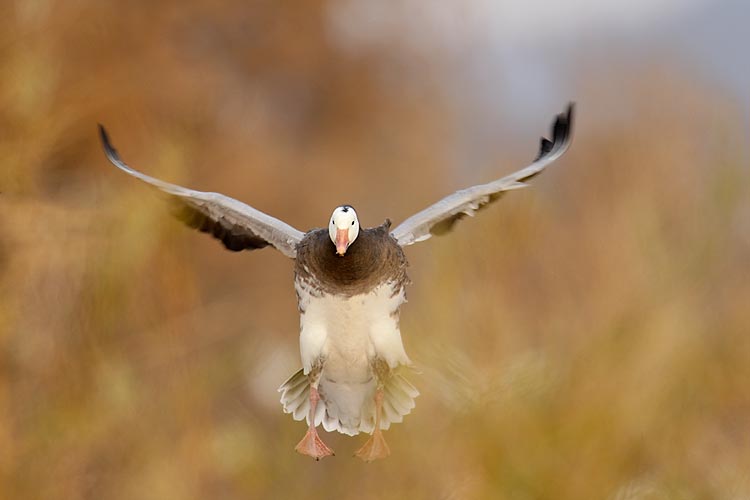 Snow Geese, blue form landing, Bosque Del Apache NWR, San Antonio, NM
Image Copyright 2007: Arthur Morris/BIRDS AS ART
Canon 600mm f/4 L IS lens with 1.4X II TC and the EOS-1D MIII. ISO 800. Evaluative metering +2 stops off the sky: 1/1000 sec. at f/6.3 set manually.
This bird--which was landing on the maintenance road in front of the corn field—was about to disappear behind a wall of salt cedar and young willows giving the image a rather ethereal feeling. On countless other occasions the tall vegetation was quite frustrating.
THE THANKSGIVING LUNCHEON AND THE WEDDING!
The Thanksgiving Day luncheon was surely the best ever. For the fourth consecutive year, it was held at the lovely Luna Mansion in Los Lunas with Penny Griego as our host. Alfred Forns and Fabiola Del Alcazar were married in a brief ceremony before lunch was served. A local minister did the deed quickly yet tears of happiness were shed all around. There were 46 guests in attendance. I wish Al and Fabs many decades of loving happiness and togetherness as they continue to make great images and teach others to do the same. Two sweeter folks you have never met; they deserve each other!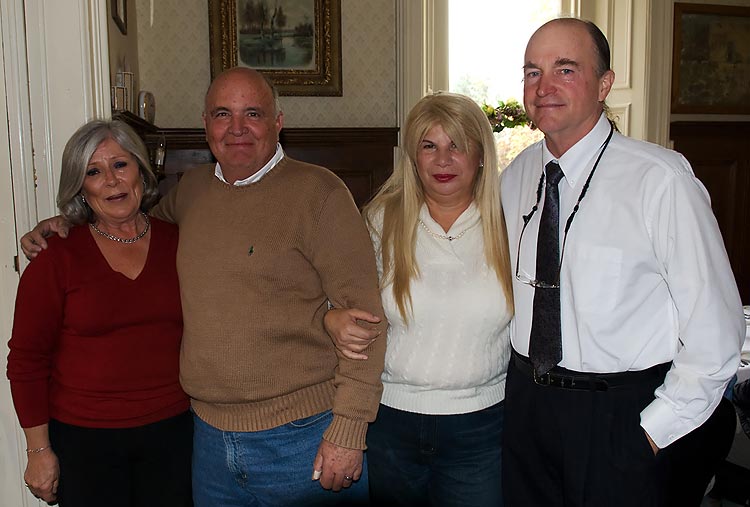 The wedding party, Luna Mansion, Los Lunas, NM
Image Copyright 2007: Robert O'Toole
The happy couple (center) are flanked by the best man (yours truly) and Fabs' bridesmaid, Judy Lynn Malloch. It looks as if Alfredo was the only one not crying…
BOSQUE SITE GUIDE UPDATE
The updated Bosque Site Guide was sent to the distribution list on Tuesday, November 27. It included up to the minute tips on where and when the very best photographic opportunities might be found in the coming weeks as well as 28 brand new images.
If you have previously purchased the Bosque Site Guide but did not receive your update, please send us an e-mail with the words "Bosque Site Guide Update" cut and pasted into the subject line, and please let us know how you paid.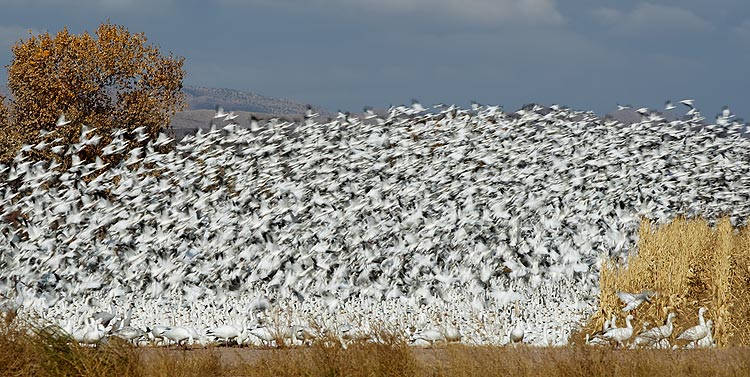 Snow Geese blasting off from corn field, Bosque Del Apache NWR, San Antonio, NM
Image Copyright 2007: Arthur Morris/BIRDS AS ART
Canon 70-200mm f/2.8L IS lens with the 2X II TC and the EOS-1D MIII. ISO 50; 77mm/9 stop neutral density filter. ISO 50. Evaluative metering +1/3 stop: 1/30 sec. at f/10.
I had rented the 100-400 IS L zoom lens that I usually use for blast-offs to an IPT participant so I went with the 70-200mm and a 2X teleconverter; the combination worked very well. (Note that the tall vegetation kept me from getting the clean lower edge that I prefer…)
BOSQUE SITE GUIDE KUDOS
I received this e-mail on December 1 from Ken Canning:
Dear Mr. Morris,
I purchased your site guide for my first Bosque visit earlier this month. I was quite pleased that I did. It definitely got me up and running at the site much quicker than if had tried to figure it out from scratch. The morning and afternoon shoot strategies were particularly helpful for getting to productive photography quickly. I particularly liked the discussions of wind direction and location as that is something I probably would not have paid as much attention to on my own (and I'll carry that knowledge to future shoots at other locations). Obviously some of the conditions changed at Bosque from the last edition of the guide, but it was easy to figure out the places that were less productive quickly (like the flight deck) and the guide offered alternatives that panned out nicely.
One suggestion would be to add a harrier shooting to the guide; the marsh area across the road from the main impoundment provided regular harrier passes at close range. Take a left after the pay booth and park about 100 yards or so down the road; there is a narrow strip of marsh between the road and far pond. The harriers hunt close to the road there. I had a couple of great late mornings photographing the harriers in that area (though the white festival tents at the visitor center snuck into a few backgrounds).
I was surprised to hear that shooting conditions while I was there were poor – as a first time visitor I thought it was awesome! I can't wait to go back when it's really good! While I was there I heard several stories from other photographers of the work you do to maintain good photography conditions at the refuge – thank you for your efforts, clearly you have made a difference.
Cheers, and thanks again for the great site guide! Ken Canning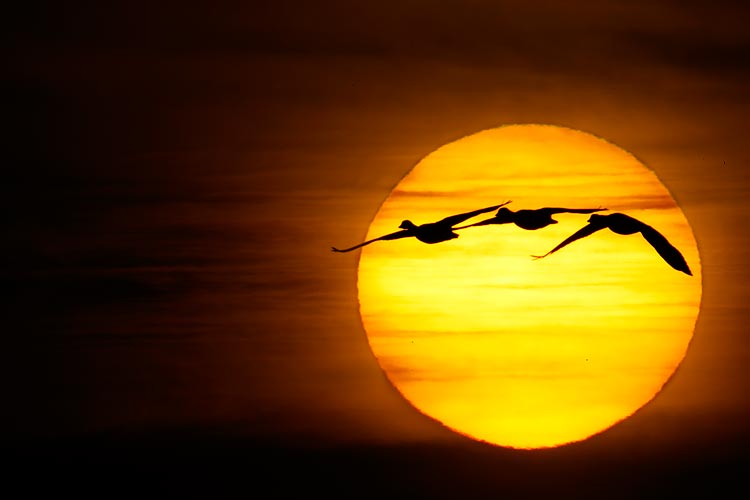 Snow Geese flying across face of bright sun, Bosque Del Apache NWR, San Antonio, NM
Image Copyright 2007: Arthur Morris/BIRDS AS ART
Canon 500mm f/4 L IS lens with stacked teleconverters and the EOS-1D MIII. ISO 50. Exposure set manually based on past experience: 1/8000 sec. at f/64.
Detailed instructions for creating images like this without damaging your eyes can be found in "The Art of Bird Photography II" (916 pages, 900 images, on CD only): http://www.birdsasart.com/ABPII.htm
ANTARCTICA SITE GUIDE AVAILABLE
The Antarctica Site, Travel, and Logistics Guide PDF on CD is now available. The site guide section covers only the areas that I visited on my cruise to the Falklands, South Georgia, and Antarctica, but the main purpose of the guide is to prepare you for a difficult logistical trip. Which tour do I join? What lenses do I bring? How do I protect my equipment in the harsh environment and more importantly, on the Zodiacs. What do I wear? What about footwear? What about electricity on board? These and dozens more questions will be answered. The 70 page guide includes 73 spectacular images with educational captions.
Craig Gibson, who was anxious to receive a pre-publication copy of the guide, had this to say via e-mail:
The expected value and productivity of my trip has gone up HUGE as a result of your guide. In my mind the guide is worth $50 eight days a week! That is my final answer!
Thanks and best, Craig
You can order your Antarctica Site, Travel and Logistics Guide (on CD only) today for $50 plus $3 shipping and handling ($53 total) in the US. Florida residents need to add 7% sales tax: $53.50 plus the $3 shipping and handling ($56.50 total). To Canada the cost is $50 plus $6 shipping ($56 total). For overseas customers the cost will be $50 plus $8 shipping and handling ($58 total).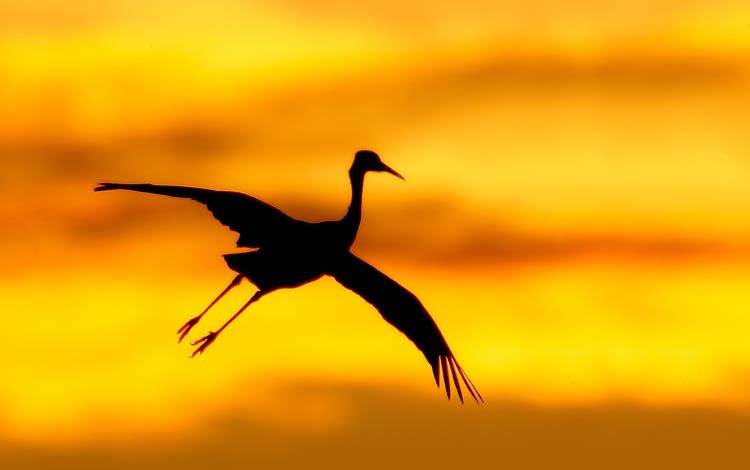 Sandhill Crane, banking to land, Bosque Del Apache NWR, San Antonio, NM
Image Copyright 2007: Arthur Morris/BIRDS AS ART
Canon 600mm f/4 L IS lens with stacked teleconverters and the EOS-1D MIII. ISO 800. Evaluative metering +1 stop: 1/800 sec. at f/8.
Robert O'Toole inspired me to try to create images like with stacked TCs; AF with the central sensor is available in most lighting conditions.
CANON EOS MARK III INFO & COMMENTS
Though I have wanted to comment on the recent developments concerning focusing accuracy and the sub-mirror fix, I did not want to comment until Canon posted its official position on the Canon USA web site. They have done so here: http://tinyurl.com/2zf2ma
In short, the announcement states that folks experiencing AF problems with Mark III camera bodies that fall within a certain serial number range can call an 800# and arrange to have their units sent in to have the sub-mirror assembly adjusted/repaired. It is thought that improperly aligned sub-mirror assemblies may have been causing the reported AF problems.

On Tuesday, I met Scott Elowitz (designer and manufacturer of LensCoats and LegCoats and a fine photographer in his own right) at Harry's Crane Pool. He asked me if I had loaded the new Mark III firmware. I had not and he kindly took out a flash card and together we uploaded the new firmware onto two of my MIII bodies. (You can find the new firmware here: http://tinyurl.com/2vmffw.)
While I had been making mostly sharp images with my Mark III bodies I was amazed at the improved AF performance from the moment I pressed the shutter button for the first time after installing the new firmware. AF locked on securely in all instances; the little green circle in the lower right corner did not flash almost continuously as it had done previously when I was in AI Servo AF mode. And best of all, I was able to track the cranes in flight easily and accurately with 45-point AAFPS even with backgrounds other than sky. There was one instance where I had a crane in the fairly distant crane in the center of the viewfinder against a mountain background and 45-point failed to see the subject at all. All in all, however, I was thrilled with what I experienced; the differences in AF performance were both dramatic and palpable. I only had time to create a few images but nearly every one of the flight images was razor sharp on the eye. Hooray!
Do I plan on sending my three cameras in for the sub-mirror fix? Absolutely. I will send one in as soon as I receive the shipping labels from Canon and will send the other two right after I return from my upcoming trip to Panama: 3 days at Canopy Lodge (http://www.canopylodge.com/) and three days at Canopy Tower (www.canopytower.com). I leave on Wednesday, December 5. I will be visiting thanks to a most generous invitation from Raul Arias de Para. The next BAA Bulletin will feature a trip report and images from this spectacular birding and photography destination.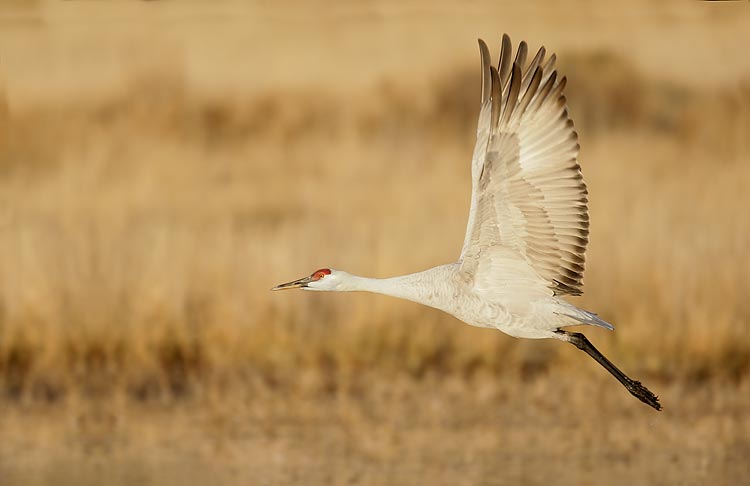 Sandhill Crane taking flight, Bosque Del Apache NWR, San Antonio, NM
Image Copyright 2007: Arthur Morris/BIRDS AS ART
Canon 500mm f/4 L IS lens with the 1.4X II TC and the EOS-1D MIII. ISO 500. Evaluative metering +2/3 stop: 1/800 sec. at f/5.6 set manually.
This image was created using 45-point AAFPS after I had installed the new firmware, version 1.1.3. Overall AF performance improved by leaps and bounds.
CLEARWATER AUDUBON SOCIETY PROGRAM
On Monday, December 3, I will be presenting "BIRDS AS ART on the Road" for the Clearwater Audubon Society. The meeting will take place at the Moccasin Lake Nature Park, 2750 Park Trail Lane, Clearwater, FL. All are welcome. For more information, call Program Chairperson, Debbie Trunk at 447-4785 or email Debbie or Paul at ptrunk@gmail.com. I hope to see you there; sorry for the short notice.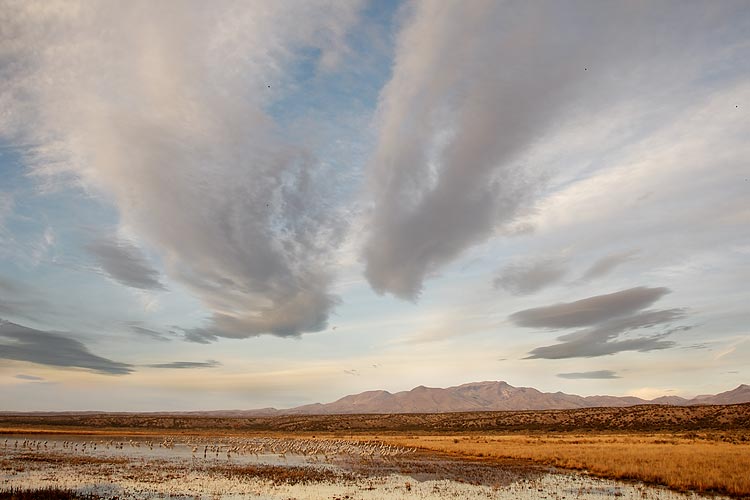 Sandhill Cranes ready to take off into big sky with dramatic clouds, Bosque Del Apache NWR, San Antonio, NM
Image Copyright 2007: Arthur Morris/BIRDS AS ART
Canon 24-105mm IS L zoom lens handheld with stacked teleconverters and the EOS-1D MIII. ISO 640. Evaluative metering +1 stop: 1/160 sec at f/5.6.
This is an atypical image for me as I usually prefer to work tight with long effective focal lengths. Here, however, the lovely sweeping cloud formations caught my eye.
POSSE NEWS/FABIOLA FORNS
Award winning photographer Fabiola "Fabs" Forns (the newest Posse member) is offering BAA-approved private photography instruction in South Florida. A typical day, which will be tailored to fit your individual needs, will include two in-the-field sessions of at least 3 hours or more each plus digital workflow instructions and a short critique. Enjoy what the Everglades, Wakodahatchee, and Green Kay have to offer. Fabs is skilled instructor as well as an artistically oriented photographer who encourages others to create images that are a bit out of the box. (Alfred Forns may be available to co-lead on certain dates; please inquire by e-mail: fabiolad@bellsouth.net.)
Fabs was recently honored in the Nature's Best Photography 2007 Contest as the Windland Smith Rice International Award winner in the Birds category. (The image was created on a BIRDS AS ART Instructional Photo-Tour; I was the one throwing the fish <smile>
Rates:

$399/day for 1 photographer
$350/day for 2 photographers
$325/day for 3 photographers
$300/day for 4 photographers.
If you register a group of four, the session will be kept private. You can contact Fabs on her cell at (305) 710-7748, or by e-mail at either fabiolad@bellsouth.net or fabs@avianscapes.com. Be sure to check out Fab's work at http://www.avianscapes.com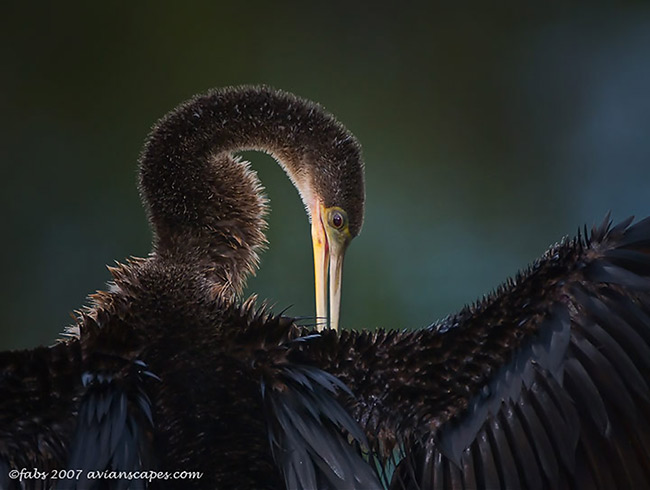 Anhinga preening, Anhinga Trail, Everglades National Park, FL
Image Copyright 2007: Fabiola Forns, Avianscapes Photography
POSSE NEWS/ROBERT O'TOOLE
December 30, 2007 Southwest Florida IPT APTATS Workshop: This single day APTATS (Photoshop) workshop will be held in Fort Meyers Florida and is limited to six participants. (3 spots still available). More information available here
January 19, 2008 San Diego California IPT APTATS Workshop: This single day APTATS (Photoshop) workshop is limited to six participants. (2 spots still available). More information available here
February 16-18, 2008 Florida Everglades Workshop: This 3 day photography workshop is limited to 8 participants. Only 4 spots are still available. Hurry as this workshop will sell out soon. This workshop is being led by Robert O'Toole and Fabiola Del Alcazar with Alfred Forns co-leading. More information available here
February 23-25, 2008 Florida Everglades Workshop: This is a new 3 day photography workshop that has just been added; it is limited to 8 participants. This workshop is being led by Robert O'Toole and Fabiola Del Alcazar with Alfred Forns co-leading. More information available here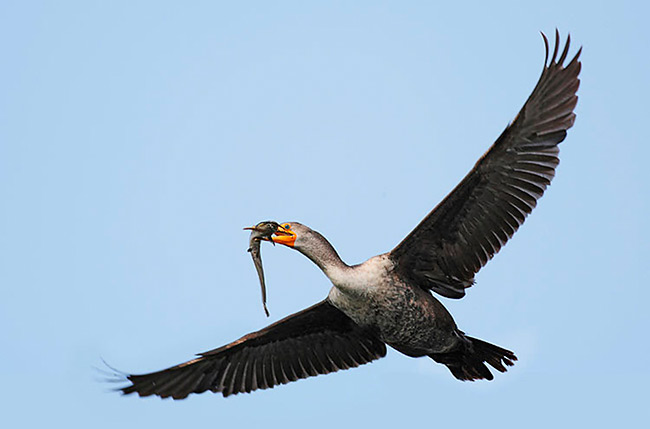 Anhinga with catfish, Anhinga Trail, Everglades National Park, FL
Image Copyright 2007: Robert O'Toole
POSSE NEWS/JIM NEIGER
"Fly South with the Birds" Winter Workshops
Ah… Winter in Florida! Enjoy warm temperatures, dry sunny days, and an abundance of birds that make Florida their home for the winter. It's the perfect setting for birds and photographers.
Flight School Photography is pleased to announce two "Fly South with the Birds" winter workshops in central Florida. Your instructor and guide, Jim Neiger, is intimately familiar with the region and its avian subjects; he knows the hotspots like no one else. He is the author of the Central Florida Site Guide and several articles about the birds of central Florida. Jim is also well known for his awesome images of birds in flight and for his pioneering work with hand-holding long telephoto lenses (and for teaching others to do the same).
Each "Fly South with the Birds" winter workshop will include eight 3-4 hour photo sessions (4 photo sessions on the pontoon boat, and four land-based). A variety of habitats will be visited. Likely subjects include Snail Kite, Bald Eagle, Great Horned Owl, Barred Owl, Red Shoulder Hawk, Crested Caracara, Osprey, Whooping Crane, numerous wading birds, songbirds, woodpeckers, ducks, etc. Click here to view a gallery of sample images.
The 5 day Winter Workshops will begin with an afternoon classroom session covering the hand-holding long telephoto lens techniques that Jim has developed for photographing birds in flight and in action. You will also learn to use recorded bird songs to safely increase your photographic opportunities. This will be followed by 4 full days in the field. The group will explore remote and highly productive areas of central Florida and visit a variety of habitats. The boat sessions will give us access to several difficult and desirable subjects including and especially Snail Kite, the rarest raptor in North America. Refreshments will be provided during all sessions.
Jim's 2007 pontoon boat was purchased and customized specifically for photography. It is roomy, comfortable, and stable. The boat is equipped with an extremely quiet four-stroke motor for silent cruising. It also has a powerful, silent, electric trolling motor with wireless remote control. This allows Jim to position the boat precisely and noiselessly. The boat can be configured without a top, with a half-canopy to provide shelter from sun and rain, or with a half-enclosure that will completely protect participants from the elements. The boat even has a private changing room with a portable toilet. The boat has capacity for twelve people, but Jim limits the number of participants to 5 so that everyone has room to relax and photograph in comfort. Don't miss this amazing opportunity.
Workshop Dates: FSW-1: January 25-29 and FSW-2: February 17-21. Cost: $1250 per person. Contact Information: Please contact Jim Neiger for more information by phone at 407-247-5200 or by e-mail at jimn@cfl.rr.com. Be sure to visit Jim's website at: http://www.flightschoolphotography.com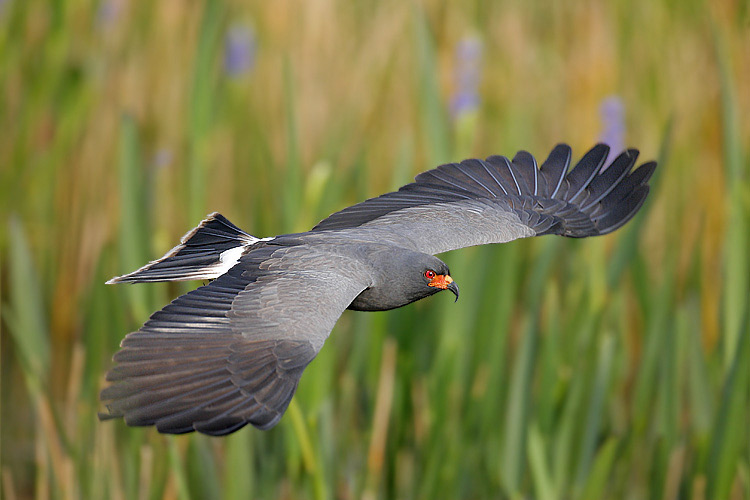 Snail Kite, male in flight, West Lake Toho, Kissimmee, FL
Image Copyright 2007: Jim Neiger/Flight School Photography
POSSE NEWS/ROBERT AMORUSO
Merritt Island NWR/Viera Wetlands/Canaveral National Seashore Photographic Instructional Workshop: January 11, 12 and 13, 2008. Includes morning and afternoon in-the-field photography sessions at some of the most diverse wildlife and avian photography locations on the east coast of Florida. The Roseate Spoonbill is a popular species that will be at MINWR or Viera Wetlands during the workshop. Afternoon and evening classroom instructional sessions will be held. Attendance on this tour includes a free copy of Robert's BAA/MINWR Area Site Guide. Cost is $800 per person. A 50% deposit is required to hold spot.
Download full details on this workshop at the following link:
http://www.wildscapeimages.biz/2008_MINWR-Area_Workshop.pdf
See Robert's site at www.wildscapeimages.biz for upcoming workshops.
Contact Robert at 407-808-7417 (cell phone) or info@wildscapeimages.com for information on the above.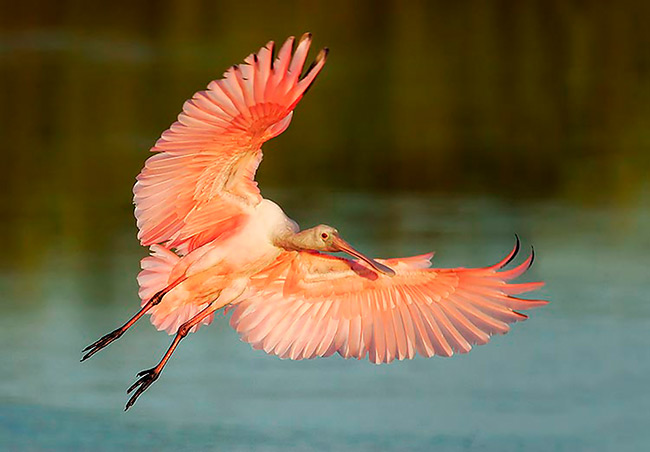 Roseate Spoonbill braking to land, Merritt Island NWR, Titusville, FL
Image Copyright 2007: Robert Amoruso/Wildscape Images
IPT UPDATES
Amazingly, but not so surprisingly (I guess), all regularly scheduled IPTs are currently sold out. If you would like your name added to the waiting list for any of the IPTs below, please e-mail us and be sure to include all of your phone numbers.
If you missed out on the scheduled offerings below, do consider purchasing one of our BAA Site Guides (http://www.birdsasart.com/siteguides.htm) or getting a copy of ABP II (http://www.birdsasart.com/ABPII.htm). Or both. You will find each of tremendous value as they include tons of valuable information and instruction.