BIRDS AS ART BULLETIN #250
DECEMBER 21, 2007
Visit www.birdsasart.com
BIRDS AS ART INSTRUCTIONAL PHOTO-TOURS: A NEW DIRECTION
BIG TIME BAA IPT KUDOS: SAMUEL MULDER'S IPT REVIEW
MY COMMENTS ON SAMUEL'S REVIEW
PANAMA TRIP REPORT/PART I: CANOPY TOWER
PANAMA TRIP REPORT/PART II: CANOPY LODGE
ITEMS FOR SALE
PORTLAND, MAINE, "The Art of Nature Photography; It Ain't Just Birds" Weekend Seminar
Contact us by phone at 863-692-0906 (Eastern Time Zone) or by e-mail at birdsasart@att.net or @verizon.net. The att e-mail address is best from overseas.
We gladly accept credit card orders by phone 8am till 7 Eastern Time ( till Fridays).
You can use the PayPal links on the web site to order anything. Just type in the item(s) and the amount. If using your own PayPal account, please send to either of the e-mail addresses above.
Note: maximize this e-mail for best formatting.
Photographic theme: Images from my recent trip to Bosque Del Apache NWR, San Antonio, NM
Important Request: if responding to this e-mail, please take the time to delete all images and all irrelevant text.
BIRDS AS ART INSTRUCTIONAL PHOTO-TOURS: A NEW DIRECTION
Last year, I led ten BAA IPTs. All were sold out with from 12 to 16 folks. With the amazing assistance provided by the posse, pretty much everyone went home happy. In addition, I led or co-led many international Photo-Tours, Photo-Safaris, and Photo-Cruises. Can you say Antarctica, Iceland, Ecuador (twice), and Kenya? All in all I was away from home for more than 200 days in 2007. Just the other day someone asked me, "Are you getting tired of traveling so much?" I answered, "I love every trip that I make, the problem is that I need to be home more. When I am gone for three or four weeks and have only four or five days at most until I get on a plane again, there is often just too much to do in too short a time."
I have been talking about slowing down for several years, and now is the time. I will be teaching far less in the coming year and will continue cutting back after that. In addition, I have decided to take fewer folks on each IPT in an effort to give those who join me additional personal attention. Lunches and dinners will be more personal, and the overall atmosphere will be less frantic. The various posse members will still be joining me so that will make for an even more enriching experience. As they have done already, various posse members will be taking up the slack by offering BAA-approved trips to previous IPT destinations such as Fort DeSoto and the St. Augustine Alligator Farm and I am sure that this trend will continue as Alfred & Fabiola Forns, Robert Amoruso, Robert O'Toole, Jim Neiger, and James and Blake Shadle are all fine photographers and skilled instructors. As I will be doing only two 4-DAY Bosque IPTs next year, several of the above-mentioned will be offering a variety of Bosque experiences. I will be slowly passing the torch to some wonderful folks.
Not to worry too much, you have not—by any means—seen the last of me or the last IPT…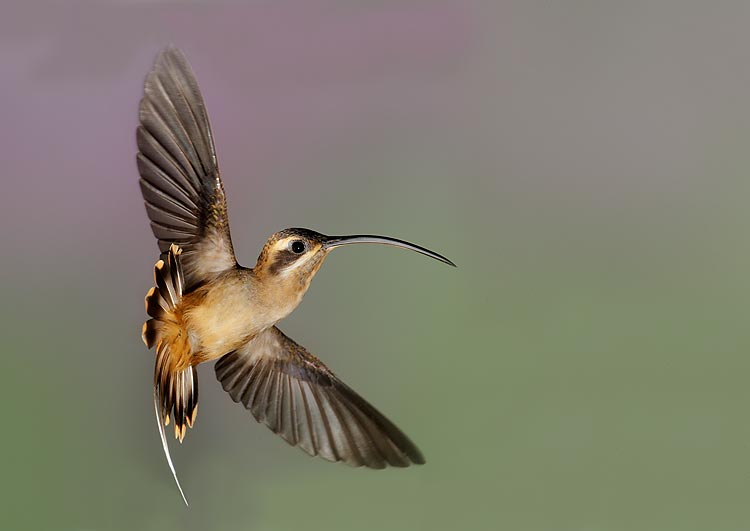 Long-tailed Hermit, Canopy Tower, Panama
Image Copyright 2007: Arthur Morris/BIRDS AS ART
Canon 500mm lens with the 1.4X II TC and the EOS-1D MIII. ISO 640. Five flash set-up. Manual mode: 1/300 sec. at f/18.
Linda Robbins has been working with me on the basics of multi-flash hummingbird photography; she has obviously done a good job. Linda is currently hard at work on our High Speed Flash Hummingbird Guide. As this species visited the feeder only rarely; I was thrilled to have gotten lucky with this one.
BIG TIME BAA IPT KUDOS: SAMUEL MULDER'S IPT REVIEW
Samuel Mulder, a young photographer from Albuquerque, attended Bosque IPT #1. As you may remember from the Bosque IPT report, photographic conditions were less than ideal at that time. On each and every IPT, I do my very best to make the trip as rewarding and as productive as possible and the posse members do the same. Each of us puts our heart and soul into them. Most folks are very appreciative of our efforts. On rare occasions, someone heads home dissatisfied. I used to take things like that personally, but over the years have grown to realize that in most cases, the problems were more about them than about me. Folks who arrived happy generally headed home happy, and folks who were bitter and unhappy when they arrived generally went home bitter and unhappy. Fortunately, over the past dozen years, very few folks that have traveled with us fit into that last group. The bottom line is that I am always proud of my efforts while leading BAA IPTs. I am confident in my abilities as a teacher and as a photographer; I do not need positive feedback to know that I have done a good job, but positive feedback as well as constructive criticism is always received with a smile. On rare occasion, however, I receive a note or an e-mail that puts a bigger-than-usual smile on my face. Samuel's unsolicited review, which appears below, is right at the top of that category.
Review of BIRDS AS ART IPT: Bosque 2007

A while back, I asked for advice about attending a workshop http://www.naturescapes.net/phpBB2/viewtopic.php?t=111326&highlight= In response to all of those who helped me then, and to help those trying to make similar decisions, I thought it would be good to write a review of the experience. I should note that this review represents only one individual experience on one particular tour. I'm sure other workshop leaders are very good and—as this is my only tour experience—I am not comparing this particular workshop or workshop leader to any other workshop or leader.

Reasoning for going: My lack of experience.

In my mind, there are two good, equally legitimate reasons for going on a photo workshop. The first is to have an expert guide who an teach you about a location that you have a strong interest in and to insure that you get the best photos possible. The second is just to learn and grow as a photographer. My interest was completely the second. The workshop that I choose was in a location that I am very familiar with and have spent a fair amount of time shooting. Bosque is an hour and a half away and I've been there every month for the last year. I was completely focused on learning as much as possible, even at the expense of missing some nice shots, secure in the knowledge that I could come back anytime and put what I'd learned into practice. Many of the participants in the workshop seemed to be more interested in the first reason. I think that is very reasonable, and would consider joining a workshop if I were going to a once-in-a-lifetime destination and wanted to insure that I made the most of it.

Participants:

The participants were an interesting group. I was surprised, as I'd expected mostly beginners to be interested in something like this. Instead, many of the participants were frequent workshop attendees and were very experienced. I would guess that the majority of the participants were retired and enjoying photography as a hobby. I was definitely one of the youngest and least experienced attendees. This worked out well for me as I was able to watch and learn from the participants as well as from the instructors.

One of my main questions before going had been about equipment. My longest lens is the 100-400. Sure enough, almost everyone else had a 500 or 600mm lens (I think there was one Nikon guy using an 80-400). Not only are these lenses longer to start with, they also take tele-converters. As it turns out, this wasn't a huge deal.

Everyone was extremely friendly and I enjoyed the conversation both at meals and in the field. It was fun talking to people who shared a passion, and I can see why some attend these workshops for the social aspect. People were also generous and some equipment was shared (thanks to Malcolm for the chance to try out a 300/2.8 and 2x converter and to Artie for the 9-stop neutral density filter).

Classroom Learning:

We essentially had two shooting sessions each day, a morning session and a late-afternoon session. In the middle of the day and sometimes in the evening, we had sessions with a projector in town. I would say the two, field and classroom, were about equally educationally.

The most educational classroom session for me was the photo critique. Having my own photos critiqued was helpful, but more in a re-affirming way than a revelatory way. I had spent a lot of time thinking about my own photos and had a pretty good sense of the strengths and weaknesses. Art was able to point out a few issues that I hadn't considered and I was able to dramatically improve at least one of the images using a crop that he suggested. My photos weren't that great, but I at least had some ideas about why they weren't that great. The more useful part of the evening though was the critique of other's photos. I was able to compare my first impressions of a photo on the screen with Artie's impression (and comments by the other instructors). This was very educational and I learned a lot about minor things that can greatly improve or hurt a photo. Almost all of the images presented were of high quality, so the comments were generally about subtleties.

The second most useful classroom session was watching Art go through his images from the morning and make a selection. Seeing Artie's RAW files, unedited and un-culled was very educational and something I'd have never been able to do outside the workshop. After selecting one photo he proceeded to go through his processing routine. His environment is fairly different than mine; he uses Windows and Breezebrowser and I use Mac and Lightroom, but I was still able to learn a lot about the thinking that goes into editing an image.

The other extensive classroom session was a photoshop session by Robert O'Toole. He is definitely a photoshop wizard and was able to work magic on the photos. This was less interesting to me as I work with computers in my day job and just don't have much interest in this type of processing and optimization.

The slideshows that Art showed of his own work were amazing, and his commentary entertaining and insightful. One mid-day we were treated to a presentation by Andy Rouse, a UK photographer whose work I was not familiar with. I've since ordered most of his books; he really blew me away. Andy then spent the afternoon/evening shooting session with us.

In-the-Field Instruction:

Shooting in the field on this kind of tour allows you to get as much or as little as you want out of it. At the extreme end, some of the participants seemed to just set up and do their own thing at each place that we stopped, more or less ignoring the instructors. At the other end of the spectrum, I typically stuck to Artie like glue. He would say "I think we should be 40 yards that way for the best light angle" and start walking and I'd immediately pack up and go with him. Most of the other participants stayed put. This highlights an important point. I want to thank those who advised me not to rent a longer lens for the workshop. Even though I was one of the only ones without a big gun, the flexibility of having lighter equipment that I was familiar with allowed me to focus on the instructors and extracting as much as possible from them. I may have missed some nice shots (or had to crop a little more), but I think I also learned more than I would have if I were constantly grappling with an unfamiliar big rig.

All of the instructors were photographing, but were good about moving about among the participants and answering questions and offering advice. I learned a lot in the field about situational awareness... watching the light and wind conditions and recognizing changing situations. I also started using manual exposure for the first time and really got to see when it made sense. Artie and the other instructors were quick to point out good opportunities. They were very sensitive towards those of us with shorter lenses and offered alternative advice about positioning and good shots to us. Artie also encouraged us to experiment with more artistic shots (blurs and such). I have not been a big fan of them in the past, but figured I might as well try it out. I came away happy with several blurred shots that I never would have taken before. Art was also very accommodating to people with different interests. For example, on the last day everyone was heading back into Socorro to shoot wigeons on a pond there and I expressed an interest in staying on the refuge. The wigeons were great, but we'd done them the day before and I have a real passion for the refuge. Artie responded by asking Jim Neiger to stay behind and work with a couple of us while the main group went into town. This brings up an important point: All of the instructors on the workshop were amazing. Jim was someone whose work I'd admired on the various forums for a long time and who I'd consider doing a workshop with based on his flight shots.

Value :

The pace of the workshop was just about right for me, with plenty of learning opportunities interspersed with chances to try things out on my own. I'm not sure how much better personalized instruction would have been, as I pretty much had Artie's attention any time I wanted it and was able to benefit by learning from different instructors with different styles. I would point out that at least this particular workshop was geared at intermediate photographers. I would recommend knowing how to work the camera and reading some books (and visiting the various forums) before signing up. AN ipt It probably isn't the best place to be fumbling around trying to figure out how to use the camera... Comparing the cost to something like a college course, on a per hour basis, the workshop is very reasonable and the caliber of the instructors can't be found in your local community college. For me the tradeoff came down to workshop versus more equipment. I think I made the right choice and it is one I will make again. This definitely won't be my last workshop. I grew more as a photographer in three days than I did in the previous year. I hope this is helpful and didn't sound too much like an advertisement. I did thoroughly enjoy myself and highly recommend the experience.
MY COMMENTS ON SAMUEL'S REVIEW
Thanks a ton Samuel for your insightful comments; they are greatly appreciated. I could not have written anything myself that so well highlighted all of the important things that we try to accomplish on each IPT. One excellent point that Samuel makes is that to get the most from any photography tour, participants should stay close to one of the instructors most of the time and ask lots of questions. Though I always stress that point on each IPT I am sometimes lonely in the field. In addition, I often edit my work at lunch and encourage folks to gather around while we are waiting for our orders.
PANAMA TRIP REPORT/PART I: CANOPY TOWER
In early December, I flew to Panama City, Panama and was met by a van from Canopy Tower. After fighting rush hour traffic, and stopping to pick up some water, we arrived at Canopy Tower in about an hour. Canopy Tower (www.canopytower.com) is a jungle lodge created by adapting a US-built radar facility. It is an amazing place. You get lots of exercise making your way up to the dining room.
Canopy Tower, Panama
Image Copyright 2007: Arthur Morris/BIRDS AS ART
Inside and out, this lodge is an amazing structure. Note the multi-flash hummingbird set-up in the lower right.
White-necked Jacobin and Blue-Chested and Violet-bellied Hummingbirds were the most common feeder visitors.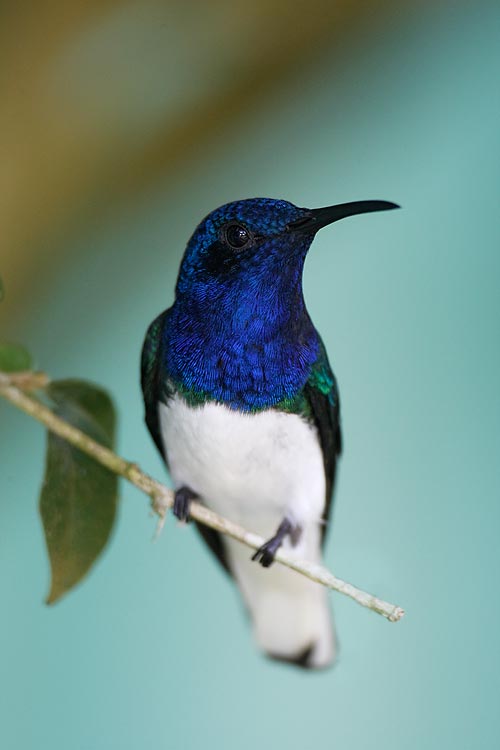 White-necked Jacobin, perched male, Canopy Tower, Panama
Image Copyright 2007: Arthur Morris/BIRDS AS ART
Canon 500mm lens with 37 mm of extension with the EOS-1D MIII. ISO 800. Evaluative Metering +2/3 stop: 1/80 sec. at f/4. Lots of flash at zero with the Better Beamer.
Even though I have learned to photograph the hummers at a multi-flash set-up, I still have a soft spot in my heart for doing perched hummingbirds away from the set up when the opportunity presents itself. The cyan background here is actually Canopy Tower itself. Even though I had set a good exposure for the ambient light, I was effectively using flash as main light (because of the extreme low light conditions), so I used the Better Beamer to increase the power and the efficiency of the flash. Compare that line of thinking with that outlined in the caption for the "Red-legged Honeycreeper, curious male" image below. If you have trouble understanding the difference between using flash as fill and flash as main light, see "Flash Simplified" in "The Art of Bird Photography II (916 pages on CD only): http://www.birdsasart.com/ABPII.htm
…..
Birding at the lodge was excellent. For the serious birders, the tower is located in a region with amazing bird life. There were several groups of birders there when I visited and at each meal they gloried in their sightings and marveled at the skills of the Canopy Tower guides. The birding groups made either half-day or full day trips to various amazing locations, the most famous of which is Pipeline Road. Aside from the hummingbirds, photography was only fair in the immediate vicinity of the lodge. The food was very good and was served home style so nobody went hungry <smile> So why should photographers visit Canopy Tower at their first opportunity? Carmen's house!
I visited Carmen's backyard—it was about a 20 minute ride from the lodge—on my first morning at Canopy Tower. It was so amazing that I spent at least one morning or one afternoon there every day. After walking down a grassy slope—be careful not to slip when it is wet (which is almost always), you come to a series of wire clothes lines strung between some concrete stanchions and metal pipes. To your right will be two large wire mesh fruit feeders set atop the wires. The instant your guide sets out some bananas and some other fresh fruit, the feeder is swarmed by a variety of brightly colored birds. Crimson-rumped Tanagers, dozens of both male and female Red-legged Honeycreepers, a few Shiny Honey-creepers of both sexes, more than a dozen Palm Tanagers, dozens of Blue-Gray Tanagers, a few Plain-colored Tanagers, dozens of Clay-colored Robins, swarms of loud Orange-chinned Parakeets, Lemon-rumped Tanager—another stunner, Blue Dacnis—both sexes, Green Honeycreeper, Red-crowned Woodpecker, and the spectacular Blue-crowned Motmot to name a few.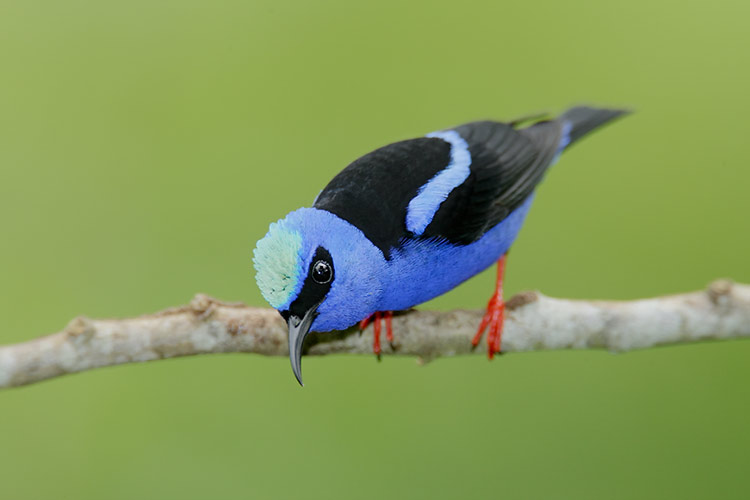 Red-legged Honeycreeper, curious male, Carmen's backyard, Gamboa, Panama (near Canopy Tower)
Image Copyright 2007: Arthur Morris/BIRDS AS ART
Canon 500mm lens with the 1.4X II TC and the EOS-1D MIII. ISO 640. Evaluative Metering at zero: 1/250 sec. at f/6.3. Fill flash at -3 stops with built-in diffuser screen in place.
When working with songbirds at point blank range, I set ETTL flash to -3 stops and lower the diffusion screen. I do not use the Better Beamer as it is difficult for the flash to turn off quickly enough and I am trying to minimize the amount of fill flash.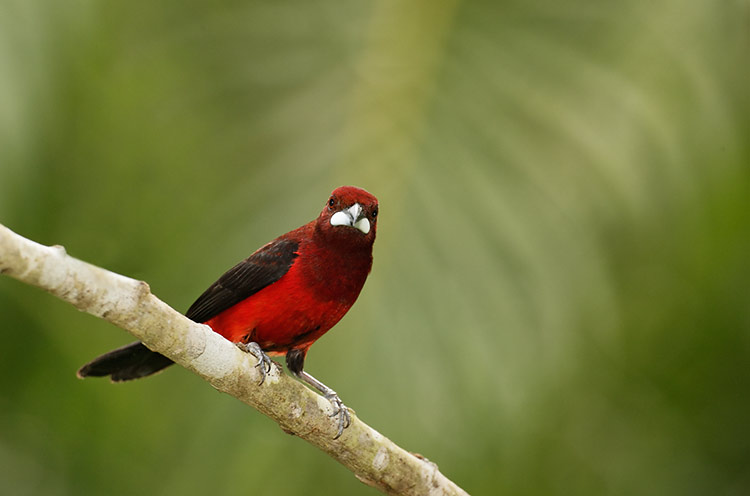 Crimson-backed Tanager, male, Carmen's backyard, Gamboa, Panama (near Canopy Tower)
Image Copyright 2007: Arthur Morris/BIRDS AS ART
Canon 500mm lens with a 25mm extension tube and the EOS-1D MIII. ISO 800. Evaluative Metering at zero: 1/80 sec. at f/6.3.
Here I positioned my tripod so that I could use one of Carmen's backyard palms as an interesting background.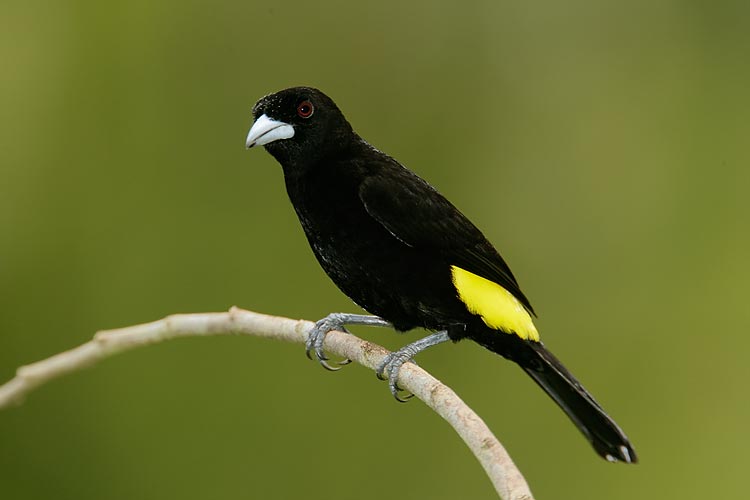 Lemon-rumped Tanager, male, Carmen's backyard, Gamboa, Panama (near Canopy Tower)
Image Copyright 2007: Arthur Morris/BIRDS AS ART
Canon 500mm lens with the 1.4X II TC and the EOS-1D MIII. ISO 640. Evaluative Metering at zero: 1/100 sec. at f/6.3.
With a black bird in the center of the frame, a relatively light background, and the bright yellow rump patch, I figured that the metered exposure would be perfect. A quick check of the histogram proved that to be true. If you have trouble making good exposures with your digital camera, see "Exposure Simplified" in "The Art of Bird Photography II (916 pages on CD only): http://www.birdsasart.com/ABPII.htm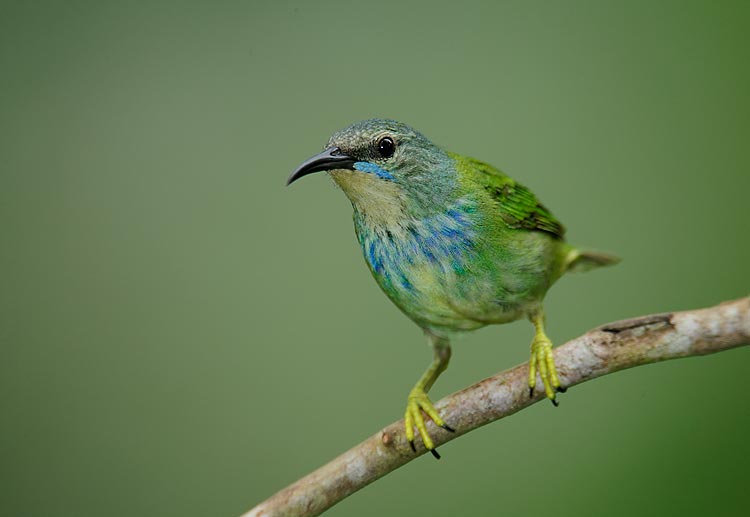 Shiny Honeycreeper, female, Carmen's backyard, Gamboa, Panama (near Canopy Tower)
Image Copyright 2007: Arthur Morris/BIRDS AS ART
Canon 500mm lens with the 1.4X II TC and the EOS-1D MIII. ISO 640. Evaluative Metering at zero: 1/320 sec. at f/6.3. Fill flash at -3 stops with built-in diffuser screen in place.
Though the male of this species is stunning—bright blue with bright yellow feet, the female with the blue streaking on the neck and the blue moustache stripe was my favourite of the two.
…..
Well, I could have included dozens more of my favorites from Carmen's backyard if I were not limited by space… By now, most of you will have figured out that the first thing that I did when I arrived in Carmen's backyard was to set up some perches. That done, Carmen's backyard was and is an amazing photographic location. The wire clotheslines, however, do present some problems, especially for shorter photographers; they block line of sight to some of the perches or force you to place some perches higher than you would like. I told Raul Arias de Para, the owner of both Canopy Tower Lodge and Canopy Lodge that if Carmen could be convinced to remove the right-hand series of wires that the site would quickly become one of the very great photographic locations on the planet. Raul, who is very serious about developing both lodges as major world-class photographic destinations, is currently working with Carmen and is confident of success. I shall keep all advised via Bulletin.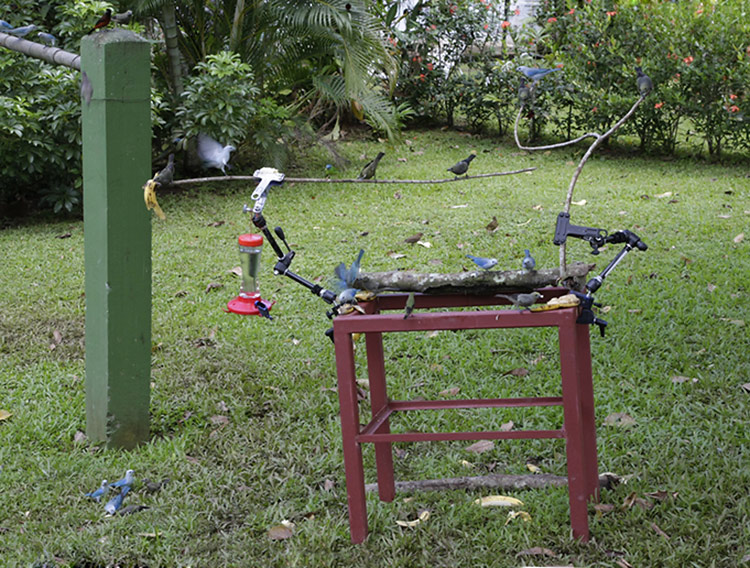 Feeder, impromptu set-up, Carmen's backyard, Gamboa, Panama (near Canopy Tower)
Image Copyright 2007: Arthur Morris/BIRDS AS ART
The table frame was transported from the lodge. You can see one of the concrete stanchions on the left side of the image. The offending set of wire clothes lines is just off stage left and above. The honeycreepers and the Blue Dacnis are attracted to the hummingbird feeders but readily take to the perches. Though this image was made in the afternoon when there is typically less activity than in mornings, the following species can be seen: Blue-Gray Tanager, Palm Tanager, Red-Legged Honeycreeper (both sexes), Blue Dacnis, Crimson-rumped Tanager (female), and Clay-colored Robin.
PANAMA TRIP REPORT/PART II: CANOPY LODGE
Canopy Lodge, carved out of the jungle by Raul Arias de Para just three years ago, offers luxurious accommodations in an incredibly beautiful setting. The food is great, the staff is superb, and the guides are amazing. Special thanks go to apprentice guide Domi (Domiciano Alveo) who was my right-hand man for three full days.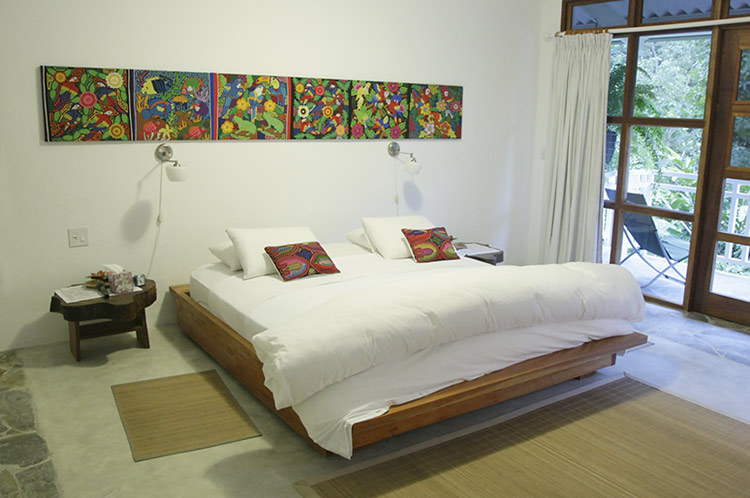 My room at Canopy Lodge, Panama
Image Copyright 2007: Arthur Morris/BIRDS AS ART
The rooms were (obviously) first class, the views from the balcony spectacular. My next-door neighbors made some good images from their balcony. My room was huge and I felt comfortable, even pampered.
I concentrated my photographic efforts at Canopy to the hummingbird set-up and the fruit-feeder set-up, though I would have surely had some great opportunities (albeit involving much more work..) had I taken advantage of the included field trips (as all the birders do). White-vented Plumeleteer and Crowned Wood-Nymph (aka Violet-crowned Wood Nymph) were the most common hummers at the feeders, the former being quite aggressive.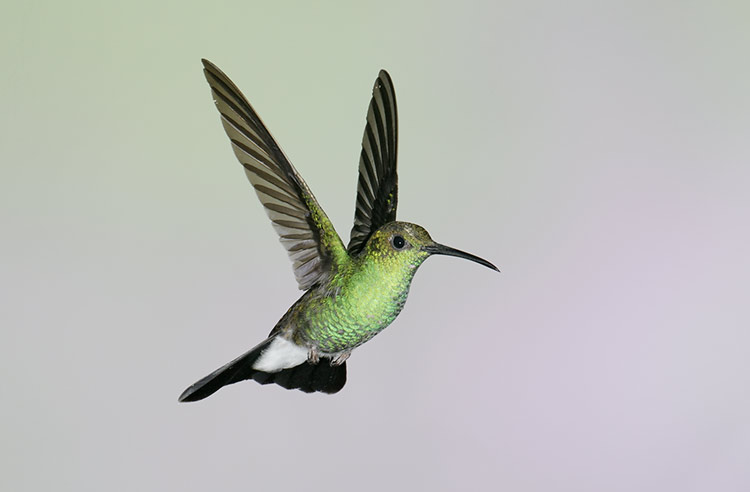 White-vented Plumeleteer, Canopy Lodge, Panama
Image Copyright 2007: Arthur Morris/BIRDS AS ART
Canon 500mm lens with 25mm Extension tube and the EOS-1D MIII. ISO 640. Five flash set-up. Manual mode: 1/300 sec. at f/22.
At times, this species would come in and hover just inches from the feeder for what seemed like forever; this allowed me to capture a great variety of wing positions and poses.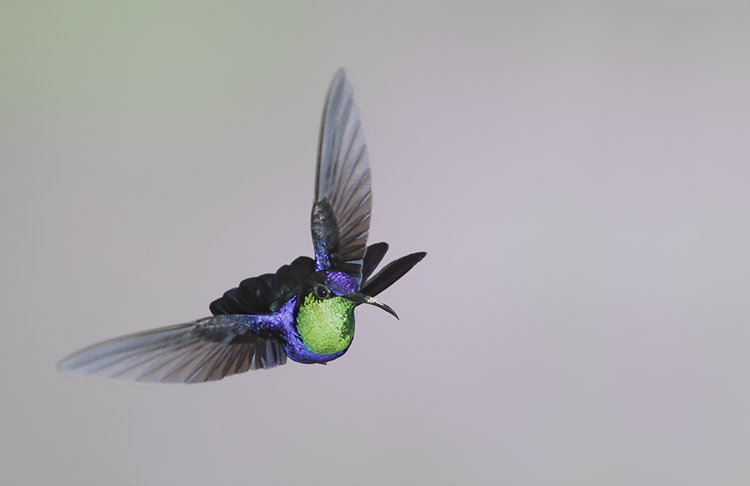 Crowned Wood-Nymph, Canopy Lodge, Panama
Image Copyright 2007: Arthur Morris/BIRDS AS ART
Canon 500mm f/4 L IS lens with a 25mm Extension Tube and the EOS-1D MIII. ISO 640. Manual Mode: 1/300 sec. at f/18. Five-flash set-up. Exposure verified with histogram check.
When processing images like this, it is often necessary to reduce the saturation in the greens and the purples in order to restore highlight detail. In many cases, the first time that I open Levels and hold down the Alt key and the highlight slider, the histogram shows over-exposed highlights. I know that after I reduce the saturation in the super-saturated colors the apparently over-exposed highlights will disappear.
With many of the hummer set-up images, I used Quick Masking techniques to quickly and easily eliminate the feeder (as it often appears in the original image).
To learn to use quick masks click here: http://www.birdsasart.com/aptats.htm
…..
When I arrived at Canopy Lodge the first thing that I did was to check out the famed fruit feeders. There were five or six heavy metal grated platforms mounted to metal posts. All could be easily viewed from the patio adjacent to the restaurant. All of the feeders had several really ugly complex perches affixed to them in one manner or another. Even worse, the backgrounds immediately behind each of the feeders were distracting. At first, I cut away some of the really close background vegetation behind one of the feeders and put two nice perches in place, but that tack was only partially successful. As the birds varied greatly in size, I tried setting up two perches in the middle of the path, one close (for the smaller species), and one farther away (for the larger species. The birds, however, failed to read my mind... The two most attractive species, Rufous Motmot and Chestnut-headed Oropendola, were the largest, so I finally went with the simple set up shown below. I stood relatively close to the set-up in order to photograph for the small and medium-sized (mostly tanagers) birds and simply moved well back when one of the larger birds arrived in the vicinity of the feeders. This proved to be the best strategy for this location.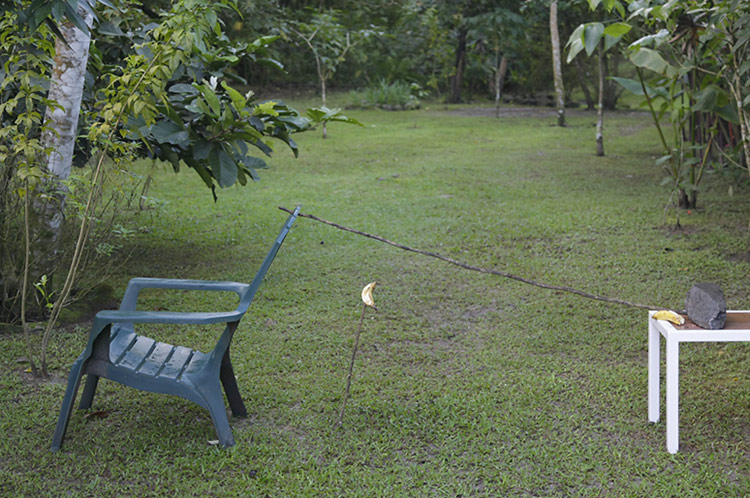 Feeder set-up, Canopy Lodge, Panama
Image Copyright 2007: Arthur Morris/BIRDS AS ART
The main fruit feeder was just to the left and forward of the chair. Both the smaller and larger species would land on the perch and lean down to get a bite of the banana on the stick. At times, we erected a small vertical perch atop the chair with a banana placed near the bottom of the perch. This worked great for the tanagers but when a large bird would come in they would invariably sit on the small perch on the chair where it was impossible to photograph them without including the banana in the frame.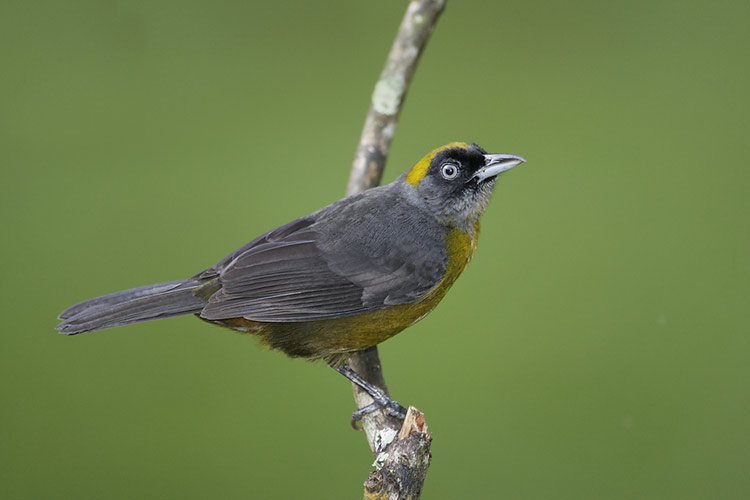 Dusky-faced Tanager, Canopy Lodge, Panama
Image Copyright 2007: Arthur Morris/BIRDS AS ART
Canon 500mm f/4 L IS lens with the 1.4X II TC and the EOS-1D MIII. ISO 1000. Evaluative metering at zero: 1/125 sec. at f/5.6. Fill flash at -3 stops.
This species is an uncommon feeder visitor. This is the perch that we pushed into the slats in the chair. We used the broken branch tip to hold a banana section in place and tried to photograph the birds when they were higher up on the perch s that their toes would not be obscured as they are here. Note the absolutely perfect head-angle.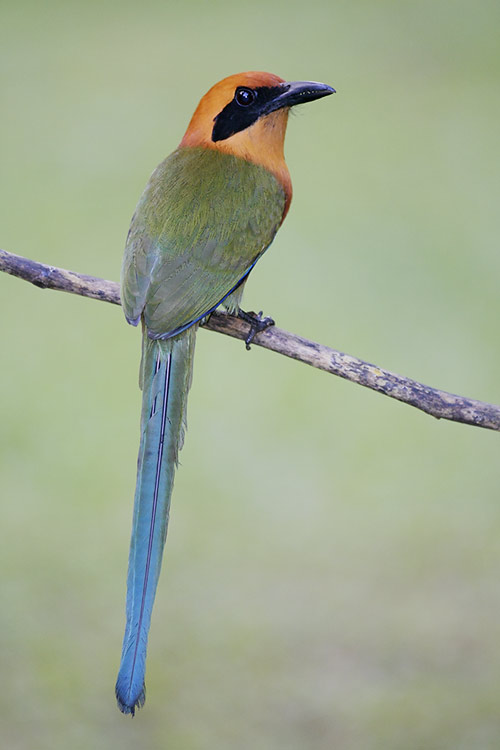 Rufous Motmot, Canopy Lodge, Panama
Image Copyright 2007: Arthur Morris/BIRDS AS ART
Canon 500mm f/4 L IS lens with the EOS-1D MIII. ISO 1000. Evaluative metering +1/3 stop: 1/200 sec. at f/4. Fill flash at -2 stops.
I created the image that I had visualized on my very last morning at Canopy Tower. Success was a result of many hours of fiddling with the set-up and many hours of waiting. I selected the top vertical AF sensor and placed it right on the bird's eye to ensure a sharp image. Notice that with a large, relatively distant subject the entire bird is in relatively sharp focus despite the choice of the wide open aperture.
…..
In addition to the species mentioned above, the following birds came to the fruit feeders during my visit to Canopy Lodge: Clay-colored Robin, Black-striped Sparrow, Tennessee Warbler, Lemon-rumped Tanager, Red-Crowned Ant-Tanager, White-lined Tanager, Palm Tanager, Blue-gray Tanager, Crimson-backed Tanager, Thick-billed Euphonia, and Red-legged Honeycreeper. Seen in vegetation and trees near the feeders were Bananaquit, Rufous-capped Warbler, House Wren, Collared Aricari, Green Thorntail, Rufous-tailed Hummingbird, and the spectacular Rufous-crested Coquette. This tiny hummingbird looked like a hybrid of a Bee Hummingbird and an African Hoopoe; the shaggy crest appeared bigger than the bird itself!
On my last afternoon, I took a walk with Raul and explained the difficulties that I had encountered while photographing on the narrow path by the fruit feeders. He showed me a large open field surrounding by dense tropical vegetation. I explained that the feeders needed to be lower and positioned so that achieving clean (i.e., relatively distant) backgrounds would be easy. Raul plans will begin feeding there a week or two before any photographers or photography groups are scheduled to arrive. If you book a trip for the purpose of photography, be sure to let Raul know in advance. You can e-mail him here: birding@canopytower.com.
At some point in the future I hope to return to Panama with a small group. In the meantime, both Canopy Tower and Canopy Lodge are so rife with great photo opps that any competent photographer who visits would come away with dozens of family jewels-type images. You can contact Raul as above or visit the web sites as follows: Canopy Lodge (http://www.canopylodge.com/) and Canopy Tower (www.canopytower.com).
In closing, I would like to emphasize the following: #1: Those wishing to photograph some of the more difficult species encountered on the daily field trips could spend part of their time photographing at the feeders and part of their time heading afield with one of the great guides. Opportunities on the jungle roads and trails would almost be surely fewer than those at the feeders, but you might very well have some great chances with species that have rarely if ever been well-photographed. (When I return, I shall try not to be so lazy <smile>) #2: While most BAA On-line Bulletin subscribers are interested primarily in photography, I know that there are more than a few birders who subscribe. Do understand that for world listers Canopy Tower and Canopy Lodge are two of the premier birding destinations in the world. At both lodges I ran into a very nice group of men who were very serious birders. On my last day at Canopy Lodge, I discovered that several of them had co-authored a book on the birds of Panama. Even though they had "written the book," each day at lunch and/or dinner found them raving about the new and rare species they had seen that day. #3: Over the course of several days at the two lodges, I encountered a call of eco-tourists that I had not run across before. There were several couples and groups who could best be described as being on a nature vacation. Each of these groups was well-traveled and obviously well off. Some had intermediate telephoto lenses and pro-sumer camera bodies but most had digital point and shoots. They traveled to Panama to see the plants and animals and birds, and every one seemed to be having the time of their life.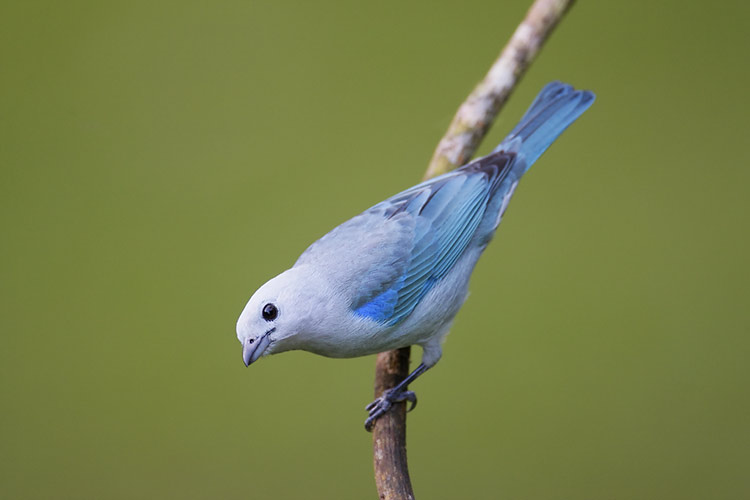 Blue-gray Tanager, Canopy Lodge, Panama
Image Copyright 2007: Arthur Morris/BIRDS AS ART
Canon 500mm f/4 L IS lens with the 1.4X II TC and the EOS-1D MIII. ISO 800. Evaluative metering +1/3 stop: 1/100 sec. at f/5.6.
As the birds looked down curiously at the banana below, they made there way quickly down the branch. The trick was to be able to focus quickly on the eye and make the image ASAP. I tried 45 point but it was not very successful so I chose a sensor to the lower left of the central sensor. This strategy worked much better.
ITEMS FOR SALE
If you would like to be put in touch with a seller offering a Canon 500mm f/L IS lens in mint condition, please e-mail us at birdsasart@att.net. The purchase includes a Wimberley P-40 plate, a LensCoat, the hard travelling case, and the Kinesis XXX-Large Lens Pouch: $5000 firm plus shipping and insurance by cashiers check.
John Zeiss is offering the following:
Canon EF 400mm f/4.0 DO IS USM in mint condition with the CP-42 plate, hard case, and drop in polarizer: $4600 plus shipping and insurance.
Canon EF 100mm f/2.8 Macro USM in mint condition with optional rotating collar and CP-20 long plate: $300 plus shipping and insurance.
Remote Switch RS-80N3: $35 plus shipping.
He will take VISA and MC and will ship quickly to US destinations or international destinations if the individual is legitimate.
Here is John's contact information:
John Zeiss/4th Generation Designs
5626 Glen Avenue, Minnetonka, MN 55345
Tel: 952-949-0289 Fax: 952-294-0364 E-mail: 4gdphoto@comcast.net
PORTLAND, MAINE, "The Art of Nature Photography; It Ain't Just Birds" Weekend Seminar
"The Art of Nature Photography; It Ain't Just Birds" Weekend How-To Seminar in Portland, Maine
October 11-12, 2008
Eastland Park Hotel, 157 High Street, Portland, ME
The October 11-12 date was carefully chosen to coincide roughly with the average peak of fall color in southern Maine. The likelihood is that if you are coming from out of town and would like to photograph the fall color the best bet (taking global warming and the trends in recent years) would be to schedule your photography in the days following the seminar. Every year, however, is different, and this is nature photography so there are no guarantees, but chances are, whether you photograph just before or just after the seminar you should have many chances to create some great images. Best bet: come a few days early and stay on for a few days… (Hint: hope for a pre-dawn rainstorm followed by the sun breaking through in the east while greyish-black storm clouds fill the western sky…)
The seminar will be held at the Eastland Park Hotel. Folks staying at least two nights in the hotel will receive a free Lens Pen Combo Kit at the seminar. As fall color time is peak season in southern Maine, hotel rates are high anywhere in the region. We were able to negotiate a rate of $159 for folks registering early. Once the block of rooms is gone, higher rates will apply. The doors will open on both days at 8 am and the programs will begin at 9 am sharp. There will be tons of great door prizes (including Delkin e-film Pro compact flash cards and some great stuff from Lowepro and Wimberley). I hope that you will be able to join me for what will be an incredibly educational and fun-filled weekend. (If anyone would like to help us set up or to hang out, be there at 7:00am.)
This seminar is for all nature photographers who want to learn how to make better photographs. On Saturday I will describe the methods and techniques that I have developed and used since 1983. My comments on equipment (including and especially digital equipment), autofocus, light, and on composition and image design, and my tips on getting close to free and wild subjects and creating pleasing blurs will benefit everyone with a telephoto lens who wishes to dramatically improve the quality of their images. Since going all-digital in November 2002, I have--in short order--become a digital photography and Photoshop expert. My approach to optimizing images is to create a master file of excellent quality in the shortest possible time. I will share our workflow and numerous Digital and Photoshop tips on Sunday. As more and more folks are using Digital Capture, I am finding on our IPTs that many good to excellent photographers have no clue as to how to use Photoshop to make their images look better. In fact, many of them make their best images look worse! My workflow is designed to quickly produce master files of high quality. I can and will teach you to do just that at this seminar.
The cost of the weekend seminar will be $169. The cost of either single day will be $99. Members of qualifying camera clubs are invited to apply a $10 discount. (If you are a member of a camera club or other photography organization please e-mail us before registering to learn how your group can become a qualifying club). Register with a friend or a spouse and take $10 off each registration. Register in groups of four or more and take $20 off of each registration. Register in a group of ten or more and take $30 off each registration. It is highly recommend that folks purchase the buffet luncheon option ($15/day includes tip and tax). Those purchasing the lunch option will receive their lunch coupon when they check in each morning.) The cost of the weekend seminar plus the two lunches is $199.
To register, send a check for the full amount made out to "Arthur Morris" to PO Box 7245, Indian Lake Estates, FL 33855, call with a credit card: 863-692-0906, or send a PayPal (using either any link on our site or your PayPal account) to us at birdsasart@att.net In all cases, we will need your e-mail address, your mailing address, and your daytime and evening phone numbers. Here is our Cancellation Policy: If for any reason you need to withdraw, please notify us ASAP. Once we receive your e-mail, phone call, or written notice of your cancellation the following fees apply: cancel before July 10, 2008 and your fee will be refunded less a $20.00 cancellation fee; cancel by August 10, 2008 and your fee will be refunded less a $50.00 cancellation fee; cancel after September 10, 2008 and there will be no refund.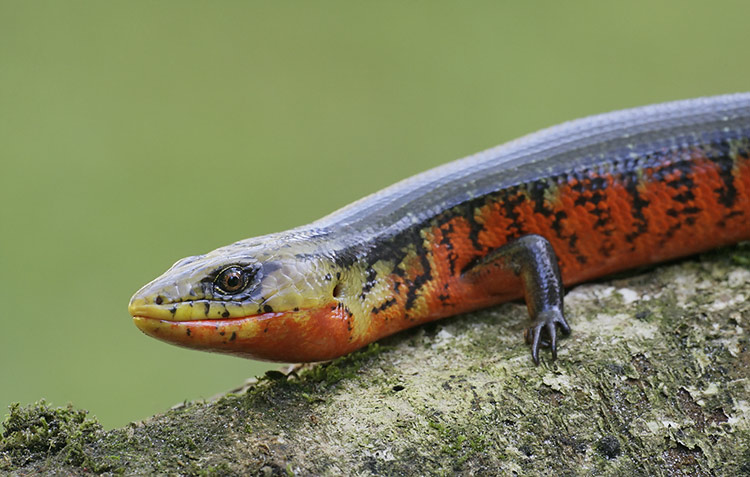 Coral Scorpion Lizard (Diploglosus monotropis), captured specimen, Canopy Lodge, Panama
Image Copyright 2007: Arthur Morris/BIRDS AS ART
Canon 500mm f/4 L IS lens with the EOS-1D MIII. ISO 1600. Evaluative metering +1/3 stop: 1/80 sec. at f/8.
The guides captured this very rare species with great difficulty (using heavy gloves); it had powerful jaws and when it bit, it did not let go. Later they posed it for me (also with great difficulty). The lizard, which is not poisonous, was donated to the local serpentarium. The staff members and guides were expert at finding and capturing a variety of other really cool little creatures that were released after being photographed. And remember, it ain't just birds!
Best and love and great picture-making to all,
artie
Note: Arthur Morris has been a Canon contract photographer since 1996 and continues in that role today. Hunt's Photo of Boston, MA is a BAA sponsor as is Delkin Devices. Back issues of all BAA Bulletins can be found in the Bulletin Archives which may be accessed from the home page at www.birdsasart.com