BIRDS AS ART BULLETIN #255
February 15, 2008
Visit www.birdsasart.com
La Jolla CLIFFS CONTINUED
La Jolla CLIFFS HELP NEEDED
BIG LENS TRIPOD-HEAD REPORT FOLLOW-UP
LESSON ON WORKING A SUBJECT
PHOENIX PROGRAM & IN THE FIELD WORKSHOP
BIRDPHOTOGRAPHERS.NET/IT AIN'T JUST BIRDS UPDATE
LENS PEN KUDOS
GRANDE TOURS
Contact us by phone at 863-692-0906 (Eastern Time Zone) or by e-mail at birdsasart@att.net or @verizon.net. The att e-mail address is best from overseas.
We gladly accept credit card orders by phone 8am till Eastern Time ( till Fridays).
You can use the PayPal links on the web site to order anything. Just type in the item(s) and the amount. If using your own PayPal account, please send to either of the e-mail addresses above.
Note: maximize this e-mail for best formatting.
Photographic theme: Assorted image.
Important Request: if responding to this e-mail, please take the time to delete all images and all irrelevant text.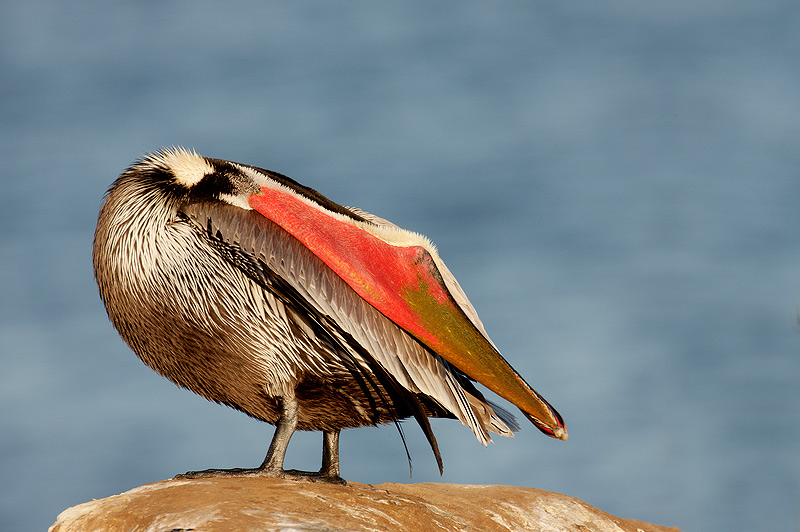 Brown Pelican, preening face on back, La Jolla, CA
Image Copyright 2008: Arthur Morris/BIRDS AS ART
Canon 500mm f/4 L IS lens with the 2X II TC and the EOS-1Ds Mark III. ISO 400. Evaluative Metering +1/3 stop: 1/320 sec. at f/10 set manually.
.
If the new signs are legitimate it will be impossible to get a good sun angle from behind the wooden fence… It is rare for an image to be successful without the eye being visible but with that bright red bill showing so well, this one works for me.
La Jolla CLIFFS CONTINUED
Dozens of folks responded to the piece on the new sign at the pelican cliffs in LaJolla and many of them sent the info below on SDMC 52.30.1. I do not have the time to respond and thank each of them individually and am doing so here (as part of a short Bulletin). Thanks for caring! First to respond was Bob Allen (Bug Bob to his friends). Here is what he wrote:
Hi Artie, San Diego Municipal Code 52.30.1 is a no trespassing ordinance in the city of San Diego. See: http://docs.sandiego.gov/memooflaw/ML-88-49.pdf The relevant portion is:
Sec. 52.30 No Trespassing Signs -- Posting Authorized
Any person, firm or corporation, governmental agency, department or instrumentality having possession or control, of any of the facilities, plants or utility properties enumerated in section 52.30.1 hereof, may post . . . signs. . . . displaying prominently . . . the words "Trespassing -- Loitering -- Forbidden by Law. . . ."
Sec. 52.30.1 SAME-- POSTING--WHERE PERMITTED
The places which may be so posted are the following: a) Every airport, and every plant, field and structure used for the manufacture, assembling or testing of aircraft; (b) Every tank-farm, refinery, compressor-plant or absorption (sic) plant, marine terminal, pipe line, pumping station and reservoir, used for the bulk treatment, bulk handling or bulk storage of petroleum or petroleum products; (c) Every reservoir, dam, pumping station, aqueduct, main canal or pipe line, or a public water system; (d) Every reservoir, dam, generating plant, receiving station, distributing station and transmission line of a company or agency furnishing electrical energy; (e) Every gas generating plant, compressor plant, gas holder, gas tank, and gas main used for the production, storage and distribution of gas; (f) Every plant or vital part thereof or other principal property essential to rendering telephone or telegraph service; (g) Every radio broadcasting central plant or station; (h) Every railroad bridge or tunnel; (i) Every plant for the bulk storage of dynamite, giant power, gun power, or other explosive.
Note that pretty much anyone can use that authority to post such a sign. The sign in the photo doesn't tell who posted it. Bob
I wrote back: Hi Bob, Veddy interesting. For years I have heard that one of the nearby business the does not want folks on the cliffs… It would seem that the next step is to see who owns the property… If a business-owner posted the sign he may have posted the new sign on property that is NOT his hoping that nobody would notice. Any ideas on who owns it? I strongly doubt that the guy local business owner does! Thanks for doing the homework. A few years ago I e-mailed city officials from the web site. Nobody bothered to answer… The scenario above might explain the lack of enforcement… Later and thanks again and love, artie
Bob responded:
Hi Artie, That's exactly my thought - the local business owner. I just didn't want to speculate in my earlier note without checking it out first. I know lots of serious birders/photographers in that area and will check with them, then let you know. California law provides for access to the entire coastline. That really irks people like Hollywood actors who buy a house on the beach and run fences right into the surf to keep people off of "their beach"! They get cited and have to remove them, but put them back up when they can. I imagine that La Jolla Cliffs falls under that coastal access provision (and thus, the sign may be posted illegally), but I am no lawyer. I just returned from a college field trip where we took the students to see elephant seals in San Simeon (George Lepp's former stomping grounds). The Hearst Corporation owns a huge stretch of coastal central California, from mountains to shore, and has it all fenced off. However, state law allows us to hop the fence and get to the beach to check out the plants & critters. The California Marine Mammal Act requires everyone to stay at least 50 feet away from protected mammal species such as elephant seals (they patrol and ticket for violations). Not sure if there is a distance requirement for birds. Brown Pelicans are a listed, protected species: formally listed by both US Fish & Wildlife Service and California Fish & Game as Endangered. See: http://www.dfg.ca.gov/biogeodata/cnddb/pdfs/TEAnimals.pdf
So, a case might be made that the no trespassing sign is protective of the birds under Calif law. However, in that case, the code listed on the sign would cite federal and/or state law, not just a city ordinance. Thus, the sign was certainly posted by neither US Fish & Wildlife Service nor California Department of Fish & Game. The San Diego ordinance exists to prevent people from entering private or government-owned property. I am almost positive that the La Jolla cliffs are part of the California coastline, and thus are public property open to anyone. But, again, I am no lawyer. I'll keep you posted. Take care! BB
That all pretty much made sense to me until I received this e-mail from Shawn Olesen:
On Saturday morning, 7 00am, February 9th a park ranger came down to the cliffs and told the photographers to get behind the fence. I was just coming down the path and had not set up yet so I did not hear it from him directly. The other photographers said he referenced the ordinance and future fines for trespassing… If the park rangers enforce the ordinance photographic opportunities at the site will be greatly reduced. I doubt that I would continue to make the trip from Seattle. Shawn
I wrote several folks asking exactly what type of uniform the "park ranger" was wearing.
Bob Allen wrote: That area is not part of a park, to my knowledge.
Phil Colla wrote: A "park ranger"? I've never heard of a "park ranger" in the La Jolla area. Cops and lifeguards, yes, those guys are in La Jolla constantly, but the nearest park rangers that I can think of are all the way over in Torrey Pines State Park 5 miles as the crow flies. Do you know the folks that were hassled?
Chuck Loftis sent a e-mail with a copy of a letter that he will be sending to the mayor of San Diego and also provided his e-mail address for me. I asked him to hold off for just a bit so that we might try to find out what the situation there actually is…
If you have read this far, please see item next.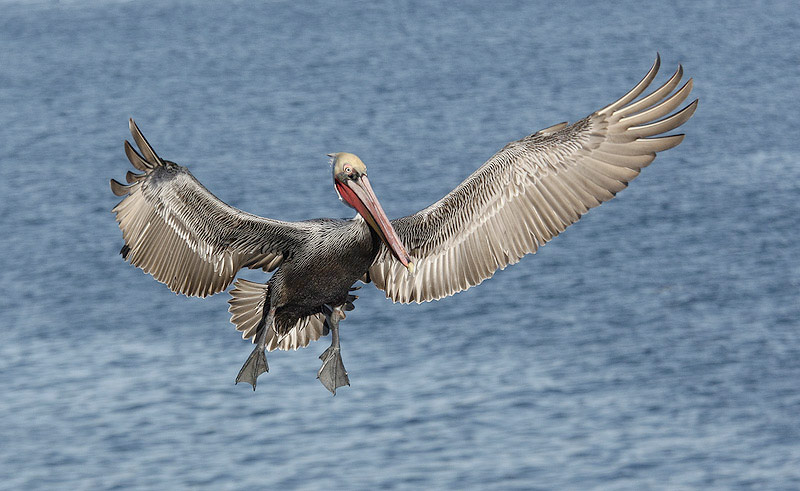 Brown Pelican braking to land, La Jolla, CA
Image Copyright 2008: Arthur Morris/BIRDS AS ART
Canon 70-200mm f/4 L IS lens with the 1.4X II TC (handheld at 154mm) and the EOS 1D Mark III. ISO 400. Evaluative Metering +1/3 stop: 1/1250 sec. at f/6.3 set manually.
.
With birds landing right in front of you the 70-200 f/4 with the 1.4X TC is a great tool. It small size and light weigh make it easy to handle.
La Jolla CLIFFS HELP NEEDED
If you live in or visit San Diego often I am asking for your help. Below are the specifics:
1- If anyone is able to find out if there has been an ordinance concerning the LaJolla Cliffs in place or if one has been enacted recently, I would love to hear from you via e-mail.
2-If anyone is questioned by any authorities while photographing at the cliffs, please ask them politely about the ordinance and try to get some contact information for the agency that they represent. And please do the same if you see anyone with a uniform on the cliffs. Please—of course—be cordial. Again, I would love to hear from you via e-mail.
3-If there are any San Diego lawyers who are nature photographers we would appreciate your sending any comments or the results of any research that you might do via e-mail.
Thanks for considering these requests. The La Jolla Cliffs are a nature photographer's treasure. To lose access to them would be unfortunate at best.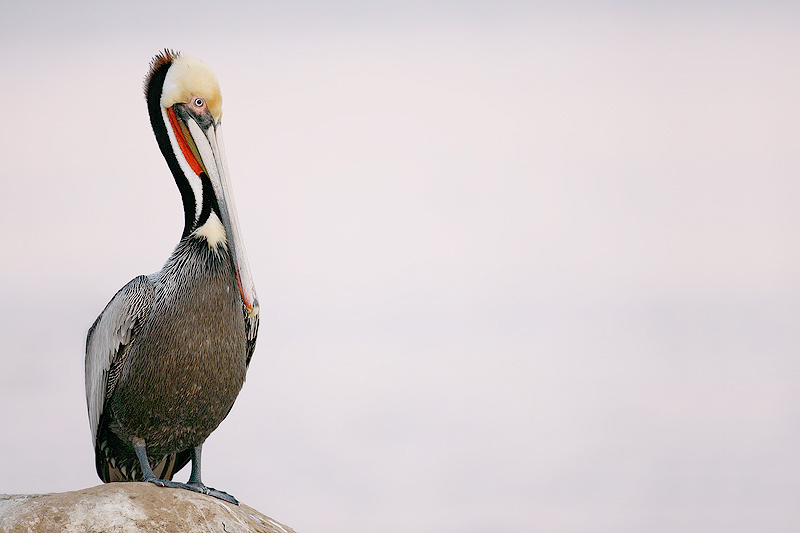 Brown Pelican in pink, pre-dawn light, La Jolla, CA
Image Copyright 2008: Arthur Morris/BIRDS AS ART
Canon 500mm f/4 L IS lens with the EOS 1Ds Mark III. ISO 800. Evaluative metering +1 2/3 stops: 1/200 sec. at f/.4. Gitzo 3530 LSV CF tripod and Mongoose M 3.5 head.
I love getting to LaJolla very early but as noted in Bulletin 253 you need to be extra careful this year as the birds are very skittish. Here I used One-Shot AF, focused on the bird's eye, and recomposed so that I could place the bird well out of the center. To learn more about Advanced Composition and Image Design check out the Art of Bird Photography II (916 pages on CD only): http://www.birdsasart.com/ABPII.htm
BIG LENS TRIPOD-HEAD REPORT FOLLOW-UP
From John Afdem via e-mail: Hey Artie, I've a minor critique on one of the images in your latest newsletter. I noted that the head angle was just perfect in most images except for the one of the Mongoose M3.5 Action head; I think you should have waited for the tripod to turn just an itsy bitsy tad before you pulled the trigger. That's what I would have done, anyway!! '-) Seriously, thanks for another great newsletter; I've gotten more value out of your newsletters, BAA, guides, etc than any other resource I've tried. I love ya, even with a nit or two. John Afdem
I wrote him back as follows: Hi John, I was not too happy with that head angle either… The head would just not respond to my squeaking… Later and love, Artie
Charles Ham wrote asking: Would you choose the M35 when using the Canon 400/4 DO? Thank you.
I responded: Yes, the M3.5 is best for the 400 DO lens. I should have mentioned that. Later and love.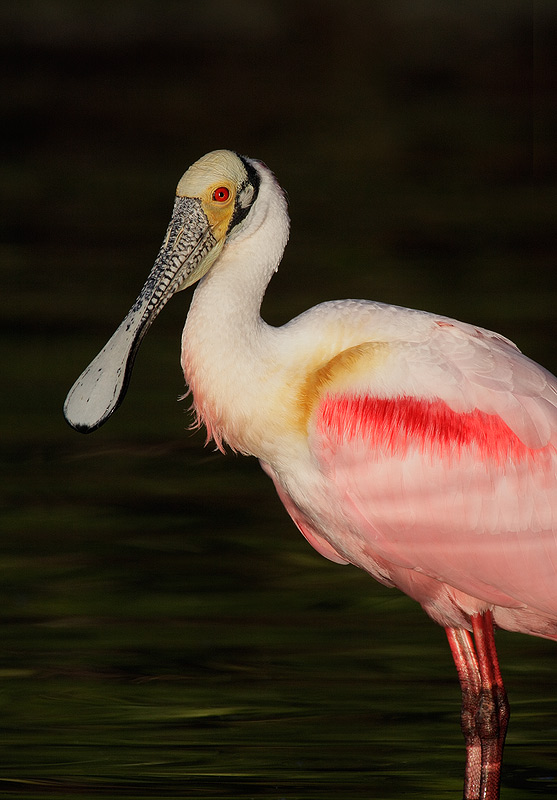 Roseate Spoonbill, breeding plumage, front-end vertical portrait, Alafaya Banks, Tampa Bay, FL
Image Copyright 2008: Arthur Morris/BIRDS AS ART
Canon 500mm f/4L IS lens with the 2X II TC and the EOS-1D MIII on the old Wimberly head atop a Gitzo CF 3530 LSV tripod equipped with a set of Tripod Condoms. ISO 500. Evaluative metering -2/3 stops: 1/1250 sec. at f/11.
.
I created this image on the morning of FEB 14 on the maiden voyage of James Shadle's new pontoon boat, Hooptie Deux. The spoonies are getting prettier each week. The next month will feature birds in mega breeding plumage. Short-notice reservations are fine: james@wildflorida.net. I added a sliver of canvas in front of the bird; otherwise this image is pretty much as it was when it came out of the camera...
Most of the birds were very close to the mangroves. Even in early morning light, mangrove roots, many covered with oyster shells, are U-G-L-Y. With this image in mind, I approached slowly and even more slowly. Everyone else stayed well back in order to try for some flight images. My goal was to get close enough to be able to point the lens a bit down at the birds and eliminate the ugly background. Once I got close, the bird was too large in the frame for a horizontal so I went with the vertical front-end composition that l sort of pioneered in The Art of Bird Photography." I advised, "Give it an inch behind the legs." It works especially well here as all of the carmine-red scapulars are included. If I had made an image of the whole bird the viewer would be deprived of the amazing feather and bill detail, especially the saffron yellow at the bend of the wing and the incredible India ink markings on the bill. In addition, the bright oyster shells would have been quite distracting at the top of the frame. And remember, "cut don't clip." That is why I "cut" the legs where I did, just below the ankle joint--yes, the ankle.

Lastly, this bird is not in full breeding plumage. In two weeks many will have bright lime green heads and more saffron yellow feathers on the breast.
LESSON ON WORKING A SUBJECT
I created all three of the Wild Turkey images below from the car using a BLUBB (Big Lens Ultimate Beanbag) for support. With all three images I made sure that I was right on sun angle and I used my Hama Double Bubble Level to make sure that I was square to the world. The turkeys at Indian Lake Estates are relatively tame and I could have gone right in for a head portrait right off the bat, but I liked the wildflowers so I went wide for the environmental portrait, the first in the series.

Then I moved in closer and made the second image, the vertical head and breast portrait, making sure to include the spiffy black beard on the tom's chest.

Then I played the Wild Turkey call on my i-pod with a device that transmits to the vehicle's FM radio. As expected, they became curious and walked slowly up to the car. I replaced the 1.4X with the 2X TC and made the third image, the tight vertical head portrait.

By varying the distance to my subject (in this case by moving my vehicle) and by varying the effective focal length (by adding or subtracting teleconverters) it was possible for me to come up with a pleasing variety of totally different images all while working the same situation.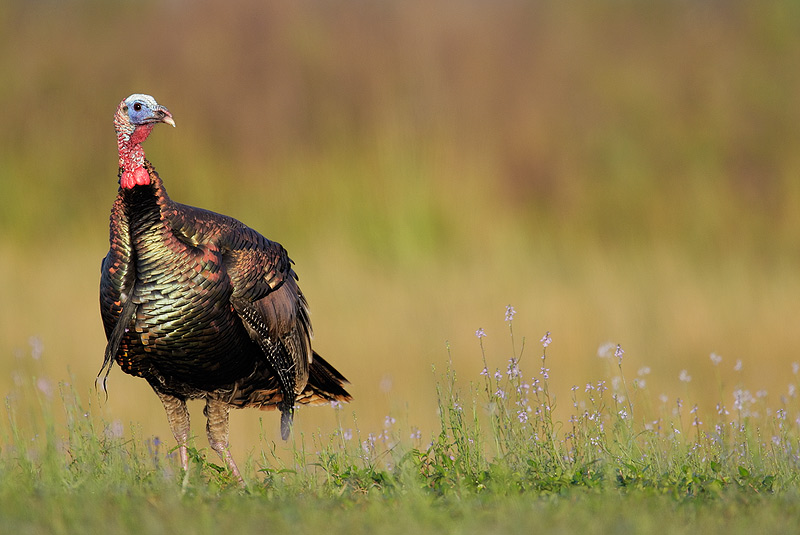 Wild Turkey with wildflowers, Indian Lake Estates, FL
Image Copyright 2008: Arthur Morris/BIRDS AS ART
Canon 500mm f/4 L IS lens with the 1.4X II TC and the EOS 1D Mark III. ISO 400. Evaluative metering +1/3 stop: 1/800 sec. at f/6.3.
Rig supported by BLUBB (http://www.birdsasart.com/blubb.htm) on car window with Hama Double Bubble Level.
When working off a large beanbag on the car window your head will inevitably not be square to the viewfinder as you will be bending over to some degree. I place the bubble level in the hot shoe of the camera to ensure that I will not need to rotate the image in Photoshop: http://www.birdsasart.com/accs.html#BUBBLE
Be sure to use the bottom bubble for horizontal images and the top bubble for verticals.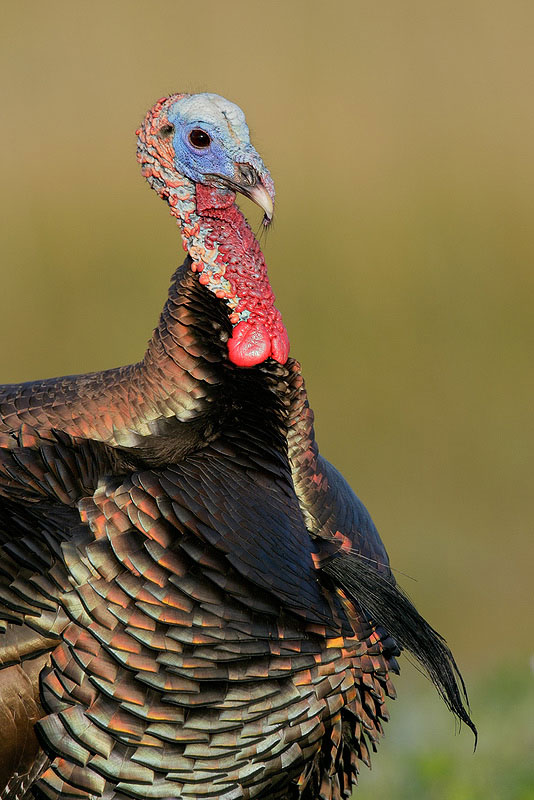 Wild Turkey, head and breast vertical portrait, Indian Lake Estates, FL
Image Copyright 2008: Arthur Morris/BIRDS AS ART
Canon 500mm f/4 L IS lens with the 1.4X II TC and the EOS 1D Mark III. ISO 400. Evaluative Metering +1/3 stop: 1/500 sec. at f/8 set manually.
Rig supported by BLUBB on car window with Hama Double Bubble Level.
Here I went to manual mode to prevent the darkest areas of the turkey's plumage from overexposing the nearly white head. I wanted to create a mid-range image to best show the beauty of the orange and green breast feathers.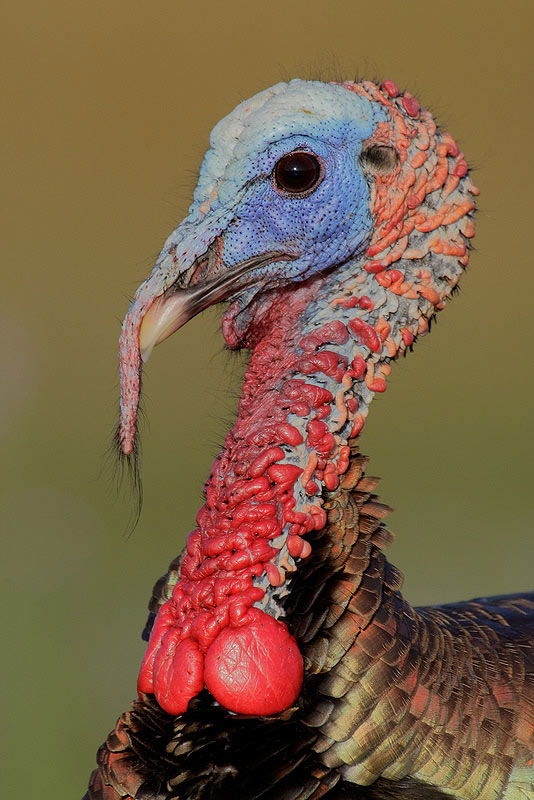 Wild Turkey, vertical head portrait, Indian Lake Estates, FL
Image Copyright 2008: Arthur Morris/BIRDS AS ART
Canon 500mm f/4 L IS lens with the 2X II TC and the EOS 1D Mark III. ISO 400. Manual Mode: 1/400 sec. at f/11 (confirmed by histogram check).
Rig supported by BLUBB on car window with Hama Double Bubble Level.
Here I went simply wanted to show the amazing detail of the face and the neck. Do note the perfect head angle. Each image is pretty much as is out of the camera. As described in Digital Basics (http://www.birdsasart.com/digitalbasics.htm) I did both Levels and Hue-Saturation Adjustments. With the latter, which I did first, the Master SAT was increased 8 points and then the red SAT was reduced 16 points to increase the detail in the brightest reds.
PHOENIX PROGRAM & IN THE FIELD WORKSHOP
I am doing a one-day seminar for the Digital Imaging Group on Saturday, March 8th, 2008. There is still just a bit of room on Saturday. There are two In-the-Field Workshops scheduled as below. There is one opening for the Sunday I-T-F W. You can e-mail DIG as follows for info on the Saturday seminar: Chuck Williams at Chuckwill@cox.net, Howard Wood at woodpileimages@cox.net , or Lynn Thompson at lyn2th@aol.com.
Friday March 7, 2008 1-DAY (Limit: 6/Sold Out): $400/person
Sunday March 9, 2008 1-DAY (Limit: 6/Openings: 1): $400/person
Each ITF-W Day shall consist of a morning and an afternoon three-hour photography session at locations to be determined. Bring your laptop for image-sharing at lunch.
Registrations may only be made by phone directly through BIRDS AS ART. To register for the Sunday Phoenix ITF-W call us at 863-692-0906 with a credit card during business hours. Be sure to have your e-mail address handy.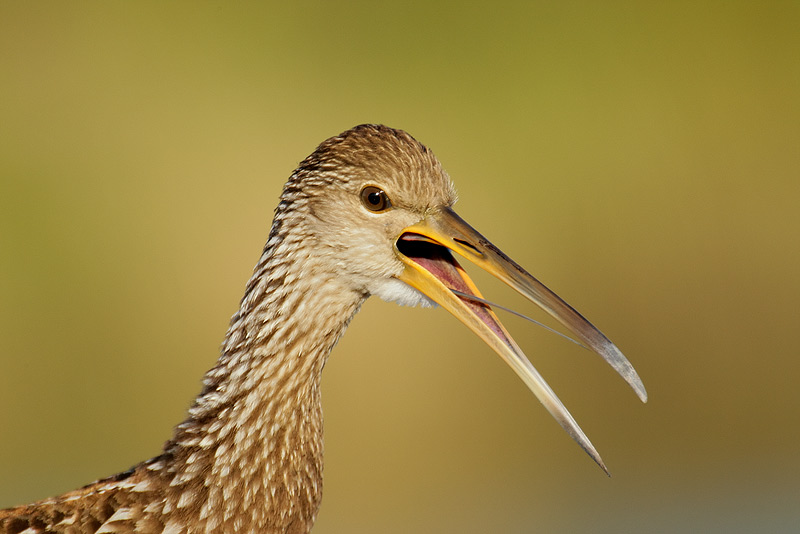 Limpkin calling, Indian Lake Estates, FL
Image Copyright 2008: Arthur Morris/BIRDS AS ART
Canon 500mm f/4L IS lens with the 2X II TC and the EOS 1D MIII. Evaluative Metering + 2/3 stop: 1/400 sec. at f/10.
.
As part of my slowing down and relaxing more program I have been going down to the lake for an hour to photograph most mornings. I was not happy with the backgrounds from the front seat of my Sequoia so I got out and put the lens on the Mongoose above the 3530 LSV and created the image above. The distal end of the upper mandible is worn from being inserted into too many snails!
BIRDPHOTOGRAPHERS.NET/IT AIN'T JUST BIRDS UPDATE
With at least 199 views and 21 substantive comments, this is one amazing thread: http://www.birdphotographers.net/forums/showthread.php?t=4854
Check out Adam Serra's killer male Painted Bunting here: http://www.birdphotographers.net/forums/showthread.php?t=4851
Moderator Judd Patterson's Everglades sunrise is a stunner: http://www.birdphotographers.net/forums/showthread.php?t=4821
Keith Kennedy's Chinese Mantis in the Macro forum is absolutely charming. Yes charming: http://www.birdphotographers.net/forums/showthread.php?t=5004
Here are two way-cool digital creations from the Out of the Box forum: Paul Lagasi's Red-tail composite here: http://www.birdphotographers.net/forums/showthread.php?t=4758 and Michael Pancier's Happy Valentine's Day here: http://www.birdphotographers.net/forums/showthread.php?t=4935
You can meet two BPN principals at "Darth and BeePNogie !!!" here: Darth and BeePNogie !!! Darth is one of Froggie's, I mean James Shadle's many nicknames. As for BeePNogie, you will have to see him/it for yourself.
Lastly, take a gander at Howard Burkett's majestic moose here: http://www.birdphotographers.net/forums/showthread.php?t=4790
This just in: there are two spectacular new flight images in Avian Free & Wild: Chris Van Rooyen's spectacular Jackal Buzzard here: http://birdphotographers.net/forums/showthread.php?t=5188 and John Harper's equally spectacular Red Kite here: http://birdphotographers.net/forums/showthread.php?t=5117.
BirdPhotographers.Net/It Ain't Just Birds (www.BirdPhotographers.Net) has quickly become the number one educational and critiquing web site on the planet and is aiming to improve. A quick visit to any of the galleries will reveal that our philosophy of "honest critiques done gently" and leading by example are succeeding quite well. (If you are a first time visitor, you will be prompted to register. Registration is free. Folks who will be using our image hosting services or otherwise wish to support our efforts are invited to become members by clicking here: http://www.birdphotographers.net/forums/membership.aspx). Though membership is free up until April 1, 2009, more than 375 folks have already shown their support for BPN by joining as members ($20 annually).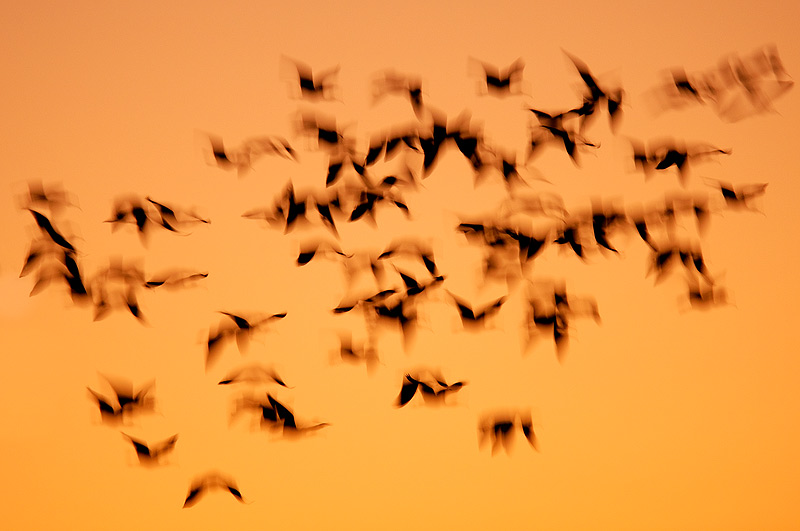 White Ibis sunrise blur, Alafaya Banks, Tampa Bay, FL
Image Copyright 2008: Arthur Morris/BIRDS AS ART
Canon 400mm f/4 DO IS lens (handheld) with the EOS 1D Mark III. ISO 500. Evaluative metering +1 stop: 1/30 sec. at f/4.
.
I created this intentional blur on my last trip on the original Hooptie on the last day of January. Setting the color temperature to 9000 or so Kelvin helps to enhance sunrise colors (thanks as always Robert O'Toole). Do remember to re-set it as desired once the sun comes up…
LENS PEN KUDOS
Hi Jim & Artie,
I've been conducting digital photography classes for new digital camera users for the past 8 years. Most of my students are still using digital point and shoots so moving up to a digital SLR is a significant step. To them, the idea of cleaning the AA filter is "FM" (freakin' magic) as in they're freaked out and think it's magic. I've refrained from recommending the wet method that I've used for many years (Eclipse, PecPads and home-made popsicle stick spatulas) due to concerns about liability and too much hand-holding. When I read about Robert O'Toole's LensPen method in a BAA Bulletin a while back I thought it sounded good but wasn't about to give up the time, effort and money I had invested in learning the wet method. I did, however, recommend it to students, violating a cardinal rule to never recommend something I hadn't personally tried myself. Recently, I was drawn into a forum discussion (read that as "argument") about the relative merits of an expensive AA cleaning tool whose cost and benefits had always struck me as ephemeral as dollars fluttering away in the wind. During the discussion, it struck me that I was recommending a product (LensPen) that I had never used. I was appalled and vowed to immediately rectify the situation.
I ordered a LensPen Combo and Giottos Rocket-Air blower (large) from BAA. I set the exhaust of a small hand-held vacuum cleaner near an old Canon 10D with the lens removed. After a few seconds I took a test shot which looked as if a vacuum cleaner bag had been emptied into the camera. I cleaned the sensor with the Rocket-Air blower and LensPen and took a test shot but didn't yet review the image. I repeated the vacuum cleaner trick and cleaned the AA filter with my tried and true wet method and took another shot.
Amazingly, the test image from the LensPen cleaning was better than the test image from the wet method cleaning. While AA filter cleanliness is the bottom-line test, the advantages of the LensPen are its ease-of-use, simplicity, and cost. While the wet method works well, it's a hassle to ensure that all the streaks are gone. Also, wrapping a PecPad just-so around the spatula is time consuming. Because methanol, the active ingredient in Eclipse, is hygroscopic, I often replace a near full bottle each year with a new bottle. Finally, methanol has been found to be harmful to newer tin-oxide coated sensors. LensPens avoid all the disadvantages of the wet method without introducing new problems as long as folks follow all the instructions.
I may not be from Missouri but I don't believe anything I hear and only half of what I see. The LensPen Method by Robert O'Toole is by far the fastest, easiest and most cost-effective method of cleaning my dSLR AA filters that I have found to date. I can now recommend the LensPen from BAA (including the proprietary instructions) to all my students without hesitation. I will never again recommend something that I have not tried myself because I may be missing out on a good thing. LOL Lee Otsubo
You can learn more about the Lens Pen Kit, the Giottos Rocket Blower, and the Tetenal Microfibre lens cleaning cloth here: http://www.birdsasart.com/lenspens.htm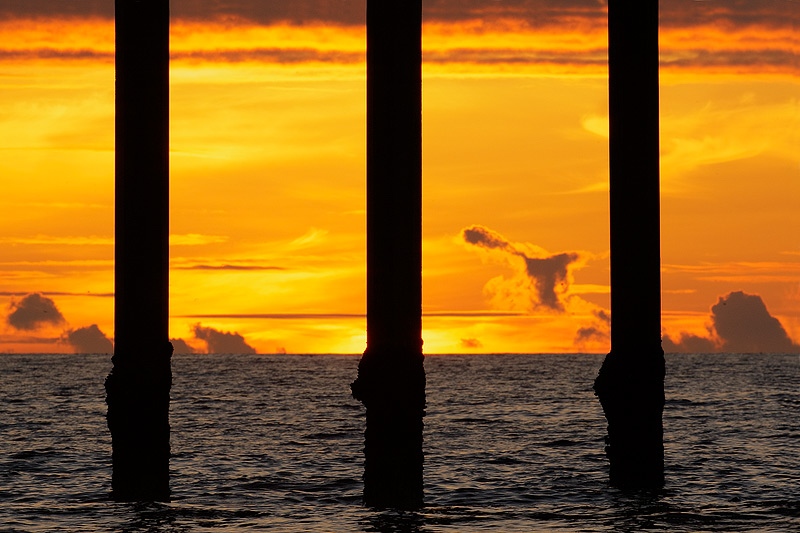 Pier at sunset, San Diego, CA
Image Copyright 2008: Arthur Morris/BIRDS AS ART

Canon 500mm f/4L IS lens with EOS-1D MIII. ISO 400. Evaluative metering +1 stop: 1/125 sec. at f/16. Gitzo 3530 LSV CF tripod and Mongoose M3.5.
The graphic patterns of the pilings of this big pier out in San Diego caught my eye at sunset.
GRANDE TOURS
If you are or will be photographing in Southwest Florida, especially if you will be spending a morning at the Venice Rookery, you should book a late afternoon sail with Captain Marian Schneider, or better yet, get a group together and take advantage of the lower rates. The White Pelicans are thick as thieves right now. You can visit the Grande Tours web site here: http://www.grandetours.com/ Be sure to check out the photography links. You can contact Captain Marian here: captmarian@grandetours.com or here: MulletsMa@aol.com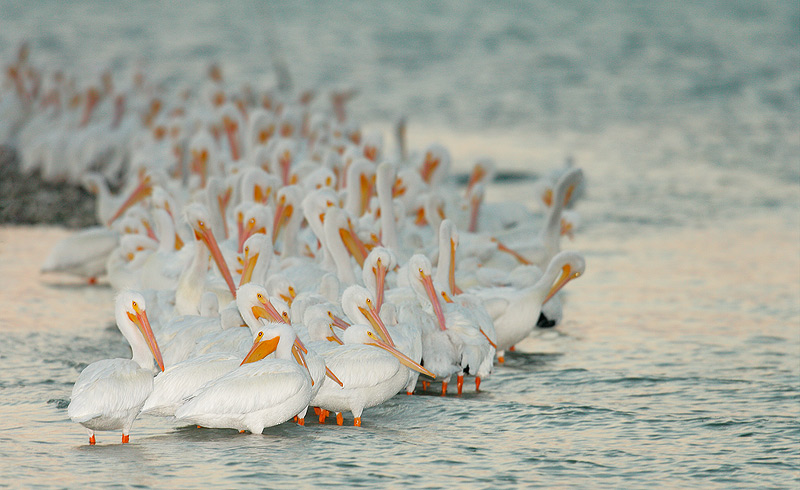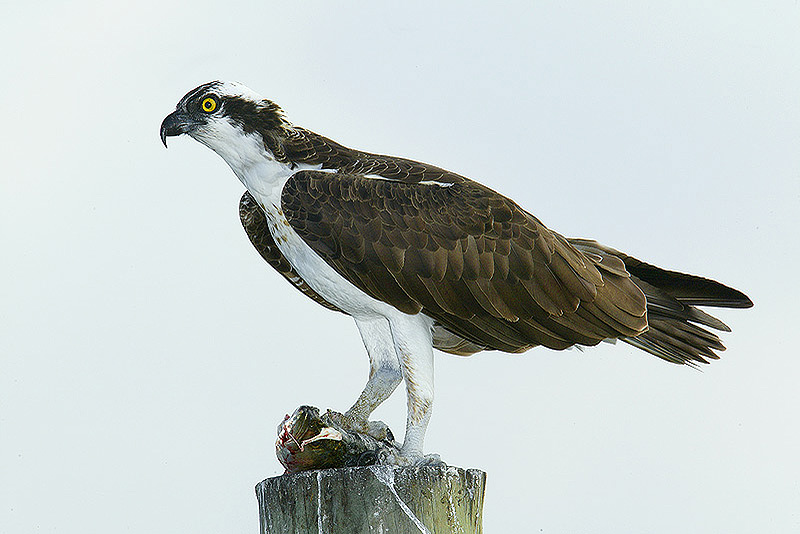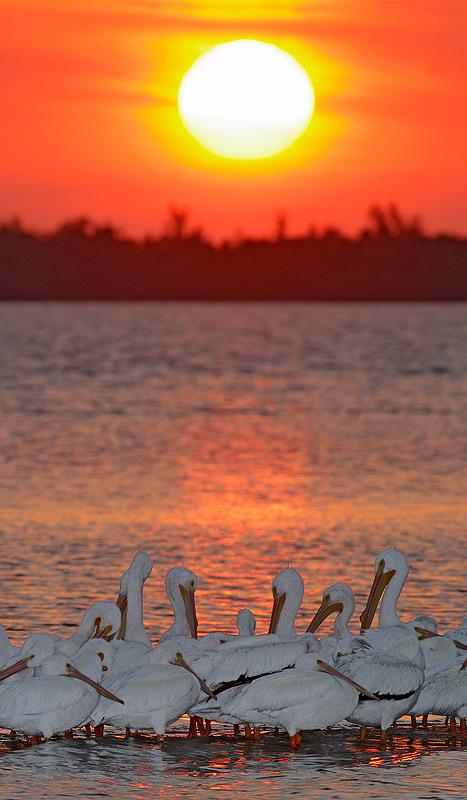 Grande Tours images, Gasparilla Bay, Placida, FL
Image Copyright 2008: Arthur Morris/BIRDS AS ART
The three images above were created on voyages with Captain Marian Schneider. Thanks Marian!
…..
Best and love and great picture-making to all,
artie
Note: Arthur Morris has been a Canon contract photographer since 1996 and continues in that role today. Hunt's Photo of Boston, MA is a BAA sponsor as is Delkin Devices. Back issues of all BAA Bulletins can be found in the Bulletin Archives which may be accessed from the home page at www.birdsasart.com