APRIL 21, 2008
Visit www.birdsasart.com
MORE ON THE NY/NJ/SC TRIP
CNPA ANNUAL MEETING
ABP II REVIEW
DELKIN FLASH CARDS/PRICES SLASHED
BREEZEBROWSER/DOWNLOADER PRO COMMENTS
PORTLAND, MAINE, "The Art of Nature Photography; It Ain't Just Birds" Weekend Seminar
Contact us by phone at 863-692-0906 (Eastern Time Zone) or by e-mail at birdsasart@att.net or @verizon.net. The att e-mail address is best from overseas.
We gladly accept credit card orders by phone 8am till 7 Eastern Time ( till Fridays).
You can use the PayPal links on the web site to order anything. Just type in the item(s) and the amount. If using your own PayPal account, please send to either of the e-mail addresses above.
Note: maximize this e-mail for best formatting.
Photographic theme: More images from my recent SUV trip.
Important Request: if responding to this e-mail, please take the time to delete all images and all irrelevant text.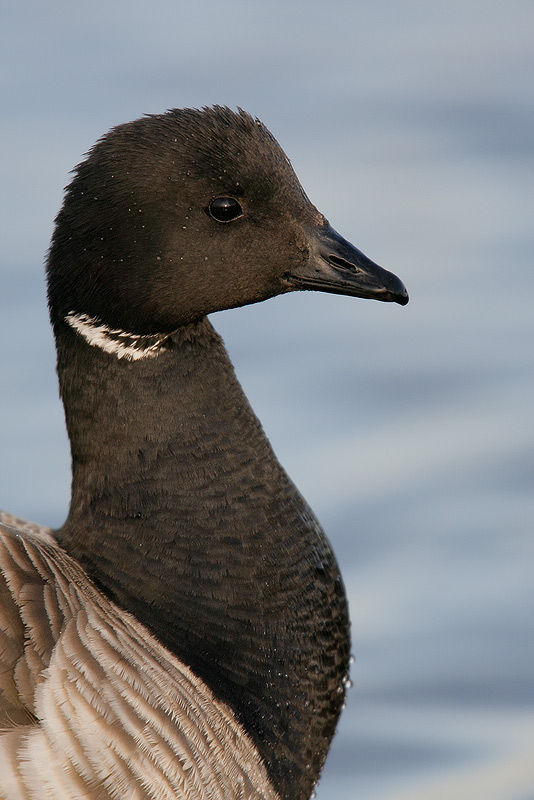 Brant, Jamaica Bay WR, Q, NY
Image copyright 2008: Arthur Morris/BIRDS AS ART
Canon 600mm f/4L IS lens (on Wimberley V2 head/Gitzo 3530 LSV CF tripod) with the 1.4X II TC and the EOS 1D MIII. ISO 400. Exposure determined by histogram check: 1/500 sec. at f/5.6.
Brant was one of my target species on my northeast speaking tour. (A big time thanks to Canon USA for their sponsorship of the trip!) This Brant was photographed at the North Channel Bridge in Howard Beach NY, technically part of the Jamaica Bay Wildlife Refuge. When I used to live in Queens, these birds were super-skittish. Now many respond eagerly to Wonder Bread... I did remove a bunch of specular highlights from the plumage using the Patch Tool. Thanks again to Scott Bourne for changing my life by telling me about the Patch Tool in Bosque a few years back.
MORE ON THE NY/NJ TRIP
In the last BAA Notes, April 14, I neglected to mention one of the highlights of the trip. More than a year ago I got a phone call from Howard Schatz. I had never heard of the guy. He invited me to come to his studio to show some images to him and his friends. His "friends" turned out to be a group of prestigious, high-powered, world famous photographers in various fields from in and around NYC. These are a few: Andrew Eccles (http://www.andreweccles.com/), Gregory Heisler (http://gregoryheisler.com/), Joe McNally (http://www.joemcnally.com/portfolio/portfolio.html), Vincent Laforet (http://www.laforetvisuals.com/main.php), Paul Aresu (http://www.paularesu.com/home.html), Hans Neleman (http://www.neleman.com/v3/neleman.htm), Chris Callis (http://www.chriscallis.com/index.php?category=19), George Steinmetz (http://www.georgesteinmetz.com/), Michael Yamashita (http://www.michaelyamashita.com/). I defy you to visit any of the web sites above and not be mesmerized. I spent the last two hours being mesmerized while doing the research for this piece. Now here is the truth: I am so narrowly focused on nature photography that aside from Vincent Laforet (a Canon Explorer of Light whom I met at a meeting in Lake Success a few years back) and Michael Yamashita I had never heard of any of them…
In any case, Howard and I set up a visit for April 2. A few days before he called me on my cell and told me that there would be someone else presenting with me, 35-year veteran National Geographic people photographer William Albert Allard (http://www.ngeo.com/photography/allard/0171.html). (Another wonderful photographer I had not known about…) Wishing to avoid traffic jams and delays I decided to take the Long Island Railroad to Penn Station and then grab the subway down to Howard Schatz's studio. Great plan, but for the fact that my one hour twenty minute trip on the LIRR took two hours and twenty minutes because of malfunctioning signals. So much for the quick dinner that I had planned. I arrived at Howard's beyond-impressive studio just as Bill Allard began his presentation. I was a bit disappointed as there were only about nine folks present. Bill, however, was a down-to-earth, regular guy and everyone was captivated by his images and his stories. My turn. Howard sent me this via e-mail: "You, your life story, and your work were thrilling, inspiring----we all felt lucky you came by and showed your work to us."
After we wrapped things up and everyone had left, I noted that I had lots of time to catch the train back to Long Island so I hung out with Howard for a while. He took me into one room of his studio where dozens of his Time Magazine and Newsweek covers were hung. He excitedly showed me some of his most recent images of the New York Mets pitching staff. Then he took me to another large room in the studio that featured large prints of his totally amazing underwater stuff, not fish, but gorgeous athlete/models wearing oil-based make-up and beautiful, colorful costumes. Over the next two weeks when I mentioned these images to folks, many said, "Yeah, I saw him on TV last week. On one hand I was pretty much in awe of Howard, his images, and his obviously amazing work ethic, and that feeling was redoubled after visiting his website: http://www.howardschatz.com/. You have got to visit, click on Portfolio then Underwater and check out the first image, "The Last Supper (Underwater). On the other hand I realized how much we were alike (work ethic, passion for photography, just a regular guy, enthusiasm, and religion among others) even though our subject matter was totally different).
The whole evening and the whole experience left me with a very warm, special feeling. Having been exposed to so many great photographers and so many great images as a result of Howard Schatz's invitation made me realize that being so narrowly focused had left me ignorant of so much of what photography as a whole—past and present--has to offer. Thank you Howard.
Prothonotary Warbler, backlit male, Francis Beidler Forest, Harleyville, SC
Image Copyright 2008: Arthur Morris/BIRDS AS ART
Canon 500mm f/4L IS lens with the 2X II TC and the EOS 1D Mark III. ISO 1600. Evaluative Metering +2/3 stop: 1/60 sec. at f/9 set manually. Fill flash at -1 stop. .
Most warblers, including this species, are usually found hopping from branch to branch almost incessantly. On rare occasions, they sit still—as this bird did—for several minutes. I was blocked on the front-lit side so I made my way past the bird slowly on the boardwalk and got into position to create this image. For front-lit songbirds at close range I want just a hint of flash and usually use -3 stops of fill flash. In this backlit instance, I used much more flash, setting the flash at -1 stop rather than -3 stops. I love the light coming through the belly feathers.
See the ORIG below. I did some good work with the Patch Tool (upper left & top of head) and used several Quick Masks to eliminate the branch in front of the bird that protruded from the perch. I was surprised at how well this worked as I had not tried using Quick Masks in similar situations before. To learn more about Robert O'Toole's great APTATS 1 PDF click here: http://www.birdsasart.com/aptats.htm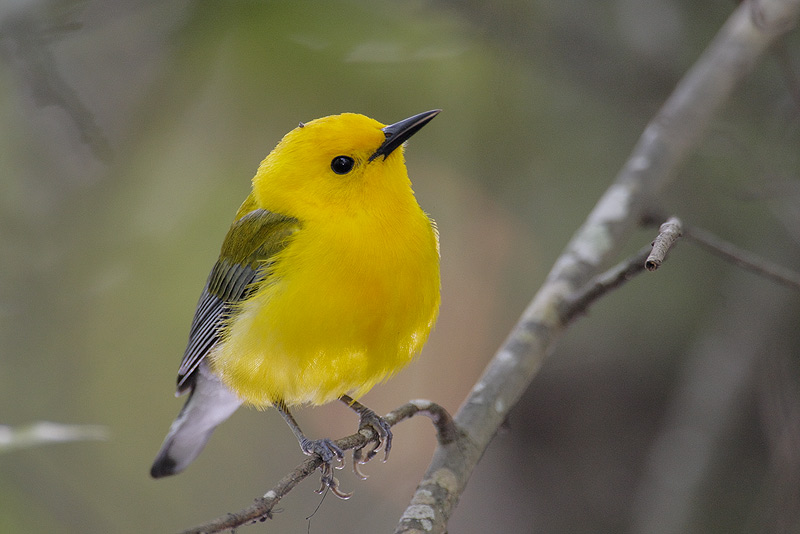 The beauty and secret of Quick Masking is that whatever brush size you are using, you get "feathering" equivalent to half the diameter of the brush. If you are using a 30 pixel brush, you get 15 pixels of feathering. This allows you to make seamless selections; the adjustments that you make on the layer will be undetectable.
CNPA ANNUAL MEETING
The last stop on my SUV speaking trip, the CNPA (Carolina Nature Photographers Association) annual meeting, was a truly great event. I cannot remember being around 250 folks as nice and as appreciative as the CNPA folks; every person whom I passed in the halls had a warm smile. The programs were outstanding. Aside from yours truly the featured speakers were Darrel Gulin, Kevin Adams, and Bill Lea. Big time kudos go to CNPA president (and multiple-IPT veteran) Doug Holstein. Under his leadership CNPA has grown tremendously and the growth and success of the annual meetings has been astronomical. Congrats Doug!
Darrel Gulin is one of the world's premier stock photographers and Kevin Adams keynoted with me at the NANPA Summit in Charlotte, NC, too many years ago. I met Bill Lea more than 20 years ago at Anhinga Trail. I had not seen him since; I did not however, forget the kindness he extended to me that day.
You can learn more about each of the other speakers as below.
Darrel Gulin: http://www.gulinphoto.com/index.html
Kevin Adams: http://www.kadamsphoto.com/
Bill Lea: http://www.billlea.com/
For more info on CNPA visit: http://www.cnpa.org/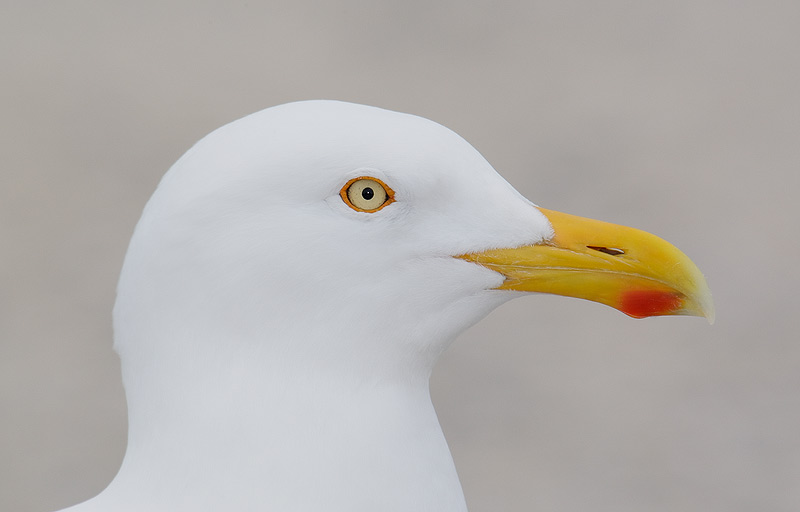 Herring Gull, breeding plumage head portrait, Captree State Park, LI, NY
Image Copyright 2008: Arthur Morris/BIRDS AS ART
Canon 600mm f/4 L IS lens with the 2X II TC and the EOS 1D Mark III. From the vehicle using the BLUBB (Big Lens Ultimate Bean Bag). ISO 400. Evaluative Metering +1 2/3 stops: 1/400 sec. at f/11. Fill flash at -2 stops. You can learn more about the BLUBB here: http://www.birdsasart.com/blubb.htm
.
Nice bright whites, a perfect head angle, a pristine subject, and perfect sharpness techniques make this one a family jewel.
ABP II REVIEW
The unsolicited review below, written by William Webb, was recently posted here: http://birding.about.com/od/greatbooksaboutbirds/gr/ArtMorrisreview.htm
Beginning bird photographers and experienced bird photographers alike should consider the advice given by bird photographer Arthur Morris. In case you haven't heard of him, Arthur is arguably the most skilled and accomplished contemporary bird photographer around. Fortunately for aspiring photographers, Arthur enjoys sharing his knowledge and has written two books on the subject. Here is my recent review of Arthur's most recent book, The Art of Bird Photography II (on CD only):
Original review: 5 stars
Pros: Many stunning bird and wildlife photographs. Photographs include notes on techniques and equipment. Emphasizes digital photography equipment, techniques, and image processing
Con: Available only in digital format
Bottom-line: The Art of Bird Photography II is an outstanding resource for avian and wildlife photographers alike. This book is ideal for beginners who aspire to advance their skills beyond "point-and-shoot" and would be an outstanding resource for experienced photographers as well.
Review: The Art of Bird Photography II by Arthur Morris would be an excellent addition to the library of the beginning or advanced photographer. This digital book was written by the renowned and accomplished wildlife photographer Arthur Morris and is intended as a companion volume to his original classic how-to text The Art of Bird Photography. Although the author recommends reading The Art of Bird Photography first, the sequel certainly stands on its own merits. The sequel comprises nine chapters of material not covered in the first text - much it devoted to topics related to the recent revolution in digital photography. Arthur Morris not only takes stunningly beautiful photographs, but he is passionate about sharing his knowledge, and his passion pervades the book. The topics covered in the book chapters range from esoteric matters like the "exposure blurs" described in the chapter on Advanced Image Design and Composition - to the practical, such as how to travel by plane with your digital equipment. Throughout the text, the reader is treated with hundreds of spectacular avian and wildlife photographs accompanied by notes on techniques and equipment.
I highly recommend The Art of Bird Photography II by Arthur Morris, especially as a companion text to the original classic book.
Bullet Points:
A digital age update to the classic The Art of Bird Photography by the same author
Nine chapters including chapters on new photography equipment, advanced composition, digital photography, and photo hotspots
Many world-class bird and wildlife photos accompanied by technical notes on equipment and techniques
Digital format only. Cost: $40 + $3 shipping here: http://www.birdsasart.com/ABPII.htm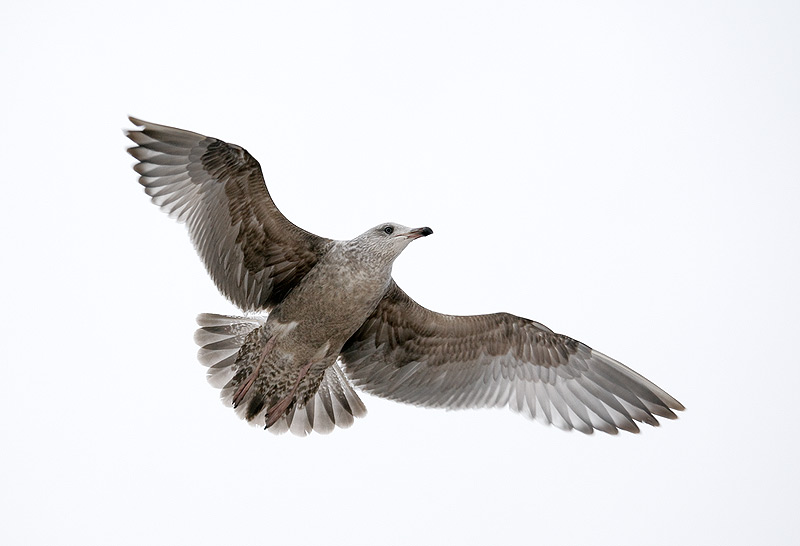 Herring Gull, immature in flight, Captree State Park, LI, NY
Image Copyright 2008: Arthur Morris/BIRDS AS ART
Canon 70-200mm f/4 L IS lens (handheld at 127mm) and the EOS 1D Mark III. ISO 1000. Evaluative Metering +2 1/3 stops off the white sky: 1/500 sec. at f/4 set manually. Fill flash at -1 stop.
.
With the immature gulls being darker than the adults, I added more light to the base exposure off the sky as dark subjects need more light than light or white subjects.
DELKIN FLASH CARDS/PRICES SLASHED
I have used Delkin e-Film Pro Compact Flash Cards for all but the first five minutes of my digital career <smile> Most recently, I have switched to their super-fast UDMA cards. For the past two years I have been using Delkin 8gb and 16 gb cards exclusively without losing a single image or having a single corrupted card. And I make more than a few images most weeks… The 16gb cards are ideal for folks with full frame cameras like the Canon EOS-1Ds MIII or the Nikon D3. As we purchased a large quantity of Delkin e-Film Pro UDMA Compact Flash Cards for the NANPA Summit we are able to offer them now at what I believe to be the lowest prices anywhere:
2gb Delkin e-film Pro Card: $46.48
4gb Delkin e-film Pro Card: $79.94
8gb Delkin e-film Pro Card: $146.94
16gb Delkin e-film Pro Card: $294.94
Please add $7.00 per order shipping and handling. Florida residents please add 7% sales tax to the cost of the cards only. If you send a check, please make it out to "Arthur Morris" and mail it to us at BIRDS AS ART, PO Box 7245, Indian Lake Estates, FL 33855. Paypals or credit card orders by phone (863-692-0906) are of course welcome.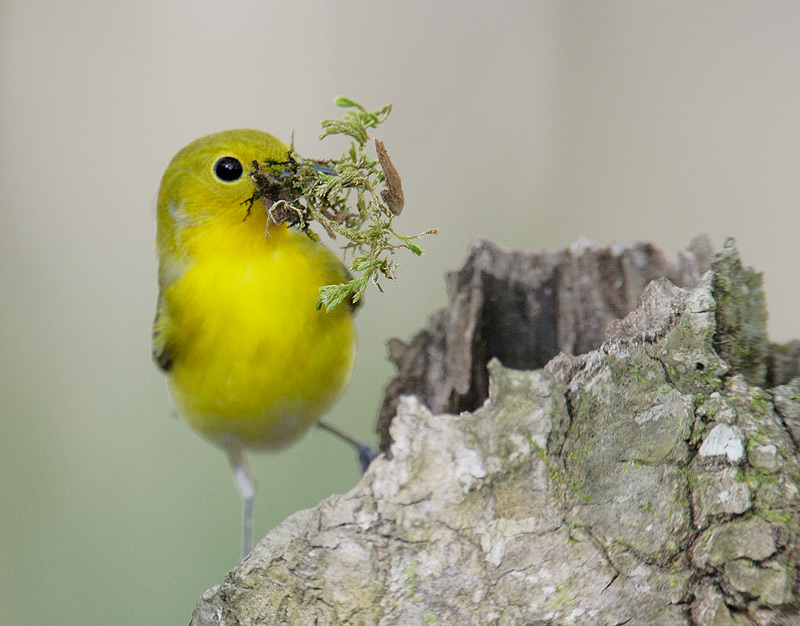 Prothonotary Warbler, female with nesting material, Francis Beidler Forest, Harleyville, SC
Image Copyright 2008: Arthur Morris/BIRDS AS ART
Canon 500mm f/4L IS lens with the 2X II TC and the EOS 1D Mark III. ISO 1600. Evaluative Metering +2/3 stop: 1/60 sec. at f/7.1. Fill flash at -3 stops. .
In the original (see eye detail below), the vegetation obstructed the eye. I used the Patch Tool, the Clone Stamp, and several Quick Masks to make the repair. Notice that my crop left room for the bird's virtual" right foot (and a small border as well).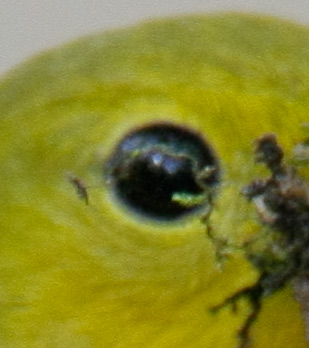 The amazing thing about using Quick Masks is that once you learn the basics you come up with more and more uses as time goes by. A blow-up of the repaired eye (unsharpened) is below.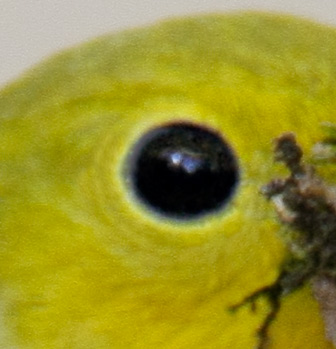 BREEZEBROWSER/DOWNLOADER PRO COMMENTS
Via e-mail from Dave Smith of Bradenton, FL