BIRDS AS ART BULLETIN 261
MAY 12, 2008
Visit www.birdsasart.com
DESOTO SITE GUIDE UPDATE
QUICK MASK BASICS UPDATE
INDIAN RIVER PHOTO CLUB APPEARANCE
DRYPODS
JAMES SHADLE ORLANDO WEEKEND SEMINAR
2008 GATORLAND PHOTOGRAPHIC INSTRUCTIONAL WORKSHOP w/Robert J. Amoruso & Robert O'Toole
PORTLAND SEMINAR
IPT UPDATES
Contact us by phone at 863-692-0906 (Eastern Time Zone) or by e-mail at birdsasart@att.net or @verizon.net. The att e-mail address is best from overseas.
We gladly accept credit card orders by phone from 8am till Eastern Time ( till Fridays and some weekends). You can use the PayPal links on the web site to order anything. Just type in the item(s) and the amount. If using your own PayPal account, please send to either of the e-mail addresses above.
Note: maximize this e-mail for best formatting.
Important Request: if responding to this e-mail, please take the time to delete all images and all irrelevant text.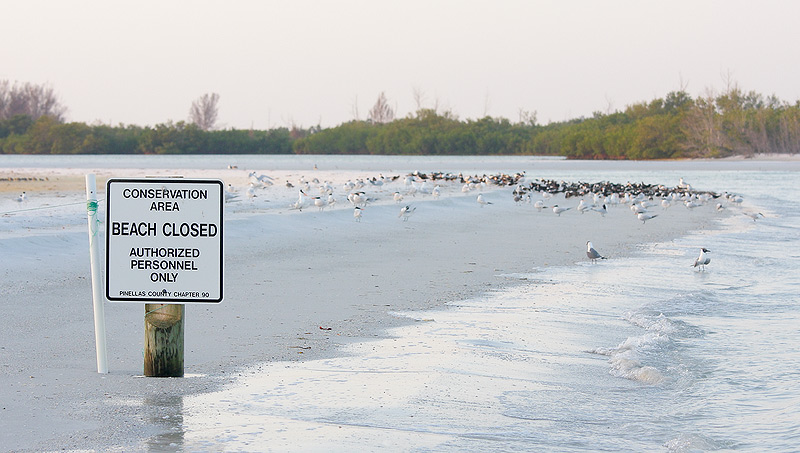 "The Point", North Beach Lagoon, Fort DeSoto Park, Tierra Verde, FL
Image copyright 2008: Arthur Morris/BIRDS AS ART
Canon 70-200mm f/4L IS lens (handheld at 97mm) with the EOS-40D. ISO 640. Evaluative metering +1 2/3 stops: 1/200 sec. at f/6.3.
The very best area for bird photography at Fort DeSoto Park appears to be permanently off limits to bird photographers. DeSoto is, however, still a great place for bird photography, one that I will continue to visit often.
DESOTO SITE GUIDE UPDATE
The Point at North Beach Lagoon at Fort DeSoto was roped off last spring in hopes that the Least Terns would breed. They did not, but the ropes were never taken down. Then this spring, some new signs were erected. (Getting to sound familiar???) It appears that The Point, the very best location in the park, will be closed permanently. Least Terns were on nest scrapes and Black Skimmers were acting nesty inside the ropes when I last visited so the protection might enable the birds to breed successfully this year. That is a good thing and I hope that they nest successfully. The closing of The Point for the rest of the year, however, sets a bad precedent for bird photographers. Access at Fort DeSoto had been generous for as long as I have been visiting and the birds had been doing just fine. The Royal and Sandwich Terns and the Black Skimmers breed successfully each year at nearby Egmont Key which is locked up tight to visiting bird photographers. While we continue to trash the planet, destroy habitat, pollute the air and water, and while researchers disturb entire colonies of breeding birds in the name of science (so that they can get their names on research papers), access to more and more of the best sites in the US continues to be lost in the name of protecting the birds from harassment by photographers. All the while the general public, fishermen, dog walkers, etc. are free to do what they want when they want. You gotta love it.
I have often spoken of DeSoto as one of my three soul places along with the East Pond at Jamaica Bay Wildlife Refuge (Queens, NY) and Bosque Del Apache NWR (San Antonio, NM). I felt therefore, that it was important to update the Fort DeSoto Site Guide so that visiting photographers would know exactly where the best opportunities would most likely await them. The latest update (free to previous purchasers) includes two highly detailed maps of the lagoons at North Beach and detailed instructions on finding the desirable species. Not only does the guide tell you where to go but it tells you when to go, the best tidal stages for most of the spots, and my morning and afternoon shooting strategies. The guide also includes more than twenty new images created this April and May.
Jennifer will be sending the updates to the list by the end of this week. In the event that you do not receive your update, please do not e-mail us until Monday, May 19th. When you do so, please let us know your correct current e-mail address and the manner by which you paid originally. E-mails requesting that the update be sent this week will be deleted. In most cases folks who do not receive the update when it is mailed to the list have simply failed to notify us of a changed e-mail address. Thanks!
BAA Site Guides are designed to make you feel like a ten year veteran on your first visit to a new site. No secrets are held back; our Site Guides are the next best thing to being on an IPT. You can learn more about our Site Guides here: http://www.birdsasart.com/siteguides.htm
New purchasers can order their DeSoto Site Guide now by sending us a Paypal for $50 or calling us at 863-692-0906 with a credit card in hand. If you send a check, please include your e-mail address as the guide is a PDF sent via e-mail. If you do not receive your Site Guide in a timely fashion after ordering, please check your Spam Folder and your security settings before getting in touch. After that, please contact us immediately and we will be more than glad to help.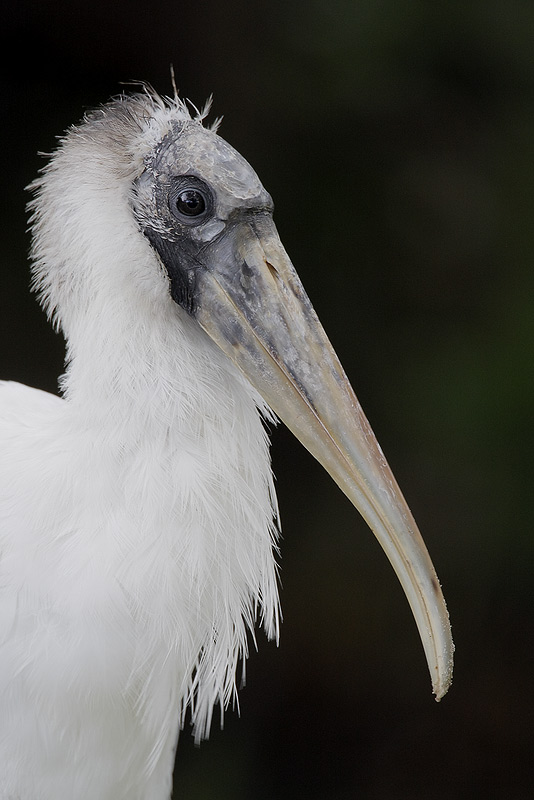 Wood Stork, immature, Fort DeSoto Park, Tierra Verde, FL
Image copyright 2008: Arthur Morris/BIRDS AS ART
Canon 500mm f/4L IS lens with the 1.4X II TC and the EOS-1D MIII. ISO 800. Evaluative metering +1/3 stop: 1/125 sec. at f/6.3. Fill flash at -2 stops.
Where might you find Wood Storks at DeSoto? And how did I come up with that black background? The updated DeSoto Site Guide has all the answers.
QUICK MASK BASICS
As I have written in more than a few places, including the last update of the Digital Basics File, the basics of as Quick Masking are as follows:

Q (enter Quick Mask)
B (Brush Tool)
Q (exit Quick Mask/create mask)
Shift Control I (Select Inverse)
Control J (Create Layer Mask)
Control V (Move tool—optional)
The above steps are simply the very basic steps needed to create a Quick Mask. Robert O'Toole's APTATS CD will teach you how to use these basic steps to do amazing things to your images, to cut down the time needed to do various repairs, and to make dozens of different types of seamless adjustments.
On my NY/NJ/SC teaching trip a few weeks back, someone pointed out that it would be easy to eliminate the need to Select Inverse. I said, "Show me how." He did. Here's how:
On your CS-3 tool bar, the second icon from the bottom is a rectangle with a circle inside it. This is the Quick Mask Icon. When you double-click on this icon, the Quick Mask Options box will pop up. The frame in the upper left corner says, "Color Indicates;" The default is Masked Areas. Click the button on for Selected Areas and then click OK. Now, when you are creating a Quick Mask you will not need to hit Select Inverse. This is a nice time saver. I am sorry that I forgot the name of the gentleman who mentioned this, but thanks bud!
Very Important Note: If you already own and use the techniques in Robert O'Toole's APTATS PDF and you make the change above, you will need to omit the Select Inverse step each time that you encounter it. If you make the change to Selected Areas and then continue to hit Select Inverse, you will wind up trying to work on the masked (excluded) area rather than on the selected area. Anyone who calls us or contacts Robert and wants to know why APTATS "no longer works" after making the changes above will be fined $50 US dollars. No refunds.
The Quick Mask Basics above can be used in a thousand ways to make your images better faster. Once you have mastered the basics, you will find yourself using Quick Masks on virtually every image that you optimize just as I do. To learn more about Robert O'Toole's APTATS PDF (on CD only), click here: http://www.birdsasart.com/aptats.htm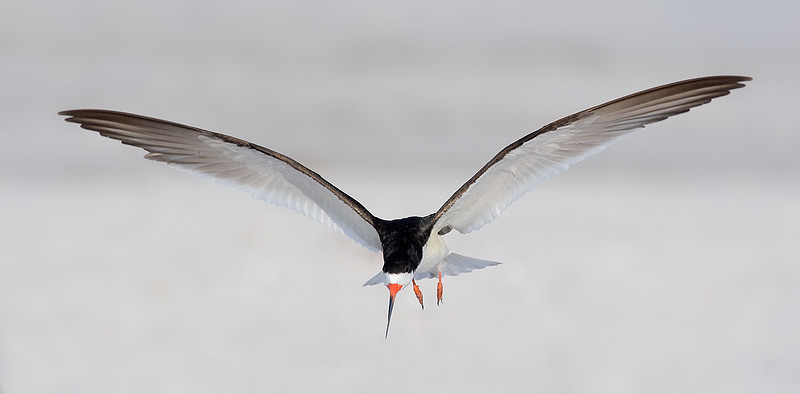 Black Skimmer, Fort DeSoto Park, Tierra Verde, FL
Image copyright 2008: Arthur Morris/BIRDS AS ART
Canon 500mm f/4L IS lens with the 1.4X II TC and the EOS-1D MIII. ISO 500. Evaluative metering +1 1/3 stops set manually: 1/1250 sec. at f/8. Fill flash at -2 stops.
The image above was created from the image below using Robert's Quick Masking Techniques. This and similar images are labeled "wing tip repaired."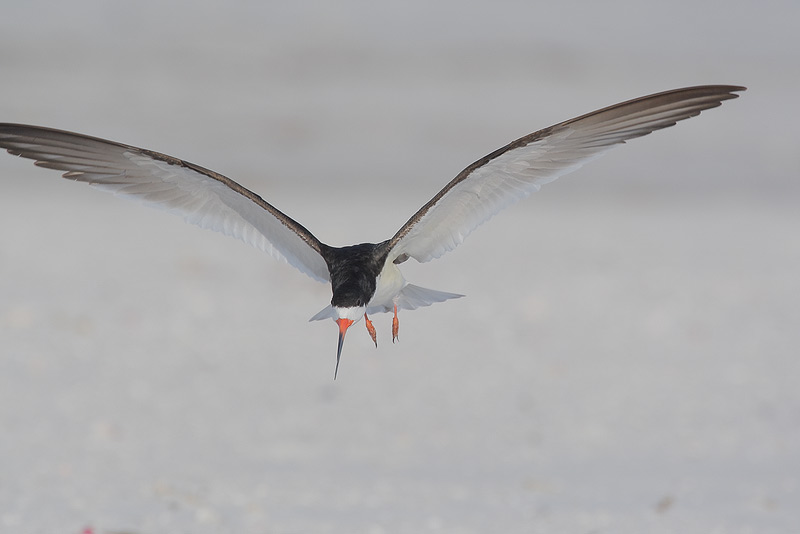 After adding canvas quickly and easily as described in Digital Basics, I repaired the wing tip. Then, I used a QM to select the BKGR and softened it with a Gaussian blur.
INDIAN RIVER PHOTO CLUB APPEARANCE
I will be doing a half day Photoshop Seminar in Vero Beach for the Indian River Camera Club on May 24 from 9am to 1pm. This event is being generously sponsored by Canon USA/Explorers of Light. For complete details, click here: http://www.irphotoclub.org/files/artie_flyer_08.pdf
We will have a good supply of our great mail order products on hand for sale. If you will be attending and would like to purchase a big-ticket item or just make sure that we will have what you want, please e-mail us mid-month. Hope to see lots of you there.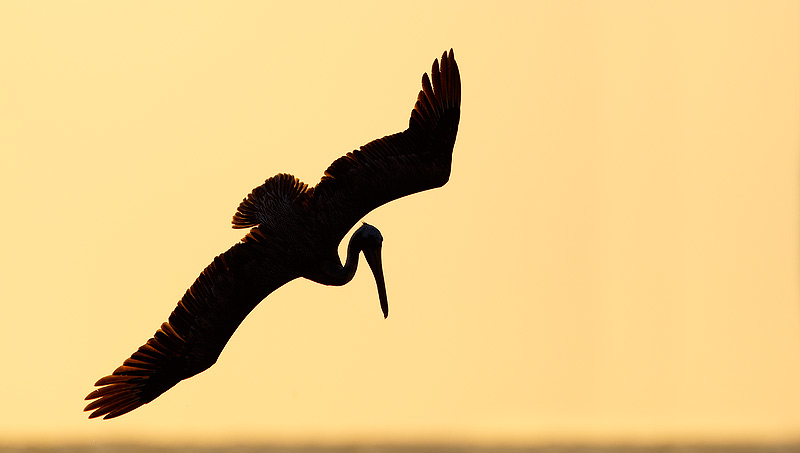 Brown Pelican diving, Fort DeSoto Park, Tierra Verde, FL
Image copyright 2008: Arthur Morris/BIRDS AS ART
Canon 500mm f/4L IS lens with the 1.4X II TC and the EOS 1D MIII. ISO 500. Evaluative metering + 1 stop: 1/2500 sec. at f/7.1.
A friend and I were walking towards the Gulf when I noticed that the feeding pelicans were beautifully backlit and that the light and color would be improving with each passing minute. In the process, I discovered a great new spot for low tide afternoons.
DRYPODS
Many of you have been asking about Drypods for several months. (I mentioned them in several Bulletins as "Tripod Condoms.") They have been some time in testing and development as Rod Wiley wanted to get them right. James Shadle and I have been testing them for several months and though we were pretty happy with the early versions Rod kept making them better and better and using stronger and thicker plastic. BAA is proud to add a small line of Drypods to its mail order product line. Here are the details:
Drypod Waders are designed to keep your valuable Gitzo Carbon Fiber tripods dry while you are wading, especially in saltwater. If you have always completely disassembled your tripod after each wading session, never had a single leg lock corrode, never had to send a tripod back for a new leg section or two, or never totaled a tripod, then you do not need a set of Drypods. (I once sent three Gitzo tripods to Bogen for repair after two many trips in salt water. I wrote after about 8 months as was told that they had thrown them all into the trash. Really.
Drypods are made of a specially formulated plastic sleeves that are approximately 47" long. The foot of each sleeve is reinforced with 4 layers of plain and woven poly for added protection. On the foot of each sleeve is a layer of sacrificial tape applied to allow you to set up on gravel or rough surfaces. All Drypod kits come with three Velcro Wraps to secure the sleeve to the tripod.
The standard Weekender Kits come in 3" and 4" widths, with the 3 inch being almost universally popular. The 3" Drypod sleeves have a diameter of approximately 2-3/16" and the 4" approximately 2-11/16." You should order the smallest size that will fit. All but the larger tripods that have clip locks or wing locks will fit inside the 3" Drypods. There are 4 sleeves in a kit. The extra sleeve is a backup in case a single sleeve develops a leak after repeated abuse. Each kit comes in a heavy Ziploc bag with instructions.
The Deluxe kit comes with 3 heavy nylon boots approximately 26" that slip over the plastic sleeves to provide protection on rough areas like rock or coral. Custom made cinch straps are used to attach the nylon boots to the tripod. Extra Velcro wraps are provided to seal the top of the sleeve while in deep water. Like the Weekenders, the Deluxe kits come as both 3'' and 4" sleeves. There are 4 sleeves in a kit. The extra sleeve is a backup. The set comes in a heavy Ziploc bag with instructions
The prices of the Drypods (shipped to US addresses) are as follows
Weekenders 3" kits are $26.95 plus $7.00 S&H (Overseas shipping please add $13).
Weekenders 4" kits are $28.95 plus $7.00 S&H (Overseas shipping please add $13).
The Deluxe units 3" kits are $49.95 plus $11.00 S&H (Overseas shipping please add $17).
The Deluxe units 4"kits are $51.00 plus $11.00 S&H (Overseas shipping please add $17).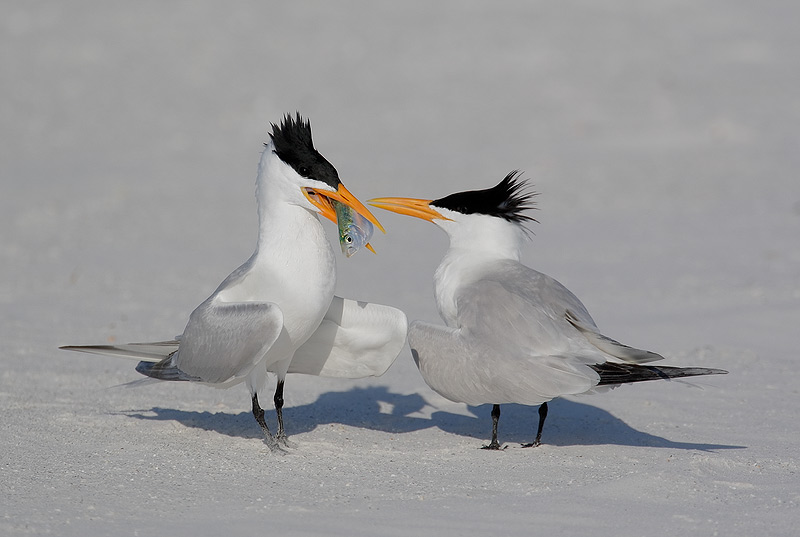 Royal Terns, courtship feeding, Fort DeSoto Park, Tierra Verde, FL
Image copyright 2008: Arthur Morris/BIRDS AS ART
Canon 500mm f/4L IS lens with the 1.4X II TC and the EOS-1D MIII. ISO 320. Evaluative metering +1stop set manually: 1/1600 sec. at f/7.1. Fill flash at zero.
I used lots of flash here in the harsh light to even out the exposure and reduce the shadows. Then I used a Reverse S Curves Adjustment (as described in detail in Digital Basics) to further reduce the contrast and the effects of the strong sun.
JAMES SHADLE HARMON'S/ORLANDO FRI/SAT SEMINAR
Harmon's School of Photography, (1323 N. Orange Ave., Orlando, FL, 32804. Tel: 1-407-898-2321) presents, James Shadle's Photography Workshop
Sponsored by Tamron Lenses, Bogen Imaging, the Orlando Camera Club, Adopt-A-Bird, and The Avian Reconditioning Center
Workshop Cost: $145.00
Workshop includes: Welcome Bag, Classroom Lecture, In The Field and Wrap Up Session, Admission to "The Avian Reconditioning Center," Loaner Equipment, $20 Harmon's Photo Gift Card, Refreshment and Meals, Exclusive Tamron and Bogen Imaging Offers and Rebates, & Door Prizes
Classroom Session May 30th 6-9PM: Lecture and slide show covering the nuts and bolts of digital nature photography. Meet and greet your instructor, factory reps, and hosts. Hand- on look at products from Tamron and Bogen Imaging. Question and answer session. Refreshments.
In the Field Session May 31st 9AM-1PM: The In-The-Field session will be held at "The Avian Reconditioning Center." Experience hands-on-instruction covering techniques for creating wildlife portraits and sharp images of birds in flight. Use the latest equipment that Tamron lenses and Bogen Imaging have to offer. Refreshments.
Closing Session May 31st 1:45-3PM: Wrap up back at Harmon's photo for a late lunch. Review of the day's activities, follow-up questions and answers. Door prizes and more.
http://orlando.harmonphoto.com/Workshops_Fieldtrips.html To register contact Susan Germyn: 1-407-898-2321 or 407-227-6680
For questions about workshop (or to book a trip on the Hooptie Deux) feel free to contact James as follows: James@birdphotographers.net or 1-813-363-2854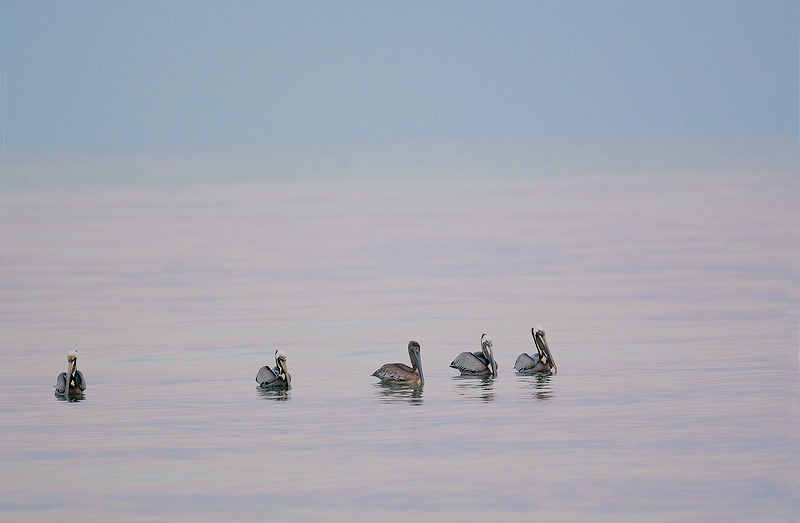 Brown Pelicans in earth shadow light, Fort DeSoto Park, Tierra Verde, FL
Image copyright 2008: Arthur Morris/BIRDS AS ART
Canon 500mm f/4L IS lens with the EOS 1D MIII. ISO 640. Evaluative metering + 1 2/3 stops: 1/125 sec. at f/4.
One thing that the DeSoto Site Guide has always stressed is that folks need to get to the park in the pre-dawn hours to enjoy the best and the most photo opps. And the same is true at most locations, and that goes double on clear days…
2008 GATORLAND PHOTOGRAPHIC INSTRUCATIONAL WORKSHOP w/Robert J. Amoruso & Robert O'Toole. JUNE 18-20, 2008. 3-DAY: $849. (LIMIT: 10)

Join Robert Amoruso and Robert O'Toole for an illuminating learning experience at Gatorland's wading bird rookery. We will teach you to create expressive images of the breeding birds and their chicks.

We will work with you to help move your photography to the next level. Covered will be proper head and light angle, finding the right background, use of fill-flash, digital camera exposure, and designing pleasing images in-camera. Classroom instruction will include editing your images, processing & cropping your images, creating JPGs for posting, RAW vs. JPG, etc.

New for the 2008 season, Gatorland is offering a Photographer's Pass with 7:30 AM entry & late staying until dusk. Gatorland (www.gatorland.com) is located in Kissimmee, FL. The workshop includes 6 full sessions of in-the-field image creation in the AM and PM and three classroom sessions in the afternoons in Gatorland's new state-of-the-art meeting room. The Gatorland entry fees are not included.

A flyer is available for download at www.wildscapeimages.com/extra/2008June-GPIW.pdf and a multiple page in-depth description of the workshop can be found here: www.wildscapeimage.com/extra/2008June-GPIW-FAQ.pdf.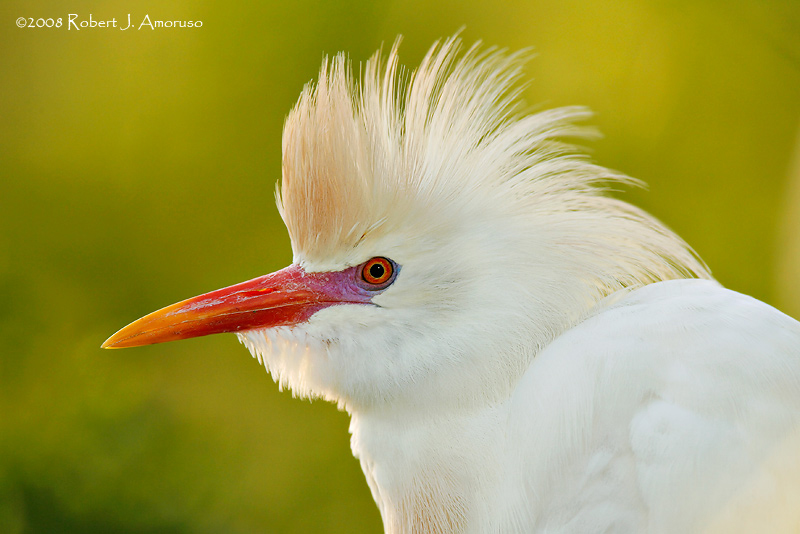 Cattle Egret, breeding plumage, FL
Image copyright 2008: Robert Amoruso/Wildscape Images
By using a narrow angle of view (telephoto lens) and limited depth-of-field (DOF) Robert Amoruso isolated this Cattle Egret in full breeding plumage. Photographed just before sunset, the egret's extended crown is backlight and the background is awash in soft rays of the setting sun. Fill-flash was used to illuminate the shadows in the bird's face. He waited for the correct head-angle and then created the image. We will help you create images like this on the Gatorland workshop.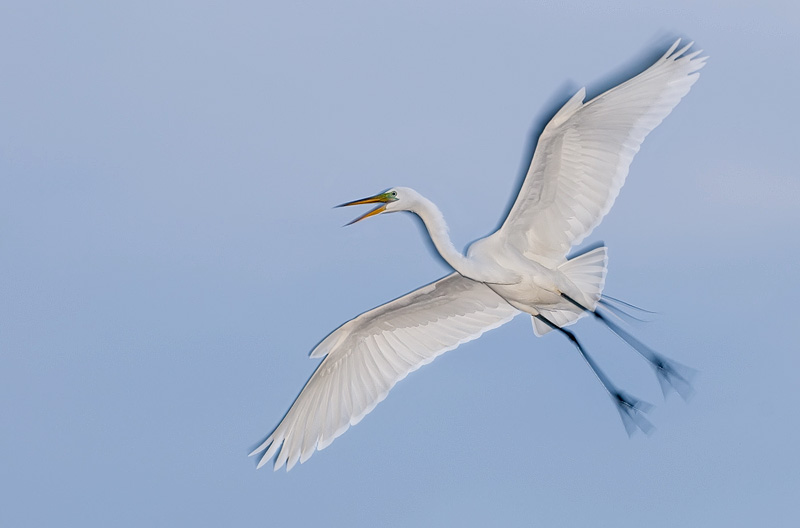 Great Egret bank flash blur against dark blue storm clouds, FL
Image Copyright 2008: Robert O'Toole Photography
Nikon D300 and AF-S VR Nikkor 70-200mm 1:2.8G lens. ISO 200. 1/30 sec. at f/7.1 manual mode (Matrix Metering +1/3 stop), zoom at 140mm (210mm 35 equiv).

Flash blurs are not for everyone, people sometimes think the blurred edges are due to bad Photoshop processing. In fact the sharp image is created by the flash the blurred edges are ghosting created by the slow 1/30th of second shutter speed.
PORTLAND, MAINE: "The Art of Nature Photography; It Ain't Just Birds" Weekend How-To Seminar
"The Art of Nature Photography; It Ain't Just Birds" Weekend How-To Seminar in Portland, Maine
October 11-12, 2008
Eastland Park Hotel, 157 High Street, Portland, ME
This seminar is for all nature photographers who want to learn how to make better photographs. On Saturday I will describe the methods and techniques that I have used and developed since 1983. My comments on lenses and digital camera bodies, AF, light, and on composition and image design will be highly informative and educational. And my tips on getting close to free and wild subjects and creating pleasing blurs will help you become a better photographer. Everyone with a telephoto lens who wishes to dramatically improve the quality of their images will benefit from attending.
Since going all-digital in November 2002, I have—with the help of many wonderful friends—become a Photoshop expert. My approach to optimizing images is to create master files of excellent quality in the shortest possible time. I will share our workflow and numerous Digital and Photoshop tips on Sunday. As more and more folks are using Digital Capture, I am finding on our IPTs that many good to excellent photographers have no clue as to how to use Photoshop to make their images look better. In fact, many of them make their best images look worse! I can and will teach you to do just that at this seminar.
Do consider taking advantage of the opportunity to spend two days learning from one of the premier nature photography educators on the planet by joining me for this great weekend. The October 11-12 dates were carefully chosen to coincide roughly with the average peak of fall color in southern Maine. The likelihood is that if you are coming from out of town and would like to photograph the fall color the best bet (taking global warming and the trends in recent years) would be to schedule your photography in the days following the seminar. Every year, however, is different, and this is nature photography so there are no guarantees, but chances are, whether you photograph just before or just after the seminar you should have many chances to create some great images. Best bet: come a few days early and stay on for a few days… (Hint: hope for a pre-dawn rainstorm followed by the sun breaking through in the east while grayish-black storm clouds fill the western sky…)
The seminar will be held at the Eastland Park Hotel. Folks staying at least two nights in the hotel will receive a free Lens Pen Combo Kit at the seminar. As fall color time is peak season in southern Maine, hotel rates are high anywhere in the region. We were able to negotiate a rate of $159 for folks registering early. Once the block of rooms is gone, higher rates will apply. The doors will open on both days at and the programs will begin at sharp. There will be tons of great door prizes (including Delkin e-film Pro compact flash cards and some great stuff from Lowepro and Wimberley). I hope that you will be able to join me for what will be an incredibly educational and fun-filled weekend. (If anyone would like to help us set up or to hang out, be there at .)
The cost of the weekend seminar will be $169. The cost of either single day will be $99. Members of qualifying camera clubs are invited to apply a $10 discount. (If you are a member of a camera club or other photography organization please e-mail us before registering to learn how your group can become a qualifying club). Register with a friend or a spouse and take $10 off each registration. Register in groups of four or more and take $20 off of each registration. Register in a group of ten or more and take $30 off each registration. It is highly recommend that folks purchase the buffet luncheon option ($15/day includes tip and tax). Those purchasing the lunch option will receive their lunch coupon when they check in each morning.) The cost of the weekend seminar plus the two lunches is $199.
There are three ways to register:
1- Send a check for the full amount made out to "Arthur Morris" to PO Box 7245, Indian Lake Estates, FL 33855.
2- Call us with a credit card at 863-692-0906.
3- Send us a Paypal (using either any link on our site or your Paypal account) to us at birdsasart@att.net.)
In all cases, we will need your e-mail address, your mailing address, and your daytime and evening phone numbers.
Here is our Cancellation Policy: If for any reason you need to withdraw, please notify us ASAP. Once we receive your e-mail, your phone call, or written notice of your cancellation the following fees apply: cancel before July 10, 2008 and your fee will be refunded less a $20.00 cancellation fee; cancel by August 10, 2008 and your fee will be refunded less a $50.00 cancellation fee; cancel after September 10, 2008 and there will be no refund.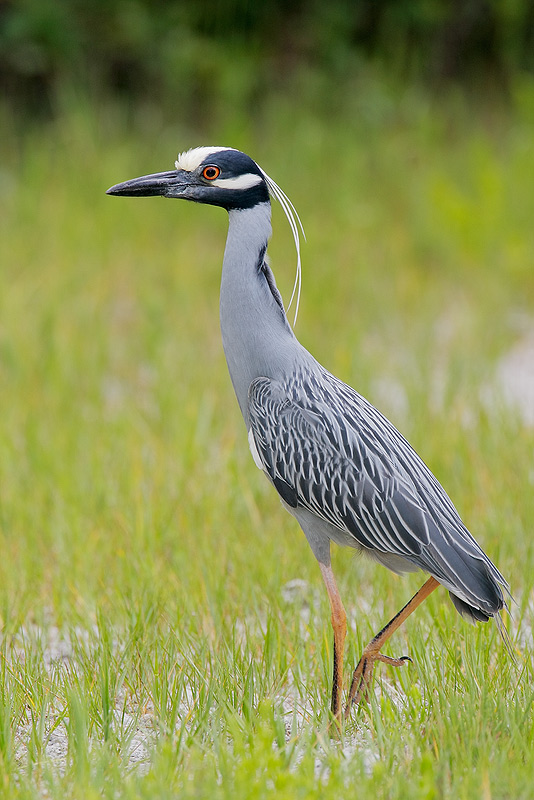 Yellow-crowned Night-Heron, alert adult, Fort DeSoto Park, Tierra Verde, FL
Image copyright 2008: Arthur Morris/BIRDS AS ART
Canon 500mm f/4L IS lens with the 1.4X II TC and the EOS-1D MIII. ISO 800. Evaluative metering +1 stop: 1/250 sec. at f/8. Fill flash at -2 stops.
I created about 20 images of this bird; only one had a decent head angle… You can learn all about head angle, light angle, and subject to imaging sensor orientation in ABP II: http://www.birdsasart.com/ABPII.htm
IPT UPDATES
Bosque IPT #1: NOV 22-25, 2008. Slide program on the evening of NOV 21. 4-DAY: $1799 Limit: 10/Openings: 3
Bosque IPT #2: NOV 29-DEC 2, 2008. Slide program on the evening of NOV 28. 4-DAY: $1799 Limit: 10/Openings: 3
SW FLA POST X-MAS IPT: DEC 27-29 or 30, 2008. Slide program on the evening of DEC 26. 4-DAY: $1799 (3-DAY OPTION: $1349) Limit: 10/Openings: 4
SW FLA PRESIDENT'S DAY IPT: FEB 13-17, 2009. Slide program on the evening of FEB 12. 5-DAY: $2249 Limit: 10/Openings: 5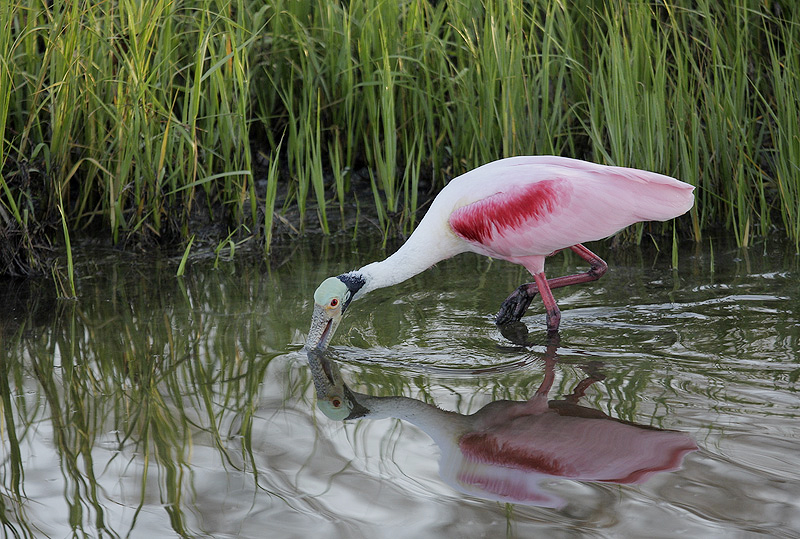 both: Roseate Spoonbill, Fort DeSoto Park, Tierra Verde, FL
Image copyright 2008: Arthur Morris/BIRDS AS ART
above: Canon 70-200mm f/4L IS lens (handheld at 176 mm) with the EOS-40D. ISO 400. Evaluative metering -1/3 stop: 1/500 sec. at f/4.
below: Canon 500mm f/4L IS lens with the 1.4XII TC and the EOS-1D MIII. ISO 400. Evaluative metering +1 stop: 1/250 sec. at f/8.
When you find a cooperative subject, be sure to vary your lens choice and your focal lengths, and try to create a variety of images. In the photo above, the grasses and the reflections caught my eye, while in the image below, it was the richly colored scapular feathers.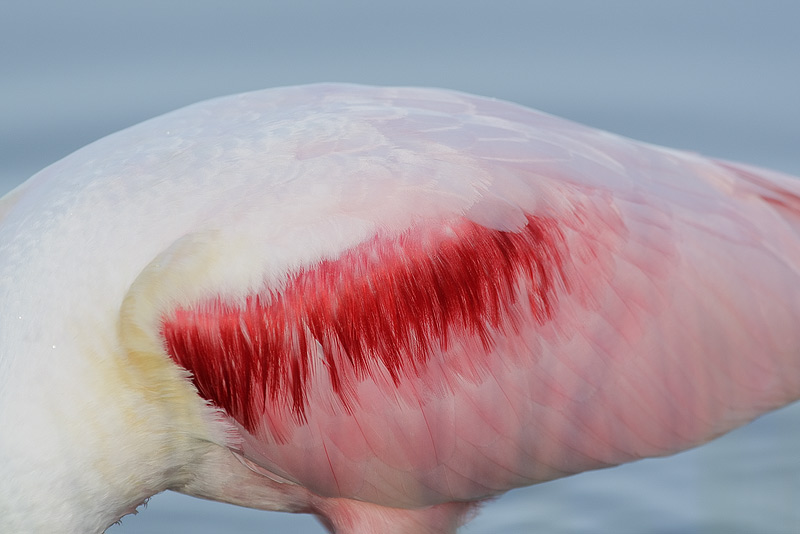 …..
Best and love and great picture-making to all,
artie
Note: Arthur Morris has been a Canon contract photographer since 1996 and continues in that role today. Hunt's Photo of Boston, MA is a BAA sponsor as is Delkin Devices. Back issues of all BAA Bulletins can be found in the Bulletin Archives which may be accessed from the home page at www.birdsasart.com