This seminar is for all nature photographers who want to learn how to make better photographs. On Saturday I will describe the methods and techniques that I have used and developed since 1983. My comments on lenses and digital camera bodies, AF, light, and on composition and image design will be highly informative and educational. And my tips on getting close to free and wild subjects and creating pleasing blurs will help you become a better photographer. Everyone with a telephoto lens who wishes to dramatically improve the quality of their images will benefit from attending.
Since going all-digital in November 2002, I have—with the help of many wonderful friends—become a Photoshop expert. My approach to optimizing images is to create master files of excellent quality in the shortest possible time. I will share our workflow and numerous Digital and Photoshop tips on Sunday. As more and more folks are using Digital Capture, I am finding on our IPTs that many good to excellent photographers have no clue as to how to use Photoshop to make their images look better. In fact, many of them make their best images look worse! I can and will teach you to do just that at this seminar.
Do consider taking advantage of the opportunity to spend two days learning from one of the premier nature photography educators on the planet by joining me for this great weekend. The October 11-12 dates were carefully chosen to coincide roughly with the average peak of fall color in southern Maine. The likelihood is that if you are coming from out of town and would like to photograph the fall color the best bet (taking global warming and the trends in recent years) would be to schedule your photography in the days following the seminar. Every year, however, is different, and this is nature photography so there are no guarantees, but chances are, whether you photograph just before or just after the seminar you should have many chances to create some great images. Best bet: come a few days early and stay on for a few days… (Hint: hope for a pre-dawn rainstorm followed by the sun breaking through in the east while grayish-black storm clouds fill the western sky…)
The seminar will be held at the Eastland Park Hotel. Folks staying at least two nights in the hotel will receive a free Lens Pen Combo Kit at the seminar. As fall color time is peak season in southern Maine, hotel rates are high anywhere in the region. We were able to negotiate a rate of $159 for folks registering early. Once the block of rooms is gone, higher rates will apply. The doors will open on both days at and the programs will begin at sharp. There will be tons of great door prizes (including Delkin e-film Pro compact flash cards and some great stuff from Lowepro and Wimberley). I hope that you will be able to join me for what will be an incredibly educational and fun-filled weekend. (If anyone would like to help us set up or to hang out, be there at .)
The cost of the weekend seminar will be $169. The cost of either single day will be $99. Members of qualifying camera clubs are invited to apply a $10 discount. (If you are a member of a camera club or other photography organization please e-mail us before registering to learn how your group can become a qualifying club). Register with a friend or a spouse and take $10 off each registration. Register in groups of four or more and take $20 off of each registration. Register in a group of ten or more and take $30 off each registration. It is highly recommend that folks purchase the buffet luncheon option ($15/day includes tip and tax). Those purchasing the lunch option will receive their lunch coupon when they check in each morning.) The cost of the weekend seminar plus the two lunches is $199.
There are three ways to register:
1- Send a check for the full amount made out to "Arthur Morris" to PO Box 7245, Indian Lake Estates, FL 33855.
2- Call us with a credit card at 863-692-0906.
3- Send us a Paypal (using either any link on our site or your Paypal account) to us at birdsasart@att.net.)
In all cases, we will need your e-mail address, your mailing address, and your daytime and evening phone numbers.
Here is our Cancellation Policy: If for any reason you need to withdraw, please notify us ASAP. Once we receive your e-mail, your phone call, or written notice of your cancellation the following fees apply: cancel before July 10, 2008 and your fee will be refunded less a $20.00 cancellation fee; cancel by August 10, 2008 and your fee will be refunded less a $50.00 cancellation fee; cancel after September 10, 2008 and there will be no refund.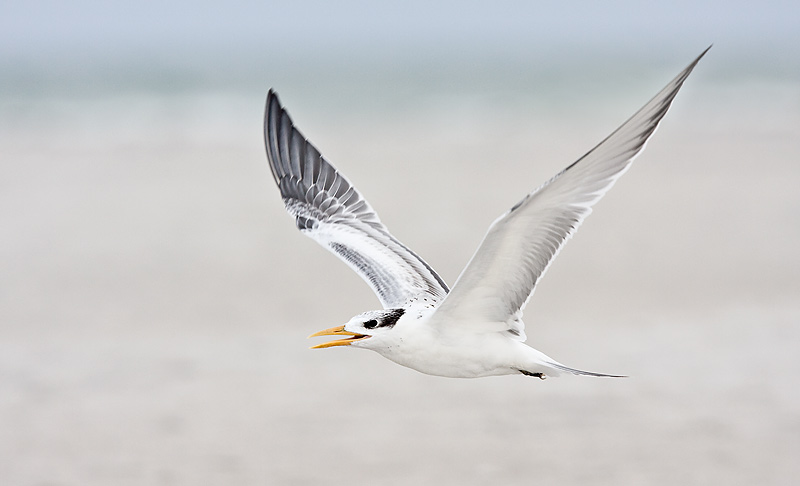 Royal Tern, immature in flight, Fort DeSoto Park, Tierra Verde, FL
Image Copyright 2008: Arthur Morris/BIRDS AS ART

Canon 400mm f/4 IS DO lens handheld with the EOS -40D. ISO 500. Evaluative metering + 1 2/3 stops off the sky set manually: 1/1000 sec. at f/5.6. High speed synch on camera fill flash at -2 stops.

I just love the freedom of taking a walk with the handheld 400 DO and the EOS-40D. And my ailing shoulder and elbow are most thankful. I love both the wing position and the placement of the horizon line in this image. I had positioned myself to photograph the birds that were landing but this young one was taking off.
POSSE NEWS
Alfred and Fabs EVERGLADES AVIANSCAPES WORKSHOPS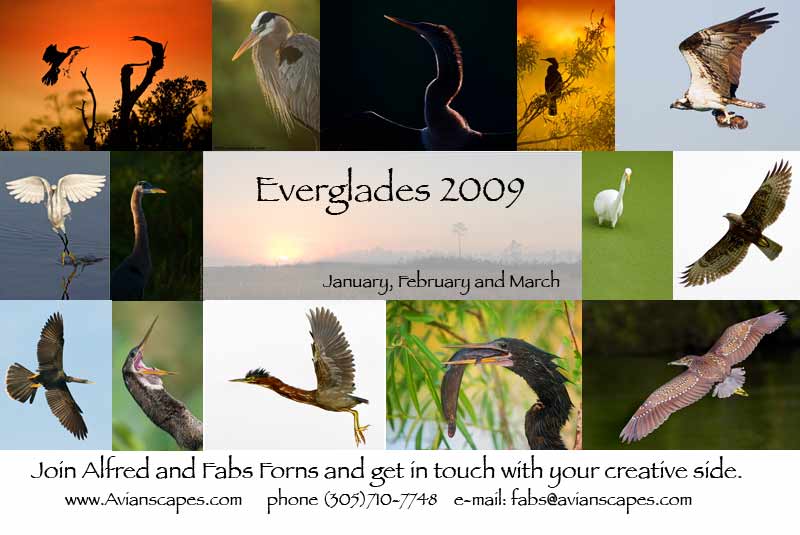 Everglades National Park, Jan 16-18, 2009
Everglades National Park, Feb 20-22, 2009
North Everglades, March 13-15, 2009 (Wakodahatchee, Green Cay and Long Key)
All workshops are 3 days, orientation and slide show the night before. Price per person is $999, which covers all instruction. Lodging, transportation and meals are not covered. Maximum 10 participants per workshop. We will have six "in the field" sessions (weather permitting) and three classroom sessions. In the unlikely event of bad weather, classroom sessions will replace the field sessions. We will focus on developing your vision and personal style. Creativity will be encouraged. There will be Lightroom and CS3 tutorials as well as artistic use of PS filters and blending modes. The use of some popular PS plug-ins will also be covered. There will be a critique session to evaluate your work on the last classroom session.
Come join us in the land of magic and take fresh ideas, motivation and great images with you.
For more information, e-mail Fabs at fabs@avianscapes.com or call (305) 710-7748. To learn more about Al and Fabs visit: www.avianscapes.com
Robert O'Toole Bear Boat Openings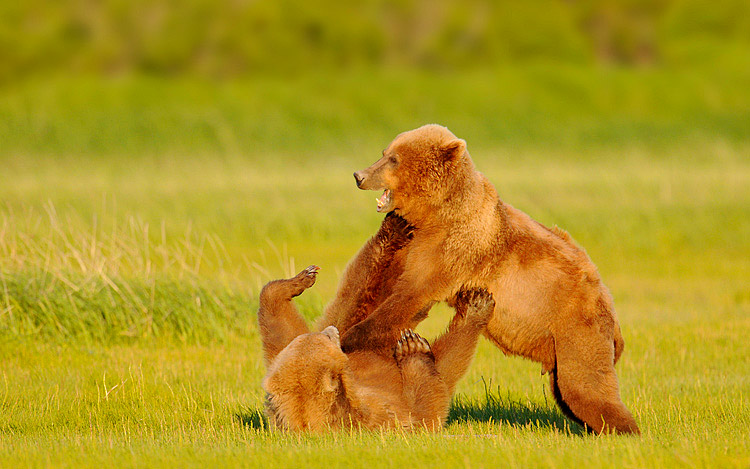 Coastal Brown Bears—large cubs playing, Katmai National Park, AK
Image Copyright 2008: Robert O'Toole Photography
Robert asked me to let everyone know that he has several openings on the September 10-16, 2008 Bear Boat trip to Katmai. This is just about peak for the salmon run and you will get to photograph bears catching salmon every day. You can find complete details here: http://www.aptats.com/bears_sept_2008.html
It is best to contact Robert for more information via e-mail as he will be in Australia for at least a week or two: Robert@RobertOToolePhotography.com. For when he gets back his cell is 1-310.619.8017.
You can learn more about Robert at www.RobertOtoolePhotography.com
Flight School Goes to Bosque with Jim Neiger
With thousands of migratory birds in flight daily at Bosque Del Apache, what better site for Flight School Photography workshops? Last year's workshops were a huge success, so once again, Flight School Photography returns to Bosque. We are anticipating improved conditions and even more outstanding photographic opportunities than last year. There will be two workshops each conducted by expert bird photographer Jim Neiger. Jim has spent the past several years perfecting his unique techniques for photographing birds in flight using large telephoto lenses, hand held. The focus of these workshops will be learning and practicing Jim's hand held, long lens techniques for photographing birds in flight and in action.
The workshops will be held in November, before Thanksgiving, which provides important advantages. First, the spectacular fall colors at Bosque are not to be missed and going early will provide that opportunity. The fall foliage offers incredibly beautiful backgrounds for your photos, and adds even more majesty to the already spectacular sunrises and sunsets. Second, going early means there will be less of a crowd, offering more opportunities for "front-row seats" and leisurely days in the field. Each workshop will include 2 hours of classroom instruction on the first afternoon, a welcome dinner, and a morning and an afternoon photography session each day.
Flight School Goes to Bosque BAA-Approved Workshops: NOV 14-17 and NOV 18-21, 2008. 3-DAY: $1000. (Limit 8.)
Contact Jim by cell phone at 1-407-247-5200 or by e-mail at jimn@cfl.rr.com. Visit his web site at: www.flightschoolphotography.com
IPT UPDATES
Bosque IPT #1: NOV 22-25, 2008. Slide program on the evening of NOV 21. 4-DAY: $1799 Limit: 10/Openings: 1
Bosque IPT #2: NOV 29-DEC 2, 2008. Slide program on the evening of NOV 28. 4-DAY: $1799 Limit: 10/Openings: 3
SW FLA POST X-MAS IPT: DEC 27-29 or 30, 2008. Slide program on the evening of DEC 26. 4-DAY: $1799 (3-DAY OPTION: $1349) Limit: 10/Openings: 4
SW FLA PRESIDENT'S DAY IPT: FEB 13-17, 2009. Slide program on the evening of FEB 12. 5-DAY: $2249 Limit: 10/Openings: 4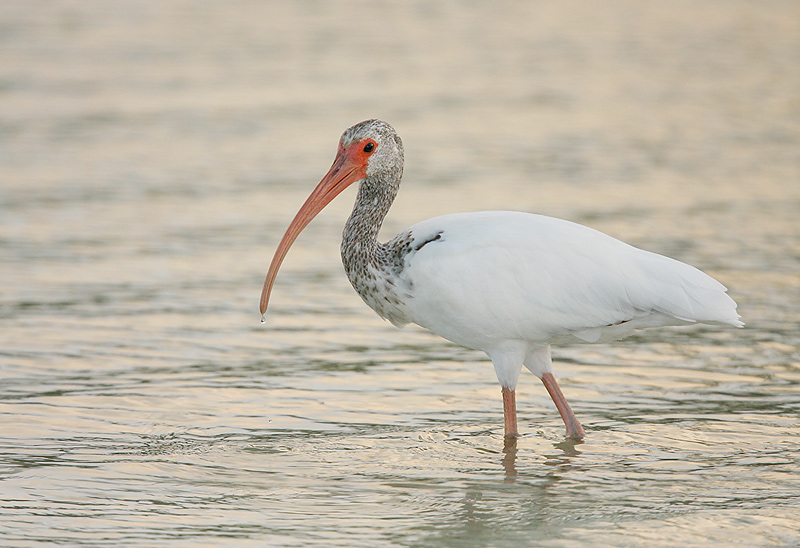 White Ibis, one year old, Fort DeSoto Park, Tierra Verde, FL
Image Copyright 2008: Arthur Morris/BIRDS AS ART

Canon 400mm f/4 IS DO lens handheld with the EOS -40D. ISO 800. Evaluative metering + 1 stop: 1/800 sec. at f/4. High speed synch on-camera fill flash at -1 stop.


I gave this unique bird lots of attention. The original of this, my favorite image in the series, was a bit too low in the frame. I did, however, have many similar images so I simply borrowed some water from one of those images, expanded canvas, and added the water at the bottom of the frame above via a Quick Mask. As I have said many times, the beauty of Quick Masking is that the edges of the selection blend seamlessly. You can learn the basics of Quick Masking in the latest update of Digital Basics (http://www.birdsasart.com/digitalbasics.htm). For advanced techniques see Robert O'Toole's amazing APTATS PDF here: http://www.birdsasart.com/aptats.htm
ART WOLFE AT CNPA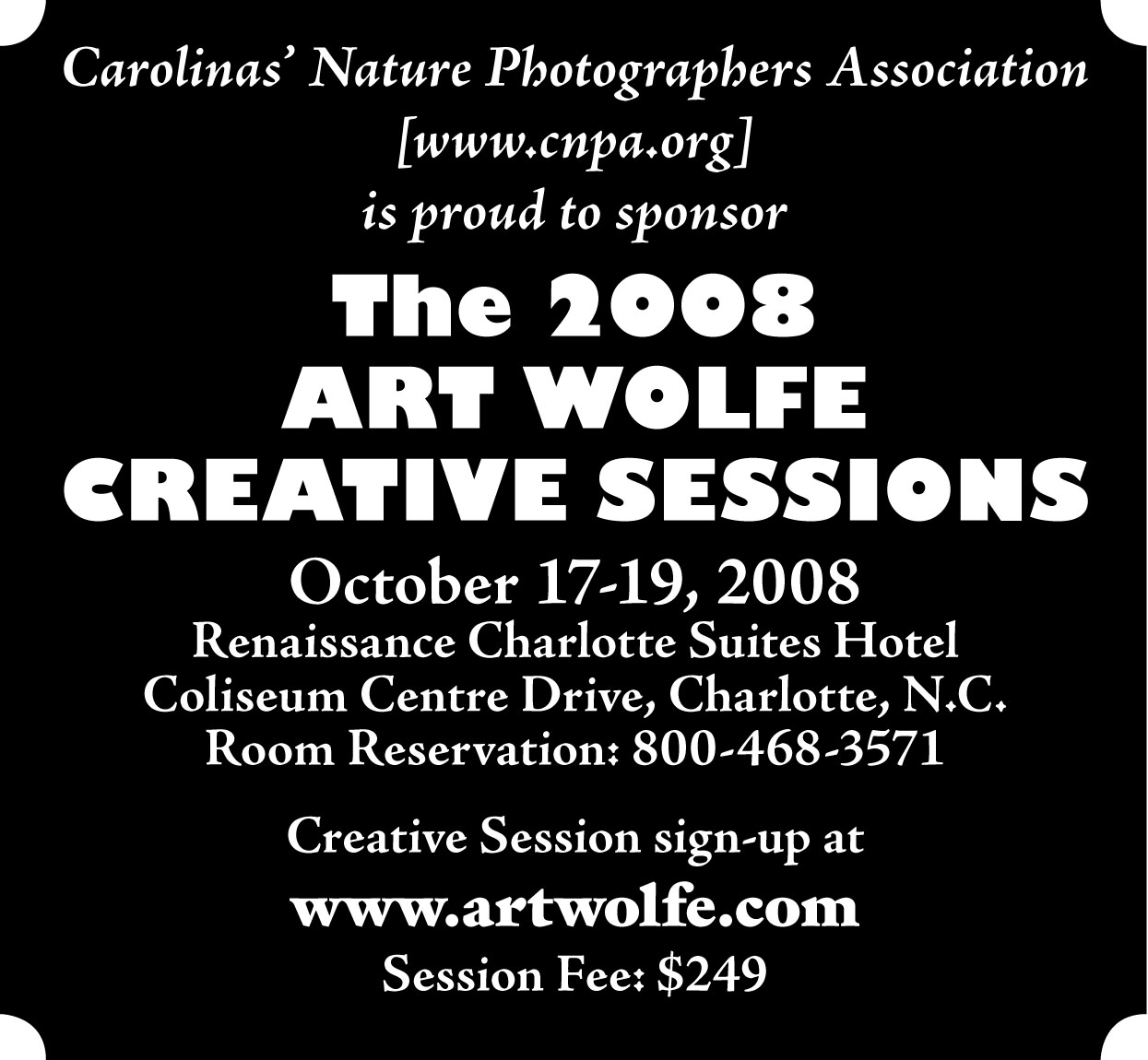 HUNT'S SPECIALS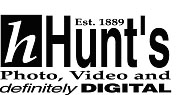 Contact: Gary Farber Tel 800-221-1830 or 800-924-8682 ext. 2332
Fax 800-336-3841 Email digitalguygary@wbhunt.com
BIRDS AS ART SPECIALS (EXPIRES: August 31, 2008)
Hunt's is offering "free" shipping to Birds as Art subscribers on most orders.
New Products from Nikon
Nikon has started to ship the D700 body and the SB900 flash. Please contact Gary Farber or a Hunt's sales associate to receive specific details if you are interested in making a purchase. Nikon is going to be introducing two new lenses; the 45 and 90 Tilt Shift lenses. For more details, contact Gary Farber or a Hunt's sales associate. NPS members that are interested in ordering the "hard to find" products from Nikon, i.e. Nikon D700, Nikon 500VR lens, Nikon 600VR lens; should contact Nikon directly to submit our company's name and the specific sales associate. Nikon will ship the product to Hunt's with your name on it and to the attention of the Hunt's sales associate.
"Hard to Find" Products
Currently Hunt's has in stock is a limited supply of the Nikon 200-400VR lens, 24-70 lens, SB800 flash, Canon 800 5.6 IS lens, Note: For pricing, contact Gary Farber or a Hunt's sales associate.
Think-Tank Bags
Hunt's is now a full line dealer and carries Think Tank bags. Free shipping is being offered on all Think Tank bag orders. The following are some of the most popular bags:
Think Tank Airport International 2.0 $329.99
Think Tank Airport Security 2.0 $369.99
Think Tank Airport Acceleration $279.99
Paper and Ink
Hunt's carries the full line of pro and consumer Epson and Canon papers and inks. Contact John Duggan to place your order(s) 800-221-1830 ext. 2314.
Epson Printers
A limited supply is on hand of factory refurbished 9800 printers priced at $3799.99. Contact Ora Lea 800-221-1830 ext. 2360, olea@wbhunt.com for more details.
Epson 2880 Printer $759.99
Note: When placing an order for the 2880 printer, a free pack of Epson 8 1/2 X 11 50 SHEETS Premium Lustre paper is included.
Canon
Now in stock are some of Artie's favorite lenses; Canon 500mm f4, 100-400 4.5- 5.6 L IS, 70-200 f4 IS, 24-105 f4, 70-200 2.8 L IS.
For pricing, contact Gary Farber or a Hunt's sales associate. Hunt's is a full line Canon product dealer, and carries USA warranty products only.
Used Equipment
Don't forget to turn those older model digital or film cameras, lenses, and accessories into cash or store credit toward your next purchase on the most up-to-date state of the art gear. Check out our Trade-Up or Trade-In Line on the Hunt's website. http://ww.huntsphotoandvideo.com/
Digital SLR Cameras that are currently in stock.
Birds as Art subscribers, "Call" for special prices on the following: Nikon D3, Canon XSi, Canon 1D Mark III, Canon 1DS Mark III, and Canon 40D
New Products currently in stock
Tamron 28-300 VC Lens for Nikon $599.99
Wacom 12" WX Tablet (free shipping with order) $999.99
Sigma 150-500 for Nikon $979.99
Miscellaneous August Specials
1. NIK Color Efex 3.0 complete edition $224.95, Dfine 2.0…..$79.95 and Viveza…..$189.95
2. Colormunki in stock…..$449.99
3. Nikon D300…..$1624.99
4. Epson R2880…..$759.99 w/50 sheet pack of 8.5"x11" premium luster paper
5. Promaster Extension tube Sets (Canon and Nikon)…..$129.99
6. Canon iPF5100 printer…..$1799.99
7. Lacie Products…..5% off
8. Nikon Capture NX2…..$179.99, upgrade…..$109.99
9. Visible Dust Sensor Loupe 7x…..$69.95
10. Hoodman Right Angle Finder…..$99.99, Hood Loupe…..$58.99
Ask for Gary Farber or extension 2304 for a Hunt's Sales Associate. When placing an order for products currently not in stock, be assured as soon as the product arrives at Hunt's from the manufacturer; Gary or a Hunt's associate will contact you. Feel free to contact us at any time with regards to the status of your product delivery. We will do our best to fill your order as soon as possible.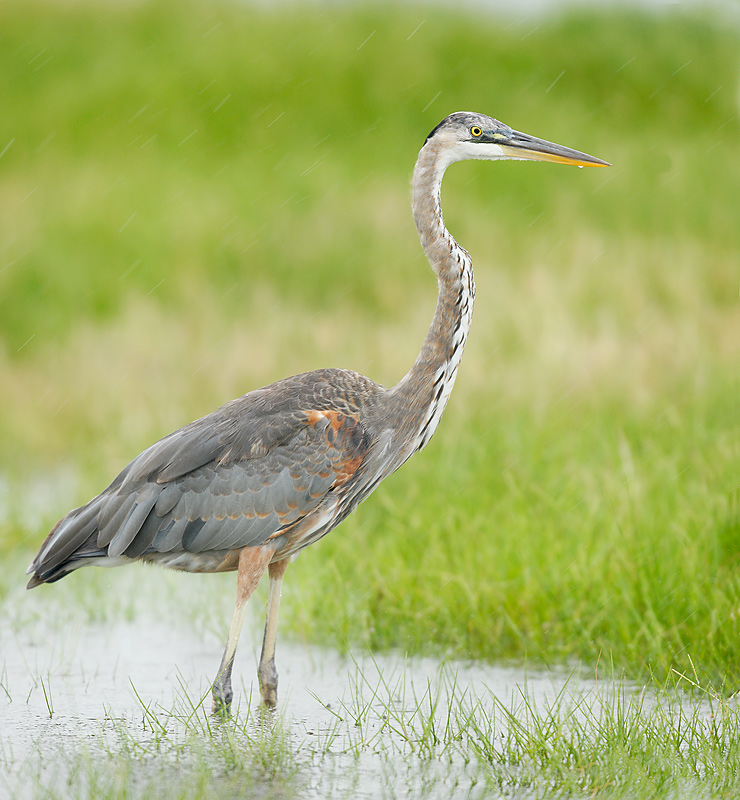 Great Blue Heron, immature in the rain, Fort DeSoto Park, Tierra Verde, FL
Image Copyright 2008: Arthur Morris/BIRDS AS ART
Canon 600mm f/4L IS lens with the EOS 40D from the vehicle with a BLUBB. ISO 400. Evaluative metering +1 stop: 1/250 sec. at f/4.
This is a six-frame stitched panorama, three across by two high. Photoshop CS3's File/Automate/Photomerge feature is easy to use and remarkably effective. If you work from your car with a big lens you need a BLUBB: http://www.birdsasart.com/blubb.htm. The Big Lens Ultimate BeanBag is available only through BAA Mail-order.
Best and love and great picture-making to all,
artie
Note: Arthur Morris has been a Canon contract photographer since 1996 and continues in that role today. Hunt's Photo of Boston, MA is a BAA sponsor as is Delkin Devices. Back issues of all BAA Bulletins can be found in the Bulletin Archives which may be accessed from the home page at www.birdsasart.com. To unsubscribe click here: unsubscribe.