BIRDS AS ART BULLETIN #268
AUGUST 12, 2008
Inspirational, Educational, & Fun. Honest critiques done gently: www.BirdPhotographers.Net
Visit www.birdsasart.com
CANON EOS-40D EVALUATION
CANON EOS-40D SETTINGS
CANON EOS-40D SHOOTER'S INSIGHT VIDEOS
DELKIN RECHARGEABLE AA BATTERIES AND UNIVERSAL CHARGER
THE ART OF BIRD PHOTOGRAPHY EARLY-DELIVERY ORDER OPTION
PORTLAND, MAINE: "The Art of Nature Photography; It Ain't Just Birds" Weekend How-To Seminar
POSSE NEWS
IPT UPDATES
Contact us by phone at 863-692-0906 (Eastern Time Zone) or by e-mail at birdsasart@att.net or @verizon.net. The att e-mail address is best from overseas.
We gladly accept credit card orders by phone 8am till Eastern Time ( till Fridays).
You can use the PayPal links on the web site to order anything. Just type in the item(s) and the amount. If using your own PayPal account, please send to either of the e-mail addresses above.
Note: maximize this e-mail for best formatting.
Important Request: if responding to this e-mail; please take the time to delete all images and irrelevant text.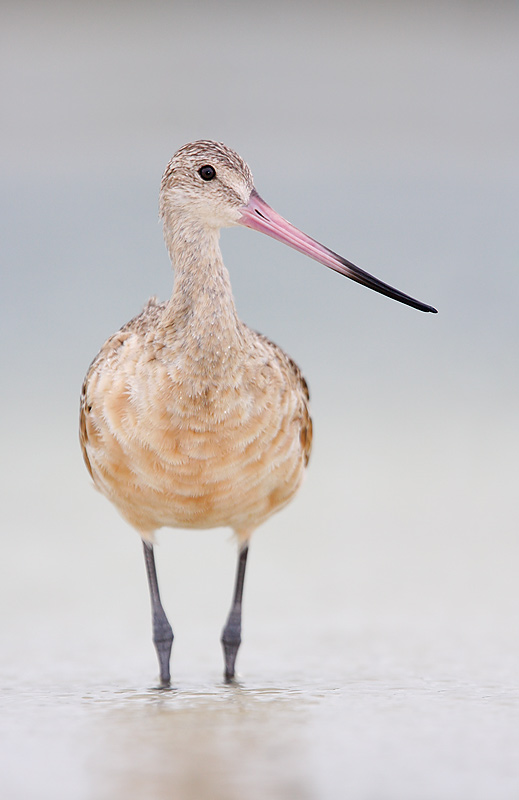 Marbled Godwit, Fort DeSoto Park, Tierra Verde, FL
Image Copyright 2008: Arthur Morris/BIRDS AS ART

Canon 400mm f/4 IS DO lens handheld with the EOS-40D. ISO 500. Evaluative metering + 1 2/3 stops off the grey sky set manually: 1/1000 sec. at f/4.5. High speed synch fill at -2 stops/flash mounted on-camera.
I created this image using the elbows as tripod method to ensure that the distance to the bird did not change after I focused on the eye with One-Shot AF and recomposed. I added a bit of canvas top and right. I lighted the iris with a Quick Mask and a Curves on a layer adjustment.
CANON EOS-40D EVALUATION
Summary
I have truly enjoyed working with the EOS-40D and have produced countless family jewels type images with it in a very short time period. It is great for flight and action and its light weight is heaven sent.
Folks often ask me, "Is it worth it for me to get a Mark III?" "Is the 40D worth it?" I can never answer those questions because I am not them. I have tried to give a fair appraisal of the 40D below and if anything my review may come off as more negative than positive, that because I feel it necessary to mention all of the flaws while surely overlooking some of the great stuff that I love about the 40D. The 40D is an amazing camera and an even more amazing value for both hobbyists and serious nature photographers and makes a great lightweight/back-up option for working professionals like myself. I love my 40D and will continue using it for quite some time to come.
Details
For the money, the Canon EOS-40D body may very well be the best-ever digital camera body value. I began using the 40D about three month ago when Canon asked me to help create a Shooter's Insight video. (See more on the 40D Shooter's Insight videos below.) It took a bit of getting used to the lighter weight of the 40D but the addition of the Battery Grip BG-E2N gave the camera much more of a pro body feel. The battery grip allows you to work comfortably in vertical mode and takes two BP 511 batteries. Battery life has not been an issue even when I have filled one of my Delkin 16gb cards in a single morning.
After the creation of the Shooter's Insight video I found myself using the 40D more and more. I have been doing everything humanly possible to heal my right shoulder and more recently, my right elbow and my body has greatly appreciated the incredibly light weight of the 40D. Whenever I have an intermediate telephoto lens like the lightweight 70-200 f/4L IS on my shoulder, it is always with the 40D. I use that combination with and without the 1.4X II teleconverter.
I began making excellent images with the 40D right off the bat. I absolutely love the look and color of the image files. The 10.1 mp images are captured in 14-bit depth and Highlight Tone Priority assures incredible detail in the whites even in bright sun.
One thing that I noticed immediately is that the 40D needed about 2/3 stop less light across the board than any of my Mark III bodies to yield a perfect histogram. This is actually an advantage as it results in a higher shutter speed.
With its small sensor, the 40D has a 1.6 multiplier effect. For those with intermediate telephoto lenses this is a huge plus. For those using 500mm or 600 mm f/4 lenses, the 1.6X multiplier effect can be a bit of a two-edged sword: at times you will be wishing that you had room to back up and in addition, the increased magnification (especially when working with teleconverters) will mean that your sharpness techniques will need to be impeccable. (See "Advanced Sharpness Techniques" in ABP II: http://www.birdsasart.com/ABPII.htm.) Remember: errors due to vibration and/or equipment shake are increased with the square of the focal length!
Results when photographing birds in flight or in action with AI Servo AF using the central sensor only have been very good to excellent. While initial focus acquisition is a bit slower than with one of the pro bodies, tracking accuracy with the 40D is at least as good if not a bit more consistently excellent. The technique that I developed and used with the 1D MIII has been successful with the 40D. I follow the bird in flight while keeping it in the frame and focusing manually if need be, and then press the shutter button to acquire focus and in the same motion, create the image.
One-Shot AF is sure and accurate and may give the sharpest results when working in low light, low contrast situations, especially when using a teleconverter.
The frame rate of 6.5 frames per second should be more than adequate for most situations, but most cameras are going to seem slow when compared to the blazingly fast frame rate of the Mark III at 10 fps. The 17-frame RAW buffer means that only very rarely if ever will you hit the wall. (Make sure that
The integrated cleaning system works like a charm; I rarely need to use my Sensor Scope and Lens Pen even when working in dusty conditions.
The huge LCD screen on the back of the camera is superb; bright and sharp. There is either an RGB histogram or both the RGB and the brightness histograms. They can be brought up by pressing the INFO button while viewing the image. Canon's refusal to place a yellow or other light-colored frame around the histogram is hard to understand as it is very difficult to see where the histogram ends when working outdoors, especially in bright light. In addition, it would be great to have a full LCD-sized version of the histogram available.
Note: the 40D is designed to focus only to f/5.6. What that means is that it will focus with a 1.4X teleconverter on an f/4 lens or with a 2X teleconverter on an f/2.8 lens but it will not focus with a 2X converter on an f/4 lens or with a 1.4X converter on an f/5.6 lens, etc., etc., etc
The individual focusing sensors on the 40D are much smaller than the individual sensors on the pro bodies. It is imperative that you keep the active AF sensor on the bird at all times whenever you are using AI Servo AF. If the relatively tiny sensor slips off the subject, it will search for the background. (Do see my comments below on C Fn III-1.)
Let's talk about 40D's AF focusing point pattern, the nine point diamond. My largest gripe with the nine point diamond array is that when you are working in vertical format it is a long, long way from the central sensor to the upper or lower sensor; there is far too much dead space there. (The Mark III is not much better; there is only one sensor between the central sensor and the upper or lower sensor in the same line.) Anyway, back to the 40D. I have not used AFPS (all nine points activated) very much. When I have tried it briefly for flight photography, I have always switched back almost immediately to the central sensor only. I have always, for the most part, relied on the central sensor both for flight and action and when using One-Shot AF.
In the image below, note the great distance between points A and B. In an ideal world, there would be two AF sensors between points A and B.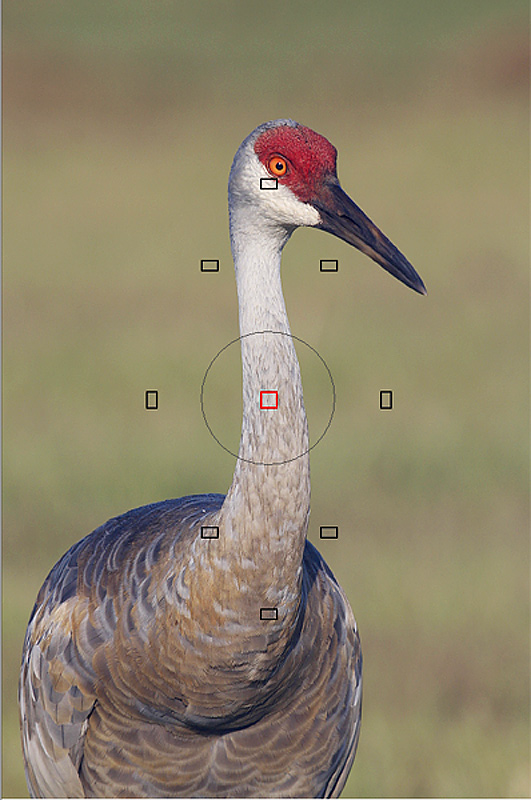 Though the central sensor (while in AI Servo AF to track the bird as it walked towards me) is on the bird's neck (which is behind the plane of the bird's eye) the image above is sharp because I was able to use a bit of extra depth of field. If I had chosen point B, it would have been pretty much impossible to keep the tiny sensor on the bird's face or eye. Lastly, the problems mentioned above are exacerbated if the bird is walking towards you…
With the bird square to the imaging sensor in the image below, I did use AFPS (all nine points activated) successfully.
The trick here (as it is with 45-point AFPS with the pro bodies) is to acquire focus with the central sensor and then recompose as desired. In theory, the system will hold focus accurately as it did here while yielding a pleasing composition. Note that had I used the central sensor alone, the system would have focused on the background… The black speckles under the eye are actually the flashing highlights that were captured inadvertently via the screen capture. With only a few over-exposed pixels as above, converting the image a bit darker would save the whites.
CANON EOS-40D SETTINGS
As requested in dozens of e-mails, let's take a look at how I set up my 40D.
Menu Items
Red Menu 1. Quality: RAW, Red-eye: On, Beep: On. Shoot w/o card: Off, Review time: 8 sec.
Red Menu 2. Color Space: Adobe RGB, Picture Style: Neutral
Blue Menu 2. Highlight Alert: Enable, AF Point display: Enable, Histogram: RBG
Yellow Menu 1. Auto Power Off: 30 minutes, File Numbering: Continuous, Auto Rotate: ON (computer),
Yellow Menu 2. LCD Brightness: one notch below the brightest, Date/Time: make sure that the date and the time are set accurately at all times even when you travel to new time zones.
Custom Functions (shown only if settings are different from the default settings).
C Fn 1-group: 3/ISO Expansion: 1: On, 6: Safety Shift/ Enable (TvAv).
C Fn II group: 3/Highlight Tone Priority: Enable.
C Fn III group: all at default except 7/Mirror Lock (Enabled when needed).
C Fn IV group: 1/Shutter Button/AF-ON Button: 1 Metering + AF start/AF stop, 2/AE-ON/AE lock button switch: 1: Enable.
C Fn III-1/Auto focus/Drive/Lens drive when AF impossible is supposed to work as it does on the EOS-1D MIII, but my experience is that is does not. When C Fn III-1 is set to 1: Focus search off, the AF system will not attempt to focus on anything that is not very close to the point of accurate focus. As with the MIII, it is best to pre-focus manually when using C Fn III-1. With the 40D, however, the system is not at all responsive to birds that are relatively close to the actual point of focus as the MIII does. The huge problem with the 40D is that even with C Fn-1 set to 1/Focus search off, the AF system will drop focus immediately and search for the background if the sensor falls off of the subject. (This is not the case with the MIII.)
(Folks interested in the details involved in setting up C-Fn III-1, C Fn IV-1 and C Fn IV-2 are referred to the Mark III User's Guide: http://www.birdsasart.com/MARK%20III%20USER%20GUIDE.htm).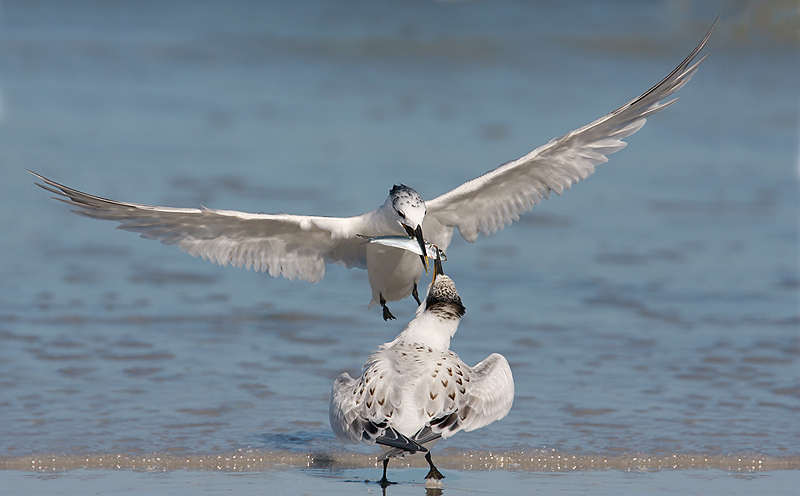 Sandwich Tern adult feeding fledged young, Fort DeSoto Park, Tierra Verde, FL
Image Copyright 2008: Arthur Morris/BIRDS AS ART

Canon 400mm f/4 IS DO lens handheld with the 1.4X II TC and the EOS-40D. ISO 320. Evaluative metering -1/3 stop off the blue water set manually: 1/2000 sec. at f/8 (verified by histogram check).
When I saw this image on the back of the camera it looked as if I had clipped the birds feet. When I saw it on the laptop (see below), I jumped for joy. I followed the adult on the way in and acquired focus and fired just at the right instant.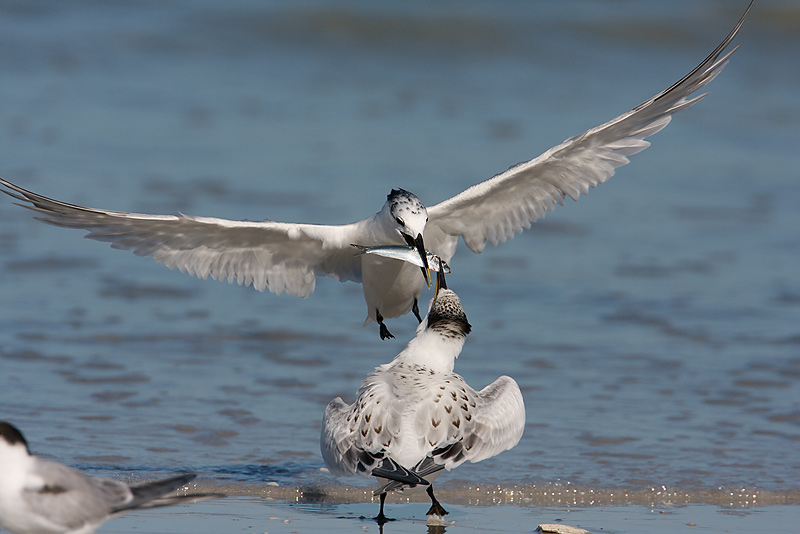 First I added canvas left and above and used Quick Masks to add the needed water seamlessly. Then I used a few more Quick Masks to eliminate the bird on the lower left and the rock to the right of the young bird. I used both Quick Masks and the Clone Stamp to repair the two barely clipped wing tips. Next were the basic Levels, Hue Saturation, Selective Color, and Curves Adjustments as detailed in Digital Basics. You can learn advanced Quick Masking techniques in Robert O'Toole's APTATS CD here: http://www.birdsasart.com/aptats.htm. Click here to learn more about Digital Basics: http://www.birdsasart.com/digitalbasics.htm
CANON EOS-40D SHOOTER'S INSIGHT VIDEOS
You can access the Shooter's Insight 40D videos here: http://www.usa.canon.com/dlc/controller?act=GetArticleAct&articleID=1846&fromTips=1
When the screen opens, click on Video to see the introductions by either Wedding Portrait photographer Bob Davis or me. (He's the one with hair!) After viewing both of those, click on Product Features to get to some really good educational stuff. There will be five click-able sections. Click on any of the ones that interest you and you will be faced with additional choices. Click on the first one to see a short video and then click next until you come to the end of the set. I checked out some of Bob's videos and learned a thing or two. There is an exceptionally interesting piece on using White Balance settings in conjunction with RGB histogram to ensure accurate skin tones. In my videos there is some solid instructional material on histograms and on flash. Surf and enjoy, and be sure to check out the image galleries.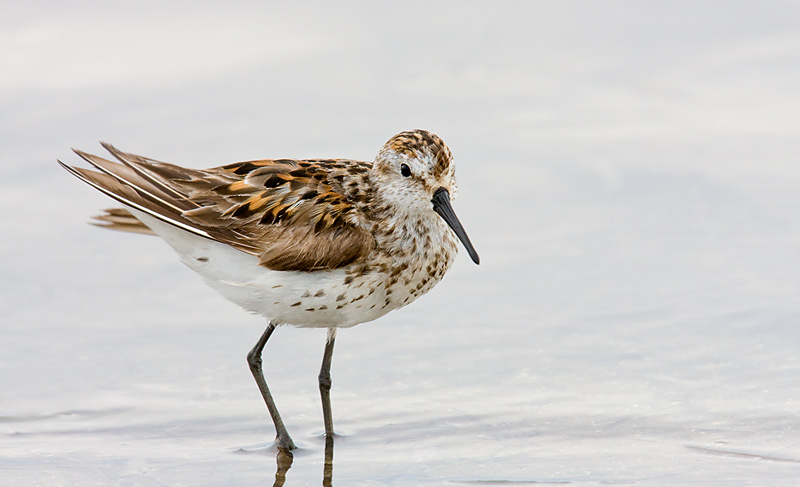 Western Sandpiper, worn, molting adult, Fort DeSoto Park, Tierra Verde, FL
Image Copyright 2008: Arthur Morris/BIRDS AS ART

Canon 600mm f/4 L IS lens handheld with the 1.4X II TC and the EOS-40D. ISO 640. Evaluative metering + 11/3 stops: 1/200 sec. at f/9. Car as blind with the lens on the BLUBB. Learn more about the Big Lens Ultimate BeanBag here: http://www.birdsasart.com/blubb.htm

While this image is relatively sharp, f/9 was a bit much as it robbed me of much needed shutter speed... Why is shutter speed so important with the above combination? Can you say 26.88 magnification? (1344mm effective focal length is a lot of ammo but remember that all of your errors are multiplied by the square of the focal length!) Best to keep the beast very still while pushing the shutter button...
DELKIN RECHARGEABLE AA BATTERIES AND UNIVERSAL CHARGER
As Linda Robbins' High Speed Flash Hummingbird Guide is (finally) nearing completion, we are beginning to add the products that folks will need. Here are two great products for folks using either or both BP 511 batteries in their cameras or AA batteries in a single external flash unit for general bird and nature photography.
If you use four AA batteries in your flash and discard them after use you get to spend another $8.00 or so for four more quite often. Switching to rechargeable AA batteries is dozens of times less expensive over the course of a year or two of photography and in addition is much, much kinder to the environment. Delkin Extended Power Rechargeable AA Batteries are top-rated at 2900mAh. Delkin understands that purchasing high quality batteries for your equipment is important to you, and therefore, they hold themselves to the highest standards of manufacture, service, and professionalism. Working only with highest grade materials to prevent short circuiting and to maintain a safe and accurate charge, these batteries are crafted with your safety and the safety of your flashes in mind. And all Delkin Power batteries undergo rigorous quality testing before they are sent out to the consumer. Delkin Extended Power Rechargeable 2900 mAh AA Batteries come with a limited 2 year warranty and are 100% compatible with anything that takes AA batteries.
You can save a ton of money by ordering your Delkin Extended Power Rechargeable 2900 mAh AA Batteries right now from BIRDS AS ART. I have been using these batteries for my hummingbird photography for more than a year and have found them to be both powerful and 100% reliable.
Delkin 2900 mAh AA Rechargeable Batteries/four pack: $14.99 each plus $4.00 shipping per order in the U.S. (Compatible with all Nickel Metal Hydride AA chargers.)
After having three out of four Ansmann AA battery chargers (two different models) fail within four months of purchase I decided to try the Delkin Universal Charger with AA Battery Plates. You purchase the charger and two AA battery charging plates and you are able to charge 8 batteries quickly and efficiently. If you use a Canon camera that uses BP-511 batteries you can purchase two plates for these batteries and charge them two at a time.
Delkin Universal Charger: $52.99 plus $7.00 shipping to US addresses.
AA plate (one in a pack): $9.99 each plus free shipping with the purchase of a Delkin Universal Charger.
BP511 plates (2 in a pack): $4.99 plus free shipping with the purchase of a Delkin Universal Charger.
Side view of the Delkin Universal Charger with two AA Battery Plates charging eight 2900 mAh AA batteries at once. Below: top view of the same.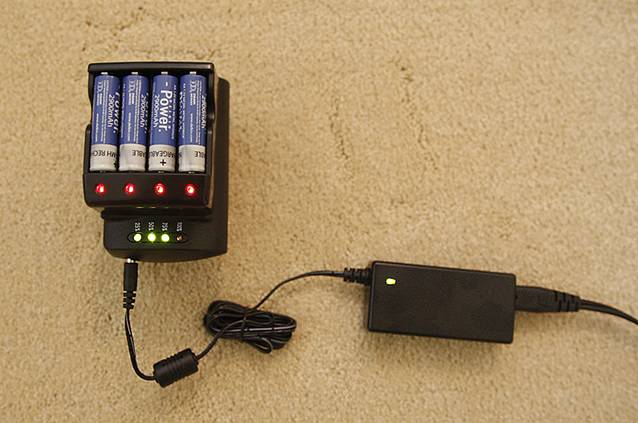 THE ART OF BIRD PHOTOGRAPHY EARLY-DELIVERY ORDER OPTION
We will be accepting early-delivery option orders only until August 21, 2008. Those who miss the boat will need to wait until the entire order arrives via slow boat in October.
In October the book will sell for $40 plus shipping ($5.00 to all US addresses/ $12.00 to all foreign addresses). Those who have been anxious to get a copy (we have seen them selling used on Amazon for several hundred dollars) are invited to order an early delivery-option copy as follows: $40 for the book plus a $10 early delivery-surcharge (to defray the cost of having several cartons of books Fed-Xed from Singapore) plus the regular shipping charges (as noted above). Do note that though we will be receiving our advance copies via Fed-X the book that you purchase will be sent book rate to US addresses. This service normally takes 7-10 days but is sometimes surprisingly faster. Those in a real hurry can e-mail Jim to inquire about the cost of 2nd day air shipping.
Important note: we are not accepting pre-orders for the books that will arrive here in October. We are only accepting early delivery-option orders: $50 plus shipping as above. Paypal, check, or credit card by phone (863-692-0906) are all fine.
For complete details on the reprinting of the original ABP please click here: http://www.birdsasart.com/books.html#PHOTO_BOOK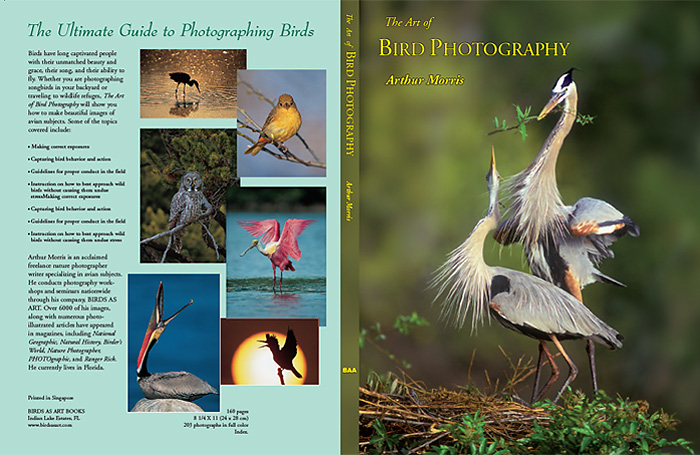 PORTLAND, MAINE: "The Art of Nature Photography; It Ain't Just Birds" Weekend How-To Seminar
"The Art of Nature Photography; It Ain't Just Birds" Weekend How-To Seminar in Portland, Maine
October 11-12, 2008
Eastland Park Hotel, 157 High Street, Portland, ME
This seminar is for all nature photographers who want to learn how to make better photographs. On Saturday I will describe the methods and techniques that I have used and developed since 1983. My comments on lenses and digital camera bodies, AF, light, and on composition and image design will be highly informative and educational. And my tips on getting close to free and wild subjects and creating pleasing blurs will help you become a better photographer. Everyone with a telephoto lens who wishes to dramatically improve the quality of their images will benefit from attending.
Since going all-digital in November 2002, I have—with the help of many wonderful friends—become a Photoshop expert. My approach to optimizing images is to create master files of excellent quality in the shortest possible time. I will share our workflow and numerous Digital and Photoshop tips on Sunday. As more and more folks are using Digital Capture, I am finding on our IPTs that many good to excellent photographers have no clue as to how to use Photoshop to make their images look better. In fact, many of them make their best images look worse! I can and will teach you to do just that at this seminar.
Do consider taking advantage of the opportunity to spend two days learning from one of the premier nature photography educators on the planet by joining me for this great weekend. The October 11-12 dates were carefully chosen to coincide roughly with the average peak of fall color in southern Maine. The likelihood is that if you are coming from out of town and would like to photograph the fall color the best bet (taking global warming and the trends in recent years) would be to schedule your photography in the days following the seminar. Every year, however, is different, and this is nature photography so there are no guarantees, but chances are, whether you photograph just before or just after the seminar you should have many chances to create some great images. Best bet: come a few days early and stay on for a few days… (Hint: hope for a pre-dawn rainstorm followed by the sun breaking through in the east while grayish-black storm clouds fill the western sky…)
The seminar will be held at the Eastland Park Hotel. Folks staying at least two nights in the hotel will receive a free Lens Pen Combo Kit at the seminar. As fall color time is peak season in southern Maine, hotel rates are high anywhere in the region. We were able to negotiate a rate of $159 for folks registering early. Once the block of rooms is gone, higher rates will apply. The doors will open on both days at and the programs will begin at sharp. There will be tons of great door prizes (including Delkin e-film Pro compact flash cards and some great stuff from Lowepro and Wimberley). I hope that you will be able to join me for what will be an incredibly educational and fun-filled weekend. (If anyone would like to help us set up or to hang out, be there at .)
The cost of the weekend seminar will be $169. The cost of either single day will be $99. Members of qualifying camera clubs are invited to apply a $10 discount. (If you are a member of a camera club or other photography organization please e-mail us before registering to learn how your group can become a qualifying club). Register with a friend or a spouse and take $10 off each registration. Register in groups of four or more and take $20 off of each registration. Register in a group of ten or more and take $30 off each registration. It is highly recommend that folks purchase the buffet luncheon option ($15/day includes tip and tax). Those purchasing the lunch option will receive their lunch coupon when they check in each morning.) The cost of the weekend seminar plus the two lunches is $199.
There are three ways to register:
1- Send a check for the full amount made out to "Arthur Morris" to PO Box 7245, Indian Lake Estates, FL 33855.
2- Call us with a credit card at 863-692-0906.
3- Send us a Paypal (using either any link on our site or your Paypal account) to us at birdsasart@att.net.)
In all cases, we will need your e-mail address, your mailing address, and your daytime and evening phone numbers.
Here is our Cancellation Policy: If for any reason you need to withdraw, please notify us ASAP. Once we receive your e-mail, your phone call, or written notice of your cancellation the following fees apply: cancel before July 10, 2008 and your fee will be refunded less a $20.00 cancellation fee; cancel by August 10, 2008 and your fee will be refunded less a $50.00 cancellation fee; cancel after September 10, 2008 and there will be no refund.
Red Knots feeding on edge of surf at dawn, Fort DeSoto Park, Tierra Verde, FL
Image Copyright 2008: Arthur Morris/BIRDS AS ART

Canon 70-200mm f/4 L IS lens handheld at 70mm with the EOS 40D. ISO 400. Evaluative metering+1 1/3 stops: 1/40 sec. at f/11.
As I almost always do when creating bird-scapes, I used One-Shot AF, focused on the birds and re-composed. I glanced at the Double Bubble Level in the camera's hot shoe
before making the image. You can learn more about Double Bubbles here: http://www.birdsasart.com/accs.html#BUBBLE.
POSSE NEWS
Fly South with the Birds
2009 Winter Workshops
Ah… Winter in Florida! Enjoy warm temperatures, dry sunny days, and an abundance of birds that make Florida their home for the winter. It's the perfect winter setting for birds and photographers. In addition to the workshops noted below Jim offers custom-designed and scheduled small group and individual trips in late winter and spring. Last year he was pretty much sold out from January through May so it is best to book early. Details on the 2009 Best of Florida Workshops with Jim Neiger and James Shadle will be announced in a Bulletin soon.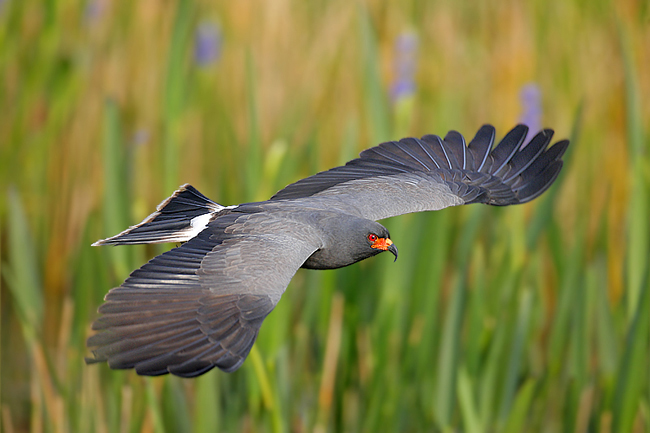 Male Snail Kite Gliding Flight - Topside view
Image copyright © 2008: Jim Neiger/Flight School Photography
Flight School Photography is pleased to announce Fly South with the Birds winter workshops in central Florida. Your instructor and guide, Jim Neiger, is intimately familiar with this region and its avian subjects; and he knows the hotspots like no one else. He is the author of the Central Florida Site Guide and several articles about the birds of central Florida. Jim is also well known for his awesome images of birds in flight obtained by using his own techniques for hand-holding long telephoto lenses.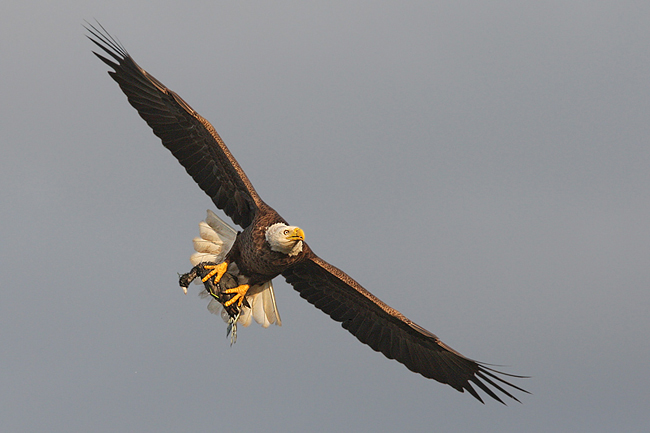 Bald Eagle Returning to Nest with Coot for Dinner
Image copyright © 2008: Jim Neiger/Flight School Photography

Each of the two Fly South with the Birds winter workshops will include eight 3-4 hour photo sessions: 4 photo sessions via boat and 4 photo sessions on land. A variety of habitats will be visited, where you will photograph many different species of birds. The list of possible subjects is too long to include here. Commonly seen subjects include: Snail Kite, Bald Eagle, Great Horned Owl, Barred Owl, Red Shoulder Hawk, Crested Caracara, Osprey, Whooping Crane, numerous wading birds, song birds, woodpeckers, ducks, etc. The 5 day Winter Workshops will begin with an afternoon classroom session, where you will learn techniques for hand-holding long telephoto lenses to photograph birds in flight. You will also learn how to safely use recorded bird songs to increase your photographic opportunities. This will be followed by 4 full days in the field. The group will explore remote and highly productive areas of central Florida and visit a variety of habitats. The boat sessions will give us access to some of the most difficult and desirable subjects, such as the Snail Kite, the rarest raptor in North America. Refreshments will be provided during all sessions.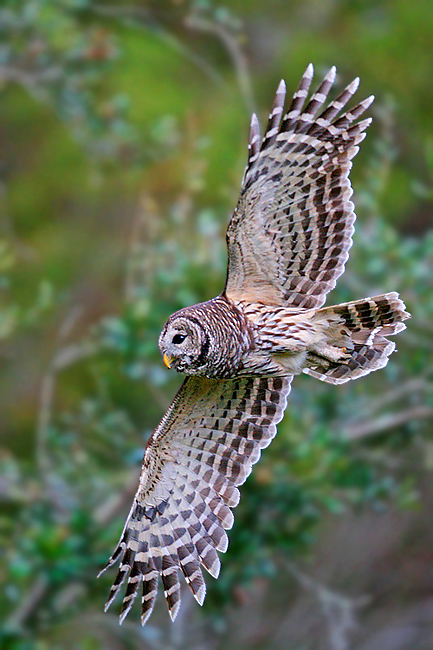 Barred Owl Banking in Flight
Image copyright © 2008: Jim Neiger/Flight School Photography
Jim's 2007 pontoon boat was purchased and customized specifically for use during photography workshops. It is roomy, comfortable, and stable. The boat is equipped with an extremely quiet, four-stroke motor for silent cruising. It also has a powerful, silent, electric trolling motor with wireless remote control. This allows Jim to position the boat precisely and silently. The boat can be configured with no top, a half canopy to provide shelter from sun and rain, or with a half enclosure that can completely protect participants from the elements. The boat has capacity for twelve people, but Jim limits the number of participants to only 5 so that everyone has room to relax and photograph in comfort. Don't miss this amazing opportunity.
Workshop Dates:
FSW-1: January 9-13, 2009
FSW-2: January 23-27, 2009
Workshop Cost and payment:

The cost of each workshop is $1300 per person. Each workshop includes a four hour formal classroom instruction session, welcome dinner, a morning photography session, and an afternoon photography session, each day. The photography sessions include personalized instruction in the field. A $650 non-refundable deposit is required for the workshops. The remaining $650 is due 60 days before the start date of the workshop. If you are unable to attend the workshop, after paying the balance, the balance payment will be refunded ONLY if your spot can be filled, on short notice, from the waiting list. All workshop payments must be made by check or money order. Credit cards are not accepted.
Please make checks payable to Flight School Photography, Inc. and send them to:
Flight School Photography, Inc.
Jim Neiger
550 Basin Drive
Kissimmee, Fl 34744
Participant Requirements:

Participants should have working knowledge of how to create a properly exposed image, a telephoto lens of 400mm or more (300mm with a teleconverter is acceptable), and be physically capable of holding their camera and lens up to their eye in shooting position for at least 10 seconds. Participants must also have a vehicle to travel to and from the photography locations.
Contact info via phone or email:
Phone: 407-247-5200
Email: jimn@cfl.rr.com
Flight School website: www.flightschoolphotography.com
IPT UPDATES
Bosque IPT #1: NOV 22-25, 2008. Slide program on the evening of NOV 21. 4-DAY: $1799 Limit: 10/Openings: 1
Bosque IPT #2: NOV 29-DEC 2, 2008. Slide program on the evening of NOV 28. 4-DAY: $1799 Limit: 10/Openings: 2
SW FLA POST X-MAS IPT: DEC 27-29 or 30, 2008. Slide program on the evening of DEC 26. 4-DAY: $1799 (3-DAY OPTION: $1349) Limit: 10/Openings: 4
SW FLA PRESIDENT'S DAY IPT: FEB 13-17, 2009. Slide program on the evening of FEB 12. 5-DAY: $2249 Limit: 10/Openings: 4
Snow Geese, Fire in the Mist, Bosque Del Apache NWR, San Antonio, NM
Image Copyright 2008: Arthur Morris/BIRDS AS ART
To learn the details of how I created this prize winning image and to learn the behind the scenes story of why I still consider it somewhat of a failure, read down to the bottom of this BPN thread: http://birdphotographers.net/forums/showthread.php?t=17220 First time visitors will be prompted to register. Registration is free.
Visiting Bosque this year? Check out our Bosque Site Guide, a compilation of my 13 years of experience at the refuge: http://www.birdsasart.com/siteguides.htm#BOSQUE%20SITE%20GUIDE%20NOW%20AVAILABLE!
Best and love and great picture-making to all,
artie
Note: Arthur Morris has been a Canon contract photographer since 1996 and continues in that role today. Hunt's Photo of Boston, MA is a BAA sponsor as is Delkin Devices. Back issues of all BAA Bulletins can be found in the Bulletin Archives which may be accessed from the home page at www.birdsasart.com. To unsubscribe click here: unsubscribe.