Contact us by phone at 863-692-0906 (Eastern Time Zone) or by e-mail at birdsasart@att.net or birdsasart@verizon.net. The att
e-
mail
address is best from overseas.
We gladly accept credit card orders by phone from 8am till Eastern Time ( till Fridays and some weekends). You can use the PayPal links on the web site to order anything. Just type in the item(s) and the amount. If using your own PayPal account, please send to either of the e-mail addresses above.
Note: maximize this e-mail for best formatting.
Important Request: if responding to this e-mail, please take the time to delete all images and all irrelevant text.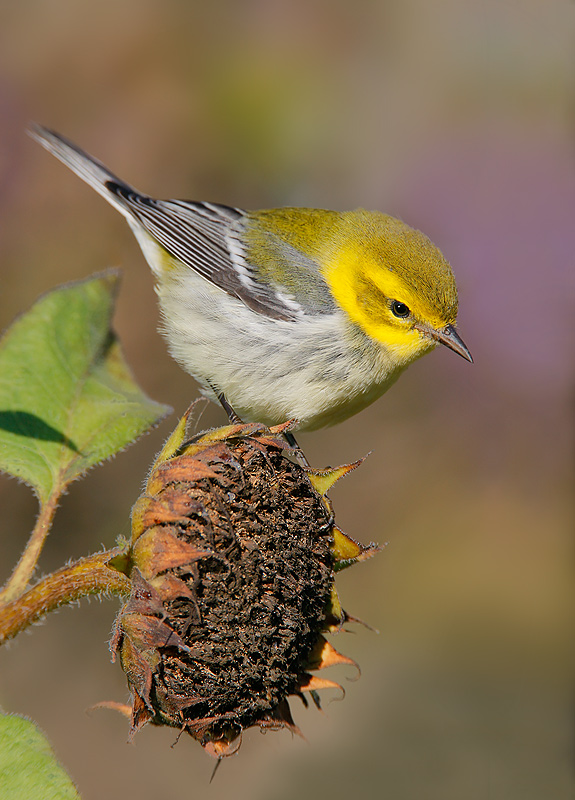 Black-throated Green Warbler, fall female on spent sunflower, Monhegan Island, ME
Image Copyright 2008: Arthur Morris/BIRDS AS ART
Canon 500mm f/4L IS lens with the 1.4X II TC and the EOS-1D MII. ISO 400. Evaluative metering +1/3 stop: 1/400 sec. at f/8.
To see how even a top pro can learn a ton from good critiques, check out the BPN thread on this image here: http://birdphotographers.net/forums/showthread.php?t=21669 This is the version that I created after getting some great advice from the members at Avian Free and Wild. There you can read the story of the creation of the original and check out the original image that needed help. Sometime we fall in love with an image and become blind to the flaws...
MONHEGAN ISLAND, MAINE TRIP REPORT
On October 2, I flew to Portland, ME where I was met by multiple IPT-veteran Mike Milicia and his wife Ann who had graciously agreed to drive me to Port Clyde, ME where we would catch the ferry to Monhegan the next morning. Monhegan is a 1.75 by .75 mile island located 12 nautical miles off the coast of southern Maine. It is home to less than 100 folks year-round and to lots of artists and tourists each spring and fall and to lots of birders in spring and especially in fall. Lots of rarities are found each autumn as migrants are blown off course by storms, especially those from the northeast. The most exciting part of our trip was the ferry ride over. There was a stiff wind from the east and when we entered open water the boat was rolling and pitching big time, often becoming airborne and then crashing back into the sea with a thud. I sat in the lee of the wheelhouse and still got soaked. Eventually, I was thrown off the bench seat that I had occupied and decided that it was best to stay seated in several inches of water--can you say "wet butt?" Folks on the upper back deck were drenched with literally tons of cold saltwater. It was so rough that nobody dared try to move to a safer spot. After about an hour of the rough stuff we were at the wharf on Monhegan but even there the wind ruled and we disembarked with great care. We were on the boat that arrived just after noon. On the 5pm trip on the same boat, two lifeboats were torn loose by the wind and despite rumors to the contrary nobody was seriously injured.
Though we did not enjoy a spectacular fallout, there were migrant passerines around pretty much every day. While birding might have been great, bird photography was only fair to good as the birds around town were mostly in thick tangles and the birds out of town were in deep dark woods. We enjoyed two consistent spots. The first was a flower garden right on Main Street that attracted several Black-throated Green Warblers and a few Black-capped Chickadees. The problem there was that the island's very few pick-up trucks drove back and forth continuously each morning during the sweetest light. We could never figure out where they were going or what they were doing... Bird Watcher's Digest editor Bill Thompson III had told me about an old birder who spends each fall on Monhegan. We found the large (rather homey) fish shack that Tom Martin rents each season rather easily as his backyard was filled with birdseed. And with sparrows, probably ten species in all: Savannah, Chipping, White-crowned, Clay-colored, Song, Swamp, Lincoln's, White-throated, Lark, and I am pretty sure that I had a single late Field Sparrow as well. When we asked Tom--as crusty a character as you would ever hope to meet--if it would be OK for us to set up some perches in his yard, he replied gruffly, "Do whaddever you want!" Tom was originally from Wilkes-Barre Pennsylvania and now lives in Manhattan with his wife of many decades.
Aside from those two spots, and some chances with Peregrines on the east-facing high cliffs, we really had to work to create an avian image or two. The Ice Pond offered bathing Herring and Black-backed Gulls and a few Mallards most afternoons. Dinners were the highlight of the trip. We ate at the Island Inn every night. We stayed 7 nights and I had the 1 1/2 pound lobster about five of those nights. Yum-mee. Mike and Ann sampled most everything over the course of the week. Did I mention that the mussels appetizer was killer? We headed back to the mainland on the 9am ferry on Friday, Oct. 9. The seas were blessedly calm. With Ann Milicia again at the wheel we made our way south towards Portland for the seminar. We stopped at Red's Eats in Wiscasset for their famed lobster rolls (no bun for me) and the lobster was exquisite. The lobster shack closed for the summer the next day so the line was quite long. Thanks again to Mike and Ann for their excellent taxi service, friendship, and camaraderie! (And additonal kudos go to Ann for finding a single cooperative Yellow-bellied Sapsucker for Mike and me.)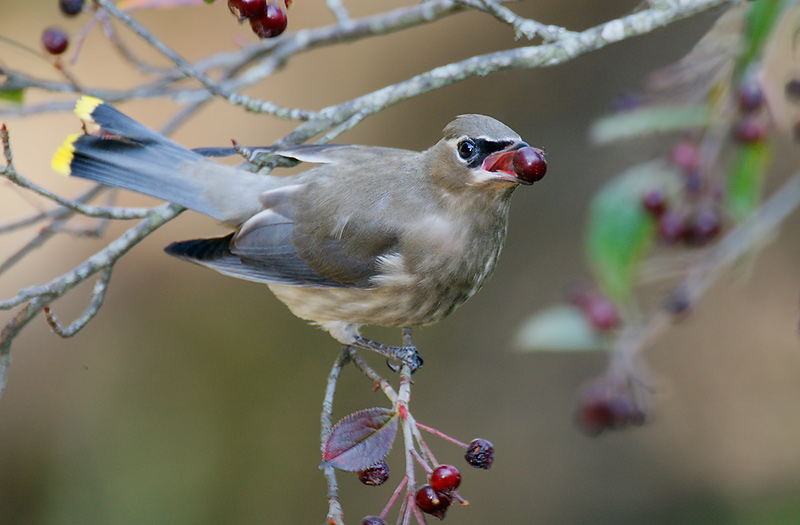 Cedar Waxwing, immature with berry, Monhegan Island, ME
Image Copyright 2008: Arthur Morris/BIRDS AS ART
Canon 500mm f/4L IS lens with the 2X II TC and the EOS-1D MII. ISO 1600. Evaluative metering +2/3 stop: 1/80 sec. at f/8. Fill flash at -1 stop with Better Beamer.
Knowing of the great noise control at high ISOs with the Mark III I did not hesitate to go to ISO 1600 when I needed it. And Image Stabilization helped me to create a sharp image at 1/80 second with an effective focal length of 1300 mm (or 26X magnification!). The stick through the head and the stick in front of it (see below) were more than I could bear so I used the "divide and conquer" and the "protect and defend" techniques as described in Digital Basics to clean things up. A representation of the converted RAW file is below, the optimized image above. You can learn more about Digital Basics here: http://www.birdsasart.com/digitalbasics.htm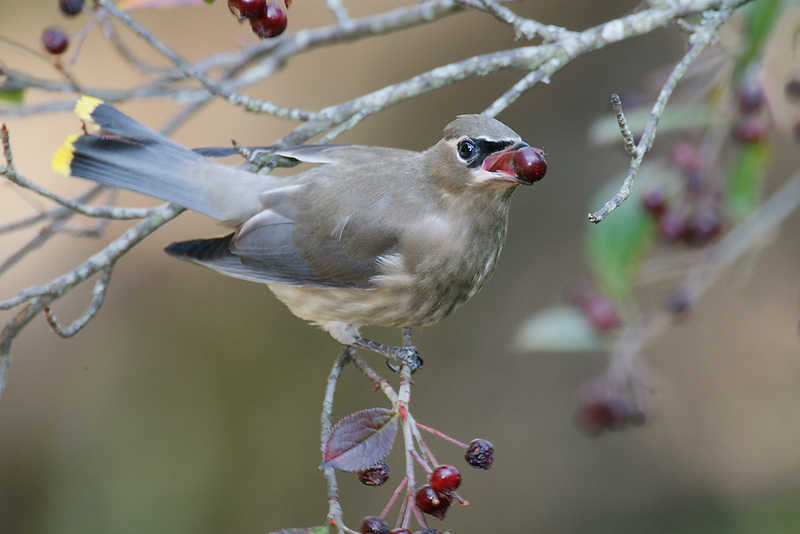 PORTLAND, MAINE SEMINAR REPORT
By any standards, the seminar was a huge success. The Eastland Park Hotel provided a wonderful venue, with lots of room for both attendees and exhibitors. Gary Farber from Hunt's Photo and Video was there with lots of great gear and accessories as was Canon Pro Markets Rep Carl Peer with lots of product to demo and a wealth of knowledge that he was eager to share. Monsieur Chris Dodds drove down from Quebec and worked the BAA table with the afore-mentioned Mike Milicia. After a lunchtime sensor cleaning demonstration, we sold all 18 SensorScopes that I had brought. We sold every ABP II, 11 of 12 pairs of NEOS, all three Gitzo 3530 LS tripods, a slew of Mongoose M2.3 and M3.5 heads, and just a ton of other stuff. Thanks to our major sponsors: Canon USA, Hunt's Photo and Video, and Delkin Devices. Additional generous door prizes were provided by Lowepro, Wimberley, 4th Generation Design, Bird Watcher's Digest, Vertex Photographic, HP Marketing, Visual Echoes, and Lens Coat.
Though I ran a bit over on the morning session, we were easily able to complete the Saturday programs as advertised. Judging by the rapt attention of the audience and their reaction, the educational portions of the seminar were superb as well. The hottest Saturday topic seemed to be the explanation of histograms while on Sunday folks sucked up all of the Photoshop stuff from the basic workflow to the most advanced Quick Masking techniques. Thanks again to the 93 who attended on Saturday and the 90 who came on Sunday and again to the folks who provided the wealth of door prizes.
I am looking at Quebec and Southwest Florida as the next two seminar sites. If you live in a major metropolitan area and are connected to a large camera club or camera store and would like to explore the possibility of having a BIRDS AS ART "The Art of Nature Photography; It Ain't Just Birds" weekend seminar in your area, please get in touch via e-mail.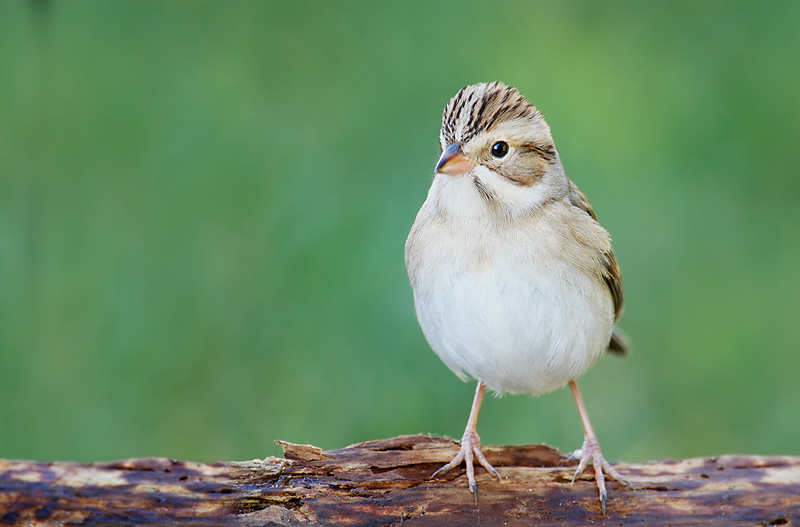 Clay-colored Sparrow, Monhegan Island, ME
Image Copyright 2008: Arthur Morris/BIRDS AS ART
Canon 500mm f/4L IS lens with the 2X II TC and the EOS-1D MII. ISO 640. Evaluative metering +2/3 stop: 1/60 sec. at f/11. Fill flash at -2 stops. (I do not use the Better Beamer when working at close range to avoid over-flashing the subject.)
With the 2X TC, you are limited to the central sensor only with a pro body and an f/4 lens so when the clay-colored struck a nice pose I was somewhat the compositional slave of the AF system- a centered subject--see the original below--was the best that I could do. I used a series of Quick Masks to create a more pleasing image as shown above in the optimized photograph. Note that in addition I evened out the BKGR with some low opacity Clone Stamp work. Learn to use Quick Masks effectively and about Robert O'Toole's amazing APTATS I CD here: http://www.birdsasart.com/aptats.htm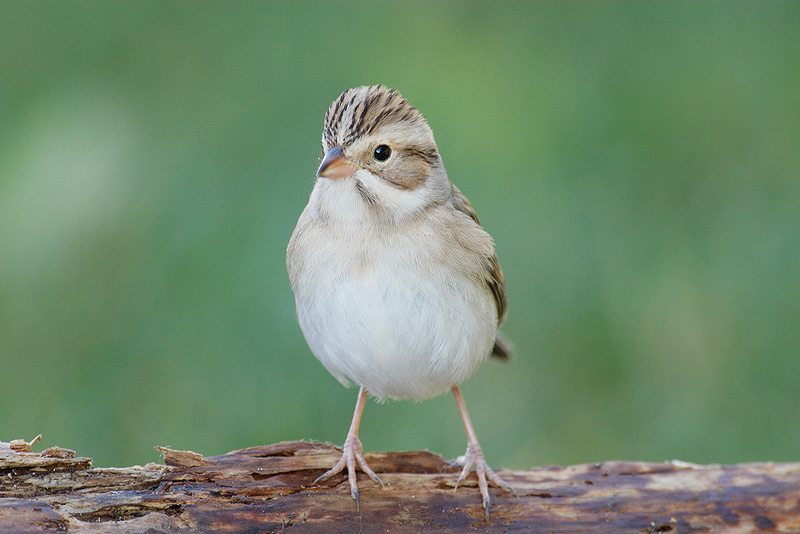 THANKSGIVING DAY LUNCH
On Thanksgiving Day, Thursday, November 27, 2008, I will once again be hosting a lunch for visiting photographers and birders. We can accommodate as many as 50 folks; as I am late announcing this, there is lots of room. For the fourth consecutive year, the lunch will be held at the Luna Mansion, an historic building in Las Lunas, New Mexico that is about an hour up the pike from Socorro on I-25. And oh, the food is superb. You can learn more about Luna Mansion here: http://thelunamansion.com/. The cost of the complete lunch will be $35, the same as last year. This will include several courses including your main course, a dessert, a non-alcoholic beverage, and the tip. If you have wine or a cocktail with your meal you will need to pick up the tab for that. All reservations must be paid for in advance by check, Paypal, or credit card. Please make your reservations ASAP. Checks (made out to "Arthur Morris") should be sent to us at PO Box 7245, Indian Lake Estates, FL 33855.
If you will be joining us, please plan on being at the Luna Mansion no later than 11am sharp. I do hope that you can make it.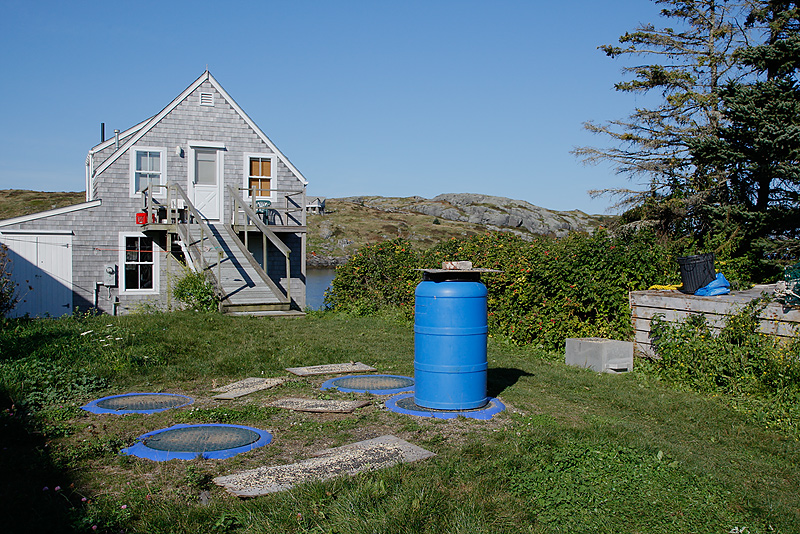 Tom Martin's home and backyard--above, our set-up--below, Monhegan Island, ME
Image Copyright 2008: Arthur Morris/BIRDS AS ART
It took me all of ten minutes to find a log and create the simple set-up below. Without it we would have been dead in the water as far as sparrow photography. There is a great section in ABPII (916 pages on CD only) on setting up your backyard and selecting perches. At times we added a stump and some rocks with lichens on them to the set but the log was most reliable. You can learn more about ABP II here: http://www.birdsasart.com/ABPII.htm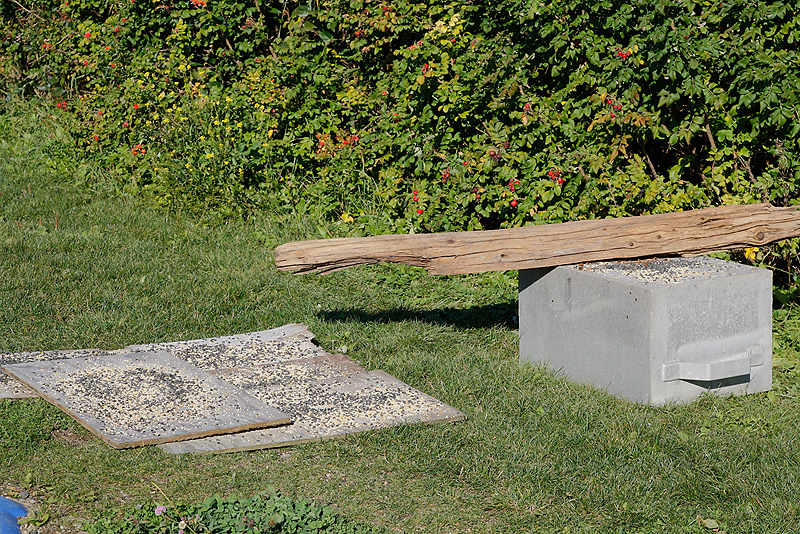 ANDY ROUSE BOOK
Two months ago Andy Rouse sent me a copy of his twelfth and latest book, "Concepts of Nature; A Wildlife Photographer's Art." I was blown away, not only by Andy's incredible images but by the text and the various principles that he covered. This is not your everyday photography book. I will let Andy explain it in his own words (from page 6): "Certainly my own career has been one challenge after another. As an unknown photographer, with no silver spoon and no big money corporate career behind me, I had to really fight to get a foothold in a touch commercial world and turn my passion for animals into the lifestyle that I have today. After some false starts and some equally false expectations of my own ability, my photography has steadily improved over the past ten years , but it is only quite recently that I have become the type of photographer that I really want to be.
... All of us, no matter what our chosen genre of photography, warp and bend light to express ourselves and tell a story of what we see. As photographers we are storytellers with the power to influence or corrupt, to excite and inspire; it is my sincere hope that Concepts of Nature will inspire you, irrespective of your favoured field of photography.
This is really three books in one--Vision, Expression, and Inspiration. Vision explores the development of my professional life, from my first potentially suicidal ventures into Africa to my most recent story-led environmental portfolios of South Georgia and Antarctica. ... Expression looks at some common techniques that I use via a series of themed portfolios... Finally Inspiration briefly looks at photographers whose work has inspired me, both from within my own genre of wildlife photography and beyond. Above all, it is my sincere wish that Concepts of Nature should inspire photographers to make innovative and inventive use of light rather than allowing light to use them and dictate the work that they produce."
Concepts of Nature is about seeing and using the light. Andy Rouse always says what's on his mind and many of the images in the book challenge our conventional thoughts about using light. And many are spectacular. Among my favorites are the hippo in black water, the backlit lion's breath, the King Penguin crèches from 2,000 feet, the backlit Cheetah in red light, the vertical Black-browed Albatross portrait in Capturing Personality, the baby elephant with momma's legs, the gruesome image on page 111, the totally sick kingfisher with fish, the dancing sifaka, and the amazing Sally Lightfoot crab eating a sea turtle hatchling. Do I agree with everything that Andy says? No. Do I love every image in the book? Nope. But this book will open your eyes to new ways of using light and inspire you to create more effective and more dramatic images.
I have long pitched the idea that in order to improve folks need to look at as many great natural history images as possible, and in Concepts of Nature Andy has made that easy to do. I was so taken with the words and the pictures that we ordered fifty copies of Concepts of Nature so that the serious photographers on this side of the pond could take advantage of Andy's brilliance.
You can order a copy of Concepts of Nature today for $37.95 plus $5 shipping to US addresses, $10 to Canada, and $15 overseas. Checks made out to "Arthur Morris," Paypals, or credit card phone orders (863-692-0906) are all A-OK.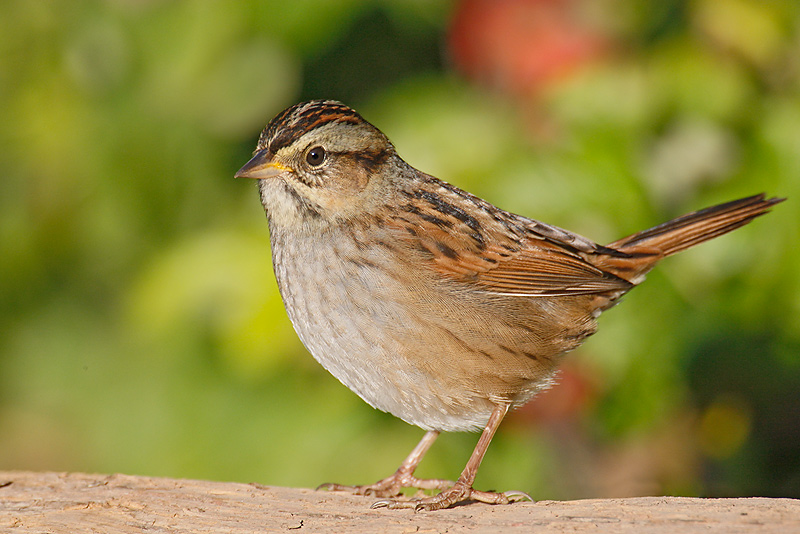 Swamp Sparrow in early morning light, Monhegan Island, ME
Image Copyright 2008: Arthur Morris/BI
Canon 500mm f/4L IS lens with the 2X II TC and the EOS-1D MII. ISO 800. Evaluative metering +1/3 stop: 1/800 sec. at f/9.
With the bird angled just a bit toward me I knew that placing the central sensor on the bird's upper flank just in front of the folded wing would yield a sharp eye...
THE "ART OF BIRD PHOTOGRAPHY" SHIPMENT DELAYED BY CUSTOMS INSPECTION
The delivery of the reprinted edition of the original "The Art of Bird Photography" has been delayed 7-10 days by an unexpected customs inspection. You can still pre-order your copy from BAA; click here for info: http://www.birdsasart.com/books.html#ABP_softcover. Thanks to all for their patience.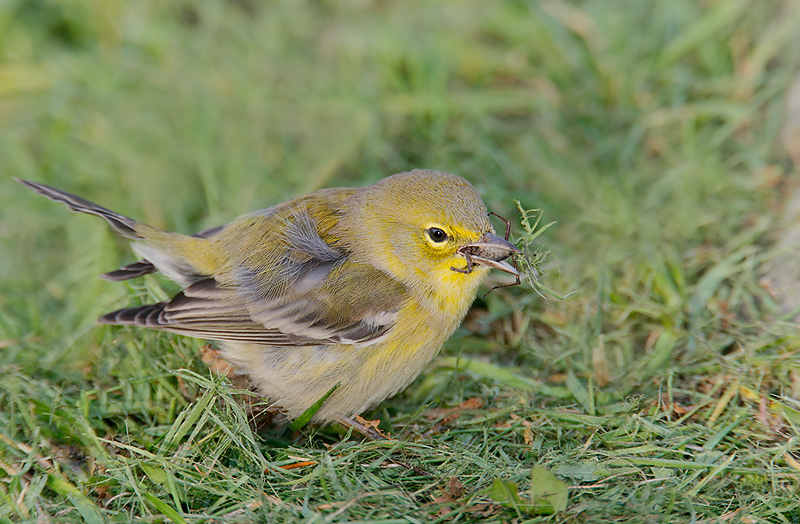 Pine Warbler, fall female with spider, Monhegan Island, ME

Image Copyright 2008: Arthur Morris/BI

Canon 500mm f/4L IS lens with the 1.4X II TC and the EOS-1D MII. ISO 640. Evaluative metering +1/3 stop: 1/160 sec. at f/7.1. Fill flash at -2 stops.

Strangely enough we found three fall female Blackpolls feeding on the ground on Wednesday afternoon on a small portion of lawn and they were in the same spot all day Thursday. Loyal little buggers they were.

IPT UPDATES

Bosque IPT #1: NOV 22-25, 2008. Slide program on the evening of NOV 21. 4-DAY: $1799 Limit: 10/1. Co-leader: Robert O'Toole.

Bosque IPT #2: NOV 29-DEC 2, 2008. Slide program on the evening of NOV 28. 4-DAY: $1799 Limit: 10/Openings: 1. Co-leader: Robert O'Toole.

SW FLA POST X-MAS IPT: DEC 27-29 or 30, 2008. Slide program on the evening of DEC 26. 4-DAY: $1799 (3-DAY OPTION: $1349) Limit: 10/Openings: 5.

Co-leaders: Robert O'Toole and Alfred & Fabiola Forns. This IPT is shaping up to be a practically private affair. If you can fit it in your holiday schedule, do consider joining us. There is some truly great photography available in Florida while winter is setting in in most of the country...

SW FLA PRESIDENT'S DAY IPT: FEB 13-17, 2009. Slide program on the evening of FEB 12. 5-DAY: $2249 Limit: 10/Openings: 2. Co-leaders: Robert O'Toole and Scott Bourne.

POST-NANPA 2 ½ DAY BOSQUE IPT. FEB 22-24, 2009. 2 1/2-DAY: $799. Limit: 15/Openings: 7. Best combined with my Sunday morning NANPA Summit program: "Photographing Bosque Del Apache: In-the-Field Strategies and Post Processing Techniques" Sunday FEB 22, 2009. (Registration for the Sunday program only through NANPA.) Photograph Sunday afternoon till sunset and all day Monday and Tuesday.

Bear Boat #1: June 4-10, 2009 (It is advised that you be in Anchorage on the afternoon of June 2nd to be assured of not missing the boat!). This trip will feature an afternoon (and possibly more) of otter photography (weather permitting), Bald Eagles and likely chicks in the nest, and lots and lots of coastal Brown Bears clamming and eating luscious green grass.

Bear Boat #2: Sept 4-10, 2009 (It is advised that you be in Anchorage on the afternoon of the September 2nd to be assured of not missing the boat!). This one is the bears catching salmon trip. In addition, Glaucous-winged and Mew Gulls eating roe are a certainty, and dark phase Northern Fulmars and Black-legged Kittiwakes (including the gorgeous immatures), Harbor Seals, and Stellar's Sea Lions are likely. Did I mention bears catching salmon? And more bears catching salmon?

The rates for the 2009 trips have increased due to increased fuel costs. Bear Boat #1 (cheaper by $250 as we use the float plane only once): $6749. Bear Boat #2: $6999.

Two slots are filled on each trip.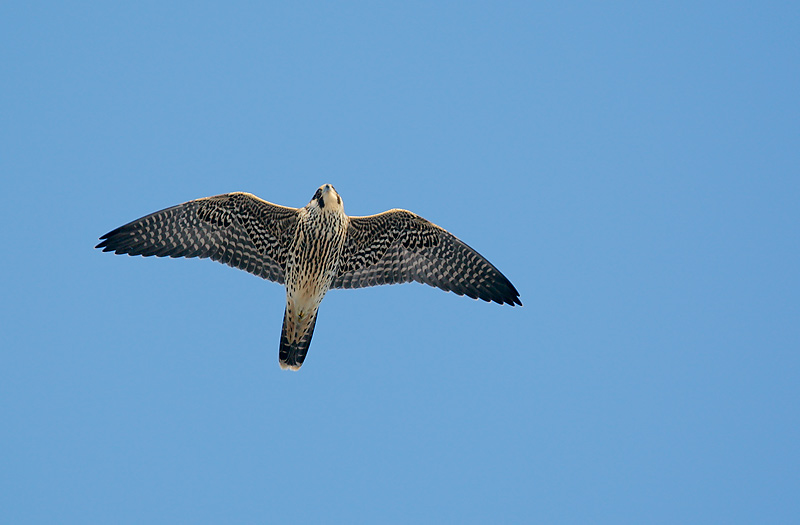 Peregrine Falcon, Monhegan Island, ME
Image Copyright 2008: Arthur Morris/BI
Canon 400mm f/4 IS DO lens handheld with the EOS-1D MII. ISO 400. Evaluative metering +1 2/3 stops off the dark blue sky directly overhead: 1/1000 sec. at f/5.0. Manual flash as fill at 1:1 with the Better Beamer.
When using High Speed Synch flash you need all the flash output you can muster. To learn about Manual Flash see the Flash Simplified section in ABP II (916 pages on CD only): http://www.birdsasart.com/ABPII.htm
Best and love and great picture- making to all,
artie
Note: Arthur Morris has been a Canon contract photographer since 1996 and continues in that role today. Hunt's Photo of Boston, MA is a BAA sponsor as is Delkin Devices. Back issues of all BAA Bulletins can be found in the Bulletin Archives which may be accessed from the home page at www.birdsasart.com. To unsubscribe click here: unsubscribe.