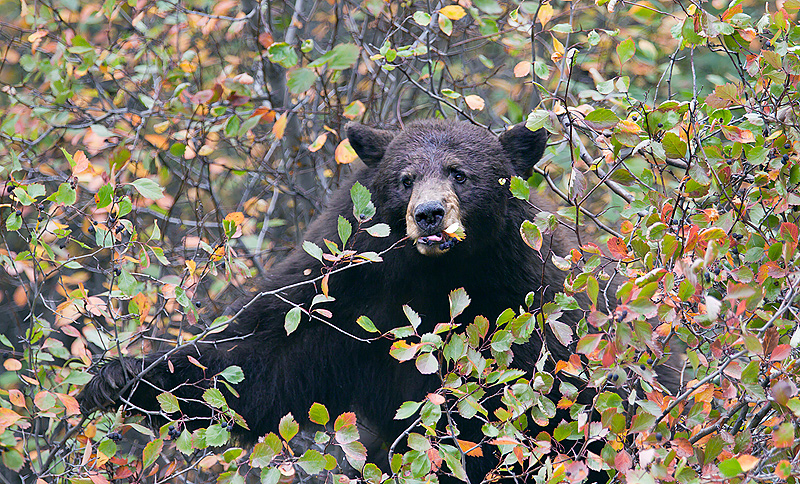 Black Bear eating berries, Grand Teton National Park, Wyoming
Image copyright 2010: Arthur Morris/BIRDS AS ART
Canon 70-200mm f/2.8L IS II (hand held at 222mm) with the 1.4X II TC and the EOS-1D Mark IV. ISO 800. Evaluative metering +1 1/3 stops: 1/640 sec. at f/4.
The more I used the 70-200mm f/2.8L IS II the more I fell in love with its speed (f/2.8) and its incredible sharpness. I have decided to purchase one and will be selling my 70-200 f/2.8 L IS. If you are interested, please e-mail me at birdsasart@verizon.net. Photographing this species along Moose-Wilson Road is pretty much a free-for-all with dozens of photographers being "controlled" at times by a park ranger….
…..
My reply to subscriber Gene
AM: Hi Gene, re:
G: I have a friend with a Nikon D700 who has a 24-70 and a 70-200 f2.8, but would like more telephoto range. She is thinking of the 200-400 for about 5K, but does not want to make a mistake. Any suggestions? She is still a beginner and has not defined what she most wants to photograph. She is also a small woman and almost always uses a tripod with her 70-200.
AM: #1: It would be great to rent or borrow one to make sure that she is comfortable carrying it.
#2: About two years ago I ran into top pro Wayne Lynch of Canada on Lake Blue Cypress down here in Florida, not too far from my home. I asked him why he was not using the 200-400. He trashed the lens and stated that he and all of his Canadian friends judged the lens as not at all professionally sharp (or something very close to that....) Funny thing is that south of the border lots of folks have been using and loving the lens for years. With both the 1.4 and 1.7 TCs. And I have seen lots of great images made with it on BPN and elsewhere.
#3: The latest is that there is a new version of that lens, the AF-S NIKKOR 200-400mm f/4G ED VR II. I e-mailed Wayne and he stated that he had not tried the new lens….
#4: A light option with not as much reach would be this one: Telephoto AF-S Nikkor 300mm f/4D ED-IF Autofocus Lens with either the 1.4X or 1.7X TC.
#5: Switch to Canon which has many much lighter choices for intermediate telephotos. These include the 400 IS DO (with both the 1.4X and 2X TCs), the 100-400 IS L zoom, and the Canon Telephoto EF 300mm f/4.0L IS with a 1.4X TC.
Best to subscribe to Bulletins and the Blog to keep up with the latest gear offerings.
later and love, artie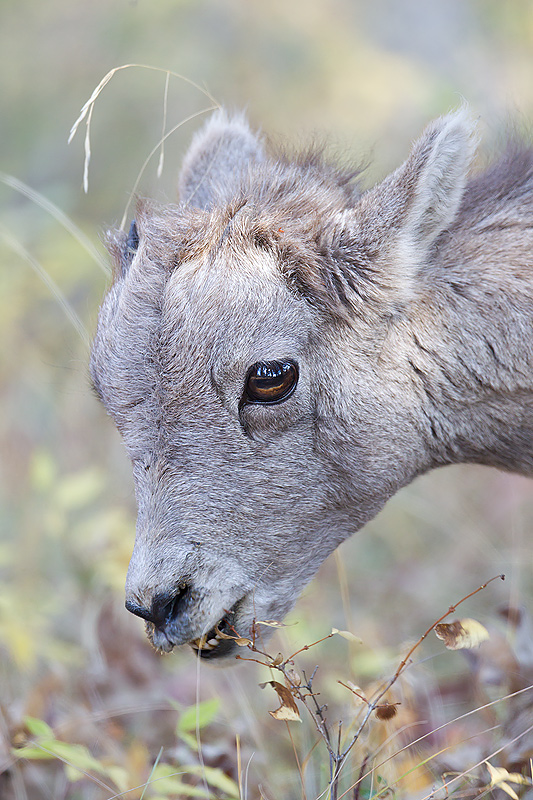 Bighorn Sheep lamb foraging, Yellowstone National Park, Wyoming
Image copyright 2010: Arthur Morris/BIRDS AS ART
Canon 800mm f/5.6L IS lens with EOS-1D Mark IV. ISO 800. Evaluative metering +1 stop: 1/250 sec. at f/5.6 set manually.
We came across a group of ewes and lambs right on the park road near a spot called Calcite Cliffs. It was 11:30 am on a bright sunny day; the key to the success of this image was waiting for this little one to make its way to a shaded spot….
BOSQUE 2010 STUFF
I got some great news from Gary Rouleau, Head Animal of the Bosque Open Windows Volunteer Crew. Here is his recent e-mail:
We are finished with the clean up. Only three of us were able to make it. We also had a day's help from Carolyn Garner and Kathleen Hilley. Jerry Stevens, Steve Garner and I cleaned out seventeen windows in five days. Some were huge and some were new ones. We used a new strategy cutting only to waist height so as to leave a sort of blind. I think this year is going to be much better than the last three. There is plenty of food for the birds and it is not just corn. The refuge staff is a little behind schedule but I don't think that this will cause any problems. Now it's back to real work. Gary.
Note: I believe that Gary's real work is as a nuclear physicist at Los Alamos
…..
Bob Newman posted this question to the blog:
Can you please provide detailed information on your November 20-26 trip to Bosque? Perhaps it is on the website, but I did not see it. Thanks!
I e-mailed this to Bob:
You can find complete IPT information here and the current schedule here.
Here is the basic Bosque 2010 info from the IPT Schedule page:
BOSQUE del APACHE 2010 IPT: "The Complete Bosque Experience."NOV 20-26, 2010. Slide program on the evening of Friday, NOV 19. 7-FULL DAYS: $3199. (Non-refundable deposit: $500; see details below.) Limit: 10/Openings: 3.
Co-leaders: Robert O'Toole, Jim Heupel, Peter Kes, and Denise Ippolito.
Live, eat, and breathe photography with one of (if not the) world's premier photographic educators at one of his very favorite locations on the planet. Snow Geese blast-offs, Sandhill Crane, sunrises, sunsets, flight photography. Plus great co-leaders and top-notch Photoshop instruction. Please see terms and deposit info below.
…..
Here is a more detailed account: On the evening before the tour begins, we do a 2+ hour comprehensive introductory slide program, on the second evening, a critique session. For the seven photography days we get up early, photograph the geese blasting off usually in the pre-dawn light and then cranes taking flight--usually singles and pairs. Then we usually traverse the tour loop road in search of large Snow Geese blast-offs--the corn crop looks to be the best in years. Depending on the wind we may have some great chances photographing single cranes and single geese (blue morph Snow Geese and Ross's Geese are mixed in with the whites snows) in flight. The best case scenario dictated by the wind direction would have the birds descending right towards us landing gear down. My 17 years of Bosque experience greatly increases the odds of the group being in the right place when the stars line up correctly. And on all IPTs I strive to share my thinking with the group when I am in the process of making a stay or move decision so that when they are on their own they can learn to evaluative the various factors as to where to be when. On special mornings (or afternoons for that matter) we may get to photograph a perched raptor, a coyote or two, blackbird blast-offs, or even a roadrunner. (If conditions are poor after the cranes leave we may opt to head to town for a spectacular American Wigeon session that will include wing flapping and head portraits.)
At about 10:30 am we head back to Socorro for lunch at K-Bobs followed most days by a slide program. Then a nap and an afternoon photo session till sunset or a bit after. Then dinner and sleep. Then repeat six times J We will spend at least one afternoon at the Albuquerque Zoo photographing Wood Ducks and if we are lucky, some drake Ring-necked Ducks, a drake Hooded Merganser, and some Black -crowned Night-Herons.
For more IPT info see item 4 here. And please let me know if you have any additional questions.
thanks and later and love, artie
ps: all breakfasts and lunches are included as is the Thanksgiving luncheon.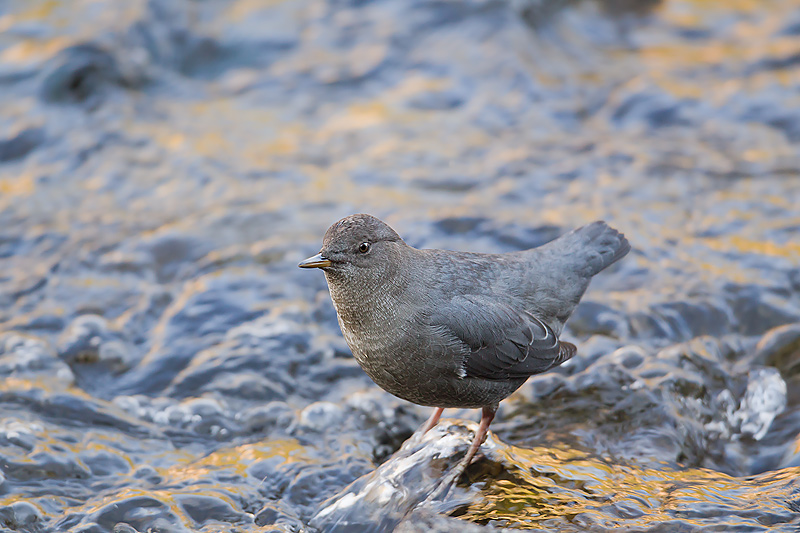 American Dipper in river, Yellowstone National Park, Wyoming
Image copyright 2010: Arthur Morris/BIRDS AS ART
Canon 800mm f/5.6L IS lens with EOS-1D Mark IV. ISO 800. Evaluative metering +1 1/3 stops: 1/200 sec. at f/5.6 set manually.
As above LeHardy Rapids was one of our favorite spots in the park. In the next Bulletin we will be sharing lots of the wonderful blurs that we created using the fall reflections and the moving water and ingredients. You see a bit of each here in this dipper portrait.
BOSQUE THANKSGIVING
For the past ten years or so, I have hosted a Thanksgiving Day midday meal, in part to honor the memory of my late wife, Elaine Belsky Morris, and in part because I love meeting others who love Bosque as I do. At first it was at the wonderful and relatively elegant Val Verde Steak House, now defunct. Then it was at the lovely and historic Luna Mansion. Luna Mansion closed a few years ago and recently re-opened but will not be serving on Thanksgiving this year. Last year we had fun and a fine meal at the Stage Door Grill but that wonderful little joint recently bit the dust. Socorro is a tough place for businesses to survive.
For 2010 we are going a bit upscale and will be dining in the New Mexico Ballroom at the Hilton Albuquerque hotel: 1901 University Blvd NE, Albuquerque, NM 87102. Telephone: 1- 505-884-2500. The Hilton is just a bit more than an hour from Socorro. I have group reservations for 11:45am on Thanksgiving Day of course.
I will be picking up the tab for the IPT group, but as always, all visiting birders and photographers are invited to join us. If you would like to take part in the fun and camaraderie this year please send a check for $40.00 per person made out to "Arthur Morris" to cover the cost of the buffet that will include the traditional items as well as tax and tip. Drinks are on you. Please mark "Thanksgiving Brunch" on your check and mail it to; BIRDS AS ART, PO Box 4041, Indian Lake Estates, FL 33855. Sorry, no PayPals or credit cards. I do hope that you can join us.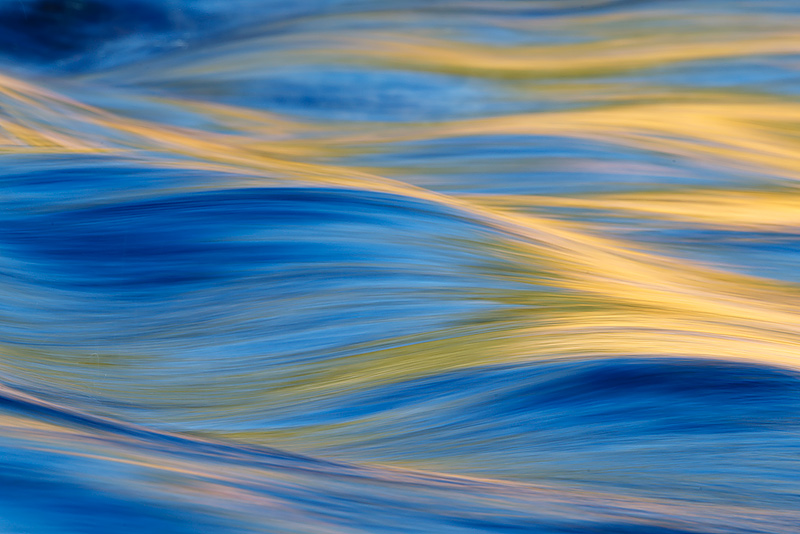 Moving water blur, LeHardy Rapids, Yellowstone National Park, Wyoming
Image copyright 2010: Arthur Morris/BIRDS AS ART
Canon 800mm f/5.6L IS lens with EOS-1D Mark IV. ISO 50. Evaluative metering +2/3 stop: 1/8 sec. at f/14 in Tv Mode.
Learn to see and create images like this in "A Guide to Pleasing Blurs." Denise and I absolutely went to town our three visits to the rapids.
A GUIDE TO PLEASING BLURS
Posted on our blogs by Kathleen Anderson:
I ordered this yesterday and read a huge chunk of it this morning. It may be the best $33 I've spent on photography in a long time! My own style is crisp and sharply-focused and I've been thinking of adding a more artistic effect to some images. This PDF gives me way more ideas than I could possibly have come up with on my own. The images are great and so are the detailed instructions. It's well worth buying if you're looking to add something different to your repertoire. My favorites? Artie's 'Wildebeest Jumping' which looks like a prehistoric cave painting and Denise's stunning 'White Fox'.
By e-mail from Paul Lagasi:
I Came, I Read, I Blurred. Just finished the "The Guide to Pleasing Blurs." It's a good read and there is lots of useful info, some really "wow" images.
Way to go Denise and Artie.
Posted on my blog by Fabrizio Giudici:
Bought, and it's well worth while.
By e-mail from Denis Glennon:
My initial look through the blur guide indicates that it will be a very worthwhile contribution to photography. Congratulations.
Here is what Susan Candelario had to say about the Blur Guide:
"The images are fantastic. I love the different perspectives, angles & effects that you created. I found the Blur Guide to be very informative. It is not a guide with a few sample images and short descriptions. It is loaded with detailed technical info that is easy to understand and one can put the techniques into practice right away. You guys did not leave out a single small detail. And it is the small details that help folks to be successful in creating some very artistic images. You did a great job as expected."
Here's what Peter Kes had to say:
Denise, Congratulations on this masterpiece, an impressive piece of work. The subject has been covered very well and it shows how hard you and Art have worked on it. I can recommend everyone to get a copy of this creative book!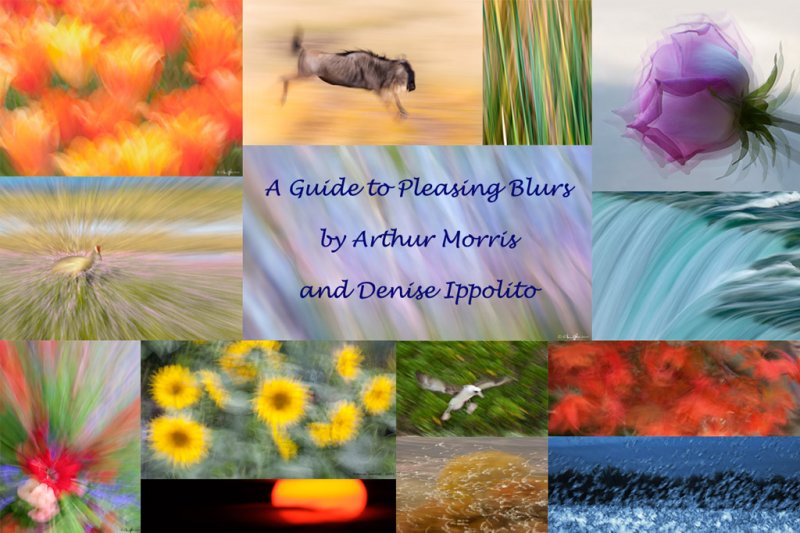 "A Guide to Pleasing Blurs" by Arthur Morris and Denise Ippolito is a 20,585 word, 271 page PDF illustrated with 144 different, exciting, and artistic images. The guide covers the basics of creating pleasingly blurred images, the factors that influence the degree of blurring, the use of filters in creating pleasing blurs, and a great variety of both in-the-field and Photoshop techniques that can be used to create pleasingly blurred images.
Artie and Denise teach you many different ways to move your lens during the exposure to create a variety of pleasingly blurred images of flowers and trees and water and landscapes. They will teach you to recognize situations where subject movement can be used to your advantage to create pan blurs, wind blurs, and moving water blurs. They will teach you to create zoom-blurs both in the field and during post-processing. Artie shares the techniques that he has used and developed for making blurred images of flocks of geese in flight at his beloved Bosque del Apache and Denise shares her flower blur magic as well as a variety of creative Photoshop techniques that she has developed.
With the advent of digital capture, creating blurred images has become a great and inexpensive way to go out with your camera and have fun. And while many folks think that making successful blurred images is the result of being a sloppy photographer nothing could be further from the truth. In "A Guide to Pleasing Blurs" Artie and Denise will help you to unleash your creative self.
The book is laid out in landscape format to make for easy viewing and easy reading on any decent computer monitor.
You can order your copy of "The Guide to Pleasing Blurs" PDF now for only $33 either by PayPal to birdsasart@verizon.net or by phone: 863-692-0906. A download link will be delivered to you via e-mail within 12 hours or less (except on weekends). Please note: this book is available only as a digital file in PDF form. You will need either Adobe Acrobat Reader or Fox-it to read the file. Both are free downloads. Instructions will be included with your purchase.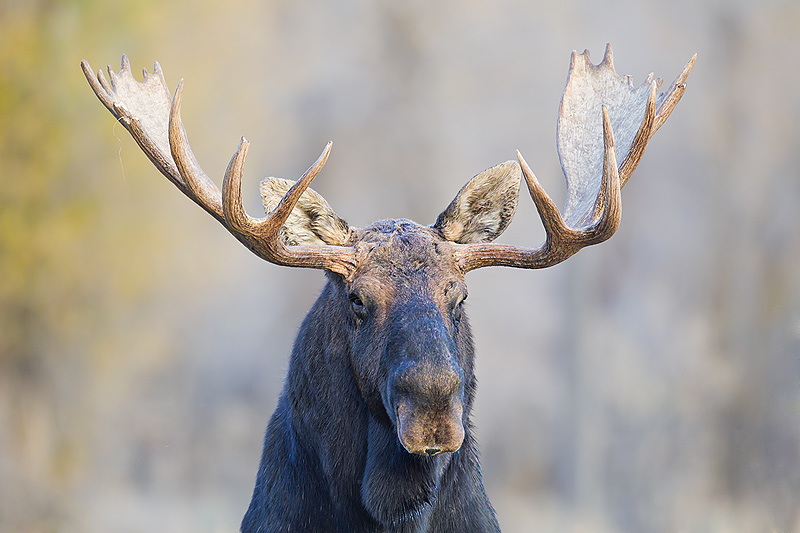 Bull Moose, Grand Teton National Park, Wyoming
Image copyright 2010: Arthur Morris/BIRDS AS ART
Canon 800mm f/5.6L IS lens with EOS-1D Mark IV. ISO 800. Evaluative metering +2/3 stop: 1/80 sec. at f/5.6.
Denise was thirsting for a bull Moose the entire trip. On our last afternoon we saw a large crowd of photographers standing around in a field near the turn-off for Gros Ventre, a prime spot for Moose. Though we could not see the animal or animals, we knew that they were there. We got our gear and made our way across the large field. There were three Moose resting on the ground: a young one, a cow, and this bull. We stood around for more than two hours and nothing happened. Many folks left. I finally got bored and began making fall color blurs. Then I looked down and was shocked to see the bull standing up.
POSSE NEWS/ROBERT O'TOOLE
This year Robert IS leading two photography workshops at Bosque del Apache and one at White Sands. Robert puts in an average of 200+ hours in the field at Bosque per year; you get a workshop leader who will know how to maximize your opportunities in the field.
Bosque Photography Workshop 1: November 29-December 2, 2010: 3.5 days: $999. (Sold out.)
White Sands Photography Workshop: December 5-7, 2010 White Sands NM, New Mexico. 2.5 days: $599. (Sold out.)
Bosque Photography Workshop 2: December 8-11, 2010: 3.5 days: $999. (Limit 6, openings: 2)
Photography topics will include: When to use manual mode, fine tuning your AF settings, the most effective technique for limiting digital noise, fine tuning your flight photography, the most important DSLR settings you need to know, simplifying your camera settings to keep from being overwhelmed, learning to work fast in the field, and more. The workshop includes one classroom session daily. The White Sands landscape workshop will cover wide angle, normal, and short telephoto landscape techniques in depth. We will be entering White Sands NM early and staying late with special permission.
Anhinga Trail In-The-Field Workshop: Friday and Saturday, January 21-22, 2011. $599. Deposit $299. (Limit 6, Openings: 5.)
This trip includes morning and afternoon photo sessions and a daily classroom session. Join Robert in this Everglades National Park workshop with tons of tame subjects and lots of great in-the-field instruction.
Need help: e-mail at Robert@RobertOToolePhotography.com or call him on his cell at 310.619.8017.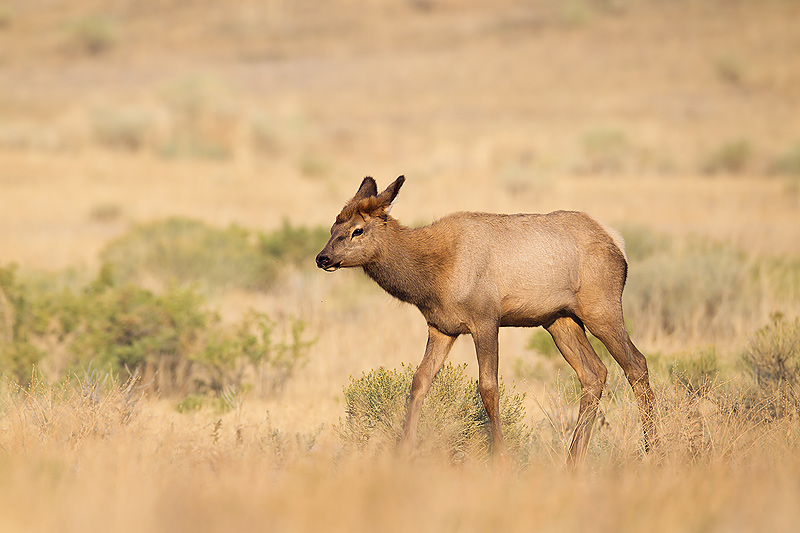 Elk calf, Yellowstone National Park, Wyoming
Image copyright 2010: Arthur Morris/BIRDS AS ART
Canon 800mm f/5.6L IS lens with EOS-1D Mark IV. ISO 400. Evaluative metering +2/3 stop: 1/500 sec. at f/8.
This sweet young thing was photographed in early morning light right inside the park's north entrance near Gardner.
SHOPPER'S GUIDE
Here is the gear that I mentioned in this bulletin:
Canon 70-200mm f/4L IS II lens
Canon 800mm f/5.L IS lens
Canon EOS-1D Mark IV professional digital camera body
Canon EF Teleconverter 1.4X II
And from the BAA On-line Store:
Giotto MH 1302 Ball Head
Double Bubble Level
Gitzo 3530 LS Tripod
Mongoose M3.6 Tripod Head
A Guide to Pleasing Blurs
If you are considering the purchase of a major piece of photographic gear be it a new camera, a long lens, a tripod or a head, or some accessories be sure to check out our complete Shopper's Guide.
IPT UPDATES
BOSQUE del APACHE 2010 IPT: "The Complete Bosque Experience." NOV 20-26, 2010. Slide program on the evening of Friday, NOV 19. 7-FULL DAYS: $3199. (Non-refundable deposit: $500; see details below.) Limit: 10/Openings: 3. Co-leaders: Robert O'Toole, Jim Heupel, and Denise Ippolito. Live, eat, and breathe photography with one of (if not the) world's premier photographic educators at one of his very favorite locations on the planet. Plus great co-leaders and top-notch Photoshop instruction. Please see terms and deposit info below.
A BLURRY DAY in BOSQUE del APACHE 2010 IPT: NOV 27, 2010. Slide program on the evening of Friday, NOV 26. 1-FULL DAY: $399. (Payment in full due upon registration.) Limit: 15/Openings: 10. Leaders: Denise Ippolito and Arthur Morris. Learn to create a variety of pleasingly blurred images of Bosque's geese and cranes. Techniques covered will include pan blurs, subject motion blurs, flash blurs, zoom blurs, sunny day blurs, and lots more.
SAN DIEGO IPT: JAN 19-23, 2011. Slide program on the evening of JAN 18. 5 Full Days: $2399 (Limit 8/Openings 3). Brown Pelicans in spectacular breeding plumage with their bright red bill pouches, Wood and Ring-necked Ducks, Lesser Scaup, Western, California, and Heerman's Gulls, Marbled Godwit, and lots, lots more. Please see terms and deposit info below.
SW FLA IPT: FEB 9-14, 2011. Slide program on the evening of FEB 8. 6 Full Days: 2899. (Limit 10/Openings 5). Escape winter's icy grip to enjoy a wide array of Florida's tame birds: herons, egrets, Wood Stork, shorebirds, gulls, terns, skimmers, raptors, and more. Please see terms and deposit info immediately below.
Terms and deposit info:
A non-refundable deposit of $500 is required to hold a spot on the above IPTs. Deposits may be paid by check, PayPal, or credit card. Payment in full (by check or money order only) is due four months before the start of each trip and is non-refundable unless the IPT sells out. You will be required to sign a statement of understanding to this effect. Travel insurance is of course highly recommended. Travel Insurance Services offers a variety of plans and options. Included with the Elite Option or available as an upgrade to the Basic & Plus Options is Cancel for Any Reason Coverage that expands the list of reasons for your canceling to an infinite list from a sudden work or family obligation to a simple change of mind. My family and I use and depend on the great policies offered by TIS whenever we travel. You can learn more here. Do note that many plans require that you purchase your travel insurance within 14 days of our cashing your deposit check or running your credit card. Travel insurance protects you against unexpected developments, injuries, or illnesses. We regret that we must implement this new policy but we have been plagued by last minute cancellations that make it impossible for others to participate and deprive us of essential income.
Important note: please print, fill out, and sign the registration and release forms and include them with your deposit check (made out to "Arthur Morris." ) If you use a credit card to register, please fill out, sign, and mail the forms asap. Your registration will not be complete until we receive your paper work. You can find the forms here.
ROBERT O'TOOLE PHOTOGRAPHY HOMER BALD EAGLE INSTRUCTIONAL PHOTO-TOUR WITH ARTHUR MORRIS/BIRDS AS ART.
March 18-22, 2011: Limit 12 including the leaders/Sold Out. 5-FULL DAYS: $3249
March 24-28, 2011: Limit 12 including the leaders/Sold Out. 5-FULL DAYS: $3249
Homer the way it used to be. 100% legal eagle feeding. Both of these trips sold out within hours after being announced to the BAA Friends List. The Friends List consists of IPT veterans who fit in the happy camper category. If you have been on an IPT and would like your name added to the BAA Friends List, please e-mail me at birdsasart@att.net and include a short note. Non-refundable deposit: $1,000. See terms above. Please call to check on availability before sending your deposit check.
March 12-16, 2011 (slide program the evening of March 11) 5-FULL DAYS: $2799. ABSOLUTE LIMIT: 5/Sold Out.
The trip above was added by popular demand; only Robert will be leading it.
GALAPAGOS 2011 PHOTO-CRUISE OF A LIFETIME IPT/The Complete Galapagos Photographic Experience: July 3-20, 2011 (July 5-19, 2011 on the boat): 13 1/2 days of photography plus a last morning panga ride: $12, 499. (Limit 11/Openings 1)
This two-week trip features an unparalleled photographic itinerary that will visit all the great spots in the islands; we will not miss a thing. The highlights include Tower Island—tons of nesting birds at knee and eye level, Punta Espinoza (Flightless Cormorants), Puerto Ayora (tortoises in their natural habitats), Hood Island (Waved Albatross and lots more nesting birds), South Plaza, and North Seymour. Each of these locations is on a par with Antarctica or East Africa when it comes to spectacular photographic opportunities. If you make only a one week cruise you will miss half of these great locations. With two full weeks we will enjoy a relaxed pace with shorter navigations and lots of time for snorkeling, image sharing, and small group Photoshop instruction. You will have a great photographic leader (that would be me) with 7 years of Galapagos experience teamed with the very best most knowledgeable guide in the entire archipelago. We will be the first boat on each island in the morning and the last boat to leave each island every afternoon. If we are blessed with overcast weather, we often spend as much as six hours on a landing. Jeez, I almost forgot our spectacular and romantic motor sailing ship, the Beagle: www.thebeagle.com.ec
The group will be flying to Quito on their own to arrive on July 3, 2011. We have a travel insurance day on July 4th (with an optional trip for perched hummingbirds at Tandayapa). On the morning of July 5 we fly to the Galapagos and board the boat around midday. We leave the boat two weeks later on morning of July 19 after our last photo session, a short panga ride. We fly back to Quito on that same day, July 19, overnight in Quito, and fly home on the morning of July 20.
Note: some of the walks are strenuous. Though I will be bringing my 800 f/5.6L IS lens along, great images are possible on all landings with a hand held 70-200mm lens.
Please e-mail me at for a complete 2010 itinerary. Happy campers only please.
Included: three nights in the luxury hotel–the Hilton Quito Colon, round trip airfare to and from the Galapagos, all meals on the boat, a killer buffet lunch with the tortoises!, all park fees and related costs, and all transfers. Not included. Your round trip airfare from your home to and from Quito, beverages, phone calls, and the $500/person tip for the guide and the crew. A $5,000 non-refundable deposit per person is due immediately. Please call me at 863-692-0906 or 863-221-2372 before sending your deposit to check availability.
Please print, sign, and return these two forms along with your deposit check.
Two additional non-refundable payments will be due as follows: $4000 on NOV 1, 2010. The final payment of $3,499 will be due on FEB 1, 2011. Travel insurance is of course beyond highly recommended as none of your payments are refundable. You need to protect yourself in case of an unexpected illness or accident or other unforeseen developments.
MIDWAY ATOLL IPT, April 2012, (from Oahu, HI). 7-FULL DAYS OF PHOTOGRAPHY. (Sold Out.)
Best and great picture-making,
artie
Note: Arthur Morris has been a paid Canon contract photographer, part of the Explorers of Light program, since 1996 and continues in that role today. Hunt's Photo of Boston, MA is a BAA sponsor as is Delkin Devices. Back issues of all BAA Bulletins can be found in the Bulletin Archives that may be accessed here: http://www.birdsasart.com/bn.html