Canon EF 70-200mm f/2.8L IS lens (hand held at 125mm) with the EOS-1D MIV. ISO 400. Evaluative metering +2 stops: 1/8 sec. at f/6.3 in Tv mode.
BAA FIRE SALE/CANON GEAR PRICED TO GO
I am offering the following used Canon gear below for sale. As is usual when I sell my gear, it is priced to fly out of here. Everything that I list sells within minutes of the Bulletin being posted. I do not send photos of the gear. All can be returned at your expense within one week in the original condition no questions asked. Your full purchase price will be refunded less shipping. Unless we know you personally, we will need to wait for your payment to be cleared by our bank as we were beat by a pro who sent a phony Bank of America teller's check a few years back as payment for a used Mark III. Once burned twice wary.
Canon Extender EF 2X II in excellent condition: $170. Buyer pays shipping and insurance. Includes the TC and front and rear covers. No box, no grey pouch.
Canon Extender EF 2X II in very good to excellent condition: $160. Buyer pays shipping and insurance. Includes the TC and front and rear covers. No box, no grey pouch.
Canon EF 70-200 f/4L IS lens in excellent condition: $750. Buyer pays shipping and insurance. Includes all original stuff in the box: protective leather lens hood, front lens cover, plastic hood, and USA & Canada warranty card. Note: this lens does not come from Canon with the tripod collar; that requires a separate purchase.
Canon EOS-7D in excellent condition: $1,200 (with several costly extras; see below). Buyer pays shipping and insurance. Includes all original stuff in the box: CDs, strap, front cover, camera battery & cover, the battery charger, USA & Canada warranty card, and all cables. I cannot at the moment find the camera body manual but that can be downloaded; there is a link to the download in the 7D User's Guide. I will include a copy of that with the sale.
In addition the sale price above includes the vertical grip (in very good condition), an extra Canon battery (with cap), and a second battery charger.
Though I love my 7D I do prefer the images from my Mark IV bodies (with their larger pixels) and having to travel with separate chargers and extra batteries is a hassle with all of the weight-restricted foreign travel that I am doing. The 7D is a fine light weight camera body that has possibly the best AI Servo AF system of any Canon camera body.
New B & H, Hunt's, (or similar) prices for the above: camera: $1479.00, extra battery: $59.95, charger: $54.90, BG-E7 Vertical Battery Grip (allows for two batteries): $179.00. Total for the package new: $1772.85.
Best to call 863-692-2806 immediately.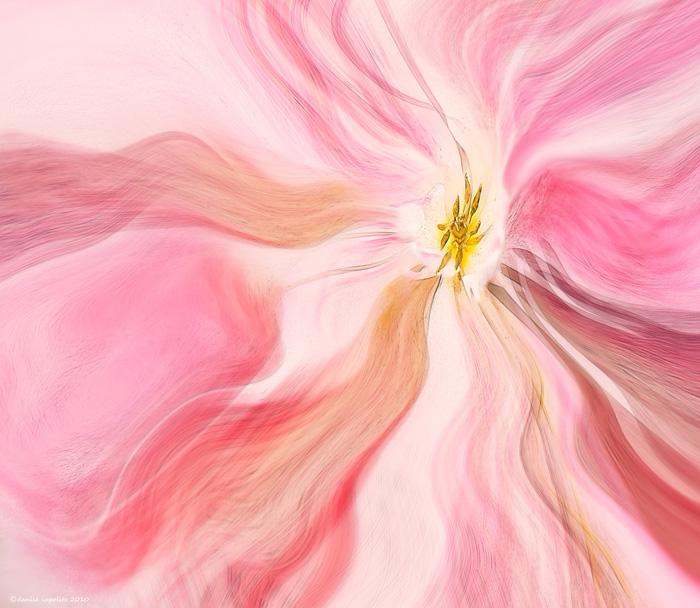 Tulip with Pinch Filter
Image Copyright 2011/Denise Ippolito Photography
A GUIDE TO CREATIVE FILTERS AND EFFECTS (pdf) by DENISE IPPOLITO
A Guide to Creative Filter and Effects (pdf) by Denise Ippolito, edited by Arthur Morris was released just two days ago.
On Denise's Facebook page experienced photographer and BPN member Keith Carver wrote: "Superb job, Denise! I've been going through my copy of the Filter Guide. Doing so is bringing to mind all kinds of ideas. Thanks for doing it!"
My foreword pretty much says it all:

"Denise Ippolito is about as creative, as hardworking, and as dedicated a photographer as you will ever come to know. And over the past fourteen months I have come to know her quite well. Her creativity is—as you will come to see as you are reading her Filter Guide—totally amazing. She can look at an average image, a simple snapshot, heck, even a bad photograph, and in seconds know exactly how to turn it into a piece of art using this filter or that effect. And then do just that in minutes. And most of the time she is working with the beautiful images of flowers and birds that she is so good at creating.
To quote our mutual friend, Kerry Perkins, one of Denise's co-moderators on the BPN Out of the Box Forum where she has worked tirelessly helping other to improve their photography for more than two years, "First off, I want to say that the Filter Guide is an amazing work. There is so much information here and so many wonderful images that I am just blown away that you managed to get it all together in one document! Wonderful work Lady D!"
Denise has worked incredibly hard on "A Guide to Creative Filters and Effects" and at the same time, worked incredibly hard at improving her writing skills. I congratulate her here on two jobs well done." arthur morris/Indian Lake Estates, Florida. January 30, 2011
Here are some of the filters and effects that are detailed in the Filter Guide:
Topaz Simplify, Clean, & BuzSim Filter

Flaming Pear Filter (including Swerve, Twist & Vein)

Fractalius (including Denise's Soft-Fix preset creation)

Adding Texture

NIK Color Efex Pro including Midnight Filter

Omni Lighting

Pinch Filter

Twirl Filter

Ripple Filter

Radial Blur

Find Edges Filter

Orton Effect

Blank Canvas Creations!

The Mixer Brush

The New Paste Special Option in CS-5

DAP

Polar Coordinates and Mini-Worlds

Holiday Lights Creations

Snap Art 2 Impasto Filter

Creating Composites

Creating Your Own Brush Presets

Using Blend Modes Creatively

Using Layer Masks and Inverse Layer Masks Creatively

Kaleidoscopes

Combinations of all of the above!
Some of the filters above require a separate purchase. (The Filter Guide includes links to all available free trial downloads so that you can try before you buy.) Many of the filters can be found in various versions of Photoshop (though most folks--including me before I edited this guide--have no clue that they exist and no clue as to how to use them). Each detailed tutorial section is written in a clear, concise, simple, easy to follow style that can be followed even by someone opening up Photoshop for the first time.
Be sure to visit Denise's blog
here
.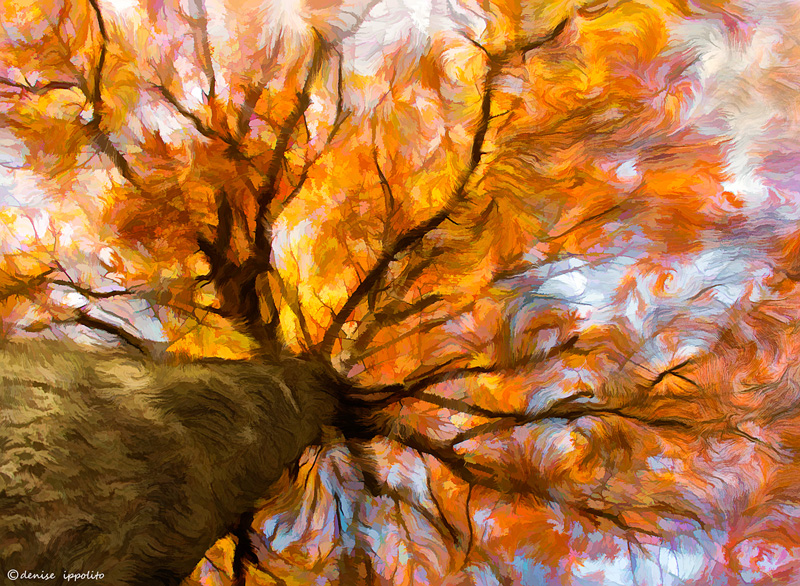 Tree with Multiple Filters & Effects
Image Copyright 2011/Denise Ippolito Photography
HUNT'S SPECIALS/GOOD THROUGH FEBRUARY 4.