BIRDS AS ART NOTES
MAY 9, 2008
Visit www.birdsasart.com
HUNT'S WEEKEND SPECIALS
PORTLAND SEMINAR
IPT UPDATES
Contact us by phone at 863-692-0906 (Eastern Time Zone) or by e-mail at birdsasart@att.net or @verizon.net. The att e-mail address is best from overseas.
We gladly accept credit card orders by phone from 8am till Eastern Time ( till Fridays and some weekends). You can use the PayPal links on the web site to order anything. Just type in the item(s) and the amount. If using your own PayPal account, please send to either of the e-mail addresses above.
Note: maximize this e-mail for best formatting.
Important Request: if responding to this e-mail, please take the time to delete all images and all irrelevant text.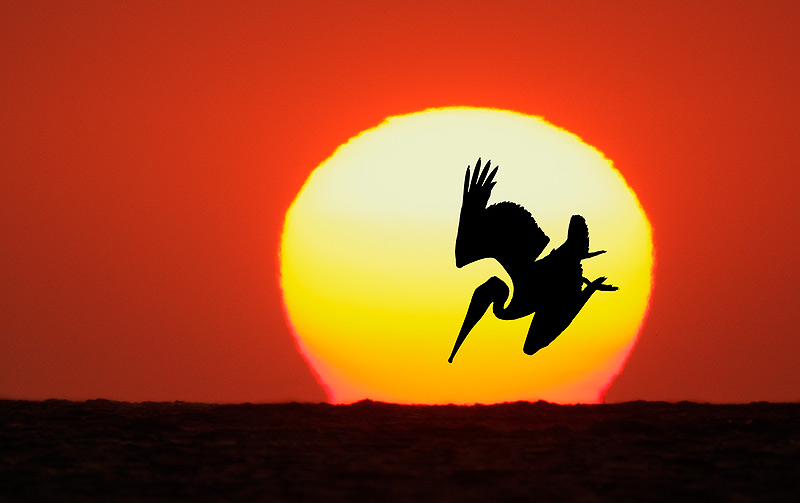 Brown Pelican diving, Digital Composite, Fort DeSoto Park, Tierra Verde, FL
Image copyright 2008: Arthur Morris/BIRDS AS ART
Sun created with the Canon 500mm f/4L IS lens with stacked 1.4X II & 2X II TCs and the EOS 1D MIII. ISO 800. Evaluative metering + 1 stop: 1/1000 sec. at f/8.
Pelican created with the Canon 500mm f/4L IS lens with the 1.4X II TC and the EOS 1D MIII. ISO 500. Evaluative metering + 1 stop: 1/2500 sec. at f/7.1.
I used techniques from Digital Basics to create a black silhouette of the pelican and Quick Masking techniques from Robert O'Toole's APTATS PDF/CD to create the composite. I am hoping that Corbis grabs this one.
HUNT'S WEEKEND SPECIALS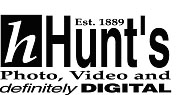 Tel 800-221-1830 Gary ext. 2332(Mon-Fri) Fax 800-336-3841
Tel 781-462-2332 (Sat 9AM-5PM)) Email: digitalguygary@wbhunt.com
HUNT'S DIGITAL DAYS WEEKEND SALE MAY 9&10, 2008
To the attention of all Birds as Art Subscribers:
Hunt's is having our annual "Digital Days" Sale at our flagship location this coming weekend. For the first time ever, we are taking the sale nationwide. Be sure to take advantage of prices too low to print! Act quickly - prices are only valid on May 9th and 10th.
Call for unbelievable pricing on the following featured products:
Canon 5D Body
Canon 5D with 24-105 Lens
Canon 40D
Canon 1DS Mark III
Nikon D300 Body
Nikon D300 with 18-200 Lens
Canon Rebel XSi with 18-55 Lens
Also, find Great savings on Nikon, Olympus, Sony, Panasonic digital Point and Shoot Cameras, Pentax Digital SLR and Olympus Digital SLR cameras.
Special show pricing is available on following Canon lenses:
100-400
16-35 II
70-200
2.8L IS
Canon Factory Refurbished 30D Body is in a limited supply…………………..$549.99
These will go quickly!
Please contact me, Gary Farber, via telephone or email for specific details regarding pricing and availability up until Friday afternoon. Saturday, please contact me via telephone only.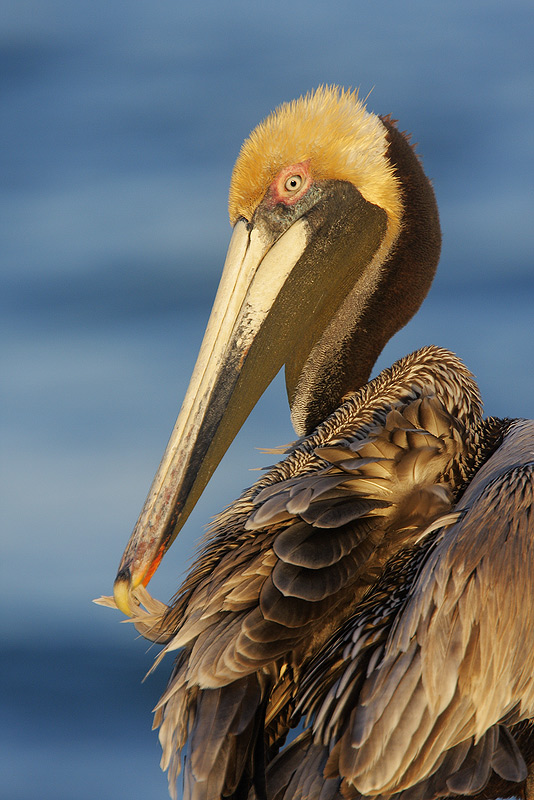 Brown Pelican preening, Sebastian Inlet, FL
Image copyright 2008: Arthur Morris/BIRDS AS ART
Canon 400mm f/4 IS DO lens with the 1.4X II TC (handheld) EOS-40D. ISO 400. Evaluative metering +1/3 stop: 1/320 sec. at f/7.1.
I have been playing around with an EOS 40-D and have been loving its light weight and 1.6X multiplier effect. Here I was working at an effective focal length of 896 mm handheld, roughly 18X magnification. Image Stabilization enabled me to make sharp images while handholding. Note that I waited for the perfect head angle before depressing the shutter. You can learn everything that you need to know about head angle, subject to imaging sensor plane orientation, and light angle (plus tons more) in ABP II (916 pages, 900 images on CD only): http://www.birdsasart.com/ABPII.htm)
PORTLAND, MAINE: "The Art of Nature Photography; It Ain't Just Birds" Weekend How-To Seminar
"The Art of Nature Photography; It Ain't Just Birds" Weekend How-To Seminar in Portland, Maine
October 11-12, 2008
Eastland Park Hotel, 157 High Street, Portland, ME
This seminar is for all nature photographers who want to learn how to make better photographs. On Saturday I will describe the methods and techniques that I have used and developed since 1983. My comments on lenses and digital camera bodies, AF, light, and on composition and image design will be highly informative and educational. And my tips on getting close to free and wild subjects and creating pleasing blurs will help you become a better photographer. Everyone with a telephoto lens who wishes to dramatically improve the quality of their images will benefit from attending.
Since going all-digital in November 2002, I have—with the help of many wonderful friends—become a Photoshop expert. My approach to optimizing images is to create master files of excellent quality in the shortest possible time. I will share our workflow and numerous Digital and Photoshop tips on Sunday. As more and more folks are using Digital Capture, I am finding on our IPTs that many good to excellent photographers have no clue as to how to use Photoshop to make their images look better. In fact, many of them make their best images look worse! I can and will teach you to do just that at this seminar.
Do consider taking advantage of the opportunity to spend two days learning from one of the premier nature photography educators on the planet by joining me for this great weekend. The October 11-12 dates were carefully chosen to coincide roughly with the average peak of fall color in southern Maine. The likelihood is that if you are coming from out of town and would like to photograph the fall color the best bet (taking global warming and the trends in recent years) would be to schedule your photography in the days following the seminar. Every year, however, is different, and this is nature photography so there are no guarantees, but chances are, whether you photograph just before or just after the seminar you should have many chances to create some great images. Best bet: come a few days early and stay on for a few days… (Hint: hope for a pre-dawn rainstorm followed by the sun breaking through in the east while grayish-black storm clouds fill the western sky…)
The seminar will be held at the Eastland Park Hotel. Folks staying at least two nights in the hotel will receive a free Lens Pen Combo Kit at the seminar. As fall color time is peak season in southern Maine, hotel rates are high anywhere in the region. We were able to negotiate a rate of $159 for folks registering early. Once the block of rooms is gone, higher rates will apply. The doors will open on both days at and the programs will begin at sharp. There will be tons of great door prizes (including Delkin e-film Pro compact flash cards and some great stuff from Lowepro and Wimberley). I hope that you will be able to join me for what will be an incredibly educational and fun-filled weekend. (If anyone would like to help us set up or to hang out, be there at .)
The cost of the weekend seminar will be $169. The cost of either single day will be $99. Members of qualifying camera clubs are invited to apply a $10 discount. (If you are a member of a camera club or other photography organization please e-mail us before registering to learn how your group can become a qualifying club). Register with a friend or a spouse and take $10 off each registration. Register in groups of four or more and take $20 off of each registration. Register in a group of ten or more and take $30 off each registration. It is highly recommend that folks purchase the buffet luncheon option ($15/day includes tip and tax). Those purchasing the lunch option will receive their lunch coupon when they check in each morning.) The cost of the weekend seminar plus the two lunches is $199.
There are three ways to register:
1- Send a check for the full amount made out to "Arthur Morris" to PO Box 7245, Indian Lake Estates, FL 33855.
2- Call us with a credit card at 863-692-0906.
3- Send us a Paypal (using either any link on our site or your Paypal account) to us at birdsasart@att.net.)
In all cases, we will need your e-mail address, your mailing address, and your daytime and evening phone numbers.
Here is our Cancellation Policy: If for any reason you need to withdraw, please notify us ASAP. Once we receive your e-mail, your phone call, or written notice of your cancellation the following fees apply: cancel before July 10, 2008 and your fee will be refunded less a $20.00 cancellation fee; cancel by August 10, 2008 and your fee will be refunded less a $50.00 cancellation fee; cancel after September 10, 2008 and there will be no refund.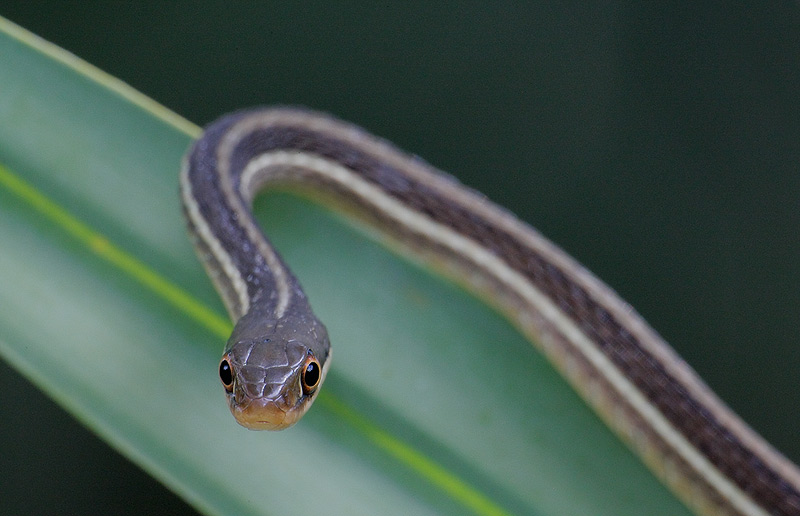 Ribbon Snake, Green Cay Wetlands, Delray Beach, FL
Image copyright 2008: Arthur Morris/BIRDS AS ART
Canon 500mm f/4 L IS lens with three extension tubes totaling 62mm, the 2X II TC and the EOS-1D MIII. ISO 3200. Evaluative metering +1/3 stop: 1/125 sec. at f/8.
Here, I put the tubes on the lens and the TC on the camera. This is the reverse of the usual set-up. With this configuration, you need to turn the AF switch off and focus manually. This is just one of the hundreds of subjects that will be covered during the Saturday Seminar program. And remember, it ain't just birds! Whatever you like to photograph you will learn a ton by attending the Portland Seminar because the principles of creating great images and optimizing them quickly and pleasingly are the same regardless of the subject. I do hope to see you there.
IPT UPDATES
Bosque IPT #1: NOV 22-25, 2008. Slide program on the evening of NOV 21. 4-DAY: $1799 Limit: 10/Openings: 3
Bosque IPT #2: NOV 29-DEC 2, 2008. Slide program on the evening of NOV 28. 4-DAY: $1799 Limit: 10/Openings: 3
SW FLA POST X-MAS IPT: DEC 27-29 or 30, 2008. Slide program on the evening of DEC 26. 4-DAY: $1799 (3-DAY OPTION: $1349) Limit: 10/Openings: 4
SW FLA PRESIDENT'S DAY IPT: FEB 13-17, 2009. Slide program on the evening of FEB 12. 5-DAY: $2249 Limit: 10/Openings: 5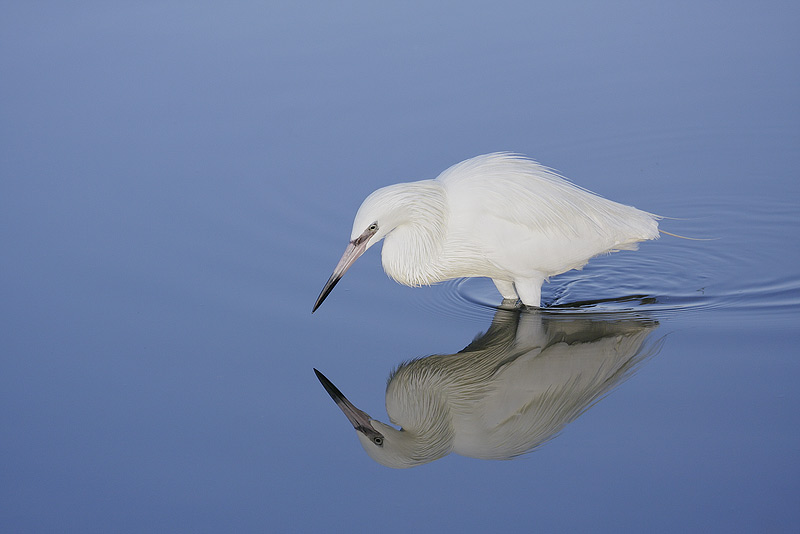 Reddish Egret, white phase fishing, Tiny Pool. Fort DeSoto Park, Tierra Verde, FL
Image copyright 2008: Arthur Morris/BIRDS AS ART
Canon 70-200mm f/4 L IS lens with the 1.4X II TC (handheld) EOS-40D. ISO 400. Evaluative metering +1 stop: 1/1600 sec. at f/4.
I just love the colors that come out of the 40D, especially the blues. And I love the dreamy look of this image created in early morning light at 7:53 am.
There have been some big changes at Fort DeSoto; we will be announcing the latest update of the DeSoto Site Guide in Bulletin #261 coming soon. Hand-drawn maps will direct you to the very best spots.
…..
Best and love and great picture-making to all,
artie
Note: Arthur Morris has been a Canon contract photographer since 1996 and continues in that role today. Hunt's Photo of Boston, MA is a BAA sponsor as is Delkin Devices. Back issues of all BAA Bulletins can be found in the Bulletin Archives which may be accessed from the home page at www.birdsasart.com
Ps: The Hudsonian Godwit is the tenth bird in from the left, sleeping in the first row in front of two Marbled Godwits.